College Basketball Nation:

Julian Vaughn
February, 9, 2011
2/09/11
9:42
PM ET
If you look up "impressive conference road win" in the imaginary multimedia dictionary I just made up in the confines of my own brain, you would be immediately greeted
by an ESPN3.com replay
of
Georgetown's 64-56 win over Syracuse
.
The Hoyas were never fully in control of the game. Syracuse had plenty of opportunities to take the upper hand, not to mention 27,000 orange-clad maniacs screaming their brains out at every turn. But the Hoyas poked and prodded, found ways into and behind Syracuse's 2-3 zone, stayed focused, got big buckets at key moments, avoided late turnovers when Syracuse had to turn up the pressure, and locked in defensively in the final moments when it mattered most.
[+] Enlarge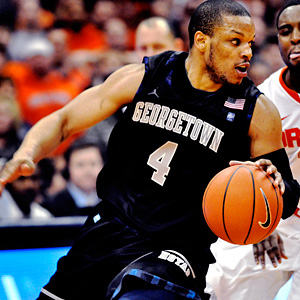 AP Photo/Kevin RivoliChris Wright worked his way into the Syracuse zone and dished out nine assists as Georgetown won its seventh straight game.
No, Big East road wins don't get much more impressive than that. The fact that we just saw this Syracuse team go to Connecticut and get a win makes this win all the more noteworthy. And speaking of noteworthy, there's this: After a 1-4 start in the Big East, the Hoyas have now won seven in a row. That stretch includes a home win over Louisville, a win at Villanova, and now this big-time win in the Carrier Dome, a place they hadn't won in nearly a decade. Pittsburgh is still the best team in this conference. But at this point, if any team can challenge the Panthers, that team appears to be the
Georgetown Hoyas
.
Some assorted bullet-point thoughts about the game:
When you play a 2-3 zone like Syracuse, and your opponent is one of the most efficient teams in the country both beyond the arc and inside it, you have to have length. The Orange do. They had 11 blocks in this game, a product of some tremendous zone extension and interior presence by Jim Boeheim's team. Rick Jackson had three of those, but the majority of the rejections came from freshmen C.J. Fair, Baye Moussa Keita and Dion Waiters, who combined for eight blocks on the night. Keita, who had five, was especially impressive. This is why Syracuse's zone has been, and can be, so very tough this season. The Orange are just long.

That said, there are still plenty of flaws in this zone. Georgetown's guards presented serious matchup problems for Syracuse, especially when Chris Wright worked his way into the middle of the zone and got inside-out looks for Austin Freeman and Jason Clark. Georgetown was also able to get big buckets on baseline action, especially on backcuts late in the game when Syracuse defenders lost their baseline assignments and no one in the middle of the zone was able to help in time. Georgetown's backcuts, which you frequently see in the Princeton offense against man-to-man defense, worked just as well against the zone. And with all those guards on the floor, the Hoyas were able to pass effectively through the zone, much more effectively than anyone might have expected. It takes a lot of guts to try and match up with the Orange with four guards, but it paid dividends for Georgetown on the offensive end.

And yes, even with all that length, Georgetown still got plenty of good looks from 3. The Hoyas were shooting 38.5 percent from long range coming into tonight's game; they made 42.9 percent (9-of-21) Wednesday night.

[+] Enlarge

Mark L. Baer/US PRESSWIREJulian Vaughn scored 12 points and pulled down eight rebounds for the Hoyas.

Still, despite Georgetown's effective ball movement and shooting, it's not like the Hoyas lit it up. No, the Orange's loss came on the offensive end. Syracuse has struggled on the perimeter throughout the season, and those struggles (4-of-16 from 3) were evident again Wednesday night. In recent seasons, Syracuse has always had at least one (and often multiple) knockdown shooters. Gerry McNamara. Eric Devendorf. Andy Rautins. Wes Johnson. This team doesn't have one. It struggles at the guard position in a variety of ways -- perhaps no player frustrates Syracuse fans more than Scoop Jardine -- but the biggest problem area remains perimeter shooting. Until someone proves capable of knocking down shots, it would probably be wise to cut down on the 3s going forward.

It might also be wise to get Fair a greater share of the offensive load. Fair scored 12 points on 6-of-9 shooting from the field and grabbed five rebounds in the process. He was opportunistic and intuitive; he read rebounding angles correctly, found space against Georgetown's interior, and finished his chances when he got them. For as much as Boeheim's freshmen have struggled at times this season, this was a good game for all but Fab Melo.

And, not to pile on, but Melo is still a massive disappointment. The highly touted center prospect started but played a mere three minutes. He was 0-for-1 in that span. Melo's simply not there athletically right now. Maybe next year?

Speaking of four guards, one of those "guards" was frequently forward Hollis Thompson, who has the size to be a forward but the range to stretch defenses out to the 3-point line. John Thompson III got the perfect type of contribution from Thompson on Wednesday night. The forward had a very efficient 11 points -- 4-of-5 from the field, 3-of-3 from long distance -- and added five rebounds, two assists, two steals and zero turnovers. I'm not sure an off-the-bench role player could have a better, more important game than that. He was huge.

Same goes for Julian Vaughn, who went 5-of-8 for 12 points and eight rebounds. Austin Freeman didn't have a great shooting night. Nor did Chris Wright or Jason Clark. That made it all the more crucial for Georgetown's role players to come up with efficient supporting efforts, and Vaughn and Thompson did so.

If ever there was a time you thought Georgetown was going to take control of this game, it came when Jackson picked up his fourth foul with 14:40 left in the game. That didn't really happen. Instead, Boeheim got big contributions from the three aforementioned freshmen. Keita grabbed offensive rebounds in bunches, Fair got a pair of buckets and Waiters came up with two steals to keep Syracuse from falling too far behind while Jackson waited on the sidelines. Even in the loss, it was good to see those players step up at a crucial time in the game. But Georgetown did pull away eventually, and the Hoyas get credit for doing what so many teams struggle to do in the Big East: win big games on the road. Tremendous win for Georgetown.
December, 12, 2009
12/12/09
7:24
PM ET
A few quick hitters on Saturday's slate:
UCLA is officially toast. The Bruins have no shot to get in the NCAA tournament unless they win the Pac-10 tournament. Seriously, even if the Bruins were to win the Pac-10, the question will be what have they done? It's early but it's not too soon to announce this after the Bruins were rocked once again in the city of Anaheim, this time in a different venue (Honda Center) and by another team (Mississippi State) by double figures (72-54). The Bruins are now 0-4 in Anaheim.
Mississippi State's Ravern Johnson scored 29 in the convincing win for the Bulldogs. John Riek gets eligible for the Bulldogs next week to add depth to the frontcourt. No one knows if Renardo Sidney will ever play for Mississippi State. Even without him the Bulldogs should be 1-2 in some order with Ole Miss for the SEC West title.
Saint Mary's had a major road win, beating Oregon by five in Eugene, a day after learning guard Wayne Hunter was done for the season with a torn ACL. Hunter had started the first seven games and averaged 11.6 points a game. Omar Samhan scored 22 and, despite a love affair here with Portland and San Diego early, the Gaels look like they may be the real challenger to Gonzaga in the WCC.
The Pac-10 continues to be dreadful out of conference as Washington lost to Georgetown in Anaheim, and the aforementioned UCLA and Oregon losses, make the league look even worse. Seriously, there is a power five this season and then the sixth-best conference will either be the A-10 or the MWC. Deal with it. The Pac-10 may be looking at a best-case scenario of two NCAA bids. And the committee may discuss expanding the tournament? To get more mediocrity in the field? No thanks.
Georgetown's Greg Monroe had a super week with 25 points and 15 boards in a win over Butler and then followed that up with 15 points, eight boards and six assists in the win over the Bruins. Monroe's mate Julian Vaughn showed he can score too with a career-high 18. The Hoyas will be a contender for the Big East title.
Kansas blew out La Salle and freshman Xavier Henry scored 31 points with four rebounds and two assists. Can you imagine what Memphis would have been like with Henry, John Wall, DeMarcus Cousins, Eric Bledsoe, Roburt Sallie, Willie Kemp and possibly Duke transfer Elliot Williams? It would have happened had John Calipari stayed put instead of going to Kentucky.
Butler got a desperately needed win by holding off Ohio State by eight at home. Matt Howard fouled out again though and the Bulldogs have to find a way to stop the insanity of him getting into foul trouble.
Ohio State played its first game without Evan Turner and was expectedly erratic. William Buford proved to be the scorer, though, with 20 points.
George Mason beat Creighton, easily one of the more disappointing teams in the country now at 3-5. Creighton coach Dana Altman got a technical in the final 18 seconds, which didn't help. It was Altman's first technical since 2007.
Portland and Pitt got much-needed wins after rough weeks of late.
Chris Warren of Ole Miss is showing no signs of his ACL bothering him as he scored 20 against McNeese State and is averaging 17.5 on the season.
Western Carolina, picked to win the Southern Conference with the College of Charleston, shocked Louisville 91-83 at Freedom Hall. The Cardinals can't use the excuse of not having Preston Knowles, Jerry Smith and Peyton Siva when they didn't have them for the loss to Charlotte. Louisville goes through early-season funks every year under Rick Pitino, but this one seems deeper and their road game on Jan. 2 in Kentucky seems awfully daunting.
Kentucky ran away from Indiana in Bloomington, 90-73, behind Eric Bledsoe's 23. John Wall had "only" 11 points, but had eight assists and only one turnover. Kentucky coach John Calipari said he couldn't be more thrilled for how his players handled their first true road game. Meanwhile, Indiana may have found a big-time scorer as freshman Maurice Creek went for 31.
Wisconsin needed a win after losing at UW Green Bay and the 72-63 victory against rival Marquette will do well for this team's ego and confidence going forward.
Columbia's Noruwa Agho continues to be one of the best-kept secrets in the country as he made a pair of threes and scored 23 points in a win at Bryant. Agho is shooting over 64 percent on 3s (27 of 42) so far this season.
The box score of the day came out of Seton Hall-VMI. The Keydets make teams play uptempo and the Pirates obliged with a 134-107 win. Jeremy Hazell scored 33 while Jamel Jackson scored 40, making 12 of 15 3-pointers. The 134 is the most points scored by the Hall in its 105-year history as was the 241-points combined. Jackson broke the Hall single-game record with 12 3s. By the way, he comes off the bench and was averaging seven points a game entering the day.
Oklahoma finally awoke in a game against a significant opponent as Willie Warren went for 27 points in an overtime win at Utah, which had just beaten Michigan at the Huntsman Center earlier in the week.
December, 8, 2009
12/08/09
2:11
PM ET
NEW YORK -- Villanova, Syracuse and West Virginia have all made their marks this season.
These three teams are clearly contenders for the Big East title. Winning elite tournaments in the month of November was a sure sign that none of them is going away anytime soon.
Now it's No. 13 Georgetown's turn.
If the Hoyas beat No. 20 Butler Tuesday night in the Jimmy V Classic (
ESPN, 7 p.m. ET
) at Madison Square Garden and then go to Anaheim and defeat No. 16 Washington in the Wooden Classic on Saturday, it would be an indication of Georgetown's ability to be a part of the same conversation.
Connecticut could also enter the discussion if it can knock off Kentucky Wednesday night (
ESPN, 9:30 p.m. ET
) in the SEC-Big East Invitational at MSG, but anything short of that would likely put the Huskies in second-tier status without a headline win so far this season.
This isn't meant to dismiss Cincinnati's chances to challenge for the title after beating Vanderbilt and Maryland and losing to Gonzaga in the Maui Invitational. Or to totally dismiss undefeated Seton Hall or one-loss Notre Dame with perhaps the conference MVP in
Luke Harangody
. But it's not a reach to say the title will likely come down to Syracuse, Villanova, West Virginia and then possibly the Hoyas or Huskies.
So, for now, it's up to the Hoyas to prove they belong with the elite in what is turning out to be the best conference yet again.
"This will be good for our team, regardless of how things go to get ready for the conference," Georgetown coach John Thompson III said. "This will get us ready for the conference with a league type of week. In the Big East, no matter who you play on a Tuesday you're going to play a tough game on the weekend. We want our guys to go through those emotions this week."
Butler and Washington will present two different challenges for the Hoyas. The Bulldogs defend extremely well, run their system fundamentally, and can shoot from mostly all five spots. Washington will want to push the ball, exploit its speed on the perimeter, and get the game in a high-scoring mode.
That's indicative of the Big East, as well, with two different styles on two different courts in the same week.
Georgetown has actually hit the road this season, but wins at Tulane and Savannah State don't exactly give a true read on the Hoyas yet. And beating Temple by one (46-45), in a game that went down to the final possession in D.C., also doesn't give a true indication whether the Hoyas are ready for prime time.
Sophomore center
Greg Monroe
has been solid as expected with nearly 14 points and 10 boards a game. The play of guards
Chris Wright
and
Austin Freeman
hasn't disappointed either with both players in double figures scoring. The stunner though has been how consistent
Jason Clark
has been through the first six games, averaging a dozen points, five rebounds and three assists.
"I don't think anyone outside of our program expected this," Thompson III said. "We did because we saw what he could do at both ends of the court. He doesn't get tired and he goes 100 miles an hour on both ends of the floor."
Georgetown goes big the rest of the rotation with
Julian Vaughn
,
Hollis Thompson
and
Henry Sims
rotating, something that could cause Butler problems -- especially with
Matt Howard
having foul issues throughout November.
To Howard's credit, he finally shed the foul-prone label in the last two games by committing just one in a win at Ball State and three in a win over Valparaiso, after fouling out of two games in the 76 Classic in Anaheim and picking up four in the fifth-place loss to Clemson. Prior to that, Howard had fouled out of games at Northwestern and Evansville. That's why he is only averaging 23.8 minutes a game this season, down four minutes from a year ago.
Butler has bigs like
Avery Jukes
and
Garrett Butcher
to complement Howard, but if he can't stay on the court against the Hoyas' big men then that will put even more pressure on the shooting of
Gordon Hayward
,
Shelvin Mack
,
Willie Veasley
and
Ronald Nored
.
Georgetown probably has had as little spotlight shone on it this season of any Big East contender, but that's because the games haven't been featured -- yet.
"I don't mind us not getting our pop," Thompson III said. "I don't mind us flying under the radar in November and December. It's all about getting better and if it happens then fine."
If you remember, a year ago Georgetown was a early-season story with a blowout win over rival Maryland in the Old Spice Classic and then a Big East-opening win at Connecticut. But it all went downhill with a flame-out in the league and an NIT berth.
"The good thing for us is that we're not cruising," Thompson III said. "We have a long way to go, a lot of room for improvement. We're pretty good now, but this week will be a big test."
Thompson III is hoping he can get 6-foot-7 freshman forward
Jerrelle Benimon
increased time again Tuesday night. A high-ankle sprain limited his minutes early in the season and kept him out of three games. He played 14 minutes in the win over American last Saturday and made 2 of 3 shots for four points.
"He's an active big body kid," Thompson III said. "He'll give us even more presence and he's strong and aggressive."
Thompson III wanted to be in the Jimmy V Classic because of the cancer research angle. His wife, Monica, is going on four years of being a breast cancer survivor. Thompson III said Monica is doing well.
"It didn't matter who we played," Thompson III said. "I was going to be in this. They do great work with cancer research."