College Basketball Nation:

Julien Lewis
August, 21, 2013
8/21/13
5:00
AM ET
1. The easy thing to do is pile on Texas and coach Rick Barnes for
Ioannis Papapetrou
's decision to
sign with Olympiacos BC
, a professional team in his native Greece. This departure is completely different than the decisions made by
Jaylen Bond
,
Julien Lewis
and
Sheldon McClellan
. Papapetrou got a multi-year, multi-million-dollar deal. He was already in Greece, ripe to be convinced to stay. From all accounts, Papapetrou was happy with his situation in Austin -- and the Longhorns loved having him. This was not a planned departure, nor one that was pushed by the Texas staff. And that's why it stings more than the traditional transfers or
Myck Kabongo
's decision to leave early for the NBA draft. Texas needed a player who could produce, was experienced and wanted to be there. Losing someone like Papapetrou -- the top returning scorer once those players above bolted -- in late August is a crushing blow because he cannot be replaced. This puts even more pressure on returnees
Javan Felix
,
Jonathan Holmes
and
Demarcus Holland
to not only lead, but also to score and defend at a higher clip to avoid a second consecutive losing season.
2. Baylor senior guard
Brady Heslip
made the 14-man Canadian national team that will compete in the Continental Cup in Puerto Rico as a precursor to the FIBA Americas tournament in Venezuela. Heslip was the only collegian who made the team. Contacted late Tuesday, Heslip was obviously thrilled. So, too, was Baylor coach Scott Drew. If Heslip returns from these tournaments as a stronger shooter, defender and all-around player, the Bears will benefit greatly. Baylor is/should be a top-three team in the Big 12, behind Kansas and Oklahoma State. The Bears have the bigs with
Isaiah Austin
and
Cory Jefferson
but are green at the point. If Heslip can produce and create an inside-outside threat again, Baylor will be a real contender.
3. The NCAA can't have it both ways on preseason scrimmages. If the NCAA wants these scrimmages to be played, but not seen or heard from by the media or the public, then they can't be deemed some sort of official competition. Yet Old Dominion's
Donte Hill
has been ruled ineligible for what would have been his final season because he played in a scrimmage before transferring from Clemson to ODU. He played as a freshman at Clemson and then the past two years at ODU, redshirting the season in between. Hill's appeal was denied. He should try again and again. And if he's rejected, then these scrimmages -- especially the ones between two schools that travel to a neutral site to play -- need to be viewed as real exhibition games with countable stats, media and an opportunity for fans to watch.
May, 15, 2013
5/15/13
5:00
AM ET
1. Texas lost 18 games last season. The Longhorns won seven in the Big 12 and were shut out of the NCAA tournament for the first time since head coach Rick Barnes arrived in 1998.
Sheldon McClellan
and
Julien Lewis
were third and fourth, respectively, on the team last season in turnovers with a combined 112 and are both transferring. Jaylen Bond, who battled a foot problem for most of the season, also left. According to a source, the decisions weren't solely the players'. Should Texas be worried that these three, as well as NBA-draft-bound guard
Myck Kabongo
(23-game amateurism suspension), are out of the program? If last season's freshmen class is on board with the way Barnes wants to play, the answer is no.
Ioannis Papapetrou
,
Javan Felix
,
Connor Lammert
,
Demarcus Holland
,
Prince Ibeh
and
Jonathan Holmes
will be the core of next season's team. Holland clearly likes the idea of what remains in Austin. He
tweeted
after a workout on April 30: "Honestly never loved a team like I do now. Feels great when you can get it in, say family on three, and really feel like brothers. #Horns.'' At the time, Bond, McClellan and Kabongo were all gone. Barnes told his staff that he wants to get back to the teams he has had in the past, with players who will play with toughness and display the passion for winning. According to someone close to the program, despite the defections, the staff has looked at this spring as one of its best in terms of player development. The Longhorns also brought in four newcomers for next season. Texas will be picked in the lower half of the league, below Kansas, Oklahoma State, Baylor, Iowa State and Kansas State. The onus is on this crew, led by someone like Holland, to propel Texas back to its rightful place in the Big 12, in competition behind Kansas. If these departures are addition by subtraction, Barnes will know early on. If not, next season could seem like a dog year.
2. Michigan State athletic director Mark Hollis said there were logistical issues that could not be worked out for the proposed Dec. 7 game against Gonzaga in Spokane, Wash., to honor former Spartans coach and Spokane resident Jud Heathcote. So the game is off -- along with the proposed undercard of Washington State versus Montana. Wazzu coach Ken Bone said Idaho had been willing to move a date for the Cougars, but now that is unnecessary. Meanwhile, an SEC official said the league didn't have criteria for not including Georgia, LSU, Arkansas and Tennessee in the inaugural SEC/Big 12 Challenge. Scheduling conflicts and the need to balance the series were why those four schools were omitted in a challenge between a 14-team SEC and a 10-team Big 12. Still, organizers probably could have tried to get star-laden Oklahoma State a higher-profile game than hosting rebuilding South Carolina.
3. Gonzaga coach Mark Few said being away from his family was the reason he is stepping aside from coaching the U.S. under-19 team with Florida's Billy Donovan and Virginia Commonwealth's Shaka Smart in the world championships June 27-July 7 in Prague. Along with the practice sessions, it becomes nearly a month's commitment. The three coaches won gold a year ago in Brazil with the under-18 squad. Virginia coach Tony Bennett will take Few's spot on the staff. In an event taking place July 6-17 in Kazan, Russia, Davidson's Bob McKillop, Michigan's John Beilein and South Carolina's Frank Martin will coach the U.S. team at the World University Games. Meanwhile, Iowa State's
Melvin Ejim
is diversifying his international basketball career. Cyclones coach Fred Hoiberg said Ejim will play for Canada this summer after playing for Nigeria a year ago. Hoiberg said Ejim has dual citizenship from the two nations.
October, 11, 2012
10/11/12
12:13
PM ET
AUSTIN, Texas -- All of this could have been avoided.
Myck Kabongo
could be taking part in his first NBA training camp right now and not be the subject of an
NCAA investigation into his relationship with a professional agent
, which Yahoo! Sports first reported late Wednesday night.
But the Longhorns sophomore point guard didn't want his last game in a Texas uniform to be a 65-59 loss to Cincinnati in the first round of the NCAA tournament. He wanted his legacy in Austin to be much more memorable than that and figured he could make that happen with at least one more season as a Longhorn.
[+] Enlarge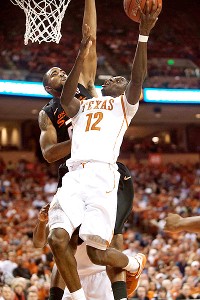 Brendan Maloney/US PresswireAs a freshman, Myck Kabongo averaged 9.6 points per game last season for the Longhorns.
"Personally for me I didn't want to go out without winning," Kabongo said recently. "This program deserves to win. They've done everything possible from a Sweet 16, Elite 8, Final Four. They just haven't gotten to that big stage yet. I just think with the big pieces that we have coming back we could do that."
The Big 12's head coaches reminded everyone last week of the expectations he brings with him into the season by naming him to the Preseason All-Big 12 Team. But if the findings in the NCAA investigation cause him to miss time this season, those expectations could be tempered a bit.
Kabongo, a 2011-12 All-Big 12 honorable mention, started all 34 games last season as a true freshman. A pass-first point guard, he finished fourth in the league in assists per game (5.2), second on the team in steals (38) and third on the team in scoring (9.8 ppg).
He was expected to be the face of a program whose roster features just two seniors (both walk-ons) and no juniors. He is up to 180 pounds after adding 10 pounds of muscle this summer, and said he felt much better about being able to handle the rigors of an NCAA season.
"I thought I could use another year of college to get stronger," he said. "Talent-wise I think I was ready to go. But physically and mentally it was a good thing for me to come back, get bigger and stronger, and build a bond with my teammates."
July, 31, 2012
7/31/12
5:00
AM ET
1. Texas coach Rick Barnes has been somewhat prophetic lately with his newcomers. If he's convinced they're going to be major contributors, then he doesn't hold back promoting. Well, Barnes is extremely high on his freshmen class that should bolster a rising sophomore group led by
Myck Kabongo
and
Julien Lewis
. Cameron Ridley is in shape and Prince Ibeh has developed his game well. The two 6-foot-10 centers are sure to be game-changers inside. The Longhorns also added 6-10 Connor Lammert. Barnes said the biggest surprise so far in workouts has been DeMarcus Holland, a shooting guard out of Garland, Texas. Barnes said Holland is an "every-day guy,'' someone who Barnes knows what he's going to get every day. And that means quality production if he can adequately get into the rotation.
2. BYU coach Dave Rose said Tyler Haws came back from his two-year Mormon Church mission in tremendous shape. He said his work ethic has been terrific so far in workouts. "He's looking really, really good,'' said Rose. Haws has a legitimate chance to be an All-WCC player in his first season back in Provo. Meanwhile, credit Iowa State coach Fred Hoiberg for actually agreeing to a true home-and-home series. The Cougars have had decent success securing home-and-home series with power six conference schools but have had the return game played in Salt Lake City, in the shadow of the
Utah Utes
' home court. But Iowa State will return a series that will start in 2012 in Ames to the Marriott Center in 2013 in Provo.
3. Kentucky doesn't have a traditional upperclassmen who will be a legitimate rotation player. But that's fine. Kentucky coach John Calipari said Wright State senior transfer
Julius Mays
will fill that void. Mays played one season at Wright State (14.1ppg, 2.5 apg and 42.4 percent on 3s) after transferring from NC State. Calipari attended a Monday workout of the Wildcats and remarked about Mays' shooting and overall experience. He also was extremely pleased with NC State transfer guard Ryan Harrow. But Calipari said Harrow and Mays could be coming off the bench. He said he fully expects at least two freshmen -- guard Archie Goodwin and forward Alex Poythress -- to start. The question is does he start both freshmen centers -- Nerlens Noel and/or Willie Cauley -- if he wants to go big? I would be stunned if Noel isn't in the starting lineup. The question will be Cauley.
Kyle Wiltjer
, Mays and Harrow will be in the rotation and likely at times starters during the long season.
January, 31, 2012
1/31/12
1:09
AM ET
AUSTIN, Texas -- In all the fury, Frank Haith implored
Michael Dixon
to remain calm.
"There is no time to panic and no time to stress," the Missouri coach told his guard.
Really, if ever there were a time, this would have been it. Dixon had just committed a flagrant foul by swinging his elbow above the shoulders of
Julien Lewis
. The ensuing foul shot and possession gave Texas a 66-65 lead. And No. 4 Missouri (20-2, 7-2) was suddenly down on the road with less than a minute to go after seemingly taking complete control just minutes earlier.
[+] Enlarge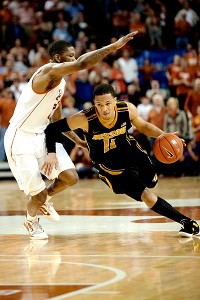 Brendan Maloney/US PRESSWIREMichael Dixon scored 21 points for Missouri, including the game-winning layup.
But Dixon came right back, found a lane to the basket, lifted a left-handed layup over Lewis and pushed the Tigers to a
67-66 lead and an eventual victory by that score
in front of 12,203 at the Frank Erwin Center Monday night.
"In the heat of battle, things happen," Dixon said of the flagrant call. "You got to look at the next play and that was what we did and we were able to win."
That Missouri was able to look ahead instead of behind was important because what it had left in the rearview was a path of self-destruction. The Tigers, with the memories of a horrible road loss to Oklahoma State lingering, held a 10-point lead with less than five minutes left in this game. There was also the less-than-impressive home win over Texas Tech bouncing around between the ears.
The Tigers had to eschew the whispers and the yells coming from the home crowd.
"Coach has been stressing growth from the OSU game and kind of how we let that game slip away," Missouri's
Kim English
said. "We always stayed true to that. We talked about late in games two things have to be consistent -- defensive stops and offensive execution."
Neither were exactly flawless in the final five minutes. But in the final 40 seconds, both were. First was Dixon's score. Then came the defensive stop.
Texas has the most prolific scorer in the Big 12 in
J'Covan Brown
, and the junior is able to squeeze off and make shots from everywhere. With 27 seconds left, there was little doubt the ball was going to find its way into his hands.
Missouri decided to come out in a zone on the final possession and that appeared to throw the Texas offense. When the ball finally did find its way into Brown's hands, there were only 12 seconds left and he was stymied.
"I was just trying to find a gap and there wasn't nothing," Brown said.
So Brown passed to freshman
Myck Kabongo
. His shot didn't clear the rim.
"He did get fouled," complained Texas coach Rick Barnes.
Not in the eyes of the officials.
Barnes did acknowledge that, while that play mattered, it was not the one that lost the game for UT. Instead, it was the Longhorns' inability to contain Dixon, not just on the last play, but on plenty of others as well. The junior went 9-of-10 for 21 points in 27 minutes. During one stretch, Dixon rattled in three straight jumpers over Brown to give Missouri a 12-point lead early in the second half.
"I gave up basically half his points," Brown said of his defensive effort.
"I felt like from an offensive standpoint he had nice pop and nice focus," Haith said of Dixon. "His play allowed us to get some separation."
Now Missouri must separate itself in a Big 12 race that has allowed for anything but. The Tigers, who already have a road win against No. 6 Baylor, get their first of two shots at No. 8 Kansas on Saturday. At 7-1, the Jayhawks, winners of the past seven conference titles, lead the conference race.
As for Texas (13-9, 3-6), the Longhorns have lost seven games by six points or less. Texas may not have enough on its résumé to make it to a 14th straight NCAA tournament without a strong run in the second half of the conference season and in the Big 12 tournament.
December, 21, 2011
12/21/11
9:50
PM ET
CHAPEL HILL, N.C. -- A quick look at No. 6 North Carolina's
82-63 victory
over Texas at the Smith Center on Wednesday:
How it happened:
A taller, more veteran North Carolina team led from the outset -- out-pacing, out-dunking and out-rebounding the Longhorns.


A 13-1 run put the Tar Heels ahead early 19-7. Texas cut into the lead with a 7-2 run of its own, but then UNC put on a sprint that had the home crowd screaming louder than it has been all season.
First, reserve guard
P.J. Hairston
took a pass from point guard
Kendall Marshall
, drove from the wing, and threw down a one-handed transition dunk that had Texas'
Julien Lewis
on his back -- after he was whistled for the foul.
Hairston missed the free throw, but on UNC's next possession, forward
John Henson
followed with a two-handed dunk. On the Heels' possession after that, reserve
Reggie Bullock
scored in transition -- on a ball batted to him by Henson. That gave UNC a 30-16 advantage.
UNC led 39-23 at halftime, and it was only more of the same after the break.
The highlight dunk of the second half came around the 12-minute mark, when UNC forward
Tyler Zeller
grabbed a steal and passed it to Bullock, who found forward
Harrison Barnes
in the lane. The sophomore promptly dunked it over 6-foot-10 Texas senior
Clint Chapman
, and let out a roar.
Relief? Celebration? Maybe a bit of both. After all, the Tar Heels had lost four straight times in this series, including twice in the past two seasons, before Wednesday night.
Barnes, held to nine points each of his past two games, finished with a season-high 26 points and 10 rebounds, his first double-double of the season. Henson added 14 points and eight rebounds.
Texas point guard
Myck Kabongo
, averaging 10.8 points entering the game, finished with one point.
Jonathan Holmes
led the Longhorns, who shot only 34.8 percent, with 16 points.
Number to know:
UNC has now won 24 straight games at the Smith Center. One more win would tie the school record, set from 1992-94.
Hubbub:
What was with Texas coach Rick Barnes' sling? In case you missed it, he had surgery on his right shoulder earlier this month to repair a rotator cuff injury.
UNC coach Roy Williams, who was in a sling a couple years back after left shoulder surgery himself, said earlier this week that he had advised Barnes to go ahead with the procedure, rather than put it off until after the season.
"You can still coach," Williams told reporters. "If I had waited until the end of the season, I wouldn't have been able to play golf. I'm not that dumb."
What's next:
UNC's players planned to begin heading home for the holidays after the game Wednesday night. They will return to campus Monday, and play Elon next Thursday. Texas will play Rice on New Year's Eve.
Follow Robbi Pickeral on Twitter at @bylinerp.
December, 21, 2011
12/21/11
8:07
PM ET
CHAPEL HILL, N.C. – With a little more than four minutes left in the first half, North Carolina coach Roy Williams grabbed a towel and helped soak up a wet spot in the middle of the Smith Center court.


It's sort of fitting for the game so far, considering his No. 5/6 Tar Heels -- who lead
39-23 at halftime
-- are wiping the floor with Texas so far.
A 13-1 run put the Tar Heels up over the younger, shorter Longhorns early, 19-7. Texas cut into the lead with a 7-2 run of its own, but then UNC put on a sprint that had the home crowd louder than it has been all season.
First, reserve guard
P.J. Hairston
took a pass from point guard
Kendall Marshall
, drove from the wing, and threw down a one-handed transition dunk that had Texas'
Julien Lewis
on his back – after he was whistled for the foul.
Hairston missed the free throw, but on UNC's next possession, forward
John Henson
followed with a two-handed dunk. On the Heels' possession after that, reserve
Reggie Bullock
scored in transition – on a ball batted to him by Henson. That gave UNC a 30-16 advantage.
Harrison Barnes
leads the Tar Heels – who are shooting 42.4 percent – with 7 points.
Tyler Zeller
has 6 points and 7 rebounds.
Texas has made only a quarter of its shots, and
Jonathan Holmes
has scored 10 of it points.
UNC has scored 13 points off turnovers.
Follow Robbi Pickeral on Twitter at @bylinerp.