College Basketball Nation:

Julius Mays
February, 24, 2013
2/24/13
1:10
AM ET
A few observations from another intriguing Saturday night of college basketball…


Kentucky stepped up in the most important game of its season.
Prior to Saturday's Missouri-Kentucky matchup, the SEC had already completed multiple exciting games earlier in the day. LSU beat Alabama in triple overtime. Georgia defeated South Carolina in overtime. And Tennessee outplayed Texas A&M in quadruple overtime. But Kentucky and Missouri delivered in the conference's most significant matchup. After losing
Nerlens Noel
to a season-ending knee injury, the Wildcats lost to Tennessee by 30 points. Season over, right? I mean, that team competed like a team that just wanted the season to end. Kentucky didn't do anything that a squad should do when it's trying to convince the selection committee that it's worthy of an NCAA tournament bid. I had no faith in this group. The Wildcats, however, silenced some of their critics with their overtime win against Missouri at Rupp Arena on Saturday. The
90-83 victory
might help UK get into the field of 68 -- and the Cats might have changed the trajectory of their entire season with the gutsy win.
Julius Mays
led the Wildcats (four reached double figures) with 24 points. By the end of the game, he could barely walk. Kentucky had earned that exhaustion. Missouri, meanwhile, earned criticism. More criticism. Once again, the Tigers collapsed on the road. They were up by 13 points in the first half, and then they unraveled. They always do outside Columbia, it seems.
Phil Pressey
's costly turnover with 48 seconds remaining in overtime summed up Mizzou's entire season: talent marred by mistakes and chemistry issues. In the end, a Tigers team comprised of veterans lost to a group of raw youngsters which graduated from high school a year ago. Give Kentucky credit. Doubt the Tigers.


Health will be Florida's top concern in March.
The Gators proved that they're still a high-powered team when they bullied Arkansas
71-54
on Saturday. Florida's loss to Missouri -- and an earlier loss at Arkansas -- sparked questions about Billy Donovan's program, but the Gators have been one of the nation's most dominant teams all season. And their successes outweigh their stumbles. In March, they're not going to run into many teams that can handle their backcourt and
Patric Young
(14 points, 7 rebounds and a block on Saturday). What about their health?
Michael Frazier II
suffered a concussion in the victory over the Razorbacks.
Erik Murphy
tweaked an ankle this week.
Will Yeguete
is out with a knee injury. Donovan's program hasn't been 100 percent in a long time. That's a concern now and as March Madness approaches. A healthy Gators team can contend with any program in the country. There will be less certainty, however, if Florida enters the NCAA tournament at anything less than 100 percent.
[+] Enlarge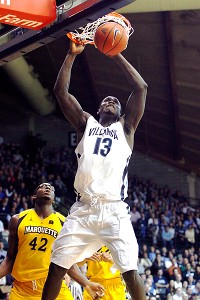 P Photo/H. Rumph JrMouphtaou Yarou throws down a pair of his 10 points in Nova's upset of Marquette.
I don't understand Villanova, but I like its style.
Check Villanova's résumé. Confused? You should be. The Wildcats have been swept by Providence. They have a nonconference loss to Columbia. Alabama beat them by 22 points in the first half of the season. But the Wildcats also have recent victories over Louisville and Syracuse. They're 7-9 against the RPI top 100 but 3-1 against its top 25. Still, the Wildcats had zero guarantees entering Saturday's matchup with a Marquette team that was locked in a three-way tie for first place in the Big East, and they played like a team that recognized its predicament. And I dig that. I mean, don't expect a bid. Take one. And that's what Villanova may have done with Saturday's victory.
Mouphtaou Yarou
finished with 10 points, 7 rebounds, 2 steals and an assist in his final game at The Pavilion. Yarou and his teammates (
Darrun Hilliard
led all scorers with 22 points) fought. Marquette (19 turnovers) made a late push, but it couldn't overcome the Wildcats' lead. Villanova's résumé is not perfect, but you can't tell me that the Wildcats aren't playing like a tourney team right now.


Saint Mary's is doing what it can.
The Gaels entered their home game against Creighton in a bubble situation. Their one problem all year? Gonzaga. The Zags are five steps beyond the rest of the league, and the West Coast Conference doesn't offer any other true quality opponents (BYU is OK, I guess). So Saturday's home game against a Creighton team that looked like a lock for the tourney was crucial for the Gaels. Saint Mary's toyed with the Bluejays in a
74-66 win
. That's what a team in SMC's situation should do. The Gaels can't enhance the WCC in the coming weeks, but they can win convincingly in their toughest remaining matchups. Saturday was a good start. It also proves that the Missouri Valley Conference is not as good as many expected it to be. A few weeks ago, Wichita State's Gregg Marshall told me that the Valley was like a "mini-Big Ten," and I agreed with him. At the time, Indiana State, Creighton, and Wichita State were all tourney teams. Not today. Creighton has struggled on the road in MVC play. The Bluejays could lose to Bradley next week and then stumble in the conference tourney. And now a mid-major conference that appeared to possess three bids could enter Selection Sunday with one lock (Wichita State) and a Creighton team sitting on the bubble.
I believe in Trae Golden and Jarnell Stokes. The duo has fueled Tennessee's five-game winning streak. On Saturday, Golden (32 points) and Stokes (20 points, 16 rebounds) -- along with Jordan McRae (23 points) -- led the Vols to a 93-85 four-overtime road win over Texas A&M. The SEC is a very lukewarm league. Most teams have suffered surprising road losses. Few have compiled impressive runs. But Tennessee is playing its best basketball right now. There are no guarantees in the SEC tourney. The Vols aren't in the dance right now, but they could be in a few weeks.

What a week for Cal. The Bears held off Oregon State for a 60-59 win on Saturday. On Thursday, Justin Cobbs hit a shot in the final seconds to seal his team's two-point victory over Oregon. Cal has won five in row. With three games left, the Bears still in the mix for the Pac-12 title.
November, 29, 2012
11/29/12
8:59
PM ET
SOUTH BEND, Ind. — Quick thoughts from Notre Dame's
64-50 victory
over No. 8 Kentucky, the program's fourth straight win over a top-10 team:


Overview
: For the first five minutes, as UK's highly touted young players carved up Notre Dame's less touted veterans, it appeared as if sheer talent might be enough to carry this group through its first true road test as a team. That notion ended quickly and without ceremony. The Irish turned their 3-for-8 shooting in the first five minutes into a tidy 15-for-27 first half, working for good shots and making most of them, all the while containing Kentucky on the other end of the floor.
By the time the half was over, ND led 36-25, and UK looked a bit lost, content to take bad shots, unable to get free on its basic dribble actions, forcing wild shots in a congested lane. The story didn't change in the second half. The Irish opened a 53-35 lead with 11 minutes, 35 seconds remaining thanks to a clock-countdown heave of a 3 from ND guard
Jerian Grant
. With no offensive burst left in them, and facing a Notre Dame coach whose teams happen to specialize in extending possessions and burning clock, the young Wildcats were essentially done.
Turning point
: It would be tempting to look at
Alex Poythress
' second foul, at the 14:38 mark, when UK held a 12-6 lead, as the game's obvious turning point. It would also be facile. Poythress' absence was noticeable, no doubt, but Notre Dame was simply better for more of the game, including when Poythress was involved. Everything the Irish wanted to do --
pick-and-rolls with
Jack Cooley
and
Eric Atkins
, corner 3s for Grant and
Cameron Biedscheid
-- they did, while Kentucky failed to find anything remotely easy on the other end.
Key player
: Atkins. Grant hit big shots, as did Biedscheid, and Cooley led the way on the boards (as usual), but Atkins was the steadiest and most efficient presence for the Irish. He shot 7-of-11 from the field, dicing UK's defense along the way.
Key stat
: Kentucky shot 19-of-47 from the field (a season-low 40.4 percent. The Irish were good offensively, and they deserve plenty of credit for physical play on the offensive end, but the obvious key is UK just didn't make any shots. (This was true even of good post moves for
Nerlens Noel
and
Willie Cauley-Stein
. UK has some things to work on, but it won't shoot as badly as this again for a while.)
Miscellany
: There was a particularly weird moment in the second half when UK guard
Julius Mays
dribbled the ball off Noel's foot. It immediately went out of bounds ... but no one on the floor but Mays noticed. He stood there, angry, then realized he had a chance to sneak the ball back into play. Notre Dame fans freaked out, the refs turned and saw the play and the ball was called dead. Then the ref reprimanded an ND cheerleader, apparently for yelling at him during the play. It was a thoroughly unusual 30 seconds of basketball. ... In the second half, veteran Irish forward
Scott Martin
made a nice step-back move on Cauley-Stein that caused the UK forward to turn all the way around. By the time Cauley-Stein recovered, Martin had already sunk his 3-pointer. So much for Notre Dame as the boring utilitarian, huh? ...
Ryan Harrow
, Kentucky's mysteriously absent guard, shaved his flat-top and got minutes, though they were limited, and he was largely ineffective. Harrow's limits have forced
Archie Goodwin
into the point guard role, and while Goodwin has handled the transition well to date, he did not look at all comfortable in the Joyce Center. ... In the arena, Notre Dame's black-on-black-on-black uniforms looked pretty awesome. Judging from my Twitter feed, they were not so warmly received on TV. ... According to ESPN Stats & Info, UK's 50 points were its fewest-ever under Calipari and the fourth-fewest of any Kentucky game in the past 15 years. The 14-point loss was also the second-most lopsided in the Calipari era.
What's next
: Notre Dame has some time off before a Dec. 8 home game against Brown followed by a Dec. 15 matchup with Purdue. Kentucky, on the other hand, has exactly two days to cure what ails it, as a talented but struggling Baylor team comes to Rupp Arena on Saturday.
July, 31, 2012
7/31/12
5:00
AM ET
1. Texas coach Rick Barnes has been somewhat prophetic lately with his newcomers. If he's convinced they're going to be major contributors, then he doesn't hold back promoting. Well, Barnes is extremely high on his freshmen class that should bolster a rising sophomore group led by
Myck Kabongo
and
Julien Lewis
. Cameron Ridley is in shape and Prince Ibeh has developed his game well. The two 6-foot-10 centers are sure to be game-changers inside. The Longhorns also added 6-10 Connor Lammert. Barnes said the biggest surprise so far in workouts has been DeMarcus Holland, a shooting guard out of Garland, Texas. Barnes said Holland is an "every-day guy,'' someone who Barnes knows what he's going to get every day. And that means quality production if he can adequately get into the rotation.
2. BYU coach Dave Rose said Tyler Haws came back from his two-year Mormon Church mission in tremendous shape. He said his work ethic has been terrific so far in workouts. "He's looking really, really good,'' said Rose. Haws has a legitimate chance to be an All-WCC player in his first season back in Provo. Meanwhile, credit Iowa State coach Fred Hoiberg for actually agreeing to a true home-and-home series. The Cougars have had decent success securing home-and-home series with power six conference schools but have had the return game played in Salt Lake City, in the shadow of the
Utah Utes
' home court. But Iowa State will return a series that will start in 2012 in Ames to the Marriott Center in 2013 in Provo.
3. Kentucky doesn't have a traditional upperclassmen who will be a legitimate rotation player. But that's fine. Kentucky coach John Calipari said Wright State senior transfer
Julius Mays
will fill that void. Mays played one season at Wright State (14.1ppg, 2.5 apg and 42.4 percent on 3s) after transferring from NC State. Calipari attended a Monday workout of the Wildcats and remarked about Mays' shooting and overall experience. He also was extremely pleased with NC State transfer guard Ryan Harrow. But Calipari said Harrow and Mays could be coming off the bench. He said he fully expects at least two freshmen -- guard Archie Goodwin and forward Alex Poythress -- to start. The question is does he start both freshmen centers -- Nerlens Noel and/or Willie Cauley -- if he wants to go big? I would be stunned if Noel isn't in the starting lineup. The question will be Cauley.
Kyle Wiltjer
, Mays and Harrow will be in the rotation and likely at times starters during the long season.
January, 26, 2012
1/26/12
12:05
PM ET
By
Jeremy Lundblad, ESPN Stats & Info
| ESPN.com
Player of the Night -- Le'Bryan Nash

Nash scored 13 points during a pivotal 17-4 run late in the second half, as
Oklahoma State
knocked off No. 2
Missouri
,
79-72
. The freshman finished with a career-high 27 points. Nash came into this one shooting just 37.8 percent from the field, but hit 12 of 18 shots in the best shooting night of his career. It was the first time since 1957 that an unranked Oklahoma State team defeated the No. 2 team in the nation.
Board Monster -- Mike Moser

One of the best rebounders in the nation had the best rebounding game of his career. Moser pulled down 21 rebounds to go with 18 points as
UNLV
topped
Boise State
77-72 in overtime
. Moser is the only player with multiple 20-rebound games this season. He fell five shy of Jimmie Baker's school record set in 1973. Moser's 11.7 RPG would be the highest for an UNLV player since Sidney Green's 11.9 in 1982-83.
Youth Is Served -- St. John's

In
Wednesday's 78-62
win over
West Virginia
,
St. John's
featured a starting lineup consisting of five freshmen. It's believed to be the first time the school has done that since 1927-28. The Red Storm were led by 23 points and 13 rebounds from
Moe Harkless
, the fourth-leading freshman scorer in the nation. According to
kenpom.com
, St. John's has the least experienced roster in the nation, averaging just 0.56 years.
Free Throw Focus -- Julius Mays

Mays went 19-20 from the free throw line in
Wright State's
69-63 win
over
UIC
, setting a school record for free throws made in a game. It's the second-most free throws made in a game this season behind 20 from
Oregon State's
Jared Cunningham
. Mays, a transfer from
NC State
, finished with a career-high 33 points.
Ugly Stat Line of the Night -- Herb Pope

Pope went 2-for-16 from the field in
Seton Hall's
ugly
55-42 home loss
to
Notre Dame
. It was the fewest points Seton Hall has scored at home since 2005. Even without Pope's bad night, the rest of the Pirates still shot just 31.7 percent. Pope missed his first six shots and was 1-12 going into halftime. Of his 14 misses, seven were listed as layups in the box score, and one was a dunk.
January, 26, 2012
1/26/12
2:46
AM ET
By
ESPN Stats & Information
| ESPN.com
A scan of the college basketball box scores each night guarantees all kinds of statistical oddities and standout performances. Here are a few we found from Wednesday:
Kent State 90, Northern Illinois 56
Northern Illinois' starting lineup combined to shoot 2-of-18 from the field; the two made field goals are the fewest by any team's starting lineup this season, and the field goal percentage of 11.1 is also the lowest by a starting lineup this season. No team's starters had shot a lower percentage since Dec. 6, 2009, when San Diego's starters combined to shoot 2-of-27 (7.4 percent) in a loss to Fresno State. Three of NIU's starters did not score, something Texas Tech did later in the night. Entering Wednesday, a team had seen three of its starters go scoreless only 10 times all season.
UTSA 115, Jarvis Christian 49
Jordan Sims
of UTSA scored 26 points, making all seven of his 3-point attempts, in 18 minutes off the bench. The 26 points match the most by any player this season in fewer than 20 minutes and the seven 3-pointers without a miss also match the most by anyone this season.
Notre Dame 55, Seton Hall 42
Notre Dame made just 13 baskets in the victory. Only two teams this season have made fewer field goals in a victory. One of them was fellow Big East team Georgetown, which had 12 in Saturday's win over Rutgers.
Wright State 69, UIC 63
Wright State's
Julius Mays
hit 19 of 20 free-throw attempts in his team's win. Mays' 19 made free throws are the second-most by any player this season and his free-throw percentage of 95.0 is the highest percentage (minimum 20 free throws) since North Texas' Tristan Thompson made all 20 of his free throw attempts on March 6 of last season.