College Basketball Nation:

Julysses Nobles
February, 19, 2012
2/19/12
12:16
AM ET
MURRAY, Ky. -- Sweat beads still dotted
Isaiah Canaan
's forehead Saturday when someone asked the nation's best point guard a simple question: What message did Murray State send to the rest of the country by whipping 16th-ranked Saint Mary's on national television?
Canaan smirked.
Message? To him, the Racers'
65-51 victory
was more like a warning.
"Watch out," Canaan said. "Whether it's Duke or North Carolina or whoever, we're going to compete."
Not far away, in the CFSB Center stands, a gaggle of fans shouted for Canaan and began a "Final Four!" chant. No one rolled their eyes. Just three weeks before Selection Sunday, maybe it's time to begin thinking of the No. 14 Racers in that vein.
Murray State in New Orleans sounds cuckoo, right? Well, so did the thought of Butler and VCU in last year's Final Four, but both of those squads made it -- and neither had a player as good as Canaan, a first-team All-America candidate who entered Saturday's game averaging 19.2 points.
At 26-1, the Racers have the best record in the country. Everyone knows who to thank.
"Isaiah is a game-changer," Texas A&M coach Billy Kennedy said. "All of their players are good, but he's different. He gives them the chance to do something special."
Kennedy would know. Prior to taking over in College Station in May, Kennedy spent five seasons at Murray State and helped convince Canaan to become a Racer. Not that he had much competition.
A native of Biloxi, Miss., Canaan wasn't heavily recruited by the big programs in his home state. Ole Miss had Chris Warren,
Dee Bost
was beginning to blossom at Mississippi State and
Angelo Johnson
had just transferred from USC to Southern Miss.
"A lot of people slept on me," Canaan said. "That fueled my fire."
Of course, most schools might not have known about Canaan anyway, considering he played off the ball for his AAU team, which featured future Arkansas point guard
Julysses Nobles
. His chances to shine as a 17- and 18-year-old were few.
Still, when Kennedy saw Canaan play in a high school all-star game, he was sold.
"That's the guy we want," he said to assistant Steve Prohm, who is now Murray State's head coach. "That's the guy we need."
Canaan chose the Racers over Arkansas State and Tulane, but his rise to stardom didn't exactly occur at warp speed. He spent his first two seasons coming off the bench in place of starters B.J. Jenkins and Isaac Miles. Kennedy said it was clear that Canaan was the Racers' most talented player, but he wanted him to become their hardest worker, too.
[+] Enlarge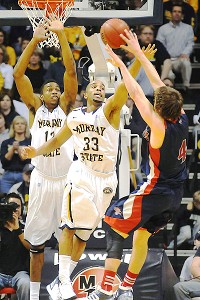 AP Photo/The Paducah Sun, John WrightMatthew Dellavedova's 17 points weren't enough against Jewuan Long and Murray State.
"A lot of guys at that level want [success] to happen right away," Kennedy said during a phone interview after Saturday's game. "People were in his ear saying, 'Why aren't you starting?' or 'Why don't you transfer?' But he chose to stick it out. He paid his dues.
"Everything that's happening for him now, he's earned it."
Most teams that catch fire in March do so because of a star, a player who can take over and win a game by himself when others begin to flounder. Connecticut rode Kemba Walker to 11 consecutive victories and an NCAA title last season. Butler's unlikely run to the 2010 national championship game happened largely because of eventual first-round draft pick Gordon Hayward.
Canaan has the potential to do the same kind of thing for Murray State. Saint Mary's learned that firsthand on Saturday, when Canaan blew open a semi-close game by scoring 17 of his 23 points in the second half. One minute he was swishing 3-pointers from 4 feet beyond the arc, the next he was throwing half-court alley-oop passes to a teammate for a dunk.
In a relatively weak year for point guards, Canaan has arguably been the nation's best at his position. The only question about his future as a pro is his height. Canaan is listed at 6-foot but is probably an inch or two shorter.
Not that it's mattered this season.
"He wanted to give me the ball one time," forward
Ed Daniel
said, "but I told him, 'No, you go ahead. You've been doing your thing. Keep going.'"
Indeed, the more confidence the Racers develop in Canaan, the more dangerous they become.
"They're a special team," Saint Mary's coach Randy Bennett said.
Murray State fans have known that all season. After Saturday's national broadcast -- Dick Vitale was on hand to call the game for ESPN -- the rest of the country does, too.
"We've got a lot of basketball still to play," said Prohm, clutching the microphone as he stood at midcourt and addressed the sellout crowd. "But I think we showed the national audience today how good we can be."
Moments later, to commemorate the Ohio Valley Conference title they won earlier in the week, each Racer climbed atop a ladder and took a celebratory snip of the CFSB net. No player received a louder ovation than Canaan.
"All the teams that slept on me, I'm sure they're regretting it," Canaan said. "But I've never regretted for a day coming here. They've accepted me like this was my home away from home. I'm trying to give back the best way I can."
Canaan approached a group of young kids who had been waiting patiently for his autograph. Before he began to sign, Canaan draped the net around his neck, clearly proud of his first championship of the season.
And maybe, just maybe, not his last.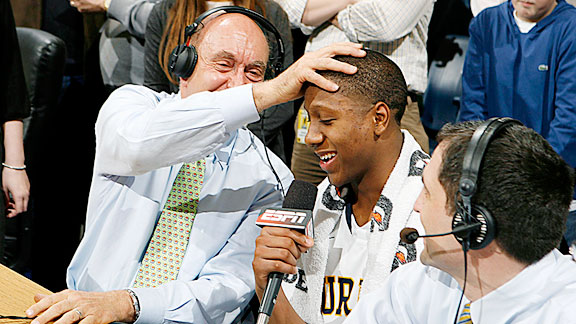 Brian Spurlock/US PresswireIsaiah Canaan gets some love from ESPN's Dick Vitale following Murray State's BracketBusters romp.
March, 10, 2011
3/10/11
10:12
PM ET
ATLANTA -- Tennessee nearly blew a 16-point lead in the final seven minutes of its SEC tourney opening-round game against Arkansas, but survived with a
74-68 victory
at the Georgia Dome.


The Razorbacks trailed 68-52 with 7:05 to play, but then went on a 16-0 run to tie the score at 68 with 2:08 remaining. After starting the second half 14-of-18 from the field, the Volunteers went 0-for-11 from the floor and had two turnovers during their nearly five-minute drought.
Arkansas had a chance to take a lead in the final two minutes, but forward
Delvon Johnson
turned the ball over while trying to spin around UT freshman
Tobias Harris
with 1:10 left.
On Tennessee's next possession, Harris found senior
Brian Williams
inside for an easy layup to make it 70-68 with 55 seconds to go. After the Hogs called timeout, UT guard
Melvin Goins
stripped the ball from guard
Julysses Nobles
, and Harris was fouled with 33.8 seconds to play. Harris made two foul shots to seal the victory.
Turning point:
After the Volunteers took a 16-point lead in the second half, Arkansas got back-to-back 3-pointers from
Rotnei Clarke
and Nobles to make it 68-64 with 3:41 to play. Williams, the Vols' best inside presence, was poked in the eye and had to leave the floor. The Hogs tied the score at 68 with Williams sitting on the bench. He returned to make the winning basket.
Key player:
Harris, a freshman from Dix Hills, N.Y., is considered a potential one-and-done player and it doesn't take very long to see why he might enter the NBA draft after only one college season. The 6-foot-8 forward scored 20 points on 7-for-13 shooting and grabbed three rebounds.
Key stat:
The Volunteers held on to win despite shooting only 2-for-15 on 3-pointers. It was the fewest number of 3-pointers UT made in a game this season, tying season-lows in losses to Kentucky and Charlotte.
Miscellaneous:
Junior guard
Scotty Hopson
, the Vols' leading scorer with 17.7 points per game, scored only eight points on 4-for-9 shooting. He didn't start the second half because of a "coach's decision" and was replaced on the floor by senior
Josh Bone
.
What's next:
The Volunteers will play SEC regular-season champion Florida in Friday night's quarterfinals. Both of UT's games against UF this season were extremely close, with the Gators winning 81-75 in overtime in Knoxville on Jan. 11 and 61-60 in Gainesville on Feb. 12. Arkansas finished the season with an 18-12 record, and coach John Pelphrey's future at the school seems to be tenuous at best with a 69-59 record in four seasons.