College Basketball Nation:

Justin Anderson
June, 17, 2014
Jun 17
11:30
AM ET
Editor's note: During the next five weeks, we will reveal
the top 50 coaches
in college basketball, as decided by our ESPN Forecast panel. Today we unveil No. 14: Virginia's Tony Bennett. On Wednesday, we release No. 13.
Virginia's Tony Bennett finally broke free of being restricted by the labels that defined his teams.
Critics can no longer claim his style is too slow to ever win big in the ACC. This past season proved that the Cavaliers shed much of that reputation en route to their first ACC regular-season title since 1981 and their first tournament title since 1976.
[+] Enlarge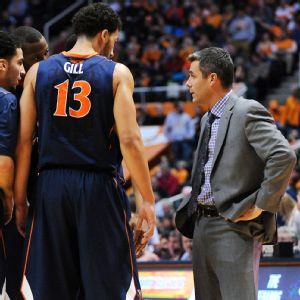 Randy Sartin/USA TODAY SportsTony Bennett always preaches defense, and Virginia's offense is coming around as well.
Entering his sixth season in Charlottesville, Virginia, the only description that matters for Bennett now is that the Cavs are contenders again.
Virginia will be among the preseason favorites to win the league as it returns seven of the top nine in its rotation from last season.
The Cavs' defense will again likely keep them in any game.
Bennett, who received a seven-year contract earlier this month, long ago attached his coaching brand to defense and the "pack-line" philosophy that his father carefully crafted. Since becoming a head coach in 2006 at Washington State, Bennett has had only two teams that allowed more than 60 points per game.
Virginia led the nation in scoring defense this past season, allowing opponents just 55.7 points per game. That also made it the Cavaliers' third consecutive season -- in Bennett's five years at the helm -- leading the ACC in scoring defense. In the storied history of the league, such a streak of at least three seasons has been accomplished only twice: Maryland from 1954-59 and Virginia from 1975-78.
Thing is, that stingy defense was partly attributed to an offense that was too deliberate -- some might even say boring -- and had trouble scoring.
During Bennett's five years at Virginia, his teams have not averaged more than 70 points per game in a season. That's the longest such streak without cracking 70 since the Cavs became a charter member of the ACC in 1953-54.
Games had to be played in slower tempos and half-court sets for Virginia to win. Early in this past season, it followed the same narrative in losses to VCU (59-56) and Wisconsin (48-38). But as the season progressed, Bennett worked the Cavs out of their scoring doldrums by diversifying their options.
Malcolm Brogdon
led the team in scoring with 12.7 points per game, and he wasn't even regarded as the best player. That distinction belonged to
Joe Harris
, whom Bennett convinced to take fewer shots in order to make the team that much harder to defend.
It proved to be the right formula in wins over North Carolina (76-61), Syracuse (75-56) and Duke (72-63). It might not seem like much, but the Cavs' 66.2-point scoring average last season was their highest in Bennett's tenure. They continue to trend upward as they've made incremental scoring increases in each of the last four seasons.
They can run when they want to, and score as they need to with balance on offense that would make Gregg Popovich proud.
Brogdon and
London Perrantes
will form one of the league's best backcourts. Brogdon, a rising junior, developed into a go-to scorer after sitting out the 2012-13 season with a foot injury. With the departures of Harris and
Akil Mitchell
, Brogdon could assume more of the scoring load next season, but the offense will still have many options.
Anthony Gill
and
Justin Anderson
have the experience to bring continuity to the starting lineup.
With Virginia's offense slowly coming around, expectations of another NCAA tournament Sweet 16 appearance could be just the start for the Cavs next season.
March, 15, 2014
Mar 15
9:31
PM ET
GREENSBORO, N.C. -- The possibility remains that the winner of Virginia and Duke in the ACC tournament title game will produce a No. 1 seed in the NCAA tournament. Yet neither team wanted any part of that discussion.
Both teams have maintained an edge by keeping their focus within.
Only
Quinn Cook
readily answered that the Blue Devils were deserving of a top seed if they claim a record 20th ACC tournament title on Sunday. His teammates were all eager to deflect the question after their 75-67 win over NC State in the semifinals.
"You know me coming from Mississippi, I'm not sure how all the seeds and stuff works," joked Duke forward
Rodney Hood
. "I'm just happy to be playing for a championship right now."
The Cavaliers are happy too, they just won't let anyone know it. Cue the Aretha Franklin sock-it-to-mes. They're too busy feeling disrespected.
[+] Enlarge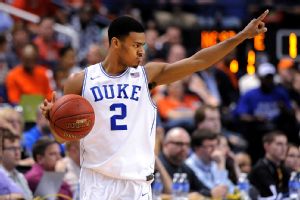 Grant Halverson/Getty ImagesQuinn Cook and the Blue Devils aren't worried about their NCAA tournament seed. They are focused solely on Virginia and the ACC title game.
Despite holding the league's regular-season title and the league's top seed in the ACC tournament, the Cavs play like they're still out to prove something. No one can tell them that they already have because it's what works for them. Virginia has a Jordanesque way of picking out perceived slights.
"We always talk about at the hotels and in our houses, it's funny because we're doing well and we're never on ESPN, we never have our own tab on ESPN," said Virginia sophomore
Justin Anderson
. "It's easy to understand that we're still the underdog and that's where we want to be. We don't have any McDonald's All-Americans. We don't have any guys who came out top five in the country. We're just a bunch of blue-collar guys who want to work together to achieve something great."
That may be the case, but Duke's
Amile Jefferson
promised the Cavs have gotten five-star treatment within the conference.
"I don't think anyone in our league would overlook them or doubt how good they are," Jefferson said. "They're an amazing basketball club -- they won our league. I think they deserve all the respect because they're a really good team."
The Cavs claimed their first outright conference title since 1981. Some wondered how legitimate their title was this season because of the league's unbalanced schedule. Virginia only played the league's other top four teams once each.
Should they beat the Blue Devils it would be just their second ACC tournament title. They won their first in 1976.
"It's been a while," Virginia coach Tony Bennett said. "There's only one, right? You can ask our [beat] writers that we've won one and I get reminded of that quite a bit."
See what he did there?
Bennett gets reminded of that one title. His pregame speech is practically written for him. If that wasn't enough, Bennett said he received a text from Wally Walker, who was the team captain on that '76 title team whose message said, "We want some company."
The way Duke players sounded, their regular-season win over the Cavs on Jan. 13 was an eternity ago.
Duke's
Rasheed Sulaimon
hit a go-ahead 3-pointer that needed a friendly bounce before going in the basket with 22 seconds left. He went so far to call it "irrelevant" in relation to Sunday's title game. But the win was arguably the turning point for the Blue Devils' season.
They had just lost road games at Clemson and Notre Dame when returning home to face Virginia. They nearly blew a 13-point lead in the final eight minutes, but held on for a 69-65 win.
"We were coming off being 1-2, a disappointing loss to Clemson," Cook said. "I think we were fighting for our life."
Duke coach Mike Krzyzewski said in his postgame interview against the Cavs that his team should be judged by how it played from that moment forward. Outside of an inexplicable loss at Wake Forest, the Blue Devils have been consistently good since.
Sulaimon said Duke was still trying to find out who it was back then.
"We know everybody's strengths and weaknesses and we know what we have to do to be successful now," Sulaimon said. "... We had a tremendous amount of growth since that time, but that was two months ago so I'm pretty sure Virginia has too."
While that sounds like respect, Virginia probably won't let it play out that way. Anderson said the loss to Duke, "was the game that definitely crushed my heart."
Virginia guard
Malcolm Brogdon
added it didn't matter how much they've won, they play better when they find an angle.
"I think so, that's what we pride ourselves on and that's how we try to play every game regardless of how far we go in whatever tournament or in the ACC," Brogdon said. "We try to pride ourselves in having a chip and being hungry every game."
July, 16, 2012
7/16/12
5:00
PM ET
Editor's note: ESPN.com's Summer Shootaround series catches up on the offseason storylines for each conference. For more on the ACC, click here.
Marcus Paige
,
North Carolina
: With Cousy Award winner Kendall Marshall now playing in the NBA, senior shooting guard/backup point guard
Dexter Strickland
returning from a knee injury and last season's third-stringer,
Stilman White
, away on a Mormon mission, the left-handed Iowan is going to play a lot of minutes. But he's coming off a summer foot injury, so how quickly he has healed and how fast he adapts will be key for the Tar Heels.
Rasheed Sulaimon
,
Duke
: The wing from Houston won the 3-point shooting contest in the McDonald's All-American game and averaged 27.4 points as a high school senior. Now that Austin Rivers is gone to the NBA, Duke needs some more perimeter scoring -- and the 6-foot-3 Sulaimon is a strong candidate to do provide it. Freshman forward
Amile Jefferson
, a late signee, will be a key piece of the Blue Devils' puzzle, as well.
Rodney Purvis
,
NC State
: One of three new McDonald's All-Americans on the Wolfpack's roster, the 6-4 combo guard should add athleticism and depth to the wing. And although he's expected to make an instant impact, he'll have the bonus of being able to adjust without the burden of carrying the full load, thanks to the return of Leslie and Brown, among others.
Robert Carter
,
Georgia Tech
: Yellow Jackets fans are hoping the big Georgia product will help turn around a program that hasn't had a winning conference record since 2004. The 6-8, 250-pounder was ranked the No. 7 power forward prospect in the nation by RecruitingNation.
Justin Anderson
,
Virginia
: The 6-5 wing is a strong defender with scoring potential -- and the Cavaliers need both after the losses of
Mike Scott
,
Sammy Zeglinski
and
Assane Sene
. Anderson is from Spotsylvania, Va., and is ranked the No. 12 small forward by RecruitingNation.