College Basketball Nation:

Justin Brownlee
March, 18, 2011
3/18/11
2:27
AM ET
By
Diamond Leung
| ESPN.com
DENVER -- Steve Lavin momentarily put on his analyst's cap and gave a glowing review of Gonzaga's chances in the NCAA tournament after the Zags dominated his St. John's team throughout an
86-71
second-round win.
"They're definitely a Final Four-capable team, national championship-potential team," Lavin said.
Those were the words the former ESPN analyst used to describe a No. 11 seed, one that began the season 4-5 and slogged through the tough part of its difficult nonconference schedule. Gonzaga was even three games out of first place in the WCC at one point.
But expectations are high again now for the Zags, who have won 10 games in a row and are feeling good enough about themselves to say that in their minds, taking down the 6th-seeded Red Storm wasn't much of an upset.
"If you look at the bracket, yes," forward
Elias Harris
said. "If you know us, this was a fair fight. For them, it was not cool to play us."
[+] Enlarge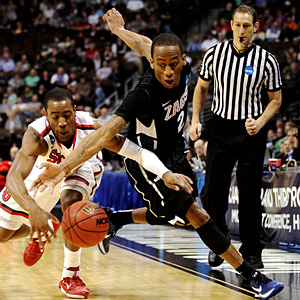 Justin Edmonds/Getty ImagesGonzaga's Marquise Carter had an impressive performance in his NCAA tournament debut, scoring 24 points.
Said center
Robert Sacre
: "I don't see why it was an upset. I don't think we get enough credit."
Yes, the Zags have heard all the talk about them not having played anyone in the one-bid WCC. They simply don't believe it and try to make their case on the court.
So rather than look at St. John's as a favorite that needed to be slayed, Gonzaga just went out and thrashed its Big East opponent. With leading rebounder
D.J. Kennedy
lost for the season, the Red Storm saw the Zags out-rebound them 43-20. In fact, after going up by 11 with 18:59 left, Gonzaga never saw its lead slip under double-digits again.
Marquise Carter
was fantastic in his first NCAA tournament game, as the junior college transfer had 24 points, six rebounds and six assists.
Point guard
Demetri Goodson
played what coach Mark Few called his best game, handling St. John's press, traps and zone defense.
Steven Gray
scored 16 points, and Harris added 15.
"I'm tickled pink for these guys," Few said. "They took the game plan and executed it. "
The Zags might consider itself a young team, but Gray, Harris and Sacre make up a big lineup that is battle-tested from its previous tournament experience, and Few said it helped the Bulldogs against a senior-laden St. John's team dancing for the first time in nine years.
Dwight Hardy
scored 26 points, and
Justin Brownlee
had 14 for St. John's, but Gonzaga's rebounding edge was difficult to overcome. The Zags also shot 9-for-15 from beyond the arc, with Gray and Carter doing the most damage. For the game, they shot 53.8 percent from the field.
So while Harris has heard the criticism that the Zags don't play anyone in the WCC, he said that the team doesn't really listen to it. Playing with blinders is how Sacre described it.
The Bulldogs have fingers in their ears while the rest of the nation either continues to doubt them or adores their underdog status.
After convincingly beating St. John's, does the slipper actually still fit for Gonzaga?
February, 19, 2011
2/19/11
4:23
PM ET
NEW YORK -- Not long ago, when Frank Sinatra started crooning "New York, New York", the last call at Madison Square Garden, it was hard not to note the irony.
[+] Enlarge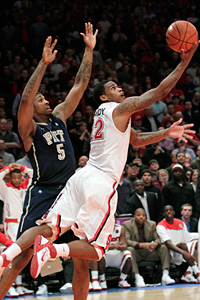 AP Photo/Mary AltafferDwight Hardy of St. John's scores the winning basket as Pittsburgh's Gilbert Brown defends.
As the scattering of St. John's fans would make their way toward the exits, melancholy and shuffling after another tepid performance, Ol' Blue Eyes would insist, 'Start spreading the news,' but really what news was there to spread?
That the Red Storm again was average?
That New York City basketball served as a pipeline everywhere around the Big East but its own back yard?
Which was why the plea from the public address announcer following a 60-59 St. John's win against No. 4 Pittsburgh said as much about the importance of the victory as anything.
Long after the game was over, no one had moved. The crowd of 14,514 still stood in the stands or in the aisles, not anxious to leave but desperate to soak up the moment, until finally the PA man implored, "Please clear the building at this time.''
And so they left, hooting and hollering and high-fiving the entire time.
There is much to celebrate, of course.
The win against the Panthers was the fifth against a top-15 opponent for the Red Storm this season. That's exactly one more win against a top-15 team than the program has produced over the past 10 years.
And it turns the key on the NCAA tournament lock for St. John's, meaning for the first time since 2002, Selection Sunday will not be spent waiting on a call from the undercard tourneys.
No wonder no one wanted to leave.
"It's what you dream about,'' said
Dwight Hardy
, a Bronx kid who was raised to believe that Madison Square Garden hung the basketball moon. "It was, I don't know, it was just amazing. Incredible.''
The atmosphere, so long absent here, was only the second-most amazing and incredible thing at the Garden on Saturday afternoon.
The first was Hardy.
The senior put the exclamation point on his team's arrival back to relevance with a last-second winner that ranked among the most ridiculous of any recorded this season.
With only 11.3 seconds left after Trevon Woodall's 3-pointer seemingly put yet another road victory to bed for Pittsburgh, Hardy wound up with the ball in what looked like a sea of Pittsburgh jerseys along the baseline.
And then out of the forest came Hardy, spinning to put in a reverse layup with 1.2 seconds left.
"Yeah you dream about that as a kid,'' said Hardy, who, as is his norm, led the Red Storm in scoring. He finished with 19. "But when you dream about it, the shot is a lot easier.''
His coach likened it aptly to Mikhail Baryshnikov and Fred Astaire, a move so sickeningly sweet it certainly ranked among the hoofer legends' best.
"I put three guys on one side of the court and two -- Hardy and
Justin Brownlee
on the other -- and that's about all I can take credit for,'' Steve Lavin said. "There is no better feeling than to have a player of that caliber in a situation like that. Packed house, against the No. 4 team in college basketball, and I've got the guy who has the Emerald City of green lights.''
Afterward Lavin immediately began campaigning for his guy to earn Big East player of the year honors, a notion that plenty would find laughable, what with that Kemba Walker guy a few hours north, and
Ashton Gibbs
, who scored 26 of Pitt's points against St. John's, to the west.
It's not likely, but it's not altogether insane. Hardy is every bit as critical to St. John's as Walker is to UConn, and it certainly isn't hard to argue that the Red Storm achieving such success is a lot harder than the Huskies merely rediscovering it after a one-year hiatus.
Hardy has been consistent all season, but especially big in the most critical of games. He had 26 against Duke, 33 against UConn, 18 in a road win at Cincinnati, and 28 in a come-from-behind road win at Marquette.
"Look at what he's done for our program,'' Lavin said. "His numbers are outstanding, especially against our best competition.''
And this time his numbers outshone the other POY candidate on the floor. Gibbs, out the past three games with a knee injury, nearly single-handedly beat St. John's. If he is still recovering, plenty of coaches would welcome similarly gimpy players.
But this time neither Gibbs nor the Panthers' steely composure could make the difference.
As much as this win does for St. John's, the loss doesn't do the same to Pitt.
It is the first road loss for the Panthers, a remarkable feat in any league. An impossible one in the Big East.
The Panthers are hardly reeling, and there should be no harm in losing to a good team in a tough environment in a league that is about as hard to scale as Mt. Everest in a bikini.
It's a little different for the Red Storm.
The Duke win, of course, is the one that most will circle as the aha moment for St. John's, but in some regards, this one means more.
It was, exactly as Pittsburgh wanted it, a dogfight. Three technicals awarded, countless hard rebounds and scraps for the ball. The score was tied nine times, the lead changed 11. Pitt led by six with less than eight minutes to play, by five with less than four minutes left, and by one after Woodall's 3 that certainly looked like the winner.
This game was not for the feint of heart, not for a Johnny-come-lately who doesn't really know how to win.
"We've learned how to counter punch,'' Lavin said. "Before in these situations, we would have been a little deflated at times, but this time we weren't a jumper-cable team. We were focused.''
The Big East long has been held as the best league in the country, but it has moved along quite nicely without the team in its epicenter (league office address of Providence be damned) factoring in much.
Pittsburgh has taken up residence with a decade-long run of gold standard excellence, with the Red Storm's one-time running mates of Syracuse, Connecticut, Georgetown and Villanova joining the Panthers in the upper echelon.
Now you have to wonder. In three weeks, the 16-team beast will convene at Madison Square Garden for the bloodbath that is the Big East tournament.
New Yorkers always fill the place, mixing in with the college kids and the faithful fans, but they typically go to appreciate good hoops. There hasn't been much to root for.
Now? Now they have a team that already has won nine league games and, with a favorable slate of remaining games (DePaul, at Villanova, at Seton Hall and South Florida), could very well find its way among the top four seeds come Big East tournament time.
"This win means a lot, maybe more than all of the others because of who we beat and how we did it,'' Hardy said. "Pitt kept coming but we came back harder. That's what we want to be known as -- a tough out, a team you can't beat easily -- and that's what I think people realize now. We're not going anywhere.''
And that, certainly, is news worth spreading.
March, 10, 2010
3/10/10
4:42
PM ET
NEW YORK -- What did you think? Marquette was going to win in a blowout?
Thirteen of the Golden Eagles' 30 regular-season games were decided by four points or less. Two went overtime. Why should things change in the Big East Tournament?
Against St. John's, they blew the lead, missed free throws and made Buzz Williams squirm.
But the heart-attack kids survived a huge second-half rally by a desperate St. John's team to advance to the quarterfinals.
Here's a few thoughts from the game:
The real question with the season officially over for St. John's: What happens now with Norm Roberts? The Red Storm's 17 victories this season were actually the most St. John's has recorded under the chronically embattled coach, but is it enough to keep his job? Conventional wisdom says no, but conventional wisdom said no last year and he came back.
Give credit to the Johnnies. They were horrible in the first half, scoring just 17 points and shooting only 29 points but they came out aggressive and tough in the second half. Finding gaping holes in the Golden Eagles' defense, they shot 55 percent and found a strength inside in the form of Sean Evans, Anthony Mason Jr. and Justin Brownlee. Evans had 10 of his 12 in the second half, Mason Jr., six of his eight and Brownlee all of his six points.
Marquette advances to another quarterfinal matchup with Villanova. The Wildcats scored on a buzzer-beater last year to oust the Golden Eagles. If they want to beat 'Nova they're going to have to shore up their defense. The Wildcats aren't going to score 17 points in the first half.
Credit David Cubillan for the save in this game. He knocked down two of his four 3-pointers in the crucial last 10 minutes after St. John's made it a game. His trey that didn't even rattle the net with 1:15 left also proved to be the dagger.