College Basketball Nation:

Justin Graham
January, 28, 2011
1/28/11
1:47
AM ET
By
Diamond Leung
| ESPN.com
SAN JOSE, Calif. -- BYU is the talk of the nation, but have you heard? There's another team in the state that's making some noise.
It's Utah State that has the nation's third-longest active winning streak, and the Aggies stretched that to 14 games after handling their business in an
84-65 win
at San Jose State on Thursday.
Peaking once again during WAC play, the 19-2 Aggies are ranked No. 25 and don't really mind that BYU is the team leading the local newscasts and overshadowing some of their success.
"I feel like it has, but that's fine," said Utah State forward
Tai Wesley
, who has been following what he calls the Jimmer Show. "We don't care about attention. We care about wins."
[+] Enlarge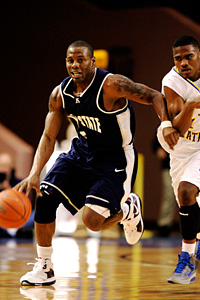 Phil Carter/US PRESSWIREBrockeith Pane and Utah State improved to a perfect 8-0 in the WAC with a win over San Jose State.
The only two teams Utah State has lost to this season? BYU and Georgetown, both ranked teams that got to play the Aggies at home. They haven't lost since the Hoyas blew them out on Dec. 4, but have improved during the latest streak.
The last time the defending regular-season WAC champs played San Jose State -- and won by nine on New Years' Eve -- coach Stew Morrill blew his top in the halftime locker room speech.
"He went nuts," Wesley said. "He was kicking over stools, spitting and yelling. I don't know how many episodes like that he has left."
Said Morrill: "We're really a team that has to defend and play hard. I didn't think our energy level was up. I have a hard time when my teams don't play hard."
The Aggies have won all but one of their games since then by double digits, and by beating San Jose State, which was without injured point guard
Justin Graham
, they've now won 22 straight WAC games and 34 of their past 36 regular-season games.
Wesley, the WAC's preseason player of the year as voted on by the league's coaches, has been dominant down low with his .608 field-goal percentage.
Nate Bendall
has played through foot pain to bolster the frontcourt along with
Brady Jardine
, who is tied as the team leader in rebounds with Wesley.
The player that gives Utah State an extra boost in athleticism is point guard
Brockeith Pane
, a junior college transfer who played his freshman season at Houston.
"We got to earn people's respect," said Pane, who scored 13 points against San Jose State. "If we continue to bring it, the sky's the limit."
Brian Green
came off the bench to score a career-high 25 points, hitting all five of his 3-point attempts, but don't expect many Jimmer-like single-game numbers for a program known for its methodical play.
The Aggies do have experience with winning and are showing it right now.
"We got a lot of seniors and leadership," Wesley said. "Each game we're getting better."
January, 7, 2011
1/07/11
3:12
AM ET
By
Diamond Leung
| ESPN.com
Staying undefeated in the WAC certainly didn't come easily for Boise State, not by a long shot.
The Broncos gave up a double-digit lead in regulation.
La'Shard Anderson
hit what appeared a step-back game-winning 3-pointer at the buzzer in the third overtime, only to see referees review the play and wave it off.
And they ultimately needed four overtimes to beat San Jose State
102-101
on Thursday in front of 1,684 in San Jose, marking the first time the program had gone to such great lengths. Afterward, first-year coach Leon Rice could still feel a sense of pride that his players had kept fighting on the road while also chuckling about being nearly as tired as they were.
"When you're coaching, you lose track of how many overtimes," Rice said by phone. "It seemed like it went on forever."
Anderson hit two go-ahead free throws and then came away with the game-deciding steal to cap his career-best 31-point performance. Fellow seniors
Paul Noonan
and
Robert Arnold
played 57 and 53 minutes, respectively.
The Broncos fouled out San Jose State scoring star
Adrian Oliver
in regulation after he scored 21 points and then survived a gutsy game from Spartans point guard
Justin Graham
, who scored 29 points and played all 60 minutes of the game.
"To be honest, I didn't feel that tired playing," Graham said afterward. "The adrenaline flowing and just being in the moment of the game and the excitement, you just keep going. Now that the game's over, I'm ready to go to bed."
Said Rice: "It was a tremendous win. It's never easy to put someone away easily on the road, especially those guys. It's a credit to our guys."
Boise State is now 10-5 and 3-0 in the WAC after Rice left his job as associate head coach at Gonzaga to take over a program that last season finished second-to-last in the conference.
Now the Broncos are atop the standings along with Fresno State, with perennial favorite Utah State at 2-0. Boise State hosts Utah State next week, but Rice indicated there was no way his team was looking past its upcoming game in Hawaii on Saturday.
"We preach the ability to recover," Rice said. "We have to recover from good things. We have to recover from bad things. We're getting good at it.
"We had to recover about three times."
December, 23, 2010
12/23/10
2:10
PM ET
By
Diamond Leung
| ESPN.com
San Jose State guard
Adrian Oliver
set school records with 42 points in a game and 30 points in a half, as the Spartans won 95-62 against Puget Sound.
"Told my family I'd score 40-plus for Christmas for them ... so merry Christmas fam,"
Oliver tweeted
.
Yes, games like these have become somewhat predictable for the former Washington transfer who's now the nation's third-leading scorer at 25.8 points per game.
The 42-point outburst was his 13th game of at least 30 points for San Jose State, and he did it by going 12-of-15 from the field while at one point hitting seven 3-pointers in a row.
"Every spot on the floor was a good spot the way I was feeling it," Oliver said after the game. "The guys recognized that and put a little more emphasis on getting me open. I was just connecting on my shots."
More importantly for the Spartans, they're 8-3. The program hasn't recorded a winning season since 1994, but is now looking to be a factor in the WAC.
San Jose State has another senior in the backcourt, with point guard
Justin Graham
averaging 16.1 points. The Spartans added another member to their rotation when junior college transfer
Brylle Kamen
, a forward, returned to the lineup after the NCAA had ruled him ineligible for the first eight games.
So there's plenty of reason for good cheer heading into the WAC opener next week.
February, 17, 2010
2/17/10
5:05
PM ET
By
Diamond Leung
| ESPN.com
San Jose State is home to
Adrian Oliver
, the nation's sixth-leading scorer who garnered the U.S. Basketball Writers Association's national player of the week honor last month.
[+] Enlarge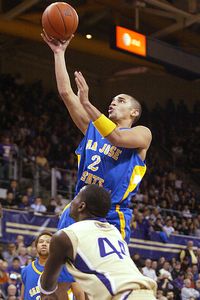 Icon SMISan Jose State's Adrian Oliver is averaging 22.5 points per game this season.
That Oliver would reach those heights seemed unlikely as of two seasons ago when he abruptly transferred from Washington. The 6-foot-4, 210-pound junior guard showed signs of stardom last year, but was bothered by foot and knee injuries.
This year, Oliver has burned defenses for 22.5 points per game to lead the WAC in scoring and has the Spartans (12-12) in position to record their first winning season since 1994.
DL:
Last month you scored a career-high 39 points against Louisiana Tech. What does being in the zone feel like?
AO:
It's really hard to explain. It's something you start feeling. The rim gets really big, and no one on the court can really guard you. You try to make the most of it. It's kind of special.
I don't like how it shows at our gym; it shows players points. People know you're one point away (from 40). I'd much rather have the win.
DL:
You chose to transfer to San Jose State from Washington, but what did you know about the school coming out of high school?
AO:
Absolutely nothing. I knew nothing about the school. When I came back home, I thought about my friend,
Justin Graham
, and how he came here. It's a school right next to my home (in Modesto). I just knew San Jose was the capital of the Silicon Valley. It's what I call the other half of the Bay Area. I just found out a couple days ago it's one of the biggest cities in the state.
DL:
When you arrived at San Jose State, was there a culture on the team that needed to be changed?
AO:
It was obvious. That's all about Coach (George) Nessman. He knows the big picture. He knew it wasn't going to change overnight. He had to bring his guys in. There's no riff-raff on the team. We all have the same goal.
The biggest thing he's taught me is to be patient. Since I've been here, I've had to watch more film, find ways to get open. He just teaches me the small things, the angles, and cutting hard. Small things that may make all the difference.
DL:
How bad did the Dawg Pack get on you when San Jose State went to play Washington earlier this season?
AO:
I expected worse. I figured a lot of them didn't really know me. A lot of the Dawg Pack probably graduated and moved on. It's still the Dawg Pack. I remember when it was a little bit louder. Nothing against these ones. I was hoping for worse. I respected the crowd for giving me a standing ovation after the game.
DL:
I understand you still keep in touch with Lorenzo Romar. How often do you talk?
AO:
Even though he's not my coach anymore, he's still one of my friends. He was my mentor right out of high school. He's the person I went to to learn how to learn how to be a man. We shoot text messages to each other. Last year, he came to one of my games when he was in the Bay Area.
DL:
Your recruiting class at Washington included Spencer Hawes and
Quincy Pondexter
. Do you ever wonder what if you all had stayed together?
AO:
Sometimes you wonder, but not much. It feels like so long ago. People ask me that all the time, but it's like what if any good recruiting class had stayed together? That's highly unlikely. Yeah, I came in with all those guys. We could have done some great things.
DL:
Is it possible you'll put your name in the draft after the season?
AO:
I'm not really trying to think about it. I'm just really trying to worry about getting the team to a place it hasn't gotten to before. No matter what you hear, what the media is saying, it's about us. Any award I get goes to you guys.