College Basketball Nation:

Justin Harper
June, 14, 2011
6/14/11
3:15
PM ET
Similarity scores -- semi-complicated, multifaceted mathematical devices used to calculate one player's similarity to his peers -- can be truly useful instruments. Other times, they're just fun to look at. For example, see
Barry Bonds's "similar players by age" list on Baseball Reference
. Like all Bondsian stats, it's mind-boggling stuff. You can spend an hour staring at that page before your jaw manages to writhe itself up off the floor.
But this is not a post about Barry Bonds. (Thank goodness.) It is a post about former Richmond forward-slash-current NBA prospect
Justin Harper
, and in particular the hilarious strangeness of Harper's similarity scores. Harper is a 6-foot-9 forward with an uncanny mix of athleticism and shooting touch.
ESPN Insider Chad Ford ranks Harper as the No. 30 draft prospect
; he's a likely selection in the lower half of the first-round.
So: Tall, athletic,
shoots the lights out
... is Harper the next Rashard Lewis? What about, say, Mike Dunleavy? Hedo Turkoglu? Bueller? Bueller?
Turns out,
as Big Apple Buckets discovered
, Harper's collegiate similarity scores include precisely none of these players. Frankly, they include a bunch of players you may never have thought of again were it not for the blog post in the first place. Harper's 10 most similar players are:
Kyle Weems, Missouri State, 2011 (1.71)
Daniel Kickert, Saint Mary's, 2005 (2.17)
Levi Dyer, Illinois State, 2007 (2.42)
Nate Funk, Creighton, 2005 (2.50)
Craig Craft, Southern Miss, 2007 (2.56)
Dale Lamberth, Missouri State, 2007 (2.57)
Dale Lamberth, Missouri State, 2008 (2.60)
Dale Lamberth, Missouri State, 2006 (2.73)
Clint Cuffle, Evansville, 2003 (2.81)
Anthony James, Northern Iowa, 2011 (2.84)
Holy Missouri Valley Conference, Batman! Only one player on the list -- former Saint Mary's stalwart Daniel Kickert -- didn't play his collegiate hoops in the MVC. That's either some sort of coincidence, or something in Harper's game (size with shooting, limited touches but efficient usage, et al.) is a lasting point of order among the MVC's better scorers.
In actuality, as Big Apple Buckets explains, all of these similarities are pretty far off. There are a handful of guards in here; Harper's a forward. Really, the only thing these similarity scores tell us is that Harper is a really, really unique player. Perhaps a better picture would emerge if Harper spent a year in college as Richmond's only go-to scorer, but he never had to face that challenge.
Either way, it's an intriguing little bit of data. If I'm an NBA general manager, I've got my eye on Harper as a late first round steal. (Hey, Bulls: Lookin' at you.) But I'm also sure I've got as good a handle on Harper's unique skill set as possible before I assume he'll fit into my team's style. Something to keep an eye on, at least.
March, 25, 2011
3/25/11
9:34
PM ET
SAN ANTONIO -- A quick look at Kansas'
77-57 win
over Richmond Friday night.


Overview:
This was exactly the kind of beatdown one could expect when a No. 12 seed shows up in the Sweet 16 to play a No. 1. Richmond's pregame act of defiance -- getting into a brief shoving match with Kansas in the tunnel leading to the court -- turned out to be the last fight the Spiders would put up all night. Kansas dominated in every phase of the game, racing to a double-digit lead in just more than eight minutes and keeping it there the rest of the night.
Turning point:
It might have been the pregame altercation. Any hope Richmond had of sneaking up on an overconfident Kansas team probably disappeared at that point. Kansas was locked in all night, and that was bad news for the underdog.
Key player:
Jayhawks guard
Brady Morningstar
never headlines the opponent's scouting report, but that doesn't mean he isn't dangerous. Morningstar showed it early against Richmond, making 5 of 7 shots and scoring 12 first-half points. He finished the night with a team-high 18.
Key stat:
Kansas shot 50 percent from the field in the first half, 50 percent from 3-point range and 100 percent from the foul line. Richmond, meanwhile, shot just 29 percent from the field and 21 percent from 3 in the first 20 minutes. Those stats were not conducive to a shock-the-world outcome.
Miscellaneous:
Kansas guard
Tyshawn Taylor
also played a great first half, with five assists, zero turnovers and two blocked shots. ... Richmond leading scorer
Justin Harper
had a very deceptive 22-point night. He struggled offensively against the big Kansas front line and didn't get going until it was too late.
What's next:
Kansas moves on to the regional final Sunday against the winner of Florida State-VCU. Richmond goes home and hopes it keeps its coach, Chris Mooney, who is a candidate for other jobs.
March, 25, 2011
3/25/11
8:02
AM ET
SAN ANTONIO – Previewing the Kansas-Richmond Southwest Regional semifinal:
No. 12 seed Richmond (29-7) vs. No. 1 seed Kansas (34-2), 7:27 p.m. ET (TBS)


What to watch:
How do the Spiders handle the big stage? Richmond's average home attendance this season was 5,959. Its average road attendance was 5,110. Neutral floor: 6,143. Now they move into a domed stadium that will be set up for around 30,000 fans -- most of them rooting for Kansas. This is, by every measure, a significant step up in class for the Spiders -- but this also is a team with four senior starters. If any group of collegians from a mid-major program is going to handle the inevitable butterflies and sweaty palms that accompany this assignment, you've got to like Richmond's chances.
Conversely, how do the Jayhawks handle the pressure? They're such prohibitive favorites -- in this game, and in this entire broken-bracket regional -- that domination will be the expectation. Anything less than that -- particularly a slow start against milk-the-clock Richmond -- will only feed the hope of the underdog and the anxiety of the Kansas legions in attendance. The Jayhawks believe they rid themselves of a significant upset demon by getting past the round of 32 (where they lost last year to Northern Iowa as the overall No. 1 seed), but now there are more massive underdogs ahead. They can afford to play pressure-free, while Kansas cannot.
Who to watch:
For Richmond, the key players are forward
Justin Harper
and guard
Kevin Anderson
. Harper has transformed himself from a late bloomer who was more adept at playing the saxophone in the high school band than basketball. The 6-foot-10 senior is averaged 17.8 points, 6.9 rebounds and is shooting a deadly 45 percent from 3-point range. Anderson has been the program's heartbeat for four seasons. The school's No. 2 all-time scorer is averaging 16.7 points and leads the team in assists, steals and minutes.
For Kansas, the key players are the Morris twins, Marcus and Markieff. The brotherly bruisers are combining to average 31.2 points and 15.7 rebounds -- and those numbers swelled to 36 points and 20.5 rebounds in two NCAA tournament games in Tulsa. Everyone knows they have to stop the Morrises, and nobody has been able to do it.
Richmond wins if... :
It can avoid being slaughtered on the glass and hit a lot of 3-pointers. The Spiders have been outrebounded on the season, and they're going up against a Kansas team that has dominated the boards. The Jayhawks are sixth nationally in rebound margin at plus-7.9 per game. Richmond has done a better job on the boards lately, and that will have to continue Friday. To counteract what seems like an inevitable rebounding deficit, UR must shoot well from the outside. The Spiders are a 40 percent 3-point shooting team and have made 104 more 3s than their opposition -- whatever open looks they get Friday night, they need to make. Last year, Northern Iowa withstood KU's eight-rebound advantage by outscoring the Jayhawks by nine from the 3-point arc.
Kansas wins if... :
It plays up to its capabilities. It's really that simple for the Jayhawks -- they're the better team. If they play inside-out with the Morris twins, hit a few timely 3s to keep the defense honest, take care of the ball and play with their customary defensive intensity, this outcome shouldn't be in doubt in the final 10 minutes. If Kansas struggles to start and doesn't cover Richmond outside the arc, it could get tense.
What they're saying:
Richmond guard Kevin Anderson, dreaming big: "Our focus is to get a national championship and Kansas is in the way right now, so we have to go out there and handle our business. … You don't get to the Sweet 16 and decide that's good enough. That's not really a goal. I don't want to sell our hard work short. Everyone's saying we're lucky to be in the Sweet 16, we're lucky Morehead State beat Louisville. We want to prove those people wrong. What better way to do that than by beating Kansas?"
Bill Self, cautioning against seed-based overconfidence: "The field here is strong. It may not appear from a seeding standpoint to be as strong as 1, 2, 3 and 4 that are left, but I guarantee that there will be nobody that will be looking forward to playing anybody in this field right now. Once you get to the Sweet 16, you expect to play a great team. And we certainly have an opportunity to play a great one [Friday]."
Notable:
Kansas certainly has fond memories of playing in the Alamodome. It won the 2008 national title here, courtesy of Mario Chalmers' last-second 3-pointer that capped a miraculous rally against Memphis to send the game into overtime. "We were all walking together last night on the RiverWalk and just remembering the good times we had," said senior guard
Tyrel Reed
, one of three Jayhawks who were on the '08 team. … Richmond is 5-1 against teams from big-six conferences this season, beating Purdue, Arizona State, Seton Hall, Wake Forest and Vanderbilt and losing to Georgia Tech.
March, 19, 2011
3/19/11
7:48
PM ET
By
Diamond Leung
| ESPN.com
DENVER -- Richmond advances to its first Sweet 16 since 1988, beating
No. 13 seed Morehead State 65-48
. The Spiders were led by forward
Justin Harper
, who had 19 points and six rebounds. Guard
Kevin Anderson
had 14 points while center
Dan Geriot
had 13 points and seven rebounds.
Kenneth Faried
had 11 points and 13 rebounds, but had trouble facing double-teams in Richmond's match-up zone.


Turning point:
Geriot buried a 3-pointer to extend the lead to 56-43 with 4:30 left, and it signaled the end for Morehead State. The Eagles' band members who began the game chanting, "We believe," began chanting "We still believe" after the play.
Key player:
Harper, Richmond's leading scorer, was 9-for-18 from the field and found his shooting touch after struggling against Vanderbilt. At 6-foot-10, Harper is dangerous with his jump shot and kept working when Faried battled with him inside. He came up wincing on one play after Faried blocked his shot in a vicious collision, but Harper came back to score on the ensuing possession.
Key stat:
Morehead State point guard
Demonte Harper
, after hitting the game-winning 3-pointer in an upset against Louisville, was held to four points on 2-for-15 shooting. He missed all six of his 3-point attempts. Despite 11 rebounds and four assists, the senior had a forgettable day.
Miscellaneous:
Geriot was wonderful, as he stood tall in the face of Faried in the post and also shot the ball well, finishing 6-for-10 from the field. When the double-team came against Faried, it bothered him and he had trouble at times passing out of it. As a result, Morehead State was never able to find its rhythm on offense.
What's next:
Richmond moves on to the Sweet 16 in San Antonio to face the winner of the Kansas-Illinois game.
March, 19, 2011
3/19/11
2:38
AM ET
By
Diamond Leung
| ESPN.com
No. 13 seed Morehead State (25-9) vs. No. 12 seed Richmond (28-7), 5:15 p.m. ET


How they got here:
Both 12th-seeded Richmond and 13th-seeded Morehead State staged comebacks against power-conference teams on Thursday. The Spiders beat Vanderbilt 69-66, with guard
Kevin Anderson
making big shot after big shot and finishing with 25 points. The Eagles defeated Louisville 62-61, with
Demonte Harper
making the game-winning 3-pointer and
Terrance Hill
getting hot from beyond the arc as well, scoring 23 points.
Storyline:
One of these two double-digit seeds will get to go to the Sweet 16. Richmond, which has a history of big upsets, now takes on the role of the favorite. The Spiders lost to Saint Mary's in that position last season and now have a chance to reach the Sweet 16 for the first time since 1988. For Morehead State, it's a chance to make history again with its first trip to a regional semifinal. "This game is really important because Coach [Donnie Tyndall] told us we have a chance to make it to the Sweet 16 before the season even started," Harper said.
Players to watch:
Think Tyndall likes his chances with Harper and star forward
Kenneth Faried
? He called Faried his Gordon Hayward and compared Harper, who has shown his ability to take the last shot, to
Shelvin Mack
of Butler. For Richmond, Anderson proved himself to be a shot-maker against Vanderbilt. Leading scorer
Justin Harper
struggled with his shot, and the Spiders could use a big day from their senior.
What to look for:
Faried is one of the stars of the tournament so far, and he didn't even have a great offensive game against Louisville. But Faried is so dominant a rebounder and such an athletic presence in the middle that he impacts the game in so many ways.
"We know he doesn't give a lot of second shots on the offensive end," Anderson said of the nation's leading rebounder. "It's going to be tough to stop him."
Richmond could try containing Faried with the 6-foot-10 Harper, relying on his ability to shoot from long range. But lest we forget: Anderson will be a tough matchup for Morehead State, as well.
No. 11 seed Gonzaga (25-9) vs. No. 3 seed BYU (31-4), approx. 7:45 p.m. ET


How they got here:
BYU was the only favorite in Denver that did not get upset in the first day of action, as the Cougars dispatched of Wofford with a 74-66 win.
Jimmer Fredette
scored 32 points, and he also got help with
Charles Abouo
,
Noah Hartsock
and
Logan Magnusson
scoring 10 points apiece. Gonzaga dominated St. John's with an 86-71 win in which
Marquise Carter
scored a career-high 24 points and
Steven Gray
and
Elias Harris
also had big nights.
Storyline:
Not since Danny Ainge was leading Brigham Young have the Cougars been in the Sweet 16, and now it's Fredette who will try to take them there 30 years later. BYU has won its first tourney game in each of the past two years, but now wants to make a deeper run. For Gonzaga, the perennial dangerous underdog, the Zags want to continue proving themselves as a team and program to be reckoned with. A win against BYU and the national scoring leader Fredette would be yet another milestone victory.
Players to watch:
Again, look for Fredette to carry the scoring load despite the opponent's best efforts to contain him. And in a game with huge ramifications, expect a big dose of him. But Gonzaga does have the advantage of having 7-foot center
Robert Sacre
to try to exploit a BYU frontcourt missing the post presence of Brandon Davies. Sacre, after helping the Zags dominate St. John's on the glass, indicated he was looking forward to the matchup against BYU. "A little bit, but they still have Jimmer," he said.
What to look for:
While limiting the damage Fredette does is a must, this game could come down to how well Gonzaga can exploit its height advantage with Sacre, along with the 6-5 guard Gray and 6-7 forward Harris, who are both dynamic players.
"They're a very big team," Fredette said. "They got to the offensive glass very well. They get a lot of second-chance opportunities, which gives them a lot of energy."
Gonzaga will have to continue to get good guard play as well from Carter and point guard
Demetri Goodson
in order to slow down Fredette and
Jackson Emery
.
March, 17, 2011
3/17/11
9:17
PM ET
By
Diamond Leung
| ESPN.com
DENVER -- Richmond guard
Kevin Anderson
insists he's 6-feet tall while wearing shoes and that he modeled his game off an Allen Iverson highlights DVD his mother purchased for him as a child.
Fittingly, as the Spiders' program continued their giant-slaying ways with a
69-66 win
against fifth-seeded Vanderbilt in their second-round NCAA tournament game on Thursday, the senior was at the forefront for hitting big shot after big shot.
[+] Enlarge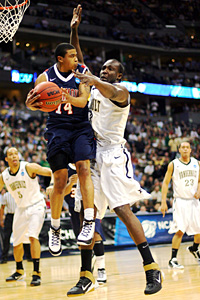 Justin Edmonds/Getty ImagesKevin Anderson scored 25 points in Richmond's win over Vanderbilt.
He scored 16 of his game-high 25 points in the second half, getting hot from beyond the arc and then hitting a fadeaway over 6-foot-11
Festus Ezeli
with 18.9 seconds left.
"I can't go for a regular layup," Anderson said. "They're probably going to get a block. I had to shoot my floaters that have been effective throughout the season for me.
"They're just floaters, regular floaters."
Behind Anderson's playmaking ability and low turnover count (one of Richmond's three), the Spiders now have a chance to reach the Sweet 16 with a win against 13-seed Morehead State on Saturday.
For Vanderbilt, the loss was crushing. The Commodores became the first program in NCAA tournament history to lose in three consecutive round of 64 games as a No. 5 seed or better.
Last season, it was Murray State that sunk them at the buzzer. This year, coach Kevin Stallings was left conceding that his team "tightened up" toward the end of the game.
"As hard as we talked and as much as we talked about having a relaxed, confident attitude about us, you could tell we tightened up on a couple free throws," he said. "But it's the nature of this tournament. That's why it's exciting. There's a lot of pressure and a lot of tension."
Anderson reveled in it. Richmond trailed by 11 in the first half and by nine in the second half before the barrage of 3-pointers.
After
Justin Harper
made one, Anderson hit the next three to cap off a 12-0 run that gave the Spiders a three-point lead. Even with 6-foot-7
Jeffery Taylor
defending him, Anderson crossed him over and faked him out on one play with three minutes left before hitting a leaner while being fouled.
"They just got hot," Vanderbilt guard
John Jenkins
said. "We tried our best to contest shots, but they jumped up and made 'em. I know we had a couple contested shots, but they kept knocking 'em down, knocking 'em down."
Ezeli and Jenkins led Vanderbilt with 21 points apiece, but Taylor was held to four points on 1-for-10 shooting.
The Spiders got a big lift from their bench, including
Darrius Garrett
coming up with five blocks and five rebounds. Their bench outscored Vanderbilt's 23-4, with
Francis Martel
(12 points, five rebounds) and
Cedrick Lindsay
(seven points, three assists) also making key contributions.
Anderson said it's been nice having his teammates pick him up at times when last season's A-10 player of the year struggled with his shot.
"It's hard when you don't have good games and you're expected to have good games," Anderson said. "That's really tough."
It was the complete opposite against Vandy. When Rod Odom's contested 3-pointer wasn't close at the buzzer, Anderson could only think about the Sweet 16 possibility.
"We don't want to be one-and-done," he said.
March, 14, 2011
3/14/11
1:58
AM ET
Ten thoughts at the end of a debate-worthy night in college basketball:
1. Before we get to the bracket that is, let's talk about the bracket that should be. In other words, let's talk about Colorado. How can I put this nicely? The Buffaloes got jobbed. OK, so that isn't putting it nicely at all. It's kind of rude, actually. But it's 100 percent true. CU's exclusion from this 68-team field -- and UAB's inclusion in it -- is baffling.
If you're interested in this little thing called "wins," the two résumés don't really compare. Colorado has six top-50 RPI victories; UAB has none. Colorado beat No. 5 seed Kansas State three times and No. 4 seed Texas once. UAB beat ... um, whom exactly? VCU? Kent State? UTEP? Both teams had ugly nonconference schedules, so the only explanation for the committee's decision is RPI. Colorado's RPI is 66, while UAB's is 31. If that's the committee's reason, that's a pretty bad reason.
[+] Enlarge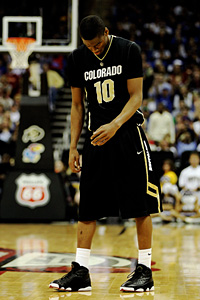 Jamie Squire/Getty ImagesAlec Burks and Colorado had six wins over teams in the RPI top 50, but will not be part of the 68-team field.
It's nice to know that in two days all this selection fervor will die down and we'll get to the business of enjoying the greatest competition in basketball live and in living color. We'll forget all about this soft bubble. We'll remember that not one of the teams on the cut line was all that good in the first place. But until then, there's no denying it: Colorado got jobbed, and the selection committee can't give us a good reason why.
2. Speaking of which, selection committee chair Gene Smith did not do a very good job of explaining his committee's decisions on Sunday night. Meeting with the media mere minutes after the four-day selection haze is the most unenviable responsibility the committee chairman must handle, and I certainly wouldn't want to do it. But in interviews on ESPN and CBS, as well as in his post-selection show teleconference, Smith practically refused to answer the media's questions about the committee's various seeding and selection decisions. Instead, he gave polite nonanswers. In the first question of his teleconference, Smith was asked why Virginia Tech -- the night's only other surprising snub -- didn't make the tournament. His response:
"Virginia Tech is a very good ballclub, a well-coached team," Smith said. "When we looked at them, considering all the other criteria we look at, the committee looks at about 15 different quantifiable criteria, then we have advice from our regional coaches advisory committee, a lot of different things. At the end of the day when we stacked Virginia Tech's résumé up against all the other teams, we just didn't feel like they were a team that should be in the at-large field."
When pressed a second and third time for specific reasons why the Hokes were left out, Smith responded:
"I would just tell you to look at their overall résumé, look at their schedule, look at how they did relative to their competition that they scheduled in the nonconference schedule."
These aren't reasons why Virginia Tech was kept out of the tournament. They're skeletal explanations of the selection process itself.
They were par for the course for Smith, as chronicled by our own Andy Katz on Sunday night. Smith used the phrase "well-coached" to describe nearly every team he was asked specifically about. He also said there were "10 people in the room and everyone in the room has different emphasis on different criteria." (Perhaps one criterion would be a good place to start?)
Look: No one expects the committee to get everything right -- it often does a marvelous job under difficult time constraints -- and no one expects the committee chairman to make the entire process an open book. But as the NCAA strives to increase transparency in the selection process and rid fans of the notion that the process is shrouded in secrecy, Smith's nonanswers only made a frustrating night that much more so.
Anyway, with that whinge out of the way, let's take a look at the bracket itself:
3. Which No. 1 seed has the toughest route to the tournament? Surprisingly, that team is No. 1 overall seed Ohio State. If seeds hold, the Buckeyes -- who went 32-2 this season -- have the privilege of playing George Mason in the second round, an underseeded Kentucky team in the Sweet 16, and either Syracuse or North Carolina in the Elite Eight. Throw in the rest of this region's tough outs -- Xavier, Washington, West Virginia and Villanova are all lurking here -- and you can make a rather convincing case that this is the toughest region of them all.
4. Which No. 1 seed has the easiest path? That honor probably goes to Pittsburgh. The Panthers don't have a friendly second-round matchup; Butler and Old Dominion are both well-coached (that one's for you, Gene!), experienced tournament teams with unique styles and plenty of talent to boot. But after that, Pitt's high-seeded competitors (Florida, BYU and Wisconsin) all have their share of potentially fatal flaws.
[+] Enlarge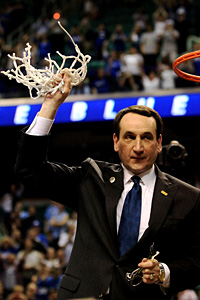 Jaime L. Mikle/Getty ImagesDoes college basketball need better organization? Duke's Mike Krzyzewski seems to think so.
5. Don't say the committee favors Duke. That was a common complaint last season, when the Blue Devils were gifted with a wide-open bracket whose toughest challengers -- Baylor and a Robbie Hummel-less Purdue team -- couldn't stay on the floor with the dominant Dukies in the regional round. This year, however, is different. Duke got Michigan-Tennessee as its No. 8/No.9 matchup, and the Vols have proved capable of playing up or down to any team's level this season. Duke got a bit of a break with San Diego State and Connecticut at the No. 2 and No. 3 spots, but either team could present problems for Duke on the interior. But the toughest seed came at the No. 4 spot, where an underseeded Texas team -- the Longhorns were very much in the No. 2-seed discussion this week -- could present massive matchup problems for the Blue Devils. If Duke gets past the Sweet 16, it should return to the Final Four. But the toughest matchup of the Devils' tournament could come earlier than anticipated.
6. The No. 5-versus-No. 12 matchups are always prone to upsets -- if there's a cardinal rule of bracket-picking, it's that -- but this year's matchups should prove to be especially intriguing. Kansas State will play Utah State, a 30-3 team that dominated its conference, beat Saint Mary's in Moraga, and could be much more dangerous than anyone realizes. In the Southwest, Vanderbilt got the underseeded Spiders as its No. 12 matchup; Richmond has one of the best guards in the country in
Kevin Anderson
and an emerging (and hyper-efficient) star in
Justin Harper
. In the West, Arizona will play Memphis in the battle of Josh Pastner, who was a walk-on at Arizona and spent years there as an assistant. And in the East, West Virginia will play the First Four winner of UAB-Clemson. The Tigers are enticingly athletic. The Blazers are playing for respect after schlubs like me spent all night telling people why they don't belong in the tournament. All of these games are interesting, and for reasons beyond the usual 5-12 intrigue.
7. Speaking of interesting middle-seed matchups, how about these two 6-versus-11 matchups. In the East, it's Xavier versus Marquette. In the West, it's Cincinnati versus Missouri. One could argue that Missouri is a bit underseeded given its entire body of work, but the Tigers did notably struggle on the road this season and fell flat in a blowout loss to Texas A&M in the Big 12 tournament. But the Tigers' style -- up-tempo, frenetic and pressing -- is much harder to prepare for in a single-elimination format than in the familiar rigors of conference play. Meanwhile, Xavier-Marquette will showcase two of the nation's best and perhaps most underrated players in Xavier's
Tu Holloway
and Marquette's
Jimmy Butler
.
8. If there's anything the No. 9 seeds have in common, it's talent, inconsistency and disappointment. The one team excepted from this theme is Old Dominion. The Monarchs have plenty of the first quality, but none of the second or third. But Illinois, Villanova and Tennessee are this season's poster children for teams that should be much, much better than they are. All three have elite-level talent. All three showed promise throughout the season. All three got their biggest wins in November and December. And all three have been frustratingly incoherent since.
9. Beware the injuries and suspensions. Unfortunately, some NCAA tournament teams don't get the benefit of coming to the tournament at full strength. Georgetown's
Chris Wright
is cleared to play, but will likely have a protective cast on his broken hand. Florida State's
Chris Singleton
is questionable for the Seminoles. And in the Southeast, two teams missing key players -- BYU (suspended forward Brandon Davies) and St. John's (lost guard
D.J. Kennedy
to a torn ACL this week) -- could meet in the second round Friday. All things to consider as you peruse the field and start filling in your bracket.
10. Need proof this was the softest tournament field ever? OK, probably not. You probably reached this conclusion months ago. But in case you're holding out, check these numbers from ESPN Stats & Information: Since the field expanded to 64 teams in 1985, five at-large teams made the tournament with 14 losses. There are five at-large teams this season alone with 14 losses. There are seven teams with 13 losses, and 13 teams with 11 losses. That's a whole lot of losing for the NCAA tournament, but that's what happens when (a) you expand the field by three bids and (b) you have to fill that expanded field from a pool of candidates that can be described only as the decidedly muddled, mediocre middle.
January, 20, 2011
1/20/11
11:54
AM ET
By
Jeremy Lundblad, Stats & Information
| ESPN.com
Here's an inside look at the numbers behind Wednesday's top performances:
1. It's tough to pick the most embarrassing stat from Wake Forest's 74-39 loss to Georgia Tech. Let's start with those 39 points, which were the fewest by the Demon Deacons since Jan. 8, 1959. Wake Forest shot just 25.9 percent from the field, its worst over the last 15 years. Even the free throw line wasn't friendly, as they hit just 9 of 26 from the charity stripe. At 34.6 percent, that's the worst free throw performance over the last 15 years by an ACC team attempting at least 25 free throws. The second half was particularly ugly, as the Deacons didn't connect on a field goal until there was 7:28 left in the game. They finished the half with only 13 points on 4-of-21 from the field. It could have been much worse if you'll believe it. The score was 74-32 with five minutes to go, and Wake Forest went on a 7-0 run in garbage time to end the game.
2. Since the calendar turned to 2011, no one has been hotter than BYU's
Jimmer Fredette
, who is averaging 28.4 ppg in the new year. You'd have to be under a rock to miss the Jimmer Show, but under the radar, there's another player raising his game since the ball dropped. Richmond's
Justin Harper
is averaging 25.2 ppg on 65.7 percent shooting since Jan. 1. He put on another show on Wednesday, scoring a career-high 30 points and adding 10 rebounds in a win over George Washington. On the season, the 6-10 senior is in the top 25 in the nation in both field goal percentage (57.4) and 3-point percentage (51.1).
Highest scoring average since Jan. 1
28.4 -- Jimmer Fredette, BYU
27.3 --
Cameron Jones
, Northern Arizona
26.4 --
Randy Culpepper
, UTEP
25.5 --
Klay Thompson
, Washington St
25.2 -- Justin Harper, Richmond
3. Texas State's
Ryan White
scored 22 points to go with 11 assists in a 95-91 win over Sam Houston State. It was the 25th 20-point, 10-assist game in D-I this season. So what made this performance so special? White came off the bench. Incredibly, it's his second 20-10 game off the bench this season. The only other player to accomplish a 20-point, 10-assist game off the bench this season was Cornell's
Chris Wroblewski
. But prior to this season, you have to back nearly six years to find the last time this happened. Current San Antonio Spurs guard George Hill had 26 points and 11 assists coming off the bench for IUPUI as a freshman in 2005.
4.
Peyton Siva
was benched in favor of a freshman late in Louisville's game on Saturday. Wednesday was a much better day. Siva had 10 points to go with career highs in assists (10) and steals (7), as the Cardinals crushed St. John's 88-63. It's been almost 10 years since a Big East player had at least 10 steals and seven assists in a game. In November 2001, Notre Dame's Chris Thomas posted a triple-double that included 11 steals.
5. Navy attempts 26.2 3-pointers per game, the sixth-most in the nation. So things can get a little ugly when the Midshipmen have an off night shooting. On Wednesday, Navy went 1-for-25 from beyond the arc in a 71-50 loss to Holy Cross. That's just 4.0 percent. For a team that attempted at least 25 3s, it's the worst performance since 2003, when The Citadel also went 1-for-25.
November, 2, 2010
11/02/10
11:45
AM ET
You know the drill. Here are five things I can't wait to see in the Atlantic-10:
1. The Dayton dynamic
[+] Enlarge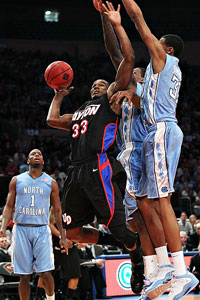 Nick Laham/Getty ImagesChris Wright returns after averaging 13.7 points and 7.3 rebounds per game last season.
The questions about Dayton have nothing to do with talent. By returning NBA prospect and A-10 player of the year candidate
Chris Wright
, second-leading scorer
Chris Johnson
, and top defender
Paul Williams
, the 2010-11 Flyers return their three best players from last year's team. The questions about Dayton are essentially this: How do those players perform without five seniors surrounding them? Brian Gregory's accomplished group of four-year stalwarts all graduated after their NIT championship last season, and Gregory will have to incorporate a good recruiting class around his three talented starters without the benefit of that senior, role-player-type experience on the margins. Wright is one of the more talented forwards in the country, but he had an up-and-down junior season. Can he take the next step as a senior himself? Will Dayton find the right mix in time to make their case for an NCAA bid? And if the freshmen don't perform, is Dayton's core enough?
(
Bonus minor Dayton subplot that pretty much everyone except Dayton's theoretical opponent would like to see
: Because of the new tournament's First Four play-in structure, and the decent possibility the Flyers will be a bubble team and one of the last four at-large bids in the tournament, there's a decent chance Dayton could play in the play-in First Four tournament in -- where else -- Dayton. Dayton fans show up 11,000 strong for games on the 16-17 seed line; imagine the scene if the Flyers were in town for the tourney. Fun stuff.)
2. Temple in the NCAA tournament
If Temple fans are getting impatient for an NCAA win, they might also be being a little unfair. Owls coach Fran Dunphy immediately turned the Owls back into a winner after leaving his longtime position at Penn in 2006, making three straight NCAA tournaments in the past three years. The only problem? Temple has lost in the first-round of the NCAA tournament all three times. That might seem slightly disconcerting; no one wants to worry that their coach can't win in the NCAA tournament. But the Owls have been besieged by tough matchups in each of Dunphy's three tourney years (including two eventual Sweet 16 teams -- Michigan State and Cornell -- and a James Harden-led Arizona State team), and there's good reason to expect Temple to make the leap in 2010-11. Senior guard and leading scorer
Ryan Brooks
is gone, but Temple returns almost all of last year's team, which was the seventh-most efficient in the country by the end of the season. Those returns include forward
Lavoy Allen
, who played with the USA Men's Select Team in scrimmages against Kevin Durant and the rest of USA Basketball this offseason. Barring a massive disappointment, the Owls should be back in the NCAA tournament again in 2010-11. The real intrigue is what they do when they get there.
3. What happens when you doubt Xavier
If ever there was a year to doubt the
Xavier Musketeers
, this might be it. Gone is Jordan Crawford, a brilliant scorer who took and made a huge percentage of Xavier's shots in 2010-11. Gone is forward Jason Love, Xavier's all-time wins leader with 108. Taking their place are ... well, actually, that's the point: It's hard to see just who on the current Musketeers roster can replace Crawford and Love's production. Is this the year Xavier finally releases their four-year stranglehold on the A-10 title?
The thing is, we've asked that question before. We asked it when Xavier lost Stanley Burrell, Josh Duncan, and Drew Lavender in 2008. We asked it again when Xavier waved farewell to Derrick Brown, B.J. Raymond, and C.J. Anderson in 2009. Before Crawford revealed his talent, the 2009-10 Musketeers -- with a first-year coach, no less -- were supposed to fall off. But Xavier made a third straight Sweet 16, and the program kept chugging along as if the laws of attrition didn't apply. This year, maybe they will. Point guard
Tu Holloway
will have to take over much of the scoring and leadership load in Crawford's and Love's absence, senior forward
Dante Jackson
will have to take a leap, and a handful of talented freshmen and redshirt holdovers will have to be ready to play right away. It's a lot to ask, and if ever there was a year to doubt Xavier -- for good reason -- this is it. But one does so at her own peril.
4. Richmond's battle for respect
We probably didn't talk enough about Richmond last season. The Spiders won 26 games, made the NCAA tournament (where they ran into a hot St. Mary's team in the first round) and featured A-10 player of the year
Kevin Anderson
, a dynamic point guard who is supremely adept at beating defenders and scoring in the lane. Anderson returns in 2010-11 and is the de facto favorite to win conference player of the year honors again. But Richmond is far from a one-man show. The Spiders also return 6-foot-10 forward
Justin Harper
, whose inside-out versatility makes him extremely difficult to guard. Throw in a trio of interesting freshman and a total of 11 scholarship players returning from last year's team, and the result is a legitimate A-10 favorite that still isn't getting enough love.
5. An immediate turnaround at Charlotte?
Given the way Charlotte's season ended -- when the 49ers dropped seven of their last eight games, followed by the firing of longtime coach Bobby Lutz -- it's easy to forget how it began. Charlotte started the season by going 18-5 and looked like a potential A-10 contender and NCAA tournament team. The wheels fell off, and Charlotte hired former Ohio State assistant coach Alan Major to get things repaired. Major, like most new head coaches, is probably allowed the usual three- or four-year grace period, but he might not need it. Charlotte returns four starters from last year's team, including leading scorer
Shamari Spears
and fellow high-usage forward
Chris Braswell
. The 49ers aren't overwhelmingly talented, but they aren't bereft, either, and it's not hard to imagine the energy of a new coach and a less muddled leadership situation giving the 49ers a bit of a boost.
February, 28, 2010
2/28/10
3:33
PM ET
CINCINNATI -- The Atlantic 10 has had one of the most exciting seasons of any conference, and today's battle for first place fit right into that trend.
Terrell Holloway
scored 11 of his 24 points after regulation -- including Xavier's first seven points of the second overtime -- as the Musketeers
nipped No. 24 Richmond 78-76
.
The Spiders were hard to stomp out, and even though they trailed 77-72 in the second OT, they had a chance to tie on the final play. After inbounding with 3.1 seconds left,
Justin Harper
drove into the lane. But his difficult reverse layup attempt didn't draw iron and Xavier escaped.
The Musketeers now sit alone in first place in the A-10, at least until the end of Temple's game against LaSalle. Xavier won today because of Holloway's late heroics and its inside game, which helped the Musketeers win the rebounding battle by a 47-35 margin.
Richmond showed it's for real as well, hanging tough in perhaps the league's toughest road environment and continually fighting back from adversity.