College Basketball Nation:

Justin Holiday
July, 20, 2011
7/20/11
7:12
PM ET
By
Diamond Leung
| ESPN.com
The always-entertaining Isaiah Thomas conducted an
online chat with the Seattle Times
today and had some interesting thoughts. The former Washington guard likes UCLA to win the league if the Huskies don't, called the court at Oregon's Matthew Knight Arena "ugly," and also said of new Sacramento Kings teammate Jimmer Fredette, "He's like the Justin Bieber of basketball. Everywhere we go, people are crying over him."

The declaration from Thomas that should excite Washington fans was this:
Terrence Ross is the most talented player I've played with during my time at the UW.
During the three years Thomas was in Washington, he played with the likes of future NBA draft picks Jon Brockman and Quincy Pondexter. So that's a high compliment for Ross, the 6-foot-6 guard who made the honorable mention all-conference freshman team. Ross averaged eight points per game, and there have been other indications he's ready for a breakout season.
Percy Allen of the Seattle Times
recently watched pickup games on campus and had this observation:
Even with NBA players on the court, at times Ross looked like the best player on the floor. Still if you were drafting a team of the players Thursday, the 7-1 [Spencer] Hawes would probably be the first person taken. But Ross would likely go No. 2. He thrives in an open-gym setting. He wowed the few folks in the stands with high-flying dunks, alley-oop slams and putback jams. Whenever anyone guarded him one-on-one, Ross either tried to blow past them with a dribble drive or he jabbed and whirled to create room for a fadeaway jump shot. Ross, a 20-year-old sophomore, also looks much more chiseled than he did last season.
That's great news for the Huskies, who will be looking for a go-to player after Thomas left for the NBA draft and Justin Holiday and Matthew Bryan-Amaning completed their eligibility.
A lot of the attention will be focused on the backcourt with the arrival of flashy freshman Tony Wroten and the return of Abdul Gaddy from a torn anterior cruciate ligament.
But don't forget about Ross.
March, 20, 2011
3/20/11
5:10
PM ET
CHARLOTTE, N.C. --
Harrison Barnes
knew from the first day of practice at North Carolina that you don't try to get the ball over
John Henson
without some sort of fake.
"I found out you can't throw a pass over John or shoot straight over him,'' said the Carolina freshman of his 6-foot-10 teammate. "John makes basketball-savvy plays.''
And that's why the Tar Heels are going to be a tough out for the rest of this tournament.
North Carolina can score at all five positions and the Tar Heels are just as giving in allowing opponents to score. The Tar Heels are the first team since 1990 to advance to the Sweet 16 after allowing over 80 points in its first two games.
But Henson is enough of a difference-maker for the Tar Heels to make up for their often-porous defense.
[+] Enlarge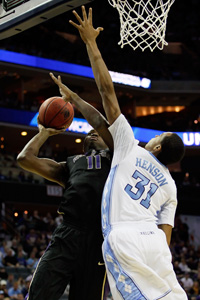 Kevin C. Cox/Getty ImagesJohn Henson came up big, collecting 10 rebounds and four blocked shots.
Washington's
Justin Holiday
learned Barnes' cardinal rule about Henson with six seconds left in Sunday's East region third-round game in Charlotte. Holiday tried, unsuccessfully, to make an inbounds pass over the top of Henson. His deflection ended up in the hands of UNC's
Dexter Strickland
, who was fouled and converted two free throws for an 86-83 lead,
a score that would hold up
and send the Tar Heels into the Sweet 16.
"I was trying to get the ball to
Isaiah [Thomas]
,'' Holiday said. "I thought he could do something with it.''
Holiday said he knew about Henson's length and just didn't make the right play in trying to throw over the top.
"I was very surprised that he did,'' Henson said. "I thought it was kind of a bad idea.''
Holiday's decision was one of a series of miscues by Washington in the final seconds. Holiday had the ball out of bounds after
Venoy Overton
drove to the basket and missed. He didn't have a clear shot at the basket because the Carolina defense came over to help.
"I missed the layup but I was trying to avoid taking a charge and then it was contested,'' Overton said. "I wish I could take it back and go straight up. I was trying to make an aggressive move.''
Henson and his frontcourt teammate, 7-foot
Tyler Zeller
, form an imposing frontline and alter plenty of shots. Washington actually out-rebounded the Tar Heels 40-37 but four blocks by Henson, one by Zeller, and seven steals (three by Barnes), were the kind of key defensive plays that have helped the Tar Heels win games in March.
"A lot of this has to do with our guards getting out and pressuring,'' Zeller said. "It makes our job easier. John does a great job of blocking shots and if not blocking, altering. He's great on that baseline inbounds. I'm grateful for him. I don't know if teams have seen his length before.''
Washington had another chance to tie the game, but Overton, defended well by Strickland along the sideline, inexplicably hurled up a shot with a second remaining. Overton said he got caught jumping in the air and just threw it up.
"I was anticipating getting fouled,'' Overton said.
The ball went out of bounds off Henson, though, with 0.5 seconds left. Thomas took his only shot in the final 11 seconds, a 2-pointer at the buzzer that fell short, but wouldn't have mattered anyway.
"I don't know, it was Coach's call,'' Thomas said as to why he didn't touch the ball on the last two possessions prior to the shot at the buzzer. "I really couldn't tell you. I thought the ball would be in my hands. It wasn't, but that's not the reason why we lost. It's very frustrating. I feel like I'm the leader on this team and had confidence in myself and my teammates have confidence in me. I know [Holiday] was trying to get it to me, but Henson got his hands on it and I didn't get it.''
[+] Enlarge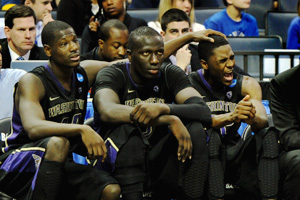 Bob Donnan/US PresswireJustin Holiday, right, shows some frustration as the Huskies let the game get away at the end.
Washington coach Lorenzo Romar said if he had to do it over again he would want the ball in Thomas' hands. He said Overton won a game against UCLA by taking the last shot, so he wasn't against Overton looking to be aggressive, but it was Thomas who made the game-winning 3-pointer at the buzzer to beat Arizona in the Pac-10 tournament.
The Huskies were in a position to win this game, playing the game they wanted.
"That's what's disappointing,'' Romar said. "We do everything we want to do, put yourself in position to win but down the stretch we didn't get it done.''
And for all of North Carolina's defensive lapses, the Tar Heels made the plays that mattered most defensively, and in the end, will head to Newark next week for the Sweet 16.
"This means a lot, we've struggled at times, going out of the top 25, getting blown out by 20 against Georgia Tech; it's been a long season,'' Barnes said. "There was a lot of talk about lack of experience and age, but we make up for it with heart in the end and find a way to win.''
March, 20, 2011
3/20/11
2:47
PM ET
CHARLOTTE, N.C. -- North Carolina's
John Henson
has emerged as the most imposing and game-changing defensive player in the NCAA tournament.
Henson deflected an inbounds pass from
Justin Holiday
that ended up in the hands of
Dexter Strickland
, forcing Washington to foul and put him at the free-throw line with a one-point lead and 5.4 seconds left.


Henson's deflection prevented Washington from getting off a shot with an attempt to win the game.
Nearly four minutes earlier, Henson blocked a shot by Washington's
Darnell Gant
that resulted in a 3-pointer by
Harrison Barnes
at the other end for a North Carolina four-point lead.
Henson finished with 10 points and 10 rebounds in the
Tar Heels' 86-83 victory
over Washington in an East regional third-round game.
Henson nearly put himself at risk, though, when he almost goaltended a last-second shot by
Isaiah Thomas
.
Still, Henson's presence was the difference for the Tar Heels in the best game so far of the Charlotte regional, matching two teams that love to get up and down the court and don't mind pushing the basketball with little attention to defense -- except for Henson along the back line.
While North Carolina relied on Henson to create opportunities, the Huskies couldn't have made worse decisions at the end of the game. Thomas' last shot was the only time he touched the ball in the final 10 seconds when the Huskies had three chances to score and either take the lead or tie the game.
Inexplicably, Thomas didn't touch the ball as
Venoy Overton
dribbled the length of the court and put up a forced shot with 7.4 seconds remaining. The shot went out of bounds -- fortunately for the Huskies it went off UNC. Then came Holiday's mental mistake of trying to pass OVER Henson when Henson is the tallest player on the court.
After Strickland then converted the two free throws for the three-point lead, Overton again took the ball and threw up an errant shot from near halfcourt with over a second left when he still had time on the drive to pass ahead and get a much better shot or at least find Thomas.
Thomas is Washington's best player and the one you'd want to take a shot in this situation. Or at the very least, Thomas could have created a shot for shooters, which UW had many of during the game like
C.J. Wilcox
or
Terrence Ross
. The Huskies played well on the glass but ultimately couldn't execute down the stretch.
Key stat
: Henson had four blocks and two steals. That's enough for me.
Key player
:
Tyler Zeller
scored 23 and Barnes scored 22 and made buckets when the Tar Heels needed them most.
Shout out
: Washington made shots and the 10 3s that the Huskies converted were a difference in this game and put UNC on its heels.
What's next
: Washington goes home after a nice late run. North Carolina moves on to Newark to play the winner of Syracuse-Marquette.
March, 19, 2011
3/19/11
2:05
AM ET
CHARLOTTE, N.C. -- In the regular season, Washington was easy to pick apart and poke at, leaving observers wondering whether or not it could truly be a special team in March.
The Huskies demonstrated an inability to win consistently on the road, and at times a failure to win games played below 70 points.
Yet, something has happened with this team when games matter more -- the Huskies seem to play with more purpose.
Washington has become a postseason team, a squad that can suddenly defend when it needs to, board when it has to, and lean on star junior guard
Isaiah Thomas
to make the big play when he must.
Criticizing the Huskies was fair and justifiable during the regular season. Washington had chances to prove it was an elite team but couldn't win two games in Maui, lost at Texas A&M and then couldn't win slow games at Stanford or Oregon State. It even fell apart down the stretch in its usually vaunted homecourt against Washington State and USC.
[+] Enlarge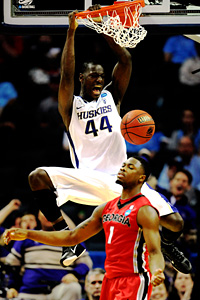 Bob Donnan/US PRESSWIRESo far, Darnell Gant and the Washington Huskies have been flying high in the postseason.
So why should there have been optimism?
"I just told our guys, 'Dudes if we don't win and play well right away, we're going home,''' Thomas said of his pre-Pac-10 tournament conversation.
Well, they must have listened because the Huskies won the automatic berth in thrilling fashion with a 3-pointer at the buzzer to beat the Wildcats in the Pac-10 tournament final. Thomas took that shot. He wasn't in position to take a game-winner against Arizona in Tucson a few weeks earlier as
Derrick Williams
blocked Washington from a victory.
And then the NCAA tournament selection committee took the No. 7-seeded Huskies and shipped them farther away than any other team when it sent the Seattle-based school to Charlotte to take on nearby No. 10 Georgia.
Yet Washington's fans seemed to be in greater numbers than Georgia fans, and were certainly louder. And with good reason. Washington played UGA's halfcourt game and beat the Bulldogs by staying strong on the backboard and running the break effectively, earning a
68-65 win
and a date with No. 2 seed and hometown favorite North Carolina on Sunday at 12:15 p.m.
"We understand now that we have to play defense to win games,'' said Washington senior
Justin Holiday
. "Sometimes we haven't been as focused on defense toward the end to win games.''
Thomas said the momentum from the Pac-10 tournament did have an effect on the Huskies' confidence here. Washington was the aggressor to start the second half after the two teams were tied 28-28 at halftime, the first close half of any of the three previous games in Charlotte on Friday.
"They're a team that scores in bunches and they know their strength,'' said Georgia's
Trey Thompkins
. "They like to play the game fast-paced. They came down in the second half and started knocking down shots. They were contested. That just shows the quality of shooters and the quality of team that they have.''
Georgia extended a great deal of respect to Washington on the postgame podium. UGA coach Mark Fox, a former Nevada assistant and head coach, is familiar with UW's success in the past six years under coach Lorenzo Romar.
"We got the game we wanted, but we didn't defend well in the second half,'' Fox said. "We gave up almost 54 percent and didn't rebound well enough. Even though we got the game we wanted to, you still have to make the plays at both ends and we didn't do that. It was frustrating.''
The balance Washington displayed was the reason the Huskies advanced to play the Tar Heels.
Aziz N'Diaye
,
Matthew Bryan-Amaning
and a collection of guards led by the recently reinstated
Venoy Overton
gang rebounded, according to Amaning, in a way that made it harder for the Bulldogs to focus on one player to keep off the glass.
And, of course, when the Huskies needed a big shot they turned to Thomas. He finished with 19 points, seven assists and two turnovers and made all seven free throw attempts.
Now the trick will be how Washington fares against a UNC team that has length and runs as well as any team in the country. The Huskies will get looks but if they don't knock down shots and get some putbacks, then the Tar Heels certainly could run them out of the building. And this will be a road game for Washington with Carolina blue dominating the arena.
"I think we have a great chance because we like to get up and down,'' Thomas said. "We both like to play the same style. It's going to be a great game.''
March, 19, 2011
3/19/11
12:26
AM ET
CHARLOTTE, N.C. -- Washington has proven to be tournament tough under coach Lorenzo Romar.


The Huskies are suddenly the hot team after winning the Pac-10 tournament, and for the second season in a row -- following a much-maligned regular season -- Washington is poised to make a possible run to the Sweet 16. Washington had to travel further than any other team this weekend and pulled off a
68-65 win
over a taller, and what appeared to be a stronger Georgia team.
A year ago, Washington went to San Jose and reached the Sweet 16 in Syracuse. The Huskies haven't always represented the Pac-10 well in the non-conference the past few seasons, but have found the right mix in the postseason to be quite a pest.
Washington looked like it could have been in trouble early against Georgia and had to scrap for a tie game at the half. But the Huskies were able to use their defense to start the break and continued to be the aggressor at the offensive end as Georgia's offense sputtered.
Georgia hung tough in the final few minutes, pushing Washington to the final possession and forcing the Huskies to make free throws.
Star player:
Washington's
Isaiah Thomas
has taken over games in the past month. He took and made the shot to beat Arizona at the buzzer in the Pac-10 tourney final. And it was Thomas who was the difference once again for Washington, making shots to silence Georgia runs and energize the Huskies. He finished with 19 points and seven assists.
Welcome back?
Washington's suspended guard
Venoy Overton
, who missed the Pac-10 tournament for serving alcohol to a minor, gave the Huskies a stable presence off the bench and scored a key basket in the final two minutes to stretch the lead to 10. Romar said that he was going to use Overton (six points, four rebounds) off the bench and it gave the second unit an infusion.
Key stat:
I found it rather odd that Washington was able to win this game despite shooting six more 3s than Georgia. The Bulldogs played smart and kept the game in the half court offensively while the Huskies were jacking up too many shots. A difference for the Huskies ended up being the ability to hang with the Bulldogs on the boards. Washington got spirited rebounding from
Matthew Bryan-Amaning
,
Aziz N'Diaye
and to some extent
Darnell Gant
and
Justin Holiday
. The Husky guards also rebounded well.
What's next:
Washington plays North Carolina in an intriguing third-round game Sunday at 12:15 p.m. at the Time Warner Cable Arena. The Huskies would love to run with the Tar Heels. That's more their game. Sunday's contest has the makings of being similar to the Huskies' close games with Arizona within the past month.
March, 20, 2010
3/20/10
8:22
PM ET
By
Diamond Leung
| ESPN.com
SAN JOSE, Calif. -- Washington might have entered the NCAA tournament a No. 11 seed, but the Huskies crushed
New Mexico 82-64 to advance to the Sweet 16
.


Quincy Pondexter
scored 18, and
Matthew Bryan-Amaning
came up huge down low with 15 points and nine rebounds for the Huskies, now winners of nine in a row.
Bryan-Amaning had numerous monster dunks and finished 7-for-10 from the field, as Washington simply bullied No. 3-seeded New Mexico.
Dairese Gary
led all scorers with 25 points, and
Darington Hobson
had 11 points and nine rebounds, but the Lobos were never really in the game in the second half with the Huskies on fire and committing only five turnovers.
Isaiah Thomas
scored 15, and
Elston Turner
provided a lift off the bench again with 10 points for Washington.
Justin Holiday
had three blocked shots.
The Huskies, who move on to face the winner of the West-Virginia-Missouri game, played their most complete game of the season.
February, 3, 2010
2/03/10
11:00
AM ET
By
Diamond Leung
| ESPN.com
Percy Allen of the
Seattle Times
points to this
wacky clip
of Washington players and even coach Lorenzo Romar moving to Cascada's "Evacuate the Dancefloor."
The game operations crew at Bank of America Arena apparently plays the Dancin' Dawgs video during blowout wins, so take a bow
Matthew Bryan-Amaning
,
Venoy Overton
,
Justin Holiday
,
Scott Suggs
and
Elston Turner
, as the Huskies are 14-1 at home this season.
Problem is, Washington is 0-5 on the road and unlike the song, is having trouble cracking the top 40. Also,
Montlake Madness
thinks the video is "very bad."
The real question is: Do the Huskies have what it takes to get back to the Big Dance? To kick off the second half of the Pac-10 schedule, they host first-place Arizona on Thursday.