College Basketball Nation:

Justin Jackson
September, 27, 2012
9/27/12
5:00
AM ET
1. A few weeks out from practice and a potential top-10/top-five team that isn't being given its due is Kansas. KU coach Bill Self said a few weeks ago that he thinks he has an extremely deep team, and one that might be able to score in more ways than last season. Canvass the country and the Jayhawks stack up against as well as any team in the country if newcomers like
Ben McLemore
and
Perry Ellis
are as impactful as expected.
Jeff Withey
will be as talented a big man as any other in the nation and the rotation players are more than serviceable. This is a perfect setup for Self. KU isn't getting the early-season love -- but Kansas has more experience returning than Kentucky and probably has a better preseason chance of getting back to the Final Four.
2. My second team that should be ranked higher in any poll, let alone in conference projections, is Cincinnati. The Bearcats seem to be lost amid the Louisville hype in the Big East. But Cincinnati's roster is loaded with returning upperclassmen like
Cashmere Wright
,
Sean Kilpatrick
,
JaQuon Parker
and
Justin Jackson
. The problem is that the schedule doesn't provide many early-season highlight games to get the Bearcats noticed. The best chance for a statement win would come if UC plays, and then beats, UNLV in Las Vegas on Nov. 24.
3. I'm not for labor unrest in college basketball but I would like to see one union of officials. I've covered the sport for 22 years (26 if you count college) and I'm still baffled by the perception of a lack of consistency in officiating from one league to the next. And the fact that coaches request their league officials for road non-conference games essentially hints that if they were from the home conference, that team would be at a disadvantage. The rules don't change, so how the game is officiated shouldn't be altered either. There are plenty of quality officials in every league who take their jobs very seriously. Their ethics shouldn't be questioned. So having them all work for under one roof makes sense.
August, 28, 2012
8/28/12
5:00
AM ET
1. Cincinnati coach Mick Cronin said landing 7-foot-1 David Nyarsuk is a huge addition, both literally and figuratively: "He's a shot blocker, finisher and runs great. If he was a JUCO he would have been No. 1 in the country." Nyarsuk went to NAIA Mountain State (W.Va.) where he averaged 9.8 points and eight rebounds last season. Nyarsuk, who is from the Sudan, resolved a student visa issue, and will have two seasons of eligibility remaining. "He's a rim protector behind our pressure defense," Cronin said. Nyarsuk will join a frontline of
Cheikh Mbodj
,
Kelvin Gaines
and
Justin Jackson
. The Bearcats should be considered a top 25 team and a Big East top four contender.
2. Marquette decision last week to fire assistant Scott Monarch and suspend head coach Buzz Williams for a game is another example of a school endorsing head coach penalties to head off any potential committee on infractions hits. The era of the coach not being held accountable is now officially over. Coaches can expect to be penalized a game or two or three by their school, conference, or the NCAA for failing to foster an atmosphere of compliance.
3. The Horizon League is desperate for good news after the abrupt departure of Butler to the A-10. Loyola (Ill.) returned from an Italy trip with some dramatic uptick in numbers. The Ramblers averaged a meager 57.2 points a game last season but on a 4-1 trip they averaged 82.3 points a game. The Ramblers also hadn't had a player average five assists a game since 2003. But Iowa transfer
Cully Payne
handed out 9.3 assists in the four games. Porter Moser is hoping to see a turnaround and the indication is that this trip may give the Ramblers the necessary bounce.
March, 1, 2012
3/01/12
3:05
AM ET
By
ESPN Stats & Info
| ESPN.com
A scan of the college basketball box scores each night guarantees all kinds of statistical oddities and standout performances. Here are some we found from Wednesday.

Portland 74, Santa Clara 70
Santa Clara committed just one turnover, the fewest by any team in a loss this season. The Broncos committed the lone turnover down two points with seven seconds left in the game. The previous team to commit no more than one turnover in a loss was Fairfield on Feb. 12, 2009 against Marist.
Cincinnati 72, Marquette 61
Cincinnati's
Justin Jackson
blocked seven shots in 13 minutes off the Bearcats' bench. That's tied for the second-most blocks by a substitute this season, but Jackson did it in the fewest minutes played. The last player to block seven shots in 13 minutes played was Rutgers' Hamady N'Diaye on Feb. 10, 2007 against Cincinnati.

UNC 88, Maryland 64
UNC's
Tyler Zeller
made 20 of 23 free throw attempts in the victory, tying him with Oregon State's
Jared Cunningham
and Oklahoma State's
Keiton Page
for the most made free throws in a game this season. Zeller broke Tyler Hansbrough's Smith Center record with the 20 makes, which was also one shy of both UNC's and the ACC's all-time record.
Seattle 111, Longwood 74
Seattle's
Sterling Carter
scored 28 points in only 16 minutes of action. The last player to score that many points in that few minutes played was North Dakota State's Ben Woodside on Nov. 18, 2008 (also 28 points in 16 minutes).
Mercer 61, Lipscomb 53
Lipscomb's
Deonte Alexander
shot 4-for-22 from the field (18.2 percent) in the loss. That's the worst shooting performance this season for a player with at least 20 attempts.
Lehigh 70, Colgate 57
Lehigh's
C.J. McCollum
recorded seven steals in the win, tied for the third-most takeaways by a player this season.
December, 14, 2011
12/14/11
11:16
PM ET
DAYTON, Ohio -- Cincinnati coach Mick Cronin was on the court during Wednesday's shootaround at Wright State's Nutter Center, directing his players to spots that they hadn't been in prior to the season.
But late in the first half, anyone watching in the crowd or on ESPN2 would have never guessed the Bearcats were new to a four-guard, spread-out offense.
In its first game since Saturday's infamous brawl with rival Xavier, Cincinnati ran out to a 23-point lead on the youthful Raiders, making nine 3-pointers in the first half, moving the basketball, taking chances and locking down on WSU in the halfcourt to the tune of nine first-half turnovers.
"The best thing about a four-guard offense is that you'll get a good shot every time,'' said Cronin after the Bearcats'
78-58 victory over Wright State
. "I wanted to let these guys play. When you have those big guys, the floor shrinks and these guys have to have room to operate.''
The big guys that weren't on the floor for the Bearcats were starting center
Yancy Gates
and forward
Cheikh Mbodj
and reserve forward
Octavius Ellis
. All three were suspended for six games for their roles in the fight. Reserve guard
Ge'Lawn Guyn
was suspended for one game.
The only big guy of note playing for the Bearcats on Wednesday was
Justin Jackson
, who more than held his own with 11 points and eight rebounds, despite fouling out.
Sean Kilpatrick
moved to a more of a power guard position, and he lit up the Raiders with 20 points and had a season-high six 3s.
Jaquon Parker
got a start at guard and scored 14 points after having come in averaging just 4 a game.
"We fed off the energy of our teammates,'' Kilpatrick said. "
Cashmere [Wright]
was in my ear to keep shooting and keep shooting. We had a lineup with everybody rebounding and looking for the extra pass.''
The new-look Bearcats will be the norm for UC going forward.
Cincinnati's offense had stagnated in the first eight games, last in the Big East in scoring. The preseason No. 22 team, the Bearcats had already lost a stunning game at home to Presbyterian and then in overtime to a legit C-USA contender in Marshall. Then by 23 to the Musketeers.
So Cincinnati couldn't afford to fall flat against Wright State and certainly has to win upcoming home games against Radford, Arkansas-Pine Bluff and Chicago State, as well as Oklahoma on Dec. 29 at U.S. Bank Arena in downtown Cincinnati before the Big East opener at Pittsburgh on Jan. 1.
[+] Enlarge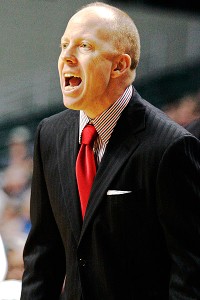 AP Photo/Skip Peterson"This was good for us to play," coach Mick Cronin said of Cincinnati's first post-brawl game. "It was good to take a road trip."
If the three players suspended for six games adhere to Cronin's four-step reinstatement process -- apologizing publicly (which was done Monday), anger-management counseling (which started Wednesday), community service and an apology to the UC student body -- then the full roster will be back for the Big East home opener against Notre Dame on Jan. 4.
Wright State coach Billy Donlon said he could tell the Bearcats were playing with a purpose the moment they stepped on the court.
That passion to just play the game and do it with class and sportsmanship was a must Wednesday — and has to continue, since the sport will be watching this team going forward.
"I think everyone was waiting for us to explode and have a mental breakdown,'' Wright said. "But we just came ready to play.''
Xavier, which will play Sunday against Oral Roberts without four players (
Tu Holloway
, suspended one game;
Mark Lyons
, two games;
Dez Wells
and
Landen Amos
, out for four), didn't have the luxury of getting back on the court so soon after the fight to repair its image.
"This was good for us to play,'' Cronin said. "It was good to take a road trip. Sometimes we've come up on game day like we did at Miami of Ohio. But I'm glad I made the decision to come up [Tuesday night], so we could spend time together and get these guys to laugh."
As for this Saturday's home game against Radford?
"I love our fans and I think it will be nice to be home,'' Cronin said. "I think our fans will rally around us. I think we'll see that Saturday.''