College Basketball Nation:

Justin Wesley
August, 31, 2012
8/31/12
12:15
PM ET
With all due respect, no one would confuse Kansas junior forward
Justin Wesley
with Wilt Chamberlain. As a sophomore, Wesley averaged 1.2 points and 1.6 rebounds in 8.6 minutes per game; he was Kansas's fourth option in a somewhat shallow frontcourt.
Chamberlain is one of the greatest and most dominant basketball players in history, a modern-era athletic freak plopped in a black-and-white Converse commercial, playing against guys that looked a lot more like me than
Jeff Withey
. It was borderline unfair.
[+] Enlarge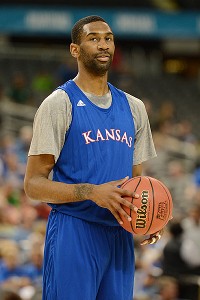 Bob Donnan/US PresswireKansas forward Justin Wesley on playing former Kansas great Wilt Chamberlain: "It's kind of fun, like, learning the backstory."
But off the court, Wesley does somewhat resemble Chamberlain. Which is, along with his Kansas connection, precisely how Wesley landed a role playing Wilt the Stilt in a new independent film, "Jayhawkers." Directed by Kansas professor and filmmaker Kevin Willmott, it is the putative story of Chamberlain's arrival at Kansas amid the forces of segregation around him, and what his arrival did to not only change the game of basketball, but to change the rigidity of a fevered fan base's reaction to racial integration. Shooting began for the film on Aug. 15. From
Fox Sports Kansas City
:
"I'm mainly doing it for the history of it," explains Wesley. "The movie has a lot of controversy and that's the main reason why I'm doing it. It's kind of fun, like, learning the backstory -- to be a part of that is so exciting.

"The backstory of the movie is the different reasons that Phog wanted Wilt here, (while) the chancellor (Franklin Murphy) wanted Wilt here to change segregation in Lawrence. He felt like Wilt would change the whole outlook (of the city), and Phog wanted him to change basketball."
Based on stills from the film -- which you can see here -- Wesley seems to have nailed Chamberlain's look. Inhabiting a famous performance might prove more difficult, and that's only if the film gets made in the first place. Barbara O. Chamberlain-Lewis has attempted to stop the creation of the film on behalf of the Chamberlain family, arguing Willmott doesn't have the rights to portray Chamberlain. From
the Lawrence Journal-World
:
Acting on behalf of the Chamberlain family, Chamberlain-Lewis has told Willmott that he does not have the rights to the film, but Willmott said his entertainment lawyers have told him otherwise.

"There's an issue with her, but it's not an issue with us," Willmott said. [...] "Our entertainment lawyer told us we didn't need the rights," he said. "It's an ensemble film. Wilt's not the main character, so it's no longer necessary to buy the rights."

Reached at the Las Vegas home she shares with husband Elzie Lewis, Chamberlain-Lewis said, "What shocks me is back in 2003 Kevin was so respectful of the rights we have. I'm so disappointed he has completely ignored his lack of rights to do this."
Perhaps it's fitting a film about a controversial chapter in Kansas's rich basketball history has been subject to controversy of its own. Or maybe this is just what happens when you make a movie with an ostensibly famous character or characters; after all, Facebook couldn't have shut down "The Social Network" even if it had tried.
Either way, best of luck to Wesley. Acting is hard enough. Portraying the most famous player in his own school's history -- that's a challenge all to its own.
November, 24, 2011
11/24/11
2:20
AM ET
LAHAINA, Hawaii -- Fans from both sides had warring chants that echoed throughout the crowd. Mike Krzyzewski was leaping up and down and spilling out on the floor with emotion. Bill Self twisted and recoiled with every turn of the game.
Duke players leapt into each other's arms when it was over as the faces on their Kansas counterparts had the far-off look of a team that had just dropped an elimination game of some sort.
Was this game played in November or in March?
The Maui Invitational is often a great event. But it's played so early in the season and is such a departure from the typical mood of big-time college basketball that usually it can't help to have at least some exhibition feel to it.
And then a night like Wednesday happens, when two legacy programs played a high-intensity game that could have just as easily been taking place in a dome and not a tiny band-box gym in the middle of the ocean.
[+] Enlarge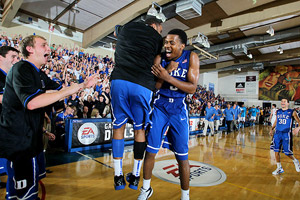 Brian Spurlock/US PresswireHe'd scored a total of four points in the previous two games, but Tyler Thornton delivered a pair of clutch 3s for Duke on Wednesday night.
In a way, it is a shame that the final score will be recorded as "
Duke 68, Kansas 61
," because it doesn't imply the sort of struggle it was. Or how badly both sides clearly valued the game.
They hadn't played against each other since 2003, so there was a gravity to the game. The key players in both jerseys had been a part of matchups like this before, but not in the roles they were going to play. All of this added to the tension, and it was tangible.
The game was ultimately decided on a wild and freakish shot, the unheralded
Tyler Thornton
heaving in a 3-pointer at the end of the shot clock with 20 seconds left that made it a two-possession game. Krzyzewski later called it a "dream shot" as he sat next to Thornton, who was clearly still floating and not yet realizing that he might've made one of the shots of his life. While that was the obvious final highlight, it was only a bit of what took place.
During the second half, as the lead repeatedly changed hands, Krzyzewski sprang off the bench to fire his team up. Playing their seventh game in 12 days, fatigue was a factor for Duke. But it was so clear that their coach wanted them to fight through it because he understood the magnitude of the game.
"I want to win and I wanted them to see I haven't retired yet," he said. "It was important for me and important for them."
The game was loaded with moments like that.
There was KU's
Thomas Robinson
showing off his all-around game in front of nearly a dozen NBA general managers, displaying a multi-faceted offensive game from jumpers to post moves to sheer power. He demanded the ball, playing with such a purpose that he often seemed to be moving at a different speed. His 16 points and 15 rebounds spoke to that. So did the fire with which he played and the long face that he left the floor with, totally spent.
"This is what we came to Kansas for, for games like this," Robinson said. "I haven't been around that long, but I do think it'll go down as one of the top games [ever] in the tournament."
But all Robinson's play did was end up setting up a series of mighty one-on-one battles with Duke's
Mason Plumlee
in the final minutes, with Plumlee's longer arms and strength able to shut down Robinson's effectiveness. With his 17 points and 12 rebounds, Plumlee ended up getting the edge in that matchup.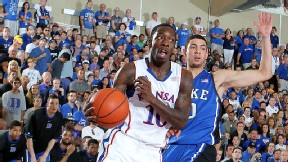 Brian Spurlock/US PresswireAs their squads' big men jousted in the paint, guards Tyshawn Taylor of Kansas, left, and Seth Curry of Duke parried on the perimeter.
The Blue Devils'
Ryan Kelly
, who had 17 points and was named the event's MVP, had a game-long struggle with Kansas bigs
Jeff Withey
and
Justin Wesley
. There was Kansas guards
Tyshawn Taylor
and
Elijah Johnson
and their back-and-forth with Duke's
Seth Curry
and
Austin Rivers
.
Taylor's speed and aggressiveness stymied his counterparts as Curry and Rivers, who were a force during the tournament, were rendered mostly ineffective. Curry was just 2-of-8 and had trouble staying with Taylor on defense. Rivers got in foul trouble and wasn't a factor in the second half, something not foreseen. Taylor finished with 17 points and Johnson had 10.
But Taylor's excitement at times was too much and Duke's pressure only increased as the game wore on and he ended up turning the ball over an ugly 11 times, 7 of them in the second half.
All of it together created something more than a game in Maui. It was instantly a candidate for one of the best regular season games of the year.
"I can't imagine there being a better atmosphere than that game with two historic programs," Self said. "I know our guys had a blast playing in it. I had a blast coaching in it."