January, 13, 2015
Jan 13
8:02
PM ET
For most of the 2014-15 season, Kansas freshman
Cliff Alexander
has only occasionally flashed hints of the towering, terrifying physicality that made him the nation's second-highest-ranked prospect in the Class of 2014 -- behind only
Jahlil Okafor
, Alexander's Chicago Public League rival.
On Tuesday night against Oklahoma State, he offered so much more than a hint: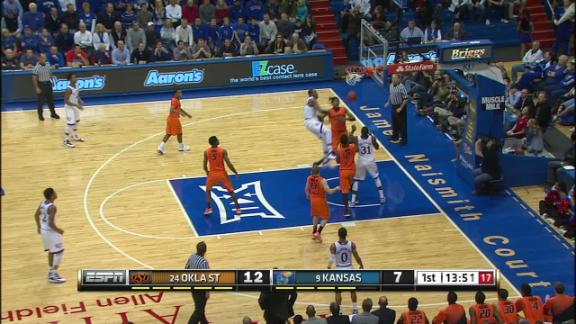 In the immortal words of Stefon, this dunk has everything:
A 6-foot-10 man Marshawn Lynch-ing his shoulder through a (probably flopping) Le'Bryan Nash.
A slight stagger as said man reorients his feet under his legs, like some sort of imposing baby deer.
An unthinkably high leap and arm extension over a defender doing everything he can to not get embarrassed, ending with that defender getting embarrassed anyway, and ...
The unrepentant, maybe unconscious flex-taunt that earned the freshman a technical foul.
Totally worth it! Besides, a technical was the least of the officials' worries. They're lucky KU fans didn't shut the gym down right then and there.