College Basketball Nation:

Kansas-Missouri-120225
February, 25, 2012
2/25/12
11:41
PM ET
LAWRENCE, Kan. -- Outside Allen Fieldhouse, nearly an hour after the most memorable game in the venue's storied history, a black chartered bus with gold stripes and a Show-Me-State license plate idled in the parking lot.
One by one, each member of the
Missouri Tigers
basketball team walked past armed security guards and made his way toward the door.
Matt Pressey
stopped and signed items for autograph seekers,
Michael Dixon
hid his face beneath a gray hoodie and
Marcus Denmon
slouched in his seat as he peered through a tinted window.
Outside, first-year coach Frank Haith paced back and forth across the sidewalk, staring at the ground as he talked on his cell phone following his team's
87-86 overtime loss
to Kansas. Eventually, the luggage compartment was shut. The bus engine gurgled and Haith climbed aboard.
At 6:27 p.m. central time, the Border War was over.
The driver's foot pressed a pedal and the Missouri Tigers were whisked away from Allen Fieldhouse and Lawrence, Kansas.
Forever.
For Jason King's full column, click
here
.
February, 25, 2012
2/25/12
9:31
PM ET
By
ESPN.com staff
| ESPN.com
Jason King speaks with Kansas guard
Tyshawn Taylor
, who hit two clutch free throws in Kansas'
87-86 overtime victory
against Missouri on Saturday at Allen Fieldhouse. The Jayhawks rallied from 19 down in overtime.
February, 25, 2012
2/25/12
7:30
PM ET
Dear Kansas people who get paid big bucks to make smart decisions,
Pardon my passion, but I just finished watching a basketball game that defined instant classic.
One overtime wasn't enough. I wanted 12. This was the cliché game, the one no one wanted to end.
Ever.
Instead,
Marcus Denmon
's too-late attempted buzzer-beater falls into the archives instead of the scorebook, the end of an era that doesn't need to end.
I'm hoping maybe you watched it, too, and you're sitting somewhere right now reconsidering your staunch refusal to continue your series against Missouri.
[+] Enlarge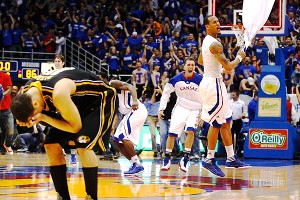 AP Photo/Orlin WagnerThe thrill of victory and agony of defeat on display Saturday at Allen Fieldhouse are reminders of why the Kansas-Missouri rivalry should continue.
Don't get me wrong. I get it. You're angry. You feel jilted. You're the teenage girl with the pretty party dress, the mani-pedi, updo and the date who ditched you for the rich girl in town.
Why should you be the bigger university? Why should you fix the mess Missouri created by bolting to the SEC?
All legitimate questions.
I have another one: What do you gain by discontinuing this rivalry other than a hefty plate of spite?
You get to sit around a room, raise your brandy snifters and toast your ability to stick it to those deserters. And then what?
I'll tell you what: A great rivalry dies, a rivalry that isn't contrived by perceived slights, petty grievances or convenient geography.
It's steeped in history --
real
history.
And it's about to be over because one school selfishly chased the money and the other stubbornly refused to budge. Now if that isn't the essence of sportsmanship, well, gee, I don't know what is.
No one wins here. Not either school's fans who grew up at the knee of their grandparents, inheriting their animosity like a cleft chin, widow's peak or some other genetic trait.
Not the players, who will tell you they like nothing more than to play in pressure-cooker environments, who live for bragging rights games and the big stage.
And not the universities who, like it or not, are married in history by this epic rivalry.
Sure, each school will move on and survive. Kansas will remain in the Big 12 and maybe turn its ire down the road to Manhattan and Kansas State. Mizzou will join the SEC and cultivate some sort of rivalry there. Probably with Arkansas.
But it won't be the same.
I saw it firsthand. Back when, the Penn State-Pitt football game was The Game in Pennsylvania. And then the Nittany Lions left for the Big Ten, pulling up stakes on the Panthers.
Michigan and Ohio State came along as good foils, but only because both were good, not because the hatred was reciprocal. The Buckeyes hate the Wolverines and vice versa.
Penn State? Eh. Missouri fans might learn to hate, say, Kentucky. But trust me, Kentucky fans won't deign to hate you back.
So Kansas, I urge you to bury your anger and do the right thing. Play one game a year in Kansas City. Play it on campuses. Play it wherever.
There's not a lot out there these days to convince people that college athletics is little more than the back-stabbing antithesis of collegiality. You can change that. You can be the bigger university.
Think about that.
You can be the bigger university.
Wouldn't that be a helluva thing to laud over your most hated rival?
Sincerely,
Dana O'Neil
February, 25, 2012
2/25/12
7:02
PM ET
LAWRENCE, Kan. -- Here are some quick thoughts from Kansas' classic
87-86 overtime victory
over Missouri on Saturday at Allen Fieldhouse.


Overview:
Tyshawn Taylor
made a pair of free throws with eight seconds remaining in overtime to lift No. 5 Kansas over archival and third-ranked Missouri. Mizzou had a chance to win the game at the buzzer, but
Michael Dixon
took too much time and
Marcus Denmon
couldn't get off a shot as time expired. The game was one of the greatest in the history of the Jayhawks' historic venue, as KU came back from a 19-point second-half deficit to defeat its nemesis in what might have been the final regular-season meeting ever between the two teams. Missouri is moving to the SEC next season and Kansas has indicated it has no interest in continuing the series.
National-player-of-the-year candidate
Thomas Robinson
had 28 points, while Taylor added 24 for Kansas, which clinched at least a share of the Big 12 title for the eighth consecutive season. The Jayhawks, who have a two-game lead over the second-place Tigers, can claim the championship outright with a victory over Oklahoma State on Monday in Stillwater.
Denmon scored 28 points for MU and
Ricardo Ratliffe
added 22. Denmon's baseline jumper with 12 seconds left in overtime gave the Tigers an 86-85 lead before Taylor raced down the court and was fouled by Dixon, which led to the game-deciding free throws.
A three-point play by Robinson with 16 seconds left in regulation forced a 75-75 tie and sent the game into overtime.
"It wouldn't have been a disgrace to lose to a good team," Kansas coach Bill Self said. "But it's Missouri. You've got to win that game."
Star the game:
Robinson took a huge step toward winning national POY honors with his 28-point, 12-rebound performance. Along with his clutch baskets down the stretch, Robinson also blocked a shot by Missouri's
Phil Pressey
as time expired in regulation.
By the numbers:
Saturday's effort tied the largest comeback victory the Jayhawks have ever had at home — KU also rallied from 19 down in December 1995 to defeat UCLA. It was just three points shy of the school's biggest rally ever (22 versus Texas in 2007). ... Kansas improved to 15-1 at home against Mizzou since the formation of the Big 12. ... This was just the second time in the past 34 meetings of this storied rivalry that the game went into overtime. ... This was the fourth time these two schools have met while each was in the top 10. It was the first of those matchups that KU has won. ... Mizzou came awfully close, but no team since 2001 Iowa State has beaten Kansas twice in the regular season.
What this means for Missouri:
Considering the atmosphere and all that was at stake, Missouri played as well at Allen Fieldhouse as any opponent in recent memory. The Tigers' mental toughness was unbelievable against a team that has won 90 of its past 91 home games. Mizzou wasn't at all affected by KU's deafening crowd. The Tigers hit big shot after big shot to maintain the lead until the final seconds of regulation. Their performance is a credit to the senior leadership of veterans Dixon, Denmon, Ratliffe and
Kim English
-- and first-year coach Frank Haith. This is a Final Four-caliber team.
What this means for Kansas:
KU has accomplished one of the most underrated feats in college sports by winning an eighth consecutive Big 12 title -- especially considering this was supposed to be Self's worst Kansas team. The Jayhawks lost four starters from last year's Elite Eight squad. In the waning minutes Saturday, the Jayhawks had a walk-on (
Conner Teahan
) on the court, along with a Loyola Marymount transfer (
Kevin Young
) who averaged about 8 points a game at his previous school. Kansas also won without much of a contribution from center
Jeff Withey
, who turned his ankle in the opening half and hardly played after intermission. More important to Kansas fans is that the Jayhawks will have bragging rights again -- and perhaps forever -- on their most hated rival. Kansas leads the all-time series 172-95.
What's next:
Kansas plays at Oklahoma State on Big Monday, while Missouri hosts Iowa State on Wednesday.