College Basketball Nation:

Kasey Hill
April, 5, 2014
Apr 5
8:38
PM ET
ARLINGTON, Texas --
Florida
is 36-3, but
UConn
is playing Monday night. Five things on UConn's
63-53 win
in AT&T Stadium, a victory that puts it one win away from a national title every bit as unlikely as 2011's
Kemba Walker
-led sprint:


1. UConn beat Florida at its own game. Which is to say: defense.
The Gators entered Saturday with the top-ranked adjusted efficiency defense in the country; the Gators had allowed just 0.94 points per possession in their four NCAA tournament games. Much less was made of UConn's defensive prowess, but the Huskies were no slouches on the defensive end in their own right: They entered Saturday ranked 10th in adjusted defensive efficiency thanks to their combination of perimeter pressure and interior shot-blocking.
That's exactly what they unleashed on the Gators on Saturday. Freshman guard
Kasey Hill
-- who had 10 assists in the Elite Eight against
Dayton
-- looked in over his head. Sharpshooter
Michael Frazier II
made his first 3-pointer of the game -- the first shot of the game, which put Florida up 3-0 -- and was never heard from again.
SEC player of the year
Scottie Wilbekin
was hampered by cramps and couldn't shake
Ryan Boatright
or
Shabazz Napier
. Wilbekin finished with three turnovers, one more than he had in his first 212 tournament possessions. One, with about seven minutes left in the first half, saw him leave the ball out in front of his body, practically begging for Napier to swipe it. Napier happily complied. Wilbekin's best look of the night came down 12 -- Florida's biggest deficit of the season, by the way -- with 49.9 seconds left. He barely grazed the rim. Florida scored less than a point per possession.
In short, UConn locked Florida down on the perimeter. It was the kind of disruptive, comprehensive performance we'd come to expect from the Gators -- the type of game in which you can't fathom the opponent scoring with any regularity. Only this time, in their first Final Four since 2007, the Gators were on the receiving end.
2. The Huskies were awfully good on the offensive end, too.
UConn had polished off 1.10 points per trip by the time final buzzer sounded, the most any team had scored on the Gators in weeks. Some of those points came in transition, but a fair number came in the half court, with Napier and Boatright breaking down the Florida perimeter and finding open shooters for quality 3-point attempts. UConn shot 5-of-12 from 3 for the game -- a tidy, efficient 41 percent. Coupled with its defense, it was enough.
3. UConn's start gave no hint of what would come next.
In the first 8 minutes, 49 seconds, the Huskies scored a grand total of four points. They didn't make shots, obviously, but the issues were deeper than that: UConn couldn't create any shots to take. Every ball screen was greeted by a Florida defender. Every attempt at penetration was halfhearted and tentative. Florida's defense was smothering, the Gators were scoring with relative ease on the other end and the energy in AT&T Stadium was nonexistent. It looked like we were in store for a dud. Not so much.
4. DeAndre Daniels is on a tear.
Remember Daniels? The guy who came out of relative (though not total) obscurity to pour in 27 points in UConn's Sweet 16 win over
Iowa State
? He was great again Saturday night, shooting 9-of-14, scoring 20 points, grabbing 10 rebounds and making life immensely difficult for a Florida defense already scrambling to catch up with the UConn guards. Daniels makes UConn a nightmare to guard.
5. Casey Prather and Patric Young gave Florida a shot.
Prather, a former role player turned star, was Florida's best player all season; Young was a four-year contributor with more than 3,600 minutes on his legs. Both will be heartbroken by the loss, but at least they can say they played well: Young had 19 points on 13 shots and added five rebounds, while Prather scored 15 points on 6-of-10 from the field and added six rebounds.
December, 11, 2013
12/11/13
1:00
AM ET
GAINESVILLE, Fla. -- The thing about assessing college basketball teams in November and December is that it's much easier to get it wrong than to get it right.
A team's full story is usually more layered than one outcome, one matchup or one streak can accurately illustrate in the first few weeks and months of any season.
Sometimes key players are injured. Sometimes key players are suspended. Sometimes key players are just green.
In No. 19 Florida's case, all three have been factors.
The Gators have had enough drama to warrant an E! reality TV show.
They entered Tuesday's 67-61 win over No. 13 Kansas at the O'Connell Center approaching 100 percent. In its most high-profile matchup of the year to date, Florida was almost fully staffed. The result was one of the most dominant performances -- in the first half, at least -- any team has ever played against Kansas and a reminder of what's possible when a team can finally use most of the players on its roster.
It was also a warning against premature analysis of a team in flux.
There were 16 -- yes, 16 -- Kansas turnovers in the first half thanks to Florida's frustrating 1-3-1 zone. Per ESPN Stats & Information, Kansas committed turnovers on nine of its 18 possessions and went 4-for-15 from the field against the 1-3-1.
[+] Enlarge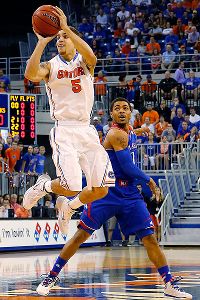 Sam Greenwood/Getty ImagesScottie Wilbekin's 18 points, six assists and four steals gave Gators fans a glimpse of what he can provide when he's in the flow of things.
The Jayhawks played like a team trapped in a fire pit.
There was a 21-0 Florida run that followed a 10-3 start by Kansas, changing the atmosphere in Florida's home venue. After missing six of their first seven shots in the first half, the Gators went 7-for-12 during that rally. Kansas failed to score for 8:43.
If the Gators were spontaneously lucky, then the Jayhawks were suddenly cursed. Blowouts can begin with such a sweeping shift that even the players involved can't describe it.
"I don't know what happened," Kansas star
Andrew Wiggins
said. "They just went on a run."
The Gators resisted a furious second-half Kansas rally that arose when Wiggins decided to cook up his best college game to date (first career double-double with 26 points, 11 rebounds, two blocks and four turnovers), showing NBA scouts that he's still worthy of being the No. 1 pick in next year's draft.
But
Patric Young
& Co. stayed strong and avoided panic.
"It just shows that when this team is healthy and has everybody out there, or even when we don't, we're going to put five guys out there that are going to play hard and run our offense and play our style of play," said Young, who finished with 12 points, six rebounds and three solid shoulders (minimum) into Kansas freshman
Joel Embiid
's sternum. "Our style of play was overwhelming for them. We need to bring that every single day."
Freshman
Kasey Hill
played 20 minutes after nursing an ankle injury and missing the previous four games.
Scottie Wilbekin
, who served a suspension at the beginning of the season, suffered an ankle injury during Florida's last-second loss at UConn last week. But he started against the Jayhawks.
Even with Wilbekin and Hill available, the Gators aren't 100 percent.
Billy Donovan's roster was missing five players due to suspension, illness or injury (excluding top-10 recruit
Chris Walker
, who was academically ineligible for the first semester) as the program prepared for its season opener against North Florida.
South Carolina transfer
Damontre Harris
will reportedly leave the team.
Eli Carter
, who averaged 14.9 PPG for Rutgers in 2012-13, will reportedly redshirt after suffering a broken leg last season. And Walker's status is still undetermined, though he could be eligible in a few days.
What do you get when you add a 6-foot-10 potential lottery pick to a nationally ranked program that's playing some of the best defense in America?
"I really don't know. I know he's a very good athlete," Donovan said. "My biggest thing with him is going to be how quickly can he pick things up. And I've got to do a good job of keeping things simple for him. ... I hope it will work out."
The (moving toward) full-strength Gators are quite talented -- Final Four talented.
That Kansas offense that crumbled under the pressure of a stiff zone in the first half is encumbered by problems such as inexperience, imbalance, inconsistency and shaky guard play.
But Bill Self's boys lost to an elite Florida squad. Tuesday night was just its first chance to prove it. Florida doesn't have one player who has averaged more than 20-plus minutes per game and played in all nine contests this season.
Florida didn't have
Dorian Finney-Smith
or Wilbekin in its loss to Wisconsin. Finney-Smith scored 15 points Tuesday and triggered that first-half rally by going 4-for-6 from the 3-point line. Wilbekin recorded a team-high 18 points, six assists and four steals in 36 dazzling minutes.
"Once you get them back, it is a good feeling to have everybody out there playing together," Wilbekin said. "You can see it. More rest. More versatile with what we can do on offense. And I think this is the first time you've seen us with everybody."
The Gators are growing as they solidify their roster. That constrictive defensive display against a program that might boast three first-round draft picks was impressive because of its effectiveness and suddenness.
Florida, if healthy, suspension-free and eligible, could be the SEC's best team and a national title contender in March.
But the Gators need more time together.
"I'm hopeful now, as we try to get a little bit healthier in this next week, it'd be good for us to get some of that continuity and cohesiveness on the court because there are times I see it and other times [not]," Donovan said. "I think guys need reps."
Florida wasn't pleased with the second-half sloppiness that could have turned a great win into a heartbreaking loss, though.
Once Florida began to play man-to-man defense in the second half, Wiggins grabbed his cape. He penetrated. He hit jump shots. He drew fouls. He was almost a hero.
Kansas had a final shot to change the outcome when it was down just 61-55 in the final minute. Florida unraveled at the free throw line (15-for-23 after halftime) and couldn't stick Wiggins. But the turnover ghost continued to haunt the Jayhawks.
Brannen Greene
lost control and fumbled the ball out of bounds with 45 seconds to play and a chance to cut Florida's lead to two or three, dooming the Jayhawks to their third loss in the past four games.
"We're just not a real skilled team," Self said, "yet."
November, 16, 2013
11/16/13
9:58
PM ET
Marquette's anemic offensive output in its 52-35 loss to Ohio State on Saturday afternoon wasn't exactly what the NCAA men's basketball competition committee had in mind when it sought to increase scoring this season.
Freedom of movement meant the Golden Eagles could miss more shots without being impeded by a hand check. The Buckeyes weren't any better in the first half, as they needed a late basket to tie the game at 19 going into intermission.
It was the lowest combined halftime score in Division I this season.
Despite the rules to benefit offense and increase scoring, a team without at least one scorer in the backcourt is a team that is going to struggle.
[+] Enlarge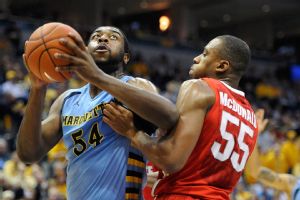 Benny Sieu/USA TODAY SportsDavante Gardner is a force inside, but Marquette is learning that the new rules mean backcourt scoring is more important than ever.
Marquette was the prime example Saturday.
Yes, it's still early in the season and teams are adapting to new personnel and new lineups.
But other ranked teams like Florida, Virginia and Syracuse -- all of which started freshman point guards -- managed to work through slow first-half starts to post double-digit victories.
The Golden Eagles, who had to replace their entire starting backcourt from last season, actually shot worse in the second half. After making just 6 of 29 shots in the first half, they made just 4 of 24 in the second.
It wasn't the pace of the game that led to their low scoring output. They had 20 turnovers. They missed open shots. And that snowballed into taking bad shots, too.
Even senior forward
Davante Gardner
, all 6-foot-8 and 290 pounds of him, for some reason felt compelled to launch a 3-pointer in the first half, which marked just his eighth career attempt.
The strength of the Golden Eagles is in their front court, with Gardner and
Chris Otule
on the blocks. Neither one of those guys can break down a defender off the dribble and create his own shot. That should be up to the backcourt, but no one in the Golden Eagles' current rotation fits that description.
Junior guard
Derrick Wilson
isn't a scorer. He'd taken only a combined two field goal attempts in their first two games, and went 1-for-7 against the Buckeyes. Wilson had never really played extended minutes at point guard, either, but is being forced in the role this season.
Senior
Jake Thomas
is a good spot-up shooter, but never quite got any open looks. Although he entered the game making 3 of 7 from behind the arc, he missed all seven of his shot attempts against the Buckeyes, including six 3-pointers.
Junior
Todd Mayo
generally is a scoring boost to the backcourt from off the bench. He scored a team-high 11 points Saturday, but needed 15 shots to get there.
Ohio State's backcourt shook off its 7-of-26 shooting performance in the first half thanks to its backcourt getting better shots in the second half. And by better shots I mean layups and runouts.
Shannon Scott
led the charge for Ohio State, going 5-for-10 in the second half to finish with 13 points. Scott missed all four of his 3-point attempts but kept attacking the rim for high-percentage shots.
Aaron Craft
, meanwhile, went 4-of-5 in the second half after making just one of his four shots in the first. He got layups, too, and the Buckeyes scored 12 points before the first media timeout of the second half.
Ohio State coach Thad Matta could expect that from his veteran backcourt. Freshman point guards
London Perrantes
at Virginia,
Tyler Ennis
at Syracuse and
Kasey Hill
at Florida seem to be slowly learning despite stumbling blocks.
Perrantes only scored five points in the Cavaliers' 70-57 win over Davidson, but he added five assists and no turnovers. He didn't need to score, as backcourt mate
Malcolm Brogdon
netted 17 on 7-of-10 shooting.
Ennis had a shaky season debut, but has played well in the two games since, including his 12-point performance as the Orange beat Colgate 69-50.
Hill is starting for the Gators while
Scott Wilbekin
serves his suspension. Hill had six assists and scored eight of his 14 points in the second half and helped Florida run past Arkansas-Little Rock 86-56 despite being tied at the half.
November, 9, 2013
11/09/13
12:32
AM ET
Before the whole thing devolved into a hilarious game of expectations limbo, Tom Izzo kind of had a point.
"[Kentucky coach John Calipari's] lucky,"
Izzo said last week
. "Everybody says, 'Have you studied Kentucky?' What the hell are you going to study? I said, 'I've got to go back and look at high school film, and then they run different things than he's going to run, so he's got a big advantage.' You can tell him I said that. It'll probably make the news."
Surprise, surprise: It made the news.
Calipari insisted that no
,
his
team's perennial youth gave more experienced teams like Michigan State the early-season advantage; on Friday Izzo joked that Cal and his already-legendary recruiting class
should just go ahead and forfeit
.
With all this comedy gold flying about, it would be easy to lose sight of Izzo's original point. But it's valid, and can be applied to
every
highly touted freshman we've spent all offseason eagerly anticipating: Until each plays some real, recorded college basketball, we don't really know anything.
[+] Enlarge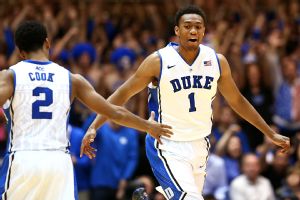 Streeter Lecka/Getty ImagesWith 22 points and six rebounds Friday, it's safe to say that Jabari Parker's college debut went well.
Now they have, and now we do, and you know what? That high school tape might have been pretty valuable after all.
Kansas'
Andrew Wiggins
, the undisputed cross-cultural star of this thrilling 2013 class, made his much-anticipated debut in Lawrence, Kan., Friday night. He finished with 16 points on 5-of-9 from the field, 2-of-4 from 3-point range, and 4-of-6 from the free-throw line, with three rebounds, two assists, and three steals. In other words, he didn't disappoint -- provided you knew what to expect.
If you need Wiggins to score 35 points a game to "validate" his hype, you're on the wrong track. Instead, what every coach has said about Wiggins -- that his greatest asset, perhaps aside from his athleticism, is that there are no real weaknesses in any aspect of his game -- is precisely what he displayed Friday night. He flies around the court but also handles the ball well, has soft perimeter touch (and
excellent
mechanics), and is already one of the best on-ball defenders in the college game. Yes, OK, it was Louisiana-Monroe, but still: Wiggins' game is obscenely well-rounded, and he showed as much in his first game as a Jayhawk.
Kentucky freshman
Julius Randle
performed similarly in that he did the things every scout and recruiting guru said he was going to do when he arrived in Lexington this summer: He beasted dudes. Randle finished with 23 points (on 50 percent shooting) and 15 rebounds. That's a nice line for a 38-minute outing. Randle did in 26. And Calipari already has developed a devastating wrinkle for his best player. Rather than start Randle on the low block, he has him playing at the top of the key, where Randle can build a sufficient head of steam before flying unstoppably through the lane. Think of the sets Michael Kidd-Gilchrist saw in 2011-12, and then picture a 6-foot-9, 225-pound left-handed freight train in his place. You get the picture.
The rest of UK's freshmen were more of a mixed bag.
James Young
-- who has drawn as many, if not more, NBA raves this fall -- finished just 3-of-10 from the field.
Aaron Harrison
and
Andrew Harrison
combined to go 4-of-11, though Aaron added four steals and five rebounds and Andrew five assists. But
Marcus Lee
's 17 points on 7-of-8 shooting speaks to the depth Calipari could unleash on the sport this season; Lee played exactly 15 minutes off the bench.
There were other noteworthy frosh in action: Florida's
Kasey Hill
helped lead a depleted Gators team past a frisky North Florida 77-69, and his 15-point/four-assist/two-steal night doesn't quite speak to the speed and command he displayed offensively, particularly on the break. Kansas'
Joel Embiid
attempted just two field goals but went 7-of-10 from the stripe, and Indiana's
Noah Vonleh
struggled from the field but pulled down 14 rebounds in 22 minutes against Chicago State. Indiana blocked 13 shots, six more than their 2013 season high.
And then there was Duke's
Jabari Parker
, whom our own
C.L. Brown saw first-hand
. Parker scored 22 points, grabbed six rebounds, looked every bit as natural a scorer as he'd been sold as, and led Duke to a 111-points-in-68-possessions (yes, you read that right) win over Davidson. And let's not overlook
Aaron Gordon
's 13 points, 10 rebounds and four blocked shots in a win for Arizona.
All of which is ... kind of a relief! After all, we've spent the last six months telling you a number of things: That this was the best incoming group of freshmen in memory; that Kentucky's class was the greatest of
all-time
; that Wiggins and Parker were generational talents and future NBA All-Stars; that this was going to be an exciting, freewheeling, freshman-dominated season of college hoops. But there were no guarantees. Not when high school tape is the only point of reference. There never are.
Now, those days are officially over. The college data sets have received their first inputs. Izzo will be thankful; his tapes just got a little bit better. The rest of us can settle for "stoked."
June, 20, 2013
6/20/13
5:00
AM ET
1. Florida coach Billy Donovan said suspended senior point guard
Scottie Wilbekin
(9.1 points, 5 assists per game last season) isn't allowed to work out with the team, but he can lift weights on his own and the coaches are still working with him. He's certainly not part of the team in a group sense during his suspension (his second in less than a year). Donovan said Wilbekin has a lot of work to do to get back on the squad -- and that includes maturing and growing up. The Gators have a point guard ready to step in if Wilbekin doesn't get his act together.
Kasey Hill
, who could end up beating out Wilbekin anyway, will be on campus for summer session next week. Donovan will likely review Wilbekin's status when he returns July 8 from Prague after coaching the United States under-19 team at the FIBA World Championships.
2. The new Big East starts up in less than two weeks -- do you know who the next commissioner will be? Well, neither do the athletic directors, who have been left totally out of the loop. The 10 school presidents have been directing the entire operation, and made a number of runs at professional sports candidates before looking once again at college possibilities. The one person a number of administrators want is the NCAA's Dan Gavitt, who was a longtime associate commissioner in the old Big East. But Gavitt reiterated that he is staying put. The presidents should have done everything in their power to get Gavitt. He would have been perfect, since he understands each of the schools better than most. He also knows the difficulties of scheduling in pro arenas. Managing that issue, leading and organizing the league will be the most pressing issues of the job, since a television negotiation is already done with Fox.
3. Cal was an omission when I was looking at some of the top challengers to Arizona next season in the Pac-12. The Bears anticipate they will have one of their best teams even though
Allen Crabbe
is gone. They return four starters -- everyone except Crabbe -- and bring in
Jabari Bird
, who headlines what the staff considers its best recruiting class under Mike Montgomery. Cal does get overlooked quite a bit, but has been in contention the past four season. The Bears have studs
Justin Cobbs
and
Richard Solomon
back from a team that finished one game out of first place, in a tie with Oregon and Arizona, last season before losing to Syracuse in the NCAA round of 32.