College Basketball Nation:

Keaton Grant
March, 25, 2010
3/25/10
5:54
PM ET
HOUSTON --
Keaton Grant
can envision the moment. He and his Purdue teammates are standing amid the confetti as One Shining Moment plays on the big screen at Lucas Oil Stadium. They will be holding the trophy, the new national champions of college basketball.
[+] Enlarge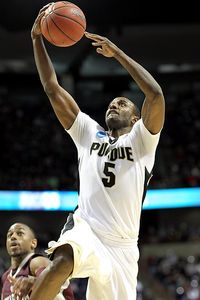 Otto Greule Jr/Getty ImagesKeaton Grant says the Boilers are tired of hearing pundits say their team doesn't have a chance.
And …
"People will say we got lucky or whoever we beat didn't bring their A-game,'' Grant said. "We joke about that all the time.''
In a region full of teams with chips on their shoulders -- Saint Mary's, the underappreciated mid-major; Duke, the overseeded and perpetually despised power; and Baylor, the overachieving newbies -- no one is carrying a gouge quite like Purdue.
Since
Robbie Hummel
went down with his knee injury, the Boilermakers have been left for dead. Even the president went against them.
They were classic first-round upset picks against Siena and given no chance to beat Texas A&M.
Now up against top-seeded Duke, a team that blew the doors off Purdue a season ago, the Boilers might as well pack up and go home if conventional wisdom has any say so.
"I know we're tired of hearing it,'' Grant said. "They talk about it on CBS, on ESPN, in the newspapers. You kind of get used to it but we're also sick of it.''
The fact is, the doubting is nothing new for Purdue. The Boilermakers have been told what they can't do for years now. As freshmen this crew wasn't supposed to beat Arizona in the NCAA tournament. They did. As sophomores, conventional wisdom deemed the Boilers as upset material for Baylor. Didn't happen. In their junior season, Northern Iowa was supposed to get them. Nope.
And then it was the end of Hummel, an injury that certainly left Purdue momentarily stunned, evidenced by the 11 first-half points they mustered against Minnesota in the Big Ten tournament.
"Oh, they blinked, they definitely blinked,'' Matt Painter said. "We just don't have a 6-8, 220-pound guy waiting in the wings.''
But the Boilers licked their wounds and regrouped, turning the negative energy spinning against them in their favor.
"I think all of the doubt, it definitely sat with them,'' Painter said. "Nobody believed in them except the guys in that locker room. They know that.''
March, 19, 2010
3/19/10
9:35
AM ET
SPOKANE -- Does Michigan State have another run in it? Can Purdue go far without
Robbie Hummel
? Does the nation's leading scorer, Houston's
Aubrey Coleman
, have enough points in him to shock Maryland and ACC Player of the Year
Greivis Vasquez
? Will Texas A&M slip because of poor free-throw shooting? Does Siena have another Cinderella win in it? Or is Utah State going to break through?
Those are a few of the many questions that will be settled in Spokane on Friday and Sunday.
SOUTH REGIONAL
No. 4 Purdue (27-5) vs. No. 13 Siena (27-6), 2:30 p.m.


Storyline:
Purdue looked like a title contender at one point, but the loss of star Robbie Hummel to a torn ACL has most thinking the Boilermakers won't go far. Siena is dangerous because it's done this before: It's posted first-round upsets the past two tournaments.
What to watch Boilermakers:
Will
E'Twaun Moore
and
JaJuan Johnson
, who combine for 31 points per game, give Purdue enough scoring, or will someone else step up? The other three starters combine for just over 14 points per game. Watch out of senior
Keaton Grant
, who scored in double figures in four of the past eight games.
What to watch Saints:
Four players average between 13.6 and 16.3 points per game, topped by
Alex Franklin
.
Ryan Rossiter
is the force inside (11.1 rebounds per game), while
Ronald Moore
is the distributor (7.8 assists per game, which leads the nation). On the downside: They don't consistently hit from 3-point range.
They said it:
"The only thing we can do to prove anybody wrong is to win basketball games," Purdue guard
Chris Kramer
said. "There's a quote that says losers make excuses and winners make it happen. So we just got to go out there and make it happen."
No. 5 Texas A&M (23-9) vs. No. 12 Utah State (27-7), 5 p.m.


Storyline:
Texas A&M can't shoot the 3 and struggles at the line, which are both Utah State strengths. Both teams play deliberately, which could mean a low-scoring game. Texas A&M might have noticed that a lot of folks are pegging it for an upset. One thing we know: The Aggies are going to win.
What to watch Texas A&M Aggies:
Donald Sloan
, a first-team All-Big 12 pick, averages 18.2 points per game. No other player averages in double figures, though though three average nine-plus points. The defense led the Big 12 in scoring (65.8 ppg). The Aggies have shot .475 from the field in their past four games. They are 30-0 under coach Mark Turgeon when they shoot at least 50 percent from the field.
What to watch Utah State Aggies:
Point guard
Jared Quayle
is where Utah State's precise offense starts. He averages 12.5 points, 4.2 assists and 6.3 rebounds per game.
Nate Bendall
and
Tai Wesley
are smart, capable post presences.
Brian Green
is the best 3-point shooter on a very good 3-point shooting team (42 percent).
The said it:
"They run a ton of sets, obviously, and run them very well," Turgeon said of Utah State's offense."They have counters to counters to counters. And you've got to pick and choose what you show and how much you show. I have a couple of my seniors and I say, 'Is this a lot?' and they say, 'Yeah, this is a lot, coach'."
MIDWEST REGIONAL
No. 5 Michigan State (24-8) vs. No. 12 New Mexico State (22-11), 7:20 p.m.


Storyline:
Did New Mexico State's leading scorer
Jahmar Young
tweak Michigan State's two-time first-team All-Big Ten point guard
Kalin Lucas
this week by replying, "Who?" when asked about Lucas. Absolutely. But Young clearly was making a statement that he -- and, by extension, his teammates -- aren't afraid of the Spartans.
What to watch for the Spartans:
Lucas leads four players who average in double figures.
Chris Allen
, suspended for the Big Ten tournament, is the Spartans best threat from 3-point range. The Spartans aren't big but
Raymar Morgan
,
Delvon Roe
sixth man
Draymond Green
are particularly good at grabbing offensive rebounds.
What to watch for the Aggies:
Young and fellow guard
Jonathan Gibson
combine for 38 points a game, but
Wendell McKines
,
Hamidu Rahman
and
Troy Gillenwater
are physical players who each averages in double-figures. The Aggies like to run-and-gun and try to force turnovers. They are 19-0 this season when they outshoot their opponents.
They said it:
"I watched him. He can play. Everyone can play. What am I supposed to do, bow down because of what they say? That's not going to happen, but it's no disrespect to him at all," said Young when told that Lucas has been offended by his comments.
No. 4 Maryland (23-8) vs. No. 13 Houston (19-15), 9:50 p.m.


Storyline:
It's ACC Player of the Year Greivis Vasquez (19.5 ppg) vs. the nation's leading scorer, Aubrey Coleman (26.0 ppg). Both teams are hot. The Cougars won four games in four days to win the Conference USA Title. Maryland won nine of 10 to finish the regular season.
What to watch for the Terrapins:
The Terrapins averaged 79 points per game, so it's obviously not just Vasquez, but the senior will have the ball in his hands if things are tight late. It's likely Maryland is eager to face a defense that allows foes to hit 46 percent of their shots.
What to watch for the Cougars:
The 6-4 Coleman will get his points, but the Cougars upset chances probably require more than a one-man show. Guard
Kelvin Lewis
, the conference tournament MVP, averages 15.3 points per game and he likely will spend plenty of time guarding Vasquez. He also shoots nearly 40 percent from 3-point range.
They said it:
"I'm not going to get caught up in trying to go back and forth with him. He's a great player in the ACC. And we know everybody is going against us because we are Conference USA," Coleman said of his matchup with Vasquez. "We don't have nothing to lose."
March, 13, 2010
3/13/10
10:00
AM ET
INDIANAPOLIS -- The 2010 Big Ten tournament has reached the semifinals. Here's a look at the two matchups on tap today at Conseco Fieldhouse.


No. 1 seed Ohio State vs. No. 5 seed Illinois (CBS, 1:40 p.m. ET)
Records:
Ohio State (25-7), Illinois (19-13)
Season series:
The Buckeyes swept two games from Illinois and did so in convincing fashion, pummeling the Illini 72-53 in Champaign and 73-57 in Columbus.
Advancement:
Winner faces Purdue or Minnesota in the championship game Sunday (CBS, 3:30 p.m. ET).
What to watch for Ohio State:
Evan Turner
's legend grew Friday as the National Player of the Year frontrunner hit a 37-foot shot as time expired to lift the Buckeyes to a 69-68 victory over Michigan. Turner has been very good against Illinois this season, averaging 16 points, 11.5 rebounds and 6.5 assists in the two meetings. Ohio State called Friday's game a wake-up call after a 10-day layoff, and Turner and his teammates need to reclaim their defensive swagger. Illinois big men
Mike Tisdale
and
Mike Davis
turned in one of their best performances Friday against Wisconsin, and it'll be important for Buckeyes center
Dallas Lauderdale
to stay out of foul trouble. Buckeyes sharpshooter
Jon Diebler
was on fire in his last game against Illinois, swishing 7 of 14 attempts from 3-point range.
What to watch for Illinois:
The Illini likely put themselves in the NCAA tournament with the Wisconsin win, but they can virtually guarantee a spot with a win today. Star guard
Demetri McCamey
comes off one of his more complete performances of the season (13 points, 8 assists, 5 rebounds), and he'll need an even better effort against the Buckeyes and Turner, his former high school teammate in Chicago. Tisdale did a nice job of extending Wisconsin's defense Friday, hitting two 3-pointers and several long 2-pointers. If he can bring Lauderdale or
David Lighty
away from the bucket, it should free up opportunities for others.
D.J. Richardson
looked like a freshman for much of Friday's quarterfinal win, but he found his shooting stroke late and never lost confidence. He needs to be a factor today if Illinois plans to advance.
Quotable:
Ohio State forward David Lighty
: "It's a wake-up call. Watching games [Thursday], watching Syracuse go down, watching Kansas go down to the wire almost and things like that, it's kind of like we almost did the same thing. We have to get our minds right. It's like second lift, second wind for us."
Illinois head coach Bruce Weber
: "No matter what, [Ohio State has] to be feeling relieved about [Friday's win], and then second, 'We kicked Illini butt two times.' I hope we can have a little bit of a mental edge."


No. 2 seed Purdue vs. No. 6 seed Minnesota (CBS, 25 minutes after Ohio State-Illinois game)

Records:
Purdue (27-4), Minnesota (20-12)
Season series:
Purdue crushed Minnesota 79-60 in West Lafayette on Jan. 5 and found a way to escape Williams Arena with a 59-58 win Feb. 24 after losing star forward
Robbie Hummel
to a season-ending knee injury in the first half.
Advancement:
Winner faces Ohio State or Illinois on Sunday in the championship.
What to watch for Purdue:
The Boilermakers missed 10 of their first 11 shots Friday against Northwestern and likely can't afford another slow start against surging Minnesota. Juniors
E'Twaun Moore
and
JaJuan Johnson
are really answering the bell in Hummel's absence, and both men need strong performances again today. Johnson recorded a double-double (14 points, 10 rebounds) in the 1-point win at Minnesota, while Moore recorded 18 points and five assists in the teams' first meeting. The Boilers amped up their defensive intensity Friday and will try to fluster Gophers guards
Devoe Joseph
,
Lawrence Westbrook
and
Blake Hoffarber
. Purdue won Friday without much from senior guards
Chris Kramer
and
Keaton Grant
, who struggled with poor shooting and cramps. Both men need to be better today.
What to watch for Minnesota:
The Gophers have put themselves firmly on the NCAA tournament bubble, and they probably will put themselves into the field of 65 by beating Purdue. Aside from an ugly loss at Michigan on March 2, Minnesota has played pretty good ball the last three and a half weeks. Minnesota already has avenged a 1-point home loss to Michigan State and looks to do the same against Purdue. The Gophers' interior defense needs to be good on Johnson, but Tubby Smith is getting very solid play from forward
Damian Johnson
and center
Colton Iverson
right now. Minnesota has more length from Purdue and needs center
Ralph Sampson III
to bounce back from a poor performance Friday (0 points, 2 rebounds). Remember that Sampson had the best game of his career against Purdue in Minneapolis, recording 21 points, seven rebounds and two assists.
Quotable:
Purdue coach Matt Painter
: "Our next opponent, no matter who it is, we have to out rebound them, but if we don't, we have to shoot the ball better. We're not going to get out rebounded and shoot the way we did [Friday] and win basketball games. You've got to understand how you're going to win, but you've also got to understand how you're going to lose and be proactive about that as a coach and really drill that home to your players."
Minnesota coach Tubby Smith
: "We're as talented as anybody when we play the right way. I think every coach in America feels that way about their team, especially when they get to this level. If you don't feel that way, you're not going to win any games. I've got as much confidence in this team as in any team I've ever coached."
February, 28, 2010
2/28/10
2:58
PM ET
WEST LAFAYETTE, Ind. -- Greetings from Mackey Arena, where life without Robbie Hummel begins for No. 3 Purdue as it hosts No. 14 Michigan State.

Today's game had major Big Ten title implications before Wednesday night, and it still does. Purdue can hang onto sole possession of first place in the league with a win heading into its final two regular-season games (vs. Indiana, at Penn State). If Michigan State wins, it would be tied in the loss column with both Purdue and Ohio State, though the Spartans still would need some help in the coming days.

But the big story today is Purdue's response from losing Hummel, its No. 2 scorer and top rebounder, to a season-ending torn ACL. Few players in the country can match Hummel's versatility, and Purdue will have to fill production voids in tons of areas (scoring, rebounding, assists, 3-point shooting, free-throw shooting). The Boilers will turn to senior guard Keaton Grant, who will make his sixth start of the season. Grant is heating up, having tallied double figures in each of Purdue's last three games.

Injuries create opportunity, and for Purdue, there's plenty today. After losses by No. 1 Kansas and No. 2 Kentucky on Saturday, the Boilers could move into the top spot with a win, especially one under such adverse circumstances. The NCAA tournament selection committee will be evaluating Purdue without Hummel for seeding possibilities.

There's also plenty of opportunity for Michigan State today. The Spartans, who have struggled defensively this season, had few answers for Purdue in a 76-64 loss on Feb. 9 in East Lansing. Purdue shot 56.8 percent from the field and 42.9 percent from 3-point range at the Breslin Center, so the Spartans will need to be much better on the defensive end.

Without Hummel, Purdue could be susceptible in the post, and it's time for Michigan State's bigs to step up. Sophomore forward Draymond Green has been fabulous this year, but the Spartans need more from Raymar Morgan and Delvon Roe.

Back with more later, so keep it right here ...
February, 26, 2010
2/26/10
1:46
PM ET
A day after the Robbie Hummel injury, college basketball is still fixated on Purdue. A weak Thursday night slate probably didn't help much. So let's do a Hummel-heavy link dump and get it all out of our system before tomorrow blows our collective minds. (Not to mention tonight; for what it's worth I'll be at
Valpo-Butler this evening
, so stick around and hang out, if you're not doing anything. What, like you've got better things to do on a Friday night? Pshh.)
In non-Hummel-related linkage:
There were a pair of ejections last night, one in the midwest and one in the panhandle. Indiana's Tom Crean was booted during his team's loss to Wisconsin amidst a torrential display of emotion, having to be escorted from the floor by assistant coaches to chants of "To-om Cre-an!" Once off the court, he shoved the locker room door really, really hard, and then disappeared. He was not happy.
Nor was Isiah Thomas, who received two technicals while trying to change the "perception of his team": "I will fight for my team," Thomas said. "I think the perception of our team right now is hurting us. In the last six games, we've lost by four points or less. . . . The perception of our team going into tournament play I hope will be different than what it's been in the first half of the season, and I hope we can change that perception." OK then.
Zeke's old buddy Magic Johnson was likewise in a college building last night, having been invited to Kentucky's win over South Carolina by governor Steve Beshear. Johnson was in Lexington, Ky., to promote a bill raising the high school dropout age in Kentucky from 16 to 18 and to donate $10,000 to a group of Lexington for an upcoming trip to Europe. Oh, AND he did the John Wall dance. Magic Johnson is awesome.
February, 25, 2010
2/25/10
4:53
PM ET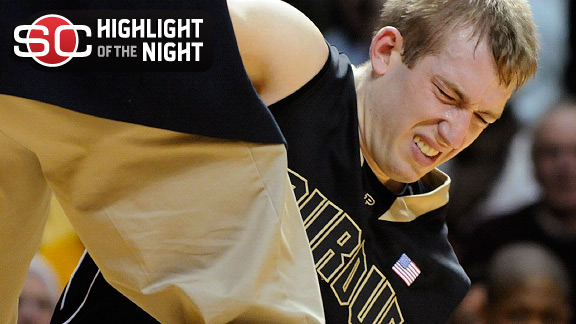 That headline is a little self-evident; you don't need me to tell you that
Robbie Hummel
's torn ACL --
which will officially cost Hummel the rest of the season
-- puts Purdue's tourney chances, No. 1 seed status and, frankly, its entire peerless season into jeopardy.
In many ways, though, the injury is even worse than that. For Purdue, the loss of Hummel also means the loss of three years of preparation, three years of growth and maturation and coaching and friendship, three years of congealing a top-notch recruiting class into a national power. These juniors -- Hummel,
JaJuan Johnson
, and
E'Twaun Moore
especially -- were going to take Purdue to the promised land. An added benefit? That promised land just so happened to be in Indianapolis; if everything went according to plan, the Boilermakers would play their triumphant Final Four in front of a home-state crowd a mere hour south of West Lafayette, Ind. As
Pat Forde wrote after Purdue's win over Ohio State on Feb. 17
, the three-year slow grind was finally coming together. It was happening. Now it's all gone.
That's not to say Purdue can't still make a run. It can. The Boilermakers are still a very talented team with enough depth in senior
Keaton Grant
to mask some of what they'll miss in Hummel. Purdue's next few games, including the Big Ten tournament, will be its opportunity to show that to the NCAA tournament selection committee. Purdue still deserves that No. 1 seed. All hope is not lost.
Unfortunately, that won't diminish the disappointment for Purdue
or its fans
, which runs deeper than
any one injury in any one season would
. And for anyone interested in seeing the best teams in the country take the floor this March, well, we're disappointed, too.
February, 20, 2010
2/20/10
6:20
PM ET
WEST LAFAYETTE, Ind. -- Purdue just keeps on winning.


Despite a record peformance by Illinois guard
Demetri McCamey
and a blazing shooting day for the Illini, the fourth-ranked Boilermakers pulled away in the final three minutes for a
75-65 win
, their ninth straight.
On a day when one of the Boilermakers' Big Three struggled --
JaJuan Johnson
was just 1-for-10 from the field for five points -- senior
Keaton Grant
made a big contribution off the bench. Grant scored a season high 15 points, 10 of them coming in the final 6:02.
His three-pointer broke a 56-all tie, and Purdue would never trail again. He also hit a three with 1:28 to go to make it 68-60.
Robbie Hummel
had 22 points and 12 rebounds, while
E'Twaun Moore
added 18.
Illinois guard Demetri McCamey tied Tony Wysinger's 24-year-old school record with 16 assists. That also tied him for the most assists in an NCAA Division I game this season.
But Purdue closed the game with a 14-5 run to move one step closer to a Big Ten regular season title.
More to come ...