College Basketball Nation:

Keaton Nankivil
March, 24, 2011
3/24/11
8:11
AM ET
NEW ORLEANS -- A quick glance at the Butler-Wisconsin game:
No. 8 seed Butler (25-9) vs. No. 4 seed Wisconsin (25-8), 9:57 p.m. ET (TBS)


Storyline:
Butler is coming off two of the more dramatic wins of the NCAA tournament thus far, beating Old Dominion and Pitt on final possessions. The Bulldogs are attempting to make a run to their second straight Final Four.
Headline name:
You can't pick just one between these two teams. Wisconsin has two stars in
Jordan Taylor
and
Jon Leuer
, while Butler also has a pair in
Matt Howard
and
Shelvin Mack
. Both are guard-forward tandems that can shoot and score in a variety of ways. The bigs are stocky and gritty, while the guards are like pistons who aren't easily knocked over.
Who will blink first:
Neither of the teams are turnover-prone. Wisconsin did have a rare double-digit turnover number (13) against Belmont, but had just five in the win over Kansas State. Butler had an unusual 15 against ODU, but then a more normal six in the win over Pittsburgh.
The toughest player on Butler to stop:
Matt Howard.
Why?
"He's a great player,'' Leuer said. "He's obviously a skilled big man that can stretch the floor and shoot it, but he's also effective in the post. He's physical and he moves his feet well. He does everything right, everything that you want a big to do. We're definitely going to have our hands full.''
The toughest player on Wisconsin to stop:
Jordan Taylor.
Why?
"He's a tough guy to guard,'' Butler coach Brad Stevens said. "Jordan Taylor's ability to get in the paint, to draw two guys, he's got a 4-to-1 assist to turnover ratio. If you don't respect him off a ball screen, you're dead. He shoots 44 percent from 3, and he probably shoots 60 percent off the dribble from 3. You add all that together and he's as good a point guard as we've played against this year.''
Coaching value:
If there is a calmer coach in the country than Brad Stevens, please give me a name. He never is rattled, regardless of the situation. As for Bo Ryan, he just continues to win, win, win, win.
Superstition:
Stevens had a scare with his eyes a few weeks ago when he had a corneal edema from contact lenses that weren't wearing well. He's now 4-0 with his glasses on and doesn't plan on taking them off anytime soon.
Glue guys:
Wisconsin's
Mike Bruesewitz
will be a key player in this game in some form. He goes to the boards, hits a 3-pointer and gets on the floor. The Bulldogs' big
Andrew Smith
is unheralded, but hit the key bucket to beat Pitt before the end-of-game chaos. Smith is a grinder inside.
Who should win:
Wisconsin has been much more consistent throughout the season and is arguably a better defensive team.
But...:
The Badgers can go through serious scoring droughts, even with Taylor's proficiency and the ability of
Josh Gasser
and
Keaton Nankivil
to make shots. Butler was one shot away from losing to Old Dominion in its first tourney game and one free throw away from losing to Pitt. But the Bulldogs find ways to win games.
What should you be looking for:
If Shelvin Mack has another big night, like he did against Pitt when he scored 30 points, then the Bulldogs have a great shot to win. He's a big-shot maker.
But if this is a last-possession grinder, then the Badgers may have the edge with more rebounders on the bench.
March, 20, 2010
3/20/10
6:00
PM ET
JACKSONVILLE, Fla. -- Some big men arrived pre-packaged. They dominated high school competition, made a pit stop in college and then headed off to the pros.
You won't find that with Wisconsin and Cornell on Sunday. Each features a late-blooming big guy whose performances likely will decide which team advances to the Sweet 16.
Cornell's
Jeff Foote
is the rarest of occurrences. He's a legitimate 7-foot, 265-pound banger in the Ivy League, though he took a roundabout way to get there.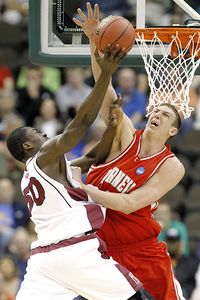 Bob Donnan/US PresswireFoote developed into a legitimate force in the post -- he grabbed seven rebounds and scored 16 points against Temple.
Foote -- who grew up about 30 minutes south of Cornell's campus -- shot up from 6-foot-4 to 6-9 in the summer between his sophomore and junior year of high school, then sprouted another two inches before his senior year. Trouble was, he didn't know how to use his newfound height.
"I was very uncoordinated," he said. "Lanky. Awkward. I didn't have a lot of basketball skills."
A guy that tall has to be awfully ungainly to not attract any college interest. Foote was. Cornell coach Steve Donahue scouted Foote during his senior year and took a pass.
"I was sitting with a couple of Division III guys, and he was probably 170 [pounds]," Donahue said. "It was hard to imagine him being a college basketball player at any level."
Foote went to St. Bonaventure on an academic scholarship and walked on to the team, where teammates bullied him in practice. He realized then that he needed to get much stronger to have any future in the game.
While he focused on strength, his mother, Wanda, hatched a plan to get him somewhere better than St. Bonaventure, which is still recovering from the academic scandal that decimated the program earlier this decade. Wanda worked as a nurse at the hospital where injured Cornell player Khaliq Gant was recuperating from two dislocated vertebrae in his neck. She loved how the Big Red players and coaches constantly visited Gant. She wanted her son at a place that cared about each other that much.
Big Red guard
Ryan Wittman
remembers seeing Foote when he toured the school as a potential transfer. Foote, he said, wore a baggy T-shirt and might have been 205 pounds soaking wet. Point guard
Louis Dale
didn't think much of Foote after his first practice with the team.
"He couldn't dunk that well," Dale said. "I was like, 'He's seven feet tall and I can't even throw him an alley-oop.'"
But Foote kept developing his game and more importantly, hitting the weight room hard. By last summer, he had bulked up to 265 pounds.
"We'd play pickup games, and all our big guys were complaining about how much stronger he was," Wittman said. "Nobody could guard him, nobody could stop him."
That was the case all year in the Ivy League and even against top competition, as Foote more than held his own against Kansas center
Cole Aldrich
in January. He had 16 points, seven rebounds and two blocks in a first-round win over Temple.
His challenge will increase Sunday against Wisconsin's own nontraditional big man,
Jon Leuer
.
[+] Enlarge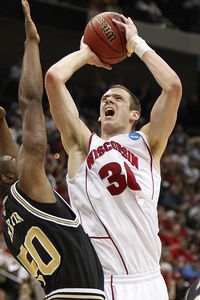 Bob Donnan/US PresswireLeuer had 20 points and eight rebounds against Wofford during the first round of the tournament.
Like Foote, the Orono, Minn., native went through his own rapid vertical surge. Leuer was a 6-foot guard as a high school freshman. By his senior year, he stood 6-10. He handled the change a little more easily than Foote, though.
"I guess I lost some mobility, but at the same time I didn't have growing pains and stuff like that," Leuer said. "It was definitely a transition from being able to play on perimeter to being able to play in the post."
Donahue remembers trying to recruit Leuer to Cornell as a junior in high school, but Leuer became a coveted prospect the next year because of his enhanced height. Still, Leuer came to Wisconsin as a 200-pound string bean and spent much of his first two years hanging out on the wings. He's put on 30 pounds since then and now can play inside as well as out.
That makes him one of the more versatile frontcourt players in the Big Ten, as Leuer maintained his guard skills while gaining a center's body. He showed that in Friday's win over Wofford, knocking down the go-ahead 17-foot jumper with 17 seconds left, then helping poke the ball away from Terriers guard
Cameron Rundles
on the other end to preserve the victory.
"He's got a unique, diverse skill set," Badgers forward
Keaton Nankivil
said. "Now it's to the point where he's kind of a terror matchup for anybody he goes against, just because he can do so many different things. He has all the tools to really attack anybody."
Foote says Leuer is "like an Ivy League player, but more skilled." Leuer says he'll need to keep Foote from getting good position down low and using his bulk for easy baskets. Leuer would like to pull Foote outside on defense, but Donahue say Foote is athletic enough to guard the perimeter.
They may be late bloomers, but prospects for both are now booming.
March, 19, 2010
3/19/10
9:30
AM ET
JACKSONVILLE, Fla. -- Previewing Friday's action at Jacksonville Memorial Arena:
Temple (5) vs. Cornell (12), 12:30 p.m.


This promises to be one of the more fascinating first-round matches of the tournament. Both teams appear criminally underseeded -- Cornell is one of the best Ivy League teams in years, while Temple won both the Atlantic 10 regular season and tournament title. The game features a contrast of styles: The Big Red led the country in 3-point shooting (43.4 percent), while the Owls have the fourth best 3-point percentage defense (27.8 percent). Hard as it is to believe, the Ivy Leaguers want to push the pace, but Temple prefers a more controlled tempo.
And then you have the side story on the coaches, as Cornell's Steve Donahue spent 10 years as an assistant to Temple's Fran Dunphy at Penn. "There are so many emotions that go on in this tournament, and I'd rather not have the extra layer of emotion of competing against a guy that you were hoping to root for," Dunphy said. No one will want to play the survivor of this confrontation.
Wisconsin (4) vs. Wofford (13), 2:50 p.m.


In its first-ever trip to the NCAA Tournament, Wofford had the misfortune of drawing the Badgers and their suffocating style of play. The Terriers know that they're facing a tall order -- or do they? "It would be a huge upset if we were to beat them; let's be honest" Wofford coach Mike Young said. "But I can tell you this: I know my team. They're a little crazy in a great way, in a wonderful way. They are convinced that they're going to come in here and play well and give themselves a chance to win."
The biggest obstacle will be dealing with Wisconsin's size. The Terriers like to go inside first, but they play a three-guard lineup with two 6-foot-6 forwards. The Badgers counter with 6-foot-10 center
Jon Leuer
and 6-8
Keaton Nankivil
fronting Bo Ryan's typically stingy defense, which allowed just 56.2 points per game this season. Wisconsin had one of the worst shooting days imaginable against Illinois in the Big Ten tournament and still almost found a way to win. A lot more will probably have to go wrong for Ryan's team if Wofford is to pull the upset.
Duke (1) vs. Arkansas-Pine Bluff (16), 7:25 p.m.


Arkansas Pine-Bluff has already won one game in the school's first-ever NCAA Tournament appearance -- beating Winthrop on Tuesday night in Dayton -- and that will almost certainly have to suffice for the Golden Lions. They don't shoot the ball well -- making just 36.8 from the field and 31.8 percent from the 3-point line on the season -- and they have only one player taller than 6-foot-7. That doesn't sound like the profile of a team that can topple Duke, which has both size and shooters. But guard
Terrance Calvin
is trying to stay optimistic. "They're a very big team and we're going to have a small lineup, so we're going to try to use our speed against them," he said. More realistically, the Blue Devils will have far too much firepower for this to be close.
California (8) vs. Louisville (9), 9:45 p.m.


Both teams are a bit of a mystery. Cal won the Pac-10 and had a great RPI but lacks any marquee wins. Louisville was good enough to beat Syracuse twice but bad enough to get hammered by Marquette, St. John's and Western Carolina. Each team boasts some very streaky shooters, especially the Golden Bears'
Jerome Randle
, who can score in bunches.
If Louisville wants to press and play up tempo, Cal says bring it on. "The faster the better," coach Mike Montgomery said. But Montgomery has to worry about the paint, especially with starting power forward
Omondi Amoke
not making the trip because of a suspension. The Cardinals say they want to feed big man
Samardo Samuels
early and often. "I feel like he's the key for us in this tournament," Louisville point guard
Edgar Sosa
said.
March, 12, 2010
3/12/10
10:15
AM ET
INDIANAPOLIS -- Four quarterfinal matchups in the Big Ten tournament are on tap today.
Let's take a quick look at each one.


No. 1 seed Ohio State vs. No. 8 seed Michigan (ESPN, noon ET)
Records:
Ohio State (24-7), Michigan (15-16)
Season series:
The teams split two matchups, with Michigan winning 73-64 in Ann Arbor and Ohio State prevailing 66-55 in Columbus on Feb. 27.
Advancement:
Winner faces Wisconsin or Illinois in Saturday's first semifinal (CBS, 1:40 p.m. ET)
What to watch for Ohio State:
National Player of the Year front-runner
Evan Turner
makes his first appearance in the Big Ten tournament, as Ohio State eyes a possible No. 1 seed in next week's NCAA tournament. The Buckeyes could sneak in to the top line, but only if they win the Big Ten tournament. Turner had 18 points, 11 rebounds and seven assists in the teams' last meeting after sitting out a Jan. 3 game at Michigan with a broken back. Ohio State ranks second in the Big Ten in scoring defense (60.4 ppg) and will try to contain Michigan star forward
DeShawn Sims
with
Dallas Lauderdale
.
What to watch for Michigan:
The Wolverines need a complete performance to beat the surging Buckeyes, and they'll look for big things from guard
Manny Harris
, who looked good in Thursday's first-round win against Iowa (22 points, 9 rebounds). Michigan played stifling defense for most of the Iowa win and needs a similar effort against Turner,
David Lighty
and
William Buford
. The good news is U-M seems to match up decently with Ohio State this year. "We beat them for a whole game, beat them for a half," Wolverines forward
Zack Novak
said Thursday. "They got us for one half this year, so we're confident going in."


No. 4 seed Wisconsin vs. No. 5 seed Illinois (ESPN, 25 minutes after Michigan-Ohio State)
Records:
Wisconsin (23-7), Illinois (18-13)
Season series:
The teams split two meetings, with each squad winning on the other's home floor. Illinois stunned Madison at the Kohl Center on Feb. 9, but Wisconsin surged to a 72-57 rout Sunday in Champaign.
Advancement:
Winner plays Ohio State or Michigan in Saturday's first semifinal.
What to watch for Wisconsin:
The Badgers might be the hottest team in this tournament, having won four consecutive games. It's no secret the surge has coincided with the healthy return of forward
Jon Leuer
, who won Big Ten Player of the Week honors last week. Leuer (14.9 ppg, 5.7 rpg) and forward
Keaton Nankivil
(8.7 ppg, 4.7 rpg) really balance out Wisconsin's offense and will put pressure on Illinois bigs
Mike Tisdale
and
Mike Davis
. The Badgers flustered Illinois star
Demetri McCamey
in Sunday's win and need a similar defensive effort from
Jordan Taylor
.
What to watch for Illinois:
McCamey's sideline confrontation with head coach Bruce Weber generated plenty of national attention, and it will be interesting to see how the mercurial star responds today. Illinois needs its best player to be at his best against a jelling Badgers team. The Illini are only 1-5 since their win in Madison and need to find other ways to score if the outside shots aren't falling. They also must rebound better after Wisconsin crashed the offensive glass well in Sunday's game.


No. 2 seed Purdue vs. No. 7 seed Northwestern (Big Ten Network, 6:30 p.m. ET)
Records:
Purdue (26-4), Northwestern (20-12)
Season series:
Northwestern won the teams' only meeting, 72-64, on Jan. 16, which marked Purdue's last loss with a healthy
Robbie Hummel
.
Advancement:
Winner faces Michigan State or Minnesota in Saturday's second semifinal (CBS, 25 minutes after first semifinal).
What to watch for Purdue:
After a rough start in its first game without Hummel, Purdue rallied last week for two wins. The Boilers need a strong effort today from center
JaJuan Johnson
, who was a nonfactor before fouling out against Northwestern the last time the teams met. Senior guard
Chris Kramer
also had a rough outing in Evanston and needs to be a bigger factor on both ends of the floor. Purdue's suffocating man-to-man defense could be the difference tonight. "Instead of someone picking you up at 21 feet, they pick you up at 90 feet," Northwestern coach Bill Carmody said.
What to watch for Northwestern:
The Wildcats actually match up well against Purdue. They have won two of the teams' last three meetings and choked away a big lead in the only defeat. Standout freshman wing
Drew Crawford
is very banged-up -- he had at least three ice packs on his body after Thursday's win -- so Northwestern needs production from other spots. Point guard
Michael Thompson
stepped up big against Indiana (16 points), but senior guard
Jeremy Nash
and sophomore center
Luka Mirkovic
need stronger performances today.


No. 3 seed Michigan State vs. No. 6 seed Minnesota (Big Ten Network, 25 minutes after Purdue-Northwestern game)
Records:
Michigan State (24-7), Minnesota (19-12)
Season series:
Michigan State won both meetings, but only by a combined eight points. After a 60-53 win in East Lansing, the Spartans needed a huge shot from
Kalin Lucas
to outlast Minnesota, 65-64, on Jan. 23 at Williams Arena.
Advancement:
Winner faces Purdue or Northwestern in Saturday's second semifinal.
What to watch for Michigan State:
The Spartans come off of a strong showing against Michigan on Sunday but will be without junior guard
Chris Allen
, who is suspended for the game. Allen ranks fourth on the team in scoring (9.1 ppg), and his absence will put a bigger burden on starting shooting guard
Durrell Summers
. Michigan State's front line has played better as of late and needs a strong performance against Minnesota bigs
Damian Johnson
,
Ralph Sampson III
and
Colton Iverson
. The Spartans haven't been great defensively this year, but they have held their last six opponents to just 57.2 points per game.
What to watch for Minnesota:
After two blowout wins against bottom feeders, the Gophers can really boost their NCAA tournament hopes with a win today. They paced Michigan State in both games and endured one of several heartbreaking losses in the meeting at The Barn. If seniors Johnson and
Lawrence Westbrook
continue to answer the bell like they did Thursday, and if
Devoe Joseph
builds on a strong performance, Minnesota will be tough to beat. "Last time we played Michigan State we lost by one point," Joseph said, "and we made a lot of mistakes in the last four minutes, so I definitely think we can pull off the upset."