College Basketball Nation:

Keifer Sykes
November, 20, 2014
11/20/14
10:00
AM ET
You don't sleep well when you know you have to deal with these guys the following night.
It's difficult to stop any elite Division I player. These athletes, however, are nightmare matchups for any individual or team in the country.
Agree? Disagree? Tell us on Twitter by using the hashtag
#Top10Thursday
.
1. Jahlil Okafor, Duke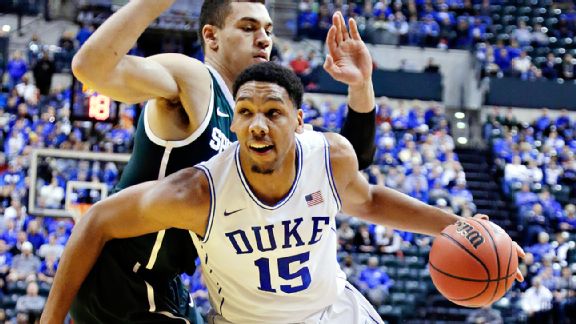 AP Photo/Michael ConroyDuke center Jahlil Okafor will likely be the No. 1 pick. But does Philly need another big?
What can you do with him? Okafor (17.7 points, 6.7 rebounds, 2.3 assists, 1.7 blocks per game) has been one of the most dominant players in the country, regardless of seniority. He's tough to front and he can score with layups, dunks, baby hooks and the occasional jumper. Okafor is a problem for every team outside Durham, North Carolina.
2. Georges Niang, Iowa State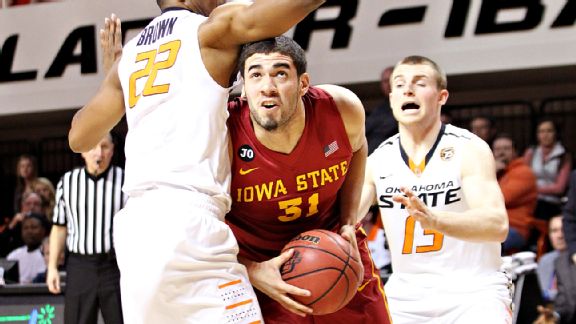 Nelson Chenault/USA TODAY Sports
He's never the fastest player on the floor. The Iowa State star doesn't play above the rim. But the 6-foot-8, 230-pound forward can score from outside (33 percent from the 3-point line last season), bring the ball up the floor, lead the break, collect from midrange and score in the post.
3. Montrezl Harrell, Louisville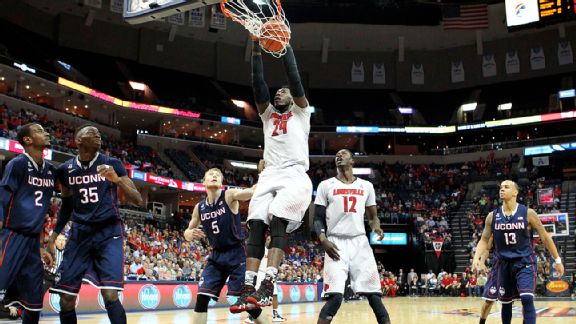 Nelson Chenault/USA TODAY Sports
When he wasn't shattering high school backboards this offseason, Harrell was reportedly working on his range. The 6-foot-8, 240-pound monster forward is 3-for-7 from beyond the arc in Louisville's first two games this season. Harrell hitting 3s is like the Incredible Hulk learning how to fly. It's just not right.
4. Karl-Anthony Towns, Kentucky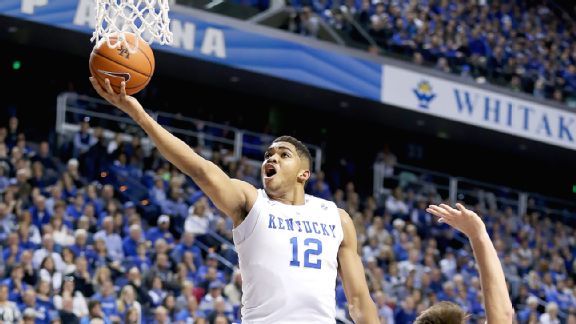 Andy Lyons/Getty Images
He's both mentally and physically mature for a freshman. The 6-foot-11 center has range and he's tough in the paint, too, which is why he's such a hot pro prospect. But Towns is also a handful because you have to find a way to score against him. And that's not easy to do against the guy who is the top shot-blocker (2.3 blocks per game, 22nd in block percentage, per kenpom.com) on a Kentucky squad that's swatting everything.
5. Frank Kaminsky, Wisconsin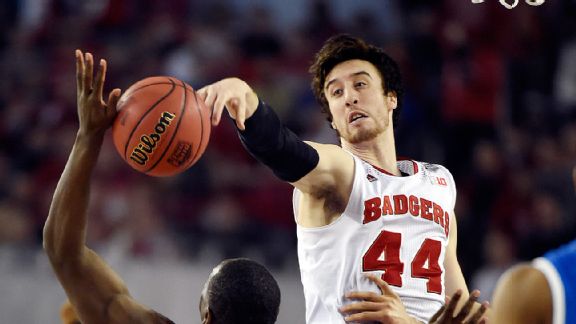 Robert Deutsch/USA TODAY Sports
Frank the Tank is 7 feet tall. That always helps in basketball. But unlike the bulk of the 7-footers who've excelled, he's capable of hitting 3-pointers and jump shots. So whom do you put on this Wooden Award candidate? Kaminsky (37.8 percent from the 3-point line in 2013-14) sets hard screens that create chaos for defenders. If you help a teammate on the pick, you'll lose him. And that's not good. Ask last season's NCAA tournament field.
6. Myles Turner, Texas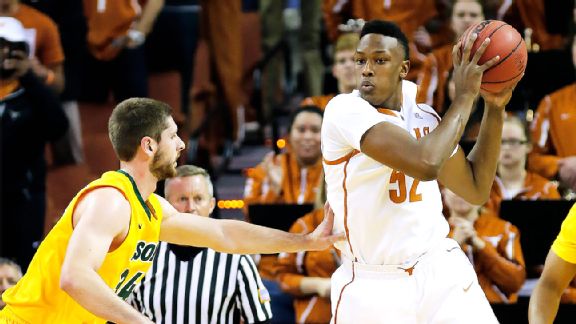 Chris Covatta/Getty Images
The 6-foot-11 forward was the No. 2 prospect in the
2014 class
, per RecruitingNation. His size and skill could help Texas compete for the Big 12 crown and possibly a national title. He's comfortable outside the lane. But he can also run the floor and exploit defenders in transition. Hard to stop a guy with that length and agility.
7. Rondae Hollis-Jefferson, Arizona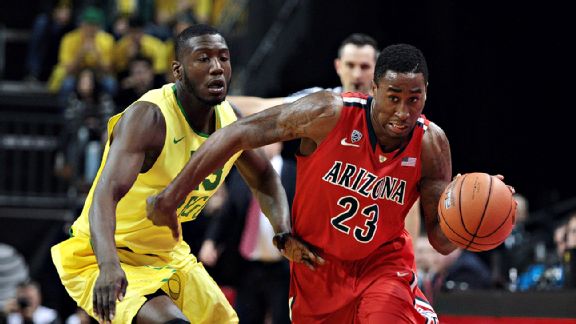 Scott Olmos/USA TODAY Sports
The sophomore could be a star for Sean Miller's squad this season. He has already produced some impressive highlights. He has a quick first step, he's long, he'll soar over anyone in his way and he's a good rebounder. You'll need an energy drink and a cup of coffee to track Hollis-Jefferson all night.
8. Ron Baker, Wichita State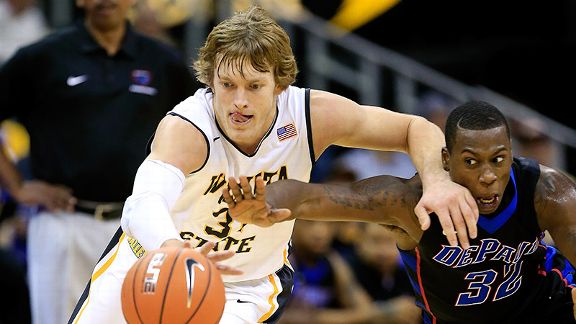 Jamie Squire/Getty Images
The Wichita State wing is a true combo guard. Baker (18.5 PPG through two games this season) is dangerous from the perimeter. He can take you off the dribble and slash. He can score with a hand in his face. And he's a solid and shifty ball handler, too. Off a screen, you can't do much with him, either.
9. Keifer Sykes, Green Bay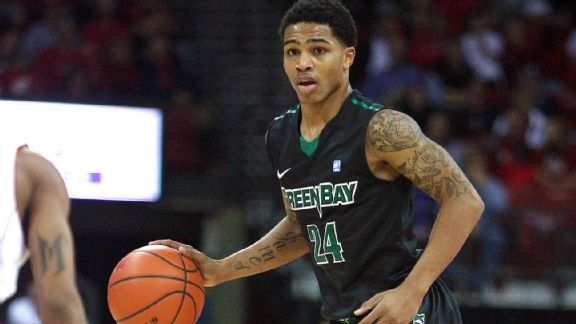 Mary Langenfeld/USA TODAY Sports
The 6-foot, 180-pound point guard is one of the quickest guards in the country. But don't let his size fool you. He'll catapult in a second and dunk on the biggest man on the floor. That's what makes Sykes such a challenge. His stat line last season was just ridiculous: 20.3 points, 4.4 rebounds, 4.9 assists, 1.2 steals, 81 percent from the free throw line.
10. Kyle Wiltjer, Gonzaga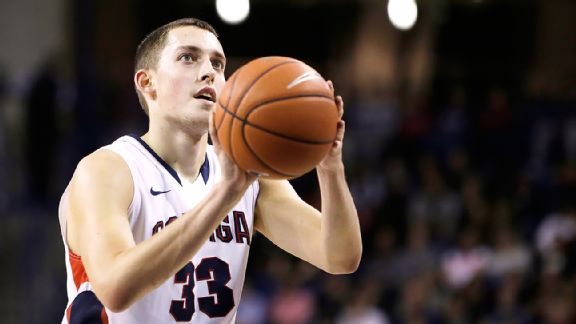 AP Photo/Young Kwak
He didn't really fit in with Kentucky's fleet of talented big men. But Gonzaga is the perfect spot for Wiltjer. The Zags have one of America's best offenses. You can't just zone them because they'll shoot the lights out. And you can go man-to-man if you want, but you'll have to deal with the 6-foot-10 Wiltjer and his appetite for the arc.
October, 17, 2014
10/17/14
2:30
PM ET
Green Bay point guard
Keifer Sykes
has no respect for gravity or feelings. And he can fly.
That's not a good thing for 6-foot-9 forward
Kerem Kanter
, the younger brother of
Utah Jazz
standout
Enes Kanter
. In Tuesday's practice, Sykes – 6 feet tall on a great day – dunked on Kanter via an alley-oop on the in-bounds pass from teammate
Jordan Fouse
.
You can see Sykes yelling after the dunk and his teammates walking away from the scene to collect their thoughts.
Warn your friends.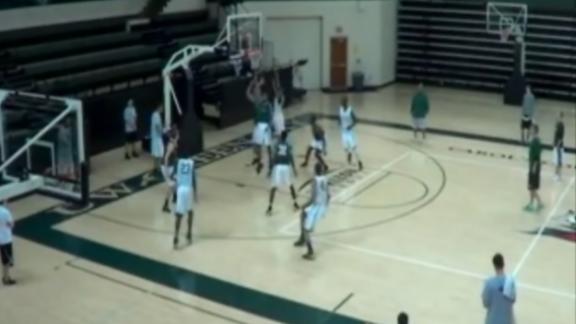 May, 31, 2013
5/31/13
5:00
AM ET
1. Commissioner Mike Aresco pulled off a shrewd but intelligent move when he made sure the new American Athletic Conference offices stayed in Providence, R.I. -- where the Big East staff has been based. The majority of the staffers are family people and didn't want to leave Providence. If the league office were to move, the staff might be more apt to look elsewhere or be plucked away by the new Big East. That hasn't happened, and the new Big East is still without a commissioner or staff. Meanwhile, the American has the same people running its operation. The American released its logo Thursday and it has a chance to catch on. The league is taking care of its business. Its basketball tournament sites should be announced in the next few weeks and the favorites are Memphis, Tenn., for the men and either Hartford, Conn., or Uncasville, Conn. (at the Mohegan Sun Arena), for the women.
2. Two Wisconsin-Green Bay players released statements through the school Thursday after spending the past month wondering if head coach Brian Wardle would be dismissed due to verbal-abuse allegations.
Keifer Sykes
and
Alec Brown
said: "We are really happy that the investigation is over, and we are excited about playing together next season for Coach Wardle and our other coaches. This has not been an easy couple of months for our team and coaches to go through and we are ready to move forward. The character and communication in our locker room is really good right now, and we are focused on getting better this offseason and contending for a championship next year." Lost amid these investigations are the players who were held hostage by uncertainty. Wardle was cleared of mostly everything, though he must have an adviser with the team next season to watch what occurs. UWGB has a legit shot to win the Horizon League.
3. New Mexico State will be the last team standing from the traditional WAC in 2014. The Aggies aren't 100 percent certain where they will be in basketball in two years. New Mexico State can't get in the Mountain West, and needs to find a way to get into Conference USA. That's the perfect fit for the Aggies, who have a historical rivalry with UTEP. If they can't move, coach Marvin Menzies' squad should get an NCAA bid or compete for a berth every season. There really is no excuse in such a weakened WAC.
April, 30, 2013
4/30/13
3:50
PM ET
WNFL Radio in Green Bay has audio of an interview
with forward
Alec Brown
, who defended Wisconsin-Green Bay coach Brian Wardle against allegations of player abuse leveled at him this month by the parents of former players. UWGB has launched an internal investigation into the matter, which received even more
public attention Tuesday afternoon
, after former player
Ryan Bross
outlined his complaints to the
Green Bay Press-Gazette
.
Brown is one of two players who openly defended Wardle on the radio Tuesday, saying the team wouldn't hesitate to bring its dissatisfactions to the coaching staff. He likewise accused his fellow players of lying:
"Honestly, I don't agree with the things that are being said," Brown told WNFL. "I've been there the longest of any of the guys, and I feel like if I had personally seen any of this happening, I wouldn't still be here. A lot of this stuff is not happening the way it seems that it is."
When asked what has surprised him the most about the situation, Brown said:
"Just the way that some ... I don't ... the way that some players viewed certain situations. And like, the way they can lie about some things is just amazing because of some of these guys were really close to us, teammates, like brothers."
When asked if he ever saw anything that went "over the line," Brown said he didn't "believe so." When asked if he thought his former teammates were lying, he said "Yes, I believe so."
Team captain
Keifer Sykes
also joined the Maino and Nick Show Tuesday afternoon, and he was just as effusive in his frustration and confusion.
"It was just shocking that all this came about because everyone knows Coach has our best interests in mind, he never did anything to abuse anyone. This is crazy.

"I mean, clearly the guys making these allegations are not in the program anymore. I guess when you leave they wanted to tear it down. But the truth will come out. In every situation it was 20 people there. Some people who are writing letters were never even around when anything or any of those allegations happened. The truth should come out and it should all play itself out."
When asked whether the most graphic situation Bross describes -- when he allegedly vacated his bowels during a preseason "boot camp" running drill -- did in fact happen, Sykes responded:
"It happened, when he voided himself, but the context is definitely skewed. I was there the whole time trying to motivate him to keep going. He was given the option to stop or keep going. He decided to keep going. No one made anyone do anything. He's a grown man.

"He was given the option. He was being a team guy and he didn't want to quit, I was there the whole time trying to motivate him. … That was by far the hardest drill we did all year and the context was definitely skewed. It's just crazy that someone could say that.