College Basketball Nation:

Keith Benson
March, 18, 2011
3/18/11
4:53
PM ET
TULSA, Okla. -- For his introduction to March Madness, Texas freshman
Tristan Thompson
was presented the challenge of guarding 6-foot-11 Oakland senior
Keith Benson
, a guy some think will be selected in the first round of the NBA draft in June.
Actually, Thompson volunteered for the challenge, saying he wanted to guard Benson. He embraced the opportunity to guard him one-on-one, with little in the way of double-team support. And he ultimately dominated the matchup.
No freshman nerves. No need for a life preserver from his teammates. No fear of giving away height and experience to a big-time player.
"When you play March Madness you want to play the best of the best," Thompson said.
Thompson was the best of the best Friday in the BOK Center. The Canadian showed why he's first-round material as well, putting 17 points, 10 rebounds and a career-high seven blocked shots on the board in
an 85-81 Texas victory
. Most importantly, he showed Benson who was the boss of the paint, rejecting several of his shots and limiting him to a hard-earned 15 points on 6-of-15 shooting.
"If I'm a fan watching that game, I'm watching two future NBA players battling each other," Oakland coach Greg Kampe said.
The pros will love Thompson whenever they get a hold of him. He's a legit 6-foot-9 and talented, but he's also first-team All-Effort. He relishes doing the dirty work that some big men shy away from. He's not a woofer, preener or pouter.
That attitude, combined with his defensive presence, has helped make Texas a dramatically improved team over last year. The Longhorns control the paint as well as any team in the country -- and as an added bonus, they get along with each other, too.
Neither was necessarily the case last season. With those improvements, this is a legit national title contender.
Just ask Kampe, whose under-seeded team is really good. The Grizzlies have played a bunch of national powers and can make some comparisons.
"We play everybody in the country," Kampe said. "I know who is good and I know who isn't. And that Texas team is as good as anybody. Texas can win a national championship. ... Ohio State and them, they're right there neck and neck. We've played them both, and they're a great team."
For 30 minutes, Texas looked like championship material. For 10, Texas looked like it can find a way to lose a tight game with elimination on the line.
The Horns let a 16-point second-half lead shrink to five in the final minute, and Oakland guard
Reggie Hamilton
had a shot to cut it to three go halfway down and come out. It would have been a brutal collapse on Texas' part.
But it didn't come to that, and the fact that this was a competitive game throughout is more a credit to the quality of the Grizzlies than a criticism of the Longhorns.
"It's a team I thought could have done something in this tournament, and we just got a bad draw," Kampe said.
Both teams did. Neither probably deserved to lose in the first round.
"If there is any team that really got a bad [seeding] deal, it was Oakland," Rick Barnes said. "I'm telling you, we just won a game against an outstanding team."
It took an outstanding game from Texas' fearless freshman center to do so.
March, 18, 2011
3/18/11
3:48
PM ET
TULSA, Okla. -- Quick thoughts from
Texas' 85-81 win
over Oakland Friday afternoon.


Overview
: Texas played about 30 minutes of dominant basketball and 10 minutes of shaky basketball in defeating the Golden Grizzlies. Oakland mounted a spirited comeback that got as close as five points in the final minute, and had a
Reggie Hamilton
3-pointer spin out that could have cut the deficit to three, but couldn't come any closer. The Longhorns' size played a major factor in limiting Oakland inside.
Turning point
: Leading by seven points early in the second half, Texas went on an 11-2 run to boost the lead to 16. Oakland was in serious catch-up mode after that.
Key player
:
Tristan Thompson
won a high-level paint battle with Oakland's
Keith Benson
, racking up 17 points, 10 rebounds and a career-high seven blocked shots.
Key stat
: Texas has been a wobbly free throw shooting team this season but made 80 percent of its attempts on Friday, which helped the Longhorns preserve their lead late.
Miscellaneous
:
Jordan Hamilton
's 3-point struggles continued for Texas, but he drove the ball with authority to finish with 19 points and 10 rebounds. Fellow sophomore
J'Covan Brown
led the Horns with 21 points and also chipped in six rebounds.
What's next
: Texas moves on to the round of 32 to face the winner of
Memphis-Arizona
. Oakland ponders life without Benson.
March, 18, 2011
3/18/11
7:06
AM ET
TULSA, Okla. -- The NCAA tournament is back here for the first time in 26 years, and in a shiny modern arena -- the BOK Center.
Historically speaking, this has been a good town in which to launch a big tournament performance. In five previous NCAA tourneys in Tulsa, four teams have started their Final Four run: Houston in 1982, Notre Dame in 1978, Louisville in 1975 and Kansas in 1974.
The Jayhawks, here as the No. 1 seed in the Southwest Region, certainly hope that history repeats, as opposed to their catastrophic NCAA history elsewhere in the state. Kansas was shocked in the second round last year in Oklahoma City, and in the first round by Bucknell in 2005.
A brief breakdown of the two day games Friday:
No. 13 seed Oakland (25-9) vs. No. 4 seed Texas (27-7), 12:15 p.m. ET (CBS)


What to watch:
This will be a primo interior matchup, and the winner in the paint may win the game. The Golden Grizzlies have one of the best big men in the country in 6-foot-11
Keith Benson
, the Summit League Player of the Year who averages 18 points, 10.1 rebounds and 3.6 blocked shots. But he's going up against the Longhorns' array of physical postmen, led by freshman
Tristan Thompson
(13.3 points, 7.8 rebounds, 2.2 blocks). Texas might be the best interior defensive team in the nation.
Who to watch:
The most talented player on the floor will be Texas forward
Jordan Hamilton
, a versatile scorer who at 6-foot-7 is a matchup nightmare. Most importantly for the Longhorns, Hamilton appeared to get his shooting stroke back at the Big 12 tourney in Kansas City, where he made 48 percent of his shots. In the previous six games, half of them losses, Hamilton made just 31 percent of his field goals. If Hamilton is hot, it will be tough for Oakland to win.
Why to watch:
This has upset potential. Oakland is a very talented offensive team that got valuable NCAA tourney experience last season and played a rigorous non-conference schedule to prepare for this moment. Texas is a national title contender -- but is also not invincible. And if Thursday afternoon showed us anything, anyone can be beaten -- or at least taken down to the wire.
What they're saying:
"I don't think we're scared," Benson said. "We're coming in with the mindset of getting the upset." … Thompson, on Texas' late-season struggle: "To be honest, we totally forgot about that. We're not focused on what happened in the past. Situations happen, and we got the losses and that's good for us to experience those heartaches. But now it's tournament time. We know it's a lose-or-go-home situation, so now we've got to pull up our socks and it's time to grind." (It is assumed the freshman meant win-or-go-home, but that was the quote.) … Oakland coach Greg Kampe, on seeing President Barack Obama pick Texas in his bracket for ESPN: "I didn't vote for him either, so I guess we're even now."
Of note:
The Grizzlies have played seven teams in this tournament and went 1-6 against them. The victory was at Tennessee. The losses were against Illinois, Purdue, Michigan, Michigan State, Ohio State and West Virginia. Texas is 8-5 against the NCAA field. … Oakland has won eight straight and averaged more than 90 points in that span. In other words, it would love to turn this game into a shootout. … Texas has advanced to 12 straight NCAA tournaments, and has won at least one game in eight of those.
No. 12 seed Memphis (25-9) vs. No. 5 seed Arizona (27-7), 2:45 p.m. ET (CBS)


What to watch:
Which green group handles the pressure of the tournament best? The Wildcats have only two players who played meaningful minutes in Arizona's previous NCAA tournament game --
Kyle Fogg
and
Jamelle Horne
combined to play 57 minutes and scored five points in a Sweet 16 blowout against Louisville in 2009. Not a single current Tiger played in Memphis' previous tournament game, a Sweet 16 loss to Missouri in '09. The Tigers' coach, Josh Pastner, has never led a team into a Big Dance game either.
Who to watch:
The best player on the floor is Arizona forward
Derrick Williams
, a 19-point, 8-rebound guy who can get his points efficiently -- and from anywhere. He's a 62 percent shooter, a crazy 60 percent from 3-point range and 74 percent at the line, where he takes 8.5 foul shots per game. Memphis has some size in
Tarik Black
and
Will Coleman
, but the question is whether either can check Williams all over the court.
Why to watch:
To see which traditionally powerful program is on the rebound fastest. Both missed the Big Dance last season after coaching changes, and both now have taken steps back to national contender status. Arizona (four Final Fours, one national title) won the Pac-10 regular-season title this year to re-establish itself in Year 2 under Sean Miller. Memphis (three Final Fours, no titles) had to earn its bid by winning the Conference USA title on UTEP's home court in Year 2 under Josh Pastner.
What they're saying:
Coleman, on the youth of the Tigers: "We're all goofy. We're a goofy bunch of guys that just like to have fun, and there is nothing wrong with that."
Williams, on choosing Arizona over Memphis in recruiting: "That's all I did is ate barbecue the whole time (on his official visit to Memphis). It was a great time, a great experience for me. … Pastner did recruit me very hard. Like I said, I couldn't go wrong either way whether I chose Arizona or Memphis, but I'm glad I chose here."
Pastner, on the feeling of winning the C-USA tournament Saturday and seeing Memphis in the field the following day: "Those 40 hours, it was probably the greatest 40 hours of just adrenaline, of emotion, of just being happy that you can experience. If somebody came to me today and wanted to give me $100 million to trade for that, I wouldn't. I mean that."
Of note:
Tulsa is a Memphis-friendly location. The city is only about a six-hour drive, so expect a fair amount of Tiger blue in the stands. … Arizona athletic director Greg Byrne said he spoke with Miller earlier this week and that Miller has "zero interest" in other jobs, most notably North Carolina State, where he was a former assistant coach.
March, 13, 2011
3/13/11
9:34
PM ET
Rapid-fire reactions to the bracket:
Before we get into this, someone please check on Seth Greenberg. Make sure he is in a safe place. I'm mostly joking, but not completely.
Now, if I'm Ohio State coach Thad Matta, I tell the boss this when he returns to Columbus:
[+] Enlarge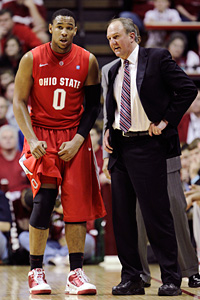 AP Photo/Darron CummingsDespite having their athletic director on the selection committee, many believe Ohio State coach Thad Matta, forward Jared Sullinger and the rest of Buckeyes have the toughest run of any No. 1 seed.
Thanks for nothing.
OSU athletic director Gene Smith was the head of the NCAA tournament selection committee, yet he stuck his own team with what I think is the toughest region in the whole tournament. Earlier Sunday,
I wrote that seven teams
had the most realistic shot at a national title -- and three of them are in the same region. That would be No. 1 seed Ohio State plus No. 2 seed North Carolina and No. 4 seed Kentucky, all in the East.
Two of the seven are in the Southwest Region: Kansas and Notre Dame. Two are in the West: Duke and San Diego State.
And then there is the Southeast, otherwise known as the Jamie Dixon Backrub Regional. I don't see a single major national-title threat in that 16-team grouping, which means terminal underachiever Pittsburgh might finally reach its first Final Four since World War II.
So Matta needs to ask his AD one simple question: Why didn't we get the Pitt treatment?
Instead, here's what Ohio State got: a likely matchup against a coach with Final Four experience in the rounds of 32, 16 and 8.
After the Buckeyes dispatch a play-in-team-to-be-named-later on Friday in Cleveland, they'll face either George Mason or Villanova. Jim Larranaga took the Patriots on one of the all-time Cinderella Final Four runs in 2006, and Jay Wright got the Wildcats there in '09.
In the Sweet 16, Ohio State could face any of three coaches who have been to Final Fours in the past decade: Bob Huggins (West Virginia last year, plus Cincinnati in 1992); Mike Davis (Indiana 2002); or John Calipari (Massachusetts 1996 and Memphis 2008).
And a potential regional final showdown looms with either North Carolina and Roy Williams (six Final Fours, two national titles) or Syracuse and Jim Boeheim (three Final Fours, one national title).
That is not an easy road to Houston.
The committee apparently saved all its mollycoddling for Florida, which drew a mystifying No. 2 seed in the Southeast. Apparently, friends, losing to Jacksonville and Central Florida will actually
help
your seeding as opposed to hurting it. Oh, and a home loss to South Carolina (last in the SEC East) must not hurt the profile either.
The Gators are a good team. The Gators are fully capable of winning that region. But the Gators should be doing it as a No. 4 or 5 seed, in my estimation.
In fact, I think three of the No. 4 seeds (Louisville, Kentucky and Texas) all are more accomplished to date than Florida.
So I'd nominate the Southeast as the section of the bracket most likely to be busted. Pitt and No. 4 seed Wisconsin have a history of great regular seasons and not-so-great NCAA tournaments. Third-seeded BYU looks highly vulnerable after going 3-2 since losing leading rebounder and third-leading scorer Brandon Davies.
(Quick aside: All conjecture to the contrary, losing a player for the tournament apparently didn't matter much after all. BYU still got a No. 3. Georgetown, winless in four games since the broken hand suffered by guard
Chris Wright
, still got a No. 6. Florida State, 3-3 since the loss of leading scorer/rebounder/stealer
Chris Singleton
to a broken foot, still got a No. 10. I believe all three could have been justifiably bumped down at least one more seed line.)
In the Southwest, a potential Kansas-Louisville matchup in San Antonio could be a great one. The Jayhawks are really good -- but check Rick Pitino's record in Sweet 16 games. He's 9-0. But both the Jayhawks and Cardinals have to win two games first to make that matchup happen.
On the other side of that region, I love Notre Dame's chances of reaching a regional final for the first time since 1980 -- although Purdue looms as a potential Indiana battle removed to San Antonio in the Sweet 16.
And in the West, I could see chalk holding to a Duke-San Diego State regional final -- if the Aztecs can finally get around to winning the first NCAA tournament game in school history. There could be some very good regional semifinals there: Duke-Texas and San Diego State taking on a Big East school, be it Connecticut or Cincinnati.
At this moment, give me Ohio State, Duke, Notre Dame and Kansas State to reach the Final Four, with the Fighting Irish winning it all.
And I can't believe I just typed that sentence.
But I'll stick with it at least until tomorrow morning.
Some other random ruminations:
Seeded too high
: Florida, BYU, Georgetown, UCLA.
Seeded too low
: Oakland, Utah State, Xavier, Gonzaga.
Most intriguing first-round games:
UCLA-Michigan State; Oakland-Texas; Butler-Old Dominion; BYU-Wofford.
Individual star-watch games
: Texas shot-blocking freshman
Tristan Thompson
against Oakland shot-blocking senior
Keith Benson
; BYU scoring machine
Jimmer Fredette
against Wofford 20-point-a-game guy
Noah Dahlman
; UCLA forward
Reeves Nelson
against Michigan State forward
Draymond Green
; versatile
Darius Morris
of Michigan against versatile
Scotty Hopson
of Tennessee.
Next up
: Hot anticipation for game times Thursday and Friday, so we can plan our hooky accordingly.
March, 8, 2011
3/08/11
6:40
PM ET
By
Diamond Leung
| ESPN.com
Saddle Up is our semi-daily preview of the night's best basketball action.


Butler vs. Milwaukee, Horizon tournament championship, ESPN, 9 p.m. ET
: s Milwaukee is the top seed in the tournament and playing on its home floor, but all eyes turn to Butler to see if the darlings of last year can grab an auto-bid. If the Bulldogs do that, it's likely one more spot for everybody else on the bubble. Butler knocked off Cleveland State in the semis and will continue to rely on
Matt Howard
and
Shelvin Mack
while having found success with
Ronald Nored
come off the bench. But don't sleep on Milwaukee, which won a share of the league title and has already beaten Butler twice. The Panthers have won 10 of 11 and are looking to dance for the first time since 2006.


Oral Roberts vs. Oakland, Summit tournament championship, ESPN2, 9 p.m. ET
: Oakland center
Keith Benson
is the mid-major star to watch out for as he hopes to lead the team back to the NCAA tournament after withdrawing from the NBA draft last year. The Grizzlies only lost once in conference play, but Oral Roberts has shown it can put up a fight after only losing by three points on the road in the team's last meeting. The Golden Eagles are riding a 10-game winning streak and looking for their first NCAA tournament bid since 2008.


Arkansas-Little Rock vs. North Texas, Sun Belt tournament championship, ESPN2, 7 p.m. ET
: North Texas might have only finished .500 in conference play, but the Mean Green has reeled off five wins in a row including three double-digit wins in the tournament in hopes of getting back to the NCAAs. But if you're looking for an underdog to watch tonight, Arkansas-Little Rock is only one win away from its first NCAA tournament bid since 1990.
December, 14, 2010
12/14/10
10:03
PM ET
Why the scare quotes? Because this game --
a gutty 89-82 Oakland win
at No. 7 Tennessee -- was not, despite all appearances to the contrary, all that shocking.
Upset? Of course. Miracle in Knoxville? Not exactly.
Sure, Tennessee has had one of the most impressive starts in the country. Sure, the Volunteers, having just rolled to a win at Pittsburgh, entered the game
ranked No. 1 in the nation in RPI
. Sure, there is a Lake St. Clair-sized gulf between each school's respective athletics budget expenditures. No matter. Oakland is just plain tough.
[+] Enlarge
Don McPeak/US PRESSWIREOakland's Keith Benson blocked two shots against Tennessee. He also scored 26 points and pulled down 10 rebounds.
On the floor, where context submits to the moment, Oakland has spent its past three games challenging high-major programs with Final Four potential. On Wednesday, the
Golden Grizzlies pressured Illinois for 40 minutes in Champaign
. On Saturday,
they lost by one point to Michigan State
. Sure, you wouldn't have expected Oakland to win at Tennessee ... but it's not as if this came out of nowhere.
How, exactly, did Oakland pull it off? Start with center
Keith Benson
, who bolstered his already worthy NBA credentials with a 26-point, 10-rebound, 2-block effort Tuesday night. (And Benson had 20 of those points in the first half; he missed a large portion of the second due to injury.) Throw in a pair of efficient performances from Oakland's supporting cast -- 17 points on 5-of-9 shooting from
Will Hudson
; 19 points on 6-of-9 shooting from guard
Larry Wright
-- and Oakland did more than enough on offense to get the win.
Tennessee didn't shoot the ball particularly well -- that helped too. The Vols were 4-of-18 from beyond the arc and 24-of-45 inside it. They also suffered a pair of major second-half scoring droughts. A three-minute drought that started at the 13:08 mark cost UT its 64-53 lead. Tennessee built an eight-point lead in the following minutes, but after
Scotty Hopson
hit a free throw with 7:18 left, the Volunteers didn't score again until the 1:59 mark. In the meantime, Oakland went on a 14-0 run, and the next time the Vols got a bucket, the game was the Grizzlies' to win.
What does this say about each team? Nothing we don't already know. Sure, you might want to tweak your perception of Tennessee a bit, but everyone has off nights. Good teams lose all manner of games, and the season is too long to downgrade the Vols based on one home loss. As for Oakland? Well, if you didn't know, now you know.
If there's any larger statement to be made, it might have to do with scheduling and the RPI. Bruce Pearl -- and plenty of other coaches, too -- have adopted a rather intelligent scheduling strategy in recent years: They schedule good but beatable mid-majors, the kinds of teams that can win their conference and go to the NCAA tournament but that aren't major upset threats on any given night.
The strategy is smart, but it also requires a tradeoff. The upside? You get to pile up wins while helping your RPI in the process. (Tennessee's RPI has been stellar in recent years for precisely this reason. John Calipari has used this strategy at Memphis, and now at Kentucky, with similar results.) The downside? Some of those mid-majors can play, and no one likes to lose to Summit League teams at home.
Still, Oakland doesn't look much like your typical Summit League team. Last week, the Golden Grizzlies hinted at that potential. On Tuesday night, finally, they broke through.
In other words, call it an upset. But don't call it a shocker.
August, 9, 2010
8/09/10
7:44
PM ET
By
Diamond Leung
| ESPN.com
Oakland is hosting a fundraiser it's calling "
Tunes for the Team
," and the Summit League champions better be ready to exercise their vocal chords as they're scheduled to sing in downtown Pontiac, Mich. on Thursday night as part of the dueling piano event.
"I'm not sure they will be ready to perform at the same level our fans have come to expect on the court, but I promise you they will be entertaining," coach Greg Kampe said in a statement.
Proceeds from ticket sales and a silent auction will help finance the Lou Henson Award tournament that Oakland was selected to host after star center
Keith Benson
won CollegeInsider.com's award for the nation's top mid-major player last season, according to the
Oakland Press
.
"I'm not a singer," Kampe said. "(But) I used to play piano. They didn't ask me to do that. Maybe they didn't want to hear 'The Entertainer' or 'Chopsticks.'"
July, 8, 2010
7/08/10
7:31
PM ET
By
Diamond Leung
| ESPN.com
Detroit out of the Horizon League was portrayed in a
Washington Post article
last month as a big, bad program that wouldn't schedule a game against nearby Oakland, which recently won the Summit League and went to the NCAA tournament.
(Oakland coach Greg) Kampe has had trouble scheduling Detroit. Finally, after Oakland center Keith Benson declared for the NBA draft, Detroit called and asked to start a series; Kampe agreed. The next week, Benson withdrew and the phone rang. It was Detroit, saying they have a scheduling conflict.

"That's the crap that happens," Kampe said.
But
scheduling isn't easy
for the so-called mid-majors no matter where on the food chain they stand. This week, it was the
Detroit News
reporting that no one wants to play Detroit and their top recruit
Ray McCallum, Jr.
, especially at home.
"When we got Ray it really got challenging," Titans coach Ray McCallum Sr. said of his son.

McCallum works the phones but is used to coaches saying "Thanks but no thanks," when he asks them to play at Calihan Hall.

...

"I am trying to get more home games to get our (the team's) spirits up," McCallum said. "When you don't have a lot of home games, you get beat up and you're limping into the conference and your fans don't get to see you play and identify with your team. You don't get into a good routine heading into the season."
For now, Detroit has reportedly scheduled home games against Albany, Bowling Green and Niagara while also trying to convince USC to play at The Palace of Auburn Hills.
Might the Titans have to revisit a game with Oakland?