College Basketball Nation:

Keith Wright
March, 15, 2012
3/15/12
10:10
PM ET
ALBUQUERQUE, N.M. -- Vanderbilt finally solved its Kentucky problem by winning the SEC tournament on Sunday in New Orleans.
But that did nothing to answer its larger issue: winning in the NCAA tournament.
Double-digit seeds had flummoxed the Commodores in three of the past four NCAA tournaments with losses to Siena, Murray State and Richmond.
Harvard was a sentimental favorite in making its first NCAA tournament since 1946. Oh, and the Crimson were seeded No. 12, making this one of those dreaded 5-12 games.
"It's well publicized that Vandy's lost in the first round the last three out of four years,'' said Harvard senior guard
Oliver McNally
. "So we knew if we were hanging around, we'd put that thought in their head and see what happened. And I thought we were going to do that.''
Vandy had an 18-point lead on Harvard on Thursday afternoon at the Pit. And then suddenly it was five.
"Credit to them for coming out really strong after that and being strong with the ball and making free throws,'' McNally said. "But we made a great run.''
The Commodores held on to win
79-70
and looked every bit the part of a team that could beat No. 4 Wisconsin on Saturday in a third-round game for the right to possibly take on East top seed Syracuse (if the Orange can knock off Kansas State in Pittsburgh on Saturday).
John Jenkins
was sensational with 27 points. The Dores got plenty of pop from
Brad Tinsley
,
Jeffery Taylor
and 11 boards from
Festus Ezeli
. Vanderbilt's big four came through when it mattered most.
Vandy can exhale -- for now.
"I didn't want to be in that tight of a situation with the way we had the game going in our favor,'' said Vandy coach Kevin Stallings. "But since we won, I'm glad it unfolded that way.''
Stallings knew the toughness question was relevant with this squad during the SEC tournament. The Dores simply didn't have the track record to back up their belief that they were over their late-game issues.
And comments like Taylor's that the big lead led to a bit of relaxation and too much standing on offense just contributed to the narrative. But there was something the Dores had that had been missing even in last-second losses in previous NCAAs to Siena and Murray State: composure.
Jenkins used a different word -- poised. "I think leadership is definitely a factor in that guys huddled up and decided we need to lock down and get rebounds down the stretch," he said. "We did what we had to do. We hit big free throws.''
The Dores had one possession that took the lead from 11 to 14 with a four-shot sequence that ended up in a traditional 3-point play for Jenkins. That lead ballooned to 18. Harvard made its run, but the hole was too deep.
"I think our maturity showed up a little bit there,'' Tinsley said. "We were playing not to lose instead of playing to win. You can never do that, especially in the NCAA tournament.''
[+] Enlarge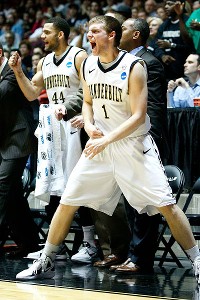 AP Photo/Matt YorkBrad Tinsley, right, and Jeffrey Taylor cheer as Vanderbilt puts away Harvard during their second-round meeting.
Vanderbilt could finally talk about its albatross after the win.
"It really means a lot for the seniors to be our last time in the NCAA tournament,'' Tinsley said. "We just kind of got that monkey off our back and win a close game in the first round. It just means a lot to us old guys, the coaching staff and the program.''
Getting into the NCAA tournament did that as well for Harvard. The Crimson didn't just show up for the first time in 66 years. They got off to a rocky start and scrapped their way back.
Harvard senior
Keith Wright
said that getting into the NCAA tournament and representing the Ivy League, especially after losing the playoff to Princeton at the buzzer last season, was a celebration of all the hard work put forth.
"It's just really special and I'm really glad to be a part of it,'' said McNally. "They sell you on all kinds of dreams but Coach (Tommy) Amaker had a plan and this plan was followed through. Not only were there good players but really good people. We made the tournament. We wanted to advance. That was obviously the ultimate goal.''
But this meant more to the Ivy League and to Harvard to have its flagship name finally make the dance.
Alumni from the White House to an 86-year-old surviving member of the 1946 team — the Crimson's previous NCAA entry — could all feel good about this run. The latter was Don Swegan, who was at the Pit in his old Harvard sweater. He was in his glory, talking to other alumni. The Friends of Harvard hoops read about Swegan on ESPN.com and wanted to make sure he made it to Albuquerque from near Youngstown, Ohio, so they paid for his expenses. NCAA president Mark Emmert and Harvard alumnus and Pac-12 commissioner Larry Scott wanted to have their picture taken with Swegan.
These were good memories for him, the Harvard program and a clear signal that the Crimson aren't going into NCAA tournament hibernation.
"For us to represent our school and conference for the first time in so many years and to have so many folks come and cheer us on means so much to us,'' Amaker said. "This has been and is a big deal.''
December, 8, 2011
12/08/11
11:25
PM ET
STORRS, Conn. -- The basic goal for Connecticut and Harvard is the same: win a championship.
The Huskies are angling toward the title that is handed out in New Orleans the first week of April. Harvard simply wants to claim the Ivy League championship outright at the conclusion of the regular season.
Neither team is close to those goals yet. But Thursday night's game between two ranked squads gave an indication of where both stand as the No. 9 Huskies
beat the newly ranked No. 24 Crimson 67-53
at Gampel Pavilion.
Connecticut has the pieces in place, with a dunking specimen inside in
Andre Drummond
, a perimeter that can shred a defense with its scoring from
Jeremy Lamb
,
Ryan Boatright
and
Shabazz Napier
and two significant rotation players in forward
Alex Oriakhi
and stretch 4-man
Tyler Olander
.
But the Huskies don't have the discipline to defend yet, aren't sturdy enough with a lead, make careless decisions at times, and still don't get how close they need to be as they were a year ago, when they turned a 9-9 Big East season into that remarkable 11-game run through the Big East and NCAA tournaments.
UConn coach Jim Calhoun said the Huskies need to overcome negativity, especially when a team makes a run, a call doesn't go their way and "occasionally being criticized for your performance."
"In our system, you have to be able to handle occasionally being criticized for your performance," Calhoun said. "I tell the kid's it's hard to play here. It's hard to play here because the expectations are very high. It's hard to play here because I expect more. And when you give more, I expect more. We haven't connected yet. And when we get into the meat of our schedule, we have to be connected.''
The Huskies were a trendy pick for the Final Four once Drummond changed course and decided to enter college this fall instead of going for a post-graduate year. But the loss to a so-so Central Florida team in the Battle 4 Atlantis in the Bahamas was an indicator that the Huskies weren't ready for prime time just yet.
But adding the now-eligible Boatright to the mix the next day changed the Huskies offensively, giving them a scorer off the bench and someone who goes north-south with his penetration, looking to score or dish.
"We can hit you from every angle,'' said Boatright, who added 11 points off the bench to complement Drummond's 12 and Lamb's 18. "We [Boatright, Lamb and Napier] can all dribble, score and create for other teammates. If we're ever down with the clock, then we can make something happen. We know the heart and soul of the team can be the guards.''
Still, there are holes to this team that Oriakhi and Lamb are well aware have to be fixed to mimic what the Huskies did a year ago. There is no Kemba Walker to save this team in late-game situations, so they have to be more of a team that shares the responsibilities at both ends of the court.
"I definitely think the chemistry has to be better,'' Oriakhi said. "The chemistry last year was great. Everyone was unselfish.''
Added Lamb: "I think we're moving in the right direction but we've got to work hard. People have to get to know their roles. Sometimes we have too much one-on-one and we're not moving without the ball. We've got to come together and execute our plays more to get everyone involved.''
The Huskies aren't as cohesive as Syracuse is at this juncture in the season. But the Huskies may have a higher ceiling if Drummond and Boatright continue to improve and Oriakhi can improve his productivity along with Olander.
[+] Enlarge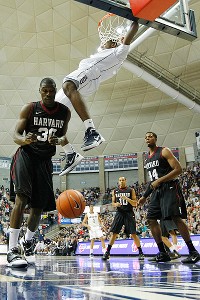 David Butler II/US Presswire"I think our size bothered them overall," UConn coach Jim Calhoun said of Harvard, now 8-1.
"Overall it was a pretty good performance against a team that is going to win 25 or 26 or 27 games,'' Calhoun said. "They would be a tough out for almost anybody. I think our size bothered them overall and the penetration of our guys.''
That much is true. Harvard won't face another team the rest of the regular season that will have similar length. The Crimson beat a team with comparable size in Florida State, but the rest of the schedule doesn't even come close.
In this one, Harvard didn't get anything out of leading scorer forward
Keith Wright
in the first half, but he did find his confidence in the second half with 9 points.
Kyle Casey
,
Laurent Rivard
,
Wesley Saunders
and
Brandyn Curry
had their moments. But the Crimson got blitzed on the boards and had too many empty possessions during a lull when the Huskies built a 16-point second-half lead. But Harvard didn't fold and got the game within three possessions.
"I was pleased with the effort from our team and I felt we hung in there for the first 20 minutes,'' said Harvard coach Tommy Amaker, whose team trailed by just 2 at the half. "We didn't get much of anything easy around the basket, which is probably going to happen to a lot of teams when they face this basketball team with their size and athleticism.''
But let's not dismiss the Crimson because they couldn't win in Storrs, where the Huskies haven't lost a nonconference game in November or December since 1973 (101 straight).
Judge Harvard now on how the Crimson handle the rest of the schedule, like at Boston University on Saturday or at Boston College on Dec. 29 -- games they should win -- and then in the Ivy, where Harvard will be favored in every game on the schedule. The Crimson have already won the Battle 4 Atlantis and tough road games at Loyola Marymount and Vermont -- games Harvard should win and did.
Now it's just a matter of winning the Ivy outright and finally breaking through for that first NCAA berth since 1946.
"I was pleased with the way we were prepared and how we followed our game plan and tried to manage the game,'' Amaker said. "Our kids handled things so far in an admirable way. We'll see now after the first loss how we do. This is a new spot for us.''