College Basketball Nation:

Kelsey Barlow
March, 8, 2012
3/08/12
10:09
PM ET
INDIANAPOLIS — Thoughts on Purdue's
79-61 victory
over Nebraska:


Overview:
Nebraska was competitive in the opening minutes. But after taking a 12-8 lead on a
Bo Spencer
layup with 14:43 remaining in the first half, the Cornhuskers didn't score for the next eight minutes. By that point, the Boilermakers held a 25-15 lead. The Cornhuskers couldn't overcome the deficit, although they were within four in the first minute of the second half.
Turning point:
When Purdue launched a 17-0 run at the 14:27 mark of the first half.
Key player:
Anthony Johnson
led Purdue in scoring with 17 points, on 7-of-10 shooting, off the bench. He also recorded 6 rebounds, 4 assists and a steal.
Key stat:
The Boilermakers shot 52 percent from the field (7-for-13 from beyond the arc) in the first half; they shot 56 percent overall in the game. Five Boilermakers recorded double figures.
Miscellaneous:
The Boilermakers have looked like a better team since the dismissal of Kelsey Barlow … Bo Spencer is a stud (22 points), but he was underrated this season because of Nebraska's struggles … Doc Sadler could be one of two Big Ten coaches (Bruce Weber being the other) who coached their final Big Ten tournament games Thursday.
What's next:
Purdue will face Ohio State on Friday night. Nebraska will go home and wait to see if Sadler is offered more time to change the program.
February, 26, 2012
2/26/12
1:20
AM ET
Click here
to read our afternoon recap. Now back to the lecture at hand, which comes in three parts:
The Rivalry


No. 2 Syracuse 71, Connecticut 69
: One of the many things to love about this Syracuse team -- besides its great zone defense and incredible depth and talent and length and pretty much everything besides defensive rebounding -- is how well it handles close games. Since the Jan. 21 loss at Notre Dame, Syracuse has taken respective best shots from Cincinnati, West Virginia, Georgetown, Louisville, South Florida and now at UConn, and each time the Orange have either pulled away late or made the key stop down the stretch to preserve the narrow win. It's a real skill, and it isn't entirely intangible; when you have a defense this good, you tend to get a lot of stops, and there's no reason why that wouldn't be true in the final minutes of any given game, too. But however you quantify it, the Orange win close games. Such traits tend to come in handy in March.
As for Connecticut? While the Huskies didn't get the win, they appear to be rounding into form, or at least starting to figure a few things out. UConn had its fair share of issues with Syracuse's zone, and there were plenty of bad shots to be had, but the Huskies were much more balanced (four players finished in double figures, while
Ryan Boatright
and
Shabazz Napier
combined for 13 assists) and competent on both ends of the floor in the second half. Unless it suddenly begins shooting the ball from outside at a much higher clip, this team probably has a ceiling. But there are plenty of realistic improvements to be made. Even better, many of them appear to be in progress. Let's not bury this team just yet.
The Upsets


Purdue 75, No. 13 Michigan 61
: When Purdue guard
Ryne Smith
was asked what he thought about guard Kelsey Barlow's dismissal from the team last week, he was direct, even curt: "Addition by subtraction," Smith said. Apparently he was right. Whatever the reason, Purdue played its best game of the season Saturday at the most important time, containing Michigan's outside shooters and slowly stretching a second-half lead thanks to the heady play of point guard
Lewis Jackson
, forward
Robbie Hummel
and, most importantly, guard
Terone Johnson
, who scored a career-high 22 points and made a handful of key plays down the stretch, including two big and-1 finishes around the rim. Purdue is an unconventional team with no true post presence; the Boilermakers rely on Hummel's outside-in versatility and an extended, guard-oriented style. This makes them a great matchup for Michigan, and, in their own way, a dangerous team.
In any case, Purdue can now feel entirely safe about its at-large NCAA tournament chances. Beating Michigan at home -- the Wolverines' first home loss of the season -- is most definitely a signature victory. And it couldn't have come at a better time.


TCU 83, No. 21 New Mexico 64
: Let's hear it for TCU! A round of applause is most definitely in order. At this time in 2011, the Horned Frogs were in the midst of a season-ending 13-game losing streak, en route to an 11-22 finish. This season is an entirely different story: TCU is playing its best basketball down the stretch, having won four of its past five (and eight in a row at home) and toppling ranked UNLV and New Mexico and a good Colorado State squad in the process. The key: great 3-point shooting. The Horned Frogs lead the league in long-range makes in conference play, and they're undefeated at home as a result. What a difference a year makes.
In the meantime ... um, what happened to New Mexico? Last Saturday, we watched in near-awe as the Lobos thoroughly dominated UNLV, which came just a few days after a 10-point win at San Diego State. Steve Alford's team, once a relatively unheralded efficiency darling with few good wins to show for it, looked set to run away with the Mountain West and make a deep run into March. Since then, the Lobos are 0-2 and are now in a three-way tie. A loss at Colorado State makes some sense; we know the Rams are tough, particularly at home. And this is not to take away from TCU, which (as you just read above) is giving everyone more than they bargained for in February, particularly in their own building. But a 19-point blowout loss? Isn't this the team that just rolled UNLV in the Pit and moved to 8-2 in the league? It's kind of weird, right?


Georgia 76, No. 11 Florida 62
: This is an upset, of course, but I'm not sure we should be all that surprised. Frankly, I'm not sure if a Florida loss should ever truly catch us off guard. Don't get me wrong: The Gators are good. But they're a specific kind of good. When their steady diet of 3s are falling, they can shoot opponents off the floor before said opponents even have a chance to catch their breath. But if the shots aren't going down, Florida has no Plan B.
Patric Young
is the only true post presence, and his offensive game is still a work in progress (and he's still underutilized as a scoring threat to boot). The Gators' defense -- which ranks fifth in opponents' points per possession in SEC play, No. 10 in opponents' 3-point field goal percentage and No. 10 in block rate -- still isn't good enough to hold opponents in check when the shots clanging off the iron and the opponents start turning long rebounds into secondary breaks and easy buckets. Florida might yet get there on the defensive end, but it isn't yet. If this UF team has a lower ceiling than it should, well, that's why.
The Bubble Specials


Alabama 67, Mississippi State 50
: It was instinctively easy to write off the Crimson Tide when coach Anthony Grant suspended
Tony Mitchell
and
JaMychal Green
; it was easy to predict a late collapse, even a fall off the bubble, for a team whose two leading scorers would be missing such important games down the stretch. Instead, the Crimson Tide keep, well, rolling. They've now won three in a row and prevented any hint of a collapse. Mississippi State, on the other hand, appears to be doing exactly that: The Bulldogs are collapsing. This is the Bulldogs' fifth consecutive defeat, a stretch that has included some good basketball (in the near-miss vs. Kentucky this week) but also some baffling losses (the loss at Auburn especially). It's no stretch to say Mississippi State -- which for much of the season looked like a tourney near-lock -- could wind up missing the tournament after all. The Bulldogs are, after all, 6-8 and tied with rival Ole Miss in the SEC standings. Ouch.
[+] Enlarge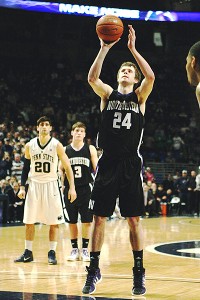 Rob Christy/US PresswireJohn Shurna's free throws pushed Northwestern past Penn State -- and kept an NCAA bid in sight.
Northwestern 67, Penn State 66
: Breathe a big ol' sigh of relief, Northwestern fans: In the chase for their first NCAA tournament appearance in school history, the Wildcats remain very much alive. Senior forward
John Shurna
made the game-winning free throws with just 2.6 seconds remaining, giving Bill Carmody his first win in State College since 2002. Big challenges still lie ahead: Ohio State comes to town on Wednesday, followed by next weekend's season-ender at Iowa, a team that just knocked off Indiana and Wisconsin in Carver-Hawkeye Arena. But for now, some minor rejoicing is in order. Northwestern's tourney hopes are still very real.
Rutgers 77, Seton Hall 72 (OT)
: Let's not take Seton Hall off the bubble just yet, eh? The Pirates got a great win over Georgetown this week, one that could have firmed up a previously shaky at-large profile. All Seton Hall needed to do the rest of the way was avoid bad losses. Well, losing to a young, 13-16 Rutgers team at home is just that. Next weekend, the Hall travels to DePaul. If the Pirates lose there, all the good vibes from the emphatic Georgetown victory will have almost entirely faded from the picture.


VCU 89, George Mason 77
: First things first: Thanks to Drexel's one-point win at Old Dominion on Saturday afternoon, VCU's win over George Mason won't give them a share of the CAA title this season. Bummer, sure, but the Rams would surely settle for a spot in the NCAA tournament, something to which they're at least a little closer after this victory today. As a league, the Colonial's top teams (Drexel, VCU and GMU) didn't get quality nonconference wins (VCU's best came against South Florida, for example), so any at-large consideration will have to come from separation at the top and perhaps a pair of deep runs for both Drexel and VCU in the CAA tournament. A win here was a must, and Shaka Smart's team got it, behind Bradford Burgess' career-high 31 points.


Dayton 76, UMass 43
: A home loss to UMass can't be called "bad," but for a team like Dayton -- which is desperately scrapping for a spot in the NCAA tournament -- it could have been disastrous. Instead, the opposite happened: UD won, and won big, looking very much like one of the A-10's best teams and a squad worthy of a tourney bid in the process. We'll see how the Flyers finish up, but if they're one of the last four in, they might just be one of the play-in game candidates, which are held in -- you guessed it -- Dayton!


Saint Joseph's 82, No. 22 Temple 72
: Speaking of somewhat fringe Atlantic 10 tournament hopefuls, the A-10 can't offer a bubble team a better shot at a marquee win than Temple on its own floor late in the season, but the Hawks still had to overcome Fran Dunphy's typically peerless bunch, which had won its previous 11 games and 13 in the 15-game stretch beginning with its Jan. 4 victory over Duke. Phil Martelli's team is now 9-6 in the league and 19-11 overall, and it added the one thing it desperately needed to its profile: A legitimate top-25 RPI win. Temple is most definitely that.


Penn 55, Harvard 54
: Just when you think it's time to plan a long-awaited Harvard hoops coronation, Penn's
Zack Rosen
comes along, scores 20 points, makes a huge jumper down the stretch and ices two game-winning free throws in the final 30 seconds. And all of a sudden the Ivy League race is legitimately up for grabs with both of these teams having two losses. (Another one-game playoff for the Crimson? Oh boy.) As an at-large entity, Harvard is still in decent shape, but its profile isn't so strong that it can afford to lose at either Columbia or Cornell in its final two games, lose out on the Ivy auto-bid, and still feel safe about being picked to join the group of 37 at-large teams. Big days ahead for Tommy Amaker's team.


Washington 59, Washington State 55
: For the first 10 or so minutes of the first half, it looked like Wazzu was going to hand its in-state opponent the type of loss that would severely damage Washington's at-large chances. But the Huskies fought back and, as the AP report notes, won the game's most important battle -- at the charity stripe: "Ultimately, the game came down to free throws. WSU (14-14, 6-10) went 11 of 12 to keep the game tied at 28-all despite shooting 27 percent in the first half. In the second half, the Cougars shot 6 of 20 from the free throw line, while the Huskies, who only went 2 of 5 in the first half, finished 17 of 24." The win keeps Washington on the right side of the bubble for now, but UW's marginal profile might not be able to survive a loss at either USC or UCLA going away.

Xavier 65, Richmond 57
:
Kenny Frease
's season highs in both points (19) and rebounds (14) helped carry Xavier to an ugly but ultimately victorious Saturday. A loss here would have kicked Xavier off the bubble for good and almost certainly, barring an upset in the A-10 tournament, ended Chris Mack's 100 percent NCAA tournament hit rate in his XU tenure. Instead, the Musketeers live to fight another day.


No. 21 San Diego State 74, Colorado State 66
: The Rams pass at least two NCAA tournament bubble tests: The RPI/SOS numbers are great, and they sure do look like a tournament team. But will that be enough? A win in Viejas Arena would have provided a tidy bookend to this week's huge victory over New Mexico, but the loss isn't a huge deal. Colorado State, which is undefeated at home in Mountain West play, hosts UNLV in Fort Collins in just three days' time. Win that one and the Rams are probably set.
February, 20, 2012
2/20/12
3:25
PM ET
On Saturday,
Purdue lost at home to Michigan State, 76-62
. This was to be expected for a few reasons, chief among them the fact that this Michigan State team
is really, really good
. It is no shame to lose to the Spartans on your own floor. Why, Ohio State accomplished that feat just one week ago. ("Well good for
Happy Gilm- OH MY GOD!
") In other words, it happens.

No, there are other reasons for Purdue fans to be disconcerted. Those reasons have names: Kelsey Barlow. D.J. Byrd.
Barlow, a guard who you last saw dunking on
Jared Sullinger
in Purdue's near-miss in Columbus two weeks ago, was dismissed
by Purdue coach Matt Painter for his alleged role in an altercation at the Where Else bar in West Lafayette, Ind. Friday morning
. Byrd was suspended Sunday for his involvement, which led to an arrest for public intoxication by Indiana State Police. Byrd will likely be back in the lineup soon, but Barlow is gone for good, and after Sunday's loss, Painter found himself lamenting the choice Barlow -- who was suspended just before the NCAA tournament last year -- forced the coach to make:
"It's disappointing, no doubt, because when you put in time with guys and give them a second chance, that's what it's all about," Painter said. "Everybody in this (media) room, you think about the chances you get in life, people sticking by you. I had people sticking by me, and maybe they shouldn't have. And I stood by somebody, and it didn't pay off.

"I feel like I let our team down because I made a decision that was best for an individual (Barlow) and, in the long run, isn't the best decision for the team."
It's interesting to note that guard
Ryne Smith
told Indy Star columnist Bob Kravitz (who wrote the piece linked above) that Barlow's absence would amount to "addition by subtraction." Painter, for his part, said he respected Smith's opinion, but still felt like he had "failed."
If Smith's right, well, that would be good news, because the loss of Barlow and the suspension of Byrd — and any potential internal fallout, or changes to the rotation, or any of the other things you'd prefer to not deal with this late in the season — couldn't come at a worse possible time. Why? The Boilermakers are, as you probably know, a bubble team.
In Monday's latest Bracketology update
, Joe Lunardi lists them as a No. 10 seed. In other words, if the field was seeded today, Purdue would get in the tournament. But they're not nearly in such safe position that they can afford to lose, say, three of their last four, or have any letdowns against the likes of Nebraska and Penn State at home this week.
Do I think that will happen? No. I tend to think Smith's statement means this team will be every bit as galvanized and productive, and maybe even more so, as it was before the dismissal. Plus, let's not overstate Barlow's presence; it's not like the Boilermakers are losing
Robbie Hummel
.
Still, Barlow's mistake really was poorly timed. Purdue is more than capable of handling this latest challenge with aplomb; again, I think they will. But if the opposite happens — if the Boilers start to fray at the seams — they'll be able to pinpoint Friday morning's silly bar scuffle as the moment when a solid but unspectacular season went fully off the tracks.
February, 20, 2012
2/20/12
10:30
AM ET
The Big Ten proved to be the king of college basketball conferences this weekend with a variety of upsets, near-upsets and tough efforts by some of the league's bubble teams. Doesn't make it any easier to rank this league, though.

1. Michigan State:
The Spartans keep rolling. They toyed with the Badgers on Thursday. They fought off a motivated Boilermakers squad Sunday. And with just four games remaining on their Big Ten slate, it's hard to see the Spartans stumbling and squandering the Big Ten title. And they're probably a team that deserves a No. 1 seed in the NCAA tourney.
2. Michigan:
The Wolverines kept their conference title hopes alive with a crucial win over the Buckeyes. They're undefeated at home. And although he's just a freshman,
Trey Burke
(17 points, five assists against the Bucks) is a gamer who's equipped to lead the Wolverines on a run in March.
3. Ohio State:
The Buckeyes don't look like the same crew that recently rattled off six straight wins. They took a major hit against the Spartans last weekend. And their loss to Michigan on Saturday put a serious dent in their Big Ten title hopes. It's easy to look at
Jared Sullinger
's recent struggles (14 turnovers in his last three games, including 10 in the loss to the Spartans last weekend), but
William Buford
has failed to record double-digits in three of his team's four Big Ten losses. Buford, the team's second-leading scorer, finished with six points in Saturday's loss in Ann Arbor.
4. Wisconsin:
The Badgers are certainly an NCAA tournament team. If they play a team that's equally interested in the grind-it-out style that makes Bo Ryan's system go, then they'll have a chance to advance in March. But I don't know how they're going to keep up with some of the nation's more talented offensive squads if their scoring droughts continue (five scoreless minutes in the first half of their loss to Michigan State).
5. Indiana:
Sunday's road loss to the Hawkeyes interrupted a three-game winning streak for the Hoosiers. With
Cody Zeller
inside and the confidence that comes from knowing that they're the only team in the country that's cracked the Kentucky Code, the Hoosiers have the potential to make noise in March. Their struggles away from Assembly Hall, however, warrant doubts.
6. Northwestern:
A few weeks ago, I wrote that the Wildcats would not crack the field of 68 on Selection Sunday. Northwestern had offered few reasons to consider another postseason path. But I've certainly been proven wrong in recent weeks. The Wildcats never quit after losing three consecutive games in late January. They've won four of six, and if you ask Joe Lunardi, they're in the Big Dance right now. A victory over Michigan on Tuesday would be huge.
7. Purdue:
In stretches of Sunday's loss to Michigan State, the Boilermakers took on the "play through adversity" mantra that sometimes fuels inspired performances. But in the end, MSU was too tough and the Boilers lacked the firepower to build on a 38-35 halftime lead. The
D.J. Byrd
/
Kelsey Barlow
drama could change Purdue's postseason outlook.
8. Iowa:
Sunday's win over nationally ranked Indiana was another sign of progress for Fran McCaffery and his staff. Next season's task: win on the road (five straight losses). Some squad from the bottom of the league is going to score an upset in the Big Ten tournament. The Hawkeyes are on that list.
9. Minnesota:
The Gophers are certainly on the outside of the bubble right now, but a victory over Michigan State on Wednesday could push Minnesota back into the discussion. The Gophers don't have a magic number, just a need to score some additional signature victories in the coming weeks when they'll play the Spartans, the Hoosiers and the Badgers.
10. Nebraska:
The Cornhuskers' 23-point win over Illinois on Saturday was an embarrassment for the Illini but a major boost for a squad that's struggled all season. Is it too late to save Doc Sadler's job?
11. Penn State:
The Nittany Lions' loss to Wisconsin in Madison was Penn State's ninth consecutive road loss. This is another team that's been solid in stretches at home but unable to duplicate any sliver of that success away from State College, Pa.
12. Illinois:
I don't care about the Illini's record. I don't care about nonconference wins or their past victories over the Spartans or Buckeyes. That performance against Nebraska this weekend -- an 80-57 loss when they knew what was on the line -- put the Illini at the bottom of these power rankings. They're the worst team in the league right now for a lot of reasons. But on Tuesday in Columbus, they have a crucial opportunity to revive their at-large hopes and potentially save Bruce Weber's job. Don't count on it.
November, 17, 2011
11/17/11
5:20
PM ET
First things first: Iona is a good team. Guard
Scott Machado
is the real deal, forward
Taaj Ridley
is a big man with soft touch, and the offseason addition of former Arizona guard MoMo Jones gives the Gaels the best combination of offensive weapons at the mid-major level.
Second things second: Iona is not a good defensive team. Nor, for that matter, is Purdue.
That might change in the coming weeks. In Purdue's case, you might as well expect it. By the time Big Ten play rolls around, Matt Painter's teams almost always shore things up. And Iona should get better on that end of the floor, too. But today's game --
a 91-90 Purdue win in the Puerto Rico Tip-Off
-- was less an offensive explosion than a demonstration of mutually assured defensive ineptitude.
In a way, the numbers don't tell the story. Sure, a 91-90 scoreline is obvious. Both teams' high shooting percentages and points per possession averages -- both teams scored well above a point per trip -- are obvious. But if you missed the game, you could chalk it up to a high tempo (which is true) and efficient secondary break offense.
That would only be partially true. In reality, both teams guarded horribly. Close-outs on shooters, in so far as they existed, were haphazard and lazy. Rotations in the half court were nonexistent. When either team had a break, it was far too easy for guards to get into the lane and finish. There were few boxouts. Offensive boards were plentiful. When I tweeted about the ugly defense from both teams, Ken Pomeroy replied that both teams were playing D at a "pickup-game level." That's a perfect description, actually: It was pickup defense. Much of the game felt like an exhibition.
Which is not to say the game wasn't exciting.
Robbie Hummel
's late 3 gave Purdue a crucial bucket. At the end of the first half, Purdue guard
Kelsey Barlow
drained a half-court 3 to tie the game at 50. (Yes, the score was 50-50 at halftime.) Without that 3, Purdue's slimmest of winning margins would have been a two-point deficit, and the Boilermakers would be 2-1 rather than 3-0.
Other good news for Purdue: Robbie Hummel played well yet again, scoring 24 points on 10-of-21 from the field (including 4-of-9 from three-point range) and grabbing 10 rebounds in the process. Hummel had one slip in the first half when he lost his shoe, and I held my breath for about three seconds before Hummel smiled, picked up his sneaker, and walked off the court. He looks good.)
Both teams might be encouraged by their offensive explosions. Iona fans have a lot to look forward to; this team can pour it in. Purdue should be pleased, having lost its two leading scorers from a year ago (JaJuan Johnson and E'Twaun Moore) that it could score so easily against a top mid-major outfit. But Painter's trademark Purdue defense was nowhere to be found, and his team seems a long way from finding it. Good thing it's only November.
March, 18, 2011
3/18/11
7:05
AM ET
CHICAGO -- A look at the night games being held here at the United Center:
No. 14 seed St. Peter's (20-13) vs. No. 3 seed Purdue (25-7), 7:20 p.m. ET (TNT)


How they got here:
Few teams have succeeded despite adversity quite as well as the 2011 Boilermakers. In October, Purdue lost star senior Robbie Hummel to his second torn ACL in eight months. Purdue coach Matt Painter was forced to recalibrate a team that had suddenly gone from a top-five national title contender to a team with two stars --
E'Twaun Moore
and
JaJuan Johnson
-- and a lot of unheralded complementary pieces. Painter has succeeded in spades, and though Purdue fans may always wonder what could have been, it's remarkable that this team still has a legitimate chance to reach the Final Four all the same. They'll begin that quest against St. Peter's, who finished fourth in the MAAC but toppled Loyola-Maryland, Fairfield and Iona on the way to a conference tournament title and an automatic NCAA berth.
Players to watch:
Johnson and Moore are well-known to any casual college hoops fan, and it's no secret Purdue's stars have to excel on both ends of the floor for Purdue to succeed. But the Boilermakers also built success on the backs of role players this season.
Lewis Jackson
runs the show at the point,
Ryne Smith
-- who suffered a mild concussion this week but will play Friday -- is a deadly long-range shooter, and
D.J. Byrd
and
Terone Johnson
provide versatility and defense at the forward and guard spots.
One player missing from that list? Guard
Kelsey Barlow
, whom Painter suspended this week for disciplinary reasons. (Smith's concussion and Barlow's dismissal were not connected, as some speculated; on Thursday Painter confirmed Smith caught an inadvertent elbow from Moore in practice.) Whatever the reason for Barlow's absence, the Boilermakers will have to spread their minutes and make up for Barlow's unique ability to guard a variety of positions in Purdue's pressing man-to-man.
What to look for:
Can Purdue right the ship? The Boilermakers ended an otherwise peerless Big Ten season with back-to-back losses (at Iowa, to Michigan State in the Big Ten tournament). Will Purdue's shots start falling again? How will Barlow's absence affect Purdue's defense, if at all? The first question could yield legitimate answers; surprisingly enough St. Peter's boasts a top 20 defense per adjusted efficiency. The second question may be more difficult to gauge, as the Peacocks are among the nation's worst offensive teams. But the shorthanded Boilermakers could go a long way toward proving itself to suddenly skeptical fans by handling a sneaky-tough No. 14 seed Friday.
Quotable:
"It's kind of cool, I guess, in a way, that the President picks us to go to Elite Eight. But it's the reason that you play the games. I guess those people that they have us beating, I know they're not probably too happy about that." -- Purdue forward Johnson on President Barack Obama's prediction that Purdue will advance to the Elite Eight.
No. 11 seed VCU (24-11) vs. No. 6 seed Georgetown (21-10), 9:50 p.m. ET (TNT)


How they got here:
Georgetown's path to the tournament was never in doubt. But thanks to an untimely injury to starting point guard
Chris Wright
, the Hoyas lost their last four games down the stretch and, averaged 51.5 points per game in that span. Wright's injury derailed a major mid-season surge; after starting 1-4 in Big East play, Georgetown won eight straight Big East games from Jan. 15 to Feb. 13, including a reputation-making win at Syracuse on Feb. 9. VCU, on the other hand, took the long road to the tournament. The Rams were one of the last four at-large teams included in this year's field -- much to the chagrin of those who believed Colorado and Virginia Tech were more deserving -- but Shaka Smart's team made the most of the opportunity with its win over USC in Dayton Wednesday night.
Players to watch:
"Key player" is too understated a term for Wright. "Lifeblood" is more accurate. Wright isn't Georgetown's best or most efficient player; that honor goes to preseason Big East player of the year
Austin Freeman
. But the past three weeks have offered a clear picture of how Wright's absence affects the Hoyas, and the picture isn't pretty. The Georgetown guard responded well to four straight days of full practice this week, and the Hoyas will be glad to have him on the court. Defensively, Georgetown will be keen to stop VCU's
Jamie Skeen
, a former Wake Forest transfer who has the size, athleticism and skill to play in the post or stretch defenses with the perimeter shot.
What to look for:
It's never a surprise when a team that loses its point guard struggles to maintain its prior level of play, but it is rare to see a team fall off so far without one player. But it's really rather simple. With Wright, the Hoyas were one of the Big East's best teams. Without him, they were barely mediocre. Wright's presence could be the difference between an early exit and a deep tourney run, but is he really at full strength? And if not, can the Hoyas hold off a hot VCU team that rolled to the CAA tournament final and manhandled an athletic USC team?
Quotable:
"Stairmaster. I think I was on a stairmaster, which is probably harder than anything I've ever had to do. That's very hard. I don't want to do it anymore." -- Georgetown guard Chris Wright, on what he did to stay in shape during rehab.
February, 20, 2011
2/20/11
7:23
PM ET
WEST LAFAYETTE, Ind. -- When did
E'Twaun Moore
know? When did he realize he couldn't be stopped?
Was it in the first half
of Purdue's 76-63 win over Ohio State on Sunday
, when Moore's deep 3 cut OSU's lead to 28-27? Was it the ensuing double-clutch breakaway layup that somehow --
how?
-- found its way through the net? Was it the next two shots, a pair of 3s, one of which splashed in after traveling 25 feet from Moore's extended position on the left wing?
Or was it the final possession of the first half, when Purdue cleared out for their hot-shooting senior and watched as he drained a Jordanesque -- yes, Jordanesque -- one-on-one, 17-foot stepback with one of the Big Ten's best defenders (OSU's
David Lighty
) draped all over him?
Which moment was it, E'Twaun? Take your pick.
Moore smiles. He hesitates.
"I think somewhere late in the first half," he said. "I hit a 3 off a pin-down [screen], and I thought, 'OK, damn. That felt good.'"
"That felt good." Purdue fans, you now have your commemorative T-shirt. You also have three simple words, words that can describe those shots, this win, the maniacs in the crowd, and that classic performance -- and it was a classic -- by one of the nation's most perennially underrated guards.
For his part, Purdue guard
Lewis Jackson
saw it coming the moment Moore cracked his first smile of the game.
[+] Enlarge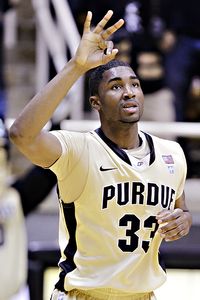 AP Photo/Michael ConroyThe final count was seven 3-pointers for Purdue's E'Twaun Moore on Sunday.
"I know once he gets that rhythm going and steps back and hits a 3 and once he smiles, you know he has it going," Jackson said. "E'Twaun, he may put his fingers up and tell you he hit a 3-pointer, but he rarely smiles. Once he smiles, he's in a zone, and you probably won't stop him that night."
Yes, it was a feel-good day in West Lafayette, but not just because Jackson's smile-based prediction came true, not just because Moore played what he called "definitely the best" game of his collegiate career. Moore scored 38 points on 13-of-18 shooting from the field (including 7-of-10 from beyond the arc!), 5-of-7 from the charity stripe, and added five assists, four rebounds and two steals. It wasn't just that such an insanely efficient, brilliant performance came on the same day Moore surpassed the 2,000 career points mark and became one of only four players in the history of the Big Ten to record 2,000 points, 500 rebounds and 350 assists in his career.
It wasn't just because Purdue found a way to frustrate Ohio State from the inside out just enough to make it difficult for the Buckeyes on the perimeter, where Lighty,
Jon Diebler
,
William Buford
,
Aaron Craft
and
Deshaun Thomas
combined for 4-of-15 beyond the arc.
And no, it wasn't just because Purdue's win handed the former No. 1-ranked Buckeyes their second conference loss in eight days and pulled the Boilermakers within a game of OSU's once-impenetrable Big Ten title lead.
All of those reasons would be enough, but as Jackson told reporters after the game, this one felt good for different, more complicated reasons. It felt good because this season wasn't supposed to.
"We remember in October when everybody was like 'It's over for Purdue, there's no chance, they may finish in the middle of the pack,'" Jackson said. "I think that makes it more satisfying to have a week like this.
"But I also know everyone in that locker room is not that happy, because we still want to get a Big Ten championship," he added. "We still want to chase our goal of the national championship and we won't be satisfied until we get there. But I think this is a great day for us. We'll sleep great tonight."
Jackson was referring to the underlying subplot of Purdue's season: The preseason injury to forward Robbie Hummel. Hummel was recovering from last February's devastating ACL tear when he suffered the same injury in October, which would cause him to miss his senior season and the final one he would play alongside his friends and fellow classmates, Moore and Johnson. Talking to Purdue at Big Ten media day in October felt almost sad; even the most die-hard Indiana fans in the state couldn't have wished such a cruel twist of fate on the Boilermakers.
There was still business to attend to, however.
With minimal dissent
, the college hoops landscape rushed to react to the news, pushing Purdue down their preseason rankings, and suddenly Matt Painter's team -- despite the fact that it still had two very good players in Moore and Johnson -- was mired in doom-and-gloom.
The disrespect did not go unnoticed.
"When you drop somebody in the rankings as much as everybody [dropped us] -- and rightfully so, if you want to drop us a little bit, a lot, OK -- it really spoke to all of our guys except E'Twaun and JaJuan," Painter said. "They take that personal. Wouldn't you take it personal? They take it personal."
The questions about Painter's team -- who else would score, who else could rebound? -- have been answered by a host of role players who fit perfectly inside Painter's high-intensity system. Jackson has taken over point guard duties and defended opposing guards well.
Ryne Smith
is a knockdown outside shooter.
Kelsey Barlow
,
John Hart
,
D.J. Byrd
and a host of other previously unknown glue guys have crashed the glass, made key shots, and
defended at a championship level throughout the 2011 season
.
"We have good players on our team," Painter said. "Maybe they didn't get recruited by everybody, but they're good players. It's in the eye of the beholder. I think they're good; I think they fill roles for us."
Those spot contributions -- especially Jackson's -- have been key. But Purdue's impressive season has been all about Johnson and Moore. Together, the inside-out duo scores 38.6 points per game, which is 52 percent of Purdue's total mark. They've also carried the bulk of the rebounding load. Without those performances, there's simply no way Purdue is 22-5, 11-3 in conference, and within striking distance of the Big Ten conference title as of Feb. 20. No way.
Which is why college hoops fans who wrote this Purdue team off in October -- the same fans who have for four years overlooked the historic and underrated production of Moore and Johnson in favor of Hummel's stardom -- finally need to take note. These seniors, and this team, aren't defined by their teammate's injury. Johnson and Moore still want to write their own story.
For as big a win as they got Sunday, for as many capital-M Moments as E'Twaun Moore delivered, his best -- and Purdue's best -- may be yet to come.
That's something every Purdue partisan should feel good about.