College Basketball Nation:

Kelvin Sampson
March, 24, 2012
3/24/12
3:08
AM ET
ATLANTA -- What we saw Friday night was highly entertaining theater.
Kentucky and Indiana, two members of an elite collection of iconic college basketball programs, gave us all an enjoyable watch in the Sweet 16.
There was a pro mentality to this affair. It was as if two teams were out there to conduct the business of basketball. There were times it was just pure hoops.
If you wanted scoring, you got it.
Plenty of it.
Kentucky put up 102 points, the most scored against IU in 93 all-time tourney games. Indiana countered with 90 of its own.
Before this shootout, no team in the entire tournament had reached 90 points.
In the end, UK moved on to its third consecutive Elite Eight, where it will play Baylor on Sunday. IU is heading home after a tremendously successful and memorable season.
Kentucky had to win this game with
Anthony Davis
playing limited minutes due to foul trouble. He played 25, yet was still highly effective. The national player of the year to many (he's won four of the six awards so far) still was very efficient, with 12 rebounds and 3 blocks to go along with his 9 points.
"I got in early foul trouble,'' said Davis. "By the second half, my teammates told me, 'You're fine. Just come out and play your game. We need you to steal, block shots, rebound and score the ball.'
"So that's what I did in the second half -- don't let the first half get to me and just come out with the same intensity the players came out with in the first half."
And after the game, there was so much respect on both sides. There was no trash talk or bitterness. Kentucky coach John Calipari and Indiana coach Tom Crean are close friends and are genuinely pleased with each other's success.
"Well, I'm truly happy for Indiana and Tom Crean,'' Calipari said. "When he took that job, I told him, 'You are taking one of the top five jobs in our country in basketball. That's it. Indiana's it.'
"And he said, 'Cal, it's going to be hard.' Yeah, it's going to be hard, but it's Indiana. It's Indiana. So you'll get it going. Walking into Kentucky, it's hard, but it's Kentucky. It's North Carolina, it's Duke, it's Kansas. If you have one of those jobs, you have a chance to be a top-five program year in and year out. What he's done there, where it came from, you think about it. They lost 25 games their first year. He had a lot of people griping. Hey, you've got to build the foundation, and he did it."
Crean returned the compliments: "We did a lot of good things, but they're a very talented team. As I said many times, I think it's obvious, they're extremely well-coached. He is a great coach. It's one thing to have talent; it's a whole other thing to get them to be as good as they are defensively."
The players competed at a high level. And after the game, both sides gave each proper respect.
[+] Enlarge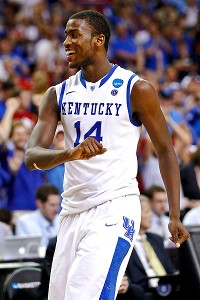 Mark Cornelison/Getty ImagesMichael Kidd-Gilchrist, one of five Wildcats to reach double digits, scored 24 points against Indiana.
"They were knocking down shots, they were being really aggressive and getting to the rim,'' said Kentucky senior
Darius Miller
. "We just had trouble guarding them. I don't think we came out lacking intensity or lacking focus or anything like that. They just did a great job of executing their game plan and coming out ready to play.''
There was something wholesome about this game, which is perfect considering these two schools are in the heartland of the country and the sport.
Their fan bases are two of the most passionate in the country. And while the Baylor-Xavier game was an undercard with a junior-varsity crowd that included empty seats, that was hardly the case for the nightcap. The fans showed and came to cheer. There were times when the Georgia Dome actually got loud, not easy considering the cavernous nature of this building.
Kentucky under Calipari is now like it was under Rick Pitino in the mid-1990s, where Final Fours are expected. UK went to three in a row from 1996 to 1998, winning two of the three — with Pitino claiming the first title and Tubby Smith the second in the third of three Final Fours. Calipari is 40 minutes away from his second consecutive Final Four in Lexington, third overall. But he has to win at least one national title, the first for the school since 1998, to live up to the expectations that were placed on him when he arrived, let alone compare to that Pitino run.
Indiana under Crean is now officially back. The Hoosiers were left in ruins after the Kelvin Sampson NCAA fiasco when departures had the program starting from scratch. After grinding it out the first three seasons, Crean now has reaped quite a turnaround, one that found the Hoosiers in the Sweet 16.
And they could have gone further. Indiana was down three at the half. The Hoosiers were constantly a few possessions away from pushing Kentucky. But they couldn't contain the Wildcats' myriad offensive options.
The Cats were the aggressor, getting to the free throw line 37 times and making 35. The 94.6 percent mark was the highest in tourney history for a team with at least 30 attempts. But that was really the only clear advantage for Kentucky.
"They're great drivers, and they're attacking pretty hard throughout the game,'' said Indiana freshman
Cody Zeller
. "Late in the game, we had to foul just to try to close the margin a little bit.
"They got in the bonus pretty early, and that really helped them out pretty well. And once they got there, they were knocking them down."
Indiana had five scorers in double figures, led by
Christian Watford
's season-high 27 points.
Kentucky also had five, led by
Michael Kidd-Gilchrist
's 24, which tied a career-high.
For whatever reason, the Hoosiers chose not to guard MKG.
"I just saw that they weren't playing me at all, saw it and went for it, that's it,'' the UK freshman said. "We just took turns. I mean, this was a great team win.''
There is something special brewing with this Kentucky team.
The Wildcats can be vanilla at times. But that's OK. They win. And they don't need to boast or brag.
Now, there is one more game to get Sunday for Kentucky to reach its intended destination. Baylor can certainly win. This might be the one team, save a healthy North Carolina, that mirrors the Wildcats.
"It seems like there's only one team that is not allowed to lose in this tournament, and that's us,'' Calipari said. "I don't want them to feel that. That's not the case. What I want them to do is go have a ball playing, be aggressive, play to win. If that's not good enough -- like, I'll be honest with you, folks. If you told me the team we're playing today, Indiana, was going to score 90 points and shoot 52 percent from the floor, I was going to have to tell you, 'Wow, it's been a nice season. Hate to end it that way, but it's been a nice season.'
"And we won. We played very aggressive and did stuff down the stretch that we needed to do offensively."
March, 17, 2012
3/17/12
11:23
PM ET
PORTLAND -- There was 1-17 and Kelvin Sampson and the NCAA investigation and an implosion of a marquee program whose fans love their team because they really love the game of basketball -- and the game had become unwatchable at Indiana.
Misery was Hoosiers basketball over a 10-year stretch since the school last played for a national title in 2002. A proud program found itself cast into the fetid basement of the Big Ten with a 6-25 record in 2008-09.
The return of Indiana basketball from the depths was one of the major stories of this college hoops season. But everyone knew that story would be tested in the NCAA tournament. In college basketball, that's when plots thicken and teams are unmasked, their ultimate truth revealed by the pressure of win-or-go-home.
That the Hoosiers beat a rugged VCU team
63-61
to advance to the program's first Sweet 16 in a decade is meaningful in itself, of course. But the way the Hoosiers prevailed adds heft and substance to the accomplishment.
VCU was pushing Indiana around most of the night in the Rose Garden. It was dictating the pace. And its "havoc" defense forced a stunning 22 turnovers. The Hoosiers' previous worst this season was 18.
There were plenty of reasons to get flustered and to let doubt enter into the team huddle. Only it didn't. And during the final stretch, it was the IU defense, as well as clutch play, that stood out.
"I got to see this game, the last six or seven minutes through our players' eyes," coach Tom Crean said. "And they were so locked in and had such great resolve to never panic and to just truly believe that they were going to win."
[+] Enlarge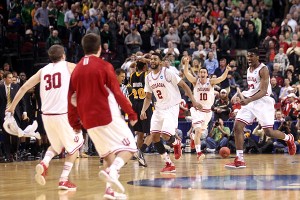 Jed Jacobsohn/Getty ImagesIndiana players celebrate their win over VCU, in which they overcame a 9-point second-half deficit.
Locking in and showing resolve. That sounds a bit like ... Indiana basketball.
Defense? VCU led 57-48 with 12:30 left. The Rams would score just four more points. Sure, some of that was poor shooting. But how can you not credit a defense for yielding that few points over that long of a stretch?
Clutch plays? Indiana scored the final seven points.
Cody Zeller
made two free throws that closed the gap to three.
Victor Oladipo
's 3-point play tied the count. And
Will Sheehey
's short jumper from the side gave the Hoosiers the lead for good with 14 seconds left.
Meanwhile, VCU faltered. Senior leader
Bradford Burgess
missed a pair of free throws with just under a minute left.
Troy Daniels
missed a 3 with 23 seconds left. And
Rob Brandenberg
missed a trey that would have won the game at the buzzer.
Defense often wins championships. But not always. Grabbing 10 steals is great, but VCU needed to be able to produce in the half court. It needed to hit more than 9 of its 30 3-point attempts. And, really, the Hoosiers still shot 52.2 percent, including making 6 of 13 3-pointers (46.2 percent).
"The shots that we got late in the game, I feel good about those looks," VCU coach Shaka Smart said. "I feel good about the guys that were taking them, they just didn't go in. And that's basketball."
Indiana fans know how basketball is. It giveth and it can taketh away. And even during the rise from the ashes this season, there probably was still a pit of worry in most Hoosiers fans' stomachs.
Are we really back? How will these guys react when the screws tighten in the NCAA tournament?
The answers? Yes. And like Indiana basketball players.
June, 7, 2011
6/07/11
2:45
PM ET
Frequent readers have heard this yarn before: Coach lands dream job, coach breaks rules of probation at dream job, coach loses dream job, coach is hit with five-year show cause penalty by NCAA, coach's career is apparently over, coach moves to job as NBA assistant, coach emerges as an up-and-coming NBA coach.
That is the tale of Kelvin Sampson. It added its most recent chapter in late April, when Sampson was one of several candidates to interview for the vacant Houston Rockets job. As yours truly wrote then,
the turnaround was remarkable
: Whether he got the job or not, Sampson was in a position to land the sort of high-profile, obscenely paid,
professional
job so many of his college colleagues envy, and he was about to do it in the most circuitous, unexpected, nontraditional way possible.
Sampson didn't get the Rockets job. Boston Celtics legend Kevin McHale did. But here we go again:
According to multiple reports
, Sampson is one of the top contenders to take over for
fired Detroit Pistons coach John Kuester
. (Remember when half the Pistons' players mutinied against their coach? Yeah, that was Kuester.) Former Atlanta Hawks head coach Mike Woodson is the other top candidate, reports say.
But even if Sampson experiences a similar outcome here, even if he misses out on this job, the bottom line is this: He's in. He's an NBA guy now. His agent is apparently capable of getting him head-coaching looks far and wide. (
NBA Today's Ryen Russillo had a fantastic riff about this on Monday
, by the way. Well worth the listen.) If he misses out, he'll be mentioned again, and maybe the breakthrough is only a matter of time.
If not, still, consider the arc of Sampson's career. He's gone from disgraced cheater and basketball pariah to one of the "hottest" names in NBA coaching circles. He's failed upward in legendary fashion. And, truth be told,
he's blazed a trail for guys like Bruce Pearl
. Hit with a show cause? Unhireable for any number of reasons? No big deal. The NBA doesn't care. It just wants competent coaching.
There might be some nefarious effects to worry about here. After all, the NCAA can't like the notion that proven cheaters don't necessarily have to fade into basketball oblivion. Being a grumpy-looking assistant on Scott Skiles's bench is one thing. Being a head coach is another.
But for now, this is merely worth marveling at. Kelvin Sampson, NBA coach. For fans of college hoops, that is a truly strange turn of events.
April, 27, 2011
4/27/11
9:15
AM ET
Talking about falling upward.
When Kelvin Sampson resigned his prestigious coaching position at Indiana
amid a phone call scandal
that crippled the Hoosiers and earned him a five year show-cause penalty -- just about the harshest individual penalty the NCAA Committee on Infractions can levy -- it was assumed Sampson would go away for a while. A show-cause is designed to instill exile, resigning its victims to (hopefully) deserved trips on the coaching seminar and/or NBA developmental league circuit.
For a time, it looked like Sampson's career would take that path. Soon after Sampson finished his hearing with the COI, he took a job as an advisor to San Antonio Spurs coach Greg Popovich. His next gig -- an assistant's position under Milwaukee Bucks coach Scott Skiles -- was a solid step up, sure. But for a proud coach like Sampson, one who had tasted the pinnacle of the college profession, a move to Milwaukee couldn't have been the ideal career move.
Nevermind all that; Sampson has officially turned his show-cause into an honest-to-goodness career boost. According to the Houston Chronicle, the former Indiana and Oklahoma coach met with Houston Rockets general manager Daryl Morey -- also known as
Dork Elvis on other parts of this here ESPN.com
-- Tuesday. They weren't meeting for fun. Sampson and Morey were meeting about the Rockets' vacant head coaching position.
Now, there's nothing to say that Sampson is going to get the job. Morey has asked to speak to a slew of other candidates, according to the Chronicle. Those candidates include former NBA coaches Lawrence Frank and Mike Woodson and current Rockets assistants Jack Sikma and Mario Elie, all of whom will interview this week.
Nor is there any reason, assuming Morey thinks he's qualified, that Sampson
shouldn't
get the job. The NBA job is about X's and O's and the soft power of player management. It's not about recruiting. It's not about three-way calls. In the Association, you can use your work Blackberry as much as you want.
Still, it is a remarkable professional turnaround for the formerly disgraced IU coach. Consider this: Last summer, Michigan State coach Tom Izzo -- one of the most professionally secure and publicly lauded coaches in the college game -- agonized for weeks about taking a job with the Cleveland Cavaliers. He ultimately deferred, but the point remains: An NBA job is a destination. For many in the college game, it's a dream.
In less than three years, Kelvin Sampson has gone from disgrace, embarrassment, and scandal to the precipice of that dream. Professional turnarounds don't get much more mercurial than that.
September, 13, 2010
9/13/10
8:08
PM ET
By
Diamond Leung
| ESPN.com
Sonny Vaccaro, the so-called godfather of grassroots basketball, checked in with
TrueHoop's Henry Abbott
to point out that the Team USA which just won gold at the FIBA World Championships consisted mostly of players who didn't need to play a lot of college basketball to become elite players.
Long a thorn in the side of the NCAA, Vaccaro of course is happy to provide the reminder since some have claimed that it was the culture surrounding the amateur hoops system he created that was in part to blame for Team USA's drop-off in previous years.
"Look at the players on this team!" says Vaccaro. "You can go down the list. The NCAA would tell you that the solution is for players to spend more time playing for a college but these great players spent very little time in college."

World championship MVP Kevin Durant took the road that has been called broken. "Kevin is the youngest of them all," says Vaccaro. "It's not like his year under Coach [Rick] Barnes at Texas made him who he is. He's had these skills forever! He's the same great kid who played for some Washington AAU team a few summers ago."

...

"I get what David Stern is doing. He's a businessman. By forcing kids to go to college, he's delaying paychecks to them, and helping owners decide who should be drafted high," says Vaccaro. "But for the life of me, I can't figure out why the general public thinks the NCAA should have these players."
Judging from the exclamation marks, Vaccaro appears downright giddy regarding the success of one-and-done players like Durant, Derrick Rose (Memphis), Kevin Love (UCLA), and Eric Gordon (Indiana).
Clearly, he doesn't like that players don't have the option of declaring for the NBA draft right out of high school. We get that.
But did college basketball really have as little to do with their pro success as Vaccaro believes? Did these players really not need seasoning in college under Barnes, John Calipari, Ben Howland and Kelvin Sampson to get to where they are now?
January, 26, 2010
1/26/10
2:00
PM ET
Indiana fans are not patient people. They want success. They were willing to take on Kelvin Sampson's finger-happy phone habits if it meant 20 wins a season. They were willing to deal with Mike Davis' seeming ineptitude if it meant he could land Bracey Wright and D.J. White. They were willing to deal with -- nay, embrace -- Bob Knight's legendary antics because, duh, he was Bob Knight. He was an awesome coach, even when he was horrifying.
[+] Enlarge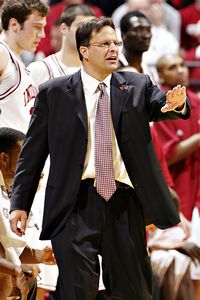 Brian Spurlock/US PresswireTom Crean is 15-35 during his time as the Hoosiers' head coach.
What about Tom Crean? Crean has been charged with rebuilding the rubble after Sampson's departure, when not only did the program face some self-imposed sanctions but every viable player from the Sampson era was poached away by former assistants (
Eli Holman
, et. al.) or decided to transfer to avoid a down year (
Jordan Crawford
). When IU and Crean realized just how little was left from the Sampson era -- a
former walk-on named Kyle Taber was the only notable returner
; he averaged 1.3 minutes per game -- Indiana gave Crean a contract extension outright. It
was like a financial apology
.
Oh, yeah, right. Sorry. We thought it would be better, too. Have some more money and a vote of confidence. We cool now? Cool.
In the second year under Crean's leadership, Indiana has at times looked like a real, grown-up, competitive Big Ten team. It's also, despite far superior talent to last year's hodgepodge squad, looked every bit as bad. The Hoosiers beat Pitt in Madison Square Garden and lost to Loyola (Md.) at home. They beat Minnesota in overtime and lost to Iowa at Assembly Hall.
Are Indiana fans starting to get a little fed up?
FanHouse's Matt Snyder thinks so, and thinks that by this time next year IU fans will have completely
run out the clock on the Tom Crean honeymoon
. No excuses; Crean will be expected to field a successful team. But how fair is that?
Next year Crean will return everyone but shaky guard
Devan Dumes
. He'll also get star freshman
Maurice Creek
back from a season-ending injury, and he'll have another of his own recruiting classes --
which isn't ranked in the top 25
and which lacks a future star in the mold of Creek or
Christian Watford
-- on campus. But he'll still be dealing with some of the same players he has now, and frankly, those players aren't Big Ten stars.
Tom Pritchard
, for example, is a capable starter but nothing more; won't he still be in Indiana's lineup next season? Won't this still be a work in progress?
Snyder's expectations are simple: IU should be competing for a spot in the NCAA tournament as soon as next season. Maybe that's reasonable. Maybe not. But if Crean falls short, it seems far, far, far too early to begin doubting him as the right person to rebuild Indiana. The man inherited a dire situation and, thanks to the wonders of Diet Coke, has banged his over-caffeinated head against a wall with scrappy but untalented players for almost two years. That's not what he signed up for. Shouldn't Indiana afford Crean the same patience Crean has afforded Indiana?
December, 22, 2009
12/22/09
2:30
PM ET
Remember when Kelvin Sampson allegedly took those illegal three-way calls with recruits? You know, Sampson was on probation for violations at Oklahoma, and an Indiana intern found some irregularities in Kelvin's monthly phone bill, and the main source of the problem turned out to be a few three-way calls Sampson had an assistant patch through to his house? This was not in the terms of Sampson's probation,
and it got him and his entire staff booted from Bloomington tout suite
.
That assistant's name was Rob Senderoff. Rob Senderoff, it turns out, got royally screwed.
From the Sporting News' Mike DeCourcy
:
The NCAA appeals committee rejected the request by former Indiana assistant coach Rob Senderoff to have sanctions against him reduced -- despite agreeing the committee on infractions "abused its discretion" in a number of ways.
Yes, you read that right. The NCAA appeals committee heard Senderoff's case and decided the NCAA's committee on infractions (the NCAA has a
lot
of committees) overstepped its bounds in punishing Senderoff with a 36-month show-cause order for his role in the Sampson mess. (The show cause penalty means any institution has to show cause for hiring a punished coach; it effectively bans coaches from the college game for the duration of the sentence. Kelvin Sampson, as you might know, is currently a Milwaukee Bucks assistant.)
Having decided Senderoff got screwed, the appeals committee then did the coach a real solid and ... reduced his sentence six months. Yay?
Naturally, Senderoff's lawyer is furious:
"I do not understand how a penalty that is based in significant part on one or more irrelevant factors can be allowed to stand," said attorney Scott Tompsett of Kansas City, who represented Senderoff. "As someone who has been doing this for nearly 20 years, that makes no sense to me."
It probably doesn't make much sense to anyone, but, um, Mr. Tompsett? You know this is the NCAA, right? And that sometimes the NCAA does things that don't make sense at all? We're clear on this point?
Because that is the best explanation at offer here. Sometimes, the NCAA just screws up.