College Basketball Nation:

Kennedy Meeks
May, 16, 2014
May 16
10:00
AM ET
CHICAGO --
Julius Randle
is gone, but he wouldn't mind watching the
Kentucky
big men battle in the fall.
"Yes, there's going to be some competition," Randle said at the NBA draft combine in Chicago. "But Coach [John Calipari] will figure it out."
Randle wasn't going to return next season. He was a one-and-done player from the moment he arrived, looking like a chiseled NBA veteran. He was the one big man who didn't need seasoning. But the rest did. Toss in newcomer
Karl Towns Jr
., and the Wildcats have as many bigs as any team assembled recently.
Randle's favorite to replace his low-post ability? He's leaning toward sophomore to-be
Dakari Johnson
.
"He's very good in the low post," Randle said. "He's got a nice touch. It's hard to move him down there."
Randle should know. He had to tussle with Johnson in the low block in practice every day. Now, Johnson will take Randle's role as the player whom the others try to knock off in the post -- for position and, possibly, playing time.
ESPN.com is
examining position battles this week
. Here are some center battles to keep an eye on:

Kentucky:
Dakari Johnson,
Willie Cauley-Stein
,
Marcus Lee
versus Karl Towns Jr.: Yes, there are veterans -- three of them -- returning against the young pup. Calipari could figure out how to play all four of them at some point during a game. Johnson, Cauley-Stein and Lee all had their moments in which they shined. Johnson has the best chance to be in the low post, Cauley-Stein can be the top shot-blocker and Lee is a bit of an X factor among the group. Now, enter the newcomer. Towns can do a bit of everything, but he doesn't need to be the primary option. That's key for him and rare for a high-profile Kentucky player. This isn't even mentioning
Trey Lyles
and
Alex Poythress
, who are more positioned to play smaller forward positions next to the bigs. This team is loaded.

North Carolina:
Kennedy Meeks
versus
Brice Johnson
. Meeks is much more of a physical specimen. He can be immovable at times in the low post. Johnson has more finesse to his game. The two of them can play together, but they could take turns sharing the focal point in the middle, depending on the opponent or the flow of the game. They have a chance to both average double figures and nearly seven or eight rebounds per game. If that happens, the Tar Heels could be a force in the ACC and beyond.

Texas:
Cameron Ridley
versus
Myles Turner
. Ridley made himself into a real threat last season. He was nearly a double-double player (he averaged 11.2 points and 8.2 rebounds per game). Ridley could progress even more next season. The Longhorns nabbed a late-recruiting season coup in Turner. Turner is too good, too effective to not be on the court. The key for coach Rick Barnes will be whether he can play the two as a tandem. If he can't, then who is on the court when the game matters most is more of a competition than the overall minutes. Regardless, both players can help Texas take a huge leap next season.

Gonzaga:
Przemek Karnowski
versus
Kyle Wiltjer
. Karnowski is the traditional post player. He can be difficult to move around, and his offensive game continues to develop. Wiltjer can certainly play with Karnowski because he's slender and is much more of a face-up player. The two can be an effective high-low tandem, but if there is a need to see who is on the floor late, then that is also, like with Texas, where the real competition begins. Wiltjer had a year to get stronger, but he won't turn out like
Kelly Olynyk
. Wiltjer is still going to be skill first, strength last. Karnowski needs to be the opposite for the Zags to find the right balance.

LSU :
Jarell Martin
,
Jordan Mickey
versus
Elbert Robinson
. The Tigers have a chance to make the NCAA tournament because of the decisions of Martin and Mickey. The two were effective double-figure scorers last season playing with
Johnny O'Bryant III
. Now, toss in the newcomer Robinson. He'll need to find minutes as well. Coach Johnny Jones can't play all three together, but the minutes will need to be divided up. These are good problems to have, and with 15 fouls to expend among the three, the Tigers are one of the few teams in the SEC with the numbers to hang with Kentucky's frontcourt.

Arizona:
Kaleb Tarczewski
versus
Brandon Ashley
. Tarczewski was one of the most improved players in the country last season. Give him another summer and he should really be a regular to score in the post. But he has to command the ball even more next season without the presence of
Aaron Gordon
. Ashley is coming off a foot injury that sidelined him for the second half of the Pac-12 season. He will play with Tarczewski, but if there is any question who would demand more minutes, then that can be a highly competitive battle in practice. It might be moot for coach Sean Miller since the two can coexist, but dividing up the frontcourt minutes will still be an interesting decision for the staff.
February, 20, 2014
Feb 20
12:00
PM ET
Here's a look at the individual matchups that could determine Thursday night's game between North Carolina and Duke:
McAdoo vs. Parker
James Michael McAdoo
is coming off his worst game of the season. He fouled out scoreless having played just 13 minutes in Monday's win over Florida State. If the Kentucky game was any indication, McAdoo will be up for facing
Jabari Parker
. McAdoo rendered Kentucky's
Julius Randle
, another highly-touted freshman, a non-factor offensively during the Heels' win over the Wildcats.
Parker will be more of a challenge because he's more comfortable stepping out on the perimeter than Randle. McAdoo may want Parker to drift out, however, as Parker has scored more than 20 points in three of Duke's last four games while making more of a concerted effort to stay in the paint.
"He's taking it upon himself to get the basket, he's posting up a lot more. That's where he's most effective," Duke's
Rodney Hood
said of Parker. "Not saying he can't hit a jump shot, [but in the paint] that's where he can punish people."
[+] Enlarge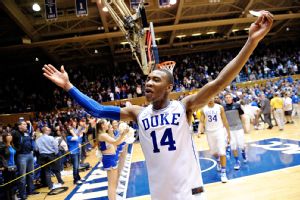 Grant Halverson/Getty ImagesDuke's Rasheed Sulaimon has the length to make scoring a little tougher for UNC point guard Marcus Paige.
Sulaimon on Paige
Rasheed Sulaimon
has started three of the last four games at point and could be matched up with
Marcus Paige
, the Heels' leading scorer. At 6-foot-4, Sulaimon brings a little more length than
Tyler Thornton
or
Quinn Cook
and could make scoring a little more difficult for Paige. Florida State tried the same strategy by using the 6-foot-5
Aaron Thomas
on Paige. It was effective for a half until the Heels started running Paige off more screens and he lit it up with 14 points in a nine-minute span in the second half. That went right along with Paige's recent trend of producing big in the second half after a slow start.
"I don't let my performance in one half dictate how I feel the rest of the game. I'm usually pretty even keeled throughout the game," Paige said. "I'm not going to let a poor shooting performance or a couple of turnovers in the first half affect my mindset for the second half because I know my teammates are counting on me to produce."
Tokoto on Hood
J.P. Tokoto
is accustomed to drawing the opponent's best wing player, having just chased around Pittsburgh's
Lamar Patterson
for the better part of a game. Hood may be the best player Tokoto will have faced this season. Hood isn't one-dimensional. He's shooting 45 percent from 3-point range, yet he can put the ball on the floor and create shots on his own. Tokoto said his defensive strategy doesn't change regardless of the opponent.
"I just approach every game with the mentality that I'm going to beat him up defensively," Tokoto said. "Not so much foul, but just kind of get into him, get the ball out of his hands, keep the ball out of his hands -- whoever it is."
[+] Enlarge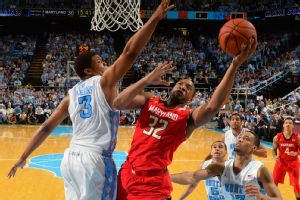 Bob Donnan/USA TODAY SportsUNC's Kennedy Meeks has size on his side, but Duke's Amile Jefferson will try to counter with quickness.
Jefferson on Meeks
Kennedy Meeks
played arguably his second-best game of the season against Florida State (trumped only by his Louisville performance of 13 points, 12 rebounds and seven assists). He scored a career-high 23 points on 11 of 12 shooting from the field, and most of those baskets were point-blank putbacks.
Duke's
Amile Jefferson
, meanwhile, has been outsized all season. He's listed as 6-foot-9, 210 pounds. Meeks is listed at 6-foot-9, 290 pounds.
"For me it's about fighting the other guy because a lot of times they're bigger, stronger, height-wise," Jefferson said. "For me it's about using my quickness to beat them up and down the floor length, on offense and defense. Really it's just about fighting the entire game, making sure they feel me every possession."
McDonald & Cook vs. Slumps
Carolina's
Leslie McDonald
and Duke's Cook are fighting similar slumps. McDonald has made just two of his last 15 from 3-point range and is 8 of 31 from the field since scoring a season-high 20 points against NC State on Feb. 1.
"He's a phenomenal shooter from outside. We need him, and he knows that," McAdoo said. "We're not going to put too much pressure on him because as you've seen, we are still capable. But hopefully [against Duke] his shot is falling. When he is on, he's just another great player, an added dimension."
Cook's recent performance against Maryland highlighted his inconsistencies. It was the only game this season that he didn't record an assist, and he also had three turnovers. He played a season-low 14 minutes in the game.
If either player can emerge in this game, it could be a huge boost for his respective team.
The X-factors
Carolina's Brice Johnson just posted his second double-double of the season with 14 points and 11 rebounds against Florida State. Johnson could see extended minutes if the Heels are hurt by Duke pulling its five out to the perimeter on pick-and-rolls. Johnson is better suited to defend it than Meeks or Joel James.

Duke's Andre Dawkins shoots like every shot is going in and was a big factor off the bench when he scored a season-high 20 in the Blue Devils' win at Pittsburgh in late January.
December, 18, 2013
12/18/13
5:50
PM ET
Since the start of the season, really, and maybe a little before,
Leslie McDonald
and
P.J. Hairston
have typically been discussed as though they were a package deal.
Understandably so: Both perimeter-oriented UNC shooting guards were watching games from the sideline in casual dress for vague eligibility-related reasons. Both players were practicing but not playing. Save an explanation of NCAA enforcement, "Leslie McDonald and P.J. Hairston" worked. It was the easiest shorthand.
The partnership is now officially dissolved.
[+] Enlarge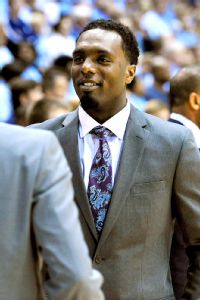 Grant Halverson/Getty ImagesP.J. Hairston will continue to watch UNC from the sidelines.
On Wednesday, the NCAA declared McDonald reinstated and eligible to play against Texas Wednesday night. It said nothing of Hairston,
save that North Carolina had not even submitted a reinstatement request on his behalf
. UNC will get the lesser of the two players back in the lineup immediately. Hairston's fate -- and the miniature circus that has accompanied him -- will continue to hang over the Tar Heels.
And even so, it's
still
great news for North Carolina.
On paper, McDonald's case sounds similar to his teammate's -- caught up, like Hairston,
in a swirl of mouth guard brands, Durham holding companies and paper-trail relationships to convicted felon Hadyn "Fats" Thomas
. In the end, the NCAA found McDonald accepted "the use of luxury cars, payment of parking tickets, a cellphone and lodging" during the spring and summer of 2013.
But his official penance -- a nine-game suspension and a forfeit (to charity) of about $1,800 -- was no more draconian than the one handed to Oregon's
Ben Carter
and
Dominic Artis
for selling their team-provided Nikes just months ago
.
McDonald was, in other words, a fairly regular impermissible benefits case. Whatever Hairston's situation amounts to -- whatever it means for his future, or lack thereof, as a UNC Tar Heel -- it is not that.
In the meantime, North Carolina fans can focus on the upside: Their already very good team is immediately going to get better.
The "already very good" might be the biggest surprise of this entire North Carolina ordeal. The Tar Heels were supposed to be crippled by losing Hairston, last season's efficient and versatile leading scorer. Instead, they have knocked off two No. 1 teams (Louisville and Michigan State, the latter at the Breslin Center), handled Kentucky Saturday in Chapel Hill and remained rightfully ranked pretty much all season. They also peppered their upsets with losses to Belmont and UAB. Occasionally, they've been the most thrilling team in the country; they've always been the most confusing.
Little-used sophomore
Brice Johnson
has become a star; freshman center
Kennedy Meeks
isn't far behind; and point guard
Marcus Paige
has been smooth and commanding. The Tar Heels have played excellent defense -- they allow the seventh-fewest points in the country per possession -- they chase down offensive boards and they don't turn the ball over too often.
The one area where UNC has been out and out
bad
is perimeter shooting: The Tar Heels have made 25 3s all season; Paige accounts for 21 of them. Smartly, UNC shoots the single-lowest rate of 3s to field goal attempts in the country this season -- a whopping 15.9 percent. Credit the Tar Heels for not wasting possessions with shots they can't make, I suppose, but no one wants to be that one-dimensional on offense forever.
McDonald is an immediate panacea. For all of his struggles staying on the floor in what feels like one of those existentially long college basketball careers, McDonald has done one thing repeatedly and with success. That thing is "shooting the basketball." And unlike Hairston, McDonald won't return to a team that has carved its own identity in search of leading-scorer-type touches. He will be a spot-up shooter, a role player, but one whose chief skill is also his team's chief need.
It might not show up against Texas tonight. It might take a little time. But McDonald's return is an unequivocal positive for North Carolina.
Whether it's better or worse or just as good as a joint return with Hairston will have to remain a matter for would and could. He and McDonald are no longer twins in NCAA casual-clothes purgatory, no longer a package deal.
But at this point in UNC's ongoing saga of a season, the Tar Heels will happily take it. One out of two ain't bad.
December, 14, 2013
12/14/13
11:22
PM ET
CHAPEL HILL, N.C. -- North Carolina coach Roy Williams refused to acknowledge it.
But he didn't have to.
The signs were all there in Carolina's
82-77 victory
against No. 11 Kentucky.
The No. 18 Tar Heels have figured things out. They're no longer a team struggling in new roles because they were stretched outside of their collective comfort zones.
They've settled down now to the point where saying Carolina is playing short-handed even seems like a misnomer.
P.J. Hairston
and
Leslie McDonald
didn't dress for the ninth time this season, and it didn't seem to matter.
[+] Enlarge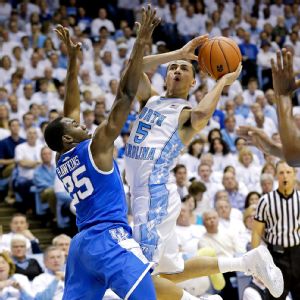 AP Photo/Gerry BroomeMarcus Paige has come a long way from his pass-first days as a freshman last season.
"I don't know if we've figured it out like we're clicking like no other right now, but guys do understand their roles better," sophomore guard
Marcus Paige
said. "We know that we're going to have to play without them until they're ruled eligible or whatever. We've just decided that this is our squad that we're rolling with for the time being."
The Heels have plenty of flaws. Paige is their only consistent 3-point shooter. They're atrocious from the free throw line. They haven't had anyone claim the center spot. But they have learned what their strengths are.
Paige is the face of the successful transitions. As a freshman last season, he was asked only to be a distributor at point guard. With Hairston out, he has moved to shooting guard and has become the Heels' leading scorer.
Early in the season, it wasn't natural for Paige to hunt for his own shot. It's safe to say he has learned now, scoring 21 of his game-high 23 points in the second half and shooting 6-of-8 from the floor.
One of his biggest baskets of the game came while going right at UK center
Willie Cauley-Stein
, who had five blocked shots. Paige completed a teardrop over the 7-footer's outstretched arm to give Carolina a 70-65 lead with 1 minute, 41 seconds left, which kept it at least a two-possession lead until 7 seconds remained.
"He made two unbelievable shots," Williams said. "That little floater on the baseline -- I'm always kiddingly harping on, I don't like floaters until you show me you can make them, and he's coming pretty doggone close."
Junior
James Michael McAdoo
is coming close to erasing worries at small forward. His transition from power forward to reserve duty at the 3 had made him pretty ineffective offensively. He had a four-game stretch in which he didn't reach double figures in scoring and shot just 29.2 percent from the floor.
McAdoo played arguably his best game of the season with 20 points, 5 rebounds and 4 assists. He has put up bigger numbers against lesser competition, but his performance caused Wildcats coach John Calipari to say, "McAdoo made a statement."
"Games like today are huge; it feels a lot better," McAdoo said. "If we would have won and I had zero points, zero rebounds, I'd still be happy, but as a human being I want to be able to contribute to the team."
McAdoo got the ball in positions where he could score. Over and over he'd take passes from the wing and aggressively drive to the basket. That led to fouls and was the reason he tied his season high with 19 free throw attempts.
UK forward
James Young
said McAdoo's offensive outburst took him a bit by surprise, given his recent struggles.
"In the second half, I played most, if not all, my minutes at the 3," McAdoo said. "To be able to log those minutes, it's definitely huge, not only personally, but for the team moving forward."
[+] Enlarge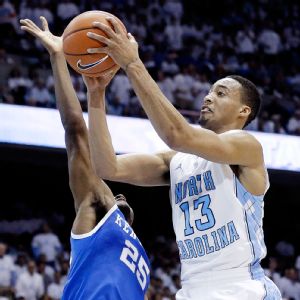 AP Photo/Gerry BroomeJ.P. Tokoto has adapted well to playing more minutes and playing more as a shooting guard.
J.P. Tokoto
teamed with McAdoo to carry the Heels in the first half, with 11 of his 15 points. Tokoto eased into playing more at shooting guard, which, along with McAdoo at small forward, has allowed the Heels to play a bigger lineup, usually with
Brice Johnson
and
Kennedy Meeks
rounding out the five.
"Guys are accepting the challenge of stepping up and producing when they get the chance," Paige said. "J.P.'s playing a lot more minutes this year as a starter, and he's really producing. It's cool to see our team grow and accept the fact that we're going to have to all step up as a group."
Williams was concerned about how Carolina would perform against the Wildcats after a lackluster practice Friday. It was just the second full practice of the week due to final exams changing players' schedules.
Passes floated to areas with no one waiting to receive them. Man-to-man defensive assignments were missed, and their focus was distant. It was the complete opposite of their practice before the Michigan State game.
Freshman guard
Nate Britt
attributed it to players coming off the mental fatigue of final exams.
"Coach might have been worried, because he felt like the intensity wasn't there," Britt said. "But I feel like the players, we were fine mentally coming into the game."
Isn't that a sign of a good team?
Williams still says the Tar Heels have a ways to go. But after beating their third ranked team this season -- and shooting a combined 55.1 percent in the second half of those three games -- he has to be flashing a Cheshire grin.
"We're such a young group, and sometimes an immature group," Williams said. "You don't want to get them too fat and happy."
December, 7, 2013
12/07/13
11:13
PM ET
CHAPEL HILL, N.C. -- North Carolina's
Kennedy Meeks
dropped nearly 40 pounds before the season began, yet he still knows quite well how to throw his weight around.
The 6-foot-9, 280-pounder was at it again Saturday night with 12 points, eight rebounds and two assists in just 15 minutes of play during Carolina's
81-50 win
over UNC Greensboro, which is coached by former UNC guard Wes Miller.
"Down in the post, he still has that weight, so he uses it very well, spinning off guys getting other people in the air, finishing through contact and stuff like that," sophomore forward
J.P. Tokoto
said.
Had North Carolina coach Roy Williams decided to chart center Meeks' development through the first eight games of the season, chances are the freshman from Charlotte would be ahead of schedule.
Since posting 13 points, 12 rebounds and seven assists against Louisville, Meeks continues to give the Tar Heels reasons to be optimistic about his potential. He has scored double figures in three of their past four games, and his eight rebounds against UNCG marked the third time he has led the team in a single game.
"I'm maintaining my goals right now; I can get better," Meeks said.
[+] Enlarge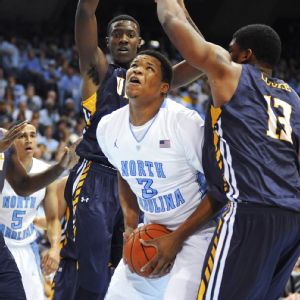 Liz Condo/USA TODAY Sports Six-foot-9 freshman Kennedy Meeks posted his third double-figure point total of the season Saturday.
Who can argue with him after watching him mature the past few weeks? UNCG certainly was outsized by Carolina in the frontcourt and was outscored 40-26 in the paint.
But remember, Meeks also put up 15 points and seven rebounds in Wednesday's win over Michigan State. Those Spartans in East Lansing had comparable big men, and Meeks still stood tall.
"His confidence is slowly growing just because he's getting that experience, especially in some big-time games early in the year," sophomore guard
Marcus Paige
said. "He's had some success, and that's going to help him. I try to stay on him -- keep his highs not too high and manage his lows. He's a freshman; that's going to happen. He has a chance to be really good."
Last season, Carolina didn't really have a good scoring option in the post. This year, they have two.
Brice Johnson
added some strength and has become consistent as a sophomore. He is the team's second-leading scorer. But that was expected.
Meeks was a bit of a wild card, because no one knew how fast he would adapt to college basketball.
Williams has raved about Meeks' ability to throw outlet passes to get the Heels in transition. Against the Spartans, he showed he has good vision in the half court too. In a second-half lineup that featured all three of the UNC freshman, Meeks delivered a textbook backdoor pass to fellow freshman
Nate Britt
for a layup. By the way, Meeks has only three turnovers in eight games.
"Kennedy is great," Paige said. "He takes care of the ball, he makes good decisions in the post, and he can score … I know it's early in his career, but he's showing a lot of positive things."
They were virtually all on display against the Spartans, like a fadeway jump shot, or like an ability to step outside of the paint and shoot a 15-foot jumper with the soft touch of a guard.
And he's not only a scorer. His rebounding total of 53 through eight games trails Johnson for the team lead by only two, despite the fact that Johnson has played nearly 50 more minutes this season.
About the only thing Meeks doesn't have, he still can get as he sheds more weight.
"He's got to keep working on his body, because he needs to be explosive, and he's not explosive in there," Williams said. "He's tipping the ball a couple of times, and if you're more explosive, you go up and get it with two hands and follow or dunk something like that. But offensively he really helps us."
And for now, that's exactly what the Heels need.
November, 24, 2013
11/24/13
11:39
PM ET
UNCASVILLE, Conn. -- North Carolina coach Roy Williams walked over to his players huddled in a circle and jumping after their
93-84 win over No. 3 Louisville
on Sunday at Mohegan Sun Arena.
The 63-year-old cracked a smile and disappeared into the blue, his shiny white top barely visible, as he hopped, jumped and bumped into the players. Williams broke from the pack and gave a salute to the fans before the team ran off, hauling the Hall of Fame Tip-Off championship trophy to their locker room.
The No. 24 Tar Heels haven't had a November win that warranted such an impromptu celebration in a while. Just one week ago, the Heels' loss to Belmont was just their second nonconference home defeat during Williams' tenure. The program has also been carrying an albatross of uncertainty while awaiting a final judgment on the status of
P.J. Hairston
and
Leslie McDonald
.
That's why a little celebration was in order. Carolina needed this one.
"Since June 5
th
it's not been a very pleasant time -- it's been probably the most difficult time I've had as a coach," Williams said. "It has not been fun in every way, shape or form. But today, out on that court watching their excitement, bumping with them, then going in the locker room celebrating, that's what I coach for."
Former coach and mentor Dean Smith used to tell Williams he could accept whatever the outcome was as long as the team played well. Williams said he would respond by saying he'd rather win, but he changed his thinking before the Louisville game because of the many growing pains UNC has endured so far.
[+] Enlarge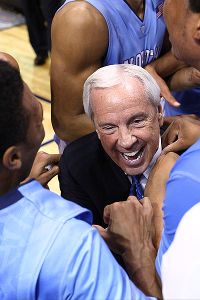 Mark L. Baer/USA TODAY SportsRoy Williams celebrates with the Tar Heels after they knocked off No. 3 Louisville.
"I would have accepted it today. I wasn't worried about result," Williams said. "I really wasn't. I wasn't thinking win, win, win, I was thinking we had to play better. If we played better we'd have a chance."
The Cardinals proved to be the right opponent at the right time for the Heels.
The Cards aren't as deep in the front court and the Heels seem to never run out of big bodies. The Cards preferred to play a faster pace that the Heels enjoy, too. The Cards preferred to press, and the Heels have been playing two points guards in the lineup with
Nate Britt
and
Marcus Paige
.
"We tried to outscore them and I think they were better at it," Louisville coach Rick Pitino said.
Paige said the Heels were "best in that environment" of playing a fast tempo and it certainly helped that they had a good example to learn from in Ty Lawson. Williams showed his team clips from the Heels' 2008 Elite Eight win over Louisville in which they consistently beat the press by quickly getting Lawson an outlet pass.
Carolina, which had just 14 turnovers, never allowed the press to be a problem. Often the hidden effect of Louisville's pressure is end of game fatigue for its opponents. But since Britt and Paige both handled the ball, that wasn't a problem either.
"There were stretches where I was pretty tired, I played 38 minutes [on Saturday]," Paige said. "Nate being able to be out there, me and him together, kept both us from getting too fatigued and worn down, which is what they want to do."
Not many could have predicted a nine-point outing on 3-of-11 shooting from
James Michael McAdoo
, who averaged 17 points, would end in a Carolina victory. But McAdoo's offensive struggles never were a factor thanks to a group that virtually grew overnight.
Williams called freshman center
Kennedy Meeks
"one of the worst players on the planet" for his one-point, three rebound performance in five minutes against Richmond, but added that against Louisville he was "unbelievable."
In his most extensive playing time this season, Meeks nearly posted a triple double with 13 points, 12 rebounds and seven assists. His outlet passes were crucial in helping the Heels break the press.
"I just realize [against Richmond] that's not the way I play, that's not the way I've played my whole life. It was time for me to step up," Meeks said. "This is college now, it's all about me being a man so I did pretty good today."
Britt, who was benched for critical stretches in the second half against Holy Cross and Belmont, also had his best outing of the season. The freshman guard set personal bests with nine points and five assists.
"I just feel like I'm starting to get more comfortable and I can kind of play like myself," Britt said. "Earlier it's just a lot of things I had to learn, lot of things I'm still learning. The more and more I play, I'm starting to get more relaxed and I'm coming into my own."
Paige continued to show his development in his new role as a shooting guard with a career-high 32 points. That marks the third time in the last four games that the sophomore guard has set a new scoring high. He did it with on efficient 9-of-12 shooting.
Paige had high praise for Louisville's
Russ Smith
, who scored a career-high 36 points, saying "there's a reason why he's a National Player of the Year candidate." Paige is playing his way on that list too, whether he realizes it or not.
"I don't know about all that I'm just trying to help this team win," Paige said. "Whether it's dishing the ball, or shooting the ball, whether it's defending, I'm trying to be the guy that consistently brings something to the table for this team."
The win changes the season narrative for Carolina and raises expectations back that may have been reconsidered after the Belmont loss.
"We understand that we still have a chance to be special. We just have to come out and play as hard as we did today consistently," Paige said. "The belief in this locker room is that we're one of the best teams in the country."
They proved it by beating the Cardinals, and on this November that's reason enough for the Tar Heels to celebrate.
November, 23, 2013
11/23/13
5:15
PM ET
UNCASVILLE, Conn. -- Erase for a minute everything you're used to assuming about a North Carolina basketball team under coach Roy Williams.
The No. 24 Tar Heels are not that team.
This team can't impose its pace and use the fast break to outrun teams. It can't merely overpower an opponent on sheer talent. It will have to grind out wins much in the fashion of
Saturday's 82-72 victory
over Richmond in the Hall of Fame Tip-Off Tournament at the Mohegan Sun Arena.
North Carolina (3-1) trailed for much of the first half, and its lead didn't reach double digits until 1:35 remained in the game.
Because
P.J. Hairston
and
Leslie McDonald
have yet to suit up for the Heels, every game could present something new. Williams agreed it's probably the least conventional team he's coached since arriving in Chapel Hill.
"By this time of the year most times, it's fairly close to a set lineup," Williams said.
Nothing is set this season.
Not the lineups.
Not even the playing style.
[+] Enlarge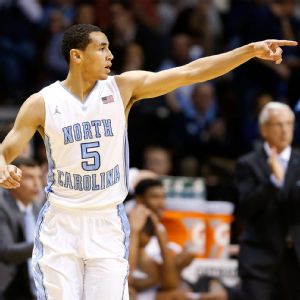 AP Photo/Michael DwyerMarcus Paige made a career-high six 3-pointers and played point guard for much of the victory over Richmond.
The Tar Heels were so unpredictable against the Spiders that sophomore
Marcus Paige
, who made a career-high six 3-pointers and set a career high with 26 points, even played point guard.
Paige is a point guard, but he's had to play shooting guard with their current roster situation. When he moved back to point for a span against Richmond, forward
J.P. Tokoto
played shooting guard for the first time this season.
"I played more minutes at point guard in this game than I probably did all year so far," Paige said. "That was a little different."
Williams generally avoids playing zone defense. But Spiders guard
Cedrick Lindsay
couldn't be defended in man-to-man as he scored a career-high 29 points against the Heels.
Lindsay almost single-handedly forced the Heels to unveil a 1-2-2 zone for stretches throughout the game as he was successful driving the lane for baskets. After this game, zone isn't likely to be a one-time occurrence for Carolina either.
"We have been working more on the zone with this team than any team I've ever had," Williams said. "We gave up some straight drives to the basket, which the zone is supposed to stop that kind of stuff. We've got to get a lot better at it, but we'll play it some more -- there's no question."
The game ventured into uncharted territory for senior guard
Wade Moody
, a walk-on who had played a total of 60 seconds through the first three games. He entered the game with four minutes left in the first half and played three minutes.
"Wade can shoot the ball," Williams said. "I wanted to give him some time today. You never can tell; he may get more time later on."
Forward
Brice Johnson
is making his case for more time -- whether it comes at center or power forward. He came off the bench to record career highs with 24 points and 12 rebounds, his first double-double.
In the past three games, Johnson has played center with
James Michael McAdoo
at power forward during the deciding stretches. It gives the Heels their best scoring options in the frontcourt while
Kennedy Meeks
and
Joel James
are still developing.
"I did it last year, so it's whatever they need," Johnson said. "I might now be able to guard the biggest guy, but I've added a little bit of weight and a little bit of strength so I can hold my own now."
What the Tar Heels lack in flash, they make up with toughness. Williams said he wanted to see how they would bounce back from their first loss.
They showed their resilience from the free throw line after missing 26 free throws in the loss to Belmont. Carolina responded against Richmond by shooting 70 percent from the line. They showed it during the game after falling behind by nine in the first half but taking a 36-33 lead into halftime.
"With North Carolina basketball, you've got five guys on the court that are all capable of going off for big games," McAdoo said. "I think that's really what you just saw today -- them trying to take certain things away and other guys stepping up, which is huge, definitely, as the season goes on."
March, 25, 2013
3/25/13
11:32
AM ET
This is why Roy Williams made it clear, earlier this month, that North Carolina's four-guard starting lineup was fine for now, but not forever.
This is why next year's team -- no matter who stays or goes -- will almost certainly go back to boasting more of a traditional, two-big-guys look.
[+] Enlarge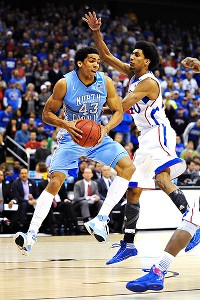 Denny Medley/USA TODAY SportsJames Michael McAdoo had 17 points and four rebounds for the Tar Heels, who failed to keep up with the Jayhawks on Sunday despite a smaller, quicker lineup.
Leading top-seeded Kansas by nine points at halftime, the change that propelled UNC to the NCAA tournament is the thing that ultimately pushed the Tar Heels out in the end. The smaller, faster, higher-scoring offense went cold Sunday, with UNC making just 30.1 percent of its shots for the game (including only 28.6 percent of its 3-pointers). In the second half, in particular, it had no answer for Kansas 7-footer
Jeff Withey
who,
finished with 16 points and 16 rebounds
.
The eighth-seeded Tar Heels got out-rebounded by 17, and the tallest player in its starting line-up, 6-9ish
James Michael McAdoo
, was 5-for-19 from the field in the 70-58 loss in the NCAA Round of 32.
"It was definitely a nightmare in the second half, there's no question about that," Williams said during the post-game news conference. "You know, the change in the lineup, I tried to get the best five basketball players on the court for us. We knew we were giving up some rebounding, but we knew we were adding some things offensively from the perimeter.
"We decided to make that change. Down the stretch we basically decided to stick with it because we thought that was best for our team."
And until Sunday, it was, what with young centers
Desmond Hubert
,
Joel James
and
Brice Johnson
never really establishing themselves during the season, while 6-5 sophomore wing
P.J. Hairston
-- finally inserted as the starting '4' on Feb. 13, in place of Hubert -- often looked like the best player on the floor.
In the end, the Tar Heels won nine of their final 13 games with that starting lineup -- making the NCAA tournament, something that had been in doubt before the switch -- and giving this team something to build upon.
"For me, we had an unbelievably young team, and they tried and tried and tried," Williams said. "We've got a chance to be a sensational basketball team again."
Indeed, the Tar Heels, who finished 25-11 overall, lose only one scholarship senior, starting shooting guard/backup point guard
Dexter Strickland
. But the status of several underclassmen is still up in the air.
Sophomore McAdoo, junior wing
Reggie Bullock
and Hairston all told The News & Observer after Sunday's loss that
they hadn't thought about the NBA yet
– comments you would expect them to make in the moments after their season ended so harshly. Traditionally, Williams meets with players in the weeks after the season to discuss their options, and talks to NBA team contacts on their behalves about where each player would possibly be drafted if they left early.
Williams reports back to each player, offers an opinion, and then it's up to the athlete and his family to make the choice.
None of that threesome are currently listed among ESPN draft analyst
Chad Ford's list of top-20 draft prospects
(although McAdoo was considered a lottery pick last year, had he left). And there's not a whole lot of time to decide.
Although the NBA's deadline to declare for the draft is April 28, the NCAA's early-entry withdrawal deadline is April 16. Players also can apply to an NBA undergraduate advisory committee for their feedback before making a decision, but there no longer is any time to "test the waters," so to speak.
Whatever the decisions of UNC's top three scorers, the Tar Heels do have another
triumvirate of incoming freshmen who could make an immediate impact
.
Nate Britt
, ranked 20th on ESPN's list of incoming ballhandlers, should be a strong back-up to
Marcus Paige
at point guard. Meanwhile, Williams will certainly look to
Isaiah Hicks
and
Kennedy Meeks
-- rated the No. 8 power forward prospect and No. 4 center, respectively -- to bolster a more traditional, comfortable, big-man-in-the-post approach.
"That [four-guard] line-up has been better for us, so we'll stick with that right now,'' Williams said before the ACC tournament. "But Ol' Roy is not going to be small for the rest of his coaching career, I tell you."
Sunday showed why: Going small got the Tar Heels to the NCAA tournament. It just couldn't keep them there.
August, 1, 2012
8/01/12
10:56
AM ET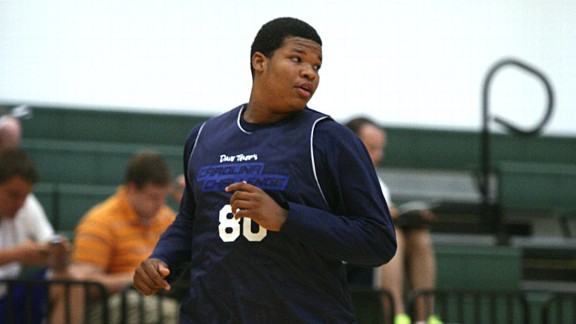 Arianna HoffmanAs the second-ranked center in the 2013 class, Kennedy Meeks has plenty of pursuers.
With his senior season in high school approaching, official visits to colleges looming and seemingly everyone asking about his decision,
Kennedy Meeks understands the importance of the situation
.
"Of course I feel the pressure; coaches call me, [reporters] call me, and this is my dream, to go to college for free [with an athletic scholarship], to play basketball … maybe play in the NBA one day,'' said Meeks, who granted ESPN.com an extended interview for a series about different people's experiences on the recruiting trail. "So I want to play my best [and] show that I am a team player. But not just because of who's here, but for the love of the game."