College Basketball Nation:

Kenny Chery
March, 27, 2014
3/27/14
9:51
PM ET
ANAHEIM, Calif. – Wisconsin shed its Sweet 16 ceiling by shredding Baylor's zone defense in its 69-52 win Thursday in the NCAA tournament. The Badgers advanced to their first Elite Eight appearance since 2005, where they will meet Arizona. The Badgers look to make their first Final Four appearance since 2000.


If they play like they did Thursday, they'll certainly have a good chance. Here are five observations from their victory:
• Wisconsin center
Frank Kaminsky
absolutely dominated his matchup with the Baylor frontcourt. He made 8 of his first 10 shots in the paint alone en route to a game-high 19 points. He also made the going tough for the Bears in the paint with two blocked shots denying
Royce O'Neale
and
Isaiah Austin
at the rim.
• The Badgers did what Nebraska and Creighton before them could not: They picked the Bears' zone apart with crisp passing. Wisconsin had assists on 11 of its first 13 baskets to enjoy a 29-16 halftime lead.
Traevon Jackson
led the way with five assists, but he was not alone. Four other players had at least two assists for the Badgers.
• That rebounding advantage Baylor was supposed to enjoy? Yeah, it never developed. Wisconsin was a fairly average rebounding team this season, outrebounding its foes by only 1.5 per game. But the Badgers controlled the boards against Baylor 39-33. The key for Wisconsin was having its guards rebound.
Josh Gasser
had a team-high eight and Jackson added seven. The Bears had averaged 14.0 second-chance points per game, but were held scoreless in the category in the first half and finished with just seven.
• Baylor's offense unraveled early in the game. It wasn't so much that the Bears couldn't get open shots, but that they were taking uncharacteristic ones. Forward
Cory Jefferson
, who had taken all of 18 3-pointers during Big 12 play, had two attempts from deep in the first half. As the Badgers' lead kept growing, it seemed the Bears' reaction was to force shots. The 16 points they scored in the first half was a season low. It was previously 21 against Kansas State on Feb. 15.
• Baylor's frontcourt missed its share of chip shots, but the inability of the backcourt to loosen up Wisconsin's defense hurt as much. Point guard
Kenny Chery
, who averaged 11.5 points per game, missed his first five attempts from the floor.
Brady Heslip
, the team's second-leading scorer at 11.9 per game, hit a 3-pointer in the first half for his only points in the game.
December, 7, 2013
12/07/13
2:28
AM ET
Kentucky made almost half of its 3-pointers. Baylor made less than a fifth. Had you presented those conditions to anyone familiar with either basketball team before Friday night's hilariously named "Basketball Showdown" -- one that lived up to its name thanks only to the four-overtime women's contest that preceded it -- you would have been met with a consensus. Kentucky would win. Baylor would lose, and probably by a lot.
That didn't happen, and how Baylor instead left AT&T Stadium in Arlington, Texas, with a 67-62 win over the Wildcats instead says much more about where the Wildcats are right now than it does the Bears. Oh, and by the way, those things it says aren't exactly compliments.
At this point, Kentucky's flaws are versatile enough to fit any basketball predilection. Are you more of the heart-and-hustle, body-language-aficianado, these-kids-need-more-experience type? Then turn your attention to the all of the fuzzy things that make basketball fans angriest: The Wildcats' dreary energy level down the stretch in a close game, their lapsed attention spans during timeouts, their poor execution on offense, and their missed free throws (UK shot 52.2 percent).
[+] Enlarge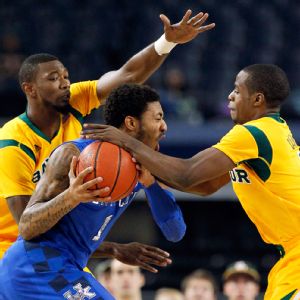 AP Photo/Tony GutierrezBaylor's length on defense gave Kentucky problems, as the Wildcats were ineffective on offense inside the 3-point arc.
But if you are a more analytical sort, Kentucky has plenty for you to nitpick too. Don't get me wrong: The Wildcats have played mostly brilliant offense to date, in large part because a) they have Julius Randle and b) they outrebound everyone on the offensive end. Those strengths were less drastic against Baylor, whose chief strength as a team (outside of perimeter shooting) is Isaiah Austin, Cory Jefferson and Rico Gathers' ability to prevent easy buckets in the paint. Kentucky shot 39.4 percent from inside the arc Friday night, which goes a long way toward explaining how they managed to make eight of their 17 3-pointers and turn the ball over on just 15.0 percent of their possessions, yet still lose.
All of this UK flaw talk risks us overlooking the performance Baylor put together Friday night. Don't forget it: Baylor, which made 55 percent of its two-point shots and scored 1.12 points per trip, was good. But Baylor was allowed to be good in some ways by a Kentucky defense that has been only slightly above average this season. The Wildcats failed to record a single steal Friday night -- no small feat, especially in a game with as much length, physicality, and sideline—margin passing as this one. Even worse, the Bears rebounded 54.5 percent of their misses. That means, in even simpler terms, that well over half the time a Baylor player missed a shot, the Bears got another crack at things a few seconds later.
Credit the Bears for doing so -- and credit point guard Kenny Chery, who turned in a dazzling 8-for-10 shooting night inside the arc, including a massive elbow jumper down the stretch. Baylor's team already looks more capable than the one that needed a reprieve to survive Dayton in Maui, and there are few teams in the country with that kind of interior length.
But credit Kentucky's young defense just as much. Box-outs? The Wildcats were just as lost before the ball went into the air, with almost zero in the way of help rotations, with Willie Cauley-Stein playing some of the worst pick-and-roll defense you'll ever see, with no one on his hip to cover things up -- the whole of UK's defense is a bit of a nightmare for John Calipari right now.
That's the most surprising thing about this UK season to date: The Wildcats just don't guard. Why so surprising? Because in the past decade, Calipari's teams have almost always defended exceptionally well. Rarely have they finished a season ranked outside the top 10 in points per possession allowed. Last season was a sudden and shocking departure from that trend, and while this campaign bears little resemblance thus far -- UK isn't that bad, rest assured -- the concerns of an ever-restless fanbase might rightfully be mounting.
After Kentucky's first loss of the season, when his shellshocked team nearly won a game it had no business winning on the sheer strength of its talent alone, Calipari reminded the media that it was a long season, that he "still had four months to get this thing right." He paused for a beat in the United Center press room and corrected himself: "Well, three and a half months now."
That clock keeps ticking. Is Kentucky getting better?
July, 17, 2013
7/17/13
10:50
AM ET
Editor's note: Over two days, we're releasing the brackets/matchups for 11 of the top early-season events. A thread of previews and info for all 11 tourneys can be found here.
Tournament bracket
for the EA Sports Maui Invitational
When and where:
Nov. 25-27 at the Lahaina Civic Center in Maui, Hawaii
Initial thoughts:
The 2012 EA Sports Maui Invitational will be tough to top.
Chaminade's stunning annihilation of Texas ... Rotnei Clarke's buzzer-beater to lift Butler past Marquette ... North Carolina's uncharacteristic display of mediocrity ... Illinois players hoisting the championship trophy after winning three games by an average of 23.3 points. Each game brought a new storyline.
This year's event could provide similar drama. Although there is only one preseason top-10 team (Syracuse) in the bracket, the 2013 field is far from weak. Gonzaga spent time as the nation's No. 1 team last season, Cal and Minnesota made the NCAA tournament, and Baylor won the NIT championship.
Each of those teams (with Baylor being the possible exception) should take a small step back this season, but all of them will still be solid and contend for NCAA tournament berths. In other words, there's not a dud in this bunch, which leads me to believe that almost every game in this year's event will be entertaining and competitive.
[+] Enlarge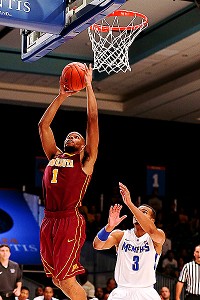 Kevin Jairaj/US PresswireMinnesota will be counting on Andre Hollins to provide a scoring punch again this season.
Matchup I can't wait to see:
Minnesota vs. Syracuse. Event organizers couldn't ask for anything better than a first-round game pitting two of the biggest names in coaching: Pitino and Boeheim. Ha-ha. Gotcha. This isn't Hall of Famer Rick Pitino we're talking about. Instead it'll be his son, Richard, coaching for Minnesota against Jim Boeheim's Orange. Richard is in his first season with the Gophers after being plucked from Florida International to replace Tubby Smith. Minnesota lost two of its best players (forwards
Trevor Mbakwe
and
Rodney Williams
) to graduation, but guards
Austin Hollins
and
Andre Hollins
return in the backcourt and may be able to make this game competitive, especially since Syracuse is replacing a few key parts as well.
Potential matchup I'd like to see:
Baylor vs. Gonzaga. Baylor shouldn't have any problems beating Chaminade in the opening round and advancing to the semifinals against either Gonzaga or Dayton. The Flyers are always pesky, but I still think Gonzaga wins that game. Baylor and Gonzaga have faced off in two of the past three seasons, with Gonzaga winning both times by single digits. But I'd pick the Bears in this one. The Zags lost their top two post players (
Kelly Olynyk
and
Elias Harris
), and Baylor's strength is in the paint with
Cory Jefferson
,
Isaiah Austin
, Ricardo Gathers,
Taurean Prince
and Royce O'Neale. Gonzaga boasts one of the country's top point guards in
Kevin Pangos
while Baylor is searching for a replacement at that position following the graduation of Big 12 scoring leader
Pierre Jackson
. Still, Baylor's overall depth in the backcourt is strong with experienced players such as
Brady Heslip
and
Gary Franklin
there to guide newcomers like Ishmail Wainright, Kenny Chery and Allerik Freeman.
Five players to watch
Justin Cobbs, Cal:
Transfers are hit and miss, but things couldn't have worked out any better when Cobbs left Minnesota for Cal a few years ago. The athletic guard averaged 15.1 points and 4.8 assists a game as a junior last season. He'll be asked to do even more following the departure of leading scorer
Allen Crabbe
to the NBA.
Tyler Ennis, Syracuse:
Returning standouts
C.J. Fair
and
Jerami Grant
are more recognizable names, but no player in the Maui Invitational will be under as much scrutiny as Ennis, the freshman point guard who has been tabbed to replace NBA lottery pick
Michael Carter-Williams
. How Syracuse fares in the ACC and, ultimately, the postseason will depend heavily on how Ennis performs in his first season of college basketball.
Andre Hollins, Minnesota:
Hollins led the Gophers in scoring last season with 14.6 points per game. His 41-point effort in a victory over Memphis in the Battle 4 Atlantis was one of the top performances in college basketball all season. He should combine with Austin Hollins (no relation) to give Minnesota one of the more formidable backcourts in the Maui field. The biggest issue for the Gophers will be finding scoring down low.
Cory Jefferson, Baylor:
The Bears power forward is fresh off a breakthrough season in which he averaged 13.3 points and eight rebounds a game. Jefferson was particularly effective in the postseason, when he averaged 21.2 points over a five-game stretch to lead Baylor to the NIT championship. The freakishly athletic Jefferson will combine with the 7-foot Austin and a bruiser in Gathers to give Baylor one of the nation's top frontcourts.
Kevin Pangos, Gonzaga:
A point guard, Pangos ranked third on the Zags in scoring last season with 11.9 points per game and averaged a team-high 3.3 assists. He shot just 42 percent from the field, a number that will need to increase this season. The loss of leading scorers Olynyk and Harris (who combined to average 32.4 PPG) means that Pangos will likely be asked to score at a higher rate.
Title game prediction:
Syracuse over Baylor
Baylor has the size, depth, talent and experience to hang with Syracuse, and winning the championship of such an elite tournament would be a huge momentum boost for a squad loaded with potential. Syracuse, though, is an incredibly difficult team to prepare for on short notice because of its unorthodox style. Even though they lost Carter-Williams,
James Southerland
and
Brandon Triche
, the Orange aren't short on experience, depth or talent either. Fair averaged a team-high 14.5 points and seven rebounds a game for a team that reached the Final Four last spring. Grant showed flashes of brilliance when his minutes increased during Southerland's suspension, and
DaJuan Coleman
,
Rakeem Christmas
and
Baye Keita
are poised for breakthrough seasons. They've proved they can excel at the highest level. Look for Syracuse to win an entertaining championship game.
Who others are picking:
Eamonn Brennan:
Baylor over Syracuse
Jeff Goodman:
Gonzaga over Syracuse
Andy Katz:
Syracuse over Gonzaga
Myron Medcalf:
Syracuse over Baylor
Dana O'Neil:
Syracuse over Baylor