College Basketball Nation:

Kerwin Okoro
September, 27, 2013
9/27/13
5:30
AM ET
1. UCLA made it official with a press release on Thursday that former UTEP signee
Isaac Hamilton
is on scholarship and enrolled for fall classes. But the release wasn't clear about if he was going to play this season. There was a reason for that omission. According to multiple sources, UCLA has moved on a waiver for Hamilton to play this season. The Miners didn't release Hamilton from his National Letter of Intent and his appeal to the NLI was denied. UCLA is still holding out hope Hamilton could be cleared. The 6-foot-5 Hamilton is prepared to sit and the stated purpose of leaving UTEP for UCLA was to be close to his ailing grandmother. UCLA coach Steve Alford said the versatile guard would fit in well with the Bruins. He would. UCLA needs another potential scorer and someone with length on the perimeter. Hamilton averaged 23.5 points last season for St. John Bosco High in Bellflower, Calif. If Hamilton were to get eligible, then the Bruins would add depth in October to a position that desperately needs it.
2. Memphis doesn't open the season until Nov. 14, which means the Tigers can't start practicing Friday like many of the schools that open the season Nov. 8. That's fine with coach Josh Pastner. He wants to manage the preseason grind while pushing his guys, but knows he needs to preserve them some for later in the year. He said the Tigers will start practicing Oct. 3 and within the first week he will give the Tigers a three-day weekend off. He said he remembered his former coach, Arizona's Lute Olson, building in a three-day break for the Wildcats to avoid preseason burnout. The Tigers will have a veteran team entering the American Conference, especially on the perimeter, and the maturity with the team should lend itself well to handling a spread out practice schedule early in the preseason.
3. Credit new Rutgers coach Eddie Jordan for his patience. He didn't overreact to the potential thin roster when he took over. He collected some transfers, but all with a story to tell, and waited out the waiver process. And it worked. Rutgers found out Thursday Pitt transfer
J.J. Moore
was eligible immediately. That came on the heels of Iowa State transfer Kerwin Okoro getting his waiver.
Jerome Seagears
was allowed to come back to Rutgers after a brief spring stint at Auburn without any penalty. The Scarlet Knights now have the depth to be competitive and an intriguing team in the American Conference before moving to the Big Ten.
September, 26, 2013
9/26/13
2:15
PM ET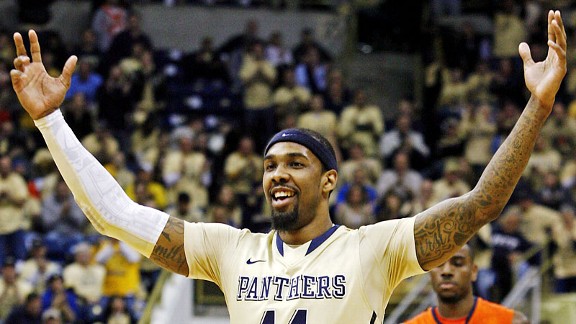 Charles LeClaire/USA TODAY SportsPittsburgh transfer J.J. Moore could help Rutgers return to respectability much more quickly than first thought.
When a coach loses his job the way Mike Rice lost his job at Rutgers last spring — when video of insane practice abuses becomes a mainstream living-room talking point that furrows brows on the "Today Show" and raises cackles on "Saturday Night Live" — you do not expect the recovery to be quick.
Usually, Rice-level disasters are attended by nuclear fallout. Players flee the scene. Recruiting connections dry up. It takes years to restore a program's good name, to prove to parents that their kids are in good hands.
Considering Rutgers is not exactly a paragon of historical basketball success — and considering the fact that Rice's motivational tactics had yet to yield their first .500 season at the school — well, the calculus should be simple. Rutgers should be awful in 2013-14, and not much better beyond it.
Not so much, actually. The Scarlet Knights might not contend for a national title in 2013-14, but they are looking shockingly competitive. And it's all thanks to transfers.
Yes, transfers, specifically the legislative relief waiver some transfers can receive after appealing the NCAA and proving their move was due to financial hardship or family illness. That's how
J.J. Moore
, a junior Pittsburgh wing who played good, efficient basketball in just under 20 minutes per game for Jamie Dixon last season, became eligible for the 2013-14 season, as Rutgers announced Monday. The Long Island native transferred to Rutgers to be closer to his family, specifically his daughter and his ailing grandfather, and will be allowed to play right away this season.
Just a few weeks ago, that same mechanism — the legislative relief waiver — appeared to be working against the Scarlet Knights in arguably unfair ways. Rutgers fans, and frankly the entire college hoops world, were puzzled (which is putting it politely): Just months after Rutgers' players began to stream out of the post-Rice morass, receiving waivers along the way, Iowa State transfer
Kerwin Okoro
, whose father and brother passed away in New York last winter, was denied his claim. The NCAA's famed inconsistency seemed to be at work. The system appeared to be broken.
That's what I was writing about
, anyway, but Rutgers had more immediate concerns.
And then, just like that,
the Okoro insanity quietly lifted
. Moore followed. Now Rutgers' lineup will feature
Myles Mack
and
Jerome Seagears
, products of Rice's touted 2011 recruiting class, in the backcourt, with Moore on the wing and senior
Wally Judge
and sophomore
Kadeem Jack
in the frontcourt.
That is
not
a bad lineup. Is it good enough to compete with Louisville for the inaugural American Conference crown? No. Is it good enough to make the NCAA tournament? Possibly, though I tend to doubt it. But it
is
good enough to avoid the archetypal post-scandal season — single-digit wins, depressed fans who resign themselves to cheering for floor burns, court-storms after otherwise mediocre conference wins. Nobody wants that, and Rutgers is likely to avoid it. Meanwhile, Jordan's hands aren't tied by sanctions or lost scholarships. The uniqueness of Rice's firing, as crazy as it was, doesn't come with the usual tangible downsides.
The lesson, as always: The legislative relief waiver giveth and the legislative relief waiver taketh away. Rutgers finally got on the right side of that equation this week.
September, 17, 2013
9/17/13
5:00
AM ET
1. Rutgers coach Eddie Jordan said Iowa State transfer Kerwin Okoro will be the Scarlet Knights' fourth guard. Okoro, who received his waiver to play immediately due to his personal hardship, can also play small forward. "Our three guards are all under six-feet tall,'' said Jordan. "We need Kerwin to defend bigger guards.'' Rutgers is still waiting on Pitt transfer
J.J. Moore
's waiver appeal to play immediately. Jordan said the Scarlet Knights are hoping to hear something this week. Rutgers got good news last week to help clean up a depth issue when
Junior Etou
was deemed a qualifier. Meanwhile, Illinois coach John Groce said Oregon State transfer
Ahmad Starks
is still waiting to hear on his waiver to play immediately. The same is true at Oregon where the Ducks are awaiting news on whether Houston's
Joseph Young
will be allowed to play immediately without sitting out a year.
2. Ole Miss got two injured players back but lost another. Ole Miss coach Andy Kennedy said sophomore
Terry Brutus
is done for the season with a torn ACL, suffered last week in practice. But the Rebels do have forward
Aaron Jones
back from his ACL injury, which occurred against Kentucky on Jan. 29. Forward
Demarco Cox
is also back after missing all but seven games last season with a stress fracture in his foot. The depth can still be there for the Rebels up front, despite the loss of Brutus. But the Rebels will go as far as
Marshall Henderson
can carry them. He is currently suspended but the SEC's top scorer is expected to be back in the good graces by the heart of the season, giving Ole Miss a potent offensive option.
3. The NIT Season Tip-Off is supposed to release its long-awaited bracket Tuesday. This is what we know for sure: the four hosts are Arizona, Duke, Rutgers and Alabama. And you can lock in Arizona and Duke will be on opposite sides of the bracket so they can meet in a potential final at Madison Square Garden the day after Thanksgiving on Nov. 29. If that occurs then you'll get a treat of seeing two of the top freshmen in the country in Arizona's
Aaron Gordon
and Duke's
Jabari Parker
. Both of these teams should be considered Final Four contenders. The NIT bracket has been "the best secret in college sports,'' according to Arizona coach Sean Miller. That's called sarcasm and he's right. The bracket has taken way too long to be revealed.
September, 1, 2013
9/01/13
2:08
PM ET
By
ESPN.com staff
| ESPN.com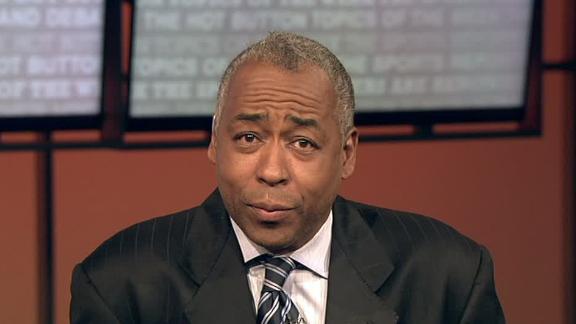 John Saunders shares his thoughts on the NCAA denying a hardship waiver to Kerwin Okoro, who in the span of two months lost his brother to cancer and his father to a stroke.
August, 30, 2013
8/30/13
5:30
PM ET
On Wednesday of this soul-crushingly slow and college football-dominated week,
your humble author officially decided to give up on untangling the NCAA's rules
-- let alone its various hardship waiver guidelines and decisions -- regarding transfers. The impetus for this (jokingly exaggerated) came from a pair of recent transfer appeals cases:
[+] Enlarge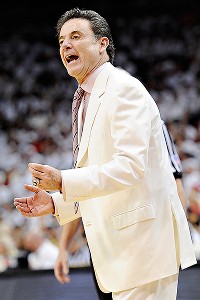 Jamie Rhodes/USA TODAY SportsLouisville coach Rick Pitino said the decision not to let former Cardinals forward Rakeem Buckles transfer to Minnesota "makes no sense."
1. The NCAA failed to grant Rutgers transfer
Kerwin Okoro
a legislative relief waiver allowing him to play right away at his new school, Rutgers, despite appearing to fit the textbook application of such a waiver. Okoro's father
and
brother passed away last winter, spurring his move from Iowa State to Rutgers.
2. More recently, the NCAA decided that
Rakeem Buckles
, a three-year Louisville forward who transferred to Florida International last season, could forget about playing right away at Minnesota. In fact, he could forget about playing at all. Instead, Buckles would not be allowed to transfer to Minnesota, period, and instead would have to stay at a school that a) his own coach (Richard Pitino, new Minnesota head man) also just left, b) does not have a scholarship for him to return to, and c) is not eligible for the NCAA tournament in 2013-14, thanks to NCAA Academic Progress Rate penalties.
The NCAA is no fan of players-as-nomads, and as such becomes much more circumspect when a player is seeking to transfer for a third or fourth time in his career. The Eligibility Center is surely even less enthusiastic about players who leave their second destination so quickly; Buckles spent his customary transfer season on the sidelines and never played for FIU. Even if those factors aren't in play, there are myriad academic hurdles the player must leap. The Buckles decision was confusing, given how little fuss has attended players who have sought to leave schools ineligible for the NCAA tournament, but with a second move in the offing, it was fair to wonder whether the NCAA had some extenuating academic reason for denying Buckles a scholarship and a shot to play in the tournament.
As he told ESPN's Jeff Goodman
, Buckles' old coach (and the father of his new one) Rick Pitino was just as confused as the rest of us:
"I'm just blown away by it. It makes no sense. It's amazing the NCAA can do this," Pitino told ESPN.com. "He's a model student-athlete who had a 3.2 GPA when he left Louisville. He just wants a chance to play in another NCAA tournament."

"[Buckles] had no idea that the program wouldn't be able to play in the NCAA tournament when he transferred to FIU," Rick Pitino said. "This is a good kid who has dealt with plenty of adversity over his career. It's completely unfair."
That's all well and good, and I'm likely to agree. Within the NCAA's current transfer regulations -- which basically just make your eyes crust over when you try to read them; I don't recommend it -- there doesn't seem to be an obvious impetus for completely denying Buckles' right to change schools, let alone play right away. All recent precedent appears to be in his favor.
But the most important part of Pitino's quote, and one he surely included intentionally, is Buckles' GPA status when he left Louisville. That goes a decent way toward answering whether there is an academic reason for the NCAA's restrictive decision. Barring a nightmare year of classes at FIU, it doesn't seem that way.
What's going on here? What besides academics could make the NCAA respond to a transfer request with a flat-out "no?"
It won't say, of course, nor should it. But let's play pretend for a second. You are the NCAA. You are an organization that is openly concerned about the transfer trend in college basketball. You think transfers are harmful to the well-being and long-term futures of student-athletes in the first place, and you may be right! And now they're happening more than ever. (
Ignore for a moment that this is also true of coaches
, who get paid lots of money, because the NCAA membership ignores it, too.) Are you going to be particularly excited by the idea of a player who followed his old assistant coach from Louisville to Florida International, and now wants to follow him to Minnesota --
and
play right away? No, you are not. You are instead going to be worried about the appearance of mercenarism, about a player moving twice in two years to follow a first-year coach twice over, about what. You are worried about how it looks, about the message it sends coaches scouring every possible shortcut through your legendary thicket of rules.
At least, were I disposed to think about these things this way, that's how I would think. It's one possible explanation, anyway. I'd love to hear another.
August, 28, 2013
8/28/13
4:35
PM ET
Transfers seem straightforward. A player leaves one school and attends another, and has to sit out one year before he can play for his new team. Simple, right? Wrong: Even that seemingly structured rule is beset by a score of academic timeline requirements and bureaucratic processes.
A player must receive a written permission-to-contact letter from his current coach. He must have spent a full year in "academic residence" -- i.e., attending classes as a full-time, 12-credit-hours-or-insert-your-school's-equivalency student -- before he is eligible to get back on the court at his new school. There are "4-4" transfers and "2-4" transfers and different rules therein; there are issues involving full, partial, or non-qualifying academic status; and there are waivers and appeals you can make based on specific circumstances that can change the preexisting requirements, just like that.
How dizzying is this stuff?
Here's the NCAA's brochure
[PDF] for student-athletes interested in learning more about the transfer process. Ostensibly, this document was created to make the rules easy to understand and apply. It is filled with handy little case studies; it even has a glossary of important terms. And if you can read past the third page without help from prescription ADHD medication, well, I'd love to shake your hand. This stuff is
brutal
.
Which brings us to today's latest transfer news,
reported by ESPN.com's Jeff Goodman
:
Former Louisville forward Rakeem Buckles, who sat out last season at Florida International, will not be allowed to follow Richard Pitino to Minnesota, multiple sources told ESPN.

Buckles spent three seasons at Louisville and suffered two major knee injuries. He left the Cardinals and sat out last season at FIU, but decided to transfer to Minnesota and apply for a waiver to play immediately because Florida International was hit with a postseason ban by the NCAA for academic issues dating to the Isiah Thomas regime.
As Jeff writes, the surprise here stems from the fact that a player wouldn't be allowed to transfer away from a school that is currently not barred from the NCAA tournament for Academic Progress Rate violations. We've seen a handful of recent players in similar situations move to new schools and be eligible right away (see: Huskies, UConn). One of them is already working out in Minneapolis: Current Gophers guard
Malik Smith
, also formerly of FIU, transferred to Minnesota and was granted a waiver by the NCAA this summer. He'll play this season, but Buckles won't. Huh?
That's hardly the only confusing recent transfer news. Last week, Kerwin Okoro, a player transferring from Iowa State to Rutgers, was denied a hardship waiver by the NCAA. Okoro appealed to play immediately, as many players in recent seasons have, under the medical or family hardship "legislative relief" exemption (see what I mean?) after losing his New York City-based father and brother in the matter of two months last winter. But Okoro's appeal was denied, which raised red flags out in Rutgers,
where the Star-Ledger has tried to divine
why so many former Scarlet Knights were granted post-Mike Rice appeals this spring while Okoro, who is entering the program recovering from family tragedy, was not. The key quote from an NCAA spokesman:
"It's not a formula. It's not a math problem," NCAA spokesman Christopher Radford said. "The guidelines evolve and we see different circumstances and scenarios, and the guidelines evolve with that to make the process better and more efficient."

This comes amid the Star-Ledger's attempt to explain the transfer hardship/relief/whatever appeals process, and the various NCAA subcommittees each case passes through on each various appeal attempt. It all ends at the desk of the Legislative Council Subcommittee, which "may not even be burdened by the guidelines it has set for the NCAA staff."
"The subcommittee essentially can make whatever decision they think is the appropriate decision as a representative of the membership," Brooks said.
It would seem that Okoro is a textbook case, a player who left New York to play in the Midwest but felt compelled to return when his family suffered not one but two deaths in a brutally short period of time. We've seen plenty of relief appeals granted for far less in recent seasons, and while that may still happen in Okoro's case, it begs the question: What is the difference here? Where are the guidelines? How big is the box? Is it even a box in the first place?
The same goes for Buckles. This is not his first transfer, which changes things, because the NCAA has been concern-trolling about the purportedly destructive nature of player nomadism for years now. By attempting to transfer a second time after just one year at his previous school, Buckles faces a higher burden of academic proof. But even so, the circumstances of the case seem like a no-brainer: A player is leaving a school that is banned from the NCAA tournament and that now no longer even has a scholarship available for him to return to play one last year for his former coach at that coach's new school. And not only was his hope to play right away at Minnesota dashed, he was told he
couldn't transfer at all
. Maybe that aligns with the NCAA's rules on academic status for transfers. It's hard to know, because the player's privacy is worth protecting. But even if we're talking rules and not "guidelines" … why? Because that would be bad for Buckles? Even though he clearly disagrees? I know, I know, the NCAA is our last societal bastion of early-20th century class patriarchy. But really?
Simplify the transfer rules. Simplify the appeals guidelines. Simplify the rules. This was among NCAA president Mark Emmert's primary goals when he took on the job of representing the NCAA membership, and he has managed to streamline other areas of the rulebook. There are now more straightforward (and strict) punishments for violations, less confusion about texting recruits, no penalties for eating cream cheese, etc. etc. But the transfer rules remain.
There is some movement on this front: Last November, the Division I Legislative Council's Subcommittee for Legislative Relief (no joke, that's what it's actually called)*
changed the guidelines for hardship waiver requests
in an effort to make application thereof more consistent. Clearly, that hasn't worked out too well, but it's something -- and indicative of a larger effort to make transfers less of a thorny mess.
In a perfect world, players would have as much personal agency as the men paid handsomely for marshaling their talents. In a perfect world, the NCAA wouldn't need to create 20-page pamphlets to educate students on transfer rules, because those rules would be so simple as to be intuitive. In a perfect world, the NCAA wouldn't feel the need to tell 22-year-old men and women it knows what's better for their academic futures than they do.
We do not live in a perfect world, unfortunately, and some of the above will never happen, at least not as long as the NCAA is still kicking. But the current system is at best poorly misunderstood and at worst irreconcilably broken. Either way, it's time to start over.
*Oh, and while we're at it, can you guys stop naming things the Division I Legislative Council's Subcommittee for Legislative Relief? Call it the Appeals Group. Rebrand. Football Group. Basketball Group. Rules Group. Investigations Group. Enforcement Group. Whatever.

Rebrand, guys. Communicate simply, clearly, declaratively. It really doesn't have to be this hard.
August, 22, 2013
8/22/13
5:00
AM ET
1. The NCAA has lacked consistency on granting waivers, whether for an ill relative, in the wake of a coaching firing, following an NCAA violation or any other issue. But the national office cannot, rationally, be inconsistent on waivers when it deals with the same case. If a former Rutgers player is eligible immediately at a new school (
Mike Poole
at Iona and
Vincent Garrett
at Green Bay) because he fled the reign of former coach Mike Rice, then a new player (Kerwin Okoro or
J.J. Moore
) should be granted the same treatment and be allowed to play at Rutgers immediately. Okoro's case, involving the loss of his brother and father, has been well documented -- he clearly has a sympathetic reason to be granted a waiver. But there is a fairness issue for Rutgers that should come into play if departed players are getting a better deal. Two more --
Derrick Randall
at Pitt and
Eli Carter
at Florida -- may also get immediate eligibility. The only break the Scarlet Knights got was when
Jerome Seagears
was not penalized after he came back to Rutgers from Auburn two months after announcing he would transfer. New Rutgers coach Eddie Jordan said Wednesday there is another appeal coming for Okoro, with a different set of eyes and ears to evaluate the grievances. He said he's hopeful there will be a sensible conclusion.
2. Connecticut announced its schedule but not locations for all home games. That's because the Huskies still don't have a deal with their Hartford home, the XL Center. But, UConn athletic director Warde Manuel said, "because of timing of transition of management of XL, we are finalizing terms for this year and we will talk long-term arrangement in the near future. We will continue to play games at XL.'' The Huskies have a strong home schedule. UConn hosts headline teams Florida (Dec. 2), Stanford (Dec. 18), Harvard (Jan. 8), Louisville (Jan. 18), Temple (Jan. 21), Memphis (Feb. 15) and Cincinnati (March 1). The only home game on this list that has a designated home court is the Louisville game, at Gampel Pavilion in Storrs, because it has been tabbed for ESPN's "College GameDay" and the Saturday prime-time slot.
3. With teams returning from their foreign excursions, follow-up reports are trickling in. Vanderbilt, during its time in Greece and Italy, found out just how much it will rely on guard
Dai-Jon Parker
; the Commodores were also able to reinforce a pre-trip theory that Tulsa transfer Eric McClellan will be the primary point guard. The staff was also high on the impact of 6-foot-10 center
Damian Jones
and expects him to be one of the better first-year posts in the SEC (he'll need to be, with players like Kentucky's
Julius Randle
coming into the league). There is now a chance
James Siakam
can play power forward, allowing
Rod Odom
to play his more natural small forward. The hope is that Odom can take care of mismatches at power forward.; Siakam will need to be the glue guy, and can provide the necessary energy. The Commodores have only nine players on scholarship, so this trip was a must to create bonds and give them a head start on what could be a challenging season. Expectations are low, giving Vandy and coach Kevin Stallings plenty of head room to be a surprise in what is a wide-open SEC beyond Kentucky and Florida.