College Basketball Nation:

Kevin Coble
November, 19, 2010
11/19/10
11:15
AM ET
When Northwestern announced that former star forward Kevin Coble wouldn't be returning to the Wildcats' roster in 2010-11 -- after a year of rehab for a foot injury Coble suffered during his rather stellar 2008-09 season -- well, let's just say the decision was mysterious.
Without much information to go on, it was assumed that Coble had merely decided he no longer wanted to play basketball. Strange, sure, but not unheard of. Maybe the kid
just decided he wanted to focus on his grades and his professional future outside of basketball
. Maybe, in that way, the decision was kind of admirable. And with Northwestern's discovery of Coble-lite in junior forward John Shurna in 2009-10, Coble's absence wouldn't cripple the Wildcats' tournament chances. No harm, no foul.
Turns out, the decision wasn't quite so simple.
In an e-mail to Sports Illustrated
, Coble wrote that he left the team because of an ultimatum given by coach Bill Carmody, and a disagreement between Coble's surgeons, Northwestern's doctors, and Carmody himself. Uh oh:
"One of the reasons for me leaving the team," Coble wrote in an e-mail, "was in response to repeated ultimatums by [Wildcats coach Bill] Carmody stating, 'You either go on the Italy trip, or you can't be a part of this program.' "

Northwestern embarked on a four-game exhibition tour of Italy in the final week of August, at which point Coble's surgeon -- who disagreed with NU's doctors on the length of Coble's rehabilitation from foot surgery -- had yet to clear him to play. Coble chose to remain with his family during that time and work with a therapist, effectively ending his college career. [...]

"The fact was my surgeon was not releasing me to begin playing with the team until September 15th," Coble wrote. "With that, I was not comfortable being in Europe during my last stages of rehabilitation. The medical treatment plan had me working with my physical therapists until that September 15th release date. Coach Carmody and I met multiple times in July in order to reach a resolution that wouldn't be so drastic, but unfortunately we were unable to come to an agreement. I had to choose what was in the long term best interest of my foot."
For his part, Carmody says he learned of the decision when Coble came into his office and told him he wasn't going to play. That, obviously, conflicts with Coble's account.
It's hard to imagine why, after a year of rehab, Coble would suddenly up and decide to skip his senior year of college hoops eligibility, especially with a potential career in the pros -- if not the NBA, then somewhere overseas -- on the horizon. Why give up after all that work? Why, after such a promising career to date, and a chance to break Northwestern's historic NCAA tournament drought alongside another skilled forward in Shurna, would Coble just decide he was no longer interested in basketball?
It didn't make much sense then. It doesn't make much sense now. Because if Coble's account is accurate, I'm still confused: Why wouldn't Carmody offer Coble the opportunity to finish rehabbing his foot? Why would he consider a preseason exhibition trip so crucial among Coble's responsibilities to the team? (It's a
preseason exhibition trip
; Coble wasn't exactly missing the Final Four here.) If Coble's telling is right, it almost feels like Carmody was attempting to run his former star player off. But that can't be right, can it? Why get rid of one of the best players of your tenure (even if you do have Shurna,
as good a Coble replicant as you could find
)? Why not take every possible chance to get to the NCAA tournament?
There are plenty of questions here, and no clear answers. But we know at least one thing: Coble's decision to leave Northwestern this summer wasn't mutual, and it wasn't about focusing on academics. Now we just need the real reason.
July, 28, 2010
7/28/10
10:46
AM ET
Last night, the
news that senior Northwestern star Kevin Coble was not, in fact, going to return
from last year's season-ending injury to play his final year of eligibility at Northwestern -- instead planning to devote his time to academics -- came as something of a surprise. Coble was Northwestern's best player in 2008-09, and his addition would have theoretically given Northwestern a legitimate shot at making its first NCAA tournament ever. (Frequent readers will know that I say that a lot about Northwestern, but it's not because I'm trying to be mean. Promise. It just happens to be the most salient fact about Northwestern basketball. And it blows my mind.)
Anyway, Coble was going to put last year's downright competent 20-win Wildcats over the top. That was the plan. Now the plan is kaput. So Northwestern should just go ahead and shelve that whole NCAA tournament idea, right?
Not so fast, actually:
The Only Colors makes a rather salient point
about Northwestern's performance in 2009-10 today, which is that sophomore forward Jon Shurna essentially
was
Kevin Coble:
Further, as I've previously observed, the way Shurna blossomed this past season, he effectively replicated Coble's precise role and level of production in the offense. Having two tall, lanky forwards (both were listed at exactly 6'8", 210 pounds) who can score from all over the court would certainly be an asset, but how much would their roles overlap and end up negating each other? [...] Which brings me to a final point: Ultimately, Northwestern's success in 2011 will hinge on whether they can start to play effective defense more consistently. And, as good a player as Kevin Coble was, he was much more of an offensive threat than he was a defensive difference-maker.
Basketball Prospectus'
John Gasaway concurs
. A cursory glance at
Northwestern's adjusted efficiency numbers
tells you all you need to know about the 2009-10 Wildcats. They were great on offense -- the No. 33 most efficient team in the country. They turned the ball over infrequently, attempted 3s at an incredibly high rate and made enough of their shots that their deficiencies on the offensive glass didn't much matter. With most of their starters, including Shurna, returning in 2010-11, it's fair to expect the same level of offensive success from Bill Carmody's team.
The problem was, and will be, defense. NU was the No. 169 most efficient defense in the country, which basically means that it didn't stop anybody. (And the Wildcats
fouled
everybody
.) That has to change.
Would it have been nice to have Coble? Absolutely. Could he have formed a dynamic frontcourt duo with Shurna? Possibly. Would he have changed the essential nature of his team? Doubtful. So, sure, Coble's decision is something of a bummer for Northwestern fans, but whether Northwestern will break that incredible tourney-less streak in 2010-11 will have far less to do with Coble's absence and far more to do with whether Carmody can get his team to play even mediocre defense.
See? Optimism. Sort of.
July, 27, 2010
7/27/10
11:13
PM ET
Northwestern was a few wins away from its first NCAA tournament berth last season without Kevin Coble.
The assumption was that if the senior forward returned from a season-ending foot injury a year ago that the Wildcats would finally break the infamous streak, especially with three more berths to be had with the expansion from 34 to 37 at-large bids under the new 68-team format in 2011.
Coble isn't going to play again for the Wildcats, officially deciding to call his career over and focus on graduating in December. Coach Bill Carmody told ESPN.com Tuesday night that he saw this coming after multiple conversations with Coble over the past few weeks. Coble made it official Monday when he met Carmody in his office in Evanston after Carmody had returned from the road recruiting.
[+] Enlarge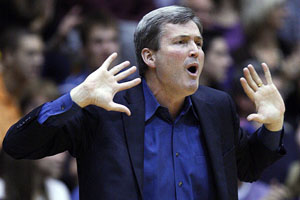 AP Photo/Nam Y. HuhBill Carmody is optimistic about Northwestern this season, despite learning that Kevin Coble will not play.
Maybe Carmody was camouflaging his disappointment over the decision but he wasn't glum when reached by phone Tuesday night. The Wildcats were 7-11 without Coble last season, 20-14 overall and return leading scorer
John Shurna
, who joined other college players practicing against the U.S. National Team in Las Vegas last week.
Add the return of top scorers
Drew Crawford
and
Michael Thompson
in the backcourt,
Luka Mirkovic
inside with Shurna and fifth-year senior
Jeff Ryan
, back from an ACL injury, and Carmody sees another team that can be a factor in the Big Ten. The Wildcats add freshman guard
Jershon Cobb
, who is expected to contribute immediately.
"We've got good players,'' Carmody said. "We're going to have a nice year.''
The Wildcats, sans Coble, beat NCAA-bound Notre Dame, Purdue and Minnesota during the regular season before losing at Rhode Island in the first round of the NIT.
One of the reasons for Carmody's optimism lies with the Wildcats' well-timed trip to Italy next month. Coble wanted to make sure Carmody knew prior to the trip, or the 10 practices that are allowed, which will start on Aug. 16 before a Aug. 28 departure. He didn't want to be wavering, go on the trip and then not play. That's fine with Carmody. Now he knows he won't have to figure out if Coble will be on the squad. Ryan isn't cleared to play, but he'll be on the trip to continue to be a leader. Carmody expects Ryan to be ready for the season. Cobb can go on to Italy under a new rule allowing freshmen to travel on summer foreign trips.
If the Wildcats are going to bond, find their identity and purpose for this season without Coble, the timing of the trip to Italy is perfectly placed.
"When I took a team at Princeton on a trip like this it turned out to be fantastic for us,'' Carmody said. "We ended up having a nice year. We don't start school until late September. So this is going to be real important for us. The practices are going to be something that will get us ready for next year.''
The Big Ten has at least two national title contenders in Michigan State and Purdue. Ohio State won't be too far behind with the addition of possible national freshman of the year in
Jared Sullinger
. Expect Illinois, Wisconsin and Minnesota to be NCAA tournament teams, as well. Iowa, Penn State, Michigan and Indiana are projected to be in the bottom four in some order and out of the postseason contention.
That leaves Northwestern in the middle, just like a year ago, with a chance to go in either direction. Having a healthy Coble may have tipped the Wildcats finally toward a bid. Knowing he's unavailable in July and going on the trip to Italy in August to jump start the season should give the Wildcats a chance to figure out if they can finally be relevant on Selection Sunday.
May, 8, 2010
5/08/10
3:51
PM ET
NBA draft boards are safe.
Saturday's NCAA-imposed deadline to withdraw from the NBA draft (international players still have until June 14) didn't produce any last-minute decisions that will affect the first round, but that's not the case for the preseason top 25 in men's college basketball.
[+] Enlarge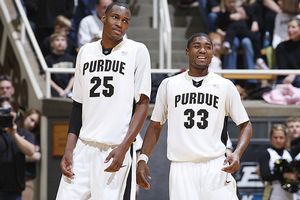 Joe Robbins/Getty ImagesBoth JaJuan Johnson (left) and E'Twaun Moore will be staying in Purdue.
None of the players who were still mulling over decisions would have affected the first round of the NBA draft. On Friday night, the official decisions of Kentucky freshmen
Daniel Orton
and
Eric Bledsoe
put two more undecided early-entrants in the first round. But on Saturday, the most anticipated decision came out of West Lafayette, Ind., where
JaJuan Johnson
and
E'Twaun Moore
told coach Matt Painter they will return for their senior seasons. The Boilermakers, with the return of
Robbie Hummel
, will have what is likely the most experienced and productive trio returning of any power-six club.
Staying in the Big Ten, Illinois desperately needed
Mike Davis
and
Demetri McCamey
to come back to school after a season in which the Illini just missed out on the NCAA tournament. Losing one of their productive forwards and their most experienced guard would have crushed Bruce Weber's team, even though there is an influx of young talent there. Neither Davis nor McCamey were considered first-round draft picks.
With these decisions, the Big Ten likely will receive considerable hype as the nation's best conference for the second preseason in a row. Purdue could be a preseason No. 1, Michigan State will be right on its heels, and Ohio State (with its loaded recruiting class), Wisconsin, Minnesota, Illinois and Northwestern (which gets back
Kevin Coble
from a season-ending foot injury) are all capable of contending and making the NCAA tourney.
In the ACC, Virginia Tech's
Malcolm Delaney
decided Friday night to return to school. It was a good move. He wasn't a first-round pick, but he's certainly one of the top guards in the conference and gives the Hokies, who return nearly their entire team, a chance to be a top-25 team next season.
New Mexico figured it would lose leading scorer
Darington Hobson
, and it did, meaning the Lobos will have to start the season again having to prove themselves as a Mountain West title contender. Xavier figured it was going to go into next season without
Jordan Crawford
, and it will, meaning the Musketeers will need to find another headline act. But the Musketeers' program hardly lacks for talent and it's never wise to overlook this team in the preseason.
Richmond received news that it can still be competitive in the A-10 with conference player of the year
Kevin Anderson
's return. The Spiders would have had to rebuild had they lost both Anderson
and
senior
David Gonzalvez
. Temple would have faced a similar situation had
Lavoy Allen
not come to his senses and returned to school.
Alex Tyus'
father and uncle both told the local press recently that they felt Tyus was a natural small forward, that he was being underutilized at Florida and that he should declare -- even go overseas if he wasn't drafted. He apparently didn't listen. Tyus, who wasn't a first-round pick and might not have been a second-round pick, will return as a solid role player for a team that will challenge for the SEC East title. Florida may not have cried if Tyus had left, but it would have taken another system player out of the mix. His return allows the Gators to go through the offseason without a distraction, unlike when Marreese Speights left early in 2008 and Nick Calathes bolted for Greece in 2009.
Meanwhile,
Kenneth Faried
's decision to stay at Morehead State means one of the better talents in the country will shine more of a spotlight on the Ohio Valley next season. Faried had a shot to alter the draft board in the latter part of the first round, but is just one less name for NBA personnel to sweat over during the next six weeks.
January, 22, 2010
1/22/10
10:24
AM ET
Injured Northwestern star Kevin Coble isn't doing what I'd be doing if I was rendered immobile by a Lisfranc fracture (and the subsequent reconstructive surgery) in my left foot: attempting to beat
Modern Warfare 2
on "hardened" without ever dying. Rather, Coble is doing what highly motivated athletes do. He's challenging himself. Fortunately,
there's video of these challenges.
That
was shot by Daily Herald reporter Lindsay Willhite before Northwestern's practice on Thursday
, and yes, the video is real. After that, Coble "stood just in front of the scorer's table at halfcourt and needed about 10 tries to hit a one-hop bouncer from 50 feet away. Then he spent more time trying to pass a few other crazy tests (half-court underhanded and a 40-footer while seated on the scorer's table)."
Coble told Willhite one of the main positives to his injury is the ability to lift weights and get stronger when he is still relatively sedentary and can add weight. Practical, but I'd say one of the main positives is entertaining me with trick shots. Or developing an unstoppable 60-foot range which could revolutionize the game of basketball forever. Different strokes, I guess.
December, 29, 2009
12/29/09
11:46
AM ET
What's purple and black and actually pretty good at basketball for the first time in, oh, 40 years? You get one guess. All right, all right: It's Northwestern. If you didn't guess that, I don't know what to tell you.
Not only did you have the headline for assistance; you have the now day-old news
that Northwestern made an appearance in this week's Associated Press top 25
. This would not be a big deal for any other program. For Northwestern, it is, because it's the first time the Wildcats have been in the top 25 since -- get this -- 1969. 1969! That is not usual, but that is Northwestern basketball. In Evanston, a top 25 appearance lands somewhere between "noteworthy" and "ecstasy-inducing."
That's what happens when you build a 10-1 non-conference record, though, which is exactly what the Wildcats have done. But the next step is getting in the tournament. That will be slightly more challenging, and slightly more momentous; Northwestern has never gone to an NCAA tournament. (That's what happens when you're only ranked in the top 25 once every 40 years. Or maybe it's vice versa. Very chicken-egg, isn't it?)
Anyway,
the Northwestern fans at Sippin' On Purple are already doing mathy projection-type things
in the hopes of calculating NU's chances of surviving the Big Ten and pushing into postseason play. The RPI projections are favorable if the Cats win 11 of their 18 Big Ten games; 12 would lock them into the tournament, while 10 or below makes things pretty sketchy. The problem for Northwestern is the Big Ten's underwhelming performance in non-conference play. (Thanks, Michigan!) But Wildcats fans can begin the countdown: 21 wins or bust. Given
star Kevin Coble's injury before the season even really began
, such vivid hope in Evanston is a major, major bonus.
December, 23, 2009
12/23/09
1:00
PM ET
Can you feel it? Is the excitement palpable? Is that rush of energy in the air thick enough to smell? Indeed, we're only a few days away from ... the start of conference play in college basketball. Wait. What did you think I was talking about?
Which means it's probably as good a time as ever to take a step back and look at which teams have surprised in their nonconference schedules thus far (and which teams have disappointed; we'll be posting that list shortly). In no particular order, here are the five teams that sure look much better than anyone could have expected before the 2009-10 season began:
Syracuse
: OK, so there is some small bit of order here. Syracuse tops this non-numbered list for symbolic reasons: Perhaps no team has done more with less preseason esteem than the
Syracuse Orange
. Think about it. The Orange hovered around the fringes of the top 25 for most of the late offseason. Then, an exhibition loss to the LeMoyne Dolphins -- yes, it was just an exhibition game, but still: LeMoyne? -- shook whatever confidence most had in Syracuse recovering from the losses of star point guard Jonny Flynn and irascible sharpshooter Eric Devendorf. This would be a down year for the 'Cuse, a rebuilding year, and Jim Boeheim would mutter ineffectually throughout, merely along for the ride.
Uh, no. Not so much. As of this post, Syracuse has pounded California at Madison Square Garden; the next night, they did the same to North Carolina. The Cuse beat Florida in St. Petersburg by 12. They're the fourth-best team in the country
according to Ken Pomeroy's early season calculations
(a certain degree of small sample size concern applies here; it is only Dec. 23). Forward
Wesley Johnson
has come from relative obscurity and made himself a player of the year candidate in short order, and Boeheim might have the most athletic defensive lineup to play his hyperactive 2-3 zone since Carmelo Anthony and Hakim Warrick were wearing orange. Down year? Not so much. Not at all.
Kansas State
: K-State coach Frank Martin has had his doubters. For good reason. When former coach Bob Huggins left for West Virginia, Martin was seen as a salve; if Martin got the job, uber-recruits Michael Beasley and Bill Walker would stick around, and K-State would have its one magical moment in the sun. But Martin has built another solid team in 2009-10. It starts with guards
Denis Clemente
and
Jacob Pullen
, the latter of whom is averaging 20 points per game on 45 percent shooting from the field (including about 43 percent from beyond the arc). The Wildcats are yet another of the Big 12's quietly good teams. But if they keep playing this way -- they're now 11-1 -- they won't be quiet for long.
New Mexico:
The most notable story of New Mexico's sports year? Awesomely violent soccer player Elizabeth Lambert. New Mexico's hoops team has a chance to change that: The No. 19-ranked Lobos are off to a 12-0 start under coach Steve Alford, who you may remember from his relatively brief,
morally ambiguous
time in Iowa City. Whatever didn't work in Iowa City appears to be working in the desert; the Lobos have beaten Cal and Texas A&M (
Ed. note: thanks to commenter birdieraider for the correction
)
thanks to the second-lowest turnover rate in the country and offense ranked No. 11 in adjusted efficiency
.
Northwestern:
Guess who has the second best nonconference record of any team in the Big Ten? (I just bolded the team's name to the left of that question; this shouldn't be a brain-buster.) Yes, it's the
Northwestern Wildcats
, who sit at 11-1 and whose only loss came to Butler. The Wildcats have semi-quality wins over Notre Dame (72-58) and Iowa State (67-65). Sure, it's not the most impressive 11 wins ever, but this is Northwestern basketball, and given that all of Northwestern's hope seemed lost when star
Kevin Coble
was lost for the year, it's a very impressive beginning. Next up: Winning nine or 10 games in the Big Ten and getting to that first NCAA tournament. Hmm.
UAB:
And last but not least, another deposed Big Ten coach having some program-building success at a smaller school. I speak, of course, about Mike Davis and UAB, who are 11-1 overall with a pair of impressive wins on their resume. The first came in 64-47 blowout over a talented Cincinnati squad last week. The latest came on Tuesday night, when the Blazers beat Butler by 10 at Bartow Arena. With Memphis in rebuilding mode and Tulsa showing cracks in the facade early, UAB could be your new Conference USA favorite. So maybe Mike Davis can coach after all.