College Basketball Nation:

Kevin Durant
June, 13, 2013
6/13/13
10:30
AM ET
In the weeks leading up to the June 27 NBA draft, we'll be taking a look at the 20 schools that have produced the best pros in the modern draft era (since 1989, when the draft went from seven to two rounds). Click here to read Eamonn Brennan's explanation of the series, which will be featured in the Nation blog each morning as we count down the programs from 20 to 1.
Top Five Draftees Since 1989
Sixth man:
Avery Bradley
(2010)
The rest:
Daniel Gibson
, Dexter Pittman, Damion James,
Royal Ivey
,
Jordan Hamilton
,
Cory Joseph
,
P.J. Tucker
,
Chris Owens
,
Chris Mihm
,
Alvin Heggs
, Lance Blanks, Travis Mays, Dexter Cambridge,
B.J. Tyler
,
Terrence Rencher
,
James Thomas
,
Maurice Evans
Why they're ranked where they are
: Kevin. Durant. LaMarcus. Aldridge.
It's not that simple. But the duo carries the most weight and responsibility for the program's NBA legacy and standing in our "Path to the Draft" rankings.
In Durant, Texas is tied to a player who could end his career as one of the top 10 players in NBA history. And with
Tim Duncan
and
Kevin Garnett
likely retiring soon, the next great NBA power forward very well may be Aldridge, who has averaged at least 21 points and 8 rebounds in each of the past three seasons. He's made the last two All-Star games and has evolved into one of the premier players in the NBA.
And he's only 27. Durant is just 24. So the Longhorns' stock will probably rise in the coming years.
It's necessary to mention Durant and Aldridge because the rest of this list is not necessarily pristine when compared to the other teams we've ranked thus far and those we'll unveil in the coming days.
T.J. Ford played eight years but a spinal cord injury interrupted a promising career. Still, he averaged 11.2 points and 5.8 assists per game.
Avery Bradley (9.2 PPG, 1.3 steals per game in 2012-13) could take on a larger role with the
Boston Celtics
or another NBA team in the future.
The
Cleveland Cavaliers
are building a strong post-
LeBron James
lineup. It certainly helps that second-year big man Tristan Thompson (11.7 PPG, 9.4 RPG) looked like a future All-Star this season.
Cavaliers guard Daniel Gibson hasn't been the same player since James left town. But he's just 27, so there's still time to regain that old swagger.
Cory Joseph might have a future with the
San Antonio Spurs
, but it's too early to know. There aren't many 21-year-old point guards logging minutes in the postseason, though.
D.J. Augustin struggled with the
Indiana Pacers
this season, but he had three good years with the
Charlotte Bobcats
. Just five seasons into his career, it wouldn't be prudent to pass judgment on his career yet.
Chris Mihm had a few solid years with the
Los Angeles Lakers
. Maurice Evans gets credit for longevity (nine years).
[+] Enlarge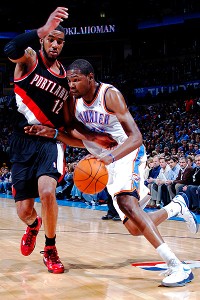 Layne Murdoch/NBAE via Getty Images)Ex-Longhorns Kevin Durant, right, and LaMarcus Aldridge should be NBA stars for years to come.
But Durant and Aldridge clearly anchor this list.
James became
the youngest player in NBA history to score 20,000 points
(28 years old, 17 days) earlier this year. That record could be shattered soon. He has scored 12,258 points and won't turn 25 until September.
The 6-foot-9 wing averaged 28.1 PPG, 7.9 RPG, 4.6 APG, 1.3 BPG and 1.4 SPG this season. He shot 51 percent from the field. And he made 91 percent of his free throws.
Through six seasons, Durant established his place next to James on the game's Mount Rushmore of future Hall of Famers and legends. He commands an
Oklahoma City Thunder
franchise that should remain in the NBA title picture for many years.
There are a lot of lists that utilize a variety of criteria.
We're all about quality. And in our eyes, Durant, Aldridge and a few other noteworthy players are collectively worth more than a team such as Kansas that has produced dozens of NBA products but only one legitimate star since the 1989 NBA draft -- the cutoff for our rankings.
Texas is also top-10 because its best players have a lot of time left. We've already discussed Durant. Aldridge will earn more national recognition for his skills in the coming years. He's a beast. Bradley and Thompson could rise in the next two or three seasons, too.
Yep, the Longhorns belong here.
Why they could be ranked higher:
Durant is a superstar. His presence alone would justify a move up the rankings.
We're measuring teams according to their abilities to produce NBA talent. And Durant has already had an NBA career that tops the pro achievements of entire programs.
And there's so much potential with this group. Aldridge is a young star. Thompson will be.
If these were actual teams that competed against one another, it would be easier to make Texas' case for a higher ranking.
Aldridge and Thompson inside. A bunch of solid guards in the backcourt. And Durant destroying defenders inside and outside.
Makes more sense now, right?
Why they could be ranked lower:
So what's the real difference between Texas (No. 10) and Syracuse (No. 20) and Kansas (No. 14)? The programs owe their rankings, in part, to the presence of superstars. But there was little substance among their respective squads' overall pro legacies.
Durant is a stud. Aldridge could be an All-Star for the next decade.
But Thompson still has a lot to prove.
And this list features multiple players who fizzled once they reached the next level. J'Covan Brown, who left Texas prior to his senior season, isn't even mentioned because he wasn't drafted.
What else can Texas stand on -- other than Aldridge and Durant -- to justify its top-10 status?
What's ahead?:
There's a bright future ahead for Texas. Durant could win a few titles. Aldridge might be the next great NBA power forward. Thompson could be the franchise star along with
Kyrie Irving
in Cleveland. Bradley could blossom, too.
Even guys such as Augustin could improve.
Myck Kabongo
entered this summer's draft. It will be interesting to see how he transitions to the NBA after limited playing time last season due to an NCAA investigation.
Texas is No. 10 right now, but a few years from now, the Longhorns might be even higher.
Final thoughts:
There's intrigue with this group because it features a multitude of current players. Its NBA rep could change soon.
Texas has produced one of the greatest players of this generation and another All-Star who's matured into one of the league's best power forwards. And Thompson, Bradley and others could boost the team's profile soon.
Texas doesn't have dozens of successful NBA players. But the ones who made it are some of the game's most successful performers. We feel like if you have two of the league's top 15 players, you have to be right in the mix.
And there's still room for this program to elevate its NBA profile, too.
March, 8, 2013
3/08/13
11:32
AM ET
Player of the Night -- Daniel Mullings, New Mexico State
New Mexico State
halted
Louisiana Tech
's 18-game winning streak, handing the Bulldogs their first WAC loss.
Daniel Mullings
led the way with 23 points, eight rebounds, three assists and four steals. With
Akron
and Louisiana Tech falling the past week, the nation's longest winning streak belongs to
Middle Tennessee State
(16).
Co-Freshman of the Night -- Xavier Johnson, Colorado
Xavier Johnson
went 7-for-7 from the field, scoring a career-high 22 points in a 76-53 blowout against
Oregon
. He's the first freshman since Dan Gadzuric in 1999 to go at least 7-for-7 in a Pac-12 conference game.
Co-Freshman of the Night -- Michael Kessens, Longwood
Longwood
fell to
VMI
in the Big South quarterfinals, despite the most prolific performance in tournament history.
Michael Kessens
finished with a tournament-record 36 points to go with 16 rebounds. He's the first player to reach those totals since
Cleveland State
's
Norris Cole
in 2011. But consider the past two freshmen to pull it off:
Michael Beasley
and
Kevin Durant
.
Stat Sheet Stuffer -- Spencer Butterfield, Utah State
Whenever a guard pulls down 20 rebounds, it warrants special mention.
Spencer Butterfield
finished with 10 points, seven assists and 20 rebounds in
Utah State
's win against
Texas State
. It's the most rebounds by a guard since that aforementioned Norris Cole performance in 2011. Butterfield is one of only five players in the past 10 years to finish with at least that 10-20-7 line.
Scorer of the Night -- Josh Greene, Cal State Northridge
Josh Greene
scored a career-high 37 in the
Matadors
' win against
Hawaii
. That's the seventh most in school history. He joins
Kansas
'
Elijah Johnson
and
Iona
's
Lamont Jones
as the only players with 37 points and six assists in a game this season.
June, 26, 2012
6/26/12
11:00
AM ET
We often hear about the one-and-dones
who don't work out
, but here are 10 players who are flourishing in the NBA after spending just one season in college.
(Editor's Note: For Part 1 of Myron Medcalf's in-depth look at the NBA's minimum age requirement,
click here
.)
Carmelo Anthony, Syracuse:
The forward who led the Orange to the 2003 NCAA title has become a five-time All-Star with the Denver Nuggets and New York Knicks. Anthony was the No. 3 pick in 2003.
Chris Bosh, Georgia Tech:
Drafted one spot behind Anthony in 2003, Bosh has made seven straight NBA All-Star teams. Earlier this month he helped the Miami Heat win the NBA championship.
DeMarcus Cousins, Kentucky:
The enigmatic post player averaged 18.1 points and 11 rebounds in his second season with the Sacramento Kings in 2011-12. Cousins teamed with John Wall to lead Kentucky to the Elite Eight in 2010.
Kevin Durant, Texas:
Durant's Oklahoma City Thunder reached the NBA Finals this season, then lost to the Miami Heat. Still, Durant is regarded as one of the top two or three players in the NBA. He's won three straight scoring titles.
Tyreke Evans, Memphis:
The former standout under John Calipari was named NBA Rookie of the Year in 2010. His production has tapered off slightly the past two seasons, but Evans averaged 16.5 points and 4.5 assists for the Sacramento Kings in 2011-12.
Eric Gordon, Indiana:
A knee injury limited Gordon to just nine games last season with the New Orleans Hornets, but a year earlier he averaged 22.3 points and 4.4 assists for the Los Angeles Clippers. Gordon scored 20.9 points per game during his one season at Indiana in 2007-08.
Kyrie Irving, Duke:
The No. 1 overall pick in the 2011 NBA draft couldn't have had a better rookie season with the Cleveland Cavaliers. Irving, who had played in just 11 games for Duke, won NBA Rookie of the Year honors after averaging 18.5 points and 5.4 assists.
Kevin Love, UCLA:
Love finished sixth in the MVP voting last season after averaging 26 points and 13.3 rebounds. He set a franchise record for most games with more than 30 points in a season. He is one of the top rebounders in the NBA and is known for his outlet passing. Love was the No. 5 overall pick in 2008.
Derrick Rose, Memphis:
Rose, who led Memphis to the 2008 NCAA title game, is regarded as one of the top point guards in the NBA. In 2011 he became the youngest player in history to win the league's MVP award. He was named rookie of the year in 2009.
John Wall, Kentucky:
The No. 1 overall pick of the 2010 NBA draft has averaged 16.3 points and 8.2 assists in his first two professional seasons. Wall is one of the fastest players in the league with the ball in his hands, although he needs to improve his accuracy (41.6 percent) from the field.
May, 18, 2012
5/18/12
8:45
AM ET
Incoming freshmen should anticipate major adjustments at the Division I level. The players are bigger, stronger and faster.
But the uptick in competition is only part of the transition from high school to college. The 21st-century college basketball player should understand off-court expectations, too.
They're all about adhering to proper swagger etiquette.
I hope you all have notepads ready. Here's what you'll need to get ready for Division I basketball off the floor:
[+] Enlarge

Kelly Kline/Getty ImagesNerlens Noel brings a signature coif to Kentucky ... but does he have the right backpack?
Feel free to add on …
March, 1, 2012
3/01/12
2:19
PM ET
By
Jeremy Lundblad, ESPN Stats & Info
| ESPN.com
The latest College Basketball Nation
Player of the Year Straw Poll
shows a dead heat between
Kentucky
's
Anthony Davis
and
Kansas
's
Thomas Robinson
.
If Davis wins any of the three major awards, it would be historic even compared to Kentucky's storied past. No Wildcat has ever won the Wooden Award, Naismith Award or AP Player of the Year. Among freshmen, only
Kevin Durant
has taken home the hardware, winning all three awards in the 2006-07 season.
Danny Manning
was the last Jayhawk to win national player of the year, claiming both the Naismith and Wooden Awards after the 1987-88 season. No Kansas player has ever won the AP award, which was first awarded in 1961.
The advanced metrics are split on who the top player has been this season.
Davis leads the nation in
Player Efficiency Rating (PER)
, a metric established by John Hollinger to measure overall effectiveness. Davis has a PER of 36 this season while Robinson's PER is 29, 18th in the nation and second in the Big 12 behind
Missouri
's
Ricardo Ratliffe
.
KenPom.com's Player of the Year standings
favor Robinson for the top spot. Davis comes in fourth in these rankings, behind
Draymond Green
and
Jared Sullinger
.
Case for Anthony Davis
Davis changes the game with his defense. Through 29 games, he has blocked 139 shots. He has a chance to set both the national freshman record, currently held by
Marshall
's
Hassan Whiteside
with 182 in 2009-10, as well as the overall SEC record, set at 170 by
Mississippi State
's Jarvis Varnado.
Davis is less polished on the offensive end of the floor, where he averages 14 points per game. The only AP National Player of the Year to average less than 15 points was
Patrick Ewing
for
Georgetown
in 1984-85.
Davis makes 66 percent of his shots from the field, among the best in the nation. If he keeps up his current pace, he'll be the first player to average 14 points, nine rebounds and four blocks since
Connecticut
's
Emeka Okafor
in 2003-04.
Case for Thomas Robinson
While Davis is the nation's top shot-blocker, Robinson is near the top in rebounding. He is second nationally in rebounds per game and first in defensive rebounding percentage.
With a small increase in rebounds per game, Robinson could join Kansas legends Wilt Chamberlain and Clyde Lovellette as the only players in school history to average 17 points and 12 rebounds in a season. The last three power six conference players to reach both thresholds are
Blake Griffin
,
Michael Beasley
and
Tim Duncan
.
Robinson is second in the nation and first among power six conference players with 21 double-doubles this season. Only three players in Big 12 history have recorded more in a season – Griffin, Beasley and
Drew Gordon
.
Robinson averaged less than 8 points per game last season. No AP Player of the Year winner has ever averaged fewer than 10 points per game the previous season.
November, 16, 2011
11/16/11
3:05
PM ET

•
Middle Tennessee
shot 71.4 percent from the field including 10-of-11 from 3-point range in an 86-66 drubbing of
UCLA
. The Blue Raiders connected on their first nine from long distance. Both the 71.4 FG pct and 90.9 3-pt FG pct are the highest allowed by UCLA in at least the last 15 seasons. The Bruins are off to their first 0-2 start since 2002-03. With Division II Chaminade on deck, the Bruins should avoid their first 0-3 start since 1940-41.
• After blocking seven shots in Tuesday's 75-65 win over
Kansas
,
Kentucky
freshman
Anthony Davis
now has 12 blocks through two games. For comparison, consider that
Jamaal Magloire
, the most prolific shot blocker in school history, had three blocks in his first two games. Davis' seven blocks are the most against Kansas since
Boston College's
Sean Williams
had seven in a game in 2006.
Shane Battier
is the last to have more. It's also tied for the fifth highest single-game total in school history. Only Sam Bowie, Andre Riddick (twice) and
Patrick Patterson
had more in a game.

• Last night, Stephen Bardo tweeted that "
J'Covan Brown
of
Texas
playing better than any guard in nation right now." It's hard to argue otherwise after he torched
Rhode Island
for a career-high 35 points in the Longhorns' 100-90 win. It's the most points by a Longhorn since
Kevin Durant
in 2007. He's also the first since Durant to score at least 28 points in back-to-back games. Brown added six assists and six rebounds. He also became the first player from a power six conference school with a 35-5-5 game since
Greivis Vasquez
in February 2010. The last Big 12 player to do it?
Blake Griffin
.

• After losing to Division II Ohio Dominican on Saturday, it didn't seem like things could get worse for
Southern Illinois
. Tuesday brought the worst shooting performance in school history. The Salukis shot just 20.5 percent from the field in a 61-42 loss to
Saint Louis
. At halftime, the Salukis were just 4-for-22 (18.2 percent) from the field and didn't have an assist. Southern Illinois finished with just one assist compared to 14 turnovers.

•
Josh Davis
had one of the most efficient games of the season in
Tulane
's 96-50 win over
Nicholls State
. The transfer from
NC State
put up a career-high 23 points to go with 11 rebounds. He was 10-for-11 from the field, the top shooting performance this season among players with at least 10 attempts.
September, 30, 2011
9/30/11
6:00
PM ET
By
Diamond Leung
| ESPN.com
In support of Isiah Thomas, the Miami Heat's Big Three are coming to the Florida International campus to play.
LeBron James, Dwyane Wade and Chris Bosh will host the South Florida All-Star Classic, with proceeds going to the foundation in honor of the FIU coach's late mother.
"This will be a great event for FIU and the South Florida community," Thomas said in a statement. "We are thrilled that some of the world's greatest basketball players will put on an entertaining show here at FIU. It's also fulfilling to know that this is being done for a good cause. I can't thank LeBron, Dwyane and Chris enough for helping put this together."
Also expected to play in the exhibition, according to the
South Florida Sun-Sentinel
?
The game, organized by Miami Heat forward LeBron James, is scheduled to also include teammates Dwyane Wade, Chris Bosh and Mario Chalmers. Also scheduled to attend are NBA rivals Chris Paul, Carmelo Anthony, Kevin Durant, Rajon Rondo, Amare Stoudemire, Russell Westbrook, Jamal Crawford, John Wall, Rudy Gay, Jonny Flynn, Eric Bledsoe, Lou Williams, Wesley Matthews and free-agent center Eddy Curry, as well as former Heat players Dorell Wright and Caron Butler.
Last offseason, Thomas was left in an awkward position when he was forced to
backtrack on accepting a consulting position with the New York Knicks
that was to have allowed him to coach at FIU as well. The attempted move raised questions about the commitment Thomas was showing the college game.
But at least with this star-studded affair put together for Thomas, it's a reminder of how the NBA connections that Thomas has can be used to shine a light on FIU, which last season finished with an 11-19 record.
"It is exciting to be able to bring an event like this to South Florida," FIU executive director for sports and entertainment Pete Garcia said in a statement. "It is also great to see all of these NBA superstars come together for a great cause here at FIU."
August, 26, 2011
8/26/11
7:14
PM ET
By
Diamond Leung
| ESPN.com
Long Beach State has reached the championship game of the Big West tournament for the past two seasons. They lost both times and fell short of the NCAA tournament. Still,
Casper Ware
isn't looking back.
"I can't cry about it or be sad about it," said Ware, who will get one final shot at reaching the NCAA tournament as a senior. "I just have to use it as motivation.
"It's a whole new season. Our goal is to get to that final game and win it."
So the reigning Big West player of the year set out this summer and showed off his game after a season in which he averaged 17.2 points. That has resulted in another MVP award at the Drew League, where he
consistently put up 30-point games
.
Summer league basketball is just that, as coach Dan Monson cautioned. It's also a good sign that Ware has done it alongside some top NBA players and gotten their attention, according to
Gazette Newspapers
.
He dropped 43 points on a team that featured NBA ballers DeMar DeRozan, Ron Artest and Steve Blake. He scored 33 points while playing on a team with LeBron James, impressing James so much that the NBA MVP asked Ware to teach at his camp the next weekend. He played against or alongside Kevin Durant, Michael Beasley, Austin Daye, and more, consistently flummoxing top-tier talents and drawing praise from Twitter feeds to asphalt arguments.

Two weeks ago, the respect he's garnered took an interesting form, when he brought DeRozan, the Thunder's James Harden, and 2010 number one draft pick John Wall into the Pyramid to play hoop during an Open Gym session. Ware said it was good for him and his teammates to get a look at how the best in the world play, and didn't mind hearing that video of All-Stars in the Pyramid may one day help the school's recruiting cause.
That's certainly some pretty good company, and if it gives Ware confidence going into the season, it's great for a Long Beach State team looking to get over the hump.
June, 28, 2011
6/28/11
11:21
AM ET
Letters From Camp are my dispatches from this weekend's Nike Skills Camps in Chicago, with one last big recap to come later today.
CHICAGO -- There was a running deadpan joke among the NBA scouts at the Kevin Durant Skills Academy, one I heard in at least two different forms during the two hours of the camp's open media availability at Attack Athletics here Saturday:
"Who's the tall kid without a number on? He's not on the roster, but I think we'd draft him first round."
The "tall kid" is, of course, Kevin Durant, who is unfortunately no longer available to NBA teams: He was drafted No. 2 overall by the Seattle Supersonics in 2007, after which he quickly became rookie of the year, the youngest scoring champion in NBA history and one of the most potentially transformative young stars to enter the game since LeBron James.
The 22-year-old Durant -- who would have been a rookie last season had he stayed in school all four years -- doesn't just coach at the skills academy that bears his name. He runs the drill circuit with campers (
a who's who of alluring collegiate wing players
) practicing one-on-one moves, footwork, screen cuts, and the fundamentals of receiving the ball, among other things. He then eagerly hops into the five-on-five drills that close the camp's first night.
It's fascinating to watch, this NBA superstar using his own camp to get some extra gym time in, almost like he doesn't see the 40-foot poster bearing his likeness on the gym's massive end wall.
It also means it's hard for one of the
actual
camp attendees to look like the best player on the floor. But give Vanderbilt's Jeffery Taylor credit: For one night, he wasn't all that far behind.
Taylor wasn't flawless Sunday, but he did a lot of things to make those apathetic NBA scouts take notice. His combination of ball skills and penetrating ability comes packaged in a wide, well-built 6-foot-6 frame. His athleticism allowed him to turn one drill -- in which campers were asked to catch the ball, pivot, and lay it in with their opposite hand -- into a surprisingly impressive dunkfest. When campers were shown a series of three- and four-stage ball moves ("OK, this is a crossover, then a stepback, then a BIG step through the lane, and then we want a clean finish over coach, who will be standing on that chair near the goal. Everyone got it?"), perhaps only North Carolina forward
Harrison Barnes
and Kentucky guard
Doron Lamb
picked up the instruction with the same immediate ease as the Vanderbilt swingman.
It's that athleticism, mixed with intuitive ability, that made Taylor a potential first round NBA prospect in 2011. The only thing keeping Taylor from initiating a full-on NBA scout slobberfest is his shooting. As a freshman, Taylor shot 22 percent from three. As a sophomore -- this is where things get ugly -- that percentage dipped all the way down to .091; Taylor attempted a mere 11 3-pointers all season and made only one.
During his junior season, another strong Vanderbilt campaign that ended in another surprising first-round NCAA tournament upset, Taylor massively improved both his willingness to shoot from his range and his ability to do so. He attempted 113 shots from beyond the arc, making 39 and improving his three-point field goal percentage to a perfectly respectable 35 percent.
Still, a few of the gathered scouts maintained their concerns about Taylor's shooting. One scout I asked said he "really liked" Taylor, but that he had to be a better shooter; another looked at me and made the wrist-flicking follow-through motion, which I took as universal scout sign language for "can he shoot?"
To be fair to Taylor, his team hasn't often needed his shooting. In 2011, sophomore guard
John Jenkins
emerged as one of the nation's best long-range threats; Jenkins posted a 58.4 effective field goal percentage, a true shooting percentage of 64.0 and an overall offensive rating of 123.5, the nation's 30th most efficient mark. Forward
Festus Ezeli
is the team's best interior threat, a big, physical bruiser who sets up shop on the low block and muscles defenders into submission. Ezeli is the grinding banger; Jenkins, a candidate for SEC player of the year in 2011, is the sharpshooting star whose name you're most likely to know.
That dynamic could explain Taylor's tendency -- or at least his perceived tendency -- to float aimlessly for stretches of games. To the scout's eye, Taylor is good at a lot of things but not great at any of them. He doesn't have a singularly identifiable area of the floor that he truly dominates. When he stops attacking the rim, he can get lost in the fray, and like a miniature version of LeBron James, the outsized impact he
should
be having outweighs the contributions he's actually making.
But shooting is still the primary issue, and to reach an NBA level, shooting is where Taylor needs to demonstrate the most improvement in the coming season. He showed some of that (in an admittedly small sample size) on Sunday, draining more than his share of high-arcing three-pointers during those aforementioned individual drills.
Still, those are long-term issues; the NBA scouts and their concerns will wait a year. In April, Taylor, along with Jenkins and Ezeli,
decided to ignore the various levels of NBA draft interest
in their respective talents and come back to Vanderbilt for another crack at an SEC title and an NCAA tournament run. The school announced the decision with statements from all three players, and Taylor told me the decision was made collectively among all three players. Those three are the anchors of a team that will return all five starters -- four of whom will be seniors in 2011-12 -- and is looking to do accomplish far more than the respectable SEC finishes and early tournament upsets that have come to characterize their tenure together.
In all, Taylor's individual needs as a player dovetailed nicely with his teammates' desire to compete for a spot in the Final Four. (On Monday, Georgia coach Mark Fox told the SEC coaches teleconference that he thought Vanderbilt was a serious contender in that regard.) Taylor can spend a year demonstrating that his shooting is only going to improve. In the meantime,
like Pittsburgh guard
Ashton Gibbs
, he has to do even more of what made him a draft prospect in the first place.
Anyway, if two hours of drills on a Sunday in June is any indication -- and hey, maybe it isn't! -- Taylor might be right on the cusp of a breakthrough. At the very least, with Durant on the floor, it's hard to make an impression. The Vanderbilt guard has already done that much.
April, 18, 2011
4/18/11
5:22
PM ET
By
Diamond Leung
| ESPN.com
BYU guard
Jimmer Fredette
in his words is "finally getting with the program" and has begun tweeting, the team has verified. His handle? It's
@jimmerfredette
.
So now you have a direct way to connect with the consensus national player of the year himself. And if you're Kevin Durant, since you've
already tweeted
that "Jimmer Fredette is the best scorer in the world!!" this means the Jimmer will soon be in touch as he has already begun following you.
Fredette finally caved in and signed up after a dream season in which he played so well that people were creating fake Twitter accounts in his name and he needed to
tell the Salt Lake Tribune
that those were frauds.
His profile picture includes his girlfriend, who also has become the subject of rumors that the two are engaged. He needed to tell the
Salt Lake Tribune
that they are not.
Twitter allows him to communicate directly with fans, and there are many of them wanting to know which team he wants to draft him and probably even what he had for lunch.
Currently, college basketball's most famous player has about 100 times more followers than accounts he is following, so let's try to explain it in Jimmer parlance.
The Jimmer does not need to follow you. He already knows what you're thinking.
January, 24, 2011
1/24/11
4:45
PM ET
I've never met Kevin Durant. The closest I've come to the man himself is watching him tutor -- and compete against -- high school kids at this summer's Nike Skills Camp in Chicago.
That was pretty awesome
.
But you don't have to be close to Durant to realize that he's pretty awesome in general, both on the court and off it. He's a famously humble hard worker, he plays for one of the youngest and most exciting teams in the league, and he's a sublime pleasure to watch (even if you're watching him work out against 17-year-olds). If I hadn't already given my NBA heart entirely to Derrick Rose, Durant would be a big-time man-crush contender. Given his popularity among NBA fans, I'm obviously not alone.
It's no surprise, then, that those closest to Durant during his brilliant one-year stop at Texas apparently agree. Today's proof comes via Jeff Goodman, who found out that Texas assistant coach Russell Springmann decided to honor the former Texas star
by naming his son -- yes -- Durant Springmann
:
Springmann was watching his most famous recruit, Kevin Durant, play with the Oklahoma City Thunder one day shortly after his wife was pregnant. "I said I really like the name Durant," Springmann said. "And she jumped on board and never got off."

But Springmann, who was the one who recruited Durant to Texas, wanted to make sure he cleared it through the proper channels first. He called Durant's parents and then made sure Kevin was alright with it, also. "They were cool with it," Springmann said. "And so was Kevin. We figured we couldn't name our son after anyone better. Kevin's everything we'd want our son to be."
First of all, "Durant Springmann" is a great name. It's also a great
basketball
name, the kind that practically guarantees some measure of hoops success in the future. Throw in the Springmann basketball bloodlines and the Durantian mojo, and I'll expect young Durant to make a handful of all-name teams in 20 years or so. No pressure, son.