College Basketball Nation:

Kevin Noreen
May, 2, 2012
5/02/12
12:15
PM ET
It's no secret: 2011-12 was not West Virginia's best year on the basketball court. That's not the same as calling it a
bad
year: The Mountaineers still managed to eek out a 9-9 record in the Big East, and they still managed to sneak in to the NCAA tournament before losing to Gonzaga in the first round, and there are plenty of teams that wish they could say the same.
Still, 2012 was not the finest hour in Bob Huggins' tenure at WVU, mostly because his team was often so difficult to watch. Aesthetic value only goes so far, sure, but the Mountaineers were such a poor shooting team, and such a mediocre defensive unit, that their games often came down to a) whether
Kevin Jones
could carry the load and b) which team rebounded its own misses more frequently. These games were scrums, and they were ugly. Even the most loyal West Virginia fan had to occasionally avert her eyes.
[+] Enlarge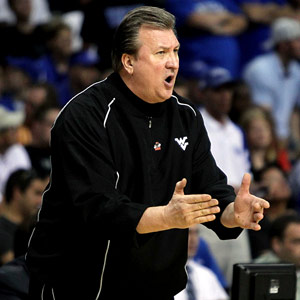 US PresswireBob Huggins and the Mountaineers enter the 2012-13 season with a whole host of new faces.
So: What does 2012-13 have in store? The Mountaineers, as you already know, are joining the Big 12. Can Huggy's team compete -- or even contend -- in their new-look league?
If not, it will not be for a lack of talent. Huggins loses Jones and senior guard Daryl "Truck" Bryant, his two leading scorers from last year's campaign, to graduation. The loss of the do-everything Jones -- an adept scorer and dominant offensive rebounder and a four-year stalwart at his position -- will require a particularly difficult adjustment. But despite that loss, Huggins is in many ways reloading. And he has transfers to thank for that.
If West Virginia does indeed plan to compete for the Big 12 title in 2012-13, it may well come down to the play of Aaric Murray, a former La Salle forward, and Juwan Staten, a transfer point guard from Dayton. Both bring tons of talent. At 6-foot-10, Murray is a potential NBA prospect; as a sophomore at La Salle, he grabbed 19.0 percent of opponents' misses and recorded a block on 7.6 percent of available possessions. (He also shot 20-of-57 from 3 that season. There is versatility here, too.) Staten, meanwhile, was one of the nation's best assist men in 2011, his freshman season at Dayton, when his 39.8 percent assist rate ranked him No. 10 in the country. Staten took his fair shot of shots that season (304, to be exact), but his pass-first tendencies nonetheless shone through.
West Virginia is also bringing along a crop of 2012 freshmen -- notably
Jabarie Hinds
and
Gary Browne
, but
Aaron Brown
,
Keaton Miles
and
Kevin Noreen
all received solid minutes in their first seasons -- as well as one ESPNU 100 talent in No. 12-ranked power forward Elijah Macon, a Columbus, Ohio native who did his hooping and schooling at Huntington Prep. Big-bodied and ably bearded forward
Deniz Kilicli
returns, and hopefully he will play "Country Roads" on his guitar at Midnight Madness again.
That was awesome
.
Still, the key players to watch are Murray and Staten, and Staten may prove to be the most important; he offers as much promise as trepidation. Staten is the kind of facilitative point guard the Mountaineers have desperately lacked in recent seasons, particularly when Bryant was running the show. (Hinds and Browne both recorded assist rates above 20 this past season, but West Virginia's offense was hardly flowing.) If Staten is content to be that kind of player, and Murray and Kilicli and Huggins' other forwards hit the glass with the usual Hugginsian intensity, then West Virginia is almost guaranteed to improve in 2012-13. But if Staten is still mired in some of the things that precipitated his Dayton transfer in the first place -- bad chemistry with teammates, a bad reputation among his coaches, those sort of things -- the Mountaineers are going to struggle early and often on both ends of the floor.
There are many uncertainties for this team, from two bigtime transfers to a batch of freshmen with a year of experience under their belts, to a freshman power forward that may or may not make an immediate impact. Until Huggins gets his players on the floor in the fall, the best West Virginia fans can do is picture it in their mind's eye. Midnight Madness will be a fascinating experience, no doubt (and not just for Kilicli's strumming). But if all goes well, the team WVU fans see in 2012-13 could be much improved, capable -- at least -- of battling in the top half of its new league in its first Big 12 season.
At the very worst, this team should be more entertaining -- or, you know,
less difficult
to watch. For a squad with this many questions, the Mountaineers may offer some potentially exciting answers.
July, 12, 2011
7/12/11
4:12
PM ET
By
Diamond Leung
| ESPN.com
The easiest way to tell that West Virginia will be a young team next season is by checking
its current roster
, which consists of only four returning players.
There is talent there with seniors
Darryl Bryant
and
Kevin Jones
, who withdrew his name from the NBA draft.
Deniz Kilicli
is back along with
Kevin Noreen
, who didn't play much before needing season-ending knee surgery.
With a lack of experience, there is also the benefit of somewhat of a blank slate. According to what associate head coach Larry Harrison told Metronews Statewide Sportsline, the team's preseason tour of Italy presents an opportunity to go back to playing an old-school style of Bob Huggins basketball.
"We're going to introduce a new style of play," Harrison said. "With the type of players that we have, we're going to try to play like the old Cincinnati teams that we had with the running and trapping and just playing full-court defense. We're going to try to put that in with these 10 days of practice that we have. And then when we take them over to Italy, we're going to play that way and get them used to playing that style. And then come back in October, we'll break it down a lot more and give them a little more time to adjust to our teaching. We're going to throw them into the fire right way because that's the way we want them to get used to playing."
Harrison, who coached under Huggins at Cincinnati from 1989-97, sounded excited. During his eight years there, the Bearcats were 192-71 and won six conference championships. They went to the Final Four and made two trips to the Elite Eight playing in Huggins' aggressive style.
Can a new batch of players help dust off what worked for Cincinnati? When they're not busy sightseeing in Italy, that will be the big question as the Mountaineers get an early start in preparing for the season. Laying the groundwork has already begun for Huggins, as he'll be going back to the basics for what was successful in the past.
January, 25, 2011
1/25/11
12:52
PM ET
West Virginia coach Bob Huggins was watching tape of Louisville late Monday night and didn't seem too fazed by the latest depletion of his roster.
"We'll be fine," Huggins said by phone from Morgantown. "But the truth of the matter is that they don't give us enough scholarships. The women get 15. We get 13. You get a couple of guys hurt or somebody's sick or don't do what they're supposed to do and now all of a sudden you don't have enough to practice."
The reason the Mountaineers, who were in the Final Four last April, are in such a predicament is that they're down to eight scholarship players.
[+] Enlarge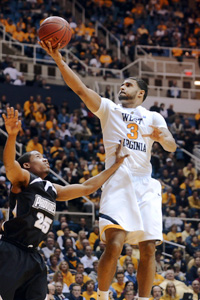 AP Photo/Jeff GentnerCasey Mitchell, WVU's leading scorer, has been suspended indefinitely for a violation of team rules.
The latest issue occurred when Huggins suspended leading scorer
Casey Mitchell
indefinitely for a violation of team rules. Huggins said he couldn't expand on the suspension. But Huggins said the previous issues he's had with Mitchell -- mostly about his inability to be coached and desire to defend -- had nothing to do with this incident.
"He's been practicing hard," Huggins said. "He has some things he has to do [to get off suspension]."
Mitchell had his first double-double of the season in a win over South Florida on Sunday with 13 points and 14 rebounds. The senior has had some breakout games for Huggins this season with 31 points in a win over Vanderbilt in Puerto Rico in November and 28 in a stunning win at Georgetown earlier this month.
The most bizarre exit from the team was from seldom-used sophomore Dan Jennings, who left the bench and the team -- literally -- during the South Florida game Sunday. He got up and just exited the floor. Huggins said Jennings wrote a message on the white board about his goodbye. Huggins said assistant coach Larry Harrison spent time with Jennings on Sunday night discussing the matter but Jennings is no longer on the team.
The reason the Mountaineers have such a short bench is that key members of the freshmen class aren't playing:
Kevin Noreen
had season-ending knee surgery on Jan. 12;
Noah Cottrill
withdrew from classes for the spring semester; Darrious Curry was not medically cleared to play and David Nyarsuk didn't meet NCAA eligibility requirements.
The Mountaineers already lost key members off the Final Four team in then senior Da'Sean Butler and sophomore Devin Ebanks, who left early for the NBA draft.
This leaves West Virginia with a core group of players --
Kevin Jones
,
Joe Mazzulla
,
Darryl Bryant
,
Dalton Pepper
,
John Flowers
,
Jonnie West
,
Cam Thoroughman
and
Deniz Kilicli
-- to try to win enough games to get an NCAA bid.
"We beat Purdue," Huggins said of a recent key win. "We'll be fine."
Huggins said he expects to turn Mazzulla loose on the 3-point line.
"Teams won't see it coming," Huggins said with a hint of sarcasm.
Mazzulla is 1-of-13 on 3s this season.
"We didn't get our freshmen class in here. I had to get Jonnie back [who originally decided not to play this season). Danny decides to walk off the bench and leave the team and now we're down more [with Mitchell]," Huggins said. "But we'll do what we do to win. It's a marathon, not a sprint."
The Mountaineers head to Louisville on Wednesday before going to Cincinnati on Saturday. A home game against Seton Hall is wedged in between another road game at Villanova and then a home game against rival Pitt. The Mountaineers (13-5, 4-2 in Big East) should know soon if they're headed for the bubble or worse over the next month.
November, 22, 2010
11/22/10
12:55
AM ET
SAN JUAN, Puerto Rico -- West Virginia's
Casey Mitchell
did just about everything he could to help the Mountaineers try to beat Minnesota in Sunday night's Puerto Rico Tip-Off final.
Foul problems plagued a number of other players and even seldom-used bench players like freshman
Kevin Noreen
had to step in to provide some hustle and production.
[+] Enlarge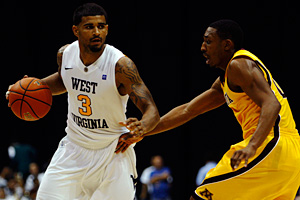 AP Photo/Ricardo ArduengoCasey Mitchell scored 27 points in West Virginia's loss to Minnesota.
It wasn't an ideal scenario -- and no one from WVU felt worse about the
74-70 loss
than point guard
Darryl Bryant
.
In Friday's semifinal win over Vanderbilt, Bryant scored 11 points on 2-of-11 shooting with six assists and one turnover. But against Minnesota, he wasn't just off. He admittedly disappeared. And it cost the Mountaineers dearly as Minnesota lead guard
Al Nolen
scored 17 points, got to the line 12 times (converting 11), and backcourt teammate
Blake Hoffarber
connected on four 3s.
Bryant played just 10 minutes, took (and missed) one shot and finished with more turnovers (3) than points (0) and assists (1).
"I let my team down,'' Bryant said. "We're going to be good regardless of losing this game. But honestly, I didn't show up to play. I let my team down. I was a no-show. We'll get better. This is a long season and it's just the third or fourth game of the season. We're a talented bunch. We just have to pick it up. We will and we'll win.''
The Eers discovered they have a shooter and go-to scorer on the trip in Mitchell. He followed up his 31-point, game-winning-3 performance against Vandy with a 27-point showing against the Gophers. Mitchell, a senior, is no longer waging verbal warfare with West Virginia coach Bob Huggins.
"I'm a senior and I've got nothing to lose, so I'm focused every night,'' Mitchell said. "If my shot doesn't fall, I've got to help my team somewhere else and make the pass to an open man.''
The Mountaineers didn't get special play out of
Kevin Jones
or
John Flowers
on the wing.
Deniz Kilicli
is still a work in progress. Bryant and
Joe Mazzulla
were either erratic or not as productive. The role players --
Cam Thoroughman
,
Dan Jennings
,
Dalton Pepper
and Noreen -- all had their moments of contribution.
But the reality is, West Virginia can only be a Big East contender if Mitchell makes shots, Bryant is locked in, Jones becomes a special talent and the rest of the players hit the boards.
It didn't help on Sunday that the Mountaineers weren't the more physical team and didn't draw fouls. The Gophers went to the line 35 times compared to WVU's 23.
West Virginia wasn't exactly the most physical team here.
"We haven't been this year,'' Huggins said. "Generally we are. As a rule, we haven't been this year.''
And that needs to change for the Mountaineers to reach their potential.