College Basketball Nation:

Khyle Marshall
November, 20, 2012
11/20/12
2:56
AM ET
LAHAINA, Hawaii -- Here are some observations from the first day of the EA Sports Maui Invitational:
This is clearly a down season for talent at the Maui Invitational. The names on the front of the jerseys are all impressive -- North Carolina, Texas, Illinois, USC, Marquette, Butler, Mississippi State -- but every single program, with the possible exception of UNC, is having a down season.The USC and Mississippi State programs are in shambles. Both teams aren't even close to being competitive against a solid D-1 team.

Texas, after being blown out by Chaminade, doesn't look much better. Yes, they were missing point guard Myck Kabongo, but even with Kabongo the Longhorns have major issues. Chaminade shot just 37 percent from the field for the game and it still won by 13.

Illinois dominated USC, but it's hard to tell whether Illinois is actually playing better under new head coach John Groce or whether USC is just that bad.

Marquette and Butler played the most entertaining game of the day, but it was marred with fouls, poor shooting and mistakes. Neither team boasts an elite player on its squad.

As for North Carolina -- yes it blew out Mississippi State -- but as far as NBA talent goes, the Tar Heels are having a down season too. After forward James Michael McAdoo, it's unclear whether they have another first-round draft prospect on their roster.

Nevertheless, if UNC doesn't roll through this field, it will be a major upset.
Tomorrow's best game should be Butler versus North Carolina at 8 p.m. ET on ESPN. North Carolina has much more talent, but the Bulldogs are scrappy and well coached. The Tar Heels are more of a finesse team. The physicality of Butler could give the Heels problems.The rest of the field looks like a wash. Marquette should roll over Mississippi State. Texas versus USC will be interesting only if the NCAA somehow clears Kabongo.

Illinois will be the heavy favorites to beat Chaminade in the finale at 10:30 p.m. ET on ESPN2. Yes, the Silverswords just knocked off the Longhorns, but they didn't play particularly well. The Illini should roll.
A number of NBA GMs -- including the Celtics' Danny Ainge, the Jazz's Kevin O'Connor, Bulls' Gar Forman, the Warriors Bob Myers and the Blazers Neil Olshey -- were in attendance. Overall, they are seeing the same phenomenon here that they are seeing everywhere. This is a down season, talent wise, in the NCAA. "If Cody Zeller, Shabazz Muhammad, Nerlens Noel and James McAdoo are your top four picks, it's going to be an ugly, ugly draft."

Other than McAdoo, I couldn't find a scout or GM convinced there was another first-round prospect here. If Kabongo plays, that could be two. But that explains, in part, why the field is so weak.
There were some good performances by top prospects on Monday. Perhaps the best was Illinois' Brandon Paul. Scouts have loved Paul's combination of elite athletic ability and scoring prowess for years. However, they've been puzzled by his inconsistency. He had a 43-point game against Ohio State last season. But there have been plenty of others in which he completely disappeared.

He seems to be more settled and more consistent under his new head coach. He was averaging nearly 20 points a game coming into the tournament and scored 26 points and shot 6-for-9 from 3-point territory on Monday night in Illinois' win.

UNC's Reggie Bullock was on fire against MSU. He had 16 points in 22 minutes and was 4-for-5 from beyond the arc.

As I detailed in my Rapid Reaction to the Butler-Marquette game, Vander Blue and Khyle Marshall also had terrific games on Monday night.
There are many NBA scouts who believe both P.J. Hairston and Leslie McDonald could start on most high major NCAA teams and they probably would average 16-20 points. Once the game quickly got out of hand, Roy Williams turned to both of them and both delivered. The two combined for 39 points and shot 10-for-17 from behind the 3-point line.
UNC has a number of talented freshmen: Joel James, Brice Johnson and J.P. Tokoto. All three got plenty of playing time on Monday. Of the three, it was James who shined on Monday. He was a significant defensive presence for the Tar Heels. He's still trying to get a feel for the game and could still probably lose another 10 to 15 pounds, but his seven rebounds and two blocked shots, combined with just a general toughness in the middle gave NBA scouts an encouraging glimpse into his future if he continues to develop.
The most memorable moment of the day was Rotnei Clarke's buzzer-beating heave to defeat Marquette. Here's how both Clarke and Marquette coach Buzz Williams described the moment.

Williams: "He shot it off one foot from behind his head from 40 feet. It was contested. As soon as the ball left his hand, I knew it was a basket. The trajectory and everything was perfect."

Clarke: "It was just kind of a scramble play. I was dribbling around, and I almost thought about flipping it to Roosevelt Jones, who was going down the lane line just to have him drive and make a play, [but] ended up keeping it, and got through and got around a couple of guys, and just let it up there, and luckily it went in."
November, 13, 2012
11/13/12
7:45
PM ET
It's too soon to glean any substantial benefits from Xavier's
62-47
victory over Atlantic 10 foe Butler -- the game did not count toward their mark in conference -- with the exception of one. Given the Musketeers' turbulent offseason, one that followed a frenetic regular season in 2011-12, Tuesday's win will boost the morale of a team with a new, albeit forced, persona.
"We took a good step forward today," coach Chris Mack told ESPN.com. "It gave our guys a shot of confidence. But we know there's work to do."
Mack's program lost nearly 80 percent of its offensive production from last season. Some of those reductions were natural.


Both Tu Holloway and Kenny Frease exhausted their eligibility. Other departures, however, were less seamless.
Mark Lyons
abruptly transferred to Arizona.
Dezmine Wells
was dismissed following sexual assault allegations. A grand jury decided against pursuing charges, but he ultimately joined Mark Turgeon at Maryland.
Plus, two former assistant coaches left Mack's staff.
So the team's circumstances demanded a fresh start.
And a dominating win over Butler in the Cintas Center in Cincinnati offered the Musketeers that chance to move forward from the last calendar year's mess.
There's no way of knowing how much the Musketeers will progress -- or regress -- over time, but they've clearly ignored the early projections that placed them at the bottom of the Atlantic 10.
"We have a group of guys in the locker room that we go to war with every day," Xavier forward
Jeff Robinson
told ESPN.com. "We know what we're capable of. Everybody that's doubting us hasn't been in the locker room. … It's all guessing."
Butler did all of the guessing on Tuesday. The perennially stubborn Bulldogs (28
th
in defensive efficiency in 2011-12) allowed the Musketeers to shoot a 50 percent clip from the field.
Brad Stevens' program couldn't establish any pattern that led to consistent production on offense, either. The Bulldogs made just four of their 18 3-point attempts.
Robinson and his teammates took credit for those mishaps. On film, Robinson said, Xavier noticed that
Rotnei Clarke
(3-for-11, seven points) and
Khyle Marshall
(3-for-10, seven points) had a lot of freedom in Butler's season-opening win over Elon Saturday.
"We emphasized just chasing those guys to make sure they didn't get open looks," Robinson said. "Our guards did a great job of doing that."
It was a refreshing moment for a squad that didn't have many following last season's run in the NCAA tournament.
The program's problems started with a December brawl in a rivalry game against Cincinnati. Multiple suspensions and a fall from the national rankings followed that melee. Xavier eventually picked itself up and reached the Sweet 16 but any sense of satisfaction didn't last long. Mack had lost key members and staffers from that team within months.
The new Musketeers don't feature any household names or national player of the year candidates. They're mostly anonymous, a rare trait for a program that's advanced to the Sweet 16 four of the past five seasons and sent Jordan Crawford and David West to the NBA.
By the end of 2012-13,
Travis Taylor
and Robinson, two seniors who combined to score 32 points, could land on the national radar. They were two of five Musketeers who scored nine or more points on Tuesday. A team that appeared to be fractured this offseason was united against Butler.
"We went to work," Mack said. "We had a lot of guys that spent the entire summer here. They lifted, they played together. They really worked hard to get to this point and I think there's a belief in one another."
June, 30, 2011
6/30/11
10:45
AM ET
By
Diamond Leung
| ESPN.com
COLORADO SPRINGS, Colo. --
Khyle Marshall
can't bring himself to do it.
The Butler forward hasn't watched tape of the Bulldogs' ugly loss in the national championship game to Connecticut, and he doesn't plan to because what's done is done. In focusing on the future, Marshall envisions people doubting a team that once again will have to form a new identity.
"They always use what we lost last year as fuel to bash on us and say that we can't do what we did last year, especially when we did it two years in a row," Marshall said. "There's always going to be more doubts, and that's just something we let go in one ear and out the other. We just worry about our team and just play hard and stay motivated."
[+] Enlarge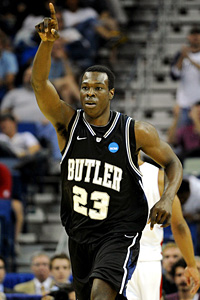 Chuck Cook/US PresswireForward Khyle Marshall and Butler are preparing for another season of surprising their critics.
Butler has indeed lost a lot for a second straight offseason -- so much so that it might not even be the favorite to win the Horizon League next season.
Shelvin Mack
left school for the NBA after his junior year, and the college careers of stalwarts
Matt Howard
and
Shawn Vanzant
came to an end as well.
That means without three of his top four scorers, Butler coach Brad Stevens will rely upon Marshall and others to step to the forefront. Marshall was the self-described energy guy for the team as a freshman and shined while playing solid minutes in the NCAA tournament. The Florida native who's currently playing for USA Basketball's U-19 world championship team understands he'll have to do more in order to move into the starting lineup.
After averaging 5.8 points and 3.8 rebounds and buying into Stevens' preference that he bring a rebounding presence off the bench, Marshall has been working on his outside jumper and ball-handling in preparation for a larger role. He was second on the team in field goal percentage and now Stevens wants him to play more small forward. Personally, he has a chip on his shoulder because it appears few outside of Indianapolis think the Bulldogs can actually get back to the Final Four.
"As a team joke going around, we just call ourselves the king of bracketbusters because we're always messing up people's brackets," Marshall said. "That's something that we love to do. It's something we just want to continue.
"All we want to do is just prove people wrong."
Marshall believes the coming season might present an even greater challenge than when Butler lost Gordon Hayward to the NBA draft, and it certainly wasn't easy getting back to the title game even with a veteran team. Butler was 14-9 at one point last season and needed to learn to stop living off the past, he said. The Bulldogs ended up reeling off 14 straight wins, and America fell in love all over again. The team fell short of the national championship after a horrific night shooting the ball, but Marshall said he's over it.
"It did take quite a bit [of time]," he said. "Pretty much all you hear is worst shooting performance in NCAA finals history, and that's something you can't get rid of. It's in the books. It's permanent. It's something we always got to remember, keep in our minds, and just hope we don't have a shooting performance like that ever again. It's something Coach has told us.
"Everybody on campus, they believe we can do it again, and I know our guys they want to do it again. We just need one more step to win it all. They are hungry to win it all."
June, 22, 2011
6/22/11
11:55
AM ET
By
Diamond Leung
| ESPN.com
COLORADO SPRINGS, Colo. -- The upcoming NBA draft could be the last of its kind if the one-and-done era is drawing to a close. With the league and players' union set to negotiate a collective bargaining agreement, up for debate once again is the current rule that requires draft-eligible players to be at least 19 years old during the year of the NBA draft and one year removed from high school.
But what do college players think, the ones who arrived after the age of preps-to-pros? Some got to have their say this past weekend at the USA Basketball U-19 training camp in Colorado. Generally, their opinions were summarized along the lines of what Arizona State incoming freshman Jahii Carson had to say.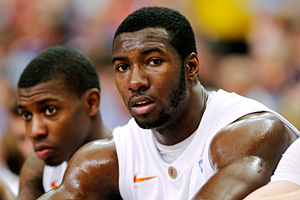 Bob Kupbens/Icon SmiPatric Young is used to throwing his weight around for the Gators.
"I think if a kid's good enough to play pro basketball as an 18-year-old kid that's graduated from high school, he should have the ability to go do that," said Carson, a top-10 point guard recruit. "But also I feel like if he's not ready yet to enter, they should have a rule that he has to stay."
Ask Michigan State's
Keith Appling
, and the former McDonald's All-American and Michigan Mr. Basketball says he likes age limit in theory because he believes in the college experience. But he also believes that players who want to declare for the draft out of high school should be able to.
Ask Butler's
Khyle Marshall
, and he doesn't believe in a process that caused some players to go to college for a year before bolting. "I'm 100 percent against one-and-done," he said. "It's either you're [declaring] out of high school or you just stay two, three years or all four years. We're trying to build a team. We're not trying to have a guy come in and then leave automatically. We're trying to build a program."
Wake Forest's
Travis McKie
, a former top-100 recruit, thinks players who go to college should be required to stay for two years before being able to declare. Florida's
Patric Young
, who has developed into a draft prospect after a McDonald's All-American high school career, says it should be three years, which would be a rule similar to the one for college baseball players and Major League Baseball -- a model that a garnered a growing number of outspoken supporters.
"I think you should have to stay for three years to develop your game just like baseball," Young said. "Help build your program up."
Said Appling: "I think if that would happen in college basketball, it would make the NCAA a lot better. There are a lot of guys leaving early. The talent is going down, but if a lot of guys chose to stay two or three years, it would be a lot better."
Young's Florida teammate
Scottie Wilbekin
knows how it feels to leave school early. He signed with the Gators as a high school junior, graduating early so he could get a head start on his college career. He fails to understand the logic of holding someone back from his NBA dreams in the first place.
"I went to college a year early when I was 17," he said. "I mean, I was good enough to do it, so I did it. If players are good enough to go right out of high school, they should be allowed to."
Carson, who was one of only two incoming freshmen to be invited to try out for the U-19 team, was told he had the kind of talent it took to go the NBA straight out of high school. So he admitted to wondering what it would be like to make the preps-to-pros jump, but his parents set him straight. "My mom and dad always stressed college, college, college," said Carson, whose mother is a college professor.
It made the Mesa, Ariz., native see that players ultimately should be able to make big decisions for themselves that would impact their educational and financial futures.
"I've always watched LeBron. I've always watched Josh Smith," Carson said. "I was thinking these guys are ready to be NBA basketball players out of high school, and if they went to college they would also dominate there, too. But a guy like
Kemba Walker
who stayed and took that route is also going to be an NBA lottery pick. I just think it's whatever the kid feels is best for him."
March, 26, 2011
3/26/11
11:46
PM ET
NEW ORLEANS -- The familiar refrain after Gordon Hayward's missed half-court shot in last year's national championship loss to Duke was this: What if the shot had gone down?
Hayward would have been an iconic figure in the sport, owner of the most dramatic basket in the history of the NCAA tournament.
Over the past year, the follow-up question would have been: How much would it have changed the sport if a team from the Horizon League had won the national championship by beating a Hall of Fame coach and a team from basketball royalty?
Well, the shot didn't go in. Duke won. Hayward is in the NBA. But Butler still changed the sport.
[+] Enlarge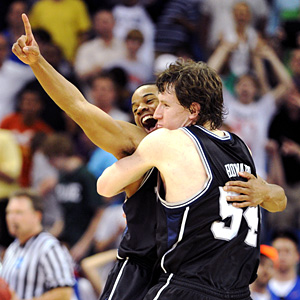 Chuck Cook/US PresswireRonald Nored and Matt Howard led Butler to another win and advance to the Final Four for the second year in a row.
The Bulldogs paved a path to get back by developing a will that once again propelled them throughout this tournament.
Butler is back in the Final Four after imposing its will in a
74-71 overtime win
over Florida on Saturday afternoon.
"Last year in Salt Lake [site of the 2010 West Regional], it was almost like a ride you never dreamed of being on and we relished every moment,'' said coach Brad Stevens, who is 10-3 in the NCAA tournament in just four short seasons as Butler's coach. "But this team has been so businesslike.''
Butler had to earn this trip more so than a year ago, when it won 24 straight games going into the Final Four. The Bulldogs lost three straight in the middle of conference play, even falling to lowly Youngstown State on the road. Butler lost five league games, ended in a three-way tie for first and had to win the conference tournament title on the road at Milwaukee.
"There was turmoil that we had to go through after falling pretty down in January and early February,'' said Butler junior guard
Ronald Nored
. "We had to earn this. It was tougher than last year.''
Against No. 9 seed Old Dominion, Butler had to win on a last-second layup by
Matt Howard
. An inexplicable foul at the end of the second half allowed the Bulldogs to barely eke past top-seeded Pitt.
"We were lucky to beat Old Dominion,'' Stevens said. "They could be sitting here. Pittsburgh could be sitting here. There's no doubt that they were great teams. That's the tournament. It doesn't matter how you win, you just try to play the next one and hope you get a chance to play the next one.''
The Florida game Saturday couldn't have gone worse for Butler early on. The Gators sprinkled in a zone with their man defense and it perplexed Butler. Florida built an 11-point lead with less than 10 minutes to go in the game and the Gators looked the part of the more experienced NCAA team, en route to its fourth Final Four under Billy Donovan.
"We got them to take shots out of character for them,'' Donovan said. "But then they found a way to come down and get another possession. The difference in the game was those 50-50 balls in the last 10 minutes of regulation.''
They're called winning plays. Butler has made them for the past few years under Stevens, and to some extent long before that under Barry Collier, Thad Matta and Todd Lickliter. Over the past decade and more, those coaches have made this one of the most consistent programs in the country.
"When you get to this point in the season, and I had this with [Joakim] Noah, [Al] Horford and [Corey] Brewer and those guys, there is an internal will and I thought then that our internal will was terrific,'' Donovan said of the Gators' consecutive championships in 2006 and 2007. "I thought [Butler's] internal will, coming down with those loose balls, being quicker in reacting, they just got it. They made plays. Their will at that point in time and their refusal to be denied speaks to something. I thought it stood out. I thought our guys were terrific in that, but maybe not as good as they were.''
The Bulldogs chipped away at that 11-point lead with plays like the gritty layup from Howard on a putback, a 3-pointer from seldom-used freshman
Chrishawn Hopkins
-- who had played in only 18 previous games and didn't play against ODU or Pitt -- and a 3-pointer by
Shawn Vanzant
. The play inside late and the rebounds Butler pulled down after being dominated all game by
Alex Tyus
and
Vernon Macklin
turned out to be the difference. After being outscored 32-14 in the paint at the point of their 11-point deficit, the Bulldogs went on to outscore UF 14-4 down low the rest of the way. Oh, and don't forget the fouls Nored and
Shelvin Mack
drew.
"What defines this Butler group was the unselfishness of Ron Nored not starting after starting during the national championship game and guarding
[Ervin] Walker
as tough as he possibly could and Shawn Vanzant tipping plays and
Khyle Marshall
and our young guys starting to figure this out,'' Stevens said.
The Bulldogs head to Houston not as underdogs, but as established members of an elite class. Michigan State went to consecutive Final Fours in 2009 and '10. Florida did it in 2006 and '07. The last mid-major school to make consecutive appearances was UNLV in 1990 and '91.
"I know this: Somebody is going to have to beat us because of our will,'' Stevens said.
If Hayward's shot had gone down, Butler would forever be known as the underdog that pulled off the impossible and won a title. Now that the Bulldogs are back on the sport's greatest stage, the headlines should read differently.
This program, this team, this school, belongs here now. Butler has earned it.
March, 26, 2011
3/26/11
6:40
AM ET
NEW ORLEANS -- Breaking down the Southeast Regional final:
No. 8 seed Butler (26-9) vs. No. 2 seed Florida (29-7), 4:30 p.m. ET (CBS)
What's at stake:
Butler is attempting to go back to the Final Four for the second consecutive season. The last time a team from a mid-major conference went to back-to-back Final Fours was in 1990 and '91 when UNLV pulled it off.
Florida is looking for its fifth Final Four appearance. The Gators are 4-0 in regional finals, winning in 1994 (when Lon Kruger was the head coach), 2000, 2006 and 2007, the final two times resulting in national titles.


Rich history:
Florida and Butler have met twice before in the Big Dance, and the Gators won both. In 2000, 5th-seeded Florida beat 12th-seeded Butler on a Mike Miller overtime buzzer-beater in the first round, en route to finishing as national runner-up to Michigan State. In 2007, the top-seeded Gators beat 5-seed Butler by eight in the Sweet 16. That matched UF's smallest margin of victory in the tournament, as the Gators won their second straight national title.
Hot streak:
After a humbling loss to Youngstown State on Feb. 3, Butler hasn't lost since, winning 12 straight. The Gators have won 13 of their last 15.
Path to the Elite Eight:
Butler beat Old Dominion (60-58) and Pitt (71-70) on last possessions before opening up a 20-point lead on Wisconsin and the holding on for the 61-54 win. Florida coasted past UC Santa Barbara (79-51), outlasted UCLA (73-65) and then beat BYU in overtime (83-74).
Experience:
Florida returned all five starters from last season's NCAA tournament team, which lost in the first round to BYU. Butler has four players who played significant minutes on the national runner-up team last season.
Remarkable stat:
Florida hasn't had a player foul out this season -- the only Division I team that can make that claim in 2010-11.
Tough matchups:
Butler junior guard
Ronald Nored
will have to take on Florida's
Erving Walker
after guarding Wisconsin's
Jordan Taylor
.
"Erving Walker is definitely a lot smaller than Jordan Taylor, but he's so quick,'' Nored said. "He can get by you and finish over you at his size. He can shoot the ball really well. In some ways, they're similar but their sizes are a little different, so you can guard Erving with a hand in the face and make him shoot quicker.''
Chandler Parsons
will be part of a committee with
Vernon Macklin
and
Alex Tyus
that will have to defend Butler's
Matt Howard
.
"He's very difficult to guard,'' Parsons said. "He's one of the most physical players in the country and he plays smart and just relentless and he doesn't stop and he's got a really good motor. So a guy like him, he just battles for 40 minutes and you're not going to get anything easy with him just because his effort is off the charts.''
Injury update:
Butler center
Andrew Smith
writhed in pain, clutching his left knee late in the Bulldogs' win over Wisconsin. He said after the game that his left knee was swollen, but he would play Saturday. But on Friday, the Bulldogs said it was his ankle, not his knee. Regardless, he was held out of Friday's practices and Butler will assess his status for Saturday's game prior to the tip. But he's planning on playing in some form.
X-factor:
Of course, Butler's
Shelvin Mack
and Howard have to score and board, Nored must defend on the perimeter and Smith will need to do the little things up front. But the difference could end up being
Khyle Marshall
, the freshman forward off the bench. He scored seven points and grabbed seven rebounds, blocked a shot and came up with a steal in 18 minutes against the Badgers. Marshall's length and athleticism will be needed against the Gators' frontline. UF has scored 100 points in the paint in three tournament games, while Butler has yielded just 52 points inside.
The Gators will get the requisite production out of their starting five. But keep an eye on the production from two reserve forwards. Newcomers
Patric Young
and
Will Yeguete
will be significant factors in this game if they can get key offensive putbacks and defend Howard inside. They offer up a combined 10 fouls to offset Macklin and Tyus, and Young is probably the strongest of the group that can handle the scrappy Howard.
Reality check:
For everyone constantly wanting to put the Bulldogs in this tidy little box and say how cute and cuddly it is that they are about to reach the Final Four again, just think about the experience in this moment for both teams.
"Butler has been here before and this is our first time here overall,'' Florida guard
Kenny Boynton
said. "They are a physical team and I think it's going to come down to the wire. We have to play hard for the full 40 minutes.''
Added Walker, "This is a dream, but you can't get caught in it. You have to be awake. Butler is a great team we have to come out and play our game. We don't expect it to be easy and it should be a tough challenge.''
And from the Butler side:
"This is business,'' Mack said. "You want to get back to that stage and try to enjoy it.''
"Last year was more of a whirlwind because we hadn't done it before,'' Howard said. "Having been there before, at least to this point, you learn how to manage it and deal with it.''
August, 2, 2010
8/02/10
11:10
AM ET
For the next month or so, our friends at The Mag are previewing one high-profile school per day for their Summer Buzz series. For the sake of all that is synergistic, yours truly will be attempting the same, complementing each comprehensive Insider preview with some adjusted efficiency fun. Today's subjects? Butler and Syracuse. (Syracuse will be posted later this afternoon.) Up next? Georgetown.
In retrospect, we should have seen Butler coming.
Sure, hindsight is 20/20. And sure, the Bulldogs lost a few early-season nonconference games (to Minnesota, Clemson, Georgetown, and UAB) that made their torrid undefeated run through the hapless Horizon League difficult to evaluate. Still, teams with defenses as efficient as Butler's -- which ranked No. 5 in the country in adjusted defensive efficiency by the end of the season, a mark that improved as the team worked through its brilliant bracket run -- don't come along all that often.
Butler's methodical march to the precipice of a remarkable national title was a great story off the court. On the floor, it was less surprising. Even when it struggled to find points, Butler's stifling team defense was just that good. We should have seen it coming.
[+] Enlarge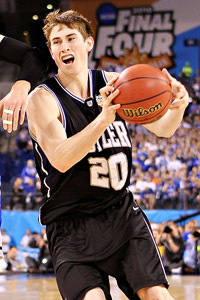 Andy Lyons/Getty ImagesNot only will Butler miss Gordon Hayward's scoring, but the Bulldogs need to replace his defensive production as well.
Will we make the same mistake in 2010-11? Will Butler be good enough to give us a chance? Or, with the losses of
Gordon Hayward
and
Willie Veasley
, did Brad Stevens and company leave their best chance at a national title in Indianapolis?
Simply enough, those answers will depend on how well Butler can cope with the aforementioned losses, how Butler's remaining core -- a formidable one -- can collectively recreate Hayward's considerable offensive and defensive production.
And make no mistake: Hayward's contributions came all over the floor. While not a dominant player in any statistical category, the athletic 6-foot-8 forward was blatantly good at some things and subtly good at others. The blatantly good: Shooting (52.7 effective field goal percentage) and scoring (112.7 offensive rating), drawing fouls (5.5 fouls drawn per 40 minutes) and getting to the free throw line (57.9 percent free throw rate).
But Hayward, perhaps less blatantly, was also a major factor in Butler's defensive excellence. His block rate of 2.8 percent helped shore up Butler's interior defense, and he had by far the best defensive rebounding rate -- 23.3 percent, ranking him 67th in the country in the tally -- of anyone in Butler's often undersized lineup. The team's next-highest defensive rebounding percentage, 16.5, belonged to
Matt Howard
.
That last stat is notable for more than proving Hayward's versatility. In fact, Hayward's contributions on the defensive glass were the one thing holding Butler back from being a truly vulnerable defensive team. The Bulldogs' only real weakness in 2009-10 came on the defensive boards: Butler allowed its opponents to rebound 27.8 percent of its misses, the 18th-highest figure in the country. With Hayward gone, it's unclear who can help Butler shore up that already-exposed area of an otherwise stalwart defense.
Howard is the obvious candidate, but thanks to chronic foul trouble, Howard played few key minutes during Butler's tournament run. That will have to change; Howard will have to find a way to guard bigger, stronger opponents without taking himself out of the game for key stretches.
Another likely candidate is sophomore
Andrew Smith
. The 6-foot-11 forward has played limited minutes in his freshman season but was forced into action in the tournament by Howard's foul-prone habits. Smith is a big body, and playing him alongside Howard could alleviate the pressure on Butler's former Horizon League player of the year both in guarding and blocking out fellow big men.
Butler also has a pair of sneaky-good recruits that Stevens will hope can combine to approximate some form of the versatility lost with Hayward and Veasley's absences.
Khyle Marshall, a 6-foot-6 small forward with a wealth of athleticism
, was the No. 22-ranked small forward in the 2010 class. There's
also 6-foot-9 Indiana native Eric Fromm
, a power forward who's shown a penchant for defensive rebounding and an ability to start the break on the dribble. Some combination of those players -- mixed in with relative newcomer Smith -- could help Butler avoid the obvious pitfalls of losing Hayward's defensive contributions.
Butler will still be very good elsewhere.
Shelvin Mack
and
Ronald Nored
are two of the best perimeter defenders in the country. Mack is good enough to handle an increased offensive scoring load. Howard, provided he can figure out how to stay on the floor, will be as solid and productive as ever. Butler was never particularly lethal on offense in 2009-10 -- even Hayward had his noticeable offensive flaws -- but they didn't have to be.
Whether that equation changes will have everything to do with whether Butler's newcomers can make up for the less noticeable things Hayward did for his team on the defensive end. If the Bulldogs can find a way to keep their only subpar area -- defensive rebounding -- from becoming an even greater liability in Hayward's absence, the Bulldogs won't be a surprise to anybody. They'll just be good.
If so, we'll see them coming before our brackets are completely busted. That much we know for sure.