College Basketball Nation:

Kobe Bryant
August, 20, 2013
8/20/13
12:15
PM ET
The pre-NBA age limit era produced some of the league's best players. There were plenty of flops (Google the 2001 NBA draft), but superstars such as
Kobe Bryant
,
Dwight Howard
,
LeBron James
and
Kevin Garnett
were elite players shortly after high school graduation.
Tyson Chandler
,
Tracy McGrady
,
Jermaine O'Neal
and
Amar'e Stoudemire
have had impressive careers, too.
They didn't need higher education to advance on the court.
Still, their expedited paths to the NBA have left us with a series of intriguing "What if?" scenarios. What if LeBron had gone to college? What if Stoudemire had picked Memphis or McGrady had gone to Kentucky? What if Garnett had signed with Michigan?
It's all great barbershop talk.
Bryant stirred up the discussion last week when he told Jimmy Kimmel that
he would've played for North Carolina
, not Duke, if he'd decided to go to school instead of opting to enter the 1996 NBA draft.
From the Los Angeles Times:
Defying urban legend that he was Duke-bound, had he gone to college instead of the NBA straight out of high school, Bryant said he was leaning toward North Carolina. "I love [Duke Coach Mike Krzyzewski]," Bryant said. "The truth has to come out."

Why North Carolina? Vince Carter, a Tar Heel, was one of the top guards in the country at the time. "I want to play against him, every single day," Bryant said.
Oh. And ... wow.
[+] Enlarge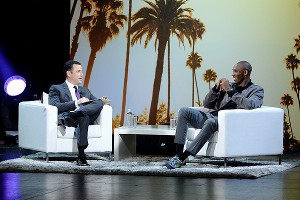 Jason Kempin/Getty ImagesKobe Bryant stirred up discussion last week when he told Jimmy Kimmel he would have chosen UNC over Duke.
That 1996-97 UNC squad Bryant would have joined featured a talented pair of sophomores in Carter and
Antawn Jamison
. Those Tar Heels lost to Arizona, the national champ that season, in the Final Four.
Carter and Jamison turned pro a year later after losing to Utah in the 1998 Final Four.
But Bryant would've changed everything, right? I mean, if he would've picked UNC and stayed two seasons, the Tar Heels might have won back-to-back national titles.
Imagine a lineup that featured Bryant, Carter and Jamison -- a trio with 25 NBA All-Star game appearances between them.
Imagine the dunks in the pregame warm-ups.
Of course, Carter and Bryant together could have been a dilemma for the Tar Heels, too. When they were younger, both guys played a lot of pass-last basketball. And they've never been accused of having self-confidence issues. Would they have meshed on the floor? Maybe, maybe not.
There's just one problem with this entire story, though.
The L.A. Times calls the theory that Bryant would've attended Duke an "urban legend."
In 2007, however, Bryant
hypothetically committed to Duke
.
From GoDuke.com:
Often times Duke fans wonder if Kobe Bryant had not gone directly to the NBA out of high school if he "maybe" would have attended Duke and been a part of that team.

"There's no maybe about it," Bryant says. "Every time I turn on the TV and see Cameron Indoor Stadium, see everybody in Krzyzewskiville and see the Crazies jumping up and down with the intensity and the building almost shaking, I wonder what it would have been like to play there with Corey [Maggette] and Elton [Brand] and all those guys."

In fact, Bryant would've been a junior on the 1999 team that featured two future National Players of the Year in Brand and Shane Battier along with Maggette, William Avery, Trajan Langdon and Chris Carrawell, among others.

Instead, Bryant entered the NBA via the No. 13 pick of the 1996 draft and went on to earn his first trophy as winner of the Gatorade Slam Dunk Championship at the 1997 All-Star Weekend. By 1998 he had started an All-Star game and by 1999, he had become the youngest player in NBA history named to an all-NBA team and in 2000, he was the youngest player ever to earn all-defense honors, as well. Ten years into his career he has won three NBA Championships and was also the MVP of the 2002 All-Star game.

But if you ask Coach K what it would've been like to coach Bryant in college, he responds by saying, "I don't day dream. I have enough to think about with my current team than to think what might have been."
Now, the 1996-97 Blue Devils -- led by Langdon, Jeff Capel and
Roshown McLeod
– lost in the second round of that year's NCAA tournament. It wasn't the phenomenal bunch that was assembled a few years later.
Kobe's presence would have helped. And if he'd stayed three years to link up with that 1998-99 squad -- arguably the greatest team in NCAA history that failed to win a national title -- Duke would've been more dominant that year.
It's just an idea. Who knows how things would've unfolded.
Perhaps Kobe would have picked UNC. Perhaps he would've gone with Duke.
He did neither.
But it's still fun to consider the possibilities.
And a Kobe-Vince Carter pregame dunk contest every night.
September, 2, 2011
9/02/11
7:51
PM ET
By
Diamond Leung
| ESPN.com
Kobe Bryant has in recent years become a regular visitor at UC Irvine.
Because Anteaters assistant Ryan Badrtalei coordinates his workouts, Bryant can sometimes be found on the court, in the pool, on the track, or lifting weights. As a resident of nearby Newport Coast, the Lakers star has become a friend of the program's.
Turning UC Irvine's home floor into a gym of dreams, Bryant also made appearances at open gym sessions last week that allowed some of the Anteaters to experience playing pick-up games with the Black Mamba himself.
"That's probably as good as it gets as a basketball player to be lining up with that guy," UC Irvine coach Russell Turner said. "It's not uncommon for him to be on campus. It was uncommon for him to want to get into pick-up games. They were somewhat in awe, just as I would have been if back then we would have walked in the gym and had Michael Jordan playing."
Turner cannot watch his players in the summer sessions due to NCAA rules, but has spotted Bryant shooting late at night in the gym after hours -- sometimes even during the playoffs.
UC Irvine was 13-19 in Turner's first season, and the program is still searching for its first NCAA tournament appearance. Having the presence of one of the NBA's best players on campus certainly can't hurt, and Bryant has been happy to help when he can.
Bryant spent about two hours speaking with UC Irvine athletes last September in a question-and-answer session after being invited by men's volleyball coach John Speraw, who met him at the 2008 Beijing Olympic Games.
"He was really funny and open," women's basketball player Raquel Theus said then. "I think the thing I remember the most is his favorite quote 'Rest at the end and not in the middle.' I like that it came from his high school English teacher."
Turner's team posed for pictures with Bryant that night and has also gotten to learn from other NBA players due to the coach's previous job as a Golden State Warriors assistant. After an Anteaters win last November, they got a visit from Stephen Curry, Andris Biedrins and Reggie Williams, who delivered the message that the NBA dream could be realized for players with mid-major and international backgrounds.
The hope for Turner is that associating UC Irvine with high-level players might help the Anteaters turn the corner, though Turner and the team have had some bad breaks.
Forward
Eric Wise
would have been the team's returning leading scorer, but decided at the end of the season to transfer. The NCAA upheld its decision to rule top recruit Maxime Chupin ineligible for receiving benefits above the center's actual and necessary expenses from a club team in France. Another center,
Adam Folker
, is recovering from season-ending hip surgery and has yet to be cleared to play. Guard
Brandon Scott
was forced to retire after tearing an anterior cruciate ligament for a third time during a San Francisco Pro-Am game.
The Anteaters are left with no seniors and a host of new faces who should get opportunities to play immediately.
"People won't expect much of us, but I'm not going to fall into that thinking," Turner said. "We've talked about that. The things we've got to focus on are getting better every day, and working to build a foundation.
"There's excellence associated with this university across the board, and I have great confidence we'll get there."
March, 12, 2010
3/12/10
6:12
PM ET
By
Diamond Leung
| ESPN.com
Joe "Jellybean" Bryant, the father of Kobe Bryant,
told KHON-TV
he'll be applying for the Hawaii coaching job that opened up when the school
fired Bob Nash
last week.
Jellybean's credentials include playing in the NBA, serving as an assistant coach at his alma mater La Salle and being a head coach overseas and in the WNBA.
Of course, anyone can technically apply for the job since the opening has been posted online along with another position for an associate coach.
Kobe, of course, threw his support behind his father in an
interview with ESPNLA
and added this:
The younger Bryant then offered a bit of extra incentive for the Hawaii athletic department to consider when filling the position.

"Not to mention, they'll get a lot of Nike stuff," Kobe said with a laugh.
February, 24, 2010
2/24/10
11:45
AM ET
In his
recent NBA book
, Bill Simmons writes about the great what-ifs in NBA history and how a different scenario might have played out. What if the Pistons had passed on Darko (oof) and taken Carmelo Anthony instead (double oof)? Historical counterfactuals are never not fun. Unless you're the Pistons. Or John Calipari.
To what do I refer? The simple, now-evident question: What if Jerry West hadn't talked Calipari out of drafting Kobe Bryant?
It's true.
According to Roland Lazenby's new West biography
, Calipari wanted to take Kobe with the No. 8 pick in the 1996 NBA draft, and
West, deeply fond of Bryant's potential, managed to talk him out of it
:
First West had to take the huge gamble of trading veteran center Vlade Divac to the Charlotte Hornets for their thirteenth pick in the draft. Then he learned that John Calipari, the coach of the New Jersey Nets, planned to take [Kobe] Bryant with the eighth pick before the Lakers could snare him at thirteen.

"Jerry wanted Kobe, so he basically called up and talked Cal out of drafting Kobe," explained Hal Wiseel, who was with the Nets at the time. West encouraged the Bryant family to talk to Calipari and explain that their son really wanted to play for the Lakers. "He knew if we didn't take him at eight, he'd drop to Charlotte, and he could make the deal with Charlotte," Wissel recalled. "Cal was young in the league and, hey, it's Jerry West on the phone."
Triple oof. Of course, it took a couple of years for Kobe Bryant to become Kobe Bryant, so there's no guarantee Calipari would have saved his NBA livelihood merely by standing up to West and taking Bryant with that eighth pick. Still, by 1999 -- the end of Cal's Nets tenure -- Kobe was starting to look like an elite player, and had he been able to excel for the Nets in short order, it just might have prevented Calipari from eventually heading back to college basketball with his tail between his legs. Which, of course, would have kept Memphis from regaining its elite status, and which almost certainly would have kept Calipari from eventually landing at his current home, Kentucky.
So, Kentucky fans, if you haven't already, be thankful John Calipari wasn't an NBA heavyweight. Without that failure, your 26-1 record and national title-contending Cats might never have existed. (Oh, and Lakers fans? You should probably say your thank you's, too.)
(Hat tip:
Rush The Court
)