College Basketball Nation:

KSU over Kansas
February, 15, 2011
2/15/11
12:55
AM ET
Not much had gone right for Kansas State or
Jacob Pullen
this season.
In the preseason, Kansas State was picked to win the Big 12 for the first time ever and Pullen was tabbed as the conference player of the year.
Yet the Wildcats entered Monday night's game against Kansas with nothing but trouble to show for their efforts.
Sure, there were a few pops of success like beating Virginia Tech, Gonzaga and Washington State. But those games were in November and early December.
[+] Enlarge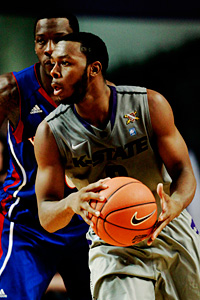 AP Photo/Orlin WagnerJacob Pullen poured in 38 points for Kansas State in an upset of No. 1 Kansas.
Senior
Curtis Kelly
had been suspended twice, missing nine games. Pullen was suspended for three games for accepting extra benefits. Wally Judge quit the team after 17 games.
Kansas State was 1-5 on the road in the Big 12 and had been swept by Colorado, the last matchup coming down to the buzzer Saturday night when a game-winning 3-point shot by
Rodney McGruder
wasn't allowed since it came just after the clock hit zeroes. With 33 seconds left in that game, Pullen committed a costly turnover with his Wildcats down one.
It's just been that kind of season for the senior guard. At one point he was so frustrated that he said this: "I won't play basketball in the NIT. I'm saying that now. If we lose and we have to go to the NIT. I will not play.''
Not good.
"There was a lot of things going bad for us,'' Pullen said by phone from Manhattan, Kan., on Monday night. "We had problems off the court. We were college students that made bad decisions and at the same time there was a lot of pressure on my teammates and they've never dealt with this and the expectations.''
And yet, all seemed forgiven on one magical Monday night at Bramlage Coliseum.
Pullen erased plenty of the bad karma with his 38-point undressing of Kansas in K-State's
84-68 rout
of the top-ranked Jayhawks.
"Credit goes to my teammates that did a great job of getting me the ball, setting screens and making plays,'' said Pullen after his career-high scoring performance. "When we make plays like we did tonight, we look good.''
A season ago, Pullen was one of the catalysts with his backcourt mate, senior Denis Clemente, in Kansas State's Elite Eight run that was ended by Butler in Salt Lake City.
"We won games with a core group of people that came in to practice and worked hard,'' Pullen said. "We've got a lot of young guys and freshmen that had to understand what we had to do. We didn't expect to be the No. 3 team in the country [in the preseason].''
Pullen said the team came together on Sunday and made sure they checked the poor vibes from the late loss to Colorado right at the door of the locker room.
"I made a bad play, turned the ball over and Rodney's shot was too late,'' Pullen said. "I knew we had to focus on Kansas. I felt I didn't want to be overly aggressive with my shot. But my team followed me and when I do things in practice that are lackadaisical it affects my team. Me and [coach] Frank [Martin] communicated in the last month that when I'm having a bad practice, he pulls me out. I know that as a point guard we have to understand each other and lately I've understood that he has to count on me as a leader.''
Kansas State (17-9, 5-6 Big 12) has five games remaining in the regular season. Home games against Oklahoma, Missouri and Iowa State are must-wins. Splitting the road games at Nebraska and Texas would help the cause, too.
But what happens to Pullen if Kansas State doesn't make the NCAA and is invited to play in the NIT?
"I will play anywhere,'' Pullen said. "I said that comment in a heated moment to get my teammates to understand the reality. I didn't say that comment to mean it. In my heart I will play for Kansas State regardless if it's in the NIT or the NCAA.
"I think if we can win some games, get a win on the road,'' Pullen said. "I think we'll play our way in.''
February, 15, 2011
2/15/11
12:32
AM ET
Kansas was ripe to be beaten.
The Jayhawks were without injured and inspirational player
Thomas Robinson
, who is out with a knee injury. They were trying to reinsert heralded freshman point guard
Josh Selby
into the lineup after he had missed the previous three games with a stress reaction in his foot.
And then KU got a No. 1 ranking/No. 1 bull's-eye on Monday, giving rival Kansas State the perfect storm to finally live up to its potential against its bitter rival in a rocking Bramlage Coliseum on Monday night.
[+] Enlarge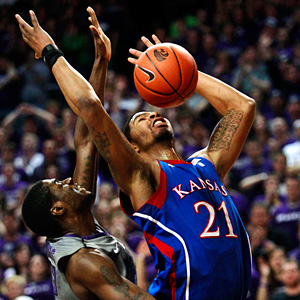 AP Photo/Orlin WagnerMarkieff Morris and the Kansas Jayhawks likely lost their grip on the No. 1 ranking on the same day they reached the top.
Let others use whatever adjectives they choose to describe K-State's
84-68 victory
, but this shouldn't be considered a stunner. Now the margin of victory (16 points) is certainly a surprise, but that seemed to be more of an indication that the Jayhawks simply weren't mentally ready for this challenge. Give complete credit to preseason Big 12 player of the year
Jacob Pullen
for his career-high 38 points, but the Jayhawks' porous defensive effort left a lot to be desired.
Kansas was tabbed as the No. 1 team on Monday afternoon after Ohio State lost at Wisconsin over the weekend, despite the fact that KU had lost to Texas at home on Jan. 22. In that game against the Longhorns, Kansas was no doubt emotionally fatigued from being up the previous night with Robinson after the tragic death of his mother. Lisa. Since that loss the Jayhawks had been on a magnificent roll from escaping at Colorado, to crushing Kansas State, Texas Tech and Nebraska on the road, and then Missouri and Iowa State at home.
But in the past few days something changed with this team. Maybe it was trying to get Selby back on the court. Maybe it was the timing of getting the top ranking and the opponent. Maybe the Jayhawks were simply ready to get clocked, just like Duke had its forgettable game at St. John's two weeks ago. Whatever the reason, the Jayhawks clearly weren't ready to handle the top spot.
Kansas didn't shoot well from long range (3-of-15), turned the ball over 18 times, and didn't have composure from beginning to end, exemplified by
Elijah Johnson
's technical for taunting after a vicious dunk late in the game. KU was down 14 at the time. Taunting doesn't have a place at any point and certainly makes the team look small if it occurs when it is behind big.
Kansas has given Kansas State new life in its hope to be back in the NCAA tournament after an Elite Eight run last season. The Wildcats, who have five regular-season games remaining, have played a tough schedule and won a few tough games like against Virginia Tech, at Washington State and against Gonzaga in Kansas City. But they also lost several others: to Duke and UNLV in Kansas City, to Florida in Sunrise, Fla., to a whole mess of teams in the Big 12, including a season sweep at the hands of Colorado. The Wildcats entered the KU game 0-7 against the RPI top 50.
The season had been a nightmare at times with Pullen getting suspended for three games for accepting extra benefits,
Curtis Kelly
being suspended multiple times and Wally Judge quitting.
But now Kansas State has new life. The Wildcats (17-9, 5-6) have three home games remaining and two on the road, including at possible new No. 1 Texas.
But more than giving Kansas State a pulse for a bid, the Jayhawks rekindled the debate as to who should be the top-ranked team, mere hours after this week's poll was released.
Texas and Pitt are playing the best basketball right now as the Longhorns have won 10 in a row, nine by double figures. Pitt has won 13 of 14, including two in a row on the road (at WVU, at Nova) without leading scorer
Ashton Gibbs
. The Panthers also beat the Longhorns head-to-head back in November.
Ohio State could certainly be deserving still, losing its first game of the season by four points in an arena where few teams ever win.
Yet, for all the KU warts that were exposed on Monday night in Manhattan, the Jayhawks would still have to fall again at least once more, if not twice, to lose their grip on a No. 1 seed. Kansas will likely be fine.
But for one night, at least, Kansas played a big role in saving the season of its in-state rival.
And for Jayhawks fans, there's nothing fine about that.