College Basketball Nation:

Kyle Fogg
March, 10, 2012
3/10/12
10:41
PM ET
LOS ANGELES -- Colorado coach Tad Boyle wasn't ready to sleep at 1:30 a.m. on Saturday morning. So less than 14 hours before playing in the Buffaloes' first conference tournament championship game since 1990, Boyle started text messaging.
"We dedicated this game to Cory Higgins, Levi Knutson, Marcus Relphorde, Trent Beckley, Javon Coney and Alec Burks." Boyle said. "I texted them all at 1:30 in the morning, the six guys who were in that room [on Selection Sunday last year] who are no longer with us today, and told them that we are winning this for them."
That dedication turned into delirium for the Buffaloes at Staples Center, as Colorado won't have to worry about any slights from the NCAA tournament selection committee this season. The Buffaloes clinched the Pac-12's automatic tournament berth with a
53-51 victory over Arizona
, the first conference tournament title in program history.
Colorado (23-11) emerged victorious despite only scoring three points in the final 9:10. Its only field goal during that span came on a windmill dunk by
Carlon Brown
with 52.6 seconds left that provided the game-winning points. But for a program that hadn't made the tournament since 2003 -- falling on the wrong side of the bubble several times in the years since, including last season's disappointment -- holding on for dear life while milking a 50-38 lead down to the end was somewhat fitting.
[+] Enlarge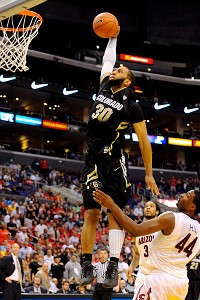 David Hood/AP ImagesCarlon Brown slams home Colorado's winning points in the final minute of the Pac-12 tournament championship.
"It was tough there at the end, but we knew that we had to make that last stop," said forward
Austin Dufault
, who scored eight points and had seven key rebounds. "We've played great defense all year and I was hoping for one last stop."
The Buffaloes got that last stop, as
Nate Tomlinson
harrassed
Kyle Fogg
's shot attempt, a long jumper at the buzzer that didn't come close to being good. That set off an uproarious celebration that was 365 days later than Colorado expected it to be.
"[Selection Sunday] last year was probably the worst experience in my life, at least as far as basketball is concerned," Dufault said. "This one is probably the best. It feels so good right now, especially after what we went through last year."
Brown didn't play on last season's team, as he sat out after transferring from Utah. But the pain of missing out on Selection Sunday was just as real to him. Having played in the tournament in 2009, when he was a sophomore with the Utes, he wanted to bring the rest of his teammates that experience.
"I told the guys at halftime that there's nothing better than winning a tournament championship and cutting down those nets and getting all this free gear," Brown said. "On a serious note, I'm the only person that's been to the tournament. I know how it feels and I wanted these guys to feel it."
Colorado did that with a workmanlike effort, especially defensively and on the glass. The Buffaloes outrebounded Arizona 35-23 -- with
Andre Roberson
notching his 19th double-double of the season and third of the tournament with 10 points and 11 rebounds. They held the Wildcats to 36.7 percent shooting, including 26.3 percent from the 3-point line. The Wildcats (23-11) missed all seven of their 3-point attempts in the second half.
"We have this drill in practice called the 'bubble drill' where we put a bubble over the basket for the last four to five minutes of the game," Boyle said. "The only way you can win is to play defense and get stops. Our guys believe in that drill."
The Buffaloes also believe in themselves, even if they were the only ones that held that belief for most of the season. After losing their top four scorers from last season, including an NBA lottery pick in Burks, the Buffaloes were picked to finish 11th in their new conference.
Turns out that the preseason prediction was 10 spots too low, at least in terms of the conference tournament. By winning four games in four days the Buffaloes now have a legion of believers that extends past their spirited student section, which stole the show in the Staples Center stands.
"The job that Tad Boyle has done at Colorado, and what Colorado represents for the future of the Pac-12, I can make the argument that there's been no greater gift to college basketball in the Pac-12 than adding Colorado," Arizona coach Sean Miller said. "I wish them the best in the NCAA tournament. Whoever draws them is running into a hungry, well-coached, disciplined team."
March, 10, 2012
3/10/12
8:45
PM ET
LOS ANGELES -- Reaction from Colorado's
victory
against Arizona in the Pac-12 tournament final.
Overview:
Colorado is to the Pac-12 Conference this season what Jordan Knight, Jonathan Knight, Donnie Wahlberg, Joey McIntyre and Danny Wood were to the music industry in the early 1990s, as both sets of new kids moved to the top of the charts. The Buffaloes won the Pac-12 tournament title on Saturday at Staples Center, capping off a banner first season in the league and winning the first conference tournament title in school history. With the win, which wasn't clinched until Arizona guard
Kyle Fogg
's contested shot fell well short of the rim as the final buzzer sounded, No. 6-seeded Colorado qualifies for the NCAA Tournament for the first time since 2003 and exorcises demons of having its bubble burst a year ago.


As for bubbles, Arizona's might have burst with the loss. Entering the Pac-12 tournament, the No. 4-seeded Wildcats were thought to be one of the teams that would fall just short of making the NCAA tournament, and it seems unlikely that wins against UCLA and Oregon State this weekend will be enough to get Arizona, which advanced to the Elite 8 a year ago, back to the big dance.
Turning point:
The first eight minutes of the second half. A day after Arizona used a quick second-half start to overwhelm Oregon State, the Wildcats had the tables turned on them by Colorado on Saturday. The Buffaloes opened up the second half with a 17-8 run, expanding its 30-28 halftime lead to 47-36.
Spencer Dinwiddie
, who hit four 3-pointers en route to a team high 14 points, nailed a 3-pointer to put the Buffaloes up by double-digits.
Colorado led by as many as 12 in the second half, and needed every bit of the cushion that it established in the first eight minutes, as Arizona held the Buffaloes to only one field goal and three points over the final 9:10. The field goal, a dunk by
Carlon Brown
with 52.6 seconds left, provided the Buffs with the game-winning points, as
Nate Tomlinson
was able to force Fogg into a difficult game-tying attempt.
Key player:
Dinwiddie got the Buffaloes going early, hitting three first-half 3-pointers, helping Colorado to its halftime lead. He finished with 14 points, one more than Brown and four more than Roberson, who compiled his 19th double-double of the season with 10 points and 11 rebounds. Fogg scored 12, leading the Wildcats.
Key stat:
After being outrebounded by California in the semifinals, the Buffaloes crashed the boards against a strong Arizona team, outrebounding the Wildcats 37-29. Colorado held Arizona to 36.7 percent shooting, and only gave up five 3-pointers to the leading 3-point shooting team in the conference. The 3-point defense was especially effective in the second half, as Arizona misfired on all seven of its second-half attempts.
Miscellaneous:
Saturday was Colorado's first conference championship game appearance since 1990, when it lost to Oklahoma in the Big 8 final. Meanwhile, the Wildcats made their seventh Pac-12 title appearance ... The Pac-12 tournament marked the first time the Buffaloes played on four consecutive days since turning the trick March 6-9, 1934 ... The Wildcats have the most Pac-12 tourney titles with four, but it's been 10 years since their last one.
What's next:
Besides a lot of celebration, the Buffaloes can sit back on Sunday knowing their NCAA ticket is punched, which is a rare feeling indeed for a program that has found itself sweating Selection Sunday more often than not. Arizona will have to sweat out its fate -- which most likely includes a trip to the NIT. But with what's considered the top recruiting class in the nation coming in next season, there will be better days ahead for the Wildcats.
March, 10, 2012
3/10/12
2:12
PM ET
LOS ANGELES -- It wouldn't be a surprise if Pac-12 commissioner Larry Scott let out a loud sigh of relief late Friday night, as Colorado's victory against California in the second Pac-12 semifinal allowed his conference to avoid the Armageddon scenario of being the first one-bid major conference since the NCAA tournament expanded from 48 to 64 teams in 1985. With the Golden Bears assured of a bid barring some crazy circumstances, Saturday's Pac-12 title game between Colorado and Arizona will give the conference a second bid. And Washington has a decent shot at getting a third bid for the Pac-12. So take that critics!
[+] Enlarge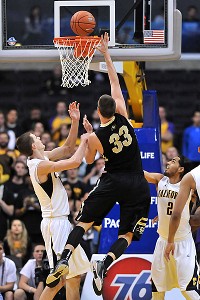 Cal Sport Media via AP ImagesColorado's Austin Dufault scores in the second half Friday against California.
No. 6 Colorado vs. No. 4 Arizona, 6 p.m. ET
Neither the Buffaloes (22-11) or Wildcats (23-10) were considered an at-large selection when the Pac-12 tournament started, and the loser is almost assuredly relegated to the NIT, as both teams were in the "Next Four Out" category of Joe Lunardi's latest
Bracketology
. So the atmosphere for this conference championship game will have more of a mid-major feel, where the combatants are scrapping and fighting for their shot at glory, than a BCS conference title game vibe, where the teams are playing simply for seeding. That should make for some fun at Staples Center.
Both teams have gotten to this point via defense, as they are the top two field goal percentage defenses in the conference. Colorado has given up only 54 points per game in its three victories (43 against Utah, 62 against Oregon, and 59 Friday night against Cal), holding opponents to 39.5 percent shooting in those victories. Colorado clamped down at crucial times twice against the Golden Bears, getting out to a 15-4 start early, and holding Cal scoreless for 4:28 in the late going, allowing a three-point lead to swell to a comfortable 59-46 advantage.
Arizona is no slouch on the defensive end either, as it actually led the Pac-12 in field goal percentage defense. The Wildcats held Oregon State more than 18 points below its season average in Friday's 72-61 semifinal victory, shutting off
Jared Cunningham
in the second half. After limping into the halftime down 34-27 after Oregon State ripped off a 20-4 run, the Wildcats flipped the script in the second half with their defense, holding the Beavers without a field goal for 6:16 as part of a 20-3 surge.
Keys to victory:
Hitting the three and the boards. Along with stifling defense, Arizona turned the tables on Oregon State on Friday by tearing it up from long distance, as the Wildcats drained nine of 18 3-pointers.
Brendon Lavender
's trey to tie the game at 36-36 was considered the turning point of the game by Arizona coach Sean Miller.
Kyle Fogg
also nailed three triples, seemingly all late in the shot clock. Arizona leads the conference in 3-pointers per game, so look for Fogg, Lavender,
Solomon Hill
and
Nick Johnson
behind the arc.
Colorado sophomore forward
Andre Roberson
, the leading rebounder in the Pac-12, has been a double-double machine this season, compiling 18 thus far. He narrowly missed a 19th against Cal, with 17 points and nine rebounds. But Colorado, one of the best rebounding teams in the conference, was actually outboarded 31-25 by Cal, which is something it can't afford to do against Arizona. The Wildcats'
Jesse Perry
, the second-leading rebounder in the conference, had 16 points and 11 rebounds against Oregon State, while Hill can also crash the boards. So the Buffaloes will need the likes of
Austin Dufault
and
Carlon Brown
to help Roberson on the glass.
Previous meetings:
The teams split their regular-season encounters. Colorado pulled out a 64-63 nail-biter in Boulder on Jan. 21., and Arizona notched a 71-57 victory in Tucson on Feb. 9. Brown was the hero for the Buffs in the first game, draining the game-winning 3-pointer with 1:19 left. Arizona crashed the boards in its victory, as Perry (17 points, 11 rebounds) and Hill (16 points, 14 boards) each compiled double-doubles.
March, 10, 2012
3/10/12
1:28
AM ET
LOS ANGELES -- After having come within two points of making the Final Four a year ago, Arizona wasn't going to allow its NCAA tournament hopes to fade away at halftime of the Pac-12 tournament semifinals on Friday at Staples Center.
So despite only hitting one field goal in the final 7:56 of the first half and going into halftime down seven points to No. 9-seeded Oregon State, Arizona knew that its tourney chances weren't remotely close to being done.
"Sometimes as a coach you have a feel that your guys have been through it before, and it's somewhat understated how many postseason games we played in a year ago," Arizona coach Sean Miller said. "When you're at halftime and you're playing in these elimination games, it certainly helps to have a team of individual players that have done that and been there before."
That experience was evident in the second half, as No. 4-seeded Arizona buckled down on defense, outscoring the Beavers by 18 points in the second half to roll to a
72-61 victory
and a berth in the Pac-12 championship game on Saturday.
After allowing the Beavers (19-14) to shoot 50 percent in the first half, Arizona (23-10) locked down on defense, holding Oregon State to 27.3 percent shooting to turn a 34-27 disadvantage into another step toward its 26th NCAA tournament appearance in 27 seasons. But even though the entire 20 minutes was a clinic, Miller said he was especially impressed by the way his team played in the first four minutes of the second half.
[+] Enlarge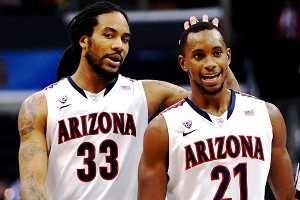 Jayne Kamin-Oncea/US PresswireJesse Perry, left, and Kyle Fogg combined for 27 points in the second half of Arizona's comeback.
"That four to eight minutes in the second half is some of the best basketball that we played this year," Miller said. "It would have been easy to go in at halftime and say 'It just doesn't feel right,' but we did just the opposite."
Seniors
Kyle Fogg
and
Jesse Perry
were key cogs in Arizona's second-half push, as Fogg scored 17 of his game-high 22 points in the second half while Perry scored 10 points and pulled down 7 rebounds after halftime, giving him a double-double of 16 points and 11 rebounds for the game.
"He made some big shots," Miller said of Fogg. "It wasn't an easy 22. He made several plays when it counted the most -- made a lot of plays at the end of the [shot] clock. He's really been doing that, and he had a great game today."
The entire Wildcats team had a great second half on defense, holding Oregon State to zero field goals and only one point for 6 minutes, 16 seconds, from the 17:48 mark to 11:32 of the second half. Oregon State's only point during that stretch came on a free throw by
Jared Cunningham
. Cunningham was a symbol of Oregon State's second-half frustration, scoring only 3 points on 1-of-8 shooting in the second half after going off for 11 in the first 20 minutes.
While Oregon State was scuffling, Arizona was making big shots. The biggest of Arizona's 20-3 run to open the second half might have come at the 16:21 mark, when senior guard
Brendon Lavender
drained a 3-pointer at the top of the key to tie the game at 36-36.
"When Brendon hit that shot, I could sense that we were ready to get it going," Fogg said. "It seemed to take a little out of them too. It's tough playing three games in three days like they did and it started to catch up to them."
Oregon State coach Craig Robinson admitted that the Beavers had lost their legs in the second half, as the combination of playing two intense games prior to Friday and the Beavers' frenetic style took its toll.
"I thought we simply ran out of gas," Robinson said. "We played so hard and so fast for three days that we didn't have anything left in the tank after they made their run at us. With the way we play, I thought it took its toll."
But Arizona had just as much to do with Oregon State's fatigue than any sort of lag the Beavers felt. Freshman guard
Nick Johnson
, who put Arizona up for good at 38-36 with 15:59 left on a driving layup, was one player who Miller lavishly praised.
"With Nick, it's not what shows up on the stat sheet," Miller said. "It's just that he's a playmaker. And he made plays tonight."
The Wildcats hope that Johnson, as well as the rest of the crew, continue to make plays in Saturday night's Pac-12 championship game and take any question about their tournament status out of the selection committee's hands.
March, 9, 2012
3/09/12
11:36
PM ET
LOS ANGELES -- Some thoughts from Arizona's
72-61 victory
over Oregon State in a Pac-12 tournament semifinal Friday:


Overview:
No. 4-seeded Arizona picked a heck of a time to come up with arguably its best half of the season, as it blitzed Oregon State to knock the Beavers out of tournament consideration and keep its hopes alive. After a lull at the end of the first half allowed Oregon State to build a seven-point halftime lead, the Wildcats overwhelmed Oregon State, which felt the effects of playing a third game in three nights.
Is it enough to get the Wildcats, who were the seventh team out in Joe Lunardi's most recent bracket update, in the tourney even with a loss on Saturday? Doubtful, but Arizona has a chance to take its tournament life out of the hands of the committee, which is all it can really ask.
Turning point:
Halftime. Oregon State rolled in the final eight minutes of the first half, holding Arizona to one field goal while ripping off a 20-4 run to take a 34-27 lead. But whatever Arizona coach Sean Miller did to rally the troops during the break apparently worked, as the Wildcats ripped off a 20-3 run to open the second half, turning the seven-point deficit into a 47-37 advantage while holding Oregon State without a field goal for 6:16. Things didn't get much better for the Beavers after that, as Arizona extended its lead to as many as 14 points and was not significantly challenged by Oregon State the rest of the way.
Kyle Fogg
and
Jesse Perry
keyed Arizona's second-half outburst, as Fogg scored 17 of his 22 points in the final 20 minutes while Perry added 10 points and 7 rebounds in the second half to finished with a double-double, compiling 16 points and 11 rebounds.
Key player:
Fogg and Perry carried the way for the Wildcats, but Arizona also got 12 points from
Solomon Hill
. Senior guard
Brendon Lavender
was also crucial in the early stages of Arizona's run, draining a 3-pointer from the top of the key with 15:59 left in the second half to tie the game at 36.
Nick Johnson
's layup on Arizona's next possession put the Wildcats ahead to stay.
Sophomore reserve
Roberto Nelson
was a bright spot for the Beavers, as he scored 19 points to lead the Beavers. He was instrumental in Oregon State's run to end the first half, scoring five points during the rally, and was the only Oregon State player to really get it going in the second half, when he scored 14.
Devon Collier
added 15 points while
Jared Cunningham
added 14, though Cunningham, the Pac-12's leading scorer, struggled in the second half.
Key stat:
After shooting 50 percent from the field in the first half (14-for-28), the Beavers were held to 27.3 percent shooting (9-for-33) in the second half. Arizona was deadly from 3-point range, making 9 of 18 triples.
Miscellaneous:
Cunningham went ice-cold in the second half, only scoring 3 points on 1-of-8 shooting...With the loss, the Beavers will miss the NCAA tournament for the 22nd consecutive season dating back to the 1989-90 season. Oregon State was led then by future NBA All-Star Gary Payton, who sat courtside by former Los Angeles Laker and Oregon State alum A.C. Green for all three of the Beavers' games in the tournament.
What's next:
Arizona gets a chance to qualify automatically for its 26th NCAA tournament in 27 seasons on Saturday, as it will play the Colorado-California winner in the Pac-12 tournament title game at 6 p.m. Oregon State will have to wait to hear its postseason fate, as the Beavers have a chance to be selected to play in the NIT or CBI tournaments.
February, 27, 2012
2/27/12
8:30
AM ET
For all the ways you can diss the Pac-12 this season -- and you can start with the 1-29 record against the RPI top 50 in nonconference play, or look at the paucity of teams ranked inside Ken Pomeroy's adjusted efficiency top 50 (
there are two
), and so on and so forth -- you can't dispute this: This league is in for a fascinating final week.

Why? Cal's loss at Colorado on Sunday dropped the Bears to 13-4, where they're currently a half-game behind Washington, which just snuck past rival Washington State 59-55 on Saturday. If the Huskies win at USC and UCLA, they'll finish 15-3 and in sole possession of the conference title. If they stumble -- and provided Cal can get past Stanford on Sunday -- the Bears could still earn a share of a title they've appeared destined to win for much of the season. Forget NCAA tournament bubble implications. These coaches and players have a title to win.
Oh, and speaking of the tourney: There really are no guarantees. Cal is the closest thing to an exception, because it would be hard for the Bears to fall below the coterie of
teams bunched around the bubble line on the S-Curve
even after Sunday's loss in Boulder. But Washington? Arizona? The operative Bubble Watch phrase here is "work to do." The basketball has been uneven all season, but you can't dispute the intrigue and what promises to be a fiery debate in the weeks leading up to Selection Sunday. Stay tuned.
1. California:
On Sunday, Cal lost 70-57 at Colorado. Just three days earlier, Stanford went to Boulder and beat the Buffaloes 74-50. You figure those two results out. I really can't. Cal still looks like the best team in the conference, and its still-solid efficiency numbers (the Bears rank No. 19 overall in KenPom's adjusted efficiency and No. 2 in the league in per-possession offense and defense, the best all-around numbers of any team in Pac-12 play) back that up. But they're far from a dominant outfit, which we saw in the offensively challenged performance at CU. Now the Bears have to win at rival Stanford -- and hope for a Washington loss -- to steal a share of the league title.
2. Washington:
The Huskies now control whether they win the Pac-12 title. Wins at USC and UCLA would make them outright regular-season conference champs. Most Washington fans would assume, and understandably so, such an accomplishment would seal their team's NCAA tournament bid. But in this season's Pac-12, that isn't a guarantee. Remember, the committee doesn't look at conference record (at least, it says it doesn't), but it does look at nonconference performance and top-50 wins, among other things. This conference is severely lacking in both categories. One would assume 15-3 and the league title will be enough, but UW might not want to drop a game to the LA schools and test whether 14-4 does the trick.
3. Arizona:
Seniors
Kyle Fogg
and
Jesse Perry
were determined to make their final regular-season home game a win, and their second-half efforts -- in which they combined for 28 of their team's 38 points -- ensured a crucial two-point victory over UCLA. Arizona's at-large chances remain a work in progress, but the win over the rival Bruins keeps them in the discussion heading into the finale against ASU and the Pac-12 tourney.
4. Oregon:
Oregon's chances of notching an at-large bid aren't great, but Dana Altman's team kept its faint hopes alive by escaping from Corvallis with a one-point win over Oregon State on Sunday. Oregon finishes up with two home games versus Colorado and Utah.
E.J. Singler
and
Devoe Joseph
have really come on down the stretch for this team, giving the Ducks efficient offense on the wing, but the narrow losses to Oregon State, Cal and Colorado in the past month have kept Altman's team from breaking through to the top of the league.
5. Colorado:
When you're on the bubble fringe, as Colorado is, the best you can do is take your chances when they come. That's what Tad Boyle's team did Sunday, beating league leader (and the only team in the league with a top-50 RPI) California. The Buffs have struggled on the road all season long, so season-closing road trips to Oregon and Oregon State will present their challenges. At this point, even with the Cal win in hand, CU's profile is such that it almost certainly has to win the next two and at least get to the Pac-12 tourney final to find itself in the NCAA tournament.
6. UCLA:
The 2012 Bruins are still the 2012 Bruins -- disappointing, mediocre, occasionally not-quite-mediocre and then mediocre again. This week, UCLA beat Arizona State in Tempe and lost to Arizona in Tucson. It is 9-7 in league play. its longest winning and losing streaks in league play are three games and two games, respectively. In its past five games, UCLA has lost (to Cal), won (USC), lost (at St. John's), won (Arizona State) and lost (at Arizona). I think that pretty much sums it up.
7. Stanford:
Can you explain the Cardinal's week? Because I can't. On Thursday, Stanford went to Colorado -- a team that beat Cal by 13 Sunday, mind you -- and won by 24 points. Then, on Saturday, Stanford lost. Yes, lost at Utah. Utah has played better, and clearly Colorado was off, and so on, but still. This league is weird.
8. Washington State:
The Cougars nearly took down the Huskies in Pullman Saturday, a win that may well have sunk Washington's at-large hopes for good. Instead, Washington escaped with the 59-55 win, as Wazzu's offense -- which, pre-
Faisal Aden
injury, was one of the league's best while at home -- fell short.
9. Oregon State:
The Beavers' one-point home loss to Oregon on Sunday was their fifth in a row, a losing streak that began with a home loss to the aforementioned Cougars and continued against Washington, Stanford and Cal. Back in November, Oregon State lost to Vanderbilt by two points on a neutral floor just two days after putting 100 points on a solid Texas team in an overtime victory. That was months ago now, but it feels even longer.
10. Arizona State:
All things considered, this has been a disastrous season for Arizona State, from the losses to the ineligibility of freshman Jahii Carson to more losses to, well, more losses after that. In any other season, ASU is probably the worst team in this league. But not in 2012! So, you know, there's that.
11. Utah:
We can say much of the same for the Utes. In any other season, Utah -- which changed coaches and conferences in the matter of 12 months and saw its best and most important player (Josh "Jiggy" Watkins) dismissed by coach Larry Krystkowiak in mid-January -- would be the worst team in this league. For much of the season, including that horrendous nonconference stretch, things appeared to be heading that way. But give the Utes some credit. They improved throughout the season, played hard and gave a bunch of putatively better teams occasionally serious challenges -- and even won some, including this weekend against Stanford.
12. USC:
And also, USC is worse. The Trojans are averaging .83 points per trip (adjusted) in Pac-12 play. Overall, the Trojans' offensive efficiency ranks No. 318 in the country, per KenPom, which puts them one spot ahead of Eastern Michigan and one spot behind Arkansas-Pine Bluff. In 16 Pac-12 games, the Trojans have scored more than 60 points exactly twice. Saturday's loss at Arizona State dropped them to 1-15 in the worst Pac-12 we've seen in a really long time. In short, USC is bad.
January, 27, 2012
1/27/12
6:23
PM ET
By
ESPN Stats & Information
| ESPN.com
Peyton Williams/UNC/Getty ImagesNorth Carolina lost starting junior guard Dexter Strickland to a torn ACL, and replacing him will have
an effect both on the offensive and defensive sides of the floor.
Let's get you warmed up for the "College GameDay" road show (live Saturday from Tucson at 11 a.m. ET on ESPN) by taking a look at some notes and nuggets from our college hoops advanced stats research team (a group we call the "Stats in the Paint" team).
Saturday's Matchups

(5) Kansas at Iowa State, 2 ET on ESPN and ESPN3
Key stat:
The Cyclones are the best team in all of college basketball in plays after timeouts, ranking first in points per play (1.14), adjusted field goal percentage (65.1) and scoring percentage (49.4). But Kansas is one of the best half-court defensive teams in the nation, ranking fifth overall in opponent field goal percentage (35.3) and seventh overall in opponent scoring percentage (33.4).
St. John's at (6) Duke, Noon ET on ESPN and ESPN3
Key stat:
Duke allows 31.4 points per game in the paint this season, which is the most in the ACC and the fourth most among schools from the "Power Six" Conferences. Duke allowed opponents to shoot 57.9 percent on two-point field goals in its three losses this season.

(16) Mississippi State at (13) Florida, 1:30 ET on ESPN3
Key stat:
Mississippi State averages 33.6 PPG in the paint, second most in the SEC, but allows 31.7 PPG in the paint, which ranks last in the conference. However, the Bulldogs allow opponents to grab only 27.5 percent of their missed shots and score 8.5 second-chance points per game, both of which lead the SEC. Florida is averaging 13.2 second-chance points per game, the second most in the conference.
Game Plans
•
West Virginia -- Limit easy baskets
Syracuse
scored a season-low 11 points off turnovers against
Notre Dame
-- its only loss so far. The Orange average 22.6 points off turnovers this season, which leads all schools in the power six conferences.
•
Florida -- Score on pick and rolls
Among the 102 teams with at least 100 shots off pick-and-roll plays this season, Florida's effective field goal percentage (50.0) ranks fifth in the nation. Forty-seven percent of Florida's shots off pick-and-roll plays have been 3-pointers, the second-highest percentage in the SEC. The Gators are making 40 percent of these threes, the highest percentage in the conference.
• Arizona -- Get Kyle Fogg open shots
Fogg is shooting 44.4 percent from 3-point range this season, third in the Pac-12, and just 39.1 percent on 2-point field goals this season. Fogg also averages one point per field goal attempt when coming off screens this season.
Tell Me Something I Don't Know
Among the topics Rece Davis, Digger Phelps, Jay Bilas and Hubert Davis plan to tackle:
How will North Carolina fare without Dexter Strickland?

The Tar Heels were at their best defensively with Strickland, the team's best on-ball defender, on the floor. The Heels were allowing 64.1 points per 40 minutes with Strickland on the court, compared to 72.0 with him off.
Offensively, however, the Tar Heels have been more efficient with Strickland off the court, playing with
Reggie Bullock
at the off guard spot. North Carolina averaged 91.9 points per 40 minutes with Strickland off the floor. With him on the court the Heels averaged 80.6.
North Carolina's offense has a different identity with Bullock, who leads the Heels with 93 3-point field goal attempts this season. When Strickland was on the floor, North Carolina attempted a 3 on just 17 percent of its shots. That number jumps to 30 percent when Strickland is on the bench.
January, 13, 2012
1/13/12
5:00
AM ET
1. Pac-12 commissioner Larry Scott told ESPN.com late Thursday night that the league will review the overtime scuffle between Oregon State and Arizona. Don't be surprised if there are some suspensions since the Pac-12 tends to be aggressive. Arizona's
Kyryl Natyazhko
and Oregon State's
Joe Burton
were ejected. Natyazhko was out of line in his reaction. He had to be held back. Arizona's
Kyle Fogg
started the mess by woofing at OSU's
Jared Cunningham
after a dunk. But credit Arizona's Sean Miller here for trying to quickly restore order before it escalated too much. OSU's Craig Robinson also kept his players cool.
2. Minnesota coach Tubby Smith was criticized locally last week because of the Gophers' failure to excite or go deep in March. The Gophers turned around and had the best outing of their season with a road win at Indiana in vaunted Assembly Hall. The Big Ten record doesn't show it (1-4), but Smith had to reconstitute this team without
Trevor Mbakwe
(ACL). The Gophers have remained competitive. Indiana can't be faulted too much for a home loss. Remember, this is still a young team that is learning to play with high expectations.
3. It will be interesting to see how Tennessee coach Cuonzo Martin uses
Jarnell Stokes
against Kentucky on Saturday. The highly-touted incoming freshman was deemed eligible by the SEC this week. Martin has his Vols playing as hard as any team in the SEC, and Stokes hasn't been privy to Martin's coaching or the tough practice schedule. Stokes is a talent, but he'll have to buy in defensively and, of course, effort-wise going forward to make a major contribution. Martin is managing this transition quite well so far in Knoxville.
November, 18, 2011
11/18/11
1:59
AM ET
NEW YORK -- Arizona coach Sean Miller walked out for an interview during the first game Thursday night and heard a few fans yell down to him.
He said that on the West Coast he can step outside his locker room, in clear view of everyone in the stands, and not be pestered or heckled. Well, nothing about Madison Square Garden screams West Coast.
He knew then he had returned to the East Coast, and he loved it.
"I remember that feeling,'' Miller said. "I love coming back here.''
The Pittsburgh native and former Pitt player made a name for himself grinding his way through the Northeast. He took over at Xavier and continued to make the Musketeers a national program. And then he did something out of character -- he got out of his comfort zone and went West.
He could have come back East last spring when the Maryland job opened. He talked to Terrapins athletic director Kevin Anderson and knew shortly thereafter that his heart was now in Tucson.
It's a good thing because his run of success in the desert is just beginning.
Arizona went to the Elite Eight last March and then lost the No. 2 pick in the draft in Derrick Williams and saw
Lamont Jones
transfer to Iona to be closer to home.
It didn't matter. Four games into this season, the 4-0 Wildcats have the look of a team that will be a good watch throughout the season, a legit contender for a Pac-12 title and a threat to go deep into March.
No need to even bring up the nation's top recruiting class for 2012, an almost absurd collection of talent on its way to Tucson. Who needs to spin forward? This squad has plenty to show off this season.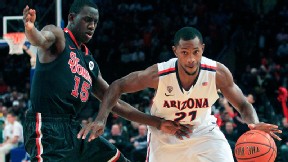 AP Photo/Frank Franklin IIKyle Fogg scored 13 points for Arizona against St. John's, including making three 3-pointers.
On Thursday night at MSG, the Wildcats overcame an 8-point second-half deficit and pulled away late on host St. John's, ending the game on a 23-6 run en route to a
81-72
victory. On Friday night (7 ET, ESPN), the Wildcats will face off with Mississippi State in the final of the 2K Sports Classic benefiting Coaches vs. Cancer.
Zona had an inspiring evening from New York native
Kevin Parrom
, back in his hometown after going through a horrific few months. He lost his grandmother and then his mother tragically to cancer and when he returned home in late September to visit his ailing mother, he was shot in the leg and hand by a gunman who broke into his father's home.
Against the Red Storm, Parrom connected on a pair of 3s and was no doubt an inspiration to the Wildcats and to the sizable number of fans in the Garden crowd cheering for him and the Cats.
"He's finding his way back,'' Miller said. "He's a veteran player and he knows how to play and how we have to play this season. He's so versatile. We don't have a 6-10 guy, but Kevin (6-foot-6) can rebound, steal the ball and push it in transition. He gives us the dynamics to help us be more versatile.''
The Wildcats are young in a number of spots and had a hard time keeping St. John's
Nurideen Lindsey
away from the basket, especially off the dribble. But Arizona had plenty of options on the offensive end, making 14 3s, including three from
Nick Johnson
and three from
Kyle Fogg
. The Cats got production from nine players, with five in double figures.
"We're like a hockey team right now, subbing in and out,'' Miller said. "In three or four weeks, we'll have more solid roles. This was only our second game with Kevin back. So we have to figure out how to bring him in.''
Miller wasn't ready to anoint this team as something other than what it is. The Wildcats are clearly a work in progress. But there is such a good vibe with this group. They have terrific bounce from players like
Angelo Chol
, and have oodles of potential if
Josiah Turner
settles into his role as a change-of-speed point guard with
Jordin Mayes
able to knock down key shots, too.
Solomon Hill
and
Jesse Perry
had their moments against the Johnnies.
The Wildcats won a game that will prove to be a significant one come March. They came East and showed that Miller has moved on and established his identity in Tucson.
Arizona was in turmoil four years ago with Lute Olson's illness, two consecutive seasons of interim coaches and the potential for the roster to be gutted. But the implosion of USC's recruiting class was a benefit for Arizona. Miller has recruited at an astronomical level since, beating out national power after national power across the country.
While rival UCLA plunges into turmoil, the Wildcats are rising up and proving that Arizona is nothing less than an elite program. There was reason to doubt the team's standing in the wake of Lute Olson's departure, but then the school went out and hired the right person at the right time.
Sean Miller is happy to be back on the East Coast this week. But he calls the West home now.
And there are thousands of Wildcat faithful who sure are thankful for that.
October, 26, 2011
10/26/11
2:47
PM ET
By
Diamond Leung
| ESPN.com
Arizona won a Pac-10 championship and made an Elite Eight appearance last season under Sean Miller, and the respect level for what the coach has accomplished has many believing the Wildcats will be back on top this season despite losing
Derrick Williams
to the NBA draft. His fellow coaches seem to think so, as they ranked Arizona ahead of UCLA and Cal in the preseason poll.
But Miller wouldn't pick his own team as the favorite so far, according to the
Arizona Daily Star
.
"It would be split between Cal and UCLA, because of Cal's experience and UCLA's strength inside," Miller said of his hypothetical pick. "I wouldn't think that we would be the favorite. Hopefully we can compete for the championship, but UCLA's size and Cal's experience, to me, trumps what we have right now."

Miller said UCLA's "physical size is scary" and the Bruins have to be one of the bigger teams in college basketball. Cal has a strong returning core in guard Jorge Gutierrez, wing Allen Crabbe and forward Harper Kamp, Miller added.

"Those two stand out, Washington is always very good," Miller said, "and there's always going to be those one or two teams that surprise you."
Arizona is without its top two scorers from last season and is being cautious about forward
Kevin Parrom
's status after the junior was shot during a visit to New York in September. It does have
Kyle Fogg
expected to take a step forward and one of the top incoming freshmen classes in the nation. Until the Wildcats begin playing games, it's not easy to tell how this team will stack up against UCLA's talented frontcourt and Cal's returning players.
But note that in Miller's statement, he does use the words "right now" when saying the Bruins and Bears are further ahead at this stage. Give him time to get freshman point guard
Josiah Turner
acclimated to the offense and line up big men
Angelo Chol
and
Sidiki Johnson
alongside
Jesse Perry
, and then we'll see who finishes where in the end.
Preseason predictions, after all, are just guesswork.
September, 13, 2011
9/13/11
5:59
PM ET
By
Diamond Leung
| ESPN.com
The early departures of
Derrick Williams
and
Lamont Jones
from Arizona leave the Wildcats with questions about whether they can repeat as Pac-12 champions.
Just don't question the work ethic of
Kyle Fogg
, the team's returning leading scorer. As of last week, he had attempted nearly 40,000 shots in the offseason.
While Washington's
Abdul Gaddy
recently declared his intention coming off knee surgery to
make 18,000 shots
before the start of the season, Arizona team managers have already recorded Fogg making 26,414 of his team-high 39,132 attempts.
"We set a high number and I was able to get there just by working hard every day," Fogg said in a statement. "We had a great run in March last year and I want to do whatever I can to help us get back there again this season."
Also, the
Arizona Daily Star
reported Fogg has put on 15 pounds of muscle.
One of five seniors on the roster, Fogg's offseason plans should give coach Sean Miller cause for celebration as he searches for new leadership on a team that appeared to have lost its heart and soul.
A top defender and the team's leader in assists last season, Fogg is now making the transition into the post-Williams era a little easier.
According to the
Arizona Daily Star
, he told Jim Rome that he considered transferring after a coaching change that brought Miller on board, but he is glad he is now in a position to flourish.
Fogg also said he had no idea the Wildcats would reach the Elite Eight last season ("to be honest, not at all," he said), and that he thought of transferring during the coaching transition but that things have been great under Miller.

"It was kind of unstable," Fogg said. "Going in after my freshman year we didn't know who are coaches were going to be but I think Miller is a great coach, just [in] the things that he's done. I believe we have the No. 1 recruiting class for next year and we have a bunch of great freshman now and I think he's going to bring this program back to an elite level."
March, 18, 2011
3/18/11
7:06
AM ET
TULSA, Okla. -- The NCAA tournament is back here for the first time in 26 years, and in a shiny modern arena -- the BOK Center.
Historically speaking, this has been a good town in which to launch a big tournament performance. In five previous NCAA tourneys in Tulsa, four teams have started their Final Four run: Houston in 1982, Notre Dame in 1978, Louisville in 1975 and Kansas in 1974.
The Jayhawks, here as the No. 1 seed in the Southwest Region, certainly hope that history repeats, as opposed to their catastrophic NCAA history elsewhere in the state. Kansas was shocked in the second round last year in Oklahoma City, and in the first round by Bucknell in 2005.
A brief breakdown of the two day games Friday:
No. 13 seed Oakland (25-9) vs. No. 4 seed Texas (27-7), 12:15 p.m. ET (CBS)


What to watch:
This will be a primo interior matchup, and the winner in the paint may win the game. The Golden Grizzlies have one of the best big men in the country in 6-foot-11
Keith Benson
, the Summit League Player of the Year who averages 18 points, 10.1 rebounds and 3.6 blocked shots. But he's going up against the Longhorns' array of physical postmen, led by freshman
Tristan Thompson
(13.3 points, 7.8 rebounds, 2.2 blocks). Texas might be the best interior defensive team in the nation.
Who to watch:
The most talented player on the floor will be Texas forward
Jordan Hamilton
, a versatile scorer who at 6-foot-7 is a matchup nightmare. Most importantly for the Longhorns, Hamilton appeared to get his shooting stroke back at the Big 12 tourney in Kansas City, where he made 48 percent of his shots. In the previous six games, half of them losses, Hamilton made just 31 percent of his field goals. If Hamilton is hot, it will be tough for Oakland to win.
Why to watch:
This has upset potential. Oakland is a very talented offensive team that got valuable NCAA tourney experience last season and played a rigorous non-conference schedule to prepare for this moment. Texas is a national title contender -- but is also not invincible. And if Thursday afternoon showed us anything, anyone can be beaten -- or at least taken down to the wire.
What they're saying:
"I don't think we're scared," Benson said. "We're coming in with the mindset of getting the upset." … Thompson, on Texas' late-season struggle: "To be honest, we totally forgot about that. We're not focused on what happened in the past. Situations happen, and we got the losses and that's good for us to experience those heartaches. But now it's tournament time. We know it's a lose-or-go-home situation, so now we've got to pull up our socks and it's time to grind." (It is assumed the freshman meant win-or-go-home, but that was the quote.) … Oakland coach Greg Kampe, on seeing President Barack Obama pick Texas in his bracket for ESPN: "I didn't vote for him either, so I guess we're even now."
Of note:
The Grizzlies have played seven teams in this tournament and went 1-6 against them. The victory was at Tennessee. The losses were against Illinois, Purdue, Michigan, Michigan State, Ohio State and West Virginia. Texas is 8-5 against the NCAA field. … Oakland has won eight straight and averaged more than 90 points in that span. In other words, it would love to turn this game into a shootout. … Texas has advanced to 12 straight NCAA tournaments, and has won at least one game in eight of those.
No. 12 seed Memphis (25-9) vs. No. 5 seed Arizona (27-7), 2:45 p.m. ET (CBS)


What to watch:
Which green group handles the pressure of the tournament best? The Wildcats have only two players who played meaningful minutes in Arizona's previous NCAA tournament game --
Kyle Fogg
and
Jamelle Horne
combined to play 57 minutes and scored five points in a Sweet 16 blowout against Louisville in 2009. Not a single current Tiger played in Memphis' previous tournament game, a Sweet 16 loss to Missouri in '09. The Tigers' coach, Josh Pastner, has never led a team into a Big Dance game either.
Who to watch:
The best player on the floor is Arizona forward
Derrick Williams
, a 19-point, 8-rebound guy who can get his points efficiently -- and from anywhere. He's a 62 percent shooter, a crazy 60 percent from 3-point range and 74 percent at the line, where he takes 8.5 foul shots per game. Memphis has some size in
Tarik Black
and
Will Coleman
, but the question is whether either can check Williams all over the court.
Why to watch:
To see which traditionally powerful program is on the rebound fastest. Both missed the Big Dance last season after coaching changes, and both now have taken steps back to national contender status. Arizona (four Final Fours, one national title) won the Pac-10 regular-season title this year to re-establish itself in Year 2 under Sean Miller. Memphis (three Final Fours, no titles) had to earn its bid by winning the Conference USA title on UTEP's home court in Year 2 under Josh Pastner.
What they're saying:
Coleman, on the youth of the Tigers: "We're all goofy. We're a goofy bunch of guys that just like to have fun, and there is nothing wrong with that."
Williams, on choosing Arizona over Memphis in recruiting: "That's all I did is ate barbecue the whole time (on his official visit to Memphis). It was a great time, a great experience for me. … Pastner did recruit me very hard. Like I said, I couldn't go wrong either way whether I chose Arizona or Memphis, but I'm glad I chose here."
Pastner, on the feeling of winning the C-USA tournament Saturday and seeing Memphis in the field the following day: "Those 40 hours, it was probably the greatest 40 hours of just adrenaline, of emotion, of just being happy that you can experience. If somebody came to me today and wanted to give me $100 million to trade for that, I wouldn't. I mean that."
Of note:
Tulsa is a Memphis-friendly location. The city is only about a six-hour drive, so expect a fair amount of Tiger blue in the stands. … Arizona athletic director Greg Byrne said he spoke with Miller earlier this week and that Miller has "zero interest" in other jobs, most notably North Carolina State, where he was a former assistant coach.
February, 28, 2010
2/28/10
8:15
PM ET
By
Diamond Leung
| ESPN.com
Another buzzer-beating win for Arizona has the Wildcats feeling good about themselves -- even though it will take a run through the Pac-10 tournament to capture their 26th consecutive NCAA tournament bid.
Lamont Jones
, a freshman also known as MoMo, banked in a jumper at the horn to beat Stanford on the road
71-69 on Saturday
. Jones scored 16 points and, probably conference freshman of the year,
Derrick Williams
had 24.
The rebuilding at Arizona is ahead of schedule, and fittingly, coach Sean Miller had Jones in the game late instead of starting point guard
Nic Wise
, who twice hit game-winners this season but has struggled lately.
Bruce Pascoe of the Arizona Daily Star
noticed that by the end of the game, only freshmen and sophomores were on the court for the Wildcats:
So here was UA's lineup on the floor tonight in the final seconds: Derrick Williams, Solomon Hill, Brendon Lavender, Kyle Fogg and MoMo Jones.

What does that tell you?

"You have to play the players that are performing, the players who are playing the best together and mostly you have to play the players who are giving fantastic effort," UA coach Sean Miller said.