College Basketball Nation:

Kyle O'Quinn
April, 3, 2012
4/03/12
2:10
PM ET
NEW ORLEANS -- It's over.
The 2011-12 college basketball season wrapped up with a fascinating Final Four and national title game. Now, it's time for some hardware.
Here's my version of the 2012 All-Tourney team:
First Team
[+] Enlarge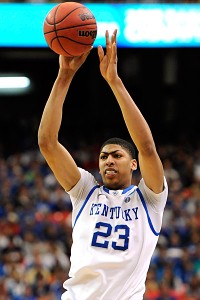 Richard Mackson/US PresswireAnthony Davis earned Final Four Most Outstanding Player honors after leading Kentucky to a national crown.
Anthony Davis
(Kentucky): The Final Four's Most Outstanding Player left his mark on college basketball by leading the Wildcats to the national title. He finished with 29 blocks in the 2012 NCAA tournament, No. 2 all time. Against Kansas, he became the first player to record 6 points, 16 rebounds, 6 blocks, 5 assists and 3 steals during an NCAA tournament game.
Jeff Withey
(Kansas): The 7-footer blossomed in the NCAA tournament and really clogged the lane for the Jayhawks' defense. He was a big reason Davis finished 1-for-10 in the national championship game. Withey established a record for blocks in a tournament with 31 in this year's installment.
Thomas Robinson
(Kansas): The Wooden Award finalist didn't go home with a ring. But he was crucial in his team's run to the Final Four. The junior averaged 16.6 ppg and 12.5 rpg during this year's tournament.
Doron Lamb
(Kentucky): The sophomore's 22-point performance (a game high) in the national title game was the culmination of an impressive run for the young star. He averaged 16.5 ppg during the NCAAs. Without Lamb, the Wildcats may have fallen short against the Jayhawks on Monday night.
Bradley Beal
(Florida): The freshman fueled Florida's run to the Elite Eight with a series of high-octane efforts. He had 21 points, 6 rebounds, 4 assists, 2 blocks and 2 steals during Florida's 68-58 win over Marquette in the Sweet 16. He followed that with 14 points, 7 rebounds and 4 assists in his squad's Elite Eight loss to Louisville.
Second Team
Tyler Zeller
(North Carolina): The ACC Player of the Year helped the Tar Heels stay alive when
Kendall Marshall
suffered a serious wrist injury that kept him out of an overtime win against Ohio in the Sweet 16 and a loss to Kansas in the Elite Eight. He had 20 points and 22 rebounds against Ohio and he finished with 12 points, 6 rebounds and 4 blocks against the Jayhawks.
Draymond Green
(Michigan State): The versatile forward started the tournament with a triple-double against LIU-Brooklyn. He had 16 points and 13 rebounds in a win over Saint Louis in the third round. Green also played some point guard in that game. The Spartans scored only 44 points in a Sweet 16 loss to Louisville, but Green ended his career with 13 points and 16 rebounds.
Deshaun Thomas
(Ohio State): His team's season ended when Kansas launched a furious comeback in their Final Four matchup Saturday. Prior to his nine-point effort that night, however, Thomas had scored 31, 18, 24 and 14 points, respectively, in Ohio State's four previous NCAA tournament games. If he comes back for another year, the Buckeyes will be a top-5 preseason squad.
D.J. Cooper
(Ohio): Cooper scored 21 points during his team's upset win over Michigan in the second round. He had 19 against South Florida. And he finished with 10 points and six assists during an overtime loss to North Carolina. Now, his former head coach has a new job as a result of his performances in the NCAA tournament. He should send Cooper a check. Once he's finished with school, of course.
Dion Waiters
(Syracuse): He had 18 points in his team's 75-59 win against Kansas State in the third round. And in a tight Sweet 16 matchup with Wisconsin, he went 5-for-11 and scored 13 points. The athletic guard is going to the NBA, but he put together a solid string of performances on his way out.
Other noteworthy performances:
Norfolk State's
Kyle O'Quinn
put his program on the national map with 26 points, 14 rebounds and 2 blocks during the biggest upset of the NCAA tournament, Norfolk State's 86-84 victory over No. 2 seed Missouri in the second round.
Royce White
used the NCAA tournament as an audition for NBA execs. He had 15 points and 13 rebounds against Connecticut in the second round. And he scored 23 points and grabbed nine boards in Iowa State's loss to Kentucky in the third round.
Aaron Craft
is a thief. The sophomore had 16 steals for Ohio State throughout the NCAA tournament and solidified his slot as one of America's greatest on-the-ball defenders.
Lehigh's
C.J. McCollum
scored 30 points in his team's 75-70 victory over No. 2 seed Duke in the second round.
Cincinnati's
Sean Kilpatrick
, a 6-4 guard, scored just eight points in his team's second-round win over Texas. But when the lights came on in the later rounds, Kilpatrick showed off his star power. He had 18 points against Florida State in the third round. And he finished with 15 against Ohio State in the Sweet 16.
March, 18, 2012
3/18/12
10:28
PM ET
OMAHA, Neb. - Pleased as he was with the victory, Florida center
Patric Young
responded to Sunday's
84-50 shellacking
of No. 15 Norfolk State with a sigh and a shoulder shrug.
"We haven't accomplished anything yet," Young said.
That's not entirely true. Sunday's victory propelled the seventh-seeded Gators into the Sweet 16 for the second consecutive year, which is more than 52 other NCAA tournament teams can say after the opening weekend of postseason play.
But it was easy to see how it may not have felt like all that big of a deal to Young and his teammates after annihilating a Norfolk State squad that was so bad it was embarrassing.
Where was the Spartans team that shocked the world by upsetting Missouri on Friday? What happened to all those long, lanky 3-point shooters who couldn't miss? And what about
Kyle O'Quinn
, the vivacious 6-foot-10, 240-pound center who had 26 points and 14 rebounds 48 hours earlier against the Tigers.?
O'Quinn had just four points and three rebounds Sunday.
"He didn't come out with the passion and energy I thought he was going to have," Young said. "That affected him and it affected his entire team.
"We hadn't anticipated anything like that."
Granted, Norfolk State probably didn't realize just how good of an opponent it would be facing in the Gators, who have won their two NCAA tournament games by an average of 30 points. Florida defeated Virginia 71-45 in the Round of 64 on Friday.
[+] Enlarge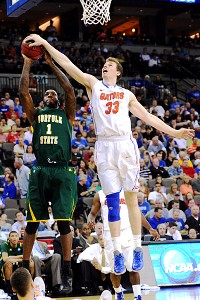 Peter G. Aiken/US PresswireErik Murphy and the Florida defense held Norfolk State to 27 percent shooting from the field.
Florida will take on Marquette on Thursday in Phoenix. The Golden Eagles are the No. 3 seed in the West Region.
"I haven't seen Marquette play a lot," Gators coach Billy Donovan said, "but I've heard unbelievable things about them. Certainly, their seed is a reflection of who they are.
"Certainly, I will have a chance to watch them a lot starting tonight. I know they're a good team. I know they play hard."
So, too, do the Gators.
Sparked by their trademark, full-court defensive pressure, Florida rendered Norfolk State helpless. The same team that shot 54 percent from the floor against Missouri connected on just 27 percent of its field goal attempts Sunday.
The Spartans were just 4-of-24 (16 percent) from 3-point range and were outrebounded 48-31.
"They have a different type of athlete," Norfolk State coach Anthony Evans said of Florida. "Having
(Erving) Walker
and those guys get up and pressure you for 94 feet is different than some of the other teams we've played.
"Maybe it was fatigue, but we don't want to make excuses about it. They did a great job. Hats off to them."
Florida trailed 6-4 early but then went on a 25-0 tear that gave the Gators a 29-6 lead.
Brad Beal
scored seven points during the march while
Kenny Boynton
and
Erik Murphy
added six apiece. It was a never a game after that, as Florida led by 28 points at intermission. It extended its lead to as many as 38 points in the second half.
Boynton led five Gators in double figures with 20 points. Beal added 14 points and a team-high 9 rebounds.
Marcos Tamares
scored 12 points for Norfolk State, which received a standing ovation and loud cheers from the thousands of Kansas fans who were waiting for their team to play Purdue in the nightcap at the CenturyLink Center.
Jayhawk supporters were thrilled that the Spartans defeated former Big 12 rival Missouri two days earlier. As bad as it played Sunday, no one can ever take that away from the Spartans, who are one of just six No. 15 seeds in history to defeat a No. 2 seed.
Norfolk State was playing in the NCAA tournament for the first time in school history.
"If you look at where we came from, this is a big step," O'Quinn said. "So for everybody to witness that step that we took as a university ... you've got to be proud. You have to be.
"We're not satisfied with losing, but we knew coming in that you either win a national championship or you go home. That's the nature of the game."
March, 18, 2012
3/18/12
8:26
PM ET
OMAHA, Neb. -- Quick thoughts from Florida's
84-50 victory
over Norfolk State at the CenturyLink Center.


Overview:
Surprising as it was when it happened Friday, Norfolk State's upset of No. 2 seed Missouri seemed like even more of a shocker Sunday when the Spartans turned in a miserable performance in a 34-point loss to No. 7 seed Florida.
Norfolk State -- which became just the fifth No. 15 seed ever to defeat a No. 2 -- trailed by 28 points at intermission before things got even worse in the second half. Two days after shooting 54 percent against Missouri, the Spartans made just 27 percent of their field goal attempts against a Florida squad that advanced to the Sweet 16 for the second consecutive year.
Senior forward
Kyle O'Quinn
responded to his 26-point, 14-rebound effort on Friday with a 4-point, 3-rebound clunker in Sunday's loss. He was just 1-of-9 from the field. Norfolk State was outrebounded 48-31.
Anyone who wondered how Norfolk State could've lost to teams such as Division II Elizabeth City State had those questions answered Sunday. The only team that may have taken Norfolk State's defeat harder than the Spartans themselves was Missouri, which will now have an even tougher time living down Friday's epic choke job.
Overshadowed by Norfolk State's ineptitude was another impressive performance by Florida, which is one win away from its second consecutive Elite Eight appearance. The Gators, who will play Marquette in the next round, got 20 points from
Kenny Boynton
and 14 points and 9 rebounds from
Brad Beal
. Even though the win appeared to come easily for Florida, Billy Donovan's squad deserves loads of credit for entering the game with intensity and focus.
Turning point:
Trailing 6-4 early in the first half, Florida went on a 25-0 scoring run to squelch any early momentum the Spartans may have had. Beal had seven points during the march while Boynton and
Erik Murphy
added six apiece. When it was all over, Florida led 29-6 with 9:46 remaining before intermission. The Spartans never threatened again.
Key player:
Much like they have all season, the Gators exhibited tremendous balance on Sunday. Along with outstanding efforts from Beal and Boynton, Florida got 15 points from
Erving Walker
, 12 from
Mike Rosario
and 10 from Murphy.
Key stat:
Norfolk State entered the NCAA tournament shooting just 31 percent from 3-point range. The Spartans made 10 of their 19 attempts in their win over Missouri. But they shot just 17.4 percent (4-of-23) from beyond the arc against Florida.
Miscellaneous:
Thousands of Kansas fans rose to their feet and cheered Norfolk State's players loudly as the Spartans exited the court after the final. Jayhawks supporters took great delight in Norfolk State's victory over former Big 12 rival Missouri. ... Just like the previous four No. 15 seeds who upset No. 2 seeds, Norfolk State lost in the next round. No 15-seed has ever advanced to the Sweet 16 of the NCAA tournament.
Up next:
Florida improved to 25-10 and advanced to play Marquette in the Sweet 16 this week in the West Region in Phoenix. The Golden Eagles (27-7) defeated BYU and Murray State in their first two NCAA tournament games. Norfolk State -- which was making its first appearance in the Division I NCAA tournament -- ends its season 26-10.
March, 18, 2012
3/18/12
12:15
AM ET
OMAHA, Neb. -- Previewing the round of 32 games in Omaha on Sunday:
No. 15 Norfolk State (26-9) vs. No. 7 Florida (24-10), 6:10 p.m. ET
For the
Norfolk State Spartans
, one of the most memorable moments of their first NCAA tournament experience occurred not on the playing court -- but on the team bus.


Head coach Anthony Evans said his players will never forget the police escort that guided the Spartans' charter through the crowded streets of Omaha and into the CenturyLink Center on Friday.
Flashing lights, sirens, the works.
"They were in the back of the bus going crazy," Evans said. "I was even in awe. The police were cutting everyone off and letting us go first. Everyone kept saying it felt like we were the president."
And that was
before
No. 15 seed Norfolk State shocked second-seeded Missouri.
One day after the biggest NCAA tournament upset in recent memory, the Spartans feel like even bigger celebrities heading into Sunday's round of 32 game against Florida.
Before he could even sit down for dinner after Friday's win, forward
Kyle O'Quinn
had picked up 2,100 new Twitter followers. On Saturday, the 6-foot-10, 240-pound senior did a live, nationally televised interview with CBS while players, coaches and administrators answered questions from reporters all over the country about their school and their team.
"It's something none of us have ever experienced before," O'Quinn said. "It's a once-in-a-lifetime feeling."
But when will it end?
Norfolk State became the fifth No. 15 seed in history to knock off a No. 2 seed. The other four teams to accomplish the feat all lost in the next round. To avoid a similar fate, the Spartans know they must refocus and channel their attention toward the Gators.
Fast.
"I've never been around anything like this," Evans said. "It's great for the program and great for the kids, but we talked about preparing for the [Florida] game as if it's 'businesslike.' That's the attitude we've had all year and it's helped us be successful."
Norfolk State is confident in its chances against Florida -- mainly because the Gators employ the same four-guard offense as Missouri. Billy Donovan's team finished in a three-way tie for second place in the SEC. But the Gators aren't nearly as good as the Missouri squad that Norfolk State defeated Friday.
Just like Missouri had in
Ricardo Ratliffe
, Florida features a high-level center in
Patric Young
. The sophomore knows he's in for a tough task guarding O'Quinn.
"[O'Quinn] is so skilled and talented, and he's a good defender, really physical," Young said. "He overpowers the guys he goes up against. Hopefully I can do my thing and hold him to less than 24 and 12."
Donovan said Norfolk State's victory over Missouri definitely caught his team's attention.
"From a national perspective, people may say this is an interesting Cinderella story," he said. "But really ... the best team won. How people will remember them, I don't know. But clearly I think they had a high level of confidence, a belief in themselves and their system, and it showed [Friday]."


No. 10 Purdue (22-12) vs. No. 2 Kansas (28-6), 8:40 ET
Kansas point guard
Tyshawn Taylor
knows what everyone is thinking about the Jayhawks' game against Purdue on Sunday.
"On paper," Taylor said, "it looks like a mismatch."
Kansas players, however, are smart enough to not believe it. Purdue, the 10th seed in the Midwest Region, may not be as good as it's been in years past. But the Boilermakers are exactly the kind of team that gives the Jayhawks trouble.
In some ways they're like Missouri, but with less talent.
"In the past," guard
Conner Teahan
said, "we've had problems playing smaller teams because it takes Jeff [Withey, KU's center] out of the game. Hopefully we can have them match up with us as much as we match up with them."
One of the biggest challenges for Kansas will be guarding 6-foot-8 Purdue forward
Robbie Hummel
, who is averaging 16.1 points. Hummel is an excellent ball handler who scores a large number of his points from the perimeter, which makes him a tough matchup for Kansas' post players.
Taylor said Hummel was a "Kim English type of player" who can stretch the floor at the 4 position.
"It's tough to match up with guys like that who are so versatile and who do so many different things," Taylor said.
Kansas coach Bill Self agreed.
"You're pulling natural 'bigs' away from the basket to defend the 3-point line," Self said. "Not all teams are experienced with that or have had an opportunity to do that."
As he did against Missouri, don't be surprised if Self goes with a smaller lineup to try to slow down a Purdue squad that averages 72.2 points per game. That would mean less minutes for the 7-footer Withey and more minutes off the bench for Teahan, a shooting guard.
"They're quick and they get into the paint very well," Teahan said. "We're going to definitely need to D up on them. Perimeter-wise, I feel good with our strength and quickness. We need to stop them, but we've faced people like that before."
March, 16, 2012
3/16/12
8:11
PM ET
By
ESPN Stats & Information
| ESPN.com
Entering Friday, the last dozen teams to shoot at least 50 percent from the field, make at least 10 three-pointers, and commit fewer than 10 turnovers in an NCAA Men's Basketball Championship game all won.
But that history was not on
Missouri's
side, as the No. 2 seeded Tigers fell to 15th-seeded
Norfolk State
, 86-84 in the tournament's biggest upset so far.
The state of Virginia is the home of the 15-versus-2 upset. Of the five to take place in tournament history, three of the winners (
Hampton
,
Richmond
, and Norfolk State) have come from Virginia.
Norfolk State scored 86 points on 64 possessions, its second highest efficiency (1.34 points per possession) in a game in the last 15 seasons.
One of the keys to the win was that the Spartans were 5-for-5 from the field on second-chance opportunities in the second half, including the go-ahead tip-in by
Kyle O'Quinn
with 34 seconds remaining.
Norfolk State's 86 points are the third-most scored by a 15 seed in a Men's Basketball Championship game. The most is 90 by
Eastern Michigan
vs
Pittsburgh
in 1988.
O'Quinn paced the Spartans with 26 points and 14 rebounds. He had had games of this nature before, just not in this sort of setting. O'Quinn entered the day with 48 career double-doubles, tied for third-most among active players
Missouri has now lost as a No. 2 seed, a No. 3 seed (1990 vs
Northern Iowa
) and a No. 4 seed (1987 vs
Xavier
) in the NCAA Tournament. The Tigers join Arizona as the only teams to lose in the Round of 64 as a No. 2, 3 and 4 seed.
In other early action:
East Region
(3) Florida State 66, (14) St. Bonaventure 63
The
Seminoles
have won their last three games by exactly three points each. In addition, four of their last six games have been three-point wins.

Overall, Florida State is 6-0 this season in games decided by exactly three points.
Michael Snaer
, who leads the team in scoring, did not score a point (0-for-7 from the field). This was the first time in 100 career games with the Seminoles that Snaer was held scoreless.
(6) Cincinnati 65, (11) Texas 59
Cincinnati
has now advanced to the Round of 32 in 12 of its last 13 Men's Basketball Championship appearances.
Texas
shot just 16.0 percent from the field in the 1st half (4-for-25), its second-lowest percentage in any half of a game since 1965-66.
Midwest Region
(1) North Carolina 77, (16) Vermont 58
The
Tar Heels
improve to 30-1 all-time in Men's Basketball Championship games played in the state of North Carolina.
(3) Georgetown 74, (14) Belmont 59
Georgetown
snaps a three-game losing streak in the Men's Basketball Championship, with all three losses to double-digit seeds, to advance to the Round of 32 for the first time since 2008.
(11) NC State 79, (6) San Diego State 65
The
Wolfpack
shot 58.5 percent from the field, their fourth-highest field goal percentage in a Men's Basketball Championship game and highest since 1989 (63.2 percent vs
Iowa
).
(8) Creighton 58, (9) Alabama 57
Creighton
overcomes an 11-point second half deficit and reaches the Round of 32 for the first time since 2002. The Bluejays have won eight straight and improve to 8-1 this season in games decided by five points or fewer.
West Region
(7) Florida 71, (10) Virginia 45
Florida's
26-point win is tied for its fourth-largest in a Men's Basketball Championship game. The 45 points allowed by Florida are its fewest allowed in a Men's Basketball Championship game.
The Gators were 24-for-30 (80 percent) from two-point range, their highest field-goal percentage inside the arc in a Men's Basketball Championship game.
March, 16, 2012
3/16/12
7:05
PM ET
OMAHA, Neb. -- Quick thoughts from Norfolk State's
86-84 upset win over second-seeded Missouri
.
Overview:
As if George Mason and VCU weren't enough,
another
unlikely March hero has emerged from the state of Virginia.
Norfolk State -- a school of about 6,000 that had never appeared in the NCAA tournament -- shocked Final Four favorite Missouri before a sellout crowd of 16,843 fans Friday at the CenturyLink Center in Omaha.


The victory marked the first time since 2001, when Hampton defeated Iowa State, that a No. 15 seed has defeated a No. 2 seed.
Kyle O'Quinn
scored 26 points for Norfolk State, which advanced to play Florida on Sunday for a trip to the Sweet 16. Missouri ends its season with a record of 30-5.
Trailing by two points with 2.8 seconds remaining, Missouri had a chance to win. Tigers guard
Phil Pressey
took an inbounds pass near midcourt, took a few dribbles and got off a decent look from 3-point range. The shot clanged off the side of the rim as the horn sounded, setting off a wild celebration by Norfolk State.
Norfolk State took the lead for good with 34.9 seconds remaining when O'Quinn snared the offensive rebound of a teammate's air ball and put it back in for an easy two points while being fouled. O'Quinn converted the ensuing free throw to make it 84-81.
Missouri's
Marcus Denmon
missed an ill-advised, deep 3-pointer early in the shot clock on the Tigers' next possession. O'Quinn got the rebound and was immediately fouled. He made one of two free throws to put Norfolk State ahead 85-81 with 16 ticks left.
Pressey, who was brilliant down the stretch for Missouri, made a 3-pointer with 10 seconds left to pull Missouri within a point, 85-84.
Rodney McCauley
was fouled by Missouri, and he made the first of two free throws to extend the Spartans' lead to 86-84. O'Quinn snared the rebound on McCauley's miss, and a jump ball was called when O'Quinn became tied up with a Missouri player. O'Quinn missed both foul shots, and Missouri called a timeout to set up the final shot by Pressey, which was off the mark.
Along with his 26 points, O'Quinn added 14 rebounds for Norfolk State.
Chris McEachin
had 20 points.
Michael Dixon
(22 points), Pressesy and Denmon (20 points each) all had good games for Missouri.
Player of the game:
O'Quinn is an absolute beast. He clearly outplayed Missouri forward
Ricardo Ratliffe
and was a flat-out warrior throughout the entire game. The 6-foot-10, 240-pounder has an exceptional shooting touch for his size and can handle the ball.
Key stat:
Both teams were on fire Friday. Norfolk State shot 54 percent from the field, Missouri 52 percent.
Miscellaneous:
Even though Omaha is somewhat close to Columbia, Missouri must have felt like the road team Friday. More than half the CenturyLink Center was filled with Kansas fans cheering for Norfolk State. The Jayhawks, Missouri's Big 12 rival, take on Detroit here later tonight.
Up next:
Norfolk State will play Florida on Sunday for a chance to go to the Sweet 16. For Missouri, it's over. The next time we see the Tigers, they'll be official members of the SEC.
March, 16, 2012
3/16/12
12:15
AM ET
OMAHA, Neb. -- Here's a quick rundown of what to look for in Friday's afternoon games in Omaha.
No. 7 Florida (23-10) vs. No. 10 Virginia (22-9), 2:10 p.m. ET


Florida's Billy Donovan and Virginia's Tony Bennett may respect one another -- but when they run into each other during the offseason, it's pretty obvious the coaches don't compare notes.
While Bennett prefers a slower, muddier game with the score in the 60s, Donovan likes his teams to push the tempo and rack up as many points as possible. It's a scenario that makes Friday's Gators-Cavaliers clash one of the most intriguing matchups of the day.
"Our styles," Virginia forward
Mike Scott
said, "are going to clash."
That's not all that separates these teams.
Florida -- which won the national title in 2006 and 2007 -- is making its 11th NCAA tournament appearance in the past 13 years. Virginia is in the field for the first time since 2007 and for only the fourth time in the past 16 years.
"Their players have all been here and done this before," Bennett said. "Hopefully, [by] the first five minutes after the media timeout, we'll have enough experience to play well."
Even though Florida finished in a three-way tie for second in the SEC, the Gators' season has been a bit of a disappointment. Donovan's squad has defeated just four teams (Mississippi Valley State, Vanderbilt, Alabama and Florida State) in this year's NCAA tournament. It enters Friday's contest having dropped four of its past five games.
Still, with a lineup that features standout guards such as
Bradley Beal
,
Kenny Boynton
and
Erving Walker
-- as well as likely future NBA forward
Patric Young
-- Florida has enough talent to erupt at any time. But the Gators know that won't be easy against a Virginia squad that has held all but two opponents to fewer than 70 points.
"This year we have seen every type of defense you can," Boynton said. "With our offense, we can adjust to any type of defense."
Even though it has a gaudy record, it's not hard to understand why Virginia (22-9) received a No. 10 seed. Other than a Nov. 29 win against Michigan, the Cavaliers boast just one win against a team in this year's NCAA tournament. That came in a 61-60 victory against NC State on Jan. 28.
Bennett's squad is hoping to reverse that trend Friday.
"[Coach Bennett] just tells us it's a once-in-a-lifetime opportunity," guard
Sammy Zeglinski
said. "We've been at the school five years. We've been waiting for this our whole career."
Added Scott: "The celebrating is over. We're here to work and win games."
Players to watch:
Florida's Brad Beal
: One of the nation's top freshmen, the 6-foot-3, 207-pound Beal averages 14.6 points and 6.5 rebounds. But he's shooting just 32.9 percent from 3-point range.
Florida's Patric Young
: He's still raw, but the 6-9, 247-pound sophomore has made tremendous strides in his first year as a starter. Young, who said Thursday he plans to return for his junior season, averages 10.3 points and 6.4 rebounds.
Virginia's Mike Scott
: The first-team All-ACC selection is one of the most efficient offensive players in the country. The forward averages 18.1 points on 56.2 percent shooting. He makes 80.1 percent of his free throws and snares 8.4 boards per game.
No. 2 Missouri (30-4) vs. No. 15 Norfolk State (25-9), 4:40 p.m. ET


They were denied a No. 1 seed, but the
Missouri Tigers
may be the top team in the NCAA tournament in terms of confidence.
While schools such as North Carolina, Kentucky, Syracuse, Duke and Kansas all suffered losses last week, Frank Haith's squad demolished its competition at the Big 12 tournament and is a popular pick to reach the Final Four.
"This is a senior-laden team," Haith said. "We have had opportunities to lose focus throughout the year, but this team has been determined and resilient. I anticipate us having great focus Friday afternoon."
Missouri certainly can't afford to look past Norfolk State.
The Spartans defeated a Drexel team that many felt should've been in this year's NCAA tournament. And they lost to Marquette by only two points back on Nov. 21. Norfolk State will be hard-pressed to stop Missouri's four-guard offense, but its players didn't sound all that intimidated by it Thursday.
"Yes, we're going against better players from a different conference," senior
Kyle O'Quinn
said. "But it's not something we haven't seen before. We're comfortable going into the game."
Missouri has won its past four contests by an average of 17.5 points. The Tigers are making 50.4 percent of their field goals, a mark that ranks third in the nation. The figure is even more impressive considering Missouri uses a four-guard offense, which means more outside shots.
Five Missouri players are scoring in double figures, led by
Marcus Denmon
with 17.6 points per game.
"We are hoping that our length will pose problems for them," Norfolk State coach Anthony Evans said. "They have four great guards. We can post up a little bit, but we think that Kyle is our best chance of creating mismatches against them. Hopefully, he can kick it out to our shooters to make shots."
Players to watch:
Phil Pressey, Missouri
: The Tigers point guard is the key to Missouri's four-guard attack. He's one of the fastest players in the country with the ball in his hands. Although he's a pass-first guard, Pressey can score when he needs to. The defensive standout led the Big 12 in steals.
Ricardo Ratliffe, Missouri
: The 6-8 senior shoots an eye-popping 69.8 percent from the field. The Tigers' guards get most of the attention, but Ratliffe is averaging a respectable 13.9 points and 7.5 rebounds as the only big man in Missouri's starting lineup.
Kyle O'Quinn, Norfolk State
: The 6-10 senior averages 15.9 points and 10.4 rebounds. He's scored in double figures in all but one game this season. He also averages 2.7 blocks.