College Basketball Nation:

LaDontae Henton
November, 24, 2014
Nov 24
2:05
PM ET
What we're reading while we plot the most scenic route between D.C. and Iowa. Submit links via Twitter.
March, 16, 2014
Mar 16
1:25
AM ET
NEW YORK -- The new Big East has an old-school champ.
Providence, one of the conference's seven original members, turned back the clock and No. 14 Creighton on Saturday, winning the 2014 Big East tournament championship game 65-58.
The Friars are off the bubble and into the Big Dance, for the first time since 2004.
"First, I want to say how proud I am to stand here as the head basketball coach of Providence College," said Providence coach Ed Cooley. "I also want to say how tough it was to play an unbelievable team in Creighton and coach [Greg] McDermott's team. They deserve a lot of applause and credit. Those kids are hard to play against.
"It took a brave effort from us to get over the hump."
Providence authored a near-masterpiece defensively against one of the best offensive teams in the country. Creighton has the leading scorer and best 3-point shooting team in all of Division I, yet had a season-low 17 points at halftime and trailed by nine.
[+] Enlarge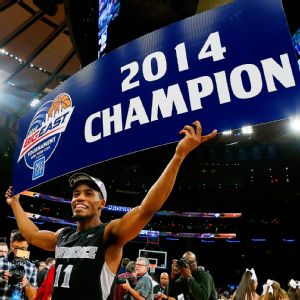 Jim McIsaac/Getty ImagesBryce Cotton and Providence celebrated the Friars' first Big East championship since 1994.
The Friars employed a smothering 2-3 zone that forced
Doug McDermott
and company into contested looks from beyond the arc, and the result was a 1-for-12 performance from deep in the first 20 minutes.
"Obviously we're disappointed with our play in the first half," Greg McDermott said. "I didn't think our ball movement, our spacing against their zone wasn't where it needed to be."
"I don't think we were really expecting zone," Doug McDermott said. "I thought we were kind of panicking almost to start the game, and rushing stuff and not making the extra passes."
Cooley decided to switch things up after Creighton put a 45-spot on Providence in the first half just one week ago in Omaha, in the teams' regular season finale, en route to an 88-73 victory.
"Everybody thought we were crazy probably trying to play one of the best 3-point shooting teams in the country [with a] zone," Cooley said. "But because of Dougie, you always have to have a man and a half around him -- and you know, he almost pulled it off."
McDermott did hit his average (26.9 ppg) with 27 points, 18 of them coming in the second half. His 3-pointer with 1:17 remaining cut Providence's lead, which was once 12, to two, 58-56.
But the Friars whittled down the shot clock on the ensuing possession, as they had all game long to control the tempo. And then Providence forward
LaDontae Henton
made the biggest shot of the game -- a pull-up jumper with 45 seconds left to make it 60-56. They closed out the win at the foul line.
Henton finished with nine points and 13 rebounds, making the all-tournament team. But senior guard
Bryce Cotton
was the MVP, scoring a team-high 23 points, 16 of them in the second half.
"It's just a vindicating feeling to know that the
Providence Friars
are Big East champions," Cotton said. "This is something our school and our city hasn't seen in a long time. For us to finally bring that back home, that's top of the list."
Creighton's spot in the NCAA tournament was already secure. The Bluejays (26-7, 14-4) were projected to be a No. 3 seed entering Saturday's game.
Providence (23-11, 10-8), on the other hand, was still viewed as a bubble team, despite advancing to the championship game -- and despite the opinion of its head coach.
"If somebody asks me about the bubble, I'm going to yell at you," Cooley said, eliciting laughter in the press room. "That bubble was popped probably a couple games ago."
The Friars are in automatically now, but this victory means much more than an NCAA tournament bid. Providence has been part of the Big East since its inception in 1979, yet had only won the conference tournament once, in 1994.
In fact, the 1993-94 Friars -- coached by Rick Barnes and featuring future pros
Eric Williams
,
Michael Smith
,
Dickey Simpkins
and
Austin Croshere
-- were the only team in school history to even advance to the championship game.
Cooley is well aware of that history, being a Providence, R.I., native himself.
"I remember where I was sitting. I remember where I was standing. I remember being so excited for Providence College," Cooley said. "And I've got to pinch myself as I sit here right now."
The '93-94 team was the No. 4 seed in the Big East tournament. This team was the No. 4 seed as well, and was picked to finish just sixth in the preseason -- and that was before losing starting point guard
Kris Dunn
after just four games due to a shoulder injury, and the season-long suspensions of touted freshmen Brandon Austin and
Rodney Bullock
.
Cooley has done one of the best coaching jobs in the country this year, playing with essentially five starters and one sub, as he did in Saturday night's championship game. Cotton, Henton, guard
Josh Fortune
and forward
Tyler Harris
all played 40 minutes.
"We just believe in each other," Henton said. "Can't nobody stop us but us -- that's the motto we came into the season believing. No matter how many guys we had to play with, we were going to go out there with the toughest group of guys and battle each night."
They'll be a tough out in the NCAA tournament, that's for sure. But if and when the Friars lose in the Big Dance, they'll still have something special to celebrate, and remember.
"It feels great," Cotton said, with the Madison Square Garden net around his neck. "Given everything that this team has gone through, all the adversity, obstacles we faced, for us to reach this moment now, we're just going to cherish this moment."
"I am so, so thrilled to be called a Big East champion," Cooley said.
That still means something. And no one can ever take that away.
February, 19, 2014
Feb 19
12:03
AM ET
The Villanova Wildcats have lost exactly three games this season. One of those games was at Syracuse. The other two losses came to Creighton.
The latter two, as you know, weren't just losses; they were thrashings. The first, a 96-68 Bluejays win Jan. 20, came in Philadelphia, set all kinds of records and led to countless unconfirmed cases of the rare and mysterious "Bluejay meltface syndrome" -- or "BMS," as we in the scientific community refer to it.
The second, on Sunday, wasn't much better: Creighton scored 101 points on 69 possessions. National player of the year lock Doug McDermott submitted virtually the perfect offensive night (39 points, 13-of-17 from the field, 9-of-9 from the line). Jay Wright spent most of his news conference calling McDermott the best all-around player he'd ever seen. It was less a conference clash than a coronation.
On Tuesday night, in their 82-79 win at Providence, the Wildcats stuck to the script.
Just two days after that trip to Omaha, Wright's team bounced with a road win in double overtime. It was an impressive, physical, hard-fought, high-level bounce-back of a victory -- a lot like the impressive, physical, hard-fought, high-level victory Villanova bounced back with the last time it lost to Creighton.
[+] Enlarge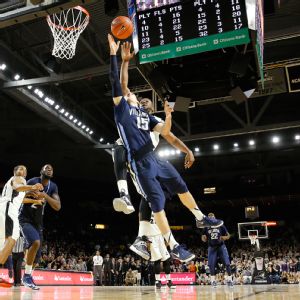 David Butler II/USA TODAY SportsRyan Arcidiacono's and-1 at the end of the second overtime gave Villanova a crucial bounceback win and kept Providence on the bubble.
The similarities between Tuesday's win and the Jan. 25 overtime win at Marquette are almost eerie: two opponents clawing like crazy to keep their seasons afloat, two keyed-in road crowds, two extra-regulation wins.
The only difference was the stakes -- what Villanova's win means for the team it beat the second time around.
Let's be blunt: Providence desperately needed this win. With one month left until Selection Sunday, the Friars are the walking amalgam of a team on the bubble, with every win or loss -- especially big marquee chances like Villanova at home -- could measure out the balance of their season. In the weeks to come, you'll hear a lot of vague things about a lot of teams being "on the bubble." Truth is, most of them won't be. Most will be fine. But there is a select group of teams -- maybe 20 or 25 -- mired in the bubble tar pits. For the next month, they will clamber over one another in increasingly desperate ways. And Providence, whom BracketoloJoe Lunardi placed among his last four byes Monday, is down there scrapping it out with them.
The Friars played like it Tuesday night. Bryce Cotton -- maybe the most underrated player in college basketball -- played all 50 minutes. No player in the country plays a higher percentage of his team's available minutes than Cotton, and no one with his tidy assist-to-turnover ratio comes close. He finished the game with 22 points, nine assists, six rebounds and a host of huge buckets -- a game-tying 3-pointer at the end of the first overtime, another late in the second, a baseline-hesitation reverse layup that momentarily resembled a much smaller Michael Jordan.
Cotton led a group of players beset by injuries all season for every minute of an all-out effort. The Friars took an early first-half lead, squandered it, then closed a five-point deficit in the final 1:44. They were locked in defensively. Coach Ed Cooley was working the sideline, working refs. The crowd was great. Every overtime possession was hard-fought.
The last two possessions decided the game.
With the game tied 79-79 and six seconds left, Villanova's Ryan Arcidiacono drove left, earned a foul, and finished the play -- the same shot he missed horribly with zero contact at the end of the first OT. After Arcidiacono made the resulting free throw, Providence was impeccably prepared. In the matter of two seconds, Cotton inbounded the ball to midcourt, got a quick pass back, then whipped it up the sideline to a wide-wide-open LaDontae Henton. Henton had an extra second to mess with; he had a great, rhythm look. The Dunkin Donuts Center crested. And then the shot rimmed short. It was a heartbreaking way to lose.
It was also -- not that you needed to tell anyone in the Dunkin -- a major missed opportunity. The Friars have now dropped five of their past seven, including losses to Marquette, St. John's, Xavier and Georgetown. Their nonconference schedule is a blemish on a profile which main strength is its Jan. 18 win over Creighton. Adding a win over the Big East's other marquee opponent would have been massive. Now the Friars have road games at Butler and Seton Hall before finishing versus Marquette and -- and this might be their best last chance -- at Creighton on March 8. It would be a shame to see a player as good and reliable as Cotton miss out on the NCAA tournament in his final season, but that's the risk Providence faces.
For Villanova? Well, no big deal. The Wildcats had seen the other side of a Creighton demolition before, and on Tuesday night they responded to the second one in a month with another gutty, well-earned road win against a team with everything on the line.
If you're the Bluejays, it seems, Wright's team is no sweat. If you're someone else? Look out.
December, 11, 2013
12/11/13
1:40
PM ET
Ed Cooley has engineered a turnaround at
Providence
, albeit a moderate one: The Friars aren't going to be competing for a Final Four anytime soon, but they aren't nearly as bad as the Keno Davis days (and beyond). But given the circumstances, the many 7-2-offsuit hands Cooley has been dealt, the work done to date is all the more impressive.
[+] Enlarge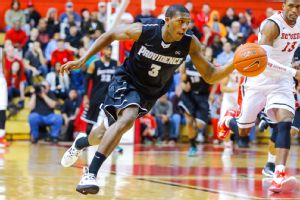 Jim O'Connor/USA TODAY SportsProvidence sophomore Kris Dunn will miss the rest of the season with a shoulder injury.
The latest bad deal came Wednesday, when the Friars announced sophomore guard
Kris Dunn
would
undergo season-ending surgery on his shoulder
.
For most of the season, Providence has been without Dunn, who re-injured a torn labrum in his shoulder during an exhibition game back on Nov. 2. Dunn missed the first three games of the season, returned for four (against Vermont, Vanderbilt, La Salle and Maryland), played a combined 106 minutes, during which he averaged 3.8 points and posted a drastically low 69.8 offensive rating. He clearly looked hurt, in other words, and both player and program seem to be making the prudent decision: repair, heal, take your time.
That decision might be less of a blow to Dunn than the original injury, or these weeks of stop-and-start hope. The sophomore guard arrived at Providence alongside
Ricky Ledo
, backcourt gems of Cooley's startling 2012 class, and neither player's career has gone as planned. Ledo, a top-five point guard, failed to qualify academically, never played a game in a Providence uniform, and went pro at first opportunity. (There is an argument to be made that Cooley should have known as much and stayed away, and maybe he did. But was the risk not worth taking?) Dunn's ordeal is just plain bad luck: He missed most of his freshman year with the first torn labrum instance last fall, and he
still
hasn't had a chance to really play healthy, worry-free basketball.
What's worse, this year's promising pair of recruits -- four-star forward
Brandon Austin
, the No. 12-ranked small forward in the country; and
Rodney Bullock
, a three-star win -- haven't played a minute between them. Both players were suspended indefinitely by Cooley for team rules violations; they have yet to be given a reprieve.
Fortunately, Cooley has seniors
Bryce Cotton
and
Kadeem Batts
, junior
LaDontae Henton
, and sophomores
Tyler Harris
and
Josh Fortune
. Cooley has recruited well, despite the mishaps; he has a quality blend of players. But a Big East title run, or an NCAA tournament berth? Those expectations, like Dunn's injury, might require more patience.
November, 13, 2013
11/13/13
11:48
PM ET
For a vast majority of the possessions they played during the 2012-13 season, the Virginia Cavaliers were a solid college basketball team. Virginia held opponents to the 16th-lowest effective field-goal percentage in the country last season; they finished 24th in defensive efficiency; they ranked 40th overall; they beat Duke and North Carolina and nearly toppled the ACC champs (Miami) on the road; and their best player, guard Joe Harris, was an all-conference first-teamer.
If you repeated the above information to the uninitiated -- and yes, I will take credit for not shoehorning a Bane joke in here -- you would assume Virginia ended the 2012-13 season in the NCAA tournament.
Nope: UVa spent March in the NIT. There were a few reasons for this: a soft schedule, missed opportunities, a few untimely ACC flops. But more than anything, Virginia missed out because by Christmas it had already lost to George Mason (RPI: 123), Delaware (RPI: 141) and -- worst of all -- Old Dominion (RPI: 318!). The Cavaliers never did enough to recover.
[+] Enlarge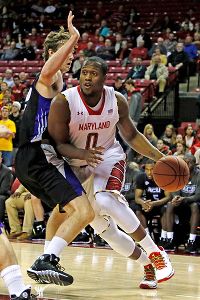 Mitch Stringer/USA TODAY SportsCharles Mitchell scored 15 points and grabbed 11 rebounds in Maryland's win over Abilene Christian.
Since 2009, when the men's basketball committee stripped the "last 12 games" barometer from its tourney resumés and gave equal weight to early results, more than a few teams have learned Virginia's lesson. It is a simple one: Be ready to play on Day 1. What happens in November could come back to haunt you in March.
On Wednesday night, Providence, Maryland and Illinois -- 2014 tourney hopefuls all -- avoided precisely that fate.
Providence's win over Brown
was the most harrowing of the bunch. The Friars, a promising and talented group under impressive third-year coach Ed Cooley, handled the lion's share of their home matchup with Brown with expected ease.
Kadeem Batts
,
Bryce Cotton
and Co. opened an early 20-4 lead over the Bears, and stretched it to 42-27 in the closing minutes of the first half. The rout appeared to be on.
But Brown, believe it or not, came roaring back in the second half. Providence went cold. Brown's
Cedric Kuakumensah
got hot. By the 9-minute mark, it was 58-58. With five minutes to play, Brown led 63-60. But if not for two late 3-pointers by
LaDontae Henton
and
Josh Fortune
, Providence may well have lost to a team that finished 12-20 and ranked 240 in the RPI last season. Is it possible the Bears are much better this season? Sure. It is almost certain a home loss to Brown would have destroyed Providence's RPI? Yes.
That damage would have paled in comparison what would have happened to Maryland had the Terps fallen to -- gulp -- Abilene Christian. Mark Turgeon's team pulled away in the second half, and eventually cruised to a
67-44 win
that will
look
fine three months from now. But Maryland actually entered halftime trailing -- yes, trailing -- the Wildcats 30-29. Heck, Abilene's lead lasted during a disconcertingly large chunk of into the second half; they were up 44-38 with 14 minutes to play. If you think a loss to Brown would be bad, try on a home loss to a team that
wasn't even in Division I last season
. Thanks to Maryland's bonkers 29-0 game-ending run, it didn't have to come to that. But still, what a nervy 25 minutes.
Illinois' win over Valparaiso
may have been a bit less drastic. Valpo, after all, won the Horizon League last season. It is a name mid-major program. It is no Brown, to say nothing of Abilene. But still, the Cavaliers lost six seniors, including stars Kevin Van Wijk and Ryan Broekhoff, from last season and are in full-on rebuilding mode in Bryce Drew's second season, which made their mere two-point deficit at the six-minute mark of the second half
in Champaign
all the more troubling.
Throw Indiana into this mix, too. The
Hoosiers narrowly survived LIU-Brooklyn
at home Tuesday night. Don't get it twisted: The Blackbirds have made the last three tournaments for a reason. That's a good program. They schemed IU well and baited the Hoosiers into too many outside shots. But no matter. IU is supposed to beat LIU-Brooklyn at home, and a loss would have veered the young Hoosiers in an RPI ditch in the first week of the season.
Instead, all of these teams survived résumé calamity. Wednesday night hardly offered the most inspiring slate of games. It was a harsh comedown after Tuesday night's Champions Classic high. But for Illinois, Providence and Maryland, Wednesday was a season-changing night.
You know the NCAA tournament cliché, survive and advance? It's a good one. Just remember: You have to survive November first.
December, 7, 2012
12/07/12
12:45
PM ET
Player of the Night - Kyle Fuller, Vanderbilt
Kyle Fuller scored all 12 of Vanderbilt's overtime points in a 66-64 win over Xavier. Fuller finished with a career-high 25 points. Not bad for a player who scored a total of 17 points all last season.
On a team that lost its top six scorers from last season, Fuller (13.3 PPG) and
Kedren Johnson
(17.0 PPG) are taking on the load. On Thursday, they combined for 44 of Vanderbilt's 66 points.
Stat Sheet Stuffer I – LaDontae Henton, Providence
He may be playing in a small state, but LaDontae Henton showed a pretty big game on Thursday. The sophomore went off for 21 points and a career-high 17 rebounds as Providence beat URI 72-57 in the battle for Ocean State pride.
It's no surprise to see a Friar putting up big numbers, given their depleted bench. The Friars had only six scholarship players suited up on Thursday. Three Providence players rank in the top five of the Big East in minutes. Freshman
Josh Fortune
has played all but 13 minutes this season.
Stat Sheet Stuffer II – Kyle Barone, Idaho
Kyle Barone did a little bit of everything in Idaho's 81-79 overtime win over Eastern Washington. He finished with 20 points, 11 rebounds five blocks and five assists.
He's just the fourth player in the past four seasons to post such a 20-10-5-5 line, joining an impressive list of small conference luminaries:
Tony Mitchell
, Keith Benson and Kyle O'Quinn.
Scorer of the Night – Greg Gantt, Florida Atlantic
Greg Gantt had 21 points at halftime and finished with a career-high 34 points in Florida Atlantic's 88-78 win over Stetson.
It's the most points by a Sun Belt player this season, and the most by an Owl since DeAndre Rice's 39 in 2007.
Ugly Stat of the Night – Arkansas-Little Rock
UALR had as many turnovers (32) as rebounds in its 87-53 loss to Cincinnati. Three Trojans finished with at least six turnovers on the night.
The 32 turnovers match the most by any team this season and is the most by a Sun Belt school in 11 years. It's the most forced by Cincinnati in almost six years.