College Basketball Nation:

Lamar Patterson
February, 11, 2014
2/11/14
8:11
AM ET
By
ESPN.com staff
| ESPN.com

Andy Katz discusses Saint Louis' quiet dominance, Lamar Patterson's injured thumb and the impact of Marcus Smart's suspension on the selection committee.

February, 6, 2014
2/06/14
11:00
AM ET
1. Doug McDermott, Creighton: We are in the midst of the longest break of the Creighton Bluejays' season: Their last fixture was all the way back on Jan. 28, when McDermott splashed that 39 and a game winner on the Red Storm's unsuspecting heads. You'd think, then, that this would be a light week for the Arbitrarily Capitalized Doug McDermott Awesomeness Tracker (ACMcDAT) -- the statistical equivalent of a walk-through. You'd think wrong.
McDermott is still averaging 25.0 points and 7.1 rebounds per game while shooting 50 percent from the field, 43.9 percent from 3, and 89.3 percent from the free throw line. His offensive rating (121.5), true shooting (62.5), usage (33 percent) and shot rate (37 percent) is all still what it was last week. He's still closing in on Larry Bird and Oscar Robertson on the all-time scoring list.
[+] Enlarge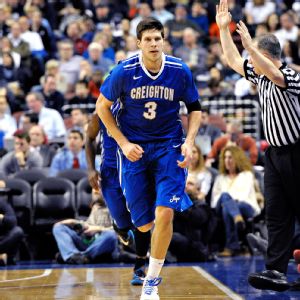 Eric Hartline/USA TODAY SportsDoug McDermott is on the verge of being the first player in 21 years to eclipse the 1,000-field goal mark.
But, thanks to a hot ESPN Stats & Info collabo, the ACMcDAT is pleased to add these fresh knowledge patties to your brain grill:
McDermott needs eight field goals to reach 1,000 in his career. The last time any player reached 1,000 career field goals in a season was 1992-93, when Calbert Cheaney and Alphonso Ford both surpassed that mark.

McDermott led the nation in field goals in each of the past two seasons. He is on pace to do so again in 2013-14. If he does, he will be the first player since Wayman Tisdale in 1983-85 to accomplish that feat.
Fittingly, Tisdale and his contemporary, some guy named Patrick Ewing, were the last players to earn three straight first-team All-American selections. McDermott will do the same this season.
A week off? The ACMcDAT doesn't take weeks off, and neither do the crazy things you can find to say about Doug McDermott's career.
2. Jabari Parker, Duke: Remember when Parker was in a slump? It isn't much of a slump anymore. Since Parker got back on track against NC State on Jan. 18 he's posted offensive ratings of 141, 104, 104, 105, 93, and 153 while averaging 18.5 points per game. That 93 came against Syracuse, by the way, when he finished with 15 points on 15 shots in just 26 foul-pocked minutes. The Syracuse interior was too much for Duke on a systemic level. But Parker's scoring was noticeable when he was on the floor, and he followed that up with Tuesday's near-perfect 21-point, 8-of-10, 8-rebound, 2-block, 2-steal night in a 20-point win over Wake Forest. When he's scoring like that, he's capital-G great. When he's not, he's still Duke's second-best rebounder. In any case, the Blue Devils aren't close to the nation's most efficient offense without him.
3. Nick Johnson, Arizona: Saturday was a tough night for Arizona generally, and for Nick Johnson specifically. The Wildcats scored 58 points in 66 possessions -- and shot 2-of-11 from 3 and 18-of-51 from 2 (!) -- in their first loss of the season. Brandon Ashley suffered a season-ending injury. And Johnson finished with the worst line of his career: 4 points, 1-of-14 from the field, 5 turnovers, 27 ORtg. Just … blech. Worse yet, his last miss of the game was a good look Johnson earned from 14 feet or so, one that just didn't fall -- and opened the window for California's Justin Cobbs to make the game winner on the other end.
And so what? Rough nights happen. Shots don't go in. You lose conference games on the road. Do not reappraise Johnson's player of the year candidacy based on the biggest outlier that ever out … lied? Laid? Lay?
4. C.J. Fair, Syracuse: So C.J. Fair kind of had a rough night of his own Monday night. Did you notice? Trevor Cooney scored 33 and Syracuse won, so it was all good. But Fair did play probably his worst game of the season. File this under the Nick Johnson "So what?" file: On Saturday night Fair unleashed one of the most beautiful, brilliant individual scoring performances I've seen a long time. His Saturday against Duke was the fully realized C.J. Fair, the Fair that Jim Boeheim has seen in his mind's eye for years, the one who had Duke fans pleading for mercy -- the Fair who went so far above and beyond his "reliable workhorse" baseline that he was bound to suffer a slight hangover come Monday night. Well-earned.
5. Xavier Thames, San Diego State: Thames is so good. I understand this is not an especially interesting thing to write about a basketball player. But really: What can you say?
By now, you should know how San Diego State's formula works: The Aztecs play insanely good defense on one end of the floor and then rely on Thames for a huge share of their offense on the other end. Thames is so good, he makes this formula work. Wednesday night's come-from-behind 67-65 win at Boise State -- a ruthless, ice-cold dagger delivered through the Broncos' collective sternum -- was maybe the best example yet.
[+] Enlarge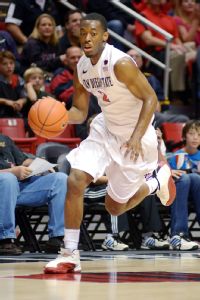 Kent C. Horner/Getty ImagesXavier Thames makes San Diego State go, as he showed once again Wednesday night.
After an uncharacteristically lenient first half, Steve Fisher's team clamped down on the defensive end in the second, which is when Thames went to work: At the 5:50 mark, his 3 cut Boise's lead to 2. On the next possession, he tied it. Then he made the go-ahead bucket at 4:05 to give San Diego State its first lead since Thames' first 3
in the first 26 seconds of the game
. With 58 seconds left, he swiped a steal from Boise star
Derrick Marks
, got to the free throw line, and made both. Then, on the decisive possession, he drew every defender in the incorporated western territories before deciding to pass to
Dwayne Polee II
, who made a wide-open 3.
Thames finished with 23 points in 27 minutes on 5-of-7 from the field (3-of-4 from 3) and 10-of-11 from the free throw line, and the Aztecs still haven't lost since Arizona on Nov. 14. Seriously, dude is good.
6. Cleanthony Early, Wichita State: Early was a charter member of the honorable mentions (this would have been a great band name in 1993) pretty much since the start of the season. It's about time we involved him more fully in this discussion, because there isn't much he isn't good at. He rebounds the ball, especially on the defensive end. He shoots efficient percentages from everywhere (55.0/35.7/83.8). He blocks shots. He gets to the free throw line. And, oh by the way, he does all of it for a team that after Wednesday night's win at Indiana State (their toughest regular-season game to date, and remaining) now has, per KenPom.com, a 55.6 percent chance of ending the season unbeaten. (The BPI roughly concurs.) The mutual excellence of Ron Baker and Fred VanVleet had something to do with why Early wasn't on this list … previously. But it's time to choose sides now, and he's the Shockers' easy choice.
7. Russ Smith, Louisville: If we've said it once, we've said a hundred times: Smith is having the best season of his career -- scoring, passing, defending, the works. That he occasionally drives his coach crazy, and that his team isn't quite as good as last year's national title contender, need not be held against him.
8. Lamar Patterson, Pittsburgh: Patterson still wasn't his typically hyper-efficient self at Miami Wednesday, but he finished with 25 points, and the Panthers escaped Coral Gables, Fla., with a win. After two squandered chances to beat good teams at home (Duke, Virginia) with a six-day rest between them, Pitt's season -- and Patterson's All-American candidacy -- couldn't have afforded a loss to the 11-11 Hurricanes.
9. Julius Randle, Kentucky: The bona fide star of the Most Analyzed Team in Sports History" has recovered from that ugly 3-for-11 at LSU quite nicely: He was solid in Tuesday's win over Ole Miss and imperious in the second half against Missouri, making one big shot after another as Kentucky held off a super-hot Tigers team for a huge road win. UK's offense has gone back and forth between gorgeous and grinding, but its baseline operates as a function of what Randle does, and the attention defenses must pay him.
10. Joel Embiid (Kansas): It wasn't that Kansas' loss to Texas Saturday was all that surprising: The Longhorns have been playing better-than-you-think ball for most of the season. But the details were stunning. The Jayhawks' steamroller of an offense was held to just 69 points in 69 trips thanks largely to the fact that Texas was bigger, stronger, and tougher on the inside. To wit, Rick Barnes' team blocked 12 KU attempts, or 23.5 percent of their shots. Kansas blocked only four. It is fair to bump Andrew Wiggins off this list (he was No. 10 last week, and he submitted a 7-point, 1-for-10 stinker), but Embiid deserves to stay, for now.
Honorable mentions: Nik Stauskas (Michigan), Andrew Wiggins (Kansas), Shabazz Napier (Connecticut), DeAndre Kane (Iowa State), Tyler Ennis (Syracuse), Sean Kilpatrick (Cincinnati), Marcus Smart (Oklahoma State), Keith Appling (Michigan State), Casey Prather (Florida), Cameron Bairstow (New Mexico)

January, 30, 2014
1/30/14
11:00
AM ET
The original version of this file just said "Doug McDermott, Doug McDermott, Doug McDermott, Doug McDermott" over and over again for 1,000 words, but my editors told me that wouldn't work,* so I guess we'll stick with the usual format.
*Not actually a true story.
1. Doug McDermott, Creighton: This week's Arbitrarily Capitalized Doug McDermott Awesomeness Tracker (ACMcDAT) could probably just be reduced to an embed of this video, highlights of McDermott's Tuesday night against St. John's, when he shot 15-of-26 and scored 39 of his team's 63 points -- including the game-winning 3. But just like my first (not real!) submission, that would be a disservice to the loyal members of ACMcDAT Nation. So here it is, your list of ACMcDAT facts:
McDermott is now averaging 25.0 points and 7.1 rebounds per game while shooting 50 percent from the field, 43.9 percent from 3, and 89.3 percent from the free throw line.
He takes 37.9 percent of his team's shots and ends 33 percent of their possessions. Despite these facts, his offensive rating is 121.5 and his true shooting percentage 62.5.
This week, McDermott scored the 2,741st point of his career, which moved him to 18th on the all-time scoring list. He passed both Reggie Lewis and Hank Gathers in doing so. Next in line: J.J. Redick, Allan Houston, Kevin Bradshaw, Otis Birdsong and Larry Bird.
If McDermott averages 25 points in his last nine regular-season games, he will enter the Big East tournament with 2,966 career points, seven shy of Oscar Robertson.
No one is ever going to catch Pete Maravich's all-time scoring record because he scored 44.2 points per game. Don't ask, next question.
Thanks to Creighton sports information director Rob Anderson, the ACMcDAT now includes the following information: On Tuesday night, McDermott made five shots off the backboard and two with his left hand. Of his 992 career field goals, 436 banked in, and 126 were shot lefty.
Creighton's offense is scoring 1.25 points per possession this season, best in the country, and 1.20 against Big East opponents, best in the league.
He's probably top-five on this list. I might put him at No. 3.
He's going to win the Wooden Award.
McDermott has really done the Wooden Watch a solid these past few weeks. Figuring out the rest of this list will still be tough, but the No. 1 spot will be very, very easy. Thanks, Doug.
2. Nick Johnson, Arizona: Forget ACMcDAT negligence: The best argument for keeping the rest of these rankings fresh resides in Tucson, Ariz. Johnson is an efficient scorer and all-around offensive player who also just so happens to be an elite perimeter defender. On Wednesday, the former gave Arizona the decisive go-ahead margin it needed in a 3-point survival at Stanford. But it was the latter -- that defense, and how coach Sean Miller implements Johnson alongside the Wildcats' brutish interior core -- that held the Cardinal to just two field goals in the final 10 minutes. Before Johnson iced his 3, he made one of the best help-defense blocks we've seen all season. It was his national-player-of-the-year case wrapped in one tidy highlight package. In any other season, he'd be No. 1.
[+] Enlarge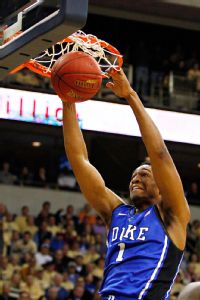 Justin K. Aller/Getty ImagesJabari Parker has improved his defense and rediscovered his scoring touch for Duke.
3. Jabari Parker, Duke
: There was a time not so long ago when McDermott was not the No. 1 player on this list, when Parker was the prime candidate for player of the year -- the efficient and high-usage engine of a Duke offense that desperately needed to outscore its opponents to win. Then Parker slumped, and Duke lost games at Notre Dame and Clemson, and also Doug McDermott. But these days, the Blue Devils are looking downright sturdy defensively. The Chicago native's improvement on that end has been noticeable, and his defensive rebounding remains crucial. In the meantime, as in his 21-point, 11-rebound outing in an 80-65 win at Pittsburgh Monday, he has rediscovered his scoring touch. What better time to rediscover Parker?
4. C.J. Fair, Syracuse: Last week, Jim Boeheim's insistence that Fair was his team's best player helped convince the Watch to include him over point guard Tyler Ennis. The temptation to swap the two again beset the Watch this week. Ennis did have 16 points in the second half at Wake, after all, and his combination of effective outside shooting and ballhandling (Ennis finds a teammate for a score on 31.1 percent of his possessions and turns it over on just 12.6 percent) remains as lethal as ever. But the one real flaw plaguing Fair's game early in the season -- turnovers -- is slowly starting to recede, and in the meantime he's playing 91.9 percent of his team's available minutes (!) and using 26.5 percent of Syracuse's possessions while doing so. That's … kind of crazy.
5. Nik Stauskas, Michigan: Let's go to John Gasaway for a remote report on Nik Stauskas. John? "Since [Jan. 2], John Beilein's team has not failed to record at least 1.13 points per in any game. Over this six-game, non-pedestrian span UM has made 60 percent of its twos and 40 percent of its threes. (I think there's a t-shirt design waiting to happen there.) For Nik Stauskas personally, those six-game numbers are 60 and 46 percent respectively, and in that stretch he's taken 25 percent of the shots that occur in this offense during his minutes. Well, I can certainly see why the Wooden committee wants nothing to do with this guy." Thanks, John. And let me just say, for all of us here in the Wooden Watch studios, we certainly want everything to do with Stauskas. Because Stauskas, as the kids say, is Ball. Ing. And now, the weather …
6. Joel Embiid (Kansas): On Wednesday night, I looked up from my laptop early in Kansas's 92-81 home win over Iowa State just in time to see Embiid take the ball on the left block, engage with the post defender, pivot toward the baseline into his right shoulder and sink a tidy little 6-foot turnaround jumper. It's possible Embiid has made that exact shot before, but I haven't seen it. It may have been the first time he attempted it. Here's the point: This happens all the time. You put your head down for a minute, and then you look up, and Embiid is putting into practice something that even most good college big men can't do with decades of camps at their back. Oh, and he blocks 12.2 percent of opponents' shots, too. So there's that.
7. Lamar Patterson, Pittsburgh: For a relatively deep dig into exactly what Duke did to arguably the nation's second-best offensive player in his 4-of-14 performance Monday night, see here. You should also know that before Monday's off night, Patterson had 28 points in 14 shots with 7 rebounds, 7 assists and 4 steals at Maryland. He deserves to stay.
8. Xavier Thames, San Diego State: As of Thursday, two players in the country use more than 28 percent of their team's possessions and have a higher offensive rating than Thames. One is Billy Baron, who is putting up some wild numbers at Canisius this season. The other is Cameron Bairstow, who would be in the top 10 if New Mexico wasn't quite so permissive on defense. (McDermott, for what it's worth, ranks fourth on this list, despite that 33 percent usage rate. Also wild.) San Diego State guards like crazy but has no other offensive options, save one. Fortunately, the one it does have is really, really good.
9. Russ Smith, Louisville: Smith's player-of-the-year candidacy looks destined to go overlooked this season for a variety of team-related reasons, but now that Louisville has won four straight (including that road win at UConn), it's a good time to bring him back into the discussion. Because Smith is still playing the most efficient offense of his career, shooting the ball and dishing easy buckets to teammates more effectively than ever before and still playing his disruptive brand of perimeter defense.
10. Andrew Wiggins, Kansas: Here's the thing about Wiggins: He has been pretty good for most of the season. He hasn't been LeBron James 2.0. He hasn't been perfectly consistent from game to game. But a baseline, his all-around, all-court performance has been immensely solid. Now -- with 56 points in his past two games, 29 of which came Wednesday against Iowa State -- we're starting to see some of the brilliance that had NBA scouts so excited. If he keeps it up, and Kansas keeps looking like the Non-Arizona, Non-Syracuse Team Most Likely To Win The National Title, we'll be discussing him more in the future.
Besides, Julius Randle had his worst game of the season at LSU (3-of-11, six points, five rebounds) Tuesday, and Marcus Smart hasn't played all that well of late. Also, he's being punished for excessive flops. It's Wooden Watch, not Wooden Flops, am I right? OK, we'll stop now.
Honorable mentions: Smart (Oklahoma State), Randle (Kentucky), Keith Appling (Michigan State), Casey Prather (Florida), Shabazz Napier (Connecticut), Cameron Bairstow (New Mexico), Adreian Payne (Michigan State), Cleanthony Early (Wichita State), Kevin Pangos (Gonzaga), DeAndre Kane (Iowa State)
January, 28, 2014
1/28/14
5:30
PM ET
Just two minutes and 12 seconds after Duke and Pittsburgh tipped off as ACC opponents for the first time, Pittsburgh ran its first play designed to get Lamar Patterson a bucket. It worked: Patterson rubbed shoulders with two pin-down screens, got free at the top of the key, and coolly stuck one of his beautiful jumpers.
A minute later, Patterson collected a defensive rebound, dribbled up court, crossed Duke guard Tyler Thornton into another dimension, and earned a trip to the line.
The message seemed clear: Duke was in town, and the best offensive player in the country not named Doug McDermott -- one coming off an imperious 28-7-7-4 on 14 shots in Pitt's win at Maryland Saturday -- was locked in. If you edged forward in your chair, you had the right idea. Patterson was going to put on a show.
[+] Enlarge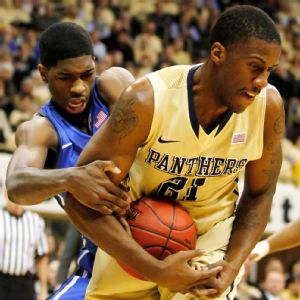 Justin K. Aller/Getty ImagesAmile Jefferson and Duke harassed Pitt's Lamar Patterson into a 4-of-14 night from the field.
Instead, the first shot was Patterson's last field goal of the first half. He would go another 23 minutes without a bucket in open play. He would finish 4-of-14 from the field with five turnovers, and an offensive rating of 73 -- nearly 50 points lower than his season average (120.9). Pitt would lose, 80-65.
How, exactly, did this happen? How did Duke -- barely two weeks removed from a 72-59 loss at Clemson -- stop one of the nation's most efficient offensive threats?
A rewind of Patterson's 22 possessions, powered by Synergy scouting data, offers the answers -- and showcases a Duke defense so vastly improved from November and December as to be almost unrecognizable.
This was evident in simple, fundamental things, things Blue Devils defenses almost always do but haven't done for much of the 2013-14. On Patterson's third possession -- after Rasheed Sulaimon aggressively denied him an initial pass to the wing -- the Pitt forward circled, took another wing screen, and forced Duke guard Andre Dawkins into a switch. Dawkins got caught overplaying, and Patterson beat him left him with ease. For most of the season, Duke would have missed this rotation and Patterson would have had a layup. But Josh Hairston's awareness forced Patterson to stop short at the block. He turned the ball over.
Duke's progress was just as evident as in its specific executions of Mike Krzyzewski's game plan. At the nine minute mark in the first, Duke forward Rodney Hood -- who drew Patterson for most of the evening, and did an excellent job -- nearly deflected the first pass. Quinn Cook denied Patterson his attempt to send the ball back to point guard James Robinson at the top of the key. So Pittsburgh does what it usually does, and sent a ball-screen for Patterson … and as soon as it did Marshall Plumlee, the screen defender, went barreling at Patterson to trap him on the sideline. Patterson turned it over again.
This play, and almost all of Patterson's possessions (save the handful that came late in the game after the outcome was effectively settled), showcased Coach K's downright virtuosic game plan. Duke denied everything on the perimeter and stretched itself into every passing lane. It turned an occasional weakness -- its glut of guards, its lack of size -- into a strength.
On the lion's share of his offensive trips, this strategy turned Patterson into a mid-range player. The mid-range has always been the one place Pitt's star -- a lights-out shooter from 3 and a 65-percent finisher around the rim -- is merely human. According to hoop-math.com, Patterson shoots just 40 percent on 2-point jump shots. It's also where he is least comfortable, and most likely to cough it up.
The help defense kept Patterson from getting to the rim, and the overplay kept Patterson from catching the ball cleanly. Nor could he restart the Panthers' sets when he ran into trouble. He was boxed in. Duke was everywhere.
Clearly, Coach K had a few wrinkles prepared. No surprise there. But since when has Duke been able to follow through on them so perfectly?
The Blue Devils weren't perfect, of course. Patterson had a couple of clean looks from 3 that he just plain missed. And Pitt's typically stout defense was as much a culprit: Duke scored 80 points in 65 possessions, and even a commanding offensive performance wouldn't have changed that. But still, Duke's win at Pitt Monday night was the culmination of two weeks of drastically improved defensive play. Not only are the Blue Devils doing all the little things good defenses must do as a baseline, but they're good enough now to hit the next level -- the place where you can carry out your legendary coach's schemes on the road against one of the best players in the country.
The improvement is staggering, and the implications are clear: If Duke guards like this the rest of the season, don't count the Blue Devils out of the national title hunt just yet.
January, 27, 2014
1/27/14
11:39
PM ET
After a loss at Clemson two weeks ago, Duke fell out of the top 10 for the first time in more than six seasons and its doubters were getting louder. The Blue Devils clearly had something to prove following that defeat. And their four-game winning streak entering Monday's matchup against Pitt was a good sign. But they needed more.
The No. 17 Blue Devils got it during an 80-65 road win over the No. 18 Panthers.
They improved their defense throughout a stretch that included wins over Virginia, Miami, North Carolina State and Florida State. But Monday's victory over a ranked Pitt team in a hostile environment said a lot about this team's new mindset.
Duke is still a potential force on the national scene. The Blue Devils are still strong contenders in the ACC.
Here are Five Things that impacted Monday's win:
[+] Enlarge

Justin K. Aller/Getty ImagesDuke's Jabari Parker was a force with the ball in the first half, and played the role of decoy to perfection in the second half.

Jabari Parker's second-half impact: Although the freshman star had 16 points before halftime, Parker's greatest contribution might have come in the second half. Pitt coach Jamie Dixon had clearly decided to make some adjustments at the break. Actually, one adjustment: Cover Parker like a blanket. And the Panthers did that. He scored five points after halftime. Michael Young and Jamel Artis and everyone else on Pitt's roster tried to stop him. They trapped him. They were physical with him. They stacked his side of the floor. Pitt basically developed an "anyone not named Parker will have to beat us" philosophy. One problem, though. Parker was the perfect decoy. During one second-half possession, Quinn Cook faked a pass toward Parker's side of the floor. Cameron Wright, Artis and a third Pitt defender all bit on the fake, as underrated glue guy Amile Jefferson cut to the lane for an easy bucket. Duke's other weapons took advantage of the pressure that Pitt put on Parker in the second half.

Will someone please guard Andre Dawkins? Yes, Pitt had to stop Parker. He had too much fun in the first half. But Pitt failed to see the rest of the floor in the second half. See Dawkins. The reserve guard has been spotty all season. Big games have followed mediocre production. But he's shooting 45 percent from the 3-point line. From 7:47 to 2:12, Dawkins went 4-for-5 from the 3-point line. Pitt and Duke were battling until that explosion in the final minutes. But the Panthers never adjusted. They never put a hand in Dawkins' face. I understand their preoccupation with Parker and all, but he just had too much room.

Duke's new defense: A few weeks ago, Duke was ranked in the 90s of Ken Pomeroy's adjusted defensive efficiency ratings. Teams rated that low don't win championships. The Blue Devils allowed Notre Dame to score 1.23 points per possession during a Jan. 4 loss. In their loss at Clemson Jan. 11, they gave up 1.14 points per possession to a team that's currently ranked 320th nationally with a 64.5 PPG average. But the Blue Devils have been a much stingier unit during this five-game winning streak. They've climbed to 60th> in adjusted defensive efficiency. And they allowed Pitt to score 1.04 points per possession Monday. National player of the year candidate Lamar Patterson went 4-for-14 against them. This defensive elevation has been the most significant and promising change for Duke in recent weeks.

Duke is tougher now: It's hard to measure toughness, but assertiveness and consistent aggression are reasonable qualifiers. Duke faced a scrappy Pitt team that had a habit of making opponents look ugly for 40 minutes. The Panthers did that to No. 2 Syracuse in a Jan. 18 loss. And No. 13 Cincinnati registered only 44 points in a win over Pitt last month. The Panthers had held previous opponents to just 7.5 second-chance points per game, fewest in the ACC and the No. 3 mark among the top seven conferences, per ESPN Stats & Information. Duke didn't care about that. The Blue Devils tussled in the paint to grab 11 offensive rebounds and record 20 second-chance points. That's proof this team recognizes the value of each possession and the consistency this new ACC battle will demand. Duke is growing. And it's not backing down.

Rodney Hood quiets Lamar Patterson: Hood's offensive contribution certainly helped. He went 5-for-10 and scored 13 points. But he harassed Patterson all night and disrupted Pitt's offense. Patterson was considered a snub by many when he wasn't mentioned on the Wooden Award Midseason Top 25 list. He's definitely a talented player. But he missed 10 of his 14 shots Monday, even though he scored 14 points. He had five turnovers and missed four of five 3-point attempts. He was relatively silent for most of the night. Hood's defensive pressure was a major factor in Patterson's struggles. Hood won the most important individual matchup on the floor.
January, 27, 2014
1/27/14
10:00
AM ET
It's no one's fault. Frankly, the first two months of
Lamar Patterson
's marvelous senior season went by mostly unnoticed for
pretty good reasons
. Besides, the fifth-year senior's career to date was that of an archetypal Jamie Dixon player: solid, consistent, productive and inconspicuous. We had him pegged, right? There was zero reason to see this coming.
"This," as we now know, is the best individual campaign waged by any player not named
Doug McDermott
. In Saturday's victory at Maryland, Pitt's star forward poured in 28 points on 14 shots with seven rebounds, seven assists and four steals. It was a helpful microcosm of his peerless season in whole. To date, Patterson is averaging 17.9 points, 4.8 rebounds, 4.7 assists and 1.4 steals per game. He uses 28 percent of his team's possessions, and he is ruthlessly efficient with them, whether he's scoring (he shoots 56.6 percent from 2 and 42.9 percent from 3) or distributing (where 32.8 percent of his possessions end in assists). As a helpful bonus, Patterson manages to contribute to Pitt's elite defense by rebounding and racking up those steals, all while committing just under two fouls per 40 minutes.
He also has
one of the prettiest jump shots in recorded human history
. So there's that.
[+] Enlarge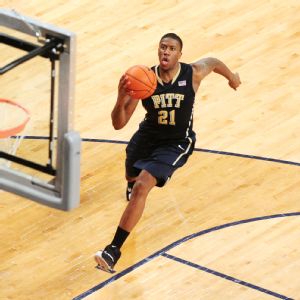 Scott Cunningham/Getty ImagesDuke will take its turn at trying to slow down Pitt's Lamar Patterson, a task that's been almost impossible this season.
In other words: There is nothing Patterson hasn't done well this season. When Duke's defense arrives Monday night, it doesn't merely face the prospect of a tough road game against a good Pittsburgh team in a raucous Petersen Events Center. It has to find a way to stop -- or, to use the cliche,
hope to contain
-- one of the two or three best offensive players in the country.
This is a daunting ask of any team. It is especially so given the Blue Devils' season-long defensive struggles. Even factoring for Duke's recent strides — the Blue Devils played their best defensive game of the season Saturday against Florida State and held NC State and Miami to 106 points in 127 possessions before that — the sheer matchup implications are frightening. Patterson is a walking, talking, sweet-shooting, 6-foot-8 matchup nightmare. Do you dare expose
Rodney Hood
to that? Can you ask
Jabari Parker
to turn into a lockdown defender overnight? Do you really want either player chasing Patterson off screens all night?
No. To have any hope, Duke will have to defend Patterson as a team. Phase One of any such plan means never, ever losing him on the wing. More than 23 percent of Patterson's possessions to date have come via spot-up shots, according to Synergy, when he averages 1.28 points per possession. Nearly 40 percent of Patterson's
overall
possessions are 3s, per
hoop-math.com
. You can't let him shoot, plain and simple. If you do, Phase Two is prayer.
If you
don't
, Phase Two of the stop-Patterson plan means turning hard close-outs into good team recoveries. When Patterson puts the ball on the floor, he wants to get to the rim, where he shoots nearly 70 percent. Rotating and forcing him to stop short -- coaxing him into mid-range jumpers, where he shoots just 40 percent -- is your best chance of a missed shot.
The brings us to Phase Three: Owning the top of pick and rolls. Dixon puts Patterson into pick and rolls on 19.5 percent of his possessions. Sometimes, these possessions come from designed plays — fluid little multi-pick rollout sets that get multiple defenders chasing screens before the pivotal pick for Patterson is set. Sometimes, these possessions come from breakdowns — Pitt's offense will work the shot clock to a stalemate then pull out, set Patterson alone in space, and let him figure it out.
Overall, Patterson averages 0.81 points per possession as the ball-handler on pick and rolls. That's good (synergy actually describes it as "good," so you know it's … OK, sorry) but stoppable. For all of his gifts, Patterson is still a 6-8 forward handling the ball more than ever before. He wants to shoot over the top of those screens, and if he can't, he wants to get to the rim, score, get fouled, or both. Good defenses — such as Clemson, which switched athletic bigs and forced two turnovers* and two misses in Patterson's five pick and roll plays — can hassle him into mistakes. (*Worth noting: The first turnover was a travel Patterson committed a split-second before burying a 3. Also worth noting:
Pitt blew Clemson out of its own building
anyway.)
If a defense can siphon Patterson into that awkward middle area between his silky jumper and his powerful interior finishes, it can do a job. If.
We might not have seen Patterson coming, but Coach K will. It is safe to assume Mike Krzyzewski, who notched his 900th Duke victory Saturday, knows all of this already. Whether his team can execute it Monday night will determine whether he gets win No. 901.
January, 22, 2014
1/22/14
5:05
PM ET
January, 18, 2014
1/18/14
9:20
PM ET
It's not difficult to identify the strengths that make Syracuse such a stalwart contender.
Its elite playmakers --
Tyler Ennis
,
C.J. Fair
and
Jerami Grant
-- could all be millionaires in a few months. Its bench is packed with capable reserves.
Syracuse is long and athletic. Jim Boeheim's 2-3 zone pushes opponents to the court's margins, disguising the pockets of space as gaps while luring them into traps. They flood the lane.
Analytic stats, which allows one to label the effectiveness and potential of teams better than at any time in college basketball history, love the Orange.
Entering the weekend, the Orange had allowed just 25.0 PPG in the paint according to ESPN Stats & Information, third-fewest among power conference schools. They also possessed the ACC's top offensive rebounding rate (41 percent) and its best defensive turnover percentage (Syracuse had forced turnovers on one-quarter of its opponents' possessions in its first 17 games).
The polls love the Orange (second in the Associated Press and USA Today Coaches polls). Ken Pomeroy's module loves the Cuse (No. 2 overall on KenPom.com), too.
[+] Enlarge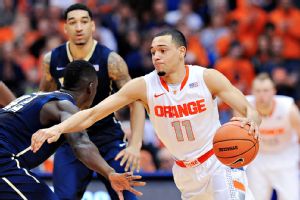 Rich Barnes/USA TODAY SportsSyracuse freshman point guard Tyler Ennis has maturity and savvy that belies his youth.
The only mark against Syracuse is a strength of schedule that's 14
th
among the BPI's top-15 squads (91
st
).
That collection of numbers did not mean much to Boeheim as his team lost its lead during a 59-54 win over Pittsburgh in the Carrier Dome on Saturday.
Lamar Patterson
missed five of his first seven shots but put up a few miracle 3-pointers in the second half that killed the vibe. His second clutch 3 put Pitt ahead with 6:02 to play.
Those shots allowed Syracuse's lofty numbers to be pushed aside for the oft-referenced -- and cliché -- eye test.
Everything we really needed to know about Syracuse was reaffirmed against the Panthers in the final minutes.
It wasn't the team's first bout with drama this season, as Syracuse encountered turbulence against Miami, Boston College and even St. Francis (N.Y.). But those were nothing compared to what beset the Orange on Saturday.
Pitt was roaring rapidly, as the Panthers nibbled away at a 10-point deficit in the second half that seemed like 30 in a low-scoring affair before taking the lead on Patterson's second 3-pointer.
That's when Ennis emerged.
There were his two layups that ultimately put Cuse ahead by three points with 32 seconds to play. His late free throws essentially sealed it.
He's a freshman with a veteran's vision, an assertive leader. He doesn't panic -- he just goes.
The common theme among last year's Final Four teams was their trustworthy point guards. Michael Carter-Williams, Trey Burke, Malcolm Armstead and Peyton Siva were critical players in their respective squads' runs to Atlanta.
Ennis has that DNA, too.
In a significant league matchup, he belied his age with his effectiveness and poise, and did it with the game on the line.
Grant is a pro. He's relentless on both ends of the floor, as his jump shot kicked off a 12-4 run that gave Syracuse temporary separation in the second half.
Fair finished with 13 points, six rebounds and three blocks in 40 minutes.
Trevor Cooney
secured a rebound off
Cameron Wright
's missed 3-pointer prior to Ennis' crucial layup.
The Orange's defense picked up, too. That last 3-pointer by Patterson was his last field goal of the game, as he missed his final three shots due in large part to Syracuse's suffocating defense.
Boeheim has everything for an ACC and national title run.
Syracuse's numbers were strong on Saturday. It shot 51 percent from the field and held Pitt to 38 percent shooting.
In the process, the Orange proved that they're a legitimate national title contender again and the team to beat in the ACC. Not simply because of what the stat sheet says but also based on the manner in which they closed the game.
Syracuse's ACC slate will offer additional tests in the near future. There's a highly anticipated game against Duke on Feb. 1. The Orange will travel to Pitt (Feb. 12) and Duke (Feb. 22) next month, and a road game at Virginia on March 1 should also be a challenge.
But on Saturday, Syracuse certainly passed the eye test.
Its grade? A. As in "America's best team."
January, 28, 2012
1/28/12
7:01
PM ET
So much for a slow Saturday. College basketball fans and pundits alike should know better by now, but we always assume the worst on a supposedly "slow" weekend.
Let's change the rules, based on what we've seen today. If you survey the weekend slate and you can't find any meaningful games and potential upsets that you're overly interested in, that means it's time to call Earl and the crew (everybody has a friend named Earl), stock the fridge and get ready for some good basketball. If this was a lukewarm weekend in college basketball, what qualifies as a great one?


Iowa State 72, No. 5 Kansas 64
Many laughed when Fred Hoiberg began his tenure at Iowa State by recruiting from a pool of players known for their checkered pasts.
Royce White
, who left Minnesota two seasons ago after a tumultuous stay, led the bunch. But Hoiberg looks like a genius right now after the Cyclones handed No. 5 KU its first Big 12 loss of the season. The win snapped both the Jayhawks' 13-game winning streak over Iowa State and their 10-game overall winning streak (they hadn't lost since Dec. 19).
The postgame court-storming was well-deserved for the 'Clones and their fans. Hoiberg has as much job security as any coach in the country based on his legendary career in Ames, which allowed him to pursue so many transfers without worry. In other words, he'd get a mulligan if things didn't work out.
Against Kansas, however, Hoiberg proved that he's more than a risk-taking recruiter. He can coach, too. Iowa State, a squad that suffered an 82-73 loss at Kansas on Jan. 14, led by three points at halftime. But that didn't last. The Jayhawks scored 11 unanswered points early in the second half. The crowd's energy dropped after that KU run, but Iowa State kept fighting, something it had failed to do down the stretch in its earlier loss to the Jayhawks.
White led the charge. With his team leading 56-53 and five minutes to play, he scored the Cyclones' next eight points (three straight layups and a pair of free throws). He entered the game as a 51 percent free throw shooter -- ISU was the Big 12's worst free throw shooting team at 61 percent overall -- but he was 6-for-8 from the charity stripe in the second half. He finished with a team-high 18 points, nine rebounds and five assists, making up for his six turnovers. The team was 25-for-34 from the charity stripe.
So yes, the same Iowa State squad that lost at Drake Nov. 15 looks like an NCAA tournament team right now -- no matter what my colleague Doug Gottlieb might tweet. At 5-3, the Cyclones are off to their best Big 12 start in a dozen years and sure seem like they won't be fading away anytime soon.


No. 4 Syracuse 63, West Virginia 61
It just can't happen. Not in late January with the stakes so high. Not when it's so blatant. Officials in this game missed one of the more obvious and critical goaltending calls of the season. In the final seconds, West Virginia's
Truck Bryant
air-balled a 3-pointer that ended up in
Deniz Kilicli's
hands with his team down by a bucket. Kilicli's layup was swatted away in mid-air by Syracuse's
Baye Keita
, but replays showed what looked like a clear goaltending violation by Keita. Officials never blew their whistles.
West Virginia got the ball back and
Kevin Jones
(20 points, eight rebounds) missed a deep 3-pointer to win the game, but the final outcome might have changed had that crew flagged Keita for goaltending. Now granted, WVU had its chances.
Brandon Triche
(18 points) hit a pair of free throws with a minute and a half to play and the Mountaineers missed four consecutive shots. But the no-call clearly impacted the game.
Syracuse struggled in its third consecutive game without
Fab Melo
. The Orange just haven't looked like the same squad without him and his defensive presence. West Virginia secured an astounding plus-21 (41-20) rebounding edge over the Cuse and had nearly as many offensive boards (19) as the Orange had total. How does that happen? It's not like the Mountaineers are the biggest team in the country. They were just tougher than Syracuse most of the afternoon. And had it not been for that missed goaltending call, West Virginia might have avoided its 13th loss to the Cuse in 14 meetings.


No. 7 Baylor 76, Texas 71
With 4:09 to go, Texas'
Myck Kabongo
hit a 3-pointer as
Pierre Jackson
committed a ridiculous foul to put him on the line for a four-point play opportunity. Texas had been down by 12 points early in the second half, but Kabongo's shot cut Baylor's advantage to just one. Cameras panned to Baylor coach Scott Drew on the sidelines. He had the "I can't believe this is happening at home" look on his face.
Perry Jones
(22 points, 14 rebounds) was far more aggressive than he'd been in some of his efforts, but Baylor couldn't keep the pressure on the Longhorns and nearly blew one at home.
J'Covan Brown
scored 32 points (11-for-22), his third consecutive 30-point effort. But he had way more time to create a better shot than the deep 3-ball he took with 14 seconds on the clock. His team was down by three points in the closing seconds, so I understand why he'd take a deep shot, but he didn't have to shoot it when he did. He had more time on the clock.
Here's where you have to have more question marks about Baylor, though. The Bears are at home. Texas shot 36 percent from the field in the first half and was 1-for-12 from beyond the arc before halftime. Seemed like an opportunity for Baylor to flex its muscle. But it turned into another lukewarm finish for the Bears.


No. 13 Florida 69, No. 16 Mississippi State 57
The Bulldogs just couldn't handle Florida's inside-outside attack.
Patric Young
(12 points, six rebounds) was solid for the Gators, especially after halftime.
Bradley Beal
led the Gators' talented backcourt with 19 points. The nation's leaders in 3-point field goals hit 11 of them as they won their fifth straight and 17th in a row at home.
Arnett Moultrie
was 4-for-10 and scored 12 points for a Bulldogs team that committed 14 turnovers. It was MSU's third SEC road loss of the season. At 5-3 in league play, they'd better find a way to compete away from home. They're certainly talented, but the Bulldogs have really struggled on the road. Thought this one would have been a closer game, but give the Gators credit. They can spread teams out with their guard play and minimize their size disadvantages, a tactic they used to perfection against the Bulldogs.


No. 1 Kentucky 74, LSU 50
The Wildcats are in Beast Mode right now. They're just crushing teams. LSU entered this game following a tight road loss at Mississippi State. But the Wildcats are just a different animal.
Terrence Jones
led all scorers with a season-high 27 points and the Wildcats held LSU to a 1-for-9 clip from the 3-point line. Just two Tigers reached double figures.
Although LSU is only 2-5 in the SEC, you have to wonder how dangerous the Wildcats can be in March when a guy like Jones can explode despite some inconsistency this season. He entered the game averaging 11.6 ppg and he only scored five points against Georgia on Tuesday. But this game was further proof that Kentucky is a "pick your poison" kind of opponent. How do you defend a team with that number of studs? The Wildcats have so many weapons.
Syracuse is deep. Ohio State has balance. But no team in America looks as potent as Kentucky right now.
Some more observations from the afternoon games ...
January, 17, 2011
1/17/11
10:05
PM ET
By
Dana O'Neil, ESPN.com
| ESPN.com
PITTSBURGH -- Remember Pittsburgh? The team picked to win the Big East?
Yes, rumors of the Panthers' death were slightly premature.
Somewhat forgotten behind a red-hot Syracuse team and thanks to a bizarre train wreck of a loss to Tennessee, Pitt reasserted its preseason expectations with a
74-66 win
against Syracuse.


The win, however, comes with a caveat: No
Kris Joseph
for the Orange. The leading scorer stayed back home after a frightening fall on his head during the Cincinnati game this past Saturday.
The bad news: These two teams won't meet again in the regular season thanks to the stilted Big East scheduling.
The good news: There's always the Big East tournament.
What it means for Syracuse:
The Orange drop out of the select company of undefeated teams, leaving Kansas, San Diego State and Ohio State to forge ahead without them. Other than that? This isn't exactly a killer. There is little shame in losing at Pittsburgh. Period. There is even less shame in losing at the Oakland Zoo when your leading scorer is sitting back in New York, nursing a head injury and you once trailed by 19. The only real thing the Orange can't afford to do is spend too much time wallowing in disappointment, not with Villanova coming to town on Saturday.
What it means for Pittsburgh:
That whole preseason favorite thing? Yeah, that's back on the table. The Panthers now stand alone atop the Big East standings, the only conference team without a blemish. They are 6-0 in the Big East for the first time in their history. Pitt's very un-Pitt-like loss to Tennessee remains the lone blemish on its record and the Panthers frankly have a decent schedule in front of them. Aside from a home and away with Villanova and a game at West Virginia, the Panthers will easily be favored in the rest of their games.
Game ball goes to… Nasir Robinson:
The junior scored eight of Pitt's first nine points to spearhead the Panthers' crazy 19-0 start, and finished with 21 points. He was lethal cutting through the Syracuse zone, scoring at the rim and dishing when the Orange sagged on him.
Not so Fab:
Freshman
Fab Melo
started the game for the Orange, proceeded to get burned on two defensive plays and took an ill-thought jumper. Two minutes into the game, he went to the bench. He never came back. That's what Jim Boeheim likes to call a teaching moment.
OK, your turn:
In what had to be the most bizarre first half of basketball played this season, Pitt opened the game on a 19-0 run. Syracuse erased that with a 17-0 dash. The Panthers responded with seven unanswered and then the Orange matched that with a 7-0 run of their own. Not until the final minute, when the play-by-play read
Lamar Patterson
jumper,
James Southerland
3-pointer,
Ashton Gibbs
3-pointer did the two teams actually trade a succession of buckets.
Maybe it's a Big East thing. Over the weekend, Providence blew a 17-point lead to South Florida and Marquette gave up an 18-point advantage against Louisville.
The difference? The Friars and the Golden Eagles both lost.
September, 27, 2010
9/27/10
12:30
PM ET
Pittsburgh freshman
Lamar Patterson
was unhurt, which is why I can safely and without any twinge of guilt say that his Friday afternoon car escapades sound rather awesome. Harrowing, too.
What am I talking about? Just this: Patterson, a 19-year-old Panthers redshirt freshman, was driving down Forbes Ave. in Oakland Square on Friday when the driver in front of him suddenly and unexpectedly stopped. Rather than crash into this driver,
Patterson swerved his car, a decision which led to his car's collision with ... a building
.
The car shattered the glass windows of an empty first floor conference room, said Colleen Heavens, a 23-year-old University of Pittsburgh Press employee who works on the fifth floor of the building. Ms. Heavens did not see the crash, but saw the aftermath.

"There were chairs scattered about," she said. "It looked like a normal conference room but there was half of a car inside of it."
Fortunately, there were no injuries to anyone near the building, and Patterson walked away with nothing more than a scrape on his arm and a bruise on his ankle. In fact, after the crash, he went to class. He shouldn't miss any practice time.
Which gives us a very simple tally of: Lamar Patterson 1, Empty Conference Room 0. In your face, inanimate building.