College Basketball Nation:

Landry Fields
July, 27, 2010
7/27/10
5:44
PM ET
By
Diamond Leung
| ESPN.com
Logging on to the
Pac-10's relaunched website
, the first thing you notice is commissioner Larry Scott smiling right back at you as if this the beginning of a new day for the expansion-minded conference.
But is football such a driving force that the Pac-10 couldn't have bothered to take a second look and worked out the kinks on their
men's basketball page
? Because some of the picture choices are downright questionable.
A press release on USC appealing NCAA sanctions unfortunately comes along with a
picture of John Wooden sitting with Kareem Abdul-Jabbar
inside UCLA's Pauley Pavilion.
Wooden is also mistakenly pictured
in an update on Washington's Abdul Gaddy playing for Team USA's U19 team this summer.
No offense to UCLA, but a basketball year in review piece that's paired with a
picture of backup guard Mustafa Abdul-Hamid
playing for a 14-18 Bruins team seems like a missed opportunity to promote regular season champion Cal or Washington's Sweet 16 team.
The conference
does
want to promote its current players, right? In a press release on Stanford's Landry Fields being taken in the second round of the NBA draft, we get a
picture of former Stanford star Mark Madsen
. Another press release on Gaddy doesn't picture Gaddy himself, but
some other kids enjoying a basketball camp
.
In recent days, the website was inaccessible as the conference put up a countdown clock on its homepage to announce the relaunch and build up anticipation.
Now it just looks like the Pac-10 could have used that time to fix up more than just its own image.
July, 6, 2010
7/06/10
1:33
PM ET
By
Diamond Leung
| ESPN.com
Josh Owens
entered this past season as Stanford's second-leading returning scorer, coming off a sophomore year in which he averaged 6.9 points, 3.6 rebounds and led the team in blocked shots. But he did not playing a single minute and was redshirted due to an undisclosed medical condition that left many wondering if his career might be over.
But on Monday Owens was cleared to practice and to return next season after undergoing examinations and soliciting the advice of medical experts across the country.
Owens, barring any setbacks, would provide a 6-foot-8, 220-pound post presence for a team that's feeling good even coming off a 14-18 season while also losing leading star
Landry Fields
to the NBA draft.
Stanford upset Arizona State in the Pac-10 tournament, has an impressive incoming freshman class and could challenge in a Pac-10 that still seems to be anyone's conference.
And from speaking with coach Johnny Dawkins during the season, Owens remained an active member of the team even when he couldn't suit up to play.
Now that he can, expect Stanford to be feeling that much better about itself.
May, 5, 2010
5/05/10
7:46
PM ET
By
Diamond Leung
| ESPN.com
In the least surprising NBA draft announcement since Kentucky announced
John Wall
was leaving school, Northern Arizona guard
Cameron Jones
has withdrawn his name from the draft and will return for his senior season.
Jones sent in the paperwork yesterday on his 21st birthday satisfied that
his initial announcement
achieved its purpose of drawing some attention with the NBA, as numerous teams spoke with coach Mike Adras -- probably wondering if they had missed something.
"I did it to get some exposure," Jones said. "I feel I can play at the next level. It wasn't necessarily a publicity stunt or a joke."
Mission accomplished. Jones is a 6-foot-4 guard who averaged 19.3 points per game. But of course the Big Sky isn't exactly an area of interest for NBA scouts to notice these things. They found Rodney Stuckey, a first-rounder out of Eastern Washington in 2007, but you never know if there's gem in the league waiting to be uncovered.
Jones is also the cousin of Pac-10 scoring champ
Landry Fields
(their mothers are identical twins). Fields, a Stanford senior in the draft as well, appreciated the thinking behind Jones' declaration.
"He said, 'Yeah, that's pretty smart,'" Jones said. "Just make sure you pull your name out."
April, 14, 2010
4/14/10
7:00
PM ET
By
Diamond Leung
| ESPN.com
While Duke won the national championship, Johnny Dawkins watched from behind the team bench, beaming with pride.
Alongside the Stanford head coach were his former Blue Devil teammates Mark Alarie, Danny Ferry and Weldon Williams, with former Duke stars Shane Battier and Mike Dunleavy watching with the group as well.
[+] Enlarge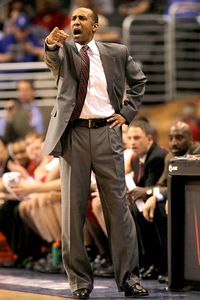 Stephen Dunn/Getty ImagesStanford coach Johnny Dawkins will have to go in another direction after coming up short of landing Jabari Parker.
Sitting on the sideline stool was Mike Krzyzewski, who coached Dawkins into the 1986 national player of the year and continues to be a coaching mentor after Dawkins spent 11 seasons as a Duke assistant.
And on the court was guard
Nolan Smith
, who is so close to Dawkins that he still refers to his old coach as "Uncle Johnny."
"It was an amazing moment," Dawkins said by phone. "I've either been on the bench or playing in a lot of those moments. For the first time in my career, I was able to be there to see them accomplish something that special from sitting in the stands. I was really proud of the guys."
Dawkins' final college game was a loss in the national championship game in 1986, and he was on the bench as an associate head coach when the Blue Devils won it all in 2001.
This time, it was special to see many on his former team win it all, especially Smith.
Dawkins' bond with Smith goes back to when he became close friends with Philadelphia 76ers teammate Derek Smith, who died on a cruise ship in 1996.
Dawkins remained a family friend and became a father figure to Nolan, who he eventually recruited to Duke. Smith has even said he considered leaving Durham after Dawkins was named head coach at Stanford in 2008 after his freshman season.
But Dawkins, who still takes time to send motivational texts to Smith, laughed and said it was a good thing the kid stayed and got to grow up at Duke without him on the bench.
"When someone has been there who's a part of your life for that long, when you go off to college, that's a moment for you to separate and grow kind of on your own," Dawkins said. "That's part of the independence you acquire. If you have someone who's been there, you have a crutch there. It's almost like living at home still.
"I was very proud of what he's been able to accomplish. Especially in the spotlight."
Dawkins is back in California now, spreading the word to his team about the high level of basketball he witnessed in Indianapolis. Stanford was 14-18 last season and tied for eighth in the Pac-10.
The Cardinal lose star
Landry Fields
next season, but return four junior starters led by guard
Jeremy Green
. They also have a highly regarded incoming freshman class.
And on the schedule next season is a road game against an intriguing opponent that Dawkins got to see up close in Indy -- Butler.
Dawkins and Bulldogs coach Brad Stevens know each other from serving together on the NCAA men's basketball ethics coalition, and Butler recently practiced at Stanford while playing in nearby San Jose, Calif., for the first two rounds of the NCAA tournament.
While Stanford didn't make it to a postseason tournament, Dawkins did.
"You come back from an experience like that and you share it with the guys," he said.
February, 16, 2010
2/16/10
1:17
PM ET
By
Diamond Leung
| ESPN.com
Would you ever discuss your first kiss on television?
Players from around the Pac-10 did for this
Fox Sports clip
in which everything is mentioned from Arizona State's Derek Glasser and his game of spin the bottle to Stanford's Landry Fields getting a kiss in a closet.
The memories resulted in sheepish grins all around, but unfortunately for the conference, most of these guys will be sitting it out for the Big Dance.
January, 28, 2010
1/28/10
12:36
PM ET
It is pretty easy to spot the best coaching jobs simply by looking at the top of the polls. John Calipari, Jamie Dixon, Jim Boeheim and Bill Self would be at the top of any list of the best coaching performances of the season.
But a great coach once told me that some of the best coaching jobs in the country each year are done by coaches that get their teams to .500 with less, and make lesser talent competitive. This season, there are quite a few coaches who have done great jobs outside of the intense spotlight. Here are a few of the best ones in my judgment:
[+] Enlarge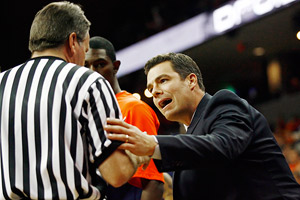 Geoff Burke/US PresswireTony Bennett has the Cavaliers off to a 12-5 start.
Tony Bennett, Virginia:
Bennett has taken a proud Virginia program back to its roots of chest-to-chest defense. His "pack" defense is really just gap protection D, which emphasizes help and the protection of the paint and limiting opponents to one difficult shot. Virginia does not play to high possession totals right now, but will in time. Bennett has also brought ball security to Charlottesville, as the Cavaliers do not turn the ball over. Bennett is the real thing, and Virginia is now competitive under his leadership.
Frank Martin, Kansas State:
No team I have seen plays harder than Martin's Wildcats. Kansas State plays pressure defense, gets out in passing lanes and does a really good job of getting into you and taking away what you want to do. Without Martin's insistence upon playing so hard and so together, none of it would work. He is trusted by his players and they respond to his challenges. Nobody expected K-State to challenge Kansas and Texas in the Big 12, except maybe Martin.
Johnny Dawkins, Stanford:
The second year of any tenure is usually the toughest. The lagging recruiting of the last regime can hit then, and it is sometimes a season to simply weather the storm. In the preseason, Stanford was picked 10th in the Pac-10, and that was with
Josh Owens
, the dynamic interior athlete. He is gone for the season after not being medically cleared, but Dawkins has done a masterful job to make the Cardinal competitive by scaling back his defense and opening up his offense.
Landry Fields
has never been the best player on his team at any time in his life, yet he may be the best player in the Pac-10 under Dawkins. With only two reliable scorers in Fields and
Jeremy Green
, Stanford is 4-3 in the league heading into two road trips to Arizona and Los Angeles. If the Cardinal can steal a few on the road, which no Pac-10 team has been able to do, they can make some noise in a quiet league. With a top 10 recruiting class on the way, Dawkins has a bright future.
Gary Williams, Maryland:
How is it that Williams takes so much heat? He has been the most competitive guy against Duke and North Carolina that the ACC has seen, and this season, Williams has the Terps right at the top of the league. He has good guards and has developed his young big guys. Maryland has a top-10 offense and the identity of a blue-collar team that looks out for each other. When many teams are struggling to find an identity, the Terps have one under Williams. He has done another great job.
Mike Davis, UAB:
The Blazers lost player after player, yet Davis has made UAB a top-20 team because of a greater emphasis on defense. With Elijah Milsap and
Howard Crawford
, Davis has two hard-working and good players that have embraced defense and a more controlled approach. The Blazers are not an up-and-down team that tries to outscore you -- they try to simply beat you with good, hard-nosed defense. So far, it's working.
Fran Dunphy, Temple:
After doing such a great job at Penn, many wondered whether Dunphy would be embraced at Temple. No worries, because Dunphy is a great teacher and great coach who takes the long view and puts the kids first. He has molded a top-10 defense that limits opponents to one shot and plays hard without fouling. In other words, Temple is disciplined. The Owls do the right thing at the right time, and do it to the best of their ability. With
Juan Fernandez
as a better-shooting Pepe Sanchez -- and
Ryan Brooks
and
Lavoy Allen
contributing in many ways -- Temple is very dangerous. Remember, Dunphy's squad is the only one this season that has figured out Villanova.
January, 6, 2010
1/06/10
9:48
PM ET
By
Diamond Leung
| ESPN.com
PALO ALTO, Calif. - I just saw a dancing tree and a band leader wearing a backwards cap.
Here at Stanford, that's how they roll.
Tonight, it's
Landry Fields
and
Jeremy Green
vs. the Kevin O'Neill-inspired USC defense.
USC might not be going to the postseason this year, but that doesn't mean they can't ruin it for everyone else.
Off to get a sandwich (hold the mayo?), but stay tuned for updates.