College Basketball Nation:

Larry Drew
November, 14, 2012
11/14/12
2:36
AM ET
By
ESPN.com staff
| ESPN.com
July, 17, 2012
7/17/12
1:00
PM ET
Editor's note: ESPN.com's Summer Shootaround series catches up on the offseason storylines for each conference. For more on the Pac-12,
click here
.
Arizona: Nick Johnson
The shooting guard tapered off at the end of his freshman season, when he averaged just 6.1 points in his last seven games. It will be interesting to see if the presence of highly touted freshman Gabe York and Xavier transfer
Mark Lyons
will cause Johnson to step up his game.
[+] Enlarge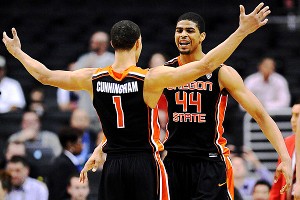 Jayne Kamin-Oncea/US PresswireJunior forward Devon Collier, right, will be heavily leaned on by the Beavers this upcoming season.
Arizona State: Jordan Bachynski
The 7-foot-2 center was a bright spot for the Sun Devils during an otherwise frustrating season in 2011-12. Don't be fooled by his ho-hum statistics (6.0 points; 4.0 rebounds). In Arizona State's last 13 games, Bachynski averaged 10.1 points, 6 boards and 2 blocks. He'll be one of the top post players in the league this season.
California: Richard Solomon
The 6-foot-10, 220-pound forward was averaging 6.8 points and 6.2 rebounds when he was declared academically ineligible after 13 games last season. It was a huge loss for the Golden Bears, who are a much better team when Solomon is anchoring the defense down low.
Colorado: Andre Roberson
The forward ranked third in the nation in rebounding last season with 11.1 boards per game. Most NBA mock drafts predict that Roberson will be a first-round pick next summer. For now, the biggest question is whether Roberson can lead the Buffaloes to the NCAA tournament for the second straight season.
Oregon: Tony Woods
The 6-foot-11, 250-pound Woods put up modest numbers (6.3 points, 3.7 rebounds) after transferring to Eugene last season. Still, the former Wake Forest post player has yet to live up to the lofty expectations that have hovered over him since high school. Oregon will be a different caliber team if Woods takes that "next step" in his final season.
Oregon State: Devon Collier
With
Jared Cunningham
now in the NBA, the spotlight will shine on Collier. The 6-foot-7 forward averaged 13.2 points and 5.3 rebounds as a sophomore last season, when he shot 61.5 percent from the field. He also blocked an average of 1.3 shots per contest.
Stanford: Aaron Bright
The point guard should be full of confidence after averaging 16.8 points and 4.2 assists during Stanford's march to the NIT title. Bright's performance earned him tournament MVP honors. If he plays that way in 2012-13, the Cardinal will be back in the NCAA tournament.
UCLA: Larry Drew
The Bruins' recruiting class has generated a ton of offseason buzz, and rightfully so. But a strong performance by Drew at point guard will be vital if the Bruins hope to be a mainstay in the top 10. Drew was North Carolina's starter before walking out on his team midway through the 2010-11 season.
USC: J.T. Terrell
The shooting guard averaged 11.1 points as a freshman at Wake Forest in 2009-10. He withdrew from school last fall after he was arrested for driving while impaired. Terrell played last season at Peninsula Junior College. Trojans coach Kevin O'Neill said Terrell is one of the most talented players he's ever signed.
Utah: David Foster
The 2009-10 Mountain West Defensive Player of the Year missed all of last season with a broken foot. Foster, a 7-foot-3, 243-pound center, will return this season and try to help the Utes bounce back from the worst season in school history. Foster holds Utah's all-time record for blocked shots with 219.
Washington: Scott Suggs
C.J. Wilcox
and
Abdul Gaddy
are the most recognizable names on the roster. But don't forget about Suggs, a sharpshooter who averaged 7.4 points and shot 45 percent from 3-point range as a junior two years ago. The 6-foot-6 Suggs, who redshirted last season because of a foot injury, could be one of the X factors for the Huskies.
Washington State: Reggie Moore
The Cougars might be decent if Moore can keep his head on straight. The point guard was suspended in January 2011 following his arrest on marijuana-related charges. Last season, he played in all 37 games and averaged 10.2 points and 5.2 assists. Moore is one of the most underrated players in the country at his position. His leadership this season will be key.
May, 11, 2012
5/11/12
11:45
AM ET
With the nation's No. 1 recruiting class set to arrive on campus later this month, most of the offseason buzz about UCLA has centered on the program's newest players.
But a few of the old ones aren't bad, either.
Josh Smith
-- if he gets his weight and his work ethic in check -- has the potential to be one of the nation's top centers. Point guard Larry Drew, a North Carolina transfer, practiced with the Bruins all last season and is poised to step into a starting role. And
David Wear
is back after averaging 10.2 points and a team-high 6.3 rebounds in 2011-12.
No returning player, though, was as good on the offensive end last season as
Travis Wear
, David's twin brother. Travis Wear averaged 11.5 points and 5.9 rebounds as a sophomore. He also blocked 1.2 shots per game.
Thursday ,he took time to speak with ESPN.com about why he thinks last season's struggles -- the Bruins went 19-14 and missed the NCAA tournament -- are a thing of the past.
What's the vibe around campus right now?
Travis Wear:
Everyone is really excited. We have a really good class coming in. We're putting ourselves in really good shape to be a great team next year. Everyone around here is really excited about Pauley (Pavilion) opening back up again so we can have our fan base on campus supporting us again. With the hype around this season, it makes it that much better.
How tough was it to have to play away from campus last season while Pauley went through renovations?
TW:
It was definitely difficult having to play off-campus in downtown L.A. It was tough to get fan support. We didn't have a great season, so that didn't help, either. We're definitely looking forward to playing on campus around our students and being in a home atmosphere.
As a current team member, how exciting was it to watch all of these high-profile commitments roll in during the past year?
TW:
It was really neat to see all these building blocks being added onto our team and to think about all the depth we're going to have, all the versatility and all the great players. Our practices should be just as competitive as the games we're going to play in next year. Everything is coming into place. People are really excited.
How would you find out when certain guys committed, guys like Shabazz Muhammad and Tony Parker?
[+] Enlarge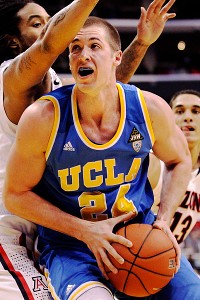 AP Photo/Jae C. HongUCLA has put last season's struggles behind it, forward Travis Wear says.
TW:
We knew the dates each one of them were supposed to announce. Most of the time I was off campus, so I'd just keeping checking Twitter.
You mentioned that you struggled at times last season. How convinced are you that those issues are a thing of the past?
TW:
We had a big team meeting. We've changed up a lot of things around here. This group is tighter right now than it's ever been, as far as on the court and off the court. Everyone is really handling their business. It feels great. Even when the coaches aren't there, everyone is always in the gym working out. It feels really good.
What, specifically, has changed?
TW:
It's just mainly our attitude. With the class we have coming in, it's obvious we have a chance to be really good. Everyone is really embracing that. We're not just going to go off the hype of, 'Oh, they have good players, so they're going to be great.' Everyone is here, working as hard we can to get to that level instead of just listening to the hype.
What effect did last season's Sports Illustrated article have on UCLA's program?
TW:
Not much. During the season, it was some adversity that we had to face. We came together a little bit after that. But it didn't much of an impact as far as motivating us. It might have motivated us a little, but honestly, it didn't change much.
Everyone knows that center Josh Smith has the talent to be a special player, but he's underachieved during his first two seasons. What have you seen from him during the offseason that leads you to believe his junior year will be his best?
TW:
Josh has been working out every day. He hasn't missed any workouts. He's grinding every day with us. It's nice just to see how hard he's been working. He has an opportunity to be great. To see him embracing that now is awesome.
Why do you think he's just now embracing it?
TW:
Sometimes, for certain guys, the light just clicks. I guess the light just went on.
What has coach Ben Howland's demeanor been like?
TW:
He's really excited. He's very energetic. All of the coaching staff, for that matter, has been great. They go through the workouts with us and they hit us. They're super-excited. You can just feel the energy from them.
The frontcourt will obviously be crowded with you and your brother and Josh -- plus the new guys coming in such as Tony Parker. How much do you like having that competition?
TW:
That's how you get better. You come and out compete every day for minutes. That's what makes teams great, being able to compete in practice. Then in the games you execute what you've been practicing all along. With Josh and my brother and Tony Parker and
(Anthony) Stover
... we'll have some battles. It should be fun.
You and Larry Drew both started your careers at North Carolina before transferring to UCLA. What about him gives you confidence that he can impact this team as a point guard?
TW:
Larry is one of the quickest players I've every played with or seen play. His ability to get into the lane and make good decisions is really going to help. It's really going to help the guys who can step out and shoot, because he's really good at penetrating, drawing the defense and then kicking it out to the open man. In transition, he's a great passer. He's very good at creating for others.
Any thoughts on the Pac-12?
TW:
I'm really excited for our conference. Arizona is going to be good. Even USC ... they had so many guys who sat out last year that were transfers or guys that got hurt. I think they'll have a really good team. The Bay Area schools like Stanford ... they're returning a lot of guys. Cal is always good. Washington is always good. Our league is going to be very competitive next year, and this new TV contract is going to make it even more exciting. It's all coming together. Everyone can feel it.
What summer plans do you have besides working out and hanging around the gym?
TW:
Not many. I want to spend as much time as I can around the new guys to help them adapt and get used to college life. I want to work out with them and get comfortable with their games. I'll probably go to the beach a lot, too. That's definitely something I like to do.
December, 5, 2009
12/05/09
8:46
PM ET
LEXINGTON, Ky. -- North Carolina was one or two possessions short of pulling off a monumental comeback -- from 19 points down to a possible win over the No. 4 team in the country. On the road.
The Tar Heels ultimately fell short, losing
68-66
to Kentucky in front of a record Rupp Arena crowd (24,468 surpassed the 2007 record vs. Florida of 24,465).
But all is not lost. In fact, plenty was gained to show that the Tar Heels are well on their way toward making a third-straight run at a Final Four appearance.
What a week for Roy's boys. On Tuesday, North Carolina beat the preseason No. 2, Michigan State, in Chapel Hill in the signature Big Ten/ACC Challenge game. And then after absorbing a 28-2 run in Saturday's first half, the Tar Heels were right there to steal a victory from Kentucky.
"We lost ourselves in the game and we were starstruck early, hit a couple of shots (to go up 9-2), thinking this will be good and then they hit us in the mouth and we panicked offensively and got our tails kicked," said UNC coach Roy Williams, coaching this week with a sling on his left shoulder after undergoing surgery last week.
"But in the second half we realized that we had a chance if we decided to play and they decided to play," Williams said.
What the Tar Heels learned quite quickly was how much their inside game can change the game.
Deon Thompson
made shots inside and out.
Ed Davis
converted facing the basket. Both altered shots inside.
David Wear
hit a critical 3-pointer during the comeback. And
Tyler Zeller
had a spell where he was on with his jump hook.
But if the Tar Heels are going to be a contender for the ACC title and Final Four they will need their perimeter to avoid droughts. No one Carolina will face the rest of the season can do what Kentucky phenom
John Wall
did in the open court. That's not the question.
Marcus Ginyard
and
Will Graves
made shots in stretches, but it may -- as everyone probably guessed it would -- come down to
Larry Drew II
and
Dexter Strickland
playing the point more seamlessly.
Williams said Strickland grew up against the Spartans, scoring nine points, with three assists and no turnovers in 14 minutes.
Strickland had a thunderous drive-by dunk during Carolina's Saturday comeback. He finished with five points (2 of 5 shooting), three steals, two turnovers, one assist in 16 minutes.
But Drew was more erratic. It was hard enough having to defend Wall and speedy
Eric Bledsoe
. But Drew still was a bit too passive for Williams. Drew had six assists and four turnovers and was 0-of-4 on 3s.
"Larry has to push it harder," Williams said. "He's still so conservative."
Drew said he felt like he let the team down because he didn't attack enough and missed his teammates when they were open. The sense of urgency after being down 19 got to the Tar Heels and forced them all to play with more purpose and value on each possession.
"It took a lot of poise for us to get back in this game," Ginyard said.
There were a few reasons the Tar Heels were able to get back from 19 down against Kentucky, and not from down double digits against Syracuse in New York earlier this season. Kentucky lost Wall for stretches and the Wildcats showed inexperience at key spots. As Thompson said, "they weren't sitting in a 2-3 zone."
Carolina had one of the toughest weeks that anyone will play this season. The Tar Heels get one reprieve next Saturday against Presbyterian before they finish their group of death with a game in Arlington, Texas, at Cowboys Stadium against Texas on Dec. 19.
"At the start of the season, I looked at the rankings and saw we were playing 2-3-4 in Michigan State, Texas and Kentucky," Williams said. "I knew this would be a tough stretch."
But it's obvious to everyone around the Tar Heels that there is no quit in this team and that in due time they will be one of the teams fighting for a spot in Indy. The Tar Heels were down after the game but clearly understood that they got better during the game. They were right there to take out Kentucky in front of one of the most hostile road environments a team will face this season.
"It was a difficult week," Drew said. "But come March, we'll be facing teams like this."
And it's likely they'll do quite well.
December, 1, 2009
12/01/09
2:04
PM ET
CHAPEL HILL, N.C. -- Just arrived in Chapel Hill, where I expect to see a pretty good game tonight between the Tar Heels and Michigan State. Both have been smacked in the mouth a little bit in the early season, with North Carolina taking a big hit from Syracuse and the Spartans sent tumbling on Friday night by Florida.
It's hard to glean a lot of absolutes out of a December game, but I do think there are a few things worth keeping an eye on:
1. How does
Larry Drew
handle the Spartans backcourt? The growth of the UNC point guard is pivotal to the Heels' development this year and while he's handled himself well, he -- and his entire team -- have turned the ball over too much. The Tar Heels are averaging 17.3 giveaways a game and tonight will be facing the toughest backcourt they've seen in this early season. Carolina's ability to take care of the ball will be a big key.
2. Tom Izzo called North Carolina a "forest of redwoods'' when I spoke with him on Sunday night, laughingly saying "it's unfair for one team to have that many guys.'' He's right. The Heels' frontcourt is as deep as it is big. That's literally a tall order for a Michigan State team that goes no bigger than 6-8. Izzo thought the Spartans' defense and rebounding kept them in the game despite 23 turnovers against Florida, but hitting the boards will be tougher tonight and even more critical.
3. Is
Raymar Morgan
finally and completely back? He's basketball's Job, done in last year by mono, pneumonia, a broken nose and now this season a foot injury and high ankle sprain that sidelined him for 21 days. Against UMass he finally looked like himself, notching 17 points and five rebounds. But Morgan hasn't gone for double-digits in scoring in back-to-back nights since the beginning of March. Can he do it here?
4. Finally, I know Michigan State says this is not a revenge game but I still have to think that the Spartans are looking to at least restore their dignity tonight. I'm anxious to see just how amped the Spartans are, carrying their own pride as well as toting the Big Ten's hopes on their shoulders. This is supposed to be the Big Ten's year, considered the deepest and most talented conference by a lot of people (present company included) at the start of the season. Penn State beating Virginia was a nice start for league in its quest to finally win the Big Ten/ACC Challenge. This would be a slightly larger feather in the cap.