College Basketball Nation:

Larry Williams
March, 29, 2013
Mar 29
7:22
PM ET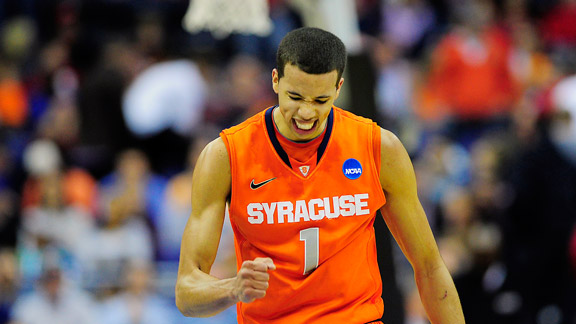 Bob Donnan/USA TODAY SportsMichael Carter-Williams had 14 points and five assists -- but also had four turnovers -- the last time Syracuse played Marquette.
WASHINGTON -- For the
Marquette Golden Eagles
, there is so much more at stake than a berth in the Final Four.
The Big East brand isn't on the line, but a Marquette win will enhance it more than any television deal or agreement to play games at Madison Square Garden. The new Big East has had Final Four representatives in the past from the likes of Villanova, Georgetown, Marquette, St. John's, Seton Hall, Providence and Butler.
But none of those matter as much right now as this Marquette team. The Golden Eagles are the last ones standing and can send a strong message to the rest of Division I that a strong basketball-centric league can survive on its own.
"It would be an enormous validation for what we believe to be our purpose in college athletics,'' Marquette athletic director Larry Williams said Friday. "We are a group of 10 schools that focus on the development of student athletes that primarily focus on men's basketball. This is an opportunity to be in the Final Four this year and we want to do it in future years. It would be a validation of our charge."
Syracuse
is off to the ACC. If Marquette were to beat the Orange Saturday at the Verizon Center, it would be a signal that this league is more than viable. The new Big East, with its television partner at Fox, can pump this up.
"An already top league would climb even higher,'' Butler athletic director Barry Collier said Friday.
For the 10 that are venturing out -- especially the seven that split from the old Big East -- it would soothe any fears.
"It's a validation that we believe shows we took the right course of action,'' Williams said. "It affirms those that may have had any questions. They can say they're doing it the right way.''
Williams said he has received a number of friendly text messages from his fellow athletic directors in the new conference, particularly pleased with the potential to add NCAA tournament units. When asked if those units would stay with the new Big East or the old, Williams declined to answer.
The game will be played on the home court of another member of the new Big East -- Georgetown. The Verizon Center, like the majority of the other members' home courts, is a big-time pro environment, providing another reason why this looks like a legitimate plan.
"Obviously there is risk here by charting our own future,'' Williams said. "But we feel some sense of responsibility for it.''
Marquette coach Buzz Williams (no relation to Larry) and the team aren't feeling any added pressure to perform based on the new league. But to Larry Williams, this will be an affirmation of basketball belonging at the adult table.
"This is an important element,'' said Larry Williams of reaching a Final Four.
The Marquette brand would benefit greatly from a Final Four appearance. So too would Buzz Williams, much like Tom Crean did when he took Marquette in 2003. But the biggest beneficiary will be the new Big East, which can claim it is here to play with everyone else on equal footing -- even without football.
WHO TO WATCH
Michael Carter-Williams.
Syracuse's lead guard has become one of the toughest matchups in the NCAA tournament. He shredded Indiana with 24 points and completely controlled the game. Carter-Williams scored 14 points and added five assists but had four turnovers in the 74-71 loss at Marquette last month. He seems to be seeing the floor better and is playing with as much, if not more, confidence than at any point this season. He is a tough matchup because of his size and length, and Marquette cannot afford to let him find his range and soft spot on the floor.
WHAT TO WATCH
Second-shot opportunities.
The Orange successfully created additional opportunities against Indiana. Marquette limited Miami to one shot on many occasions. The wings of Marquette, like
Jamil Wilson
,
Trent Lockett
and
Vander Blue
, can certainly board with the bigs like
Davante Gardner
and
Chris Otule
. But they'll need to keep the length of
Jerami Grant
,
Baye Moussa Keita
,
DaJuan Coleman
and
Rakeem Christmas
off the glass. Syracuse has a host of bigs to rotate in with their length that includes a wing like
James Southerland
. If the Orange continue to keep possessions alive, then Syracuse has a solid chance to advance to the Final Four.
STAT TO WATCH
The 3-point shot can be the great equalizer.
Carter-Williams,
Brandon Triche
and Southerland can bury daggers on 3s. The Golden Eagles aren't as prolific a 3-point shooting team. Marquette doesn't rely on the 3-ball to get into the Syracuse zone. The Golden Eagles would rather slice through it or pound the ball inside. But Syracuse can stretch leads with 3s and make it even more difficult to catch up against the zone. The onus will be on Marquette, more than Syracuse, to be on top of defending the 3-point line.
December, 12, 2012
12/12/12
3:20
PM ET
The biggest story in college sports over the past three days has been, unfortunately, yet more conference realignment -- in this case the impending death of the Big East, and the very understandable desire of that league's basketball-only schools to not die along with it. So
those schools met with Big East commissioner Mike Aresco
and let him know they were concerned about the direction the league was heading in, and they might have taken a good hard look at the Atlantic 10 as a potential destination down the line.
Nothing is set yet, of course. But whatever happens, it's clear Marquette, DePaul, St. John's, Georgetown, Providence, Seton Hall and Villanova aren't going to sit around and await their fate.

What prompted such strife? Many things: The departures of Syracuse, Pittsburgh, Notre Dame, Louisville. The additions of cobbled-together replacements like Central Florida, SMU, and Houston, which have effectively made the idea of the "Big East" moot. But the straw that might have broken the camel's back was the most recent addition -- Tulane.
Marquette athletic director Larry Williams nearly said as much Tuesday in an interview with ESPN 540 in Milwaukee:
On Tulane joining the Big East:
"I was not pleased that we issued an invitation to Tulane without any diligence to what effect that would have on our basketball product, the draw on our RPI and other such things. I was disappointed that I wasn't able to participate as a member of the conference in the deliberation that went into adding that. There might be well articulated and very deep reasons why you would do it otherwise. But dog-gone-it, I'm not concerned about that. I'm concerned about making sure that Marquette is in a position that it can take advantage of the great investment it's made in being successful in basketball."
It seems Williams is less unhappy about the addition of Tulane than about the process that went into that addition. Because there is an argument to be made -- I probably wouldn't make it, but it could be made, and
the Big East did its best when it announced the move
-- that Tulane was a really good C-USA program before Hurricane Katrina devastated it along with the city it calls home, and that it can come back.
Agree or disagree, but it's beside the point. The point is, Williams seems displeased because the Aresco-led Big East has essentially thrown its hands up and started taking any school in a reasonably sized market, regardless of what that school's athletics programs are like, and after a couple of years of sitting around hoping things didn't change
too much
, the Big East's basketball-only folks are finally deciding enough is enough. And tenuous though their position might be, you know what?
Good for them
.
Anyway, Williams also made a point that I think is vastly underutilized. In fact I think it's the best argument I've heard about basketball schools and conference realignment in a long time:
"Football [is] enjoying a current state of dominance, but that's not to say that's always going to be that way. Guys like me that played way too many years and got way too many concussions, that may affect the game of football down the road. These TV deals are 15 years, well you know what, what's football going to look like in 15 years? They may not be in the power position they are in today. How do we as an elite basketball program fit into the landscape of this football dominated environment? I don't have a complete answer for you, but that's the question."
We probably don't talk about this enough. Realignment is predicated on pretty simple facts: Football is king, because people sure do love to watch their Nick Saban perfect his death stare for three hours. And maybe it will always be so. But, you know, maybe not! In the past year alone, football has come under
more scrutiny for the head trauma endemic to the game at all levels than it ever has before
, to the point where it is not
unfathomable to imagine a world in which the sport is deemed too dangerous
. What if a player dies on the field? Wouldn't that make just about everyone second-guess the sport's place in our lives?
There are
probably plenty of people who will say no
, football is dangerous, deal with it, I'll always watch, and they might have a point. But it is not a totally irrational thing to think that in 15 or 20 years, the sports landscape could look much different than it does now.
So kudos to Williams and his fellow ADs. They're in a horrible position, but at least they're thinking long-term. At least they're trying to preserve a sport that
doesn't
require brain trauma every 30 seconds, even while the rest of the world clamors over one that does.