College Basketball Nation:

LaSalle Explorers
August, 26, 2013
8/26/13
12:45
PM ET
Aaric Murray
is a classic archetype. "Talented but troubled." So named because the alliteration is usually too much for our sportswriting brethren to resist, but
also because it deftly sums up the situation
. Murray, like so many before him, is a very good basketball player. When he's interested and engaged -- and sometimes even when he's not -- he's an excellent interior scorer and rebounder, an obvious asset.
[+] Enlarge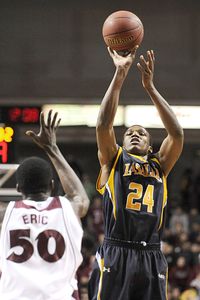 Howard Smith/US PresswireAaric Murray's third school will be Texas Southern. He began his college career at LaSalle.
The only problem is, well, everything else. In 2011, in search of more exposure and in the doghouse of the coaching staff, Murray left La Salle. His departure was greeted with dismay by some, because it seemed to rob a rebuilt La Salle team of its interior anchor just as the Explorers were cresting. But the response also included a few "good riddance" rumblings from around the team. In December 2011, Murray was sitting out his transfer year en route to West Virginia when he was arrested and charged with marijuana possession. When he became eligible, he was supposed to play a large role in Bob Huggins' transfer-heavy Mountaineers reconfiguration. Instead, Huggins suspended him for a violation of team rules in 2012, and when the season rolled around, his minutes, points and rebounds all dropped. WVU limped to a truly ugly 13-19 campaign. In July, Huggins announced he and Murray had arrived at a "mutual decision" -- the polite way to say, "I kicked him off the team" -- and that Murray would finish his final year of eligibility elsewhere.
That elsewhere, we now know, is the Island of Misfit Toys. You
may know it better as Texas Southern
:
"I am very fortunate to be afforded the opportunity to be mentored by Coach John Lucas, while I attend Texas Southern University. Although, this is not the road I expected to take, this journey will undoubtedly support my goals long term.

"I also feel that being mentored by Coach Lucas and Coach Mike Davis will support my mission to be the best Aaric Murray I can be. Publicly, there are tons of expectations of what I should be. This however is the best opportunity I have in efforts of reaching my full potential. In addition anything that can be done in college basketball can be done at Texas Southern."
And there's this from Texas Southern coach Mike Davis:
"Aaric Murray will be a big addition to our team and he will give us a chance to compete at the highest level of the SWAC."
Which is just ... actually, yeah, I'm not going to touch that.
Anyway, while there is some weirdness afoot here, not least of which is the notion that a player needs to be mentored by John Lucas
while he is being coached by another person on a day-to-day basis
, ultimately, the "Island of Misfit Toys" is meant out of love. Maybe Murray really does need to get away from things. Maybe he needs to be somewhere where basketball is the sole focus and distractions are at a minimum. Maybe he needs to be coached by someone who knows the insanity of the high-profile college basketball program, and who has refused to recede from coaching but instead been willing to go from Indiana to Texas Southern if it meant he got to keep coaching.
There's something to admire there, and maybe something Murray can learn. And if something insane happens next spring, and the Mike Davis-Aaric Murray duo wins a game in the tournament or something, I call dibs on the movie rights. That's legally binding, right?
July, 24, 2013
7/24/13
10:35
AM ET
With college basketball defined more and more each season by parity, we probably shouldn't be surprised by anything these days.
Especially in the NCAA tournament.
In three of the past four seasons, a team from a non-power conference has advanced to the Final Four and more than held its own upon arrival.
The most recent example is Wichita State, which defeated the likes of Pittsburgh, Gonzaga and Ohio State en route to a showdown with Louisville in the national semifinals. The Shockers lost to the eventual NCAA champs 72-68, but Gregg Marshall's team certainly made its presence felt in a game that wasn't decided until the final minute. Along with earning a ton of national respect (if it hadn't done so already), Wichita State's postseason march was surely inspiring to teams from similar leagues hoping to accomplish the same feat this season.
I'm not predicting that any of these programs will pull a Wichita State and make the Final Four, but here are some schools from non-power conferences that could make some noise in March.
10. Southern
-- Florida Gulf Coast became the first No. 15 seed to advance to the Sweet 16 last season, but Southern nearly accomplished something even more impressive when it almost upset Gonzaga before falling 64-58. A victory would've made the Jaguars the first No. 16 seed to beat a No. 1. Southern should be a scary team again in 2013-14. Four of its top five scorers return including 6-foot-6 wing
Malcolm Miller
, who averaged 15.8 points and a team-high six rebounds.
Javan Mitchell
(9.5 points) and
Jameel Grace
(9.2) posted impressive numbers, as well. The Jaguars, who defeated Texas A&M in a nonconference game last season, will likely be challenged in the SWAC by Mike Davis' Texas Southern squad. Texas Southern won last season's SWAC title with a 16-2 record (compared to 15-3 for Southern) but was ineligible for the postseason.

9. Towson
-- The Tigers pulled off the biggest turnaround in NCAA history by going 18-13 one season after finishing 1-31. Pat Skerry's squad could be in for even better things, thanks to the return of four starters. The best of the bunch is former Georgetown forward
Jerrelle Benimon
, who ranked third in the nation in rebounding last season with 11.2 a game. Benimon, who also averaged a team-high 17.1 points, may be even tougher this season thanks to the arrival of 3-point standout Four McGlynn, a Vermont transfer who will be a welcome addition to a team that ranked 258th in the country in 3-point shooting. Small forward
Marcus Damas
should be the team's top defender for the second straight season, while
Timajh Parker-Rivera
has the edge on replacing departed senior
Bilal Dixon
at power forward. Towson will be playing in a new arena, and the CAA tournament is in Baltimore. It couldn't be happening at a better time for the Tigers, whose last NCAA tournament appearance was in 1991.

8. Florida Gulf Coast
-- It wasn't long after last season's surprising march to the Sweet 16 that Eagles coach Andy Enfield was poached by USC. The interest in Enfield hardly came as a surprise, as FGCU was one of the most fascinating stories of the NCAA tournament. Even though Enfield and his "Dunk City" style are gone, the Eagles likely won't take a huge step back. Longtime Kansas assistant Joe Dooley was hired as a replacement and with his pedigree, FGCU may not miss a beat. It'd be a mistake to assume the Eagles will play a completely different style under Dooley, who retained two of Enfield's top assistants (Marty Richter and Michael Fly). FGCU returns four of its top five scorers:
Bernard Thompson
,
Chase Fieler
,
Brett Comer
and
Eric McKnight
. And the Eagles add a pair of transfers in Jamail Jones (Marquette) and Nate Hicks (Georgia Tech).

7. Louisiana Tech
-- A lot of people forgot about the Bulldogs because they didn't make the NCAA tournament. Still, finishing 27-7 overall and 16-2 in any conference (yes, even the WAC) is no small feat. Neither is making an appearance, albeit brief, in the Top 25 poll for the first time since 1985. It will be interesting to see if Louisiana Tech can experience similar success during its first season as a member of Conference USA. The Bulldogs certainly have enough pieces for a great season. Leading scorer
Raheem Appleby
(14.9 points) returns along with
Cordarius Johnson
(7.9) and
Alex Hamilton
(7.8), who ranked second and third on the team in scoring, respectively. Leading rebounder
Michale Kyser
(5.3) is also back. Louisiana Tech lost its final two regular-season games last spring, then fell to UT-San Antonio in the first round of the WAC tournament, which meant it had to settle for an appearance in the NIT, where it beat Florida State and then lost to Southern Miss. It has the potential to make the NCAA tournament in 2013-14. That hasn't happened since 1991.

6. Boise State
-- The Broncos finished 21-11 last season and made the NCAA tournament for just the second time since 1994. Even though they lost to La Salle in the "First Four," the season was still deemed a huge success, especially considering Boise State played in the Mountain West, easily one of the nation's toughest conferences. The Broncos have to feel good about their chances for another good season in 2013-14. Four of their top six players return, including leading scorers
Anthony Drmic
(17.7 PPG) and
Derrick Marks
(16.3 PPG). Marks shot 42 percent from 3-point range and also averaged nearly four assists.
Mikey Thompson
(7.9 points) is back, as is leading rebounder
Ryan Watkins
. With a handful of the conference's top teams expected to take minor steps back, this could be a special season for the Broncos.

5. La Salle
-- Last season's run to the Sweet 16 (which included victories over Boise State, Kansas State and Ole Miss) earned Dr. John Giannini a contract extension, and rightfully so. Before last season the Explorers had won just one NCAA tournament game in 30 years and hadn't even made the field since 1992. The Explorers are confident their success will continue in 2013-14. Leading scorer
Ramon Galloway
is gone, but La Salle returns three other double-digit scorers in
Tyreek Duren
(14.3 points),
Tyrone Garland
(13) and
Jerrell Wright
(10.8), who also led the team in rebounds with 6.8 per game. Starting guard
Sam Mills
, who averaged 33 minutes per game, is also back. Replacing Galloway certainly won't be easy. He led the team in points, assists and steals. And his on-court swagger set the tone for a team that relied on toughness. Still, with confidence soaring following last season's 24-10 finish, the Explorers have an excellent chance of returning to the NCAA tournament.

4. Harvard
-- Tommy Amaker's squad pulled off one of the biggest upsets in the NCAA tournament last season by upending No. 3 seed New Mexico. And let's not forget, it was somewhat surprising that Harvard was even in the field. Harvard played the entire season without its two best players but still managed to win the Ivy League. If Brandyn Curry and Kyle Casey return, as expected, the Crimson likely will have their best team in recent history.
Wesley Saunders
,
Siyani Chambers
and
Laurent Rivard
were all double-figure scorers last season, and Curry and Casey likely will average similar or better point totals in 2013-14. If Harvard makes a postseason run this season, it won't be nearly as big of a surprise. This is a Top 25-caliber team.

3. Saint Louis
-- Some publications tabbed Jim Crews as the national coach of the year after he led the Billikens to the Atlantic 10 title last season. Crews had stepped in for Rick Majerus, who left the team in the fall for health reasons and passed away in December. SLU named Crews the full-time coach after the season, and it's not unreasonable to think SLU could be just as salty in 2013-14. Guard
Kwamain Mitchell
is gone, along with A-10 sixth man of the year
Cody Ellis
. But the Billikens return every other starter from a squad that also won the league tournament title while setting a school record for wins (28). Leading the way will be forward
Dwayne Evans
, who led last season's team in points (14) and rebounds (7.7).
Jordair Jett
is back after being named to the A-10's all-defensive squad. So is
Mike McCall Jr.
, whose 47 3-pointers ranked second on the team. The battle between SLU, La Salle and VCU for the A-10 title should be a good one.

2. VCU
-- There were times last season when VCU looked like a top-10 team. Even when VCU went 1-2 at the Battle 4 Atlantis, losing to Duke and Missouri, the Rams showed glimpses of becoming a team that could make the Final Four. No one would be surprised if Shaka Smart's squad accomplished that feat this season, especially if VCU establishes a little more consistency. The Rams will likely open the season ranked in the top 15. All but two key players (
Troy Daniels
and
Darius Theus
) return from last season's squad. Included in that group are double-digit scorers
Treveon Graham
(15.1 points),
Juvonte Reddic
(14.6) and
Rob Brandenberg
(10.1), along with defensive standout
Briante Weber
, who ranked fifth in the country in steals with 2.7 per game. VCU will continue to play its relentless full-court defense, which is hard to prepare for in a tournament setting because of the quick turnaround. On offense the Rams will score a ton of points in transition. This, once again, will be a fun team to watch -- and a difficult one to play.

1. Wichita State
-- Can the Shockers make it to the Final Four two years in a row? Heck, why not? There's a strong chance that this year's team could be even better than the unit that lost to Louisville. Losing bruising forward
Carl Hall
and court leader
Malcolm Armstead
will hurt, but Marshall's team returns all of its other key parts.
Cleanthony Early
, who had 25 points and 10 rebounds against Louisville, is an NBA-caliber small forward.
Ron Baker
ignited the Shockers' NCAA tournament run with his prowess from beyond the arc, and point guard
Fred VanVleet
logged valuable minutes as a freshman backing up Armstead.
Tekele Cotton
is a returning starter who helps set the tone defensively, and standout shooter
Evan Wessel
is back after redshirting last season. Look for 6-foot-9 Louisiana-Lafayette transfer Kadeem Colby to replace Hall in the paint. Colby spent the past season working out with the Shockers and Marshall couldn't be more impressed. Chipola (Fla.) College transfer Earl Watson also will be in the mix down low. It should be another great season in Wichita.

Bonus team: Butler
-- I goofed up in an earlier version of this blog by including the Bulldogs on this list. The things that Butler accomplished as a mid-major -- advancing to the NCAA title game in 2010 and 2011 -- made Brad Stevens' players the poster boys for non-power conferences. But things are different now. Butler is in the Big East -- and it made the move without Stevens, who was hired earlier this month as head coach of the Boston Celtics. His replacement, Brandon Miller, faces the tough task of carrying on the tradition established by Stevens and his predecessors. Miller left coaching altogether a few seasons ago when he resigned after six years as an assistant at Ohio State. He got back in the game last year as a special assistant to Illinois coach John Groce before Stevens brought him back to Butler as an assistant a few months before his departure. Miller inherits a team that lost its top two scorers in
Rotnei Clarke
and
Andrew Smith
.
But standouts
Khyle Marshall
and
Roosevelt Jones
(the hero of last season's dramatic win over Gonzaga) return along with
Kellen Dunham
, one of the country's top shooters. The biggest issue will be at point guard, where there is no clear front-runner for the starting spot.
Jackson Aldridge
has yet to establish himself after two seasons, and
Devontae Morgan
hardly saw the court last year as a freshman. Walk-on
Alex Barlow
is also a candidate. The Bulldogs certainly don't have the look of a Final Four team, but if Miller does half as good of a job as Stevens, it would be foolish to count the Bulldogs out.
March, 25, 2013
3/25/13
12:49
AM ET
KANSAS CITY, Mo. --
Ramon Galloway
would like to send a message to the fans, media members and anyone else who might spend the next few days buzzing about the La Salle basketball team.
"We're not Cinderella," Galloway said. "We didn't get lucky. This isn't a fluke."
Anyone who has watched the No. 13-seeded Explorers during the NCAA tournament would probably agree, and so would their opponents.
La Salle advanced to the Sweet 16 on Sunday with a
76-74 victory over Ole Miss
at the Sprint Center, and it didn't happen because of a lucky basket at the buzzer or an off night from its opponent.
The Explorers won because they took good shots, kept their poise and got key defensive stops in the game's waning minutes.
Tyrone Garland
won it with a layup in traffic just before the final horn.
[+] Enlarge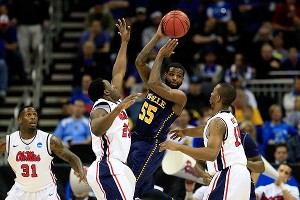 Jamie Squire/Getty ImagesRamon Galloway scored a game-high 24 points as the La Salle Explorers beat Ole Miss to advance to the Sweet 16.
"Those are the things good teams do," said Galloway, who scored a game-high 24 points. "This is Division I basketball. Everyone has great athletes with great skill. Look at Wichita State. They're winning. Florida Gulf Coast is winning. We're winning.
"This isn't a fluke. We've thought all year that we could compete with anyone in the country. We just needed our shot."
La Salle -- which defeated Boise State on Wednesday in the First Four before toppling No. 4 seed Kansas State and No. 12 seed Ole Miss -- advances to play Wichita State this weekend in the Sweet 16 in Los Angeles. The Shockers upset No. 1 seed Gonzaga on Saturday night.
Instead of returning to Philadelphia for a few days, the Explorers will head straight to California from Kansas City. In some ways, that's unfortunate. Moments after returning to the locker room after Sunday's win, La Salle players were scrolling through texts and tweets about the celebration that had ensued back on campus.
"Riots, signs, parties, people all out in the streets -- the whole bit," guard
Sam Mills
said. "This is one of the craziest feelings we've had in our whole lives. We'd love to [travel] back and celebrate with them, but we're not finished yet.
"We're still on a mission."
La Salle seemed like a rather unlikely Sweet 16 team a week ago. The Explorers posted a 24-9 record overall and an 11-5 mark in conference play. The NCAA tournament selection committee, however, showed a lot of respect toward the Atlantic 10 and rewarded the league with five bids.
The Explorers are the only ones to make it to the second weekend. Before last week, La Salle had won just one NCAA tournament game in 30 years and hadn't earned a spot in the field since 1992.
Still, that's not to say La Salle doesn't have tradition. The best player in the program's history is Lionel Simmons, who ranks third in the NCAA in career points (3,217). Simmons, who won the Wooden Award in 1990, was with the team in Kansas City over the weekend.
Moments after Garland's shot, Simmons was on the court dancing and celebrating with Explorers players before joining them in the locker room, where the fun continued.
"I'm just an excited fan, an excited alumni," Simmons said. "That's the beauty of the NCAA tournament. Any team can beat anybody. If you play hard and give yourself a chance to win, anything can happen."
Pleased as they were with the victory, La Salle didn't seem close to satisfied after Sunday's win. A victory over Wichita State this weekend would vault La Salle into the Elite Eight. Explorers coach John Giannini said a win in that game wouldn't be an upset -- just as their first three wins weren't.
"If I'd have told you at the beginning of the season," a reporter asked Giannini, "that you'd be standing here now, with the Elite Eight as the next goal, what would you have told me?"
Giannini smiled.
"That it could happen," he said. "There's no parity [in college basketball this season]. Parity makes it sound like everyone is average. Everyone's good. You know what Wichita State's budget and facility and tradition is like? Why shouldn't they be terrific?
"It's not parity. Maybe no one is great the way Jordan and Perkins and Ewing were, but everybody is good."
March, 8, 2013
3/08/13
11:30
AM ET
One man's predictions for an always unpredictable weekend of college basketball. I'm sure one or two of you might disagree with these:
Saturday


Duke at North Carolina, 9 p.m. ET, ESPN
-- No need to prolong the discussion on this one. If you watched college basketball -- ever -- then you know this is a rivalry. One of America's best, regardless of the sport.
Ryan Kelly
is back for a Duke team with a renewed vigor. North Carolina has caught fire (six consecutive wins) at the perfect time, and the Tar Heels have finally adjusted to their smaller starting lineup. But that setup is not favorable for a meeting with a squad that will stretch the floor with Kelly on the perimeter.
Prediction: Duke 74, North Carolina 72


Syracuse at Georgetown, noon ET, ESPN
-- The Orange were embarrassed in the first meeting. The team had just retired Carmelo Anthony's jersey. Then it scored 46 points in a home loss to Georgetown on Feb. 23. That was a start of a three-game losing streak that disrupted Cuse's dreams of securing the Big East title. But Georgetown, locked in a three-way tie for first place, can win a slice of the crown with another victory over Syracuse. The Hoyas should get their scissors ready.
Otto Porter Jr.
& Co. will cut down the nets Saturday, a fitting conclusion for the end of this rivalry.
Prediction: Georgetown 58, Syracuse 53


Notre Dame at Louisville, 4 p.m. ET, CBS
-- In the first meeting, these two squads played the Big East's longest regular-season matchup. That five-overtime affair was a classic. The Fighting Irish and Cardinals have followed similar paths since Notre Dame earned a win in the game of the 2012-13 season. Louisville is one of three Big East teams that will enter the weekend with a chance to earn a share of the conference crown. Notre Dame can improve its postseason seed with a win. The Fighting Irish (14th in adjusted offensive efficiency per Ken Pomeroy) have one of the league's most diverse offensive units. But folks have jumped back on the Louisville bandwagon because its defense (No. 1 in adjusted defensive efficiency per Pomeroy) is suffocating foes again.
Prediction: Louisville 64, Notre Dame 61


Florida at Kentucky, noon ET, CBS
-- Kentucky's momentum and at-large hopes took a hit when the Wildcats lost at Georgia on Thursday night -- not a strong performance for a bubble team. But Kentucky could secure a bid with a win over the Gators on Saturday. Against the best 3-point shooting team in the SEC, the Wildcats will need strong perimeter defense (SEC opponents shooting 31.1 percent from beyond the arc, fourth in the league) to earn a win. Florida has stumbled a few times this season, but the Gators (plus-18.8 PPG scoring margin in SEC play, No. 1 in the SEC) have been the most dominant squad in the conference. They've struggled, however, in road games against desperate teams.
Prediction: Kentucky 65, Florida 64


La Salle at Saint Louis, 1:30 p.m. ET, NBC Sports Network
-- La Salle might be safe as Selection Sunday approaches, but it's not wise for any bubble team to make that assumption entering the final weekend of the regular season. The Explorers would end any doubts with a road win over the Billikens. La Salle has held A-10 opponents to a 27.7 percent clip from beyond the arc, first in the conference. It can pull off this upset. They're capable. There's just one problem. A very good Saint Louis team is coming off an overtime road loss against Xavier. It wasn't the Billikens' best effort. They are back home now and would like to erase that memory. That's not a good situation for this La Salle squad.
Prediction: Saint Louis 65, La Salle 58


Arizona State at Arizona, 4:30 p.m. ET, Fox Sports Net National
-- The Pac-12 is a bizarre league, so it makes sense that a four-way tie for first place is a possibility. And it would only make sense that the Wildcats were in the middle of the chaos. Arizona entered the season amid lofty praise and expectations, but it hasn't been the league's most dominant team and was swept by UCLA. At least the Wildcats are in the field, though. After five losses in their past seven games, the Sun Devils can't afford another blemish. Their slim at-large hopes would grow with a win in Tucson. Good luck with that.
Prediction: Arizona 70, Arizona State 63


San Diego State at Boise State, 3:30 p.m. ET, NBC Sports Network
-- From mid-January through mid-February, the Broncos struggled. They were 3-6 in that stretch. Then a funny thing happened. Leon Rice's squad got healthy. Since that rocky chapter, Boise State has won four of its past five games -- a run that has brought the program back into the bubble conversation. The Broncos are shooting 38.2 percent from beyond the arc, first in the Mountain West. The Aztecs have struggled with their perimeter defense, and they've lost their past four road games. They'll lose another road game when they face Boise State.
Prediction: Boise State 74, SDSU 69


Missouri at Tennessee, 4 p.m. ET, ESPN
-- This could be a great game for a few reasons. Tennessee is playing for its NCAA tourney future. The Vols might be in; they might be out. A victory over the Tigers would be their eighth win in nine games and minimize any doubt about their status on Selection Sunday. Missouri has really struggled on the road. But the Tigers have won three in a row. They're rallying late, and
Phil Pressey
has accepted a role as a distributor (six or more assists in team's past five games). But Tennessee is facing higher stakes in this matchup. And there's an old SEC rule that says it's never a good idea to trust Missouri once it leaves Columbia.
Prediction: Tennessee 70, Missouri 67
Sunday


Indiana at Michigan, 4 p.m. ET, CBS
-- First, the stakes. The Big Ten title is on the line. This game, in the eyes of some voters, could dictate the final outcome for national player of the year honors between
Victor Oladipo
and
Trey Burke
. Michigan earned a pair of victories after a surprising loss to Penn State. Indiana has faced criticism following recent losses to Minnesota and Ohio State. But the bottom line is that this is a bad matchup for the Wolverines. The Hoosiers have too many shooters, too much size and too much versatility for this Michigan squad. Burke might win national player of the year, but Oladipo will cut down the net.
Prediction: Indiana 78, Michigan 76


Virginia Commonwealth at Temple, noon ET, CBS
-- Shaka Smart's squad is ranked among the top 50 in adjusted defensive efficiency per Pomeroy, but his program's offensive development hasn't received as much attention. The Rams have the top scoring offense in the Atlantic 10 (77.7 PPG) and are ranked 15th in adjusted offensive efficiency per Pomeroy. They could take the conference crown with a win over Temple. The Owls have been all over the place this season. They beat Syracuse and then struggled in their first month of conference basketball. But now they've won six in a row. That stretch, however, has not featured a team that's comparable to VCU.
Prediction: VCU 75, Temple 70
January, 20, 2012
1/20/12
12:05
PM ET
For 20 years, Brother Ed Sheehy has been a fixture of the LaSalle men's basketball team. He offers guidance and counsel. He travels with the squad. He leads them in pre-game prayer. Sheehy is even available up to 15 minutes before every game, at LaSalle coach Dr. John Giannini's request, to speak and reflect with players about the concerns and challenges that lie ahead. For the past two decades he has also been a La Salle professor, teaching United States and United States military history. (Which are, I have to say, two of the best subjects you could ever want to teach or learn. I love me some U.S. history, man.)
But La Salle students and alumni will recognize Brother Ed most often from his basketball involvement, his constant, steadying role with the Explorers, who play their college hoops in a private, Catholic setting founded in 1863 by the Institute of the Brothers of Catholic Schools -- an organization originally founded in Rome in the early 1600s by Saint Jean-Baptiste de la Salle. (See, history!) This week, La Salle has decided to celebrate Brother Ed's 20 years of commitment with a rather cool little promotion: the "Bobble Ed."
Yes, on Jan. 21, the first 750 students to arrive at La Salle's home game versus Rhode Island will receive a Brother Ed bobblehead, which rhymes but isn't quite as catchy as La Salle's hashtag-ready concoction of "Bobble Ed." To help make students aware of this historic offering, La Salle forward
Ramon Galloway
filed the following on-the-scene report:
And he even throws a little rap in at the end, too! Fantastic stuff, Ramon. I'm going to start ending every video I record, at games and at home, with a rhymed couplet. Maybe I'll throw in a haiku.
In any case,
according to La Salle
"Sheehy is believed to be the first Christian Brother to be honored with a bobblehead." I'd say that's a fair assumption. Which makes "Bobble Ed" night special, not only for Brother Ed, but also the Explorers he counsels and La Salle students at large. It's also a special night for the kind of slightly weird person who dutifully collects bobbleheads. The Bobble Ed would be the crown jewel of any such collection, no? Get 'em while they're hot!