College Basketball Nation:

Lavoy Allen
March, 19, 2011
3/19/11
8:47
PM ET
TUCSON, Ariz. -- San Diego State's
71-64 victory
over Temple in double-overtime was equal parts thriller and ugly. But here's a guess that the Aztecs will take it.


Turning point
: San Diego State took a 7-point lead at 52-45 with 7:18 left. The Aztecs would score only one more basket in regulation, and Temple tied the game at 54-54 on a hook shot from
Lavoy Allen
to force the first overtime. The turning point in the second overtime? Temple got two looks to tie the game at 65, but
Khalif Wyatt
and Allen both missed.
Billy White
then made a fadeaway jump shot on the other end, and the Aztecs had a little breathing room with two minutes left. The Owls scored just one more point.
Key player
: With
Kawhi Leonard
struggling, White stepped up again by scoring 16 points and pulling down 13 rebounds.
Key stat
: Leonard was just 5-of-14 from the field, but he connected on all six of his free throws, including four in the second overtime.
Miscellaneous
: Both teams couldn't score in the second half after shooting well in the first. Temple hit 33.3 percent of its shots, while the Aztecs managed only 34.6 percent. ... The Aztecs had a 12-0 advantage in fast break points at halftime, but Temple had a 7-4 advantage in the second half.
What's next
: San Diego State plays the winner of the Connecticut-Cincinnati game in the Sweet 16 on Thursday in Anaheim.
March, 19, 2011
3/19/11
2:36
AM ET
TUCSON, Ariz. -- A look at Saturday's games in Tucson:
No. 7 seed Temple (26-7) vs. No. 2 seed San Diego State (33-2), 6:10 p.m. ET (TNT)


Temple and San Diego State both had a story and a game on Thursday. Both won games, so both stories are no longer front-and-center.
When Temple beat Penn State in the round of 64 of the NCAA tournament, it won its first tournament game since 2001 and ended coach Fran Dunphy's record 11-game tournament losing streak. And when San Diego State beat Northern Colorado, it won its first tournament game. Period.
Those issues behind them, when the second-seeded Aztecs and seventh-seeded Owls meet today, it will only be about advancing to the Sweet 16. It will be about basketball.
"As soon as we walked out of the locker room we knew it was time to turn the page on this chapter of San Diego State basketball and start focusing on what's possible in the future," SDSU point guard
D.J. Gay
said. "And that's Saturday."
Oh, there is one other angle: Revenge.
In the 1994-95 season, Dunphy took his Penn Quakers to Ann Arbor and beat then-Michigan coach Steve Fisher, now the Aztecs coach.
"I think the referees cost us the game," Fisher quipped.
By the way, Fisher and Dunphy are good buddies.
The setup:
San Diego State wants to run. Temple doesn't. The Aztecs are bigger in the frontcourt. The Owls are bigger in the backcourt. San Diego State is deeper. Five Temple players played 30 or more minutes against Penn State, and forward
Lavoy Allen
never left the game. Eight Aztecs played at least 10 minutes against Northern Colorado and just three played 30 or more minutes. Of course, SDSU won in a blowout. And it would help the Owls if they can get quality minutes out of forward
Scootie Randall
.
Who to watch:
San Diego State forward
Kawhi Leonard
is a force inside and averages a double-double, but he's merely the headliner for one of the nation's top frontcourts. Team captain and point guard D.J. Gay has a 4-1 assist-to-turnover ratio. For Temple,
Juan Fernandez
hit the game winner against Penn State and scored 23 points, as did
Ramone Moore
, who dominated the second half. Allen is the key figure inside for the Owls.
Why to watch:
This will be a big-stage test against a quality foe for San Diego State to prove it deserves a No. 2 seed and is a legitimate Final Four contender. It's also a test of basketball styles. You might even wonder if fans will start competing chants of "East Coast" and "West Coast."
What they're saying:
Gay on Temple trying to slow down San Diego State's fast tempo:
"We definitely try and play an uptempo game, try to speed it up. When teams try to slow it down on us, we might come out more aggressive on the defensive end. Try to cause more turnovers or do anything to help speed the game up. But I think speeding the game up can be done on the defensive end."
Fernandez on slowing down the Aztecs:
"Well, like I just said before, we're a team that tries to slow down the ball a little bit, play more halfcourt offense and defense. That is where we feel more comfortable. On the other hand, they prefer to play an uptempo game and go up and down and try to get as many fast-break points as they can. So we will have to try to establish ourselves and play our rhythm."
Fernandez on his game winner against Penn State:
"That shot was big yesterday. But we already celebrated. There is not too much you can do about it now. We just got to win tomorrow."
Moore on if San Diego State is similar to a team Temple has played:
"I would say they're unique. I can't remember any teams that we played similar to the style of play they like to play."
Dunphy on Leonard:
"He is a tough matchup for us. Especially if we have to play three guards, and [freshman]
Aaron Brown
will probably start on him and that's going be a tough matchup for Aaron Brown. We'll need to help him greatly. When Scootie gets in, he'll probably play him and Scoot's not used to playing over the last month. So he is a very difficult matchup for us, there's no question about it."
Dunphy on Scootie Randall's health:
"I think yesterday we gave him the opportunity, as I said before, he deserved that opportunity to get in there yesterday. He had actually run full court on Tuesday and looked pretty good. Wednesday a little bit we didn't run real hard on Wednesday, but gave him a little bit of a run there. And he ran a little bit full court again today. And we just finished our practice. So we'll do the same thing, put him in midway through the first half and see if he's more comfortable out there and he's helping us, then he can stay out there."
No. 5 seed Kansas St. (23-10) vs. No. 4 seed Wisconsin (24-8), approx. 8:40 p.m. ET (TNT)


As point guard showdowns go, it doesn't get much better than Wisconsin's
Jordan Taylor
versus Kansas State's
Jacob Pullen
.
Taylor averages 18 points and 4.7 assists. Pullen averages 19.5 points and 3.7 assists. Both earned first-team all-conference honors, Taylor in the Big Ten and Pullen in the Big 12. Pullen is the first Wildcat to earn first-team honors twice and was one of two unanimous picks this year. Taylor leads the nation with a 4.20 assist-to-turnover ratio.
Both said the round of 32 tilt between the Badgers and Wildcats is not about them. But both admitted to being aware of the matchup. And if they weren't, reporters were there to graciously remind them.
"Any time you play players like that, it definitely bring out the best in you," Taylor said. "You definitely have to bring your A-game. But at the end of the day it's about the team. They're not going to say Jacob Pullen moved on or
Jon Leuer
or Jordan Taylor moved on. So you definitely relish the challenge. It makes it fun to play against players like that. But, at the same time, it's all about what's on the front of your jersey."
While it's not really about a battle of point guards, it sort of is. Both are the engines of their respective teams on both ends of the floor. Pullen, in fact, seemed like a one-man team at times this season -- see his 27-point average over the final six regular-season games when the Wildcats were fighting for a spot in the tournament. And Taylor is the fulcrum of Bo Ryan's "swing offense."
Further, tempo will be critical in the matchup. The Wildcats and Pullen want to play fast. The Badgers and Taylor want to slow it down. And each will be trying to push his counterpart out of his comfort zone.
"We've got to do a great job of defending the ball screen and keeping [Taylor] in a position where he doesn't know what kind of defense we're playing, whether we're trapping it or soft hedging the ball screen," Pullen said. "The other thing is we really got to make him guard. Whoever he is guarding, we got to make sure he plays 36, 37 minutes a game. We got to make sure he is using his energy on both ends not only on offensive end."
One problem for Kansas State: It isn't easy to dictate tempo to Wisconsin, though many have tried, and Kansas State coach Frank Martin said as much.
"If you can speed up a Bo Ryan team, it will probably be the first time in 30 years that happens," Martin said. "Our challenge is to not allow Jordan Taylor to get comfortable. To not let him get in rhythm. And No. 2 is to keep him out of the paint. Because when he gets in the paint, then he forces help and then he finds shooters."
As for defending Pullen, Ryan doesn't see it that way exactly. While the Badgers largely play man-to-man defense, just like the Wildcats, it's still more team than individual.
"We don't get into a lot of, 'It's you against you, or you got to take him and you got to shut him down,'" Ryan said. "We don't do that because our defense is predicated on help. We always want to get five guys guarding three guys. That is our goal all the time. Learned that at a night clinic in Valley Forge, Pa., in the early '70s, and it still works."
Who to watch:
Other than the point guards? There are a couple of bigs of note. For Wisconsin, it's Leuer, who leads the Badgers with 18.6 points and 7.3 rebounds per game. He'll be matched with
Curtis Kelly
, who averages 10.3 points and 5.3 rebounds.
Why to watch:
It's another interesting contrast of styles, with the Wildcats hoping for a fast-paced frenzy, and the Badgers preferring the half-court game. Both will try to impose their will on the other. The Badgers turned the ball over only 229 times this season versus 479 from Kansas State. And the Badgers are better at the free throw line, leading the nation with an .827 percentage versus .647 for the Wildcats. Of course, the Wildcats hit 86 percent of their free throws in their win over Utah State.
What they're saying:
Taylor on hearing that K-State will try to speed things up:
"I think we have to do exactly what they're trying to do, play at our own pace. Play at the pace that we're comfortable with."
Leuer on Curtis Kelly and Jamar Samuels:
"From what I've seen, they can do a lot. They're both very active and long and athletic. They have good touch around the basket. They're physical. And we're going to have to do our best to try to limit their touches and not let them get into a rhythm. And the more we can keep the ball out of there and not let them get deep post position... that's what you want to do against anybody, not let them get deep post position. But those guys, especially because they're going to make it hurt if they get it down there."
Ryan on Kansas State's physical offensive rebounding:
"Well, contact's a good thing. You got to enjoy contact, physically to block people out. We're not going to outjump them. I don't think lengthwise we're going to be any longer than them. So you just got to do what you do every day in practice. Require guys to put a body on somebody. Don't let somebody get an angle. And be willing to dig in. I'm sure the other teams that play against them have said that, too. Then you got to go out and do it."
Pullen on the KSU scoring record:
"When I'm done playing basketball at Kansas State and I get a chance to actually sit down and look back, I think it will mean a lot then and I'll really cherish it more. But right now I don't want to jinx myself and I don't want to know how close I am because that is the wrong focus."
Martin on narrowing his player rotation:
"My job is to help our team win. And if guys don't deserve to play, it's not charity. You know, they better practice well or they're not going to wear a uniform."
Martin on his team:
"Our kids acted this season like I wish our society would act. That means that when things get hard, they don't pass blame. They don't run away from it. They don't roll their eyes. They don't quit. Which is a great word in today's society, 'quit.' Contrary, our guys handle stuff with loyalty, with honesty, with commitment. Those are the words I grew up on. And, unfortunately, our society's turned some in today's day and age. I'm just happy our kids didn't pay attention to society and they stuck to the values that I believe in."
November, 2, 2010
11/02/10
11:45
AM ET
You know the drill. Here are five things I can't wait to see in the Atlantic-10:
1. The Dayton dynamic
[+] Enlarge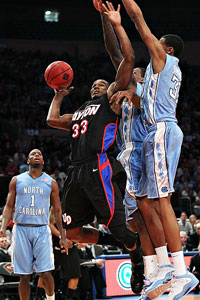 Nick Laham/Getty ImagesChris Wright returns after averaging 13.7 points and 7.3 rebounds per game last season.
The questions about Dayton have nothing to do with talent. By returning NBA prospect and A-10 player of the year candidate
Chris Wright
, second-leading scorer
Chris Johnson
, and top defender
Paul Williams
, the 2010-11 Flyers return their three best players from last year's team. The questions about Dayton are essentially this: How do those players perform without five seniors surrounding them? Brian Gregory's accomplished group of four-year stalwarts all graduated after their NIT championship last season, and Gregory will have to incorporate a good recruiting class around his three talented starters without the benefit of that senior, role-player-type experience on the margins. Wright is one of the more talented forwards in the country, but he had an up-and-down junior season. Can he take the next step as a senior himself? Will Dayton find the right mix in time to make their case for an NCAA bid? And if the freshmen don't perform, is Dayton's core enough?
(
Bonus minor Dayton subplot that pretty much everyone except Dayton's theoretical opponent would like to see
: Because of the new tournament's First Four play-in structure, and the decent possibility the Flyers will be a bubble team and one of the last four at-large bids in the tournament, there's a decent chance Dayton could play in the play-in First Four tournament in -- where else -- Dayton. Dayton fans show up 11,000 strong for games on the 16-17 seed line; imagine the scene if the Flyers were in town for the tourney. Fun stuff.)
2. Temple in the NCAA tournament
If Temple fans are getting impatient for an NCAA win, they might also be being a little unfair. Owls coach Fran Dunphy immediately turned the Owls back into a winner after leaving his longtime position at Penn in 2006, making three straight NCAA tournaments in the past three years. The only problem? Temple has lost in the first-round of the NCAA tournament all three times. That might seem slightly disconcerting; no one wants to worry that their coach can't win in the NCAA tournament. But the Owls have been besieged by tough matchups in each of Dunphy's three tourney years (including two eventual Sweet 16 teams -- Michigan State and Cornell -- and a James Harden-led Arizona State team), and there's good reason to expect Temple to make the leap in 2010-11. Senior guard and leading scorer
Ryan Brooks
is gone, but Temple returns almost all of last year's team, which was the seventh-most efficient in the country by the end of the season. Those returns include forward
Lavoy Allen
, who played with the USA Men's Select Team in scrimmages against Kevin Durant and the rest of USA Basketball this offseason. Barring a massive disappointment, the Owls should be back in the NCAA tournament again in 2010-11. The real intrigue is what they do when they get there.
3. What happens when you doubt Xavier
If ever there was a year to doubt the
Xavier Musketeers
, this might be it. Gone is Jordan Crawford, a brilliant scorer who took and made a huge percentage of Xavier's shots in 2010-11. Gone is forward Jason Love, Xavier's all-time wins leader with 108. Taking their place are ... well, actually, that's the point: It's hard to see just who on the current Musketeers roster can replace Crawford and Love's production. Is this the year Xavier finally releases their four-year stranglehold on the A-10 title?
The thing is, we've asked that question before. We asked it when Xavier lost Stanley Burrell, Josh Duncan, and Drew Lavender in 2008. We asked it again when Xavier waved farewell to Derrick Brown, B.J. Raymond, and C.J. Anderson in 2009. Before Crawford revealed his talent, the 2009-10 Musketeers -- with a first-year coach, no less -- were supposed to fall off. But Xavier made a third straight Sweet 16, and the program kept chugging along as if the laws of attrition didn't apply. This year, maybe they will. Point guard
Tu Holloway
will have to take over much of the scoring and leadership load in Crawford's and Love's absence, senior forward
Dante Jackson
will have to take a leap, and a handful of talented freshmen and redshirt holdovers will have to be ready to play right away. It's a lot to ask, and if ever there was a year to doubt Xavier -- for good reason -- this is it. But one does so at her own peril.
4. Richmond's battle for respect
We probably didn't talk enough about Richmond last season. The Spiders won 26 games, made the NCAA tournament (where they ran into a hot St. Mary's team in the first round) and featured A-10 player of the year
Kevin Anderson
, a dynamic point guard who is supremely adept at beating defenders and scoring in the lane. Anderson returns in 2010-11 and is the de facto favorite to win conference player of the year honors again. But Richmond is far from a one-man show. The Spiders also return 6-foot-10 forward
Justin Harper
, whose inside-out versatility makes him extremely difficult to guard. Throw in a trio of interesting freshman and a total of 11 scholarship players returning from last year's team, and the result is a legitimate A-10 favorite that still isn't getting enough love.
5. An immediate turnaround at Charlotte?
Given the way Charlotte's season ended -- when the 49ers dropped seven of their last eight games, followed by the firing of longtime coach Bobby Lutz -- it's easy to forget how it began. Charlotte started the season by going 18-5 and looked like a potential A-10 contender and NCAA tournament team. The wheels fell off, and Charlotte hired former Ohio State assistant coach Alan Major to get things repaired. Major, like most new head coaches, is probably allowed the usual three- or four-year grace period, but he might not need it. Charlotte returns four starters from last year's team, including leading scorer
Shamari Spears
and fellow high-usage forward
Chris Braswell
. The 49ers aren't overwhelmingly talented, but they aren't bereft, either, and it's not hard to imagine the energy of a new coach and a less muddled leadership situation giving the 49ers a bit of a boost.
May, 10, 2010
5/10/10
2:04
PM ET
NCAA coaches got what they wanted: a mostly stress-free May and early June.
No one can whine anymore about an early-entrant testing the draft process and holding the program hostage for two months. The NCAA's deadline passed Saturday, and the with the official early-entry list forthcoming from the NBA this week, the uncertainty of rosters -- save a few late recruits -- is no longer an issue for 2010-11.
Some of the programs either hit or salvaged from the decisions had obvious consequences. Earlier in the blog, I discussed the impact on
Kentucky
and the rising programs at
NC State and Richmond
. Here are some quick takes on 10 other schools affected in some way by the draft process:
There's no question that the NCAA's decision to cut back from two months to 10 days had a positive affect for coaches. Players who normally may have had time to work out and move up on the second- or first-round board didn't have a chance. There were barely any workouts to be had, so the players didn't get a true chance to test the draft process.
For some likely first-round players, it didn't matter as they were leaving anyway with the fear of a lockout and a lower rookie salary scale in 2011 and beyond. For many others, however, the lack of workout opportunities and inability to go to the NBA-sponsored Chicago draft camp probably forced them to return to school.
That's good for the coaches and their nerves, but is it good for the players and the overall process? That's debatable.
What's not is that it's the new reality.
May, 8, 2010
5/08/10
3:51
PM ET
NBA draft boards are safe.
Saturday's NCAA-imposed deadline to withdraw from the NBA draft (international players still have until June 14) didn't produce any last-minute decisions that will affect the first round, but that's not the case for the preseason top 25 in men's college basketball.
[+] Enlarge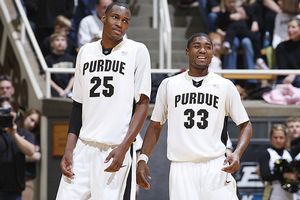 Joe Robbins/Getty ImagesBoth JaJuan Johnson (left) and E'Twaun Moore will be staying in Purdue.
None of the players who were still mulling over decisions would have affected the first round of the NBA draft. On Friday night, the official decisions of Kentucky freshmen
Daniel Orton
and
Eric Bledsoe
put two more undecided early-entrants in the first round. But on Saturday, the most anticipated decision came out of West Lafayette, Ind., where
JaJuan Johnson
and
E'Twaun Moore
told coach Matt Painter they will return for their senior seasons. The Boilermakers, with the return of
Robbie Hummel
, will have what is likely the most experienced and productive trio returning of any power-six club.
Staying in the Big Ten, Illinois desperately needed
Mike Davis
and
Demetri McCamey
to come back to school after a season in which the Illini just missed out on the NCAA tournament. Losing one of their productive forwards and their most experienced guard would have crushed Bruce Weber's team, even though there is an influx of young talent there. Neither Davis nor McCamey were considered first-round draft picks.
With these decisions, the Big Ten likely will receive considerable hype as the nation's best conference for the second preseason in a row. Purdue could be a preseason No. 1, Michigan State will be right on its heels, and Ohio State (with its loaded recruiting class), Wisconsin, Minnesota, Illinois and Northwestern (which gets back
Kevin Coble
from a season-ending foot injury) are all capable of contending and making the NCAA tourney.
In the ACC, Virginia Tech's
Malcolm Delaney
decided Friday night to return to school. It was a good move. He wasn't a first-round pick, but he's certainly one of the top guards in the conference and gives the Hokies, who return nearly their entire team, a chance to be a top-25 team next season.
New Mexico figured it would lose leading scorer
Darington Hobson
, and it did, meaning the Lobos will have to start the season again having to prove themselves as a Mountain West title contender. Xavier figured it was going to go into next season without
Jordan Crawford
, and it will, meaning the Musketeers will need to find another headline act. But the Musketeers' program hardly lacks for talent and it's never wise to overlook this team in the preseason.
Richmond received news that it can still be competitive in the A-10 with conference player of the year
Kevin Anderson
's return. The Spiders would have had to rebuild had they lost both Anderson
and
senior
David Gonzalvez
. Temple would have faced a similar situation had
Lavoy Allen
not come to his senses and returned to school.
Alex Tyus'
father and uncle both told the local press recently that they felt Tyus was a natural small forward, that he was being underutilized at Florida and that he should declare -- even go overseas if he wasn't drafted. He apparently didn't listen. Tyus, who wasn't a first-round pick and might not have been a second-round pick, will return as a solid role player for a team that will challenge for the SEC East title. Florida may not have cried if Tyus had left, but it would have taken another system player out of the mix. His return allows the Gators to go through the offseason without a distraction, unlike when Marreese Speights left early in 2008 and Nick Calathes bolted for Greece in 2009.
Meanwhile,
Kenneth Faried
's decision to stay at Morehead State means one of the better talents in the country will shine more of a spotlight on the Ohio Valley next season. Faried had a shot to alter the draft board in the latter part of the first round, but is just one less name for NBA personnel to sweat over during the next six weeks.
May, 7, 2010
5/07/10
4:51
PM ET
The NBA retired players association reached out to the NCAA to see if there was interest in a combine for early entrants to test the draft process.
According to Charles Smith, the retired players association executive director, there was no interest in having one during the 10 days underclassmen have now been allotted to see where they stand before making a decision on whether to stay in the draft.
It's almost impossible for prospects to get a real read on where they'd go in the draft for a number of reasons: Prospects have only one weekend to work out from April 29 to May 8, teams aren't interested in conducting workouts so early in the draft process when the official list of entrants will be available in another week, and the players are unable to work out for teams until they've completed final exams.
Previously, agentless underclassmen had until 10 days prior to the NBA draft to decide. That rule is still intact from the NBA, but international players will be the only group using that withdrawal date this spring.
"They don't have a chance to be evaluated,'' Smith said Friday of the NCAA's new rule. "It's not fair to the players. We wanted to host a combine, but the NCAA wasn't for it.''
But NCAA spokesperson Bob Williams said Friday that the combine wasn't sponsored by the NBA or a team and that the retired players association was told it could not provide expenses or have organized competition. Williams said the NBA players association could have had drills or even some pickup games, but not kept score or had officials.
[+] Enlarge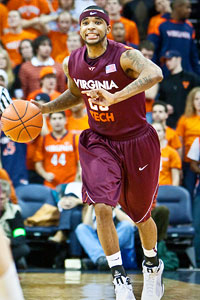 Jeff Lack/Icon SMIMalcolm Delaney will be one of the top guards in the ACC next season.
Smith said he will make another attempt in 2011 to do a combine in some form to give players a chance to make a more informed decision.
The overriding reason borderline draft picks have given coaches as to why they left for the NBA early has been the fear of a lockout and a possible lower rookie-salary scale in 2011.
Regardless, a number of fence-sitters are making their coaches sweat down to the last minute. Here is the latest through sources close to the situation:
Mike Davis and Demetri McCamey, Illinois:
Coach Bruce Weber was already told Davis will return to school, which boosts the Illini's chances to mount a return trip to the NCAAs. But Weber has to still speak with McCamey, which is quite amazing considering he's unlikely to be drafted if he stays in.
JaJuan Johnson and E'Twaun Moore, Purdue:
Coach Matt Painter might have to wait until Saturday's 5 p.m. deadline to see if Johnson and Moore decide to stay in the draft. Johnson would be the more likely candidate since he's a likely second-round pick. Moore would run the risk of going undrafted.
Ravern Johnson and Dee Bost, Mississippi State:
Johnson has let the Mississippi State staff know he will likely return to school, but in a stunning development, Bost actually may look to go overseas instead of return to school. Bost has been told he can make money overseas even if he's not selected in the draft. The Bulldogs, no stranger to waiting until the final hours of the NBA early-entry deadline, will sweat out Bost's decision. The backcourt would be much younger without him, but the emergence of Renardo Sidney in the starting lineup after serving his nine-game suspension will help offset any departures, especially of senior
Jarvis Varnado
.
Alex Tyus, Florida:
Tyus isn't a first-round pick. He easily could go undrafted. But that might not stop the Gators from losing yet another player early to the NBA draft. At least in the cases of Marresse Speights and Nick Calathes the past two seasons, they were first-round talents. But when I spoke to UF coach Billy Donovan late Friday afternoon, he wasn't sure which way Tyus would go.
Malcolm Delaney, Virginia Tech:
Virginia Tech's chances to get into the 2011 NCAA tournament took a huge step forward with the decision of Malcolm Delaney to return for his senior season. Virginia Tech coach Seth Greenberg said Friday night that Delaney will withdraw from NBA draft by Saturday's deadline. Delaney averaged a team-high 20.2 points for the Hokies last season.
Jordan Crawford, Xavier:
No word out of the Musketeers on whether Crawford will stay or go, but with Crawford considered one of the top shooting guards it's unlikely he'll return.
Lavoy Allen, Temple:
Nothing official from the Owls regarding Allen's status, but leaving would make little sense since he's not likely to be picked in this deep draft. The Owls would be an A-10 contender again with Allen around.
Jimmer Fredette, BYU:
Coach Dave Rose isn't sure if Fredette will stay or go. The decision is expected to go down to the final hours Saturday as Fredette figures out if he's a viable candidate in the first round. Defensive liabilities would say no shot, but it's hard to project what he will be told in the final hours.
Darington Hobson, New Mexico:
Hobson is regarded as a possible late-first round pick and for that reason Lobos coach Steve Alford expects Hobson to keep his name in the draft. He'll also be 23 years old by the time the new season rolls around. There could be a last-minute decision to return, but it doesn't appear likely.
March, 13, 2010
3/13/10
11:00
AM ET
By
David Albright
| ESPN.com
ATLANTIC CITY, N.J. -- It's another dreary, rainy and windswept day here in this gritty seaside city. In other words, a perfect excuse to hang out at Boardwalk Hall this afternoon to watch what should be two great games in the Atlantic-10 semifinals.
Three of the top four seeds advanced to the A-10's final four, and in fact it's the first time the top three seeds advanced this far since 2006. Temple, Xavier and Richmond are NCAA tourney locks and No. 5 Rhode Island woke up this morning as the last team in the field of 65 in
Joe Lunardi's Bubble Math
.


No. 1 Temple (27-5) vs. No. 5 Rhode Island (23-8), 1 p.m. ET
What's at stake
: Temple is the only team still here in AC with a winning record (15-9) in the semifinal round. But the A-10 regular-season champion (Temple has the honor this season) hasn't won the conference tourney title since George Washington in 2005. The Owls are the two-time defending champion in this tournament while the Rams won their only conference title way back in 1999.
Who has the edge
: Temple is 2-0 against Rhody this year, including a tough four-point overtime win (68-64) in Kingston, R.I., on Jan. 10 and a 78-56 walk in Philly on Feb. 13. URI played its best defensive game of the season in beating Saint Louis on Friday but the Rams will have to come up with an even better effort against the well-rounded and versatile Owls.
Lavoy Allen
and
Juan Fernandez
present a challenging inside-outside attack to defend. And URI better be prepared to pound the glass like it did against SLU.
Statistically speaking
: Temple has won seven consecutive A-10 tournament games and the Owls are now 7-1 all-time in conference tourney games played at Boardwalk Hall. The Owls also come in with a current eight-game winning streak.
-- The 63 points scored by Rhode Island on Friday were the fewest for the Rams in a win this season (they also scored 63 when beating Oklahoma St. 63-59 on Jan. 2). And the 47 points allowed by URI were the fewest for a Rams opponent this season (best the 57 allowed vs. Brown in the season-opening 78-57 win).
Quotable
: "They are a very good top 20 team. Excellent players, great coach. They have excellent chemistry and its going to be an excellent challenge for us. We are looking forward to it. We have to be ready intense wise as the [Temple] crowd will be here. But, again, that is what you play for. Our guys are looking forward to the challenge." -- Rhode Island coach Jim Baron


No. 2 Xavier (24-7) vs. No. 3 Richmond (25-7), 3:30 p.m. ET
What's at stake
: The bad news is that Xavier is just 3-6 in this round of A-10 play. The good news is that all three semifinal round wins eventually became conference tournament championships as the Musketeers are a perfect 3-0 in A-10 title games. Richmond has only played in one A-10 final (a 73-60 loss to XU in '02) and is just 1-1 in the semifinal round.
Who has the edge
: Xavier needed double overtime to beat Richmond (78-76) on Feb. 28 in Cincinnati. Here's hoping the rematch is that good. The Musketeers had the tougher quarterfinal game as they erased a 15-point second-half deficit against Dayton on Friday night. When it counted, guard
Terrell Holloway
delivered, as he drew the decisive technical foul against Dayton's
Rob Lowery
to effectively seal the XU win. Against Richmond last month, Holloway scored seven of his team high 24 points in the second OT.
Statistically speaking
: Xavier has advanced to the A-10 semifinals for an eighth consecutive season and the Musketeers have won eight straight and 12 of their last 13 games.
-- Richmond is 4-0 on neutral courts this season and comes into Saturday's game having won three straight and 11 of its last 12.
Quotable
: "I think we are looking forward to the rematch because at the end of the regulation it was a dead heat and they were able to win the game in overtime. We're looking forward to it. I know they'll be ready. I know they'll be prepared. I know they're a great program. We're just pleased to be able to advance and try to play Xavier again." -- Richmond coach Chris Mooney
March, 12, 2010
3/12/10
2:03
PM ET
By
David Albright
| ESPN.com
ATLANTIC CITY, N.J. -- Some final thoughts as top seed
Temple beat St. Bonaventure
69-51 to open up quarterfinal play in the A-10 tourney here at Boardwalk Hall. Up next for the Owls is a semifinal matchup on Saturday at 1 p.m. ET against the winner of the No. 4 Saint Louis-No. 5 Rhode Island game.
Temple (27-5) presents matchup problems on the defensive end. And the Owls are perfectly happy to take what you give them. They can play walk it up and play halfcourt. They can transition if the opportunity presents itself. Lock down the lane and Juan Fernandez can bury 3s. Matchup against them on the perimeter and good luck dealing with 6-foot-9 forward Lavoy Allen down on the blocks. That versatility will serve them well the rest of this weekend and once the NCAA tournament starts.
Allen finished with an impressive double-double of 14 points and 15 rebounds -- not to mention 4 assists. And Fernandez was not far behind with 17 points and 8 assists. The Bonnies were led by sophomore forward Andrew Nicholson with 13 points, 7 rebounds and 2 blocks.
No matter how well things are going, you can count on Temple coach Fran Dunphy to be scowling on the sideline. Sometimes he stands with his arms crossed and sometimes he crouches or is on one knee. And to complement that he mixes in equal amounts of admonishment and encouragement. He's the personification of old school and his team has bought into his system and executes it well. And the Owls show up to play, which can't be said about every ranked team. It would have been easy to coast through this game against an overmatched team but Temple kept playing hard on both ends of the floor.
St. Bonaventure finished the season at 15-16. Not a step forward from last year's 15-15 campaign but third-year coach Mark Schmidt appears to have the Bonnies headed in the right direction. And considering where that program has been in the last decade, at least it wasn't a step backward.
January, 28, 2010
1/28/10
12:36
PM ET
It is pretty easy to spot the best coaching jobs simply by looking at the top of the polls. John Calipari, Jamie Dixon, Jim Boeheim and Bill Self would be at the top of any list of the best coaching performances of the season.
But a great coach once told me that some of the best coaching jobs in the country each year are done by coaches that get their teams to .500 with less, and make lesser talent competitive. This season, there are quite a few coaches who have done great jobs outside of the intense spotlight. Here are a few of the best ones in my judgment:
[+] Enlarge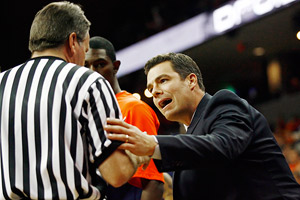 Geoff Burke/US PresswireTony Bennett has the Cavaliers off to a 12-5 start.
Tony Bennett, Virginia:
Bennett has taken a proud Virginia program back to its roots of chest-to-chest defense. His "pack" defense is really just gap protection D, which emphasizes help and the protection of the paint and limiting opponents to one difficult shot. Virginia does not play to high possession totals right now, but will in time. Bennett has also brought ball security to Charlottesville, as the Cavaliers do not turn the ball over. Bennett is the real thing, and Virginia is now competitive under his leadership.
Frank Martin, Kansas State:
No team I have seen plays harder than Martin's Wildcats. Kansas State plays pressure defense, gets out in passing lanes and does a really good job of getting into you and taking away what you want to do. Without Martin's insistence upon playing so hard and so together, none of it would work. He is trusted by his players and they respond to his challenges. Nobody expected K-State to challenge Kansas and Texas in the Big 12, except maybe Martin.
Johnny Dawkins, Stanford:
The second year of any tenure is usually the toughest. The lagging recruiting of the last regime can hit then, and it is sometimes a season to simply weather the storm. In the preseason, Stanford was picked 10th in the Pac-10, and that was with
Josh Owens
, the dynamic interior athlete. He is gone for the season after not being medically cleared, but Dawkins has done a masterful job to make the Cardinal competitive by scaling back his defense and opening up his offense.
Landry Fields
has never been the best player on his team at any time in his life, yet he may be the best player in the Pac-10 under Dawkins. With only two reliable scorers in Fields and
Jeremy Green
, Stanford is 4-3 in the league heading into two road trips to Arizona and Los Angeles. If the Cardinal can steal a few on the road, which no Pac-10 team has been able to do, they can make some noise in a quiet league. With a top 10 recruiting class on the way, Dawkins has a bright future.
Gary Williams, Maryland:
How is it that Williams takes so much heat? He has been the most competitive guy against Duke and North Carolina that the ACC has seen, and this season, Williams has the Terps right at the top of the league. He has good guards and has developed his young big guys. Maryland has a top-10 offense and the identity of a blue-collar team that looks out for each other. When many teams are struggling to find an identity, the Terps have one under Williams. He has done another great job.
Mike Davis, UAB:
The Blazers lost player after player, yet Davis has made UAB a top-20 team because of a greater emphasis on defense. With Elijah Milsap and
Howard Crawford
, Davis has two hard-working and good players that have embraced defense and a more controlled approach. The Blazers are not an up-and-down team that tries to outscore you -- they try to simply beat you with good, hard-nosed defense. So far, it's working.
Fran Dunphy, Temple:
After doing such a great job at Penn, many wondered whether Dunphy would be embraced at Temple. No worries, because Dunphy is a great teacher and great coach who takes the long view and puts the kids first. He has molded a top-10 defense that limits opponents to one shot and plays hard without fouling. In other words, Temple is disciplined. The Owls do the right thing at the right time, and do it to the best of their ability. With
Juan Fernandez
as a better-shooting Pepe Sanchez -- and
Ryan Brooks
and
Lavoy Allen
contributing in many ways -- Temple is very dangerous. Remember, Dunphy's squad is the only one this season that has figured out Villanova.
January, 20, 2010
1/20/10
10:25
PM ET
PHILADELPHIA – Forget Ohio.
The Atlantic 10 title will go through Philadelphia this year.
For the past three years, Xavier has had a stranglehold on the conference crown, racking up three regular-season titles and a Memphis-is-to-Conference USA like (well until tonight, that is) 43-9 record against A-10 foes since 2007.
[+] Enlarge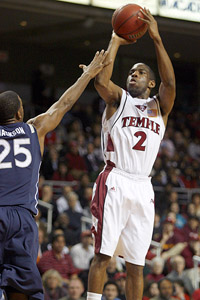 AP Photo/H. Rumph JrTemple's Ryan Brooks scored 22 points against Xavier.
That the Musketeers have loosened that hold isn't news. With the loss of three starters and head coach Sean Miller, this was supposed to be the year that X gave way to someone else.
Except that someone else was supposed to be the rivals right down the highway in Dayton.
Instead, in a poetic twist of irony, the league that ditched its headquarters in the City of Brotherly Love for better rent in the A-10-less city of Newport News, Va., now will have to watch from afar as the battle for its conference crown swims right down the Schuylkill.
By beating Xavier,
77-72
on Wednesday night, Temple claimed sole possession of first place in the Atlantic 10, rolling to a 4-0 start in the league, and sent a clear message to its conference foes.
"Xavier has been the face of this league for a long time,'' said senior
Ryan Brooks
. "We knew they'd come in here with a little swagger, and rightfully so, so we talked about it. It's not taking the throne away from them so much as it is about winning an important game and moving in the right direction.''
That direction is a decided projectile upward. The Owls have now won 12 of their past 13 – the lone hiccup to then top-ranked Kansas – and are off to their best start since 1993-94. When you consider the class of programs that have come down North Broad Street in the past 15 years and the fact that this particular Temple team was picked to finish no better than fifth after losing Dionte Christmas, the hot start is all the more remarkable.
Even more stunning is how Temple is winning. The program that long looked at the offensive end of the floor as a rest stop under John Chaney can actually score. The Owls still like to defend under Fran Dunphy – the 72 points scored by Xavier is only the second time this season a team topped 70 against Temple – but they have an offense that can be downright pretty when it's going well. It went exceedingly well against Xavier. The Owls shot a blistering 59 percent against Xavier, missing a grand total of six field goals in the second half.
There are no smoke and mirrors here. Temple relies almost exclusively on four guys – Brooks averages 37 minutes a game;
Lavoy Allen
and
Juan Fernandez
34 and
Luis Guzman
31 – but all four of those guys can score.
Allen and Guzman got it started, scoring seven and nine in the first half. Brooks took over midway, rattling off six by himself at one point. And Fernandez finished it off, scoring 13 of his 15 in the second half, including draining a shot that Xavier coach Chris Mack called 'ill advised' to seal the victory.
Brooks had another term for Fernandez shot -- a deep 3, barely seconds in on the shot clock with Temple clinging to a three-point lead and 43 seconds left on the clock:
"Dunph said that shot took a lot of (rhymes with walls),'' he laughed.
Dunphy only slightly corrected Brooks' assessment.
"He's got a burglar's guts,'' the coach said of Fernandez. "I would like to tell you I have control, but there are times I do not and that was one of those times. When it went down, you're cheering like crazy, but if it didn't you want to go out there and choke him.''
But there is no choke in this Temple team. Despite twice leaving
Brad Redford
open for wide-open looks and resuscitating the Musketeers' hopes in the waning seconds, the Owls survived thanks to Brooks' perfect 6-for-6 from the line.
The league battle is hardly over. Temple, Xavier, Dayton, Rhode Island, Richmond and maybe even Charlotte all could win the title, but things break nicely for the Owls down the stretch. Thanks to the unbalanced league schedule, Temple will not go to Xavier or Dayton and already won at Rhode Island.
And unlike previous years where they had to make hay in the conference tourney to make the dance, the Owls should, barring a meltdown of epic proportions, be in the NCAA tournament.
"We want to keep surprising people,'' Brooks said. "That's what motivates us. We've been the underdogs for a couple of years now and we like that role.''
Too bad, Ryan.
The A-10 title may be taking a new route this year.
Through Philly.
December, 13, 2009
12/13/09
5:30
PM ET
In most zip codes across the country, Temple's 75-65 win over No. 3 Villanova will raise eyebrows and cause some head scratching. After all, the Owls this season had been beaten by St. John's and Georgetown, two Big East teams not considered nearly as talented as the Wildcats.
In Philadelphia, the final score will be met with a knowing nod, with old and young fans alike smiling as they say, "That's the Big 5 for you." The tradition-laden city series may not offer streamers at the first made bucket or doubleheaders at the Palestra any more, but it's still good for some unexpected drama.
Since taking over at Villanova, Jay Wright has played Big 5 games with equal parts honor and trepidation. He is a child of the Big 5, a kid who grew up a quick ride from the city and spent more than a few nights on the Palestra bleachers enjoying the tradition. That part of him loves it.
But as the head coach of a team that always has more to lose than gain -- in national perception and RPI standing, at least -- these games are nothing shy of a nightmare. Weird things happen in Big 5 games -- teams that aren't supposed to have a chance play out of their minds (see Saint Joseph's against Villanova last week) and teams schooled by national battles lose their composure (see the 14-point lead the Wildcats blew against the Owls on Sunday).
So when the Wildcats brought a No. 3 ranking and a stranglehold on the Big 5 -- Villanova had won 21 of 22 in the city series prior to Sunday -- it meant exactly nothing in North Philly. Scratch that.
It meant that the Owls had even more reason to want to pull off the upset.
The irony, of course, is the Wildcats were undone by a kid who couldn't possibly understand the magnitude of the Big 5.
Juan Fernandez
came to Temple last December, following in the footsteps of his Argentinean hero Pepe Sanchez to enroll there. The Big 5? When I sat down with him this summer for a story, he was still trying to get his arms around the bright lights and show that is American college basketball, his studies and the English language.He told me while he's comfortable speaking in English, he still thinks in Spanish.
But the kid labeled "Pepe Sanchez with a jump shot" just played his way into Big 5 lore. He scorched Villanova for 33 points -- more than doubling his previous career-high of 16 -- and drained 7 of 10 3-pointers.
Ultimately this loss won't kill Villanova. The Wildcats will play plenty of big games between now and Selection Sunday and have more than ample opportunity to restore their place in the national pecking order.
It could, however, seriously help Temple. This was the sort of breakout game fans on North Broad Street have been waiting for from Fernandez. A dizzying playmaker, he is solid compliments in
Ryan Brooks
and
Lavoy Allen
but the Owls need his scoring. The starting backcourt of
Luis Guzman
and
Ramone Moore
haven't been point-producers so far.
More, Temple is now 8-2 with a signature win to bolster its resume and boost its confidence.
And frankly, the Owls will need it. Next up is a much-improved and undefeated Seton Hall game and around the corner is a Jan. 2 date with Kansas.