College Basketball Nation:

Lefty Driesell
January, 31, 2012
1/31/12
2:59
PM ET
Last week, Maryland unveiled a lovely honor for former coach Gary Williams in the form of a court-naming ceremony. One would assume this sort of honor for a just-retired former coach would be entirely free of controversy. Williams won a national title, went to two Final Fours, built a perennial ACC force and did it all at his alma mater. Frankly, it would be surprising if the Terps didn't want to put his name on the court.
Still, the move was not embraced by everyone in the Maryland community. Chief among its opponents is former Maryland coach Lefty Driesell, who coached at Maryland from 1969-1986 and helped build the program in its early days.
Driesell publicly criticized the court-naming
, calling it a "disservice to players such as Tom McMillen, John Lucas, Len Elmore, Brad Davis, Greg Manning, Adrian Branch and Steve Sheppard."
You can sort of see where Driesell is coming from; he's worried his players' accomplishments — and, yes, his too — will be lost to the sands of time. Which is understandable. Unfortunately, Driesell's public carping had the end effect of making him look petty and small, even a little bit jealous. And all things considered, this is sort of silly. Get Lefty a statue, include the towel, and all is well, right?
Not so much, actually. Driesell is still talking about the court-naming, and he isn't backing down from his original thoughts on the matter. From
the Washington Post and ESPN 980 in D.C.
:
"I personally have nothing against Gary, he's done a good job at Maryland, I like Gary. But I don't think anybody's name should be on the court at the University of Maryland, and I say that because I think it's kind of a slap in the face at my players....When you put a coach's name on the court, that's saying that his players are the best and the ones that built the program. I never scored a basket and neither did Gary, but those players right there of mine and his, that's who you're honoring. And he's had great players too, but I'm just opposed to putting somebody's name on the court.

"When you turn on the TV from now on, you're gonna see Gary Williams's name, so everybody's gonna think well Gary Williams's players are the ones that put Maryland on the map. You know, Maryland was on the map before Gary got there. Now, he's had nice teams and I love his players and I like Gary, but I don't think his name should be on the court."
Driesell's comments reflect a minor rift at Maryland, but they're also,
as Washington Post columnist John Feinstein wrote last week
, a product of arguably poor management on the part of Maryland's athletics program. The Terps' behind-the-scenes situation is less than harmonious, let's say.
Whatever the causes, though, Driesell does not come off well here. For one, he has a court named for him at Georgia State, so he apparently doesn't have a problem with the idea in general. (When asked about this on the radio, Driesell said he didn't ask for that honor, and that it wouldn't be fair to any coach who followed him. So I suppose he's consistent.) Two, pretty much everyone but Driesell agrees the court should have been named after Williams. This is not — or at least it shouldn't be — a controversial thing. Plus, the premise of the complaint is faulty, too: No one is going to forget the teams and players and coaches that came before Maryland. From Adrian Branch to Len Elmore to, yes, Len Bias, that hoops era will remain etched in the memory of Maryland basketball fans and college hoops fans in general. We'll remember, Lefty. Don't worry.
More than anything, though, the whole thing is just sort of silly. Who knew naming a court after a coach — honoring his career, feeling nostalgic, working the good vibes — could turn so dysfunctional?
September, 13, 2011
9/13/11
3:37
PM ET
Last week,
Diamond wrote a post detailing the minor dust-up at Maryland
over the future of the Comcast Center court's name. Maryland officials and many fans were eager to name the floor after beloved former coach Gary Williams, who retired in May. But
according to the Baltimore Sun
, some fans wondered whether Lefty Driesell -- the father of modern Maryland basketball and an iconic coach in his own right -- didn't deserve the floor-naming honor himself.
It appears the discussion is now over. Today,
Maryland announced it would dedicate the Comcast Center court to Williams in a ceremony on Dec. 9
. The recommendation was made by university president Wallace D. Loh, unanimously approved by the school's Facilities Naming Committee, the Chair of the Alumni Association Board of Governors and Chair of the Board of the University of Maryland College Park Foundation, and then approved by chancellor William "Brit" Kirwan. Controversial, this was not:
"Gary has been a faithful alumnus, a highly successful and iconic figure in men's college basketball across the nation, a fierce competitor, and a tireless fundraiser on behalf of student scholarships," said Loh. "He has been the face of Maryland men's basketball for more than 22 years. Gary led the Terps out of historic Cole Field House into the Comcast Center. I can think of no better way to recognize his success and his contributions to the University of Maryland than by naming the floor of the basketball court in Comcast Center in his honor."
Throughout his tenure, few coaches seemed to connect with fans quite as well as Williams. He was beloved not only for his success at Maryland, but for his clear dedication to his alma mater and his oft-cited desire to avoid the seedier aspects of the college basketball business. That endeared him to fans even when his post-2002 teams struggled.
The Driesell issue still remains, but one would assume the school can find an appropriate way to pay homage to its former coach -- a statue, a practice facility, something. Whatever the solution, it's difficult to argue that Williams -- the winningest coach in school history, and the winner of the school's only national championship -- didn't deserve his name on the court.
It's a wholly symbolic move, but it's a meaningful one all the same. Yeah, I'm betting the Comcast Center gets a little dusty on Dec. 9. Just a hunch.
September, 9, 2011
9/09/11
2:23
PM ET
By
Diamond Leung
| ESPN.com
Hall of Fame coaches such as John Wooden, Mike Krzyzewski and Lute Olson are among those who were honored by having courts named after them in the arenas where they led championship teams.

Maryland officials want the court at the Comcast Center named for Gary Williams as well, with
university president Wallace Loh saying at the retirement news conference
in May that he and athletic director Kevin Anderson would be recommending it to the school's board of regents.
According to the
Baltimore Sun
, the matter still needs to be discussed by the regents and that there are some who aren't sure that the court should be named for Williams, who led Maryland to a national championship in 2002.
Williams' supporters often use the word "icon" to describe him. "Gary has been an iconic figure both in Maryland basketball and in the university," said longtime Terrapin Club member and Williams backer Barry DesRoches.

"It should be done," DesRoches said of naming the court for the coach -- an honor bestowed upon former Georgia Tech coach Bobby Cremins and former Arizona coach Lute Olson and his late wife, among others.

Those who question putting Williams' name on the court appear to be a small but potent minority. They argue that such a move could be unfair to others such as the retired coach Lefty Driesell, who was 348-159 in 18 Maryland seasons, and current women's basketball coach Brenda Frese, who -- like Williams -- won a national championship. Some say Maryland, eager for more athletic revenue in this difficult economy, should sell the court's naming rights to a corporate sponsor.
It's a touchy subject because Maryland has to honor Williams in a way that isn't a slight somebody else. Naming a court after him would mean future generations playing on the surface would recognize Williams as the primary figure for having taken the program to great heights.
Whatever the school does, the attention should be focused on the coach's accomplishments rather than any feelings of negativity.
May, 16, 2011
5/16/11
11:48
AM ET
Two weeks ago, in the wake of former Maryland coach Gary Williams' abrupt retirement in College Park, Md., I wrote
this praise-filled piece
that espoused the importance of Williams to Maryland fans (and, in more personal ways, his importance to college hoops fans in general).
Most of you seemed to like that blog post, but some of you took some umbrage at my omission of former Maryland coach Lefty Driesell from the "greatest Maryland coach of all-time" conversation. As commenter "Non-Larry" put it, "How can you write something like that without at least mentioning Lefty Driesell? [...] It makes it sound as if there was no basketball history at Maryland before [Williams] got there. Not true. I'm not saying Driesell was better, but he's at least in the discussion."
[+] Enlarge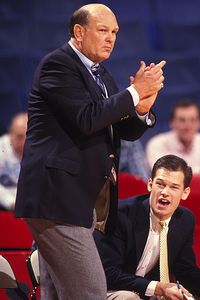 Mitchell Layton/Getty ImagesFormer Terrapins coach Lefty Driesell said Mark Turgeon was a "great choice" to succeed Gary Williams in College Park.
Non-Larry might have missed the point just a little bit, and other commenters soon had my back. (You guys are the best!) But I see where Non-Larry is coming from: Williams is a towering figure in Maryland hoops history, but Lefty Driesell isn't far behind.
In other words, Maryland fans were probably curious what their old ball coach thinks of athletic director Kevin Anderson's newest hire, former Texas A&M coach Mark Turgeon. Did Turgeon get the Lefty stamp of approval?
Speaking to Baltimore-area radio's "
The Norris and Davis Show
," Driesell described
his long-ago days as one of Turgeon's Ohio Valley Conference coaching rivals
, praising Turgeon for his acumen, pedigree and accomplishments. In other words, Lefty likes the hire:
"I think he's super," Driesell said Thursday. "We only played him for two years when I was at Georgia State … but he did a great job. Have you ever been to [Jacksonville]? It's out in the country, man. I don't know how you could ever get anybody to go to school there." [...] I know one game we were down there playin' them and we were up 20 at the half. He ran his pick-and-roll play in the second half and he killed us. I put that play in the next year for us."
"Everybody will like him. He's a super guy. So I think they made a great choice. Look at his pedigree, who he has coached under and what he's done," Driesell said.
It's typical Driesell stuff: Blunt honesty mixed with endearing charm. Driesell may not have the kingmaking cachet of some legendary coaches at their specific programs -- this isn't exactly like landing Jerry Tarkanian's endorsement at UNLV, for example -- but if comments like Non-Larry's are any indication, he remains a highly popular figure among Terrapins fans. His stamp of approval can't hurt.
Plus, the man created Midnight Madness. As college hoops fans who just want to see our favorite coaches dress in costume and do "The Dougie," we are forever in Lefty's debt.