College Basketball Nation:

Legends Classic
August, 6, 2012
8/06/12
2:55
PM ET
The "bracket" portion of that headline is in scare quotes because it's hard to call an early-season event like the Legends Classic a "tournament." It isn't, not really. No matter what happens in the Legends Classic's opening games, Indiana, UCLA, Georgetown and Georgia will progress to the Championship Round.
Why? Because people want to watch Indiana, UCLA, Georgetown and Georgia on television, and broadcast networks (in this case ESPN) want to make sure its early-season events are going to draw viewers and ratings. North Dakota State and UC Irvine and James Madison and Duquesne and Liberty and Southern Mississippi might pull off shocking upsets in the "Regional Round," but they won't be playing in the Barclays Center Nov. 19 and 20, no matter what.
Which is why the Legends Classic "bracket" isn't a bracket at all. Really, it's just a list of fixtures. Woe be to the underdogs in made-for-TV tournaments. Cinderellas have no home in November, unfortunate though it may be. They'll just have to wait for March.
Semantics aside, the Gazelle Group did release the Legends Classic bracket Monday afternoon, and per the usual each of the four big-time names will host two-game regional events in their respective arenas a week before moving on to the Barclays Center. Indiana will host North Dakota State and Sam Houston State; Georgetown will play Duquesne and Liberty; UCLA hosts UC Irvine and James Madison and Georgia will host Youngstown State and Southern Mississippi. Two of those regional round games -- Georgetown-Duquesne and Youngstown-Georgia -- will be televised on ESPNU on Nov. 11 and Nov. 12, respectively.
You can find the full schedule of games, including finalized times and broadcast information for the championship rounds,
at this PDF link
.
July, 26, 2012
7/26/12
12:00
PM ET
When and where:
Nov. 19-20 at the Barclays Center in Brooklyn, N.Y.
Semifinal schedule for the Legends Classic
Nov. 19: Indiana vs. Georgia (5:30 p.m. ET, ESPNU); UCLA vs. Georgetown (8 p.m. ET, ESPN2)
Nov. 20: Third-place game (7:30 p.m. ET, ESPNU); championship game (10 p.m. ET, ESPN)
Initial thoughts:
It may be a simple four-game showcase, but this is a high-profile and exciting way to bring college hoops to the shiny, bottle-service-in-your-luxury-box Barclays Center. I'm all-in. ... These four teams have combined for 119 NCAA tournament appearances, primarily thanks to Indiana, UCLA and Georgetown, three of the sport's most storied programs. ... This is UCLA's coming-out party, and it's going to be fascinating to see that talented squad begin to sort itself out in some of its first high-profile, klieg-light competition.
[+] Enlarge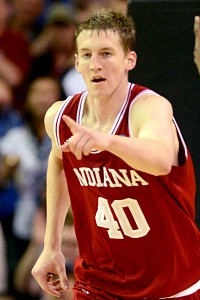 Richard Mackson/US PresswireIndiana's Cody Zeller enters his sophomore season as one of the favorites for national player of the year.
Matchup I can't wait to see:
UCLA versus Georgetown. It's really our first glimpse at UCLA uber-recruits
Shabazz Muhammad
and
Kyle Anderson
. It will also be our first look at how those players fit alongside purportedly slimming center
Joshua Smith
, forwards
Travis
and
David Wear
and former UNC point guard Larry Drew II, who could be the straw that stirs the drink or ... well, whatever the opposite of that metaphor would be. When Drew II rightfully lost his point guard spot to
Kendall Marshall
at UNC, he quit and transferred to UCLA a few weeks later. He should have redemption on his mind from day one in 2012-13. By the way, this isn't all about UCLA. Georgetown is going to be talented in its own right. Don't be shocked if swingman
Otto Porter
, and not Muhammad or Anderson, is the best player on the floor.
Potential matchup I'd like to see:
Indiana vs. UCLA. I'd be fine with Indiana-Georgetown too, but a chance to see what is likely to be two top-five teams -- not to mention two all-time bluebloods -- square off as early as Nov. 20 is absolute manna from the hoops heavens.
Five players to watch
Kentavious Caldwell-Pope, Georgia:
The 6-foot-5 shooting guard arrived at Georgia as the putative in-state savior, and while he wasn't quite that good as a freshman, he displayed plenty of long-term potential. The Legends Classic will be our first look at him since.
Larry Drew II, UCLA:
There are a lot of players who deserve consideration (IU's
Yogi Ferrell
, UCLA's Anderson, Georgetown's
Stephen Domingo
), but Drew II might be the most fascinating, given his epic flameout at UNC and his reputation for being less than team-oriented. This is a huge season for UCLA. The Bruins' talent is immense. Has Drew II matured? Can he lead a team? Does he even need to? We'll see.
Shabazz Muhammad, UCLA:
A 6-foot-6 guard with a versatile array of skills, he arrives in Westwood with as much hype as any UCLA freshman in some time. But is Muhammad all he is cracked up to be? Will he work in coach Ben Howland's system? You know what they say about first impressions.
Otto Porter, Georgetown:
The stretchy swingman emerged from small-town Missouri in relative anonymity last season just in time to make a major impression on an upperclassmen-led Georgetown team. This year, Porter takes the reins, and Hoyas fans are right to expect big things.
Cody Zeller, Indiana:
Zeller was already a beast as a freshman, but he spent the summer expanding his game and improving his core strength. This will be the first chance to see -- against quality competition at least -- the results of that offseason regimen. It's an early glimpse at the early favorite for national player of the year.
Title-game prediction
Indiana over UCLA: I get the feeling the Bruins will be a work in progress throughout November and December, which is OK; there's a lot of talent to mesh in one offseason. Indiana has its own pieces to incorporate but will arrive in 2012-13 much more fully formed, and it'll be the better team at the Legends Classic.
Whom others are picking:
Andy Katz:
Indiana over UCLA
Jason King:
Indiana over UCLA
Myron Medcalf:
Indiana over UCLA
Dana O'Neil:
Indiana over UCLA
November, 22, 2011
11/22/11
1:34
AM ET
EAST RUTHERFORD, N.J. -- If this were last season, Vanderbilt would have lost at least one of the two games here at the IZOD Center. The Commodores would have folded in some unique way. It was just what that team did.
"We [lost] five double-digit leads in the second half last season, and that includes the Richmond game in the NCAA tournament," Vanderbilt coach Kevin Stallings said. "There is a little more pressure now when you're the one who is supposed to win. But we know how to finish now. This team is determined to finish games and not let games go like a year ago."
[+] Enlarge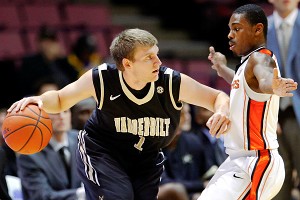 Jim O'Connor/US PresswireBrad Tinsley's score in the final seconds helped Vanderbilt avoid a second-half collapse.
Vandy dealt with a furious rally from NC State in the semifinals of the Legends Classic on Saturday night before escaping with an 86-79 win. But Monday night's
64-62
win in the title game against upstart Oregon State was exactly the type of game the Dores lost in the past.
"Last year, we would have lost one of the two," VU senior
Jeffery Taylor
said. "We would give up the leads. We didn't finish."
This Vanderbilt team already has experienced quite the roller coaster in the first two weeks. The Commodores lost their primary post player in
Festus Ezeli
to the combination of a knee injury and a six-game NCAA suspension for a summer extra benefit.
After VU opened with a convincing win over Oregon at home, it pulled a no-show, smacked in the face by Cleveland State in Nashville, Tenn. The Commodores didn't guard. They didn't shoot well. They did not stop penetration and hardly did much when the ball got to the rim. The performance embarrassed the players and the staff.
Sure, Vandy snapped back to beat Bucknell, but as the Commodores had started the season as an SEC title contender along with Kentucky and Florida and a preseason No. 7 ranking, the expectation was they would be playing at a higher level.
Beating NC State in the semifinal and then Oregon State in the final was expected. But how it occurred is a good sign.
John Jenkins
scored 28 points in the win over the Pack, which has the talent to be a top-four ACC squad. Vandy didn't take control of the game until the final two minutes, but the Dores were able to hold on for the win.
After an overtime win against Texas on Saturday, Oregon State came in with the most confidence it has had this early in the season during Craig Robinson's four years in Corvallis.
Jared Cunningham
followed up a 35-point performance against Hofstra earlier in the week with 37 in the win over the Longhorns.
So the plan was to shut down Cunningham. And Taylor did just that, limiting him to a mere nine points.
"I just wanted to contest his shots," Taylor said. "I'm usually the on-ball defender [against the opposing team's best player], and I felt I could do a good job and I did."
But the Beavers aren't all about Cunningham. Robinson has options now with
Eric Moreland
,
Devon Collier
and
Joe Burton
all able to score in the post, slashing to the hoop or in traditional low-post moves -- a vulnerable spot for the Dores without Ezeli. And
Ahmad Starks
has the ability to knock down big shots from his position as an elusive point.
He did just that, racing down court and nailing a pull-up jumper with 33 seconds left to get the Beavers into a 62-all tie. OSU, and everyone else here, probably expected Jenkins to take the last shot. But senior guard
Brad Tinsley
, who grew up in Oregon City, Ore., hit a step-back jumper with 4.5 seconds left for the win.
"I just think this helps our confidence," Tinsley said. "We had a tough little stretch there playing against Cleveland State. Honestly, I don't think we would have won these games [last season]. That was one of our weaknesses. We weren't executing in the final minutes."
Vanderbilt has always been able to score, and has plenty of options with Jenkins, Taylor, Tinsley, and the emergence of high-flying wing
Lance Goulbourne
and
Dai-Jon Parker
. The inside scoring will come when Ezeli is healthy. But the defense materialized when the games mattered most Saturday and Monday.
Stallings didn't shy away from challenging this team prior to SEC play. Unlike Oregon State, the Commodores aren't done with the toughest part of their nonconference schedule. In fact, this is just the beginning. The Dores play A-10 favorite Xavier on Nov. 28, and have three dangerous true road games at Louisville (Dec. 2), at Davidson (Dec. 7) and at Marquette (Dec. 29).
Vandy also plays Missouri Valley contender Indiana State at home (Dec. 17) and pesky Miami-Ohio (Jan. 2), leaving the Dores with only three locks prior to SEC play (Monmouth, Longwood and Lafayette).
"I told our team that the opponents are nameless, faceless for us," Stallings said. "It doesn't matter if it said Oregon State, NC State or Bucknell or Cleveland State. They're all good. I just told them, know who you're guarding, get in your stance and play some D. But this was good for us. We had to finish these games."
November, 21, 2011
11/21/11
11:19
PM ET
EAST RUTHERFORD, N.J. -- A quick look at Vanderbilt's
64-62 victory
over Oregon State for the Legends Classic title Monday night at the IZOD Center...


Overview
: Vanderbilt found itself this weekend in New Jersey after a poor effort against the new Horizon League favorite Cleveland State at home last week. The Commodores found multiple scorers in wins over NC State and Oregon State. But most importantly, Vandy learned how to close games in each of the two games. That had been a major problem for the Commodores last season in its inability to find a consistent streak.
Vandy is still learning how to play without its most effective big man in
Festus Ezeli
, who is out for another few weeks with a knee injury (in conjunction with his six-game NCAA suspension). The Dores still also need to defend better in spurts.
Vanderbilt did do a tremendous job on Oregon State's
Jared Cunningham
(who scored 37 points against Texas), limiting him to nine points. The Beavers also were poor on 3-pointers (2-of-14). But the Commodores made plays when it mattered most.
John Jenkins
continued to keep the Beavers at bay with money shots and finished with four 3s. But
Brad Tinsley
hit the biggest jumper of the season when he snapped a 62-62 tie with 4 seconds to go.
Star of the game
: Tinsley hit the game-winning shot, but Jenkins was the most consistent throughout the game and the hardest to stop for the Beavers. And don't forget about
Lance Goulbourne
, who was able to get to the rim along the baseline and finish with authority. He finished with a team-high 9 rebounds.
What this means
: Vandy has righted itself and will remain a top-20 team. The Dores still have to play Marquette and Louisville on the road but that's after hosting Xavier on Nov. 28. Vandy will have plenty of other opportunities for power-rating games.
Oregon State plays two nonconference games against teams from the power six and they were both here. The Beavers split the pair of games and had a chance to win both. Now OSU just has to take care of business and close this trip strong by beating Towson. If Oregon State wins the games it should, it should be in the hunt in the Pac-12. This team is defending much better, has great length with
Eric Moreland
and
Devon Collier
, a sound big man in
Joe Burton
and scoring wings in
Ahmad Starks
and Cunningham. Don't be surprised to find this team on the NCAA bubble.
November, 21, 2011
11/21/11
10:12
PM ET
EAST RUTHERFORD, N.J. -- NC State pulled off one of the more remarkable comebacks I've seen after coming back from 18 down to beat Texas
77-74
in the consolation game of the Legends Classic at the IZOD Center at the Meadowlands.


Overview
: Texas dominated the game early. The Longhorns had their way getting to the basket, creating shots for the perimeter players and exposing the Wolfpack's inability to stop the ball either along the baseline or in front. Texas was up 43-33 at the half and built an 18-point lead in the second half. But then there was a bizarre collapse.
J'Covan Brown
, who had emerged as UT's go-to scorer -- the one veteran player who was a given to produce -- had a costly meltdown. He already had four personal fouls and then committed his fifth by questioning a call. He was given a technical and he was gone, with Texas up by 13 with 8:25 remaining.
The collapse continued as NC State became the aggressor, finding ways to score from the perimeter and getting inside at will. NC State chipped away at the lead and went on a 12-0 run.
Alex Johnson
buried a 3-poiner and
C.J. Leslie
, playing in his second game of the season after a three-game suspension, got to the bucket to score too.
The Pack flustered the Texas offense and ended up closing out the victory. Foul problems cursed the Longhorns as
Alexis Wangmene
fouled out as well. Earlier in the game, UT's
Jonathan Holmes
and
Sheldon McClellan
were able to score. But then the offense went in the tank. Freshman phenom
Myck Kabongo
had his most pedestrian game of the season. He was 0-for-2 with one point, three assists and three turnovers.
Star of the game
: It's hard to pick one. Each of the Wolfpack standouts -- Leslie,
Scott Wood
(who didn't play against Vanderbilt due to a sprained ankle),
Lorenzo Brown
and
DeShawn Painter
(before he fouled out) -- all had their moments. This was a win that can change a season because of the way in which the Wolfpack never quit. Impressive.
What this means
: NC State won a game that it wouldn't have been able to a season ago. This team was dead in the water, down 18. But the Pack showed the kind of fire that can get this program moving in the right direction.
NC State was integrating two new players for the first time here in New Jersey with Wood being out the previous game and most of the Princeton victory due to a sprained ankle. NC State also got good news earlier Monday when Belgium big man
Thomas de Thaey
was cleared by the NCAA. The Wolfpack flew him up for the game Monday. He played only two minutes but was around the ball with a rebound and an assist.
NCSU has as much, if not more, talent than any other team in the ACC outside of North Carolina, Duke and Florida State. Leslie, Howell, Wood, Brown, Painter, Johnson and
C.J. Williams
are all scorers. There is length on this squad. And the Wolfpack have the ability to defend when they focus, which was the case in the turnaround against Texas in the second half. NC State has the ability to cause problems for teams on their schedule, even a squad like Syracuse, if it can take care of the basketball and not go through lulls.
Meanwhile, Texas can rebound from this crushing defeat. This is still a young squad that lost three players early to the NBA draft. Kabongo has to settle down and make better decisions. Holmes, McClelland and Wangmene can be effective offensive players.
Clint Chapman
is scrappy but has to be more productive in the post. The issue for the Longhorns will be can Brown mature and not lose control like he did Monday night?
The Longhorns will be a tougher team to deal with in the Big 12. But few probably saw Texas leaving New Jersey 0-2.
What's next:
NC State plays Elon on Friday, but the more important games on the schedule are against Indiana on Nov. 30, at Stanford on Dec. 4, against Syracuse Dec. 17 and against St. Bonaventure in Rochester on Dec. 20. Texas plays Sam Houston State on Saturday. But the Longhorns' next true test will be at UCLA on Dec. 3 before rugged games later in the month against Temple (Dec. 17) and at North Carolina (Dec. 21).