College Basketball Nation:

Lenzelle Smith
March, 28, 2013
3/28/13
12:55
AM ET
LOS ANGELES -- In a news conference that preceded Thursday's matchup with
Ohio State
in the Sweet 16 at the Staples Center,
Arizona
seemed concerned but calm when responding to queries about a Buckeyes squad that's lost just one game since Valentine's Day.
Mark Lyons
told reporters that his matchup with
Aaron Craft
is significant, but not as important as his team's on-court unity on game day.
Solomon Hill
believes he's the proper neutralizer for a player with
Deshaun Thomas
' versatility.
LaQuinton Ross
? That's a different matter.
"I think LaQuinton Ross is a different guy that we have to have guys keyed in on," Hill said Wednesday of the Buckeyes' forward. "I think he's the big spark off the bench. He's a starter on any other team, and our young guys have to be prepared for him to really put it on the floor and shoot the outside shot."
[+] Enlarge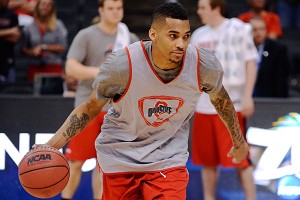 Jayne Kamin-Oncea/USA TODAY SportsLaQuinton Ross, a key player off Ohio State's bench, has definitely caught Arizona's eyes.
Ross is one member of an Ohio State supporting cast that's fueled the Buckeyes' run to the Sweet 16. The sophomore scored 17 points (shooting 6-for-10) in Sunday's victory over Iowa State. And he's not the only meaningful contributor without the surname Craft or Thomas.
Shannon Scott
is averaging 1.8 steals per game.
Sam Thompson
scored 20 points in OSU's victory over Iona in the second round.
Lenzelle Smith Jr.
(9.4 points per game) is the team's No. 3 scorer behind Thomas and Craft. Buckeyes coach Thad Matta might need the length of both
Amir Williams
and
Evan Ravenel
when his team encounters an Arizona frontcourt that features four players who are 6-foot-8 or taller.
The Buckeyes didn't start this impressive rally -- one that includes a Big Ten tournament title -- with two players. And they won't reach Atlanta with two players, either.
"They've been the difference," Matta said. "The thing that I've enjoyed watching come to fruition is just those guys accepting their roles, but then taking great pride in doing their job."
Ross said the team came together after the Buckeyes suffered a demoralizing 71-49 loss at Wisconsin on Feb. 17. The players gathered to discuss their differences following the defeat. They recognized that they were a fractured unit. Ross said every player, stars and reserves, accepted blame.
"[Wisconsin] was able to pick us apart because we weren't together," Ross said.
Since that time, however, the Buckeyes haven't lost -- rolling off 10 consecutive wins. Why? Because they're jelling with one of the NCAA tournament field's best eight-man rotations. Ohio State's players seem certain of the responsibilities they're expected to handle each night. This is certainly not a two-man show.
"It's really important for us to step up and be X factors," Scott said. "We can't be out there watching."
WHOM TO WATCH
Ohio State's Craft: The point guard's defensive wizardry has been on full display in the tournament. Iona's
Lamont Jones
committed four turnovers with Craft on him. Iowa State's
Korie Lucious
recorded five turnovers against Craft's pressure.
"Aaron Craft is exceptional at what he does," Arizona coach Sean Miller said.
Arizona's Lyons: The Xavier transfer scored a combined 50 points in his team's two NCAA tournament victories over Belmont and Harvard. He's also shooting 85.3 percent at the free throw line. But his leadership is a critical intangible for this program. His team feeds off him, whether he's playing well or struggling.
WHAT TO WATCH
The paint: Arizona's frontcourt athleticism could be a problem for the Buckeyes. But Thomas, Ravenel and Williams said they'll play the physical Big Ten style that's fueled their current winning streak. Ravenel said his team can also take advantage of Arizona's youth;
Grant Jerrett
,
Kaleb Tarczewski
and
Brandon Ashley
are all freshmen.
"Intimidation is one of the things that can win games in basketball," Ravenel said.
March, 23, 2013
3/23/13
8:13
PM ET
DAYTON, Ohio -- All season, Iowa State has been confounding opposing defenses with endless floor spacing and perimeter shooting. All season, Ohio State has breaking the wills of opposing perimeter players with endless defensive harassment.
Unstoppable force, meet immovable object. Rear end, meet couch.
On Sunday, when Thad Matta's No. 2-seeded Buckeyes square off with Fred Hoiberg's No. 10-seeded Cyclones, Ohio State will try to decode one of the nation's best offenses, Iowa State will try to maintain its trademark up-tempo scoring against
Aaron Craft
and
Shannon Scott
, and the rest of us will get to watch arguably the best strength-on-strength matchup of the NCAA tournament to date.
Iowa State finished its season with the most efficient offense in the Big 12, a style predicated on the versatility of a group of lightning-quick guards and 6-foot-7 freshman forward
Georges Niang
, who is as at home on the perimeter as he is on the low block. The Cyclones have their coach's blessing to shoot early and often, particularly from deep, and 43.7 percent of their field goal attempts this season have come from 3-point range (the eighth-highest mark in the country), where they averaged 37.2 percent.
The Cyclones ended the 2012-13 season as the eighth-best offense in the country, per KenPom.com's efficiency rankings; they averaged 1.17 points per possession, the same number they put up in Friday's demolition of No. 7 seed Notre Dame.
Put less numerically: Iowa State spreads the floor and hoists a whole mess of 3s, and when the Cyclones (23-11) have it going, they are not only one of the most effective offensive teams in the country but also one of the most ecstatic viewing experiences in the sport.
And Ohio State hasn't seen anyone quite like them.
"Michigan does [play that style] a little bit; they'll move their bigs around in a pick-and-roll," Matta said. "But I can't recall anybody [that plays] that far out."
[+] Enlarge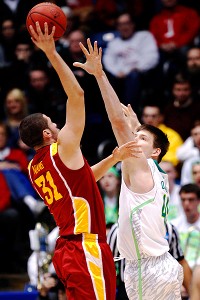 Frank Victores/USA TODAY SportsFreshman Georges Niang was a force for Iowa State against Notre Dame, scoring 19 points on 9-of-13 shooting.
As fun as Iowa State has been, and as excited as fans have been to see the most popular player in program history lead them back to relevance with an entertaining style, the Cyclones have to be cringing in advance of a meeting with the Buckeyes. For most of the season, but especially the past month, Matta's team has been ruthless in its destruction of opposing offenses.
The Buckeyes haven't lost since Feb. 17. In that span, they manhandled Minnesota, Michigan State, Illinois and Indiana -- the last of which came on the road, on senior night, against the best offensive team in the country -- before beating Michigan State and Wisconsin en route to the Big Ten tournament title.
In that span, the Buckeyes have allowed just 0.88 points per possession. Only one team -- Michigan State -- managed to score more than a point per possession.
To put
that
less numerically: Ohio State has been flat stomping people.
"That's a scary team," Hoiberg said Friday night.
Craft rightfully tends to draw most of the national attention, and thus the credit, for Ohio State's defense, and much has been made of the secondary scoring from Craft and winger
Sam Thompson
during Ohio State's undefeated month. But the Buckeyes (27-7) have also been spurred on by the emergence of sophomore guard Scott as a savvy perimeter defender -- probably the Buckeyes' best all-around defender at Indiana -- and the length and athleticism of Thompson and
Lenzelle Smith
.
All of which makes them almost ideally suited to match up with the Cyclones, to match up man-to-man out to 25 feet and prevent the kind of penetration that downed a sluggish Notre Dame.
If Ohio State can play the Cyclones to a draw on the defensive end -- probably a conservative expectation, given what the Buckeyes did to Indiana -- then
Deshaun Thomas
, one of the nation's best pure scorers, should be able to handle matters on the offensive end. The Buckeyes avoid turnovers and score the ball at a top-15 rate nationally; Iowa State's defense doesn't rank in the top 100.
That's why Ohio State is the No. 2 seed and Iowa State the No. 10: The Buckeyes excel on both ends, whereas Iowa State can be one-dimensional.
But boy is that dimension fun to watch, and perhaps never more so than when it meets with the nation's hottest, most perimeter-inclined defense Sunday.
"It's going to be, I think, a fun matchup," Hoiberg said, in typically understated fashion. "And hopefully we're competitive."
News and Notes from Dayton
Matta was asked Saturday whether it was fair to judge conferences on their record in the NCAA tournament (as of Saturday, the Big Ten is 8-1). "We're all representing one thing and one thing only, and that's our university now," Matta said. "I want the Big Ten to do as well as it possibly can, but I say that from the standpoint of I know the other coaches from the Big Ten; they're worried about one thing and one thing only, and that's advancing. … Maybe in the end, when we have our spring meetings, we can all high-five each other because we had a great year, but I think for the most part it's CYOA -- or whatever that is."
The biggest concern for Temple entering Sunday's matchup with No. 1 seed Indiana is star guard Khalif Wyatt's left thumb injury, which he suffered in the second half of Friday's victory over NC State. Wyatt left the game at the time to have it taped up by a trainer, and it was noticeably tender in the second half, but the senior still finished the game and made the lion's share of key plays as the Wolfpack stormed back in the second half. Wyatt said the thumb was "a little sore" Saturday, but X-rays searching for serious damage came back negative. "It will be fine by [Sunday]," Wyatt said. The good news: Wyatt, whose 19.8 points per game put him atop the Atlantic 10 -- and among the nation's top 20 scorers -- in the regular season, did most of that work with his right hand.
Wyatt's clearance means he'll be the biggest defensive assignment of the day for Indiana, a role that is typically fulfilled by Hoosiers star Victor Oladipo. Oladipo wouldn't confirm whether he was going to check Wyatt exclusively Sunday -- "It's up to the coaching staff," he said -- but it's safe to assume the hyperathletic national player of the year candidate will spend much of his afternoon trying to prevent Wyatt from taking over the game. "He knows he's really good," Indiana coach Tom Crean said of Wyatt. "I don't know the young man, but he knows he's really good. You can tell there's no stage too big for him."
Wyatt may be able to overcome Oladipo and the Hoosiers defense for his usual scoring output, but a far bigger question looms for the Owls on the defensive end: How does a team that allowed 1.03 points per trip, eighth best in A-10 play, plan to stop the most efficient offense in the country? "How we run our offense will dictate how we play our defense," Owls coach Fran Dunphy said. "If we shoot good shots, then we'll be in pretty good floor balance, because one of the concerns about Indiana is they push the basketball on makes and misses, have a great transition game, and they find each other very, very well."
On Saturday, Dunphy admitted that he and Wyatt "didn't hit it off all that great when he was a freshman," that Wyatt was "a pain in the butt sometimes, and he'll be the first to tell you." But the two have long since come together. "He's grown, and that's what happens," Dunphy said. "When you sign on for these guys, it's not perfection. You sign on for the good and for the bad. … But I'm glad it all worked out, and he's going to be graduating from Temple University in May. I couldn't be more proud of him, how he's turned out as a man."
One reporter asked Hoiberg which college hoops program he would most like his suddenly resurgent Cyclones to "mirror." Hoiberg's response: "Kentucky. Nah, I'm just kidding. I don't know."
February, 24, 2013
2/24/13
6:25
PM ET
COLUMBUS, Ohio -- Quick thoughts following Ohio State's second-half surge on the way to a
critical Big Ten victory
over Michigan State on Sunday afternoon at Value City Arena.
Overview:
Flawed as it may be and as painful as it can look for Ohio State at times, it proved it can still handle its business against one of the best teams in the country.
The Buckeyes continued to take questionable shots, were sometimes overmatched in the post and suffered through occasional lapses on both ends of the floor.
But when they put everything together, even if just for a half, they're capable of big runs on offense, stretches of dominant defense and big wins like the 68-60 decision it picked up against No. 4 Michigan State.


The Buckeyes had to deal with a slow start from the Big Ten's leading scorer as
Deshaun Thomas
struggled to find his rhythm and chipped in just two points in the first half. They also had to overcome a physical disadvantage in the post, with
Adreian Payne
making life difficult with 10 first-half rebounds and the Spartans scoring often and easily in the paint.
But the issues that have popped up throughout the season and hampered them in the first half started disappearing down the stretch for the Buckeyes.
Aaron Craft
helped shoulder some of the scoring load until Thomas got rolling. As the Ohio State defense on the perimeter got tighter, the Spartans found it more difficult to assert themselves inside.
And after looking like they might slide out of the Big Ten race for good, the Buckeyes climbed right back into the picture with one of their biggest victories of the year.
Turning point:
Lenzelle Smith
couldn't get settled into his sweet spot for more than a half. But once he finally got a look from the place he shot jumpers during pregame while his teammates were still in the locker room, the junior guard buried it and energized a home crowd that had been quiet for much of the afternoon.
The 3-pointer from the right corner with 13:55 left in the game also put the Buckeyes back on top. It helped erase a deficit that had been as high as nine points in the second half and ignited a 15-3 run that knocked the Spartans on their heels and handed them a second consecutive Big Ten loss.
Key player:
The focus will always be on his defense, but when the team needed a lift on offense Craft reminded everybody that he can be a nuisance there as well.
The Spartans had a tough time keeping the junior guard in front and out of the lane, and Craft routinely exploited them with one of his most aggressive offensive performances of the season. At times this year Craft has been able to get to the rim but was unable to finish. That wasn't an issue against Michigan State as he routinely capitalized from close range on the way to a game-high 21 points.
Key stat:
The Spartans gave Craft two extra chances to set a new career high, and he took advantage with a pair of free throws with less than a second left and the outcome decided. The point guard had only scored 20 points in a game previously against Albany, which certainly doesn't have the reputation the Spartans brought with them to Value City Arena. Craft's ability to add balance to the offense was critical and tipped the scales for the Buckeyes in a game where Thomas didn't have his best stuff.
Miscellaneous:
Thomas became the 25th player in Ohio State history to score 1,000 points and pull down 500 rebounds, joining the list with his third board midway through the first half on Sunday. ... The Buckeyes have won 10 conference games for the past eight seasons, extending the longest streak the program has ever put together. ... The Spartans came into the game with a 4-3 record against teams currently ranked in the Top 25. ... The previous three meetings between the programs had all been decided by four points or fewer. ... Izzo dropped to 21-12 against the Buckeyes.
Next up:
Halfway though a brutal gauntlet of games in the Big Ten, the Spartans are in a hole after dropping a home date to Indiana earlier in the week. Michigan State has some time to recover, but things don't get any easier when they return to the court on Sunday on the road at rival Michigan, with Wisconsin closing out the four-game stretch against ranked opponents on March 7.
The sprint to the end of the regular season doesn't look nearly as difficult overall for the Buckeyes, despite a challenging trip to Indiana looming on March 5. Ohio State sandwiches that game with a trip to Northwestern on Thursday and a home date with Illinois before the Big Ten tournament starts.
February, 2, 2013
2/02/13
10:10
PM ET
By
ESPN.com staff
| ESPN.com
January, 19, 2013
1/19/13
11:59
PM ET
Five observations from Saturday's evening games:
1. Hinkle Magic is real.

It had to end this way. We'd been spoiled with a wonderful day of college basketball -- treated to so many thrilling matchups that it was hard to keep up. Nevertheless, even with the hype surrounding Gonzaga and Butler, it was difficult to envision this game stealing the show. But that's exactly what these two teams did. I mean, this is why we love this game. You can't write a script that compares to the finish.
Alex Barlow
hits a big shot late, then commits a crucial turnover. Gonzaga commits a turnover on the inbounds, and then
Roosevelt Jones
charges toward the bucket for the game-winner. I couldn't believe it. The Bulldogs played without standout
Rotnei Clarke
, who'd suffered a neck injury in last Saturday's victory over Dayton. Butler, however, didn't back down from a Gonzaga team that is one of the most talented assemblies in America. The Zags shot 47.1 percent from the field.
Elias Harris
,
Sam Dower
and
Kelly Olynyk
combined to score 54 points. Butler wasn't rattled, though. With just seconds on the clock, the Bulldogs maintained their intensity. They also maintained their pressure, which led to a game-winning bucket and a court-storming that actually made sense. What a game. What a day.
2. Deshaun Thomas needs help.
[+] Enlarge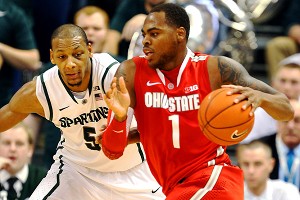 Mike Carter/USA TODAY SportsDeshaun Thomas scored 28 points on 10-for-20 shooting; no other Buckeye had more than six.
So, if you watched the final seconds of Michigan State's
59-56 victory
over Ohio State, you're probably still wondering what happened on
Shannon Scott
's 3-point attempt in the last seconds. Scott, who was trailed by Thomas, took an off-balance attempt that scraped the backboard on Ohio State's final possession. But don't blame him for the loss. Thomas (28 points) is the most dynamic offensive player in the Big Ten. He's surrounded, however, by inconsistent offensive contributors. And that was the greatest component in the loss. Michigan State was led by
Keith Appling
(15 points) and
Adreian Payne
(14 points, five rebounds and a steal), who apparently has new life after a recent scuffle with teammate
Branden Dawson
. But three other Spartans recorded at least eight points. Thomas was alone.
Aaron Craft
(2-for-8) struggled.
Lenzelle Smith Jr.
(2-for-7) struggled. Scott (1-for-5) struggled. And while the Buckeyes proved that they possess the talent to contend for the Big Ten crown when they defeated Michigan last weekend, they revealed their offensive limitations in Saturday's loss at Michigan State. Again.
3. The Mountain West is a beautiful mess.
You think your favorite league is wacky? Air Force scored 91 points in a win over Boise State. UNLV beat San Diego State on the road earlier this week but couldn't handle Colorado State (
Dorian Green
scored a career-high 24 points). San Diego State scored nine points … in the first half of a loss to Wyoming. You figure it out. The Mountain West is Big Ten Lite. Joe Lunardi's most recent bracket features six MWC squads. And it's a nine-team league. But Saturday was a good showcase for the conference. Wyoming held SDSU to a 2-for-18 clip from the 3-point line.
Jamaal Franklin
went 3-for-14 from the field. Colorado State is a gritty, rough team.
Khem Birch
,
Anthony Bennett
and
Mike Moser
combined to score just 18 points in UNLV's loss to the Rams, who also forced 13 turnovers. This race is wide open, filled with quality programs -- six Mountain West squads ranked in the top 50 of Ken Pomeroy's ratings. And the other three -- Air Force, Nevada and Fresno State -- aren't what anyone would call terrible. Hell of a league.
4. Marquette and Cincinnati love drama.


Saturday was a great day for college basketball. And this game was one of its most exciting matchups. Cincinnati amassed a 29-13 halftime lead with a defensive attack that's ranked eighth in adjusted defensive efficiency, per Pomeroy. It was an impressive start for a Bearcats squad that had to go without
Cashmere Wright
, who missed the game due to a knee injury. But Cincy goes through scoring droughts. And Marquette loves drama. It was the perfect combination. The Golden Eagles lost to Butler on a Rotnei Clarke buzzer-beater in the Maui Invitational. They're 2-1 in overtime games since Jan. 1. And they beat Georgetown by a point after fouling
Greg Whittington
on a 3-point attempt in the final seconds of an earlier Big East meeting. On Saturday, Marquette cut into Cincy's deficit and ultimately forced overtime because UC eventually remembered that it rarely scores when necessary. The Bearcats were shorthanded due to foul trouble in a feisty extra session, but they sealed it on
Sean Kilpatrick
's layup with six seconds to play. It wasn't pretty, but it was entertaining. Based on everything that had transpired in the final seconds, I figured
Junior Cadougan
would make his shot on the other end and send the 71-69 matchup into a second overtime. I think Cincinnati made a statement about its standing in the Big East, especially with Syracuse toppling Louisville on the same day. But Marquette also proved that it can contend with the league's best teams. But it's too hot-and-cold to trust as a true contender. Imagine if Buzz Williams' squad were more consistent. At least it's always interesting.
5. Iowa shakes up the Big Ten.

Thanks, Iowa. I thought I'd finally figured out the Big Ten until you beat Wisconsin
70-66
just four days after the Badgers upset the Hoosiers in Bloomington. It's a cliché statement by now, but the Big Ten continues to prove that it's the best conference in America. And this is why. A team such as Wisconsin can go on the road and beat one of the most talented squads in America (Indiana) and, less than a week later, suffer a loss at Iowa. Michigan beat the Hawkeyes by nearly 30 points. A few weeks later, Iowa takes Wisconsin down and re-enters the at-large conversation. The Hawkeyes committed just six turnovers in a game that featured a 20-point Iowa lead in the first half. Wisconsin shot poorly early but stormed back after halftime. It just wasn't enough. Coaches around the league have talked about this for a few weeks now: The champion of this conference could have four or five losses. Maybe more. No squad has truly separated itself from the Big Ten pack. And it's difficult to see how any team will when you have eight squads that could qualify for NCAA tournament berths. What a league.
A few more notes:
Alabama is 3-1 in the SEC after a 50-49 win over Texas A&M. Look, the SEC is not a strong conference. But Bama was in bad shape entering league play. Looks like Anthony Grant's program is moving in the opposite direction now. Let's see if the Crimson Tide can sustain it.

Detroit outscored Illinois-Chicago 53-14 in the first half of a 98-47 victory Saturday. I picked Illinois-Chicago to win the Horizon League at the start of league play. That was a great choice. Except it wasn't.
So 4-0 Washington's first Pac-12 loss comes to 0-4 Utah at home in Seattle? Well OK then. Makes about as much sense as Oregon State dropping to 0-5 in the league after Saturday's loss to USC.
March, 29, 2012
3/29/12
9:00
AM ET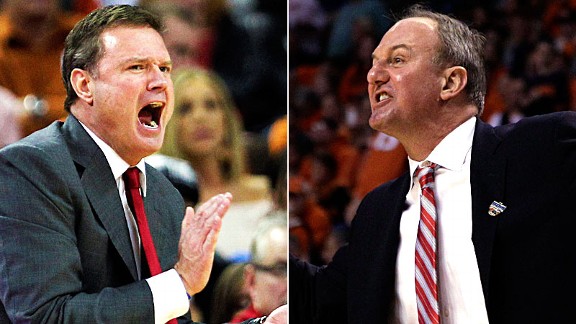 AP PhotoWill Kansas' Bill Self, left, or OSU's Thad Matta devise the game plan that gets his team to the final?
By Saturday, John Calipari, Rick Pitino, Thad Matta and Bill Self will have had nearly a week to scout their opponents. As we type, they're breaking down film, analyzing their opponents' strengths and weaknesses and searching for ways to impart this knowledge to their players in simple, digestible form. They are ... pause for dramatic effect ... game-planning.
What will each come up with? We don't exactly know. That's why they're coaches in the Final Four, and we are, you know, not. But we can still venture a guess. In the latter of a two-part series, here's a look at what they may come up with.
Now: Kansas vs. Ohio State.
Kansas Jayhawks

Offense
: By adjusted efficiency's lights, three of the four best defensive teams in the country are members of the Final Four. None of them, if you can believe it, is Kentucky.
They are, in order: No. 1 Louisville, No. 2 Ohio State, and No. 4 Kansas. (Kentucky is ranked No. 11; it's not like the Wildcats are slouches.) The cliche, as always: Defense wins championships.
Can the Jayhawks defend their way to a win? Would a game in which both teams hover around or below the 1.0 point-per-possession mark be in their favor? Maybe. But I tend to doubt it. Which means two things for Self as he prepares his squad for Saturday's "Clash of the Titans"-esque contest. (Or is it
Wrath of the Titans
?) In no particular order:
1. Kansas
has
to win the interior scoring battle.
2.
Tyshawn Taylor
has to stay in control.
The second might be the more important, but the first isn't far behind. Kansas is not a good outside-shooting team. This was true for much of the season (Kansas has shot 34.9 percent from beyond the arc), and it's true of the NCAA tournament, when the Jayhawks have made a downright blistering 16 of their 68 3-point field goal attempts. This might be a blessing in disguise: Last season, the Jayhawks were actually (and non-sarcastically) blistering from 3-point land; their reliance on that shot, and inability to adjust, ultimately ended their season in the Elite Eight against VCU. This season, the Jayhawks have no such reliance, so Taylor, the team's second-most important scorer, can somehow go 0-of-17 from 3 in four tournament games and Self's team can still make it to the Final Four. Fancy that.
No, what the Jayhawks do well -- as well as any team in the country -- is score around the rim. Kansas' 2-point field goal percentage this season is 53.3 percent, the 13th-best in the country. This comes in part thanks to Taylor's ability to get to the rim, but it is mostly to do with Kansas' two big men and the high-low motion offense -- Self's trademark -- that places them into prime, hard-to-double scoring positions.
And
Thomas Robinson
isn't the only threat.
Jeff Withey
is actually more efficient in the low block, averaging 1.045 ppp to Robinson's .902 this season, according to Synergy Sports Technologies scouting data. Robinson gets three times as many post-ups as Withey does, so his efficiency can naturally be expected to take a hit. But you get the idea. Robinson presents the high-powered NBA talent in this front line, but Withey -- with his 7-foot stature and even longer reach -- might be the biggest mismatch the Jayhawks have to offer against a team that plays the 6-9
Jared Sullinger
as its putative center.
But No. 2 above is where things get really interesting -- and, for Kansas, especially dicey. Throughout his four-year career, Taylor has been known to commit his share of turnovers, wacky heat-checks and mental mistakes. The point guard's 2012 turnover rate (his percentage of possessions in which he coughs up the ball) is 22.3. That's not bad for a player charged with creating offense within a 3-point-bereft perimeter attack. But it's hardly an encouraging stat for a player facing off against the industrial-grade turnover robot we humans casually refer to as "
Aaron Craft
" (more on that below).
Taylor's turnover rates have fluctuated all season. This is especially true of the tournament, wherein Taylor has posted respective rates of 33.3 percent, 20 percent, 31.2 percent, and, against North Carolina, 15 percent. Is that latest mark real? Or the product of playing against
Stilman White
?
Taylor's importance in this game can't possibly be underestimated. If Craft cripples him on the perimeter, Kansas loses a massive portion of its attack. It could take care of the first item above -- Withey and Robinson getting buckets on the low block -- but if Taylor doesn't deliver on No. 2, the rest probably won't matter.
Defense
: Grim as Taylor's prospects may seem, the Jayhawks
are
the nation's fourth-best defensive team, and they have a secret weapon many people still don't seem to know about.
Quick: Name the nation's best shot-blocker.
Anthony Davis
, right? Davis' range and impact make it difficult to argue that point. OK then: Name me the nation's
most frequent
shot-blocker, the one that repels opponents on a higher percentage of possessions than any other in the country? Yep. That's Withey.
Withey and Robinson are the near-ideal defensive pair. When an opponent drives the line, Withey goes after the block; he succeeds 15.1 percent of the time, the nation's highest rate. When that opponent misses -- or when any opponent misses, frankly -- Robinson, the nation's leading defensive rebounder (who grabs 30.9 percent of opponents' available bricks) is there to clamp the board and find a guard for a quick outlet.
This is a massive advantage to hold over Ohio State. At 33.2 percent from long range in 2011-12, the Buckeyes are an even worse 3-point shooting team than Kansas. More often than not, they get their points from Sullinger and
Deshaun Thomas
. Which is why Withey changes the game. Robinson has the size and speed to move with Thomas out to 20 feet if needed; Withey has the height to make Sullinger -- who struggles scoring over just this kind of player -- ineffective near the rim.
In the meantime, keep an eye out for Kansas' triangle-and-two junk defense. The Jayhawks have used it twice in their past two games, and each time it has halted the opponents' chief offensive threats, formed a near-impenetrable wall around the rim and, it must be said, downright befuddled UNC coach Roy Williams.
But whatever defense the Jayhawks run, their rare combination of length and athleticism in the post may be their defense's Craftian trump card. It should be fascinating.
TL;DR game plan
:
Dominate down low, work Robinson and Withey relentlessly, take only the best possible outside shots, hope Taylor doesn't self-destruct against Aaron Craft TurnoverBot 5000.
Ohio State Buckeyes

Offense:
Now that we know all about Kansas' interior defense -- and the relative impenetrability thereof -- what hope is there for Ohio State's offense?
Let's go with a two-point plan, similar to Kansas', in that it is one part prescriptive game plan and one part "hope for the best" wishcasting:
1. Use Jared Sullinger and Deshaun Thomas to stretch the floor.
2. Hope
William Buford
makes some shots.
First up: Sullinger is generously listed at 6-foot-9. Thomas is listed at 6-7, which seems slightly closer to reality. But either way, the Buckeyes' starting forwards are at a
major
height disadvantage against the defense they'll face Saturday. With a slightly more lifty (new draft term alert; get Bilas on the horn at once!) Sullinger, that might not be as much of a problem. But Sullinger doesn't explode off the ground. Rather, he roots defenders out with his considerable posterior, achieves optimal position, and finishes with brute force. This season -- especially in the Syracuse win, when he flashed a dazzling little mid-range touch -- Sullinger has considerably expanded his game. But he remains at his best when he can clear defenders out of his way and score with his right hand over his left shoulder. Against the 7-foot Withey -- the likely matchup in any man-to-man defense -- that is going to be very difficult.
Which is why it's time for Sullinger to flash that
15-foot jumper he stayed in school to develop
. Don't push Withey under the rim.
Pull him out
. Make him guard you at 15 feet. If you can't see over him, swing the ball and find a better look ... but don't play into the Jayhawks' strength. The Buckeyes are a good but not great offensive rebounding team, so if this means sacrificing position, so be it.
That goes double for Thomas. As
Dana O'Neil noted in her excellent feature on Thomas from Wednesday
, the stretch forward has morphed from an impulse bench gunner into one of the nation's most potent scorers. Thomas is leading Ohio State in scoring through its four NCAA tournament games, the mark of his continued expansion into one of the nation's most versatile threats. Thomas has no go-to scoring area, no preference for touch. Over the course of the season, per Synergy, he has spread his touches and scored almost equally on post-ups, spot-up jumpers, basket cuts and offensive rebound putbacks. In the tournament, Thomas has scored 1.643 on spot-ups (23 points on 14 possessions), by far his most efficient scoring trait.
This kind of versatile inside-out scoring from a 6-7 forward presents a major matchup problem for the Jayhawks. In the man-to-man, it could force Robinson to move further away from the hoop than he'd like. Thomas can look to shoot, or he can make Robinson move to stop his penetration; either way, Matta will like his chances. If Kansas goes to that famed triangle-and-two, Matta can use Thomas to stretch the corners all the way to the 3-point line, where the shot is (relatively) high-percentage and the defensive style is most vulnerable.
Whether the Jayhawks play man (likely) or triangle-and-two (less likely, but you never know when Self will bust it out), Thomas' and Sullinger's ability to score away from the rim will be key.
Which brings us, of course, to Buford. When Ohio State has struggled this season -- and those times, though rare, were highly publicized -- it was primarily because Buford and Craft and Thomas and even
Lenzelle Smith
were failing to provide the outside shooting that made the 2010-11 Buckeyes' offense so lethal. Actually, forget 2011: Ohio State was never even mediocre from long range. A large portion of that responsibility falls on Buford.
In this game, Buford presents the clearest matchup advantage for the Buckeyes.
Travis Releford
and
Elijah Johnson
aren't big enough to match up with the Buckeyes guard's size on the wing. But Buford is shooting just 13-of-44 in the NCAA tournament, the kind of offensive struggles he's dealt with all season. Ohio State has managed to progress this far without efficient wing scoring, but that may not get it done against a rim-protecting defense like this.
Can Buford come alive at just the right time? Can the Buckeyes stretch Kansas enough to get a few easy looks at the rim? The questions are intertwined and difficult to divine. But in this game, they couldn't possibly be more important.
Defense
: Sports Illustrated's Luke Winn does a better job than anyone in the country processing advanced statistics and scouting data and presenting it to your eyeballs in visually attractive form, and Luke's 2012 Aaron Craft Turnometer may be his Symphony No. 9. All season, Winn tracked the turnovers Craft forced -- some for which he was credited in the scoresheet, many not -- alongside charges taken and offensive fouls forced. The
end result is the picture of the nation's most dominant defensive player
, one who
individually
forces turnovers on 7.56 percent of opponents' possessions and one who just had his best game of the season in the Sweet 16:
How many players can say their best performance of the season was in the NCAA tournament? That's the case for Buckeyes pest/point guard Aaron Craft, who had the Turnometer" needle buried by creating 10 turnovers against Cincinnati in the Sweet 16. According to SI's charting, it was Craft's top turnover-creation game of the season, beating his previous best of 9.5 against Jackson State on Nov. 18.
If it has become fashionable to pick Ohio State to win this game -- for the record, I think it's a toss-up, but we'll see -- Craft, the friendly turnover-forcing robot, is why.
He pokes. He prods. He cuts penetration off with his shoulders and chest. He shows a double-team, then recovers too quickly to expose it. He is almost always in perfect defensive position, and his ability to give contact without fouling is almost unparalleled. He's a one-man antidote to the screen and roll. And if there's a player better at stripping opposing guards of the ball 25 feet from the hoop, I haven't seen him.
Craft is a nightmare matchup for the previously discussed, turnover-prone Taylor. Taylor is the second-most-important piece of Kansas' offense. Not only does he initiate that offense, but he also is relied upon to penetrate the lane, finish with a floater or drive, or find an open player with a dish. Craft makes that possibility remote.
Another major part of Taylor's game is transition; he and Johnson can be fearsome on the break. (Their connection on the closing-moments half-court alley-oop against Purdue was one of the more simultaneously questionable and amazing plays of the season.) But Craft is good at this, too: He is uniquely able to pressure defenders in the open court -- to "turn them," in coach speak -- cutting off any ball advancement (at best) and creating enough havoc to win a turnover (at worst). The Jayhawks would sure like to see Taylor and Johnson get out on the break whenever possible; it's the best way to score against Ohio State. But is it even possible?
There are other defensive matchups to watch in this game -- how Ohio State handles T-Rob and Withey, whether the Buckeyes need to worry about Releford on the wing, whether reserve
Conner Teahan
can provide shooting off the bench -- but by far the most important is what Craft can and will do against Taylor.
Lucky for us, it's also the most fascinating. This game is going to be
awesome
.
TL;DR game plan
:
Stretch Kansas' big men out to 15-20 feet, hope Buford makes some shots, protect the rim and stay out of foul trouble, unleash Craft on Taylor.
March, 28, 2012
3/28/12
11:39
AM ET
By
ESPN Stats & Information
| ESPN.com
Elsa/Getty ImagesThad Matta and the Ohio State Buckeyes celebrate their first trip to the Final Four since 2007.
The
Ohio State Buckeyes
are back in the Final Four for the first time since losing to the
Florida Gators
in the 2007 championship game. ESPN Stats & Information takes a look at the keys to success for the Buckeyes in New Orleans.

Key Player
The key to the Buckeyes run to the Final Four has been sophomore forward
Deshaun Thomas
. Thomas scored a career-high 31 points in the Round of 64 win against
Loyola-Maryland
, and has averaged 21.7 points in this year's NCAA tournament.
Thomas leads the tournament with 48 points in the paint and 28 second-chance points.
Kansas
has allowed six players to score 10 or more points in the paint during its last three games.
The All-American
When the Buckeyes traveled to Lawrence to take on Kansas in December,
Jared Sullinger
missed the game with back spasms. He'll be in the lineup in the Final Four for a star-studded matchup with fellow All-American
Thomas Robinson
.
Sullinger leads the nation with 279 points on post-up plays this season while shooting 47 percent. If the Jayhawks can force him farther from the basket, the advantage shifts their way. Opponents are shooting 27 percent on jump shots guarded by Robinson, third-best among Big 12 players.
Sullinger has made 27 free throws in the tournament, the most for any player. After scoring 26 percent of his points from the line during the regular-season, he has scored 38 percent of his points from the line in the last four games.
X-Factor
While Sullinger is the All-American and Thomas has been the hot hand, it was a lesser-known Buckeye who came out of nowhere to help Ohio State win in the Elite Eight and advance to New Orleans.
Lenzelle Smith Jr.
scored just 10 total points in Ohio State's two games in Pittsburgh as the Buckeyes advanced to the Sweet 16. In the team's games in Boston, he scored 17 points against
Cincinnati
and 18 against
Syracuse
while making three 3-pointers in each game.
The Gunner
Senior
William Buford
leads the team in shots and 3-point attempts this season. During the NCAA tournament, more than half of his shots have been contested by a defender and he has connected on less than 15 percent of those attempts.
As the competition has gotten tougher, more of Buford's shots have been contested. In Ohio State's first two games, only nine of 24 shots were contested. Against Cincinnati and Syracuse, 14 of his 20 shots were over a defender.
The Defensive Specialist
Aaron Craft
leads the nation with 57 turnovers forced as an on-ball defender this season. No other player in the country forced more than 50.
When the teams met in December, Craft was able to shut down
Tyshawn Taylor
as a scorer. Taylor scored just 9 points in the game, one of four times this season he was held in single digits.
With Craft guarding him, Taylor had six turnovers and made just one of five shots. The Kansas senior did finish with a career-high 13 assists in the contest.
March, 23, 2012
3/23/12
1:40
AM ET
BOSTON -- Greg Paulus knows a thing or two about good point guards.
For four years he played the part of one at Duke University.
From his catbird seat on the Ohio State bench, though, Paulus is pretty sure he's watching something special in the person of
Aaron Craft
, particularly when it comes to an on-the-ball defender.
"He's the best I've ever seen,'' said Paulus, now the Buckeyes' video coordinator. "I know Tom Izzo said after our game that he's never seen anyone like him, and he's coached a few games.''
Craft did not lead the Buckeyes in scoring against Cincinnati. In fact, he had a pretty dismal shooting night, connecting on just 2 of 7 shots and missing his first five.
Yet no one in an Ohio State uniform was more critical than Craft on Thursday. It was his quick hands and blanket defense, evident in his six steals, that all but erased Cincinnati's short-lived lead and helped the Buckeyes over their Sweet 16 hump with an
81-66 win
.
Ohio State will face Syracuse on Saturday. The Buckeyes, with the power duo of
DeShaun Thomas
(26 points and seven rebounds) and
Jared Sullinger
(23 and 11), advanced to their first Elite Eight since 2007.
"You have to want to play defense,'' said Lenzelle Smith, Craft's backcourt cohort. "Me and Aaron, that's what we do. We aren't afraid to yell at our guys, slap them around a little bit and they feed off that energy.''
That wasn't always the case. Craft admitted earlier this season there was more infighting among the Buckeyes than in a "Real Housewives" episode.
A blown assignment or a bad pass would inevitably lead to finger-pointing and you-a culpas, never a mea culpa.
No one was terribly interested in taking the blame or the heat, and amid all of the bad chemistry, Ohio State slid off course.
[+] Enlarge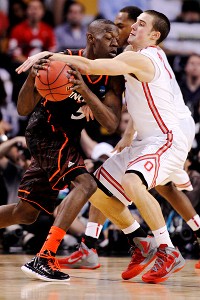 Greg M. Cooper/US PRESSWIREAaron Craft is arguably the top perimeter defender in America.
Losing can make or break a team. Fortunately for the Buckeyes, it was the former, the so-so results serving as a needed eye opener to what it takes to win and win consistently.
The hardest sell, always, is defense. It is a choice for some, a chore for most.
Except for Craft. He finds art in what most people consider misery. His face is almost like a defensive thermometer -- the redder the blush in his cheeks, the harder he's working and the more suffering the opponent is doing.
Most folks looked at this game against Cincinnati and concentrated on the inside, and certainly that's where the Buckeyes had and exploited their advantage.
Equally critical, though, was the flip side. The Bearcats start four quick guards, every one able to get to the hoop off the bounce or shoot from 3.
"What we wanted to do was be in position and force them to make quick decisions,'' OSU coach Thad Matta said. "We told each other, 'Just be sound, just be in the right spots at the right time. They're going to make shots. They're a high-powered offensive team. They've got plenty of guys who can score.' That was where our minds were -- just positioning, faking, staying.''
In all, the Bearcats coughed up the ball a crucial 18 times, seven more than their average.
Never were those mistakes more costly for Cincinnati, trying to make its first Elite Eight since 1996, than at the midpoint of the second half. Switching from zone to man-to-man, the Bearcats confused and rattled Ohio State enough to take a 52-48 lead on a
Yancy Gates
and-1 play.
With the UC half of the all-Ohio crowd on its feet, the Bearcats had seized momentum from a team that has felt the squeeze of this particular game.
Cincinnati should have frozen the scoreboard at that moment. The next time it scored, Ohio State had dashed out on a 17-1 run to not only retake the lead, but take the game over.
And the Buckeyes did it with defense. Cincinnati committed five turnovers in that critical span, with Craft forcing three of them. The miscues led out to runouts and buckets for Ohio State, including the dagger 3-pointer from Craft, that made it 61-53.
"We weren't making the right plays, we weren't making the right pass,''
Cashmere Wright
said. "We were over dribbling the ball, doing things uncharacteristic of our team.''
And Craft was playing his part without fault.
The box score says the point guard played just 39 minutes, 60 seconds shy of a yeoman's load. What the box score doesn't reveal is that Craft came out only when the game was in hand and Matta wanted to get his point guard an ovation.
When the buzzer finally sounded, Matta turned, a wide grin spreading across his face and pumped fists with his point guard.
Craft smiled back before putting his game mask back on. As he walked to shake hands with the Bearcats, he emphatically raised his finger, catching
William Buford
in the eye.
He wasn't labeling his team No. 1.
No, like a good point guard, Craft was reminding Buford what was next: one more game, one more win to get to the Final Four.
"He can make such an impact in the game in so many different ways,'' Paulus said of Craft. "But the best thing about him? All he wants to do is win.''
February, 10, 2012
2/10/12
9:00
AM ET
When and where:
Saturday (ESPN, 6 p.m. ET), Value City Arena (Columbus, Ohio)
Michigan State breakdown:
The Spartans have played their best basketball since early losses against North Carolina and Duke dropped them off the radar screen for a while. Like always, Tom Izzo and his team went to work and improved through tough practices and intense competition. This is not Izzo's best team, but it is a group he relishes going to battle with, and one that he really likes. But with this game against the Buckeyes, Michigan State begins a brutal seven-game stretch in which the Spartans play six teams ranked in the KenPom.com top 50, four of which are games against top 10 teams.
Michigan State, as always, is an outstanding rebounding team that can get second shots and limit your second chances. The Spartans boast a plus-10.8 rebound margin and grab more than 40 percent of their misses. Defensively, the Spartans bend but don't break and have done a really nice job all season of making it tough to get open, unchallenged shots. MSU leads the Big Ten in field goal percentage defense in conference games at 38.6 percent, which is just ahead of Ohio State. This is the best help and gap-protection defense the Spartans have played in a few years, and it shows in every defensive metric. On the offensive end, Michigan State is solid but not spectacular. It is a good shooting team, hitting 48 percent of its shots from the floor in conference and more than 38 percent of its 3-point shots.
[+] Enlarge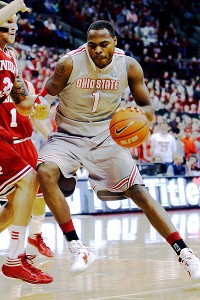 AP Photo/Jay LaPreteDeshaun Thomas is a scoring threat Michigan State can't ignore.
Ohio State breakdown:
The Buckeyes have the best low-post scoring big man in the country in
Jared Sullinger
, one of the top scoring wings in
William Buford
and the best on-ball defender in
Aaron Craft
. Ohio State also has a lefty third scorer in
Deshaun Thomas
, who put up 30 points this season against South Carolina.
Ohio State's numbers are surprisingly similar to Michigan State's. The Buckeyes lead the Big Ten in field goal percentage at 49 percent (with Michigan State second) and are second in the league in field goal percentage defense (with Michigan State second) at 38 percent. Earlier in the season, OSU dropped a few games, in large measure because of Sullinger was out with an injury for a time. The key improvement for Ohio State has been on the defensive end. Thad Matta has spent more time on team defense this season than at any time in his career in Columbus. The Buckeyes are rated as the No. 1 overall defense by KenPom.com, and Ohio State is able to force turnovers at a high rate, while limiting fouls and keeping the opponent off the free throw line.
Spartan studs:
There is no question that
Draymond Green
is the heart and soul of the Spartans. Green averages 15.2 points and a league-leading 10.6 rebounds; he averages nearly double figures in defensive rebounds alone. He is a good passer and really works as a defender. Green is playing with a sense of urgency and seems to know that this team has a chance to do something special in the NCAA tournament.
Keith Appling
has done a great job handling the ball and is averaging nearly 12 points and 3.3 rebounds. Appling has been attacking more off the bounce and has done a solid job. A real key is
Branden Dawson
, a McDonald's All-American who is a terrific player and looks like he was chiseled out of stone. Dawson has played very well in Big Ten games and will be crucial if Michigan State is to steal a victory in Columbus.
Brandon Wood
and
Travis Trice
have come in and done a nice job for Izzo and have added to Michigan State's ability to hit perimeter shots and run the team.
Buckeyes' best:
Sullinger is, by a fair margin, the best low-post scorer in the country. In Big Ten games, Sullinger averages 18.6 points and 8.7 rebounds, and he can be the very best player in the country. He, along with Craft, do a magnificent job of filling their roles. Ohio State has been resolute in getting the ball inside to Sullinger, and he was dominant in last Saturday's win over Wisconsin. But Thomas and Buford have become legitimate threats.
Lenzelle Smith
didn't make a Namath-like guarantee, but he has played very well over the past three weeks. Smith is a terrific athlete who can really guard. He can also hit open shots.
[+] Enlarge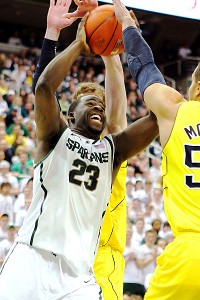 Mike Carter/US PresswireDraymond Green has been a force offensively and on the glass, and is the Spartans' undisputed leader.
X-factors:
Thomas and
Derrick Nix
. Thomas is one of the best scorers in the Big Ten. Nix has improved his body, his mobility and his confidence. Nix has been a real factor and it will be interesting to see if he can hang with the Buckeyes and stay out of foul trouble. Both Nix and
Adreian Payne
will have to keep a body on Sullinger in any attempt to limit him. One thing they cannot do is foul Sullinger and allow him to shoot free throws.
Key stat:
Rebounding. In a game that features the top two defenses in Big Ten play, a premium will be on the backboards. Michigan State sends three and sometimes four to the offensive glass to get second shots, and the Spartans do a very good job of limiting you to one shot. These are also the top two rebounding teams in the league.
Who wins:
Ohio State, 66-62. With the Buckeyes at home, I favor Brutus. Michigan State cannot afford to worry should it play well and lose. The remaining six games are difficult and important, punctuated by a rematch with Ohio State at the Breslin Center in the regular-season finale. Win or lose, the next game will be really important for Michigan State. For Ohio State, the same schedule applies. The Buckeyes play just as tough of a slate to end the season as MSU, with six of the final seven games against the KenPom.com top 50.
November, 30, 2011
11/30/11
2:45
AM ET
COLUMBUS, Ohio -- As
Deshaun Thomas
exited the postgame press conference that followed No. 2 Ohio State's
85-63 victory
over Duke on Tuesday night, NBA stars LeBron James and Dwyane Wade escaped Value City Arena through a nearby loading dock.
The duo watched Thomas and Co. destroy the fourth-ranked Blue Devils in the most marquee matchup of this year's Big Ten/ACC Challenge. When James and Wade arrived, photographers scurried like paparazzi on a red carpet.
"I saw them," said Thomas, who scored 18 points. "It was great motivation to show off for them because they show off for us all the time on TV."
But LeBron and D-Wade weren't the headliners on this night.
Under the brightest lights of the young season, Ohio State embraced the moment and destroyed a team that just won the prestigious Maui Invitational, handing Duke its most lopsided nonconference loss in the regular season since 1995.
[+] Enlarge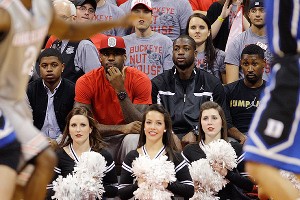 AP Photo/Jay LaPreteThe stars were out in force in Columbus on Tuesday, including LeBron James and Dwyane Wade.
The Buckeyes weren't distracted by the frenzy that preceded the game -- fans had camped outside the venue for days and there was legitimate buzz in a city and on a campus dominated by football and the arrival of new coach Urban Meyer.
Competing while two NBA All-Stars sat courtside obviously didn't rattle them, either. And more importantly, Duke's threats of 3-balls and aggressive interior defense never moved beyond the planning phase due to Ohio State's execution.
The Buckeyes put together the most defining performance of the 2011-12 season and legitimized all the "Ohio State is the best team in America right now" kudos that will follow.
OSU nailed a ridiculous 59 percent of its shots -- a mere 57 percent from beyond the arc. Beyond the box score, however, the Bucks had the backbone to crush a vulnerable opponent when the opportunity arose.
That's
the DNA of a champion.
They turned a 26-17 edge with eight minutes to play in the first half into a 19-point halftime lead.
"This basketball team is tough," said
Jared Sullinger
, who scored a team-high 21 points. "That's pretty much our motto: mental toughness and physical toughness, and we showed that today."
Against Ohio State's defense, Duke played like a claustrophobe stuck in a trunk.
Freshman
Austin Rivers
scored 22 points, but threw away about a half-dozen opportunities because OSU wouldn't let him finish at the rim.
Seth Curry
called a timeout on his team's first possession with Ohio State's
Lenzelle Smith Jr.
swarming him. It was a sign of things to come.
A Blue Devils team with a 46 percent success rate from long range before Tuesday's game hit just 3 of 15 on this night.
A Blue Devils defense that gave up just 61 points in its Maui final victory over Kansas gave up 47 to Ohio State -- in the first half.
Duke coach Mike Krzyzewski said the fatigue from last week's trip to Hawaii played a role in the Blue Devils' struggles.
"I thought Ohio State played a great game against us. They were a fresher team," he said. "I thought our team played tired."
But getting whipped for 40 minutes will wear down any team.
Despite losing 3-point ace Jon Diebler, versatile performer David Lighty and shot-blocker Dallas Lauderdale to graduation, these Buckeyes might have more potential than last season's squad, which won 34 games but was knocked out as a 1-seed in the Sweet 16.
They're more athletic, and with the evolution of Thomas and sophomore point guard
Aaron Craft
, they're more versatile on both ends of the floor.
Craft alone held Duke's guards to four points on 2-of-8 shooting and four turnovers. Thomas entered the game shooting 28 percent from beyond the arc, but connected on 2 of 4 treys Tuesday.
[+] Enlarge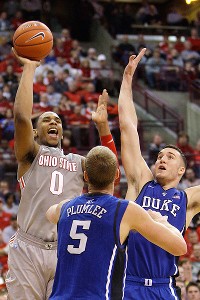 AP Photo/Jay LaPreteJared Sullinger contributed 21 points and eight boards against the Duke frontline.
In the first half, former Ohio State stars Greg Oden, Mike Conley Jr., Daequan Cook, Evan Turner and Michael Redd were introduced at midcourt. Oden, Cook and Conley formed the nucleus of Ohio State's 2006-07 team, which lost in the national title game to back-to-back champion Florida.
Sullinger said he's learned from predecessors who fell short of their national championship dreams.
"You just gotta keep your composure," he said when asked what it will take for this year's team to fulfill its potential.
Ohio State is as balanced as any team in the country. And with a stud point guard, a consistent wing (
William Buford
scored 20 points) and a big man like Sullinger, the Buckeyes appear to be as well-equipped for March Madness as any squad in the country.
But coach Thad Matta would like to erase the preceding sentences. The hoopla is premature, he said during his postgame delivery.
He said he's paranoid about praising his team too early because that's what happened just before Turner broke his back during the 2009-10 season.
Plus, the program suffered a backlash last season, when Matta's team won its first 24 games but ultimately ended in disappointment in the NCAA regional semifinal against Kentucky.
Perhaps that's why he dismissed any comparisons to the 2006-07 team.
"No. Honestly, I don't. You had some veteran players, you had some seniors," Matta said when he was asked if he saw any similarities between this season's team and Oden's squad.
That team, however, was led by freshmen. This season's Buckeyes are guided by three outstanding sophomores.
"That team would do things in practice that I had never seen before," Matta added later.
Well, how many times has a top-five Duke team taken that kind of a beating? Duke's 63 points and three 3-pointers were both season lows.
"I still think this team has so far to go," Matta concluded.
The latter is understandable for a coach who doesn't want young players to get overconfident. And based on the multiple years he's had where in-season success failed to match postseason projections, Matta's refusal to get too excited about the victory makes sense.
But Matta can't completely disregard what happened here at Value City Arena. His young roster dominated a previously unbeaten Duke team in every area of the game.
That doesn't guarantee any success in the future. But as of now, it's undeniable proof that the Buckeyes are as good as, and probably better than, any team in the country.
"What can I say -- this basketball team is something special," Sullinger said.
He probably shouldn't convey that thought to his coach.
But most who watched Tuesday's game would agree.
April, 30, 2010
4/30/10
9:55
PM ET
By
Diamond Leung
| ESPN.com
AZUSA, Calif. --
Lenzelle Smith, Jr.
, a guard set to start his freshman season at Ohio State, said he's heard it more times than he can count that he's the next
Evan Turner
.

Smith, Jr.
"Every time I hear it, it's great," Smith said after practice for Saturday's High School Academic All-American Classic. "Those are big shoes to fill.
"I don't think it's totally far-fetched."
Replacing a national player of the year won't be easy, of course, but Smith said he shares similarities with Turner and appears comfortable making the comparison with his former AAU teammate.
With Turner leaving school after his junior season as a projected top NBA draft pick, Smith is expected to get a shot to play point guard. At 6-foot-4, he has good size for a player who can distribute the basketball.
Smith is leaving high school with a 4.1 grade-point average. He and Turner briefly played together with the Illinois Stars when Smith was in the eighth grade.
"He calls me his little brother," Smith said.