College Basketball Nation:

Lenzelle Smith Jr.
January, 24, 2014
Jan 24
12:06
AM ET
It seems like every team had to make some sort of adjustment in conference play.
No. 17
Ohio State
and
Illinois
were in need of major overhauls after both entered Thursday's meeting on four-game losing streaks.
No. 1
Arizona
and No. 6
Florida
had the luxury of needing only a few tweaks.
And then there were teams such as No. 15
Cincinnati
and
Colorado
, which have had to adjust to the loss of injured players.
None breathed a sigh of relief quite like the Buckeyes did, though. Ohio State topped the Fighting Illini 62-55 and can, at least temporarily, change its season's narrative. Its 15-0 start flipped to "What's wrong in Columbus?" very quickly as losses piled up and offensive weaknesses were exposed.
There was nothing more symbolic of the Buckeyes' struggle through four games as one sequence early in the second half Thursday.
Amir Williams
had a clear path to the rim and a sure dunk that he bounced off the back of the rim. Ohio State controlled the ball and Williams again found himself making his way to the basket when he got his shot altered and the Illini headed the other way.
The Buckeyes didn't let their losing streak, nor their 29 percent shooting in the first half, create unnecessary pressure. Buckeyes coach Thad Matta figured out ways to get his two leading scorers open shots. Some of them came off Illinois' 15 turnovers, but many others came in half-court sets.
[+] Enlarge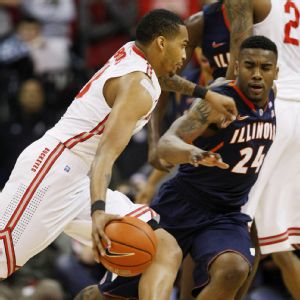 AP Photo/Paul VernonLaQuinton Ross and Ohio State were able to find some offensive cohesion in the second half against Illinois, breaking a four-game losing streak.
Leading scorer
LaQuinton Ross
, who had only four points in the first half, pumped out 14 for the Buckeyes in the second.
Lenzelle Smith Jr.
, who entered the game shooting 16 percent from 3-point range in Big Ten play, went 4-of-8 from behind the arc and scored 10 of his 14 points in the second half.
Smith hit a huge 3-pointer with 1:25 left that gave Ohio State a 58-50 lead, and the Illini never got within one basket the rest of the way.
Just as the Buckeyes got a temporary reprieve from their struggles, it seems like trouble for Illinois is about to hit unfair levels. The Illini still have three games remaining in a five-game stretch that features four ranked opponents.
They left Columbus with many questions on how they can adjust, especially after leading scorer
Rayvonte Rice
, who averaged 17.4 points per game, was held scoreless on 0-for-8 shooting against Ohio State.
Arizona isn't searching for much of anything after winning its 19th straight game. Wildcats coach Sean Miller is keeping his rotation tight, using only eight players against the Buffaloes. But eight was obviously enough for Arizona, which never trailed, as
Nick Johnson
led the Wildcats with 18 points.
The way Arizona is playing, it's hard to imagine a healthy
Spencer Dinwiddie
would have made much of a difference.
Dinwiddie was Colorado's leading scorer before suffering a season-ending knee injury on Jan. 12 in a loss at
Washington
. Wing
Tre'Shaun Fletcher
was hurt in the same game, but he's expected to return. Since then, the Buffaloes have been trying to find a viable third scoring threat to help replace Dinwiddie's 14.7 points per game.
It's unfair to expect too much from freshman
Jaron Hopkins
, who replaced Dinwiddie in the lineup. He finished with two points on 1-of-5 shooting.
Both
Josh Scott
and
Askia Booker
have been consistent double-figure scorers, and they contributed 13 and 11 points, respectively, against the Wildcats. But it was sophomore forward
Xavier Johnson
who had the kind of breakout performance that could signal readiness for a bigger role.
Johnson scored a game-high 21 points -- just one shy of his career high -- included 4-of-5 shooting from 3-point range. It was the only game this season in which he logged more than 10 field goal attempts.
No. 15 Cincinnati has had its share of attrition this season with freshman center
Jamaree Strickland
being declared ineligible, guard Jeremiah Davis III transferring to Ball State and forward
Jermaine Lawrence
suffering from turf toe that has kept him sidelined the past three games.
But the Bearcats continue to move forward and lead the American Athletic Conference after their 69-51 win over
UCF
.
Sean Kilpatrick
led the way with 19 points, but it is their defense -- one that held UCF to just 26 percent from 3-point range -- that keys their victories.
Arguably no ranked team has had to make as many adjustments as Florida this season, with injuries and suspensions forcing coach Billy Donovan to juggle his lineups. The Gators have proven to be a resilient group, as
Alabama
can attest.
On a night when the Gators shot only 37 percent, they still made 10 3-pointers.
Michael Frazier II
made five of his attempts beyond the arc for a game-high 18 points as Florida beat the Crimson Tide 68-62 for their third SEC road win.
January, 17, 2014
Jan 17
1:36
AM ET
MINNEAPOLIS -- After No. 11
Ohio State
lost 63-53 to an unranked
Minnesota
team on the road and suffered its first three-game losing streak since 2009, Thad Matta did what all confused men do.
He stroked his chin.
He shook his head.
He rubbed his temples.
He drifted.
He paused mid-sentence.
"It just … I don't know," he told reporters Thursday night.
Ohio State's offense has challenges, challenges that have even perplexed a seasoned coach such as Matta. Those challenges arose the day
Deshaun Thomas
turned pro.
Thomas was a polarizing figure throughout his collegiate career. Even when the
San Antonio Spurs
drafted him last summer in the second round, there were still questions about the tweener's ability to compete at the next level.
He faced the same scrutiny as the No. 2 scorer in the Big Ten last season (19.7 PPG) behind Wooden Award winner
Trey Burke
. Thomas could be sporadic and frustrating, and his defensive inconsistency drew criticism during his tenure in Columbus, Ohio.
[+] Enlarge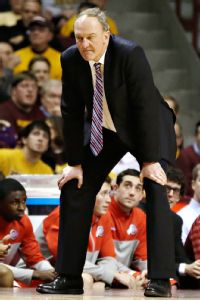 AP Photo/Jim MoneOhio State's lack of consistency on offense has veteran coach Thad Matta flustered.
But he scored -- inside and outside. If Ohio State needed a bucket, Thomas found a way. He was a perplexing matchup for most players at this level. The 6-foot-7 combo forward could exploit smaller wings in the post. He'd also force big men to guard him outside the paint, where they were uncomfortable, due to his range.
On Tuesday, Ohio State -- lacking that elite scoring threat, although
LaQuinton Ross
was impressive in spurts during his 22-point effort -- needed someone to churn its lumpy offense.
Its defense, usually strong under Matta, was an early anchor. The Buckeyes forced eight turnovers in the first eight minutes of the game. At one point, Minnesota had a 1-to-9 assist-to-turnover ratio. Still, Ohio State only held an 11-10 lead after starting the game by missing 11 of its first 14 shots.
"The shots we felt we were going to get, we got," Matta said. "They, for whatever reason, weren't going down."
All season, the elephant in the room has been Ohio State's mediocre offense.
If Ohio State can't score more consistently and efficiently, how can it win the Big Ten? How can it make a run at the crown? How will it advance in March?
Last season's squad finished 11th in adjusted offensive efficiency, per Ken Pomeroy. This season's team is 70th in the same category.
Ohio State's effort against the Golden Gophers should be a scary exhibit for the program's supporters.
Ohio State's fall from the third-ranked team in America to a 2-3 Big Ten team began modestly. The Buckeyes ran through their first 15 games, a slate that included wins over Marquette and Notre Dame. In hindsight those wins weren't special but probably the greatest accomplishments on their flimsy résumé.
But then Michigan State dominated them until the final minutes, when a furious rally pushed the game into overtime before the Buckeyes lost. Iowa was just too big and deep when they beat the Buckeyes in Columbus on Sunday.
Against the Gophers, Ohio State's offense was disastrous in a game that Big Ten contenders win.
The Buckeyes had chances to pull away in the first half, but they couldn't find the rim. They committed a turnover (13 total) on five consecutive possessions during a stretch in the second half.
Lenzelle Smith Jr.
(3-for-9) missed a dunk.
Amir Williams
hit the bottom of the backboard on another attempt.
Aaron Craft
was left alone on the perimeter to miss 3-pointers. Ross went 3-for-8 after halftime.
That wasn't the only problem. Ohio State is usually an elite defensive squad. Its 18 forced turnovers were proof of that, although Minnesota's 51 percent shooting percentage proved costly.
The Buckeyes were exposed inside by
Elliott Eliason
(12 points, 13 rebounds, 2 blocks) in Richard Pitino's most impressive victory in his first season as head coach.
But Ohio State's 7-for-22 shooting in the second half ultimately cost it.
The Buckeyes can score, as their 76.0 points per game average suggests, but it's their inconsistency and limits that create problems. Plus, they're mishandling the ball (84th in offensive turnover rate, per Ken Pomeroy).
The Buckeyes will continue to struggle against the Big Ten's elite if their offense sputters. And, as Thursday showed, they won't beat the gritty second-tier teams in the league without some offensive punch.
Ohio State needs quality wins, but they need a go-to guy to help get those wins.
"I think my two years here, this team has always had a security blanket," Ross said. "Last year, it was [Thomas]. The year before that, it was [
Jared Sullinger
].
It's clearly different this season.
But they need someone to be consistently assertive and effective -- be it Smith, Ross, or Craft.
On Thursday night in Minneapolis, they all tried to pull Ohio State out of that offensive pit -- and failed.
"We gotta look at reality," Matta said. "As a team, this is where we are. We'll figure that out on the way home tonight. … People don't like reality very often."
After Thursday, the reality is that the Buckeyes won't be Big Ten contenders unless they figure out their offensive flaws. And they need to do that soon.
December, 19, 2013
12/19/13
9:30
AM ET
Thad Matta assembles top-10 squads most years. The only thing missing from his pristine tenure at
Ohio State
, which faces
Notre Dame
on Saturday at Madison Square Garden in New York, is a national title.
In 2013-14, like most seasons, that goal seems attainable. The Buckeyes haven't played a great nonconference schedule, so they're still a difficult group to accurately judge right now. We'll know soon enough, though, as they'll play
Michigan State
in East Lansing, Mich., on Jan. 7.

The Buckeyes are statistical juggernauts right now. That can't be ignored, even though their résumé lacks a win against a team that's currently ranked in the top 25.
The Buckeyes held
Marquette
to 35 points and have held seven opponents to 60 or less. They're ranked first in Ken Pomeroy's adjusted defensive efficiency rankings.
Louisville
was ranked third when it won the national title last season.
Kentucky
was eighth during its title run in 2012.
The rules have changed, but Ohio State's ability to constrict offensive flow has not.
Aaron Craft
,
LaQuinton Ross
,
Shannon Scott
and
Lenzelle Smith Jr
. put a lot of pressure on perimeter players. The Buckeyes are ninth in defensive turnover percentage, per Pomeroy. Former McDonald's All-American
Amir Williams
(2.4 BPG) is third in the Big Ten in block percentage.
That's a dangerous defensive group.
Most of the concerns and questions about Ohio State center on its offense. With Deshaun Thomas gone, scoring by committee is Ohio State's approach this season, which isn't a bad thing.
Too many teams earn exaggerated praise for scoring in bunches. That doesn't necessarily suggest that they're good, though.
Plus, the Buckeyes are a solid offensive team (31st in adjusted offensive efficiency). They're just anchored by their defense.
Ohio State doesn't have to win a shootout over the weekend to prove folks wrong, but a victory over the Fighting Irish might be more valuable if Mike Brey's squad continues to shake its early rust and excel in the ACC.
The Buckeyes don't need a guy who can score 25 per night to be viewed as a great team. Their defensive approach proves that they are.
They've scored 80 or more three times this season, but those tallies came against subpar competition.
Level of competition won't be an issue in the Big Ten. If the Buckeyes continue their defensive prowess, they could end the season at the top of the Big Ten and with a slot in Arlington.