College Basketball Nation:

Lipscomb Bisons
January, 11, 2011
1/11/11
11:02
AM ET
By
Jeremy Lundblad, ESPN Stats & Info
| ESPN.com
An inside look at the numbers behind Monday's top performances:
1. Marquette toppled Notre Dame 79-57 courtesy of some lights out 3-point shooting. The Golden Eagles shot 70.6 percent (12-for-17) from long distance, coming up just shy of a school-record 80.0 percent set in 2001 against Tulane. No one was hotter than
Dwight Buycks
, who hit all five of this 3-point attempts on the way to a career-high 21 points. On Jan. 5 against Rutgers, the senior guard suffered a thigh contusion that limited him to 11 scoreless minutes. But since then, he's been a different player. Over the last two games, Buycks has scored 40 points and hit eight of nine 3-pointers. In the 14 previous games, he'd only hit 12 from beyond the arc. The win on Monday was critical for MU. Entering the game 0-4 against ranked foes, this was game two of a stretch in which Marquette plays seven of eight games against ranked opponents.
2. It was a quite a night for the winless. Both Alcorn State and Arkansas-Pine Bluff won for the first time this season. Alcorn State overcame a 22-point deficit to beat Grambling State. It snapped a 34-game road losing streak for the Braves, who were approaching two years since their last road win. Meanwhile, Arkansas-Pine Bluff snapped a 15-game losing streak that dated back to facing Duke in the first round of the NCAA tournament. The Golden Lions beat Alabama A&M despite not hitting a field goal for the first 10 minutes of the second half. With those two winning, that leaves Centenary and UNC Greensboro as the lone remaining winless teams.
3. Delaware State's
Jay Threatt
knocked down a jump shot as time expired to give the Hornets a 62-60 win over South Carolina State. Threatt did much more than just hit that shot, once again filling up the stat sheet. The former George Mason guard finished with 11 points, nine assists and six steals. Threatt, who led the nation in steals last season, and Ohio's
D.J. Cooper
are the only two players who rank in the top 15 in the nation in both steals and assists. That's even more impressive when you consider that Delaware State has played eight straight on the road.
4.
Josh Slater
scored half of his 30 points from the free throw line, as Lipscomb topped North Florida 80-76. The senior guard went 15-for-19 from the line and added seven rebounds, three assists and three steals. That's just another night for a player who fills the stat sheet with the best of them. Slater and teammate
Adnan Hodzic
are both averaging over 18 points and seven rebounds per game. Only 20 D-I players can make that claim, and they are the only teammates doing so. Slater is also one of only four D-I players averaging four assists and seven rebounds. Among guards listed 6-foot-3 or shorter, only Iowa State's Darion "Jake" Anderson (8.5 rpg) has a higher rebounding average than Slater (7.0).
5.
Moussa Camara
came off the bench to score a career-high 28 points in Binghamton's 57-50 win over Stony Brook. The senior from Paris significantly outscored the entire Binghamton starting lineup, which combined for only 19 points on 7-of-25 from the field (28.0 percent). That's tied for the third-fewest points by a starting lineup in a win this season. On Saturday, Alabama State's starters scored only nine points in a win over Arkansas-Pine Bluff.
December, 27, 2010
12/27/10
3:36
PM ET
Adnan Hodzic
's journey to Lipscomb didn't follow the traditional path. As a young boy in Sarajevo during the Bosnian War, Hodzic was more concerned with his family's future than with shooting baskets.
"I remember the war," said the Bisons forward. "Americans typically see war from far away. This was in my hometown."
Hodzic fled the ethnic cleansing in Bosnia at age 8 with his mother and sister and emigrated to the United States. Hodzic's father, Mehmed, fought in the war for another year and a half before eventually joining his family in Columbus, Ohio. Hodzic described that period as "the toughest of my life."
[+] Enlarge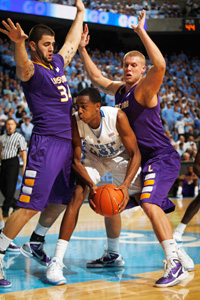 Bob Donnan/US PresswireBisons forward Adnan Hodzic, left, was the Atlantic Sun Player of the Year last season.
Shortly thereafter, the family moved to Indianapolis.
"My father has taught me a lot about toughness. He has taught me a lot about life. He has been through so much that whenever we sit down and talk at night, I am all eyes and ears," said Hodzic.
That toughness and willingness to learn is on full display on the basketball court.
Hodzic dreamed of being a professional soccer player like his father, but he was tall, lanky and lacked the ball skills and quickness necessary to compete at the highest levels. He decided to try out for the basketball team in the 7th grade and he was summarily cut the team.
His first attempt at organized basketball would not be his last. Hodzic had a passion for the game, so he went to the local YMCA every day and practiced. The next year, all he lacked was confidence. Several of his friends had to talk him into trying out again.
This time, Hodzic made the team.
"It was the greatest feeling ever," Hodzic explained. "I'll never forget the feeling I had when I got my jersey, that was the best ever. I wanted to be great."
Hodzic's high school career was about being great teammate for Eric Gordon at Indianapolis North Central High School. Gordon was a McDonald's All-American and Indiana's Mr. Basketball in 2007. Hodzic was a very good player, but as he said, "Eric Gordon took over games at times and won them singlehandedly."
Hodzic learned the value of hard work from Gordon, whom he described as a role model.
It's a lesson Hodzic continues to learn from his coaches at Lipscomb. Coach Scott Sanderson and his staff have his ear.
"I play for great coaches. I'm a perfectionist type of person. When I can't do something, I do whatever it takes to get it done." Hodzic said. "I listen to my coaches and digest it. Sometimes it's hard but I have learned to listen to what they say rather than how they say it sometimes."
Hodzic continues to improve because he is willing to listen. But he's also willing to do some talking, too. When asked whether he is the leader of this team, he responded immediately: "Yes sir, I am the leader."
Last year, Hodzic was named Atlantic Sun Player of the Year after averaging more than 22 points per game. This year, the Atlantic Sun Preseason Player of the Year is carrying averaging 20.8 points and 8.9 rebounds, even though he's the top target for most defenses. Against the Power 6 teams, Hodzic has averaged more than 19 points and nearly eight rebounds since his sophomore year.
Hodzic wants to return to Bosnia and live someday. "Bosnia is much improved," he explained, "It's beautiful and it is my home."