College Basketball Nation:

Logan Magnusson
March, 24, 2011
3/24/11
8:10
AM ET
NEW ORLEANS -- A quick glance at the Florida-BYU game:
No. 3 seed BYU (32-4) vs. No. 2 seed Florida (28-7), 7:27 p.m. ET (TBS)


Storyline:
Rematch of a thrilling double-overtime win for BYU in last season's NCAA tournament first round.
Headline name:
BYU's
Jimmer Fredette
. The national player of the year favorite scored 34 points in the win over Gonzaga in the Round of 32 and 32 points in the opening win over Wofford.
How to stop him:
Florida coach Billy Donovan said no one talks about how good a passer Fredette is in setting up players like
Jackson Emery
and
Noah Hartsock
and
Charles Abouo
. If the rest of the Gators are committed to stopping Fredette, they have to make sure the other BYU players are not that effective.
"Let's see what they'll do with Jimmer's ball screens,'' BYU coach Dave Rose said. "The rest of our team will react to that. If they're going to come off that ball screen and just trap him and make him get the ball out of his hands, then we're going to be playing with an advantage the whole night because we'll have four offensive players attacking three defensive players.
"If they're going to go underneath that thing, then Jimmer is probably going to get a couple of shots off,'' Rose said. "So we all know, the whole team understands, what the first few minutes are.''
Injury update:
Florida's
Kenny Boynton
injured his ankle in the win over UCLA. He was held out of practice but is good to go against the Cougars.
"We expect him to be fine,'' Donovan said. "We just held him out to make sure he could move, cut, shoot and see if there was any lasting effect from the injury. There didn't seem to be.''
Glue guys:
The Cougars may need some quality play from
Logan Magnusson
off the backboard or
Stephen Rogers
. But the Gators could do wonders against BYU if
Patric Young
(eight points, four rebounds) or or
Erik Murphy
(key 3-pointer) have games like they did against UCLA.
Who should win:
Florida. The Gators have more overall depth and the potential for more production at various positions.
But...:
Never underestimate Jimmer. BYU is playing with its most confidence since the Brandon Davies suspension for an honor code violation three weeks ago. BYU has now played seven games without Davies.
What should we be looking for:
If Florida's
Vernon Macklin
and
Alex Tyus
control the boards, the Cougars are in trouble.
If Emery and Abouo are making 3s and
Erving Walker
and Boynton are not, the Cougars should be in good shape since we all know Jimmer is going to get his points.
March, 19, 2011
3/19/11
2:38
AM ET
By
Diamond Leung
| ESPN.com
No. 13 seed Morehead State (25-9) vs. No. 12 seed Richmond (28-7), 5:15 p.m. ET


How they got here:
Both 12th-seeded Richmond and 13th-seeded Morehead State staged comebacks against power-conference teams on Thursday. The Spiders beat Vanderbilt 69-66, with guard
Kevin Anderson
making big shot after big shot and finishing with 25 points. The Eagles defeated Louisville 62-61, with
Demonte Harper
making the game-winning 3-pointer and
Terrance Hill
getting hot from beyond the arc as well, scoring 23 points.
Storyline:
One of these two double-digit seeds will get to go to the Sweet 16. Richmond, which has a history of big upsets, now takes on the role of the favorite. The Spiders lost to Saint Mary's in that position last season and now have a chance to reach the Sweet 16 for the first time since 1988. For Morehead State, it's a chance to make history again with its first trip to a regional semifinal. "This game is really important because Coach [Donnie Tyndall] told us we have a chance to make it to the Sweet 16 before the season even started," Harper said.
Players to watch:
Think Tyndall likes his chances with Harper and star forward
Kenneth Faried
? He called Faried his Gordon Hayward and compared Harper, who has shown his ability to take the last shot, to
Shelvin Mack
of Butler. For Richmond, Anderson proved himself to be a shot-maker against Vanderbilt. Leading scorer
Justin Harper
struggled with his shot, and the Spiders could use a big day from their senior.
What to look for:
Faried is one of the stars of the tournament so far, and he didn't even have a great offensive game against Louisville. But Faried is so dominant a rebounder and such an athletic presence in the middle that he impacts the game in so many ways.
"We know he doesn't give a lot of second shots on the offensive end," Anderson said of the nation's leading rebounder. "It's going to be tough to stop him."
Richmond could try containing Faried with the 6-foot-10 Harper, relying on his ability to shoot from long range. But lest we forget: Anderson will be a tough matchup for Morehead State, as well.
No. 11 seed Gonzaga (25-9) vs. No. 3 seed BYU (31-4), approx. 7:45 p.m. ET


How they got here:
BYU was the only favorite in Denver that did not get upset in the first day of action, as the Cougars dispatched of Wofford with a 74-66 win.
Jimmer Fredette
scored 32 points, and he also got help with
Charles Abouo
,
Noah Hartsock
and
Logan Magnusson
scoring 10 points apiece. Gonzaga dominated St. John's with an 86-71 win in which
Marquise Carter
scored a career-high 24 points and
Steven Gray
and
Elias Harris
also had big nights.
Storyline:
Not since Danny Ainge was leading Brigham Young have the Cougars been in the Sweet 16, and now it's Fredette who will try to take them there 30 years later. BYU has won its first tourney game in each of the past two years, but now wants to make a deeper run. For Gonzaga, the perennial dangerous underdog, the Zags want to continue proving themselves as a team and program to be reckoned with. A win against BYU and the national scoring leader Fredette would be yet another milestone victory.
Players to watch:
Again, look for Fredette to carry the scoring load despite the opponent's best efforts to contain him. And in a game with huge ramifications, expect a big dose of him. But Gonzaga does have the advantage of having 7-foot center
Robert Sacre
to try to exploit a BYU frontcourt missing the post presence of Brandon Davies. Sacre, after helping the Zags dominate St. John's on the glass, indicated he was looking forward to the matchup against BYU. "A little bit, but they still have Jimmer," he said.
What to look for:
While limiting the damage Fredette does is a must, this game could come down to how well Gonzaga can exploit its height advantage with Sacre, along with the 6-5 guard Gray and 6-7 forward Harris, who are both dynamic players.
"They're a very big team," Fredette said. "They got to the offensive glass very well. They get a lot of second-chance opportunities, which gives them a lot of energy."
Gonzaga will have to continue to get good guard play as well from Carter and point guard
Demetri Goodson
in order to slow down Fredette and
Jackson Emery
.
March, 17, 2011
3/17/11
11:43
PM ET
By
Diamond Leung
| ESPN.com
DENVER -- The buzz from upset wins by Morehead State and Richmond still lingered when BYU took the court at the Pepsi Center. The Cougars knew all about what had happened earlier in the day and certainly didn't want it to happen to them.
By the time BYU got done with Wofford, order had been restored. It was business as usual, with
Jimmer Fredette
scoring 32 points in a
74-66 second-round win
on Thursday.
And unlike last season when Fredette's monster game against Florida gave BYU its first NCAA tournament victory in 17 years, the Cougars hope this is just the start of a march to the Sweet 16.
[+] Enlarge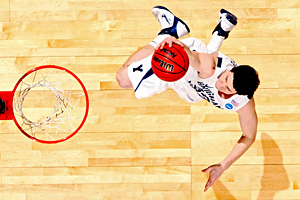 Doug Pensinger/Getty ImagesJimmer Fredette still notched 32 points despite decent defense by Wofford.
"Last year was a euphoric atmosphere," BYU coach Dave Rose said. "Guys were jumping around.
"Guys today were happy with the win and look forward to the next challenge. This team is pretty business-like."
Wofford actually felt it did a decent job on Fredette, a sign of just how dangerous the nation's leading scorer is. He was 10-of-25 from the field and only 2-of-9 from beyond the arc, but other players stepped up for BYU.
Charles Abouo
scored eight straight points at one point to extend the lead to 14 while
Noah Hartsock
and
Logan Magnusson
knocked down two 3-pointers apiece. Fredette finished with seven assists.
"Those assists come to those guys who are ready to make a play." Rose said. "We had three or four guys able to knock them down."
Said Fredette: "They were trying to force me left, so I kept going left and went to the basket."
His passing helped showcase once again that no, the Cougars are not just a one-man team. Abouo, Hartsock and Magnusson scored 10 points apiece, and
Kyle Collinsworth
collected 11 rebounds. These are players who still have to prove that there's a successful future after Brandon Davies was lost for the season.
Wofford kept the game close, with
Noah Dahlman
scoring 22 points, but the No. 14-seeded Terriers didn't shoot well from the perimeter and couldn't come up with baskets when they needed them.
Jamar Diggs
(5-for-14),
Cameron Rundles
(5-for-14) and
Brad Loesing
(3-for-10) all struggled.
"Had you told us our team would do a great job on Fredette, I thought we would have won the game," Wofford coach Mike Young said.
Diggs felt he did a good job on Fredette, but it wasn't enough. "He's deceptively quick," Diggs said. "You look at him and think you're in front of him, and then he's by you."
BYU wasn't going to suffer an upset, not with Fredette leading the way and not with the team's complementary players performing their best. After witnessing Louisville and Vanderbilt go through it, the Cougars collectively told themselves the ride wasn't going to end.
"A lot of the guys saw it and said, 'Let's not let that happen to us,'" Magnusson said.