College Basketball Nation:

Long Beach State
October, 15, 2013
10/15/13
9:30
AM ET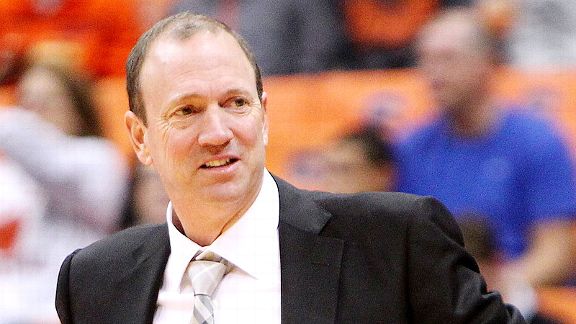 Nate Shron/Getty ImagesDan Monson cuts no corners when building Long Beach State's schedule -- and tourney resume.
It's college basketball preview season, and you know what that means: tons of preseason info to get you primed for 2013-14. But what do you really need to know? Each day for the next month, we'll highlight the most important, interesting or just plain amusing thing each conference has to offer this season — from great teams to thrilling players to wild fans and anything in between. Up next: Long Beach State, back into the breach.
The first time Long Beach State made real national noise under Dan Monson, it was in the lead-up to the 2011-12 season. The prospectus on LBSU was bullish, and for good reason: The 49ers returned four seniors, all of them starters, two of them (Casper Ware and Larry Anderson) out-and-out stars.
But back in the fall of 2011, what really caught the eye about Dan Monson's team was its schedule. Fearing that the Big West would be a significant drag on his team's RPI (and chances at an at-large bid), and seeking to avoid the thin conference tournament margin for error that punishes so many otherwise deserving mid-majors every season, Monson scheduled like a madman. At Pitt, at San Diego State, at Louisville, at Kansas, at North Carolina, vs. Kansas State and Xavier in Hawaii, at Creighton for the BracketBusters. It was crazier before the season started (and Pitt and Xavier disappointed), sure, but the end result was nonetheless the top nonconference schedule in the country, perhaps the most oft-cited selection committee criterion of the past five seasons. It ended up not mattering: LBSU won the Big West tourney anyway.
The 49ers' hard-earned trip to the 2012 NCAA tournament ended after just one game with a loss to
fifth-seeded
New Mexico, and Ware and his three senior counterparts called an end to their era, too. But even with a whole new set of young, inexperienced starters stepping in, Monson kept his schedule strategy constant. That resulted in the 49ers playing at USC, at Arizona, vs. North Carolina, at Syracuse, at Ohio State and at UCLA. Long Beach finished strong in league play, and even won the outright title at Pacific (which took the at-large bid a week later) on the road in the final game of the regular season.
There is yet more turnover to account for this season, only this time it wasn't planned: In May, Monson dismissed Tony Freeland and Keala King, both transfers from high-major outfits (DePaul and Arizona State, respectively). The good news? UCLA transfer
Tyler Lamb
becomes eligible at the end of the fall semester and can contribute immediately, and rising junior guard
Mike Caffey
and senior forward
Dan Jennings
are both still in the mix.
And, of course, the schedule is still crazy: at Arizona, at Kansas State, vs. Michigan (in the first round of Puerto Rico Tip-Off, which also includes potential games against VCU and Georgetown), at Washington, vs. Creighton, at NC State, vs. USC, at Nevada, at Missouri. You get the feeling Monson is going to keep scheduling like this forever: It's good for the RPI, and it's great for recruiting. (How many mid-majors can tell recruits they can play at that many marquee college hoops venues?) But that's the lofty, fuzzy stuff. On the court and in those airplanes, Long Beach State's nonconference schedule is a brutal grind. Fortunately for us, watching Monson's latest bunch take one road upset shot after another has become perhaps the Big West's most noteworthy attraction. All it takes is one.
November, 17, 2011
11/17/11
2:08
AM ET
They still shake their heads sometimes when Dan Monson's name is mentioned.
Minnesota basketball fans tend to dwell on Monson's struggles throughout his seven-plus years with the program whenever they reflect on his tenure. Monson, Long Beach State's head coach, left a blossoming Gonzaga squad to take over the Gophers in 1999. He followed Clem Haskins, whose tumultuous term ended with an academic scandal that rocked the program.
Seven games into the 2006-07 season -- the Gophers finished 9-22 that campaign -- Monson resigned. In the end, greener pastures in the Big Ten became a field of dead grass for Monson.
Monson said he's thankful that Long Beach State gave him a chance even though he "was on the street."
You have to know Monson's history to appreciate his program's
86-76 upset at No. 9 Pitt on Wednesday
. The victory shattered history for the Panthers, who hadn't lost a nonconference home game in 58 previous outings. For Monson, it highlighted the journey that started with a six-win season in 2007-08, which followed an ugly departure from Minnesota.
"Certainly, that's been a great blessing," Monson said Wednesday night. "Things were tough at Minnesota, and I just feel really lucky that I found a place that wanted me, that fit my same vision and my same goals that Long Beach State has. That part is very gratifying for me."
Long Beach State's victory continued a string of early upsets by smaller schools. Akron, Kent State, Cleveland State and Middle Tennessee recorded wins over BCS schools within the past week.
Monson's Long Beach State team possesses one of the key components that helped Virginia Commonwealth and Butler reach the Final Four last season: experience.
Veterans
Casper Ware
,
T.J. Robinson
,
Larry Anderson
and
Eugene Phelps
anchor the program. The four seniors scored a combined 59 points Wednesday. They anchored an LBSU attack that stunned Pitt with its offensive aggression and active defense. They cut off passing lanes and forced Pitt to take poor shots.
On offense, they outran the Panthers and hit 59 percent of their field goal attempts.
They achieved the victory in a building that's been the site of just one other nonconference loss for Pitt. It was Long Beach State's first win over a top-10 opponent since 1993.
"I'm proud of our guys, and certainly it's a great win for our program and our university," Monson said.
And it's redemptive for Monson.
The 49ers have at-large potential. They've missed the NCAA tournament the past two seasons, losing back-to-back conference tournament title games to UC Santa Barbara.
With a nonconference schedule that features matchups against North Carolina, Kansas, Xavier and Louisville, the 49ers will have additional chances to enhance their at-large profile.
But Monson didn't dwell on his team's pending matchups against some of college basketball's giants. He's too worried about Saturday's matchup against San Diego State.
"We've already talked about it," Monson said. "They're going to enjoy it for a day. The word 'Pittsburgh' is not in our vocabulary Friday morning when we get ready for San Diego State."
That game-by-game approach makes sense for Monson and Long Beach State. Puts things in perspective.
And really, who cares about the past?