College Basketball Nation:

Lou Anna K. Simon
June, 16, 2010
6/16/10
10:48
AM ET
It was a big enough story on its own:
Tom Izzo returning
to Michigan State,
pledging his services for life
, making his triumphant return
after a too-close-to-call dalliance with his NBA dream
. All in all, that's a pretty great story, right?
[+] Enlarge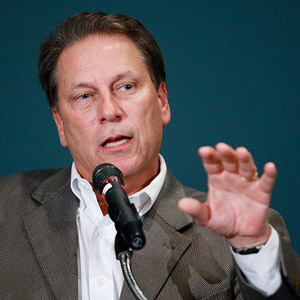 AP Photo/Al GoldisTom Izzo announced Tuesday that he would remain the head coach at Michigan State.
But of course that wasn't the biggest, or at least most sensational bit to come out of Izzo's news conference Tuesday night. Instead, it was a rather heated spat that pitted Izzo, Michigan State athletic director Mark Hollis and university president Lou Anna K. Simon against local columnists and eventually the media at large.
There's were two continual themes throughout MSU's news conference: One, that the media had in some vague way victimized Izzo and his family during the nine days the coach spent carefully pondering the merits of the Cleveland Cavaliers job. And two, that "the Internet" -- meaning sports coverage on the Internet, presumably -- was largely responsible.
Yeah, it went there. Fun.
President Simon took the microphone first so she could bust like a bubble. Simon said it was "amusing" so many rumors surrounded the story and unfortunate that "tweets became fact." That seemed a weird one-off, but it was soon followed up by athletic director Hollis who, in the midst of a stirring speech about what Izzo meant to MSU athletics and Michigan at large, saved time to give a brief rejoinder on media ethics in the digital age.
Hollis said that the media was "out of control." He claimed it was capable of doing "some very bad things to our society." He said the media's "race to be first leaves a great deal of pain in its wake." Michigan State journalism students should ask for a refund; the athletic director and school president were giving this stuff away for free.
When it was Izzo's turn at the podium, he made some reference to false reports being hurtful -- he actually told the assorted journalists that "bloggers drive me crazy, and they drive you crazy too" -- but more than anything he seemed irked by opinions rather than any particular erroneous report.
One of those opinions belonged to Detroit News columnist Lynn Henning. On Tuesday,
Henning wrote that it might be too late for Izzo
to come back to Michigan State. Henning believed Izzo's extended NBA dance proved his heart wasn't in East Lansing anymore. Curiously enough, Henning was the one reporter at Izzo's news conference willing to openly question Simon, Hollis and Izzo's characterizations of the media as careless. Which is where things stopped being polite and started getting real. And kind of silly, actually.