College Basketball Nation:

Louis Dale
April, 21, 2010
4/21/10
1:25
PM ET
And hey, why should they? It was one of the most successful seasons in Ivy League history, let alone Cornell basketball history. That's the sort of season you want to remember in handy video montage format, which is exactly
what the Cornell fans at The Cornell Basketball Blog have done
.
Notable cameos -- besides
Ryan Wittman
,
Jeff Foote
, and the rest of the team, obviously -- include ESPN personalities like Jay Bilas and Dick Vitale. Naturally, there's also a little clip of Barack Obama giving the Big Red the presidential seal of approval in picking No. 12-seeded Cornell over No. 5 Temple, an upset that just about everyone except yours truly picked. Still a little sore about that.
In any case, if you hopped on the Cornell bandwagon a little late and wanted to see some of the team's early season highlights, this montage is for you. It's probably best to enjoy now, because repeating this season will be a tall task in 2010-11. Last year's was a senior-laden team -- Wittman, Foote, and guard
Louis Dale
are all graduating this spring, along with six other members of the team -- and
with coach Steve Donahue leaving the school
to take on a rebuilding project at Boston College in the wake of Al Skinner's departure, Cornell basketball might soon fade into its own transitional period. Remember 2010 well, Cornell fans. It was an awfully good one, and it might be a while before it happens again.
March, 25, 2010
3/25/10
9:59
AM ET
SYRACUSE, N.Y. -- A few quick hitters to prepare for Thursday's games: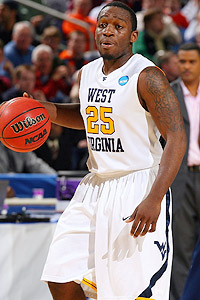 Rick Stewart/Getty ImagesWest Virginia's depth takes a hit without guard Darryl Bryant.
West Virginia will spread the floor without Darryl Bryant in the lineup. Don't be surprised to see plenty of Devin Ebanks and Da'Sean Butler bringing up the ball to jump-start the offense. There were times when Bryant was much more of a two guard.

The Mountaineers may see a lot more zone against Washington. Expect the Huskies to back off of Joe Mazzulla. He can't shoot.

The Mountaineers are trying to figure out how to play and this will hurt their depth. But the Mountaineers do have the depth to cause plenty of problems upfront for Washington.

Washington coach Lorenzo Romar says the Huskies have to rebound against the Mountaineers. They know it's going to be a tussle inside if they're going to win this game.

It's interesting to see the Huskies treated as such underdogs. They don't view themselves as such. They're not a low-major, a mid-major. They're regular Pac-10 tournament contenders.

Kentucky coach John Calipari said late Wednesday night that the media helped fire up his squad. He said the Wildcats got on the bus after being asked questions about the "smart vs. athletes" matchup against Cornell and got fired up. Calipari said he doesn't have to worry about any motivational factors prior to the game.

Here's a crazy thought: If Cornell pulls off the improbable and beats Kentucky, can you imagine where Louis Dale would be in five to 10 years versus John Wall and/or Eric Bledsoe? The beauty of this tournament is that a player like Dale at the point can be an equalizer against NBA-level talent in a one-game situation.

The same could be said of Cornell's Jeff Foote versus Kentucky's DeMarcus Cousins.

Cornell coach Steve Donahue said the Big Red have to get off to a good start. That's a given. The last time the Big Red didn't was at Penn in a stunning loss to the Quakers in the Ivy League. Cornell did get off to a tremendous start against Temple and Wisconsin in the first two rounds of the tournament. The Big Red can't play catchup well, but you don't want to be down by double figures against this controlled team.

I'd be stunned if Cornell didn't release four guards back after a miss to prevent any kind of fast-break opportunities for Kentucky.

Carrier Dome fans booed Kentucky during its practice session Wednesday. Big Blue Nation is expected to be here en masse for the game Thursday night. But the boos were another perfect motivator for Calipari to give him the us vs. them mentality for the game.

Syracuse is not exactly on the way for a number of families from the West Coast to attend the game. The Huskies were able to charter quite nicely with a four-and-a-half hour flight from Seattle. But Quincy Pondexter said his parents had to fly from his hometown of Fresno, Calif., to Florida to Syracuse to get here in time to the game. He said that was the cheapest way to go on short notice.

Washington expects only a smattering of fans at the Carrier Dome. The Huskies have a massive contingent of alumni in the Northwest; not so much on the East Coast.

The Huskies were the dominant team in San Jose last weekend, odd as a No. 11 seed. But now the fan base will be shifted toward the East Coast teams in this regional.

If the Huskies go man, Pondexter may be matched up more often against Kevin Jones than Butler. Pondexter and Butler know each other quite well. They were teammates on the bronze medal-winning World University Games team last summer in Serbia.

I'm interested to see how the Mountaineers try to keep Isaiah Thomas in front of them. Bryant was quicker than Mazzulla, and Thomas has the ability to go past them. Ebanks' length has been a problem for smaller guards, and West Virginia coach Bob Huggins might put the longer Ebanks on the quicker Thomas.

What will be the reaction of the crowd if Cornell has an early lead? It could get really loud in the Carrier Dome if West Virginia and/or Washington fans stick around for the nearly 10 p.m. tip.

Cornell's Ryan Wittman's ability to stick the 3-pointer will be sorely tested by how much either Wall or Bledsoe are in his grill.

What's lost among the four teams is how much these four coaches have won recently. Washington's Romar has been a constant for the most part four of the last six years at or near the top of the Pac-10. Calipari is obviously a winner everywhere he goes. The same is true for Huggins at Cincinnati, Kansas State and West Virginia, and the turnaround by Donahue at Cornell is simply remarkable. No one had the Big Red as an Ivy League factor for decades as Penn and Princeton dominated.

If Cornell were to beat Kentucky, regardless of how experienced and talented the Big Red are this season, it would go down as one of the biggest upsets ever. Sorry, this is still an Ivy League team, even with two potential pros in Wittman and Foote, with no scholarships beating a Kentucky team loaded with at least three lottery to four lock first-round picks and the new favorite to win the NCAA title.

Washington taking out West Virginia would not be much of an upset, if any. The Huskies are playing up to their potential and can match the Mountaineers talent for talent. Forget the seeds here.
March, 21, 2010
3/21/10
7:02
PM ET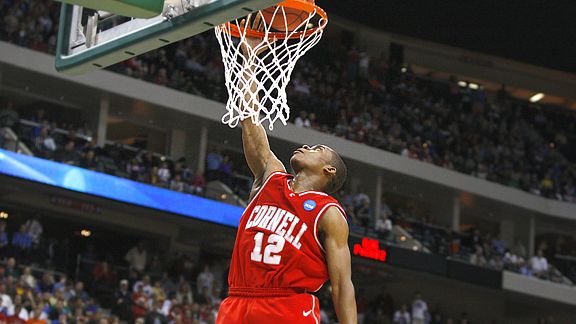 Kim Klement/US PresswireLouis Dale's 26 points keyed a Big Red attack Sunday that tore up what had been a stingy Wisconsin defense.
JACKSONVILLE, Fla. -- As he headed back to his jubilant locker room, Cornell point guard
Louis Dale
stopped to sign a hat from a fan. It was a University of Alabama cap, sure, but at least it had the right red-and-white colors, and Alabama is Dale's home state.
Then another fan dropped a hat for Dale to sign. This one was blue.
"A Kentucky hat?" Dale said, incredulously eyeing the UK logo before throwing the hat back into the stands. "You've got to be kidding me. Get that out of here."
We are not kidding about this: Kentucky had better watch out for Cornell in the Sweet 16 on Thursday. After the way the 12th-seeded Big Red played this weekend in Jacksonville -- especially in Sunday's 87-69 dismantling of Wisconsin -- they must be considered as much of a threat as anyone left in the NCAA Tournament.
Temple and Wisconsin owned two of the best defenses in the country this season, according to the stats. Yet here is what Cornell did to those defenses: shot a combined 58.8 percent from the floor and 44.7 percent on three-pointers while averaging 82.5 points.
Wisconsin had allowed 70 points only three times all year, two of those coming in overtime games. Yet Bo Ryan's defense got sliced like a machete through warm gouda. Cornell shot 61.1 percent, the highest percentage by any team against the Badgers in the Ryan era.
"In our half-court defense, we thought we did some pretty good things," Ryan said. "But that's how good they are. ... I'm not sure if three or four days' [preparation] would have stopped what they do, because they just do it well."
When you think of Ivy League teams, you probably envision those old Princeton teams that worked the ball around, running backdoor screen after backdoor screen. But Cornell is far more diverse than that.
Yes, it can make a back cut with the best of them. But against Wisconsin, the Big Red scored on give-and-gos, alley oops, tear-drop floaters and in transition.
Ryan Wittman
(24 points) can create his own shot at 6-foot-7, and Dale (26 points) can get in the lane against anybody, as he proved repeatedly against the Badgers' all-Big Ten defensive team performer
Trevon Hughes
. Then there's seven-footer
Jeff Foote
, who eats up space on screens and is a deft passer.
"We have a lot of players who can score in a variety of ways," Foote said. "Ryan and Louis did their thing today, and when they do that, we're tough to stop."
Foote predicted at the start of the season that his team would make the Sweet 16, and Cornell became the first Ivy League school since Penn made the Final Four in 1979 to advance to the second weekend. No one on the team seems all that surprised by the development.
"It really doesn't matter who we're playing," forward Jon Jacques said. "We're confident in ourselves. Our confidence is definitely growing each game."
So is their goofiness. The players have been joking around all weekend, displaying the comfort of a group making its third straight trip to March Madness. The team watched "Friday Night Lights" on Saturday night and told Dale he had to work a quote from the movie into his postgame press conference. Dale pulled it off, while his teammates erupted with laughter while watching him on a TV in the locker room.
Does that kind of stuff happen a lot?
"Well, we don't usually have many press conferences," Dale said.
Coach Steve Donahue said his team likes to have fun but knows when to get serious. It showed in their preparations this weekend, as they got off to strong starts in both games and trailed for a total of 2:43, all at the beginning in the Temple game. Donahue called Cornell's offensive execution against Wisconsin the best he'd ever seen as a coach.
Next comes perhaps the biggest David vs. Goliath matchup in the history of the Sweet 16: Cornell against top-seeded Kentucky. A program whose first two NCAA Tournament wins came this weekend vs. one with seven NCAA titles. A school that doesn't give athletic scholarships vs. one that has four likely lottery picks. Unrecruited seniors vs. blue-chip freshmen. Big Red vs. Big Blue.
And it will take place in Syracuse, N.Y., about 55 miles from Cornell's campus.
"It's an amazing story, " said
Mark Coury
, who started 29 games at Kentucky before transferring to Cornell, where he comes off the bench. "We won our last two games by a lot of points, but obviously Kentucky is a whole different level. But if we run our offense efficiently and play good defense, I think we'll have a chance."
Kentucky had better be prepared. Or else the Wildcats will become the latest team to have their hats handed to them by Cornell.
March, 21, 2010
3/21/10
4:53
PM ET
JACKSONVILLE, Fla. -- The Brain Train keeps chugging along.


Cornell didn't just win two games here in Jacksonville this weekend; it dominated them both. After a 13-point win over Temple on Friday,
the 12th-seeded Ivy Leaguers destroyed No. 4 seed Wisconsin 87-69
Sunday to advance to the Sweet 16 for the first time in school history.
Cornell scored the first eight points, led by 12 at halftime and blew the doors open early in the second half. The Big Red scored more points against Wisconsin in regulation than any of the Badgers' opponents this year. They shot a sizzling 61 percent and probably could have scored 100 had they not called off the dogs late in the game.
Ryan Wittman
and
Louis Dale
each had 24 points, while
Jeff Foote
and
Chris Wroblewski
added 12 each.
The Badgers looked dazed and confused throughout the second half, as if they couldn't believe anyone, let alone an Ivy League school, could so thoroughly dissect their defense like that. Bo Ryan even earned a technical foul during the half.
Like most people, I expected the Big Red to be good. But the level of their performance this weekend was simply astounding, and it's not crazy to suggest that they can beat No. 1 seed Kentucky in the next round.
If they play the way they did in Jacksonville this weekend, the Brain Train is going to be tough for anyone to stop.
March, 20, 2010
3/20/10
1:55
AM ET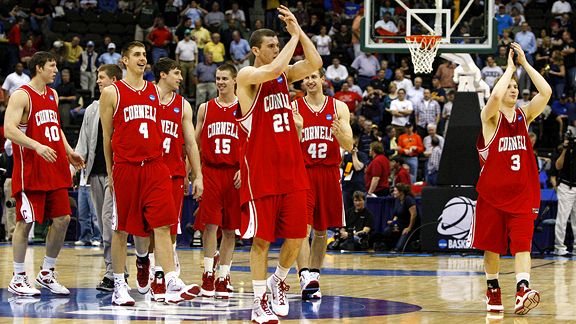 Kim Klement/US PresswireCornell gave the upset-hungry among us a reason to celebrate on Day 2 of the NCAA tournament.
So the encore had as much drama as a Will Ferrell flick.
After an opening day filled with upsets, buzzer-beaters and jaw-dropping results, Friday's second day of the 2010 NCAA tournament was largely tame.
Outside of an upset many college basketball fans predicted -- Ivy League champion Cornell thumped Atlantic-10 champion Temple
78-65
in an East Regional first-round game in Jacksonville, Fla. -- the day was largely uneventful.
There were a couple of other mild upsets in seed only: 10-seed Missouri beat 7th-seeded Clemson
86-78
in the East Regional in Buffalo, N.Y., and 10-seed Georgia Tech defeated 7th-seeded Oklahoma State
64-59
in the Midwest Regional in Milwaukee, Wis.
But even those games lacked the last-second thrills of the tournament's opening act, in which five double-digits seeds won and eight of the 16 games were decided by three points or less (or in OT). Thursday? Just one game was decided by three points or less.
Each of the No. 1 seeds that played on Friday rolled. Duke beat No. 16-seeded Arkansas-Pine Bluff
73-44
in the South Regional, and Syracuse manhandled Vermont
79-56
in the West.
Friday wasn't completely void of reasons to cheer. Cornell finished 27-4 during the regular season, but some still questioned its legitimacy as a serious threat in March. The Big Red's best performance this season actually came in a loss: 71-66 at Kansas on Jan. 6.
But against Temple's vaunted defense, Cornell shot 56.3 percent and made nine 3-pointers. Senior guard
Louis Dale
scored 21 points and senior forward
Ryan Wittman
scored 20 for the Big Red, which won its first NCAA tournament game ever and ended the Ivy League's 12-game drought in the NCAAs.
"I think it's great for our league; just the national attention," Dale told reporters Friday. "Our league is a good league. It was hard for us to win. Princeton is a good team, Harvard is good, and I think it's just great for our league."
Speaking of leagues in all-out show-us-respect mode, the Pac-10 picked up another victory over the Big East on Friday, as Cal stomped Louisville from start to finish in a
77-62 victory
in Jacksonville. On Thursday, Washington was a comeback winner over Marquette. Combine those two with the first-round victories of Gonzaga and Saint Mary's and the two most prominent conferences on the West Coast (the Pac-10 and WCC) are 4-0 in this tournament. So is this still the worst season of Left Coast basketball in years, as so many have proclaimed? Maybe not.
Many college basketball fans also wondered how good 4th-seeded Purdue would be after the Boilermakers lost star forward
Robbie Hummel
to a season-ending knee injury on Feb. 24. Most figured the Boilermakers would go one-and-done in the NCAA after they lost to Minnesota by 27 points in the semifinals of last week's Big Ten tournament in Indianapolis. But junior center
JaJuan Johnson
scored 23 points and grabbed 15 rebounds and three other Boilers scored in double figures in a
72-64 victory
, ending Siena's hopes for a third first-round upset in as many years.
[+] Enlarge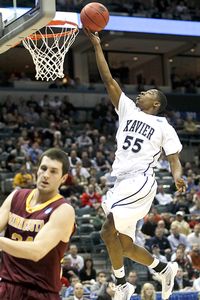 AP Photo/Morry GashXavier's Jordan Crawford is one of two former Indiana Hoosiers making a splash in this year's tournament.
If watching the Boilermakers win wasn't bad enough for Indiana University fans, imagine having to watch former Hoosiers
Armon Bassett
and
Jordan Crawford
the last two days. Bassett and Crawford were part of the mass exodus of players after former Indiana coach Kelvin Sampson was fired in 2008.
On Thursday night, Bassett scored 32 points in No. 14-seeded Ohio's 97-83 upset of Georgetown in the Midwest Regional. A day later, Crawford scored 28 points with six rebounds and five assists in No. 6-seeded Xavier's
65-54
victory over Minnesota in a West Regional game in Milwaukee. That's a mere 60 points combined.
The Hoosiers? They've gone 16-46 the last two seasons as new coach Tom Crean continues to clean up the mess Sampson left behind.
Perhaps Crean could use a player like Maryland's
Jordan Williams
. In his very first NCAA tournament game, all the freshman did was score a career-high 21 points and haul in a career-high 17 rebounds as the 4th-seeded Terrapins pulled away from Houston in an
89-77 victory
.
For a while, at least, it seemed like we would have the same edge-of-your-seat drama -- and the same embarrassing results for the Big East -- from the day before. No. 2-seeded West Virginia missed its first 11 shots against Morgan State in an East Regional game in Buffalo. But the Mountaineers finally found their stroke and pulled away in a
77-50 rout
.
No. 3-seeded Pittsburgh scored 11 points in the first 10 minutes against Oakland in a West Regional game in Milwaukee, before running away with an
89-66 victory
.
Wisconsin, the No. 4 seed in the East Regional, didn't put away Wofford until junior forward
Jon Leuer
buried a baseline jumper with 18 seconds left in a
53-49 win
in Jacksonville. Wofford College was founded in Spartanburg, S.C., in 1854, but the Terriers were making their first NCAA tournament appearance. They certainly didn't seem to be overwhelmed, as they had a one-point lead with 4:43 to play.
"We know Wofford is very good," Wisconsin coach Bo Ryan said. "We know their heart is big. We know how hard they play."
The Badgers play Cornell, another team with a big heart, in Sunday's second round.
The good news? The underdogs which won our hearts on Thursday will be back in action in Saturday's second-round games. No. 14-seeded Ohio plays No. 6 Tennessee in the Midwest Regional. No. 11-seeded Old Dominion plays No. 3 Baylor and 10th-seeded Saint Mary's plays No. 2 Villanova in the South Regional. No. 13-seeded Murray State faces No. 5 Butler in the West Regional, and No. 11-seeded Washington will try to knock off No. 3 New Mexico in the East.
Here's hoping Saturday is more like Thursday than Friday.
March, 19, 2010
3/19/10
4:34
PM ET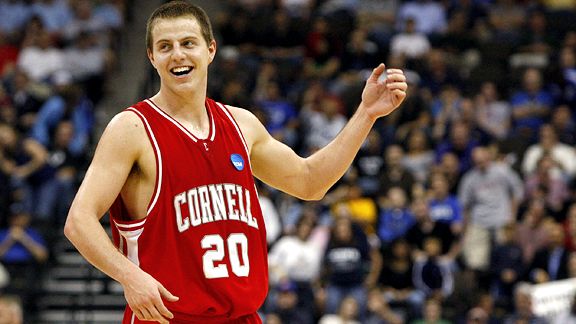 Andy Lyons/Getty ImagesCornell guard Ryan Wittman and the rest of his Big Red teammates are moving into the second round.
JACKSONVILLE, Fla. -- Cornell guard
Ryan Wittman
started to spout the old one-game-at-a-time cliché when asked about his team's NCAA tournament future Thursday afternoon. Then he started chuckling.
The oddness of the answer must have struck him. When was the last time an Ivy League school had to guard against looking ahead in March?
We may need to rethink a lot of preconceived conceptions if the Big Red are going to play like they did in a thoroughly impressive
78-65 undressing of No. 5 seed Temple
on Thursday.
"To the rest of the world, this might have been an upset," center
Jeff Foote
said. "But not to us."
You paid attention to Cornell this year when it cracked the Top 25 and when it battled Kansas to the wire in Lawrence in January. But did you know it was actually
this
good?
Temple is no slouch. The Owls went 29-5, won the Atlantic 10 regular season and conference titles and beat Villanova this season. Many people thought they deserved better than a No. 5 seed.
Yet Cornell controlled the game from the opening tip, first by pounding the ball in to the 7-foot Foote and driving to the basket as Temple concentrated on stopping the 3-point shot. That's why the Big Red shot a sizzling 68.4 percent in the first half en route to taking a 37-29 lead into intermission.
When Temple tried to adjust in the second half, Cornell banged home seven 3-pointers, including three in a row in one crucial early stretch. Cornell ran the dribble handoff to perfection with Foote most of the game. When the Owls stretched out their defense, Foote found cutters for layups. When they stayed underneath Foote,
Louis Dale
(21 points) and Wittman (20) drilled 3s.
"They looked great out there running their offense," Temple coach Fran Dunphy said in admiration.
Cornell led by as many as 19 points in the second half, and even Wittman admitted that margin surprised him. The result, however, was not unexpected for a team playing in the NCAA tournament for the third straight time.
"That's the difference between the last few years and this year," said Dale, whose team lost to Stanford by 24 points in 2008 and by 19 to Missouri last March. "We came into this game confident, and we expected to win."
Not just confident, but loose. Players joked around during Thursday's media session, not at all in awe of the environment. When they hit the court early for warm-ups Friday and were told by NCAA officials that they couldn't touch the basketballs yet, they teasingly went through some phantom layup drills.
This group is extremely comfortable around one another. Most were barely recruited -- Foote began his career as a walk-on at St. Bonaventure, and Dale personally delivered his highlight tape to coach Steve Donahue after no one else showed interest. Thirteen players -- including all the seniors -- and a team manager share a 14-bedroom house just off campus.
"I may never coach a group this special again," Donahue said. "And one that can compete on the national stage."
Still, the Ivy League is supposed to dominate debate contests, presidential races and job searches, not NCAA tournament games. The Ancient Eight's last March Madness moment in the sun was Princeton's upset of UCLA in 1996 on the most famous backdoor pass ever delivered. Since then, the Ivy had lost in the first round 11 straight years, the longest active losing streak by any conference coming into Friday.
Cornell needed no Princeton-style late heroics. In the locker room after the game, Donahue told the players they should be excited about the moment, but that it's not over yet.
"He wants more," Wittman said.
More than one win from an Ivy League team? It's time to consider that as a real possibility.
March, 19, 2010
3/19/10
2:39
PM ET
JACKSONVILLE, Fla. -- Cornell is for real.


The 12th-seeded Big Red didn't just
beat fifth-seeded Temple
. They controlled the game from start to finish, leading by as many as 19 points in the second half. There was never any question of which team was better in all facets.
Cornell shot 56 percent for the game and was over the 60 percent mark until missing some meaningless shots late. After making just two 3-pointers in the first half, the Big Red buried seven treys in the second half.
Louis Dale
(21),
Ryan Wittman
(20 points) and
Jeff Foote
(16) all had big scoring days and were a combined 19-of-32 from the floor.
Temple didn't play that poorly, shooting 51.9 percent itself. But Cornell simply outplayed the Atlantic-10 regular-season and tournament champions. It's the first win for the Ivy League since Princeton in 1998.
But it's clear that the Big Red aren't just some Ivy League curiosity. They're for real, and they'll be tough to handle in the second round.
March, 18, 2010
3/18/10
4:00
PM ET
JACKSONVILLE, Fla. --
Mark Coury
began his career as a walk-on at Kentucky, earning a starting job his sophomore year before transferring to Cornell.
The differences between the college basketball elite and the Ivy League require little explanation, from the facilities to the food to the travel. For example, Coury said the only time Kentucky ever bused to a game was when it played at Louisville; Cornell took a motor coach to every road stop this season except when it flew to Kansas -- and from there the team bused to South Dakota State.
[+] Enlarge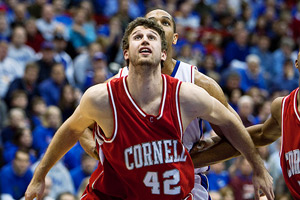 Jeff Moffett/Icon SMIMark Coury and the Big Red are looking forward to their matchup with Temple.
It's the similarities between the two worlds, not the differences, that are interesting. While the Big Red will never match the Big Blue in most things, Cornell is a wise-guy NCAA tournament pick after going 27-4 this season.
"Coming to Cornell, I learned what it's like to be an upstart," Coury said. "It's not going to be at the Kentucky level, but it's getting to where we're more respected."
This is the Big Red's third straight year in the tournament, and they're a senior-dominated team that's no longer awestruck by the environment or the pressure of the moment.
"Our goal that first year was just winning the [Ivy] championship and getting to the NCAA tournament, and anything after that would be gravy," leading scorer
Ryan Wittman
said. "We've got different goals this year. Our expectations are about winning some games here as well."
Many believe they can do just that. Cornell owns wins this season over Alabama, UMass and St. John's, and nearly knocked off Kansas in Lawrence before falling 71-66. It led the nation in 3-point shooting this season at 43.4 percent, but this is more than just a collection of shooters. What sets them apart from other Ivy Leaguers of the past is a legitimate inside game with 7-foot, 265-pound center
Jeff Foote
, who's a deft passer as well as a strong rebounder and shot blocker.
Loads of people, including bracketologist-in-chief Barack Obama, are picking the No. 12 seed to upset No. 5 Temple on Friday. ESPN's Jay Bilas even penciled Cornell into the Elite Eight.
"That's pretty cool, but it doesn't make our jobs any easier," Wittman said. "We played a tough nonconference schedule that prepared us for these types of games. In the past, we didn't really know how well we'd play against these types of teams, but I think this year is different."
The players certainly seemed loose during their meeting with the media on Thursday. Foote lost a shooting bet in practice with guard
Louis Dale
, so he had to answer the first question of the news conference with a complete non-sequitur as his teammates on the dais giggled.
Here's an unexpected statement that's no joke: an Ivy League team is a serious threat in this year's tournament.
"I don't know if we're the underdog, but we're 100 percent focused on getting that first NCAA win," Coury said. "Having played at Kentucky, I'm not intimidated by anything, and I know the rest of these guys feel basically the same way."
March, 5, 2010
3/05/10
9:06
PM ET
By
Diamond Leung
| ESPN.com
Cornell became the first team to clinch a berth into the NCAA tournament field of 65 after
beating Brown 95-76 today
to win the Ivy League title.
Jon Jaques led the big Red wih 20 points,
Louis Dale
had 18, and
Ryan Wittman
added 16 to take the outright title, which comes along with the automatic berth.
Cornell had little trouble in this one, going 20 of 30 from three-point range.
January, 6, 2010
1/06/10
10:46
PM ET
Bill Self was expecting a grind-it-out game, a game in which every possession would matter, a game in which his top-ranked
Kansas Jayhawks
would have "their manhood" tested for the first time.
[+] Enlarge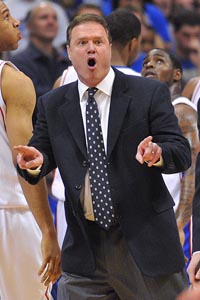 Denny Medley/US PresswireBill Self expected to get a test on Saturday at Temple. Instead he got it at home against Cornell.
He just expected it a game ago.
Kansas got the sort of gutcheck game it hadn't experienced since the season opener against Memphis, but not at Temple as Self expected. KU got it instead from a Cornell team that went to Allen Fieldhouse and took Kansas to the very brink of disaster before the Jayhawks could escape,
71-66
.
Know this much: nobody wants to be seeing (Big) Red come March.
And know this as well: as tough as that game might have been to sit through for the Kansas faithful, it's the sort of game Self wanted to see. There's a little bit of masochist in every college basketball coach -- they want to win, they don't mind winning easy, but their morbid curiosity always has them wondering how their players will handle adversity. Self got his answer.
Sherron Collins
stole the headlines, scoring a career-high 33 points, including pivotal freebies in the final minute to remind everyone that player of the year honors haven't been decided yet.
But what was maybe as impressive as Collins' light-up night was the way
Cole Aldrich
and
Tyrel Reed
came up big for Kansas at crucial minutes. Aldrich scored on a baby hook shot to cut Cornell's lead to 60-58 and then swatted a
Louis Dale
shot on the other end. After
Jeff Foote
traveled for Cornell, Reed hit his only bucket of the night, a 3-pointer that gave KU the lead.
Self left Philadelphia impressed with how hard his team played and more than pleased, but still wondering how tough they would be when things got rough. With one more non-conference game before the tough Big 12 season opens, he might have gotten his answer.
Just a game later than expected.