College Basketball Nation:

Louisiana Lafayette Ragin' Cajuns
November, 23, 2013
11/23/13
10:35
PM ET
On a slow Saturday for college basketball, there just weren't many gems. North Carolina struggled with Richmond but eventually pulled away to win 82-72. Louisville dismissed Fairfield 71-57, which set up a marquee Sunday matchup against the Tar Heels.
Winless Tulsa gave Creighton a scare. But overall, it certainly wasn't the game's sexiest Saturday. But there were a variety of under-the-radar and mid-major programs that offered some impressive individual efforts.
These are some of the players who usually go unnoticed for the majority of the year until March approaches and we're all scrambling to find the next Butler or VCU. Well, remember these names. These athletes might be more relevant in the coming months.
[+] Enlarge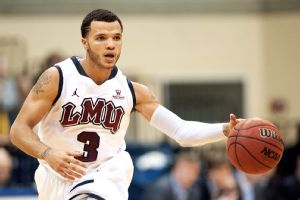 Orlando Ramirez/Icon SMILoyola Marymount G Anthony Ireland turned in a huge effort on Saturday.
1.
Keon Lewis (UTSA)
-- The UTSA junior guard had a monster game in his team's 87-76 win over Texas A&M-Corpus Christi. He recorded 30 points, 4 assists, 2 rebounds and 2 steals. He also went 13-for-13 from the charity stripe and 3-for-5 from the 3-point line.
2.
Anthony Ireland (Loyola Marymount)
-- The 2012-13 All-WCC first-teamer scored 25 points in a 76-70 win over Marist in the Paradise Jam. The senior also recorded 6 assists and 3 steals. And he made 10 of 11 free throws.
3.
Jameel Warney (Stony Brook)
-- The 6-foot-8 sophomore forward was in Beast Mode during Stony Brook's 67-61 win over Florida Atlantic. He finished with 23 points and 19 rebounds in that game. He was crucial for the Seawolves, who were locked in a tied game early in the second half.
4.
Langston Hall (Mercer)
-- The 6-4 senior led Mercer to an 81-54 win over Yale. He connected on four of his seven 3-point attempts. He also registered 18 points, 10 assists, 2 rebounds and 1 steal.
5.
Anthony Stitt (Charleston)
-- The junior finished the Cougars' lopsided 89-55 win over Furman with 4 steals. He also made 4 of 8 3-point attempts on his way to 21 points.
6.
Chris Horton (Austin Peay)
-- The sophomore big man is averaging 3.8 BPG. And he maintained that pace when he finished with four blocks in a 78-72 victory over Montana State. He also finished with 23 points and 9 rebounds.
7.
Sean Armand (Iona)
-- The 6-5 guard powered the Gaels in their 89-73 victory over Paul Hewitt's program. Armand was 10-for-16 from the field in a 30-point performance. It was his season high in George Mason's first blemish of the season.
8.
Ray Lee (Eastern Michigan)
-- What a performance by the freshman in his team's fifth consecutive win. He scored 38 points, went 12-for-15 from the field and made all five 3-point attempts in Eastern Michigan's 74-69 victory over Texas-Arlington. Another interesting note? His real name is Raven.
9.
Shawn Long (Louisiana-Lafayette)
-- Check out this stat line by the 6-9, 245-pounder: He finished with 24 points, 17 rebounds and 5 blocks in the Ragin' Cajuns' 84-75 victory over Oakland. He also hit a 3-pointer.
10.
Mark Henniger (Kent State)
-- The 6-9 senior led the Golden Flashes to a 102-97 win over Niagara. He was perfect. He went 6-for-6 from the field (20 points) and 8-for-8 from the free throw line. Kent State should bronze his shoes.
October, 27, 2012
10/27/12
11:00
PM ET
By
ESPN.com staff
| ESPN.com
Before getting to the Blue Ribbon team-by-team previews for the Sun Belt, read Dana O'Neil's profile of new Florida International coach Richard Pitino, Myron Medcalf's look at North Texas' nonconference schedule and Western Kentucky's place in ESPN.com's 50 in 50 series.
Blue Ribbon's in-depth previews of all 11 Sun Belt teams:

Arkansas-Little Rock

Arkansas State

Florida Atlantic



Florida International

Louisiana-Monroe

Louisiana-Lafayette

Middle Tennessee

North Texas

South Alabama

Troy

Western Kentucky
January, 6, 2012
1/06/12
12:32
PM ET
Let's dispense with the pleasantries and go straight to the facts.
On Thursday night, the 5-10
Western Kentucky Hilltoppers
and 7-8 Louisiana Lafayette Ragin' Cajuns met at the E.A. Diddle Arena in Bowling Green, Ky., home of WKU. For 40 minutes, the two teams played hard. Louisiana Lafayette
controlled the lead for most of the evening
, but every time the Ragin' Cajuns looked to pull away, Western Kentucky made a play (or two, or three) to keep themselves from falling behind the pace.
With 30 seconds remaining, down by three, Western Kentucky guard
Kahlil McDonald
made the biggest such play of the night, stealing the ball and pushing it to teammate
Derrick Gordon
, who banged home a three to tie the game at 70-70. Louisiana Lafayette coach Bob Marlin called timeout.
That's when it happened:
As Ragin' Cajuns guard
Elfrid Payton
dribbled through the WKU defense on his way to a buzzer-beating game-winner, a sixth Louisiana Lafayette player either entered the frame, or came onto the floor, or maybe both. The important part is that Louisiana Lafayette
won the game with six players on the court
. That's -- oh, what's the phrase I'm looking for? Oh, right:
Against the rules.
That's definitely against the rules.
Ironically enough, it didn't really matter. Payton was apparently determined to turn a 6-on-5 advantage into a 1-on-5 attack; I'm not sure he noticed that his other four teammates were on the floor, let alone a fifth. (I know you made the play, but come on, dude. Pass the ball.) Still, Western Kentucky had a legitimate grievance after this one, which they apparently aired to the referees after the game. But WKU had no recourse. ESPN.com's
Andy Katz spoke with Mike Wood
, the Sun Belt's coordinator of officials, who said the officials can't go back to the monitor and overturn a play because six men are on the floor. It's one of the calls you have to catch live as it happens; there's no way to change it retroactively. The veteran crew of referees is likely to serve a suspension, but that's about it.
In other words: WKU lost a game on a buzzer-beater against six men, and there isn't a single thing they can do about it. Nothing.
So, hey, why not fire the coach? Because, yep, that happened, too.
On Friday, as millions of people were streaming this play on their computer screens, Western Kentucky athletic director Ross Bjork decided now -- now! --
was the appropriate time to release current WKU coach Ken McDonald
. Bjork recommended to the university president that McDonald be let go and replaced by interim coach Ray Harper.
Bjork explained his decision via a release on the program's website
:
"Last spring, I felt Coach McDonald deserved the opportunity to begin positive trends with a new season, and we witnessed some encouraging elements during the summer and fall under his direction. Unfortunately, as this season has progressed, the plan has not worked out. We have a 5-11 record and do not rank in the nation's top 200 in virtually any statistical category. This is not what the WKU basketball program should represent. While we pride ourselves on having an energetic and exciting atmosphere in Diddle Arena, our attendance levels are reaching historic lows. These disturbing facts are unacceptable, and we can no longer continue on this troubling course. Confidence, respect -- locally and nationally, public support and an overall positive perception of the WKU men's basketball program is lacking. Our historic program is too strong to be in this position. Simply put, WKU men's basketball needs a new voice.

"Coach Harper has had proven success as a head coach, and we are excited to see how our team responds under his direction. Let me be clear, we are not giving up on this season. We have 13 conference games remaining, and we still believe this year's team has much to achieve."
In other words, McDonald wasn't fired for losing to six men on one of the most boneheaded whistle omissions in the history of college hoops. He was fired because his team isn't very good, and no one's coming to watch it play. This is understandable. Western Kentucky has a proud hoops tradition -- it has six Sweet Sixteen appearances in the program's history (seven if you count 1971's vacated run to the Final Four). The most recent appearance was just three years ago, in 2008,
on one of the greatest buzzer-beating 3-pointers of the past 25 years
. The Hilltoppers have an excellent gym, a large and vibrant fan base and an expectation of Sun Belt success.
McDonald's current team was 5-10 before Thursday night's debacle. His record was 67-49 in three and a half seasons. Even more dire were the concerns about attendance. Bjork didn't want to wait; he wants to try to salvage this season, to stem the tide of a once-rabid fan base currently spending its time and money on other pursuits. In a vacuum, this firing makes sense. Arguably, it could have happened over the summer.
But this firing didn't come in a vacuum. It came approximately 12 hours -- was it even that long? -- after McDonald lost a game when, if not because, the opposing team had six men on the floor. Let's repeat that one more time, just to hammer it home:
Louisiana Lafayette won with six men on the floor
. I mean, that's tough enough as it is. You can't wait a few days to let the guy go? A few weeks? Until the offseason? You really have to fire him today? You can't let him down easy?
On Friday morning, Western Kentucky was the team that lost that crazy game to six men. Now, on Friday afternoon, Western Kentucky is the team that fired its coach after he lost a game to six men.
If that's the way we remember this Thursday's inexplicable finish -- if this two-day stretch comes to define Western Kentucky in the coming years -- Hilltoppers brass will have only themselves to blame.