College Basketball Nation:

Louisiana Tech Bulldogs
December, 12, 2013
12/12/13
9:00
AM ET
The guards are quick. They can score. They can defend.

And they aren't from Oklahoma State.
Nope, not Memphis, either.
But
Louisiana Tech
is not entirely different from either team, and while Saturday's game against the Bulldogs doesn't jump off the
Oklahoma State
schedule game like the two dates with the Tigers, it could prove every bit as difficult.
It's not so much a trap as it is a legitimately tough game.
The Bulldogs, if you recall, put together a 27-win season and a regular-season conference title in 2012-13 before stumbling down the stretch to miss out on a coveted NCAA tournament bid.
From that team, four starters and 11 players return, including most critically
Raheem Appleby
and
Kenneth "Speedy" Smith
. Appleby takes care of much of the scoring -- he's averaging 15.6 points -- and Smith, a defensive specialist, probably will be charged with the task of handling
Marcus Smart
. He's a pesky point guard who excels equally as a setup man (averaging 5.9 assists per game) and a swiper (2.83 steals).
Handling Smart is no small task, for certain, and will easily be the toughest assignment Smith faces all season, but if he can limit Smart's shots, this game could become very interesting.
The Bulldogs play the same uptempo style as Memphis and might even be a little more in control. Louisiana Tech averages 85 points and ranks sixth in the nation in steals, yet commits only 11 turnovers.
This is the biggest game Louisiana Tech will play this season. The Bulldogs jumped to Conference USA this season, and while an upgrade from the WAC, it still won't offer a lot of opportunities to impress the selection committee.
This one will.
And a year after a less-than-meaty schedule denied Louisiana Tech an NCAA bid, don't think the Bulldogs and their fans won't be all in when Oklahoma State pulls in to town.
September, 11, 2013
9/11/13
11:55
AM ET
This week, ESPN.com has been
breaking down the nonconference schedules
of each team in nine of the nation's top leagues. Now let's take a look at the slates of a dozen of the top teams outside of those conferences.
BYU
Toughest:
Iowa State (Nov. 20), CBE Hall of Fame Classic (Nov. 25-26 in Kansas City, Mo.)
Next toughest:
at Stanford (Nov. 11), vs. UMass (Dec. 7 in Springfield, Mass.), at Oregon (Dec. 21)
The rest:
Weber State (Nov. 8), Mount St. Mary's (Nov. 15), vs. Utah State (Nov. 30 in Salt Lake City), North Texas (Dec. 3), Prairie View A&M (Dec. 11), Utah (Dec. 14)
Toughness scale (1-10): 7
-- With
Tyler Haws
back, BYU could steal the WCC crown from Gonzaga. The Cougars certainly will be prepared for the task. A home game against the Cyclones will be an early test for the program. The pot of gold in the Hall of Fame Classic could be a matchup against Final Four participant Wichita State (if BYU gets past Texas). Games against UMass and Oregon in December could be the kind of matchups that pull Dave Rose's team off the bubble on Selection Sunday, if they're successful.
FLORIDA GULF COAST
Toughest:
at North Carolina State (Nov. 26)
Next toughest:
at Nebraska (Nov. 8), Iona (Dec. 1)
The rest:
Hartford (Nov. 12), at Furman (Nov. 15), Eckerd (Nov. 18), Ave Maria (Nov. 23), at FIU (Dec. 7), Samford (Dec. 14), at South Florida (Dec. 17), at Mississippi State (Dec. 19), Las Vegas Classic (Dec. 22-23)
Toughness scale (1-10): 3
-- Florida Gulf Coast's athleticism and acrobatics enhanced the NCAA tournament experience for everyone, as "Dunk City" became a national slogan. Well, FGCU's nonconference slate belies its playmaking ability. The Eagles' toughest matchups should be road games against a Nebraska team that finished at the bottom of the Big Ten last season and an NC State squad that lost most of its impact players. The trip to Vegas yields games against Florida A&M and either Radford or Sacred Heart. And it gets worse. You'll have to Google "Eckerd" and "Ave Maria." The dunks can't make up for this disappointing schedule.
GONZAGA
Toughest:
Maui Invitational (Nov. 25-27), at West Virginia (Dec. 10), at Memphis (Feb. 8)
Next toughest:
vs. Kansas State (Dec. 21 in Wichita, Kan.)
The rest:
Bryant (Nov. 9), Colorado State (Nov. 11), Oakland (Nov. 17), Washington State (Nov. 21), Coppin State (Dec. 1), New Mexico State (Dec. 7), vs. South Alabama (Dec. 14 in Seattle)
Toughness scale (1-10): 8
-- The Zags must recover from the loss of talented frontcourt duo
Elias Harris
and
Kelly Olynyk
. But they're still talented enough to maintain their reign in the WCC. There will be little doubt if they succeed in the Maui Invitational. Matchups against Baylor and Syracuse could follow Gonzaga's opening round game against Dayton. A loaded Memphis squad could be a problem for the Bulldogs in February. Kansas State is less interesting because
Angel Rodriguez
and others transferred this offseason. The potential at the Maui Invite boosts this slate, however, especially because there's a strong chance we'll see those matchups.
HARVARD
Toughest:
at Colorado (Nov. 24), at UConn (Jan. 8)
Next toughest:
Great Alaska Shootout (Nov. 28-30), Boston College (Jan. 1)
The rest:
vs. Holy Cross (Nov. 10 in Boston), MIT (Nov. 12), Howard (Nov. 15), Bryant (Nov. 20), at Northeastern (Dec. 4), at Boston University (Dec. 7), Vermont (Dec. 21), at Fordham (Dec. 28), at Rice (Jan. 4), at Florida Atlantic (Jan. 21)
Toughness scale (1-10): 6
-- Tommy Amaker has one of the best rosters in Harvard history. He has the key players from last season's NCAA tourney squad. Plus, Brandyn Curry and Kyle Casey are returning from last season's suspensions. We'll know more about the program's ceiling after it travels to Boulder to face Tad Boyle's talented Colorado squad. Harvard will encounter one of America's best backcourts when it goes to UConn in January. Not much beyond that. The Great Alaska Shootout features one of the weakest holiday tournament fields in the country. Nothing else in this lineup that would really interest the selection committee.
INDIANA STATE
Toughest:
at Notre Dame (Nov. 17), at Saint Louis (Dec. 18)
Next toughest:
Great Alaska Shootout (Nov. 27-30)
The rest:
Ball State (Nov. 9), at Belmont (Nov. 14), Truman State (Nov. 22), at Eastern Illinois (Dec. 7), at Missouri-Kansas City (Dec. 14), IUPUI (Dec. 21), Belmont (Dec. 28)
Toughness scale (1-10): 6
-- The Sycamores are Wichita State's biggest challenger in the Missouri Valley Conference now that Creighton has moved on to the new Big East.
Jake Odum
and three other starters return. They'll have to get comfortable off campus. Road matchups against Notre Dame and Saint Louis will be their toughest nonconference games. The Sycamores play five true road games before MVC play begins, and that does not include the Great Alaska Shootout. The latter features a subpar field, but Indiana State could get Harvard in the title game at least. The program might regret two nonconference meetings with Belmont once Selection Sunday arrives.
IONA
Toughest:
at Kansas (Nov. 19)
Next toughest:
at Florida Gulf Coast (Dec. 1), at Dayton (Dec. 19)
The rest:
at Cleveland State (Nov. 9), Wofford (Nov. 16), George Mason (Nov. 23), St. Bonaventure (Dec. 14), at Nevada (Dec. 22), at Northern Iowa (Dec. 28)
Toughness scale (1-10): 5
-- Tim Cluess' program has reached the NCAA tournament in back-to-back seasons. And despite losing Momo Jones, the Gaels could return. Most of their starters from last season are back. Their nonconference slate, however, features few opportunities to boost their at-large resume. They'll play Andrew Wiggins and Kansas in Lawrence in November. George Mason, Florida Gulf Coast and Northern Iowa are all matchups they could lose. But even if they win all three, they'll probably need more quality wins to get some help on Selection Sunday.
LONG BEACH STATE
Toughest:
at Arizona (Nov. 11), Puerto Rico Tip-Off (Nov. 21-24), Creighton (Dec. 3)
Next toughest:
at Kansas State (Nov. 17), at Washington (Nov. 30), at NC State (Dec. 7), at Missouri (Jan. 4)
The rest:
Hawaii-Pacific (Nov. 9), Loyola Marymount (Nov. 14), USC (Dec. 19), Montana State-Billings (Dec. 21), at Nevada (Dec. 28)
Toughness scale (1-10): 10
-- Dan Monson's program dismissed standouts Kaela King and
Tony Freeland
in the offseason. But the 49ers still can win the Big West, especially with former UCLA guard Tyler Lamb becoming eligible after the first semester. They'll need everyone to step up to deal with this strenuous nonconference schedule. The program will face national title contender Arizona on the road in early November. The 49ers open the Puerto Rico Tip-Off with a matchup against Michigan, another national title contender. The tourney also includes VCU and Georgetown. Big East title favorite Creighton travels to the West Coast for a matchup in early December. The slate ends with a matchup against Missouri in Columbia. Now
that
is a nonconference schedule.
LOUISIANA TECH
Toughest:
vs. Oklahoma State (Dec. 14 in Oklahoma City)
Next toughest:
at Saint Mary's (Nov. 8), at Oklahoma (Dec. 30)
The rest:
Centenary (Nov. 13), Central Arkansas (Nov. 20), Gulf Coast Showcase in Naples, Fla. (Nov. 25-27), at Jackson State (Dec. 1), UL-Lafayette (Dec. 4), Southern (Dec. 7), Northwestern State (Dec. 11), McNeese State (Dec. 17), at UL-Monroe (Dec. 22), Longwood (Jan. 4)
Toughness scale (1-10): 5
-- Last season, Louisiana Tech won 27 games and cracked the AP's top 25 poll. The Bulldogs didn't reach the tournament, but they're still a potential favorite to win Conference USA in their inaugural season in the league. But they'll probably enter conference play with an inflated record. Their mid-December game against national title contender Oklahoma State is the only one that stands out. Road games against Saint Mary's and Oklahoma could be factors if Louisiana Tech is on the bubble at the end of the season. The Bulldogs' lack of quality nonconference wins hurt them last season. They at least have a shot at a few decent ones this season.
MERCER
Toughest:
at Ole Miss (Dec. 22)
Next toughest:
at Texas (Nov. 8), at Oklahoma (Dec. 2)
The rest:
Reinhardt (Nov. 13), Seton Hall (Nov. 16), at Evansville (Nov. 18), Johnson & Wales (North Carolina) (Nov. 20), Yale (Nov. 23), at Ohio (Nov. 26), at Valparaiso (Nov. 29), Denver (Dec. 7), Alcorn St. (Dec. 16), St. Andrews (Dec. 27)
Toughness scale (1-10): 4
-- Mercer brings back four starters from a team that won the Atlantic Sun's regular-season crown in 2012-13. That's the good news. But it's usually a bad sign when you have to Google some of the names featured on a team's nonconference slate. Yes, Johnson & Wales is a real school. Yes, Mercer is playing a bunch of high majors, too. But they're only high majors in name as 2013-14 approaches. Ole Miss should be its toughest game and the Bears have had success against the SEC in recent years. Texas has lost everyone, and Oklahoma has to replenish, too. Those three teams are not expected to contend for the title in their respective conferences. And then, there's Johnson & Wales.
SAINT MARY'S
Toughest:
at Boise State (Dec. 14), Diamond Head Classic (Dec. 22-25)
Next toughest:
Louisiana Tech (Nov. 8)
The rest:
Akron (Nov. 12), North Dakota State (Nov. 14), Drake (Nov. 16), Alcorn State (Nov. 24), Murray State (Nov. 30), Eastern Washington (Dec. 8), American University (Dec. 19)
Toughness scale (1-10): 5
-- This is actually better than some recent Saint Mary's nonconference lineups. But it's still so-so, even for a Gaels program that must reboot after losing star
Matthew Dellavedova
. A road game against Mountain West title contender Boise State is probably Saint Mary's toughest game. The Gaels could see the Broncos again if they beat South Carolina in the opening round of the Diamond Head Classic. Iowa State might be waiting in the championship game. Louisiana Tech could win the Conference USA crown in its first season, so that November matchup should be meaningful. But the Gaels have just one true road game.
SOUTHERN
Toughest:
at Florida (Nov. 18), at Arizona (Dec. 19)
Next toughest:
at Marquette (Nov. 8), at Baylor (Dec. 22)
The rest:
, at Middle Tennessee State (Nov. 10), Tulane (Nov. 13), at North Florida (Nov. 16), Arkansas-Little Rock (Nov. 22), Blue Mountain College (Nov. 25), at Denver (Dec. 3), at Louisiana Tech (Dec. 7), Dillard (Dec. 14), Champion Baptist College (Dec. 30)
Toughness scale (1-10): 10
-- The squad that nearly upset No. 1 seed Gonzaga in the NCAA tournament last season is ready to play the role of David again. Southern, a team that returns star
Malcolm Miller
, could ruin a few nonconference seasons for some of the country's best teams. The Jaguars kick off the year at Marquette. They'll face Florida in Gainesville a few weeks later. Then, they have back-to-back road matchups against Arizona and Baylor in December. That November game against Blue Mountain College is actually an anomaly on this challenging nonconference schedule. You taking notes, SEC?
WICHITA STATE
Toughest:
at Saint Louis (Dec. 1), vs. Tennessee (Dec. 14 at Intrust Bank Arena in Wichita, Kan.)
Next toughest:
CBE Hall of Fame Classic (Nov. 25-26), at Alabama (Dec. 17)
The rest:
Emporia State (Nov. 9), Western Kentucky (Nov. 12), at Tulsa (Nov. 20), Oral Roberts (Dec. 7), North Carolina Central (Dec. 22), Davidson (Dec. 29)
Toughness scale (1-10): 5
-- The Shockers have elevated expectations after last season's Final Four run. With so much talent returning, a trip to Arlington in April seems feasible. Wichita State will get an early test against reigning Atlantic 10 champ Saint Louis, and then it will host SEC sleeper Tennessee a few weeks later. The Vols beat the Shockers in Knoxville last season. They could face BYU if they beat DePaul in the first round of the Hall of Fame Classic. Games against Bama and Davidson shouldn't be overlooked, either. But this slate lacks the power players you'd like to see a Final Four team encounter prior to conference play.
July, 24, 2013
7/24/13
10:35
AM ET
With college basketball defined more and more each season by parity, we probably shouldn't be surprised by anything these days.
Especially in the NCAA tournament.
In three of the past four seasons, a team from a non-power conference has advanced to the Final Four and more than held its own upon arrival.
The most recent example is Wichita State, which defeated the likes of Pittsburgh, Gonzaga and Ohio State en route to a showdown with Louisville in the national semifinals. The Shockers lost to the eventual NCAA champs 72-68, but Gregg Marshall's team certainly made its presence felt in a game that wasn't decided until the final minute. Along with earning a ton of national respect (if it hadn't done so already), Wichita State's postseason march was surely inspiring to teams from similar leagues hoping to accomplish the same feat this season.
I'm not predicting that any of these programs will pull a Wichita State and make the Final Four, but here are some schools from non-power conferences that could make some noise in March.
10. Southern
-- Florida Gulf Coast became the first No. 15 seed to advance to the Sweet 16 last season, but Southern nearly accomplished something even more impressive when it almost upset Gonzaga before falling 64-58. A victory would've made the Jaguars the first No. 16 seed to beat a No. 1. Southern should be a scary team again in 2013-14. Four of its top five scorers return including 6-foot-6 wing
Malcolm Miller
, who averaged 15.8 points and a team-high six rebounds.
Javan Mitchell
(9.5 points) and
Jameel Grace
(9.2) posted impressive numbers, as well. The Jaguars, who defeated Texas A&M in a nonconference game last season, will likely be challenged in the SWAC by Mike Davis' Texas Southern squad. Texas Southern won last season's SWAC title with a 16-2 record (compared to 15-3 for Southern) but was ineligible for the postseason.

9. Towson
-- The Tigers pulled off the biggest turnaround in NCAA history by going 18-13 one season after finishing 1-31. Pat Skerry's squad could be in for even better things, thanks to the return of four starters. The best of the bunch is former Georgetown forward
Jerrelle Benimon
, who ranked third in the nation in rebounding last season with 11.2 a game. Benimon, who also averaged a team-high 17.1 points, may be even tougher this season thanks to the arrival of 3-point standout Four McGlynn, a Vermont transfer who will be a welcome addition to a team that ranked 258th in the country in 3-point shooting. Small forward
Marcus Damas
should be the team's top defender for the second straight season, while
Timajh Parker-Rivera
has the edge on replacing departed senior
Bilal Dixon
at power forward. Towson will be playing in a new arena, and the CAA tournament is in Baltimore. It couldn't be happening at a better time for the Tigers, whose last NCAA tournament appearance was in 1991.

8. Florida Gulf Coast
-- It wasn't long after last season's surprising march to the Sweet 16 that Eagles coach Andy Enfield was poached by USC. The interest in Enfield hardly came as a surprise, as FGCU was one of the most fascinating stories of the NCAA tournament. Even though Enfield and his "Dunk City" style are gone, the Eagles likely won't take a huge step back. Longtime Kansas assistant Joe Dooley was hired as a replacement and with his pedigree, FGCU may not miss a beat. It'd be a mistake to assume the Eagles will play a completely different style under Dooley, who retained two of Enfield's top assistants (Marty Richter and Michael Fly). FGCU returns four of its top five scorers:
Bernard Thompson
,
Chase Fieler
,
Brett Comer
and
Eric McKnight
. And the Eagles add a pair of transfers in Jamail Jones (Marquette) and Nate Hicks (Georgia Tech).

7. Louisiana Tech
-- A lot of people forgot about the Bulldogs because they didn't make the NCAA tournament. Still, finishing 27-7 overall and 16-2 in any conference (yes, even the WAC) is no small feat. Neither is making an appearance, albeit brief, in the Top 25 poll for the first time since 1985. It will be interesting to see if Louisiana Tech can experience similar success during its first season as a member of Conference USA. The Bulldogs certainly have enough pieces for a great season. Leading scorer
Raheem Appleby
(14.9 points) returns along with
Cordarius Johnson
(7.9) and
Alex Hamilton
(7.8), who ranked second and third on the team in scoring, respectively. Leading rebounder
Michale Kyser
(5.3) is also back. Louisiana Tech lost its final two regular-season games last spring, then fell to UT-San Antonio in the first round of the WAC tournament, which meant it had to settle for an appearance in the NIT, where it beat Florida State and then lost to Southern Miss. It has the potential to make the NCAA tournament in 2013-14. That hasn't happened since 1991.

6. Boise State
-- The Broncos finished 21-11 last season and made the NCAA tournament for just the second time since 1994. Even though they lost to La Salle in the "First Four," the season was still deemed a huge success, especially considering Boise State played in the Mountain West, easily one of the nation's toughest conferences. The Broncos have to feel good about their chances for another good season in 2013-14. Four of their top six players return, including leading scorers
Anthony Drmic
(17.7 PPG) and
Derrick Marks
(16.3 PPG). Marks shot 42 percent from 3-point range and also averaged nearly four assists.
Mikey Thompson
(7.9 points) is back, as is leading rebounder
Ryan Watkins
. With a handful of the conference's top teams expected to take minor steps back, this could be a special season for the Broncos.

5. La Salle
-- Last season's run to the Sweet 16 (which included victories over Boise State, Kansas State and Ole Miss) earned Dr. John Giannini a contract extension, and rightfully so. Before last season the Explorers had won just one NCAA tournament game in 30 years and hadn't even made the field since 1992. The Explorers are confident their success will continue in 2013-14. Leading scorer
Ramon Galloway
is gone, but La Salle returns three other double-digit scorers in
Tyreek Duren
(14.3 points),
Tyrone Garland
(13) and
Jerrell Wright
(10.8), who also led the team in rebounds with 6.8 per game. Starting guard
Sam Mills
, who averaged 33 minutes per game, is also back. Replacing Galloway certainly won't be easy. He led the team in points, assists and steals. And his on-court swagger set the tone for a team that relied on toughness. Still, with confidence soaring following last season's 24-10 finish, the Explorers have an excellent chance of returning to the NCAA tournament.

4. Harvard
-- Tommy Amaker's squad pulled off one of the biggest upsets in the NCAA tournament last season by upending No. 3 seed New Mexico. And let's not forget, it was somewhat surprising that Harvard was even in the field. Harvard played the entire season without its two best players but still managed to win the Ivy League. If Brandyn Curry and Kyle Casey return, as expected, the Crimson likely will have their best team in recent history.
Wesley Saunders
,
Siyani Chambers
and
Laurent Rivard
were all double-figure scorers last season, and Curry and Casey likely will average similar or better point totals in 2013-14. If Harvard makes a postseason run this season, it won't be nearly as big of a surprise. This is a Top 25-caliber team.

3. Saint Louis
-- Some publications tabbed Jim Crews as the national coach of the year after he led the Billikens to the Atlantic 10 title last season. Crews had stepped in for Rick Majerus, who left the team in the fall for health reasons and passed away in December. SLU named Crews the full-time coach after the season, and it's not unreasonable to think SLU could be just as salty in 2013-14. Guard
Kwamain Mitchell
is gone, along with A-10 sixth man of the year
Cody Ellis
. But the Billikens return every other starter from a squad that also won the league tournament title while setting a school record for wins (28). Leading the way will be forward
Dwayne Evans
, who led last season's team in points (14) and rebounds (7.7).
Jordair Jett
is back after being named to the A-10's all-defensive squad. So is
Mike McCall Jr.
, whose 47 3-pointers ranked second on the team. The battle between SLU, La Salle and VCU for the A-10 title should be a good one.

2. VCU
-- There were times last season when VCU looked like a top-10 team. Even when VCU went 1-2 at the Battle 4 Atlantis, losing to Duke and Missouri, the Rams showed glimpses of becoming a team that could make the Final Four. No one would be surprised if Shaka Smart's squad accomplished that feat this season, especially if VCU establishes a little more consistency. The Rams will likely open the season ranked in the top 15. All but two key players (
Troy Daniels
and
Darius Theus
) return from last season's squad. Included in that group are double-digit scorers
Treveon Graham
(15.1 points),
Juvonte Reddic
(14.6) and
Rob Brandenberg
(10.1), along with defensive standout
Briante Weber
, who ranked fifth in the country in steals with 2.7 per game. VCU will continue to play its relentless full-court defense, which is hard to prepare for in a tournament setting because of the quick turnaround. On offense the Rams will score a ton of points in transition. This, once again, will be a fun team to watch -- and a difficult one to play.

1. Wichita State
-- Can the Shockers make it to the Final Four two years in a row? Heck, why not? There's a strong chance that this year's team could be even better than the unit that lost to Louisville. Losing bruising forward
Carl Hall
and court leader
Malcolm Armstead
will hurt, but Marshall's team returns all of its other key parts.
Cleanthony Early
, who had 25 points and 10 rebounds against Louisville, is an NBA-caliber small forward.
Ron Baker
ignited the Shockers' NCAA tournament run with his prowess from beyond the arc, and point guard
Fred VanVleet
logged valuable minutes as a freshman backing up Armstead.
Tekele Cotton
is a returning starter who helps set the tone defensively, and standout shooter
Evan Wessel
is back after redshirting last season. Look for 6-foot-9 Louisiana-Lafayette transfer Kadeem Colby to replace Hall in the paint. Colby spent the past season working out with the Shockers and Marshall couldn't be more impressed. Chipola (Fla.) College transfer Earl Watson also will be in the mix down low. It should be another great season in Wichita.

Bonus team: Butler
-- I goofed up in an earlier version of this blog by including the Bulldogs on this list. The things that Butler accomplished as a mid-major -- advancing to the NCAA title game in 2010 and 2011 -- made Brad Stevens' players the poster boys for non-power conferences. But things are different now. Butler is in the Big East -- and it made the move without Stevens, who was hired earlier this month as head coach of the Boston Celtics. His replacement, Brandon Miller, faces the tough task of carrying on the tradition established by Stevens and his predecessors. Miller left coaching altogether a few seasons ago when he resigned after six years as an assistant at Ohio State. He got back in the game last year as a special assistant to Illinois coach John Groce before Stevens brought him back to Butler as an assistant a few months before his departure. Miller inherits a team that lost its top two scorers in
Rotnei Clarke
and
Andrew Smith
.
But standouts
Khyle Marshall
and
Roosevelt Jones
(the hero of last season's dramatic win over Gonzaga) return along with
Kellen Dunham
, one of the country's top shooters. The biggest issue will be at point guard, where there is no clear front-runner for the starting spot.
Jackson Aldridge
has yet to establish himself after two seasons, and
Devontae Morgan
hardly saw the court last year as a freshman. Walk-on
Alex Barlow
is also a candidate. The Bulldogs certainly don't have the look of a Final Four team, but if Miller does half as good of a job as Stevens, it would be foolish to count the Bulldogs out.
March, 10, 2013
3/10/13
12:30
AM ET
Well, well, well. Apparently, a few teams want to go to the tournament after all.
OK, so
of course
everyone wants to play in the NCAA tournament. But watching the past week or so of college hoops, you could have been convinced otherwise. Why, it was
just last Saturday
that basically every SEC bubble team lost a bad game, while Arizona State, St. John's, Iowa State, Indiana State and Akron, just to name a few, suffered the kind of losses that can cost you a bid in the tournament.
The weekdays since haven't been much better. Virginia spent all week undoing the résumé boost earned with its victory over Duke. Kentucky lost at Georgia. Baylor flopped against Texas. It got so bad we had to begin considering the fringiest of the fringe -- Southern Miss, Iowa, Providence, Maryland -- even though it was almost physically painful to imagine most of those teams in the tournament.
And then, finally, mercifully, some of these teams started acting like they wanted to play meaningful basketball in March. Kentucky, Tennessee, Boise State and Baylor all got huge wins at home. Iowa State held on at West Virginia. Even Cincinnati, which had been quietly slipping toward the bubble in recent weeks, avoided a brutal loss to South Florida.
It wasn't all good news. Oklahoma lost at TCU. Arizona State fell flat at Arizona. Xavier, Providence and St. John's all missed chances to get somewhere near reality in this thing. There were, as there always are, a handful of head-scratchers -- how Louisiana Tech goes three months without losing once and then drops back-to-back games in the matter of two days is beyond this humble bubbleologist.
But the end effect is clear: The bubble is just a little more firm than it was at the start of the day, a little tougher to crack. Good things happen when players play like they actually care about making the tournament. Who knew?
WINNERS

Kentucky
: The biggest bubble story of the day, and almost certainly the most impactful, Kentucky's win over Florida put the Wildcats back on the right side of the bubble in their final regular-season opportunity. Considering where Kentucky was after its loss at Georgia this week -- all self-recrimination and disbelief -- it was a bit remarkable to stand up at the last possible moment, once and for all.
I won't spend a whole lot of time here, because you can
read my reaction from this afternoon
here. Long story short: UK is no lock to make the tournament, and it still has to navigate a tangle of prospective bad losses in the SEC tournament, but right now, compared to much of the rest of the bubble, the Wildcats are closer to being in than not.

Baylor
: I am not above making a tired and dumb bodysnatchers joke -- see pretty much anything I've tweeted about
Keith Appling
for the past three weeks -- but rare is the opportunity to do so in regards to a team that plays inexplicably well. Today, Baylor is that team.
I mean, how else do you explain the Bears not just beating Kansas in Waco, Texas, but
blowing Kansas out
? When in the past seven days we've seen a) Baylor lose at home to K-State on one of the most heartbreaking (and poorly executed) final seconds of the season and b) lose 79-70 at Texas? That team -- a team that was admittedly still playing hard but looking utterly lost in doing so -- turned around and beat the Jayhawks by 23 points in the penultimate game of the regular season. How does that happen?
Complete shock aside, the bad news for the Bears (sorry) is that they're just 2-10 against the RPI top 50, 5-10 against the top 100, and still have a prohibitively high RPI (No. 73 entering Saturday). As nice as Saturday's win was, and for as much as it helped the Bears, the damage they did in recent weeks isn't so easy to overcome in one fell swoop. They still need more -- and a first-round Big 12 tourney shot against Oklahoma State is an awfully good place to start.

Boise State
: In case you're not up to speed on the Broncos -- and no, they don't play their home games on blue hardwood -- they established their potential tournament case all the way back on Nov. 28, when they shocked Creighton (then the No. 11 team in the country) on its home floor. (Eight days earlier, they had pushed Michigan State 74-70, and we all wondered what was wrong with the Spartans. Go figure.) Since then, they've trucked along in the Mountain West in almost exactly the fashion you'd expect: They've beaten some of the league's toughest teams (UNLV, Colorado State) at home and fallen to some of the league's lesser squads (Air Force isn't a bad loss; Nevada is) on the road. In other words, today's win over San Diego State wasn't exactly revolutionary; it was a realistic get, and the Broncos got it. The one thing really setting
Jeff Elorriaga
& Co. apart from the rest of the bubble dregs is their quality wins. Add one more.

Tennessee
: What is it with Tennessee and late-season boosts? The Volunteers did this last season, too, when they turned a brutal first two months into a 10-6 SEC performance and a late desperate push to get into the NCAA tournament. It didn't happen then, but after Saturday's home win over Missouri -- a thank-you card addressed to
Phil Pressey
is currently in the mail - it looks very much like it's happening now.
I'm not saying that a home win over Missouri is this huge bubble landmark. It's at least a degree or four below a win over Florida. Missouri's only true road wins all season came at Mississippi State and South Carolina. Road warriors these Tigers are not, but combined with UT's other work -- eight wins in its past nine games, including a 30-point demolition of Kentucky and its own victory over Florida -- the résumé is now right in the middle of the bubble picture. Like Kentucky, or really any of these SEC teams, anything can happen going away. But for now, the news is good.

Iowa State
: Of any of these bubble winners, Iowa State should be in the best shape. For one, the Cyclones are easily the best team in this group; even a cursory glance at their efficiency numbers (especially when contrasted with the rest of these teams) reveals one of the best offenses in the country and a top-35-ish team overall. I also happen to think the committee will go outside its nitty-gritty sheets and delve into Iowa State's two losses to Kansas, both of which came in overtime, the latter of which was ripped from them thanks to some truly diabolical officiating. Anyway, I wouldn't be able to say any of this had Iowa State lost at West Virginia on Saturday. It didn't, and so I can.

Ole Miss
: The Rebels won by 14 at LSU. Were they in better position to start the day -- had they not lost to Mississippi State last week, perhaps -- I might have stuck them down in the "Survivors" category. As it is, they remain in the picture, but have a ton of work to do in the SEC tournament. One win won't get it done.
LOSERS

Arizona State
: The Sun Devils are basically done. It's not just a loss at Arizona -- that is obviously forgivable, even if the Wildcats aren't nearly as good as we thought they'd be this season -- it's the four losses in a row (to Washington, UCLA and USC, the latter two of which were on the road, before today's loss at Arizona) as well as an RPI in the 90s, the 283rd-hardest schedule, and so on. Credit Herb Sendek and
Jahii Carson
for getting this program back in the mix in short order, but it's hard to see an at-large here.

La Salle
: The Explorers aren't in bad shape, relatively speaking, and you can hardly fault any team for taking one on the chin at Saint Louis, which they did today. But La Salle has been sort of quietly sliding toward the bubble in the past couple of weeks, and losing 78-54 at this point in the season is hardly the best way to impress the committee. Definitely worth keeping an eye on right now.

Oklahoma
: Oklahoma has been in great tournament shape for the majority of the past month -- the Sooners have been playing solid hoops, and their RPI and SOS figures are great -- but it nonetheless entered Saturday outside the comfort of lockdom. And then the Sooners lost to TCU. That probably isn't enough to put Oklahoma below a score of the teams you see here, but when you really dig in to its résumé, there's not much about it that screams "lock." A first-round loss to Iowa State next week could have the Sooners wavering by Selection Sunday.

Colorado
: This week's Bubble Watch included a little homily on how the Buffaloes' résumé wasn't all that much different from UCLA's, but Colorado was frequently a No. 10 seed while the Bruins were most often placed on the No. 6 line. That was wrong, I wrote. Naturally, Colorado proceeded to lose at home to Oregon State. Like Oklahoma, the Buffaloes are still in better shape than, say, Baylor, but their regular-season finale was enough to introduce some serious questions going forward.
[+] Enlarge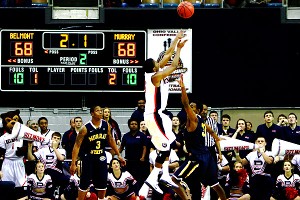 AP Photo/Wade PayneAfter forcing OT, Kerron Johnson won the OVC title and an NCAA bid for Belmont by hitting this shot.
Louisiana Tech
: Before this week, La. Tech's last loss was at McNeese State all the way back on Dec. 12. This week, the Bulldogs lost two in a row, and whatever slim chance they had of getting an at-large look is now officially gone.
Minnesota
: How do you follow up a win against Indiana? If you're Minnesota, you lose at Nebraska and Purdue. I don't really understand how that works, but I don't understand anything about this Gophers team. I don't think Tubby Smith does, either. The good news is Minnesota is still in much better shape than almost anyone on this list, thanks to its batch of top-50 wins and some pretty peerless computer numbers (RPI: 20; SOS: 2). But the Gophers did just finish the Big Ten season at 8-10, and what if they fall in the first round of the Big Ten tournament? You have to at least consider them to be on the bubble right now, right?
SURVIVORS

Alabama
: The Crimson Tide scraped out a three-point home win over Georgia on Saturday. That is the definition of bubble survival: A loss probably would have knocked Anthony Grant's team totally out of the conversation. As it is, it's still a bit of a long shot -- the Tide were Joe Lunardi's last team among the first four out Saturday evening -- with absolutely zero good wins on its docket. Just a totally uninspiring résumé.

Southern Miss
: Speaking of totally uninspiring résumés: the Golden Eagles, everyone! To be honest, it sort of baffles me that Southern Miss is even in the conversation; its best wins are at Denver and a sweep of East Carolina. But the Golden Eagles are hanging around the very fringes of the bubble, and Saturday's home victory over UCF preserved that ungainly status.

Iowa
: If Iowa doesn't make the tournament -- and right now it looks very much like Iowa is not going to make the tournament -- Fran McCaffery will really only have himself to blame. The Hawkeyes' nonconference schedule was that of a team still in rebuilding mode, looking for some forgiving opponents and early-season wins. It didn't help that Northern Iowa wasn't as good as advertised, but still, the overall nonconference schedule rank of 308 looks like it is going to keep this .500 Big Ten team -- which would normally be a worthy distinction -- from serious bubble consideration, barring a big push in Chicago next week.

Cincinnati
: What if Cincinnati had lost to South Florida on Saturday? That would have been the Bearcats' seventh loss in their past nine games, would have put them at 8-10 in Big East play and, worst of all, would have been a loss to South Florida, which has been just flat-out bad all season long. Fortunately, Cincinnati didn't lose to South Florida. Mick Cronin's team held on 61-53 and should be in solid shape moving forward.

Belmont
: This sort-of-kind-of doesn't count, because Belmont won the Ohio Valley Conference tournament in thrilling fashion Saturday, and its Dance status is now of the automatic variety. But had they lost, it's entirely possible the Bruins would have missed the tournament altogether.
MISSED OPPORTUNITIES

Xavier
: Two weeks ago, despite the young Musketeers' growing pains, it was impossible to look at Xavier's schedule and not have your saliva glands start working a little overdrive. Chris Mack's kids would get VCU, Memphis, UMass and Saint Louis all at home, and then they'd finish the season with a trip to Butler. The Cintas Center is a difficult place to play; a 4-1 record was entirely believable, and could have been a season-changing stretch. Instead, Xavier went 2-3 -- it lost at Butler on Saturday 67-62 -- and its tournament credentials look about as so-so as they did back in mid-February. Alas.

Providence
: An even bigger long shot than better-than-you-think brothers-in-arms Iowa at this point, at least Providence, which would close the season at Connecticut, had the best chance of notching an impressive road victory on the final weekend of the season. Instead, UConn held on 63-59. Keep an eye on the Friars going forward; like McCaffery at Iowa, Ed Cooley has them playing better basketball than anyone expected this early in his tenure. But a tournament bid will have to wait.

St. John's
: After suspending
D'Angelo Harrison
, sitting
Sir'Dominic Pointer
for a one-game fighting suspension and losing three in a row, St. John's looked totally cooked coming in to the weekend, both on the bubble and on the court. But the Red Storm didn't roll over. Instead, they gave Marquette a genuine test, forcing guard
Vander Blue
to make a last-second running layup to win and secure Buzz Williams a share of the Big East title. It was an impressive showing by the Red Storm, albeit one that came up just short. No chance this team gets in the tournament now.
March, 2, 2013
3/02/13
11:25
AM ET
By
Ryan Feldman
| ESPN Stats & Information
Here are the scenarios today for teams that have a chance to clinch their regular-season conference title outright. For conferences with two divisions, we use the terminology "will clinch best record" instead of "will clinch conference outright."

Akron: Will clinch best record in MAC with win at Buffalo and Ohio loss at Bowling Green
Belmont: Will clinch best record in Ohio Valley with win vs. Jacksonville State or Eastern Kentucky loss at Tennessee State
Charleston Southern: Will clinch best record in Big South South Division with win vs. Coastal Carolina
High Point: Will clinch best record in Big South North division with win vs. Campbell
Long Beach State: Will clinch Big West outright with win at UC Irvine or Pacific loss at UC Riverside
Louisiana Tech: Will clinch WAC outright with win vs. San Jose State and Denver loss vs. New Mexico State
Memphis: Will clinch Conference USA outright with win at UCF or Southern Miss loss vs. East Carolina
Mercer: Will clinch Atlantic Sun outright with win at Stetson or Florida Gulf Coast loss vs. Kennesaw State
Miami: Will clinch ACC outright with win at Duke
New Mexico: Will clinch Mountain West outright with win vs. Wyoming and Colorado State loss at Boise State
Niagara: Will clinch MAAC outright with win vs. St. Peter's
South Dakota State: Will clinch Summit League outright with Western Illinois loss vs. South Dakota
Texas Southern: Will clinch SWAC outright with win vs. Alcorn State
Valparaiso: Will clinch Horizon League outright with win at Green Bay or Detroit loss at Illinois-Chicago
Wichita State at Creighton: Winner clinches Missouri Valley outright
February, 25, 2013
2/25/13
3:50
PM ET
It's time for this week's poll thoughts. I know this won't be popular, but I'm substituting for his highness, Eamonn Brennan, who was so dismayed by the inclusion of a particular team in the latest poll that he lost all motivation to type, link, click and drop one-liners.
Either that or he ordered the wrong thing last night at the fast-food joint.
Whatever the case, Eamonn is out of pocket. But if he were here, I'm sure he'd be as startled as I am to see that Louisiana Tech --
Louisiana Tech!
-- has entered
The Associated Press poll
at No. 25. Look, I get it. The Bulldogs' 118-48 victory over Central Baptist College last week was impressive. And so were all those victories over WAC powerhouses such as Seattle, Idaho and Texas-San Antonio. Louisiana Tech is 24-3, for crying out loud, and it's not like two of its losses were to McNeese State and Northwestern State.
Oh, wait ... yes, they were.
Sarcasm aside, kudos to the Bulldogs, who are ranked for the first time since 1985, when Karl Malone was on the team. They're doing the best they can with a schedule that's out of their control. Hopefully the publicity they receive from this week's ranking will help their program. But it's ridiculous for Louisiana Tech to be in the poll over teams such as Colorado State, Connecticut, Wichita State, North Carolina and UNLV.
The Bulldogs' inclusion validates the main criticism of the AP weekly rankings: Voters are lazy. Instead of watching games or, at the very least, doing research, they're voting for teams based on record and record alone. It shouldn't always be about how many games you win. It should be about whom you play -- and whom you beat. Sorry to be a party-pooper, but Louisiana Tech is not one of the top 25 teams in college basketball.
A few other thoughts:
-- Miami fell only three spots -- from No. 2 to No. 5 -- following Saturday's 15-point loss to ACC bottom-feeder Wake Forest (12-14, 5-9). I'd have dropped the Hurricanes lower, not just because of their upset to the Demon Deacons, but because of how they were playing before that. Jim Larranaga's squad played one of its worst games of the season in a 45-43 victory over Clemson on Feb. 17. And it didn't exactly dominate Virginia in a 54-50 win two days later. UVa boasts a decent squad, but when you're ranked No. 2 in America, you're held to a higher standard, especially at home. I don't foresee the Hurricanes getting a No. 1 seed in the NCAA tournament.
-- I don't have any problem with Gonzaga being ranked No. 2 -- which, by the way, is the highest ranking in school history. The Zags own two conference victories over a solid Saint Mary's squad and as always, played a tough nonconference schedule that included games against Oklahoma State, Baylor, Butler, Illinois, Oklahoma, Kansas State and Davidson. Anyone doubting Mark Few's squad needs to watch the Zags play. They clearly pass the eye test. This team has very few, if any, flaws. The frontcourt of
Kelly Olynyk
and
Elias Harris
is one of the best in the country.
-- It's good to see Memphis back in the Top 20 at No. 18. The Tigers have been on fire since losing to Louisville in a curiously officiated game on Dec. 15. Memphis, 24-3 overall, has won 18 straight and is playing with tremendous structure and cohesion. In Saturday's game against Southern Miss, the Tigers had 25 assists on 29 field goals. I've enjoyed watching Josh Pastner -- who was 31 when he was hired to replace John Calipari in 2009 -- grow and mature as a coach.
-- Butler is a difficult team to rank. The Bulldogs boast victories over the country's No. 1- and No. 2-ranked teams (Indiana and Gonzaga). But they've also lost to Saint Louis, Charlotte and La Salle in recent weeks. And they were nearly upset by George Washington and Fordham. I guess I can understand leaving Butler in the poll, though -- for now.
-- After watching the New Mexico-Colorado State game Saturday, I wouldn't have dropped CSU out of the Top 25 despite its loss to the Lobos. This is a very good Rams team. Heck, it took someone (
Kendall Williams
) scoring 46 points for them to get beaten Saturday.
-- Kudos to VCU for rallying from a 17-point deficit to beat Xavier Saturday, but the Rams haven't been playing like a Top 25 team. Maybe it's the images of that 76-62 thumping VCU suffered at the hands of Saint Louis last week that are sticking in my head.
-- A few other tidbits from our friends at ESPN Stats & Info: Georgetown has its highest ranking since 2010. ... Syracuse is out of the top 10 for the first time this season. ... Saint Louis is ranked for the first time this season and, at No. 18, has its highest ranking since 1994.
November, 2, 2012
11/02/12
11:45
AM ET
By
ESPN.com staff
| ESPN.com
Before we get to the Blue Ribbon team-by-team previews for the Western Athletic Conference, here is Eamonn Brennan's quick wind sprint through the league:
Here are Blue Ribbon's in-depth previews of all 10 WAC teams:

Denver
Idaho
Louisiana Tech
New Mexico State
San Jose State

Seattle
Texas State
UT Arlington
Utah State
UTSA
September, 28, 2012
9/28/12
5:00
AM ET
1. An NFL-style lockout of officials can't and won't happen in college basketball. The officials are independent contractors and the consensus among the group is to keep the status quo. "It's no different than if we paint your house, we get a 1099 from the IRS and we're responsible for our own insurance, our own tax filings, deductions and receipts, including retirement,'' said one high-profile official. "We have the flexibility.'' Officials work in multiple conferences. They don't have job security or a pension but they do have the freedom to hold day jobs, and the majority does. For the officials to be under one roof, the NCAA would have to hire them. If you paid 50 officials a salary of $100,000 with benefits, that's $10 million -- but you'd still need to hire 350 more officials to cover the 5,000-plus games, according to an officiating head. Making officials employees would be too cost-ineffective. "The system is fine, as it is now,'' said one officiating head.

2. Conference USA is discussing how to divide the league when it changes members and has 14 teams in 2013. The key question will be 16 or 18 league games and which teams will play each other twice every season. You can group a few natural rivals. The foursome of Charlotte-Marshall-Old Dominion-East Carolina will likely be together in some rivalry combination. UTEP and UT-San Antonio make sense as a pair. Tulsa and North Texas would be ideal, too. The interesting dilemma will whether the league pits small private schools Rice and Tulane against each other or pairs up intrastate Tulane and Louisiana Tech. The best chance for natural rivalries would be pitting Tulane against Rice and pairing Southern Miss against Louisiana Tech and Florida International against UAB, since those last two don't really have any other school to pair up with based on the geography.

3. Former New Mexico State and Sacramento Kings coach Reggie Theus is on the verge of getting the job as head coach of the Los Angeles D-Fenders in the NBA Development League, replacing Eric Musselman, who left for an assistant's job with Arizona State. The deal is done, according to a source, but Theus hasn't signed it yet; there is a tryout Saturday and Theus will be there. Theus has been anxious to get back into college basketball but hasn't been able to get a quality sniff of late. Getting a head-coaching job, regardless of the level, is crucial for him to convince an athletic director and/or school president that he's worthy of another shot.
August, 1, 2012
8/01/12
7:17
PM ET
On Sunday night, Louisiana Tech's English bulldog mascot, Tech XX,
went missing from the Ruston, La., animal clinic run by his caretaker
, veterinarian Patrick Sexton. Four days later, Tech XX's whereabouts have come to light. Unfortunately, it is not a happy ending.

According to a statement released by the school Wednesday, Sexton learned that an employee at his clinic allowed Tech XX to remain outside in the suffocating heat too long. (English bulldogs have narrow breathing passages and do not do well in oppressive temperatures.) When the employee realized his mistake, he attempted to cover it up, which set off a days-long search led by community members and Louisiana Tech students. Sexton's statement:
"Regretfully, I learned this morning that through negligence of an employee, Tech XX was left outside too long on Sunday evening and passed away from a heat stroke. That employee unfortunately chose to handle it the wrong way and attempted to cover it up. Due to this negligence, the employee is no longer employed by Sexton Animal Health Center.

"My family, my staff and I are extremely upset at this tragic turn of events as I know the entire Louisiana Tech Family is as well. Tech XX was a member of our immediate family and a daily part of our lives for the past four years. We are devastated over the circumstances of his passing and there will be a large void in our hearts for some time to come. As with any family member, we will spend considerable time grieving his passing."
Louisiana Tech added the following:
"Louisiana Tech University was saddened to learn of Tech XX's passing this past Sunday evening. He will be remembered for being a fan favorite and a symbol of the spirit of Louisiana Tech.

"Since becoming our official mascot in 2008, Tech XX received superior care and a loving home from Dr. Patrick Sexton and, despite the unfortunate circumstances of the past few days, we are grateful for all he and his family have done for our beloved mascot.

Tech XX was a cherished member of the Louisiana Tech Family and, together, we will all grieve his passing."
The immediate response is anger. Allowing a heat-averse animal to perish in the sweltering heat seems almost unconscionable. Even worse is the cover-up, and the frenzied search it propelled an entire community to undertake. When the innocence of animals is violated in any way, it inspires some of the deepest anger our culture can express.
But once the anger fades, and the realization that mistakes do happen begins to seep in, surely the overriding emotion is just pure sadness. For the Sextons and Louisiana Tech fans and Ruston and anyone who knows that special brand of wide-eyed canine companionship, it's just ... sad, you know? What else can you really say?
July, 31, 2012
7/31/12
2:45
PM ET
OK, so this story may not come with the import of
major NCAA infractions
, but it is legitimately troubling nonetheless -- particularly to members of the Louisiana Tech community. Tech XX, Louisiana Tech's
rather adorable mascot
, went missing Sunday evening and hasn't been seen since,
according to the Shreveport Times
. On Tuesday morning, the
initial reward offer of $1,000 was increased to $2,000
, as caretaker Dr. Patrick Sexton attempts to locate the lost pooch.
Tech XX, a four-year-old English bulldog, was last seen Sunday night in Ruston, La., where Sexton owns and operates an animal clinic. A worker let Tech XX outside for a quick business break. When the worker came back to the door to let Tech XX in, the dog was gone.
Sexton told the Times it is unlike Tech XX to wander off, saying he prefers the comforts of air conditioning to the outdoors. How long the dog has been outdoors is a serious concern, because English bulldogs aren't wired nasally to do particularly well with heat and heavy breathing, and it is (obviously)
very hot in summertime Louisiana
.
"It's so hot and to not know whether he was taken or is lost or something else completely is scary," Sexton told the Times. "I just want to know he's OK."
The Ruston community has rallied behind the efforts to find the dog, with the Louisiana Tech Student Government Association leading the way. Students have placed fliers around town and spread the word on social media sites (hashtag: #FindTechXX) in an effort to locate the pooch.
Anyone who has ever lost a pet, even for a short while, knows this very particular feeling of dread. Let's hope, one way or another, the poor little guy finds his way home -- and sooner rather than later.
October, 27, 2011
10/27/11
12:18
PM ET
By
ESPN.com staff
| ESPN.com
Before we get to the Blue Ribbon team-by-team previews for the Western Athletic Conference, here is Diamond Leung's quick wind sprint through the league:
Blue Ribbon breakdowns of all eight teams in the WAC:
Fresno State
Hawaii
Idaho
Louisiana Tech
Nevada

New Mexico State
San Jose State
Utah State
More WAC content
:
October, 27, 2011
10/27/11
12:08
PM ET
Ole Miss coach Andy Kennedy sees some Josh Pastner in Michael White.
Notre Dame coach Mike Brey draws the comparison to Sean Miller.
Either would do fine. If White can turn Louisiana Tech into a winner, it'll be a home run hire.
Of course the praise being tossed at White should be placed in context. He hasn't lost a game yet. This is his spring training. But the various voices that are backing White in his new gig are genuine enough to make it seem like he's bound to succeed -- even if he's at one of the tougher jobs around as he tries to make basketball relevant again in Ruston, La.
[+] Enlarge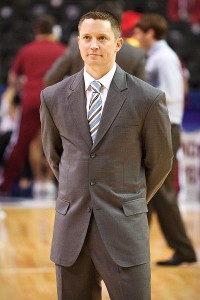 Darrell Walker/Icon SMIMichael White was both a player and assistant coach at Ole Miss.
"He's highly competitive, passionate and at the same time he's a deep thinker,'' said Mike White's father, Kevin White, the athletic director at Duke. "He thinks about things for a long time. He's not a guy to jump to quick conclusions.''
Kevin White said he was convinced that his son was ready for a head coaching job two years ago. Mike had bounced around from Jacksonville State to Ole Miss after playing for the Rebels under Rob Evans.
His father was the athletic director at Notre Dame prior to his stint at Duke and that's where Brey got to know the AD's son.
"He's a natural,'' Brey said. "I've spent a lot of time with him. He played the game. He can communicate the game. He has tremendous experiences, experiences that most don't have. His dad is a great educator and a people guy.''
White grew up in Orono, Maine, where his dad worked for the University of Maine. He then went to high school in New Orleans when his father was at Tulane. He didn't follow him to Arizona State or Notre Dame since he started his college career at Ole Miss.
"Mike has always been a coach,'' Evans said. "When he played point guard for me he would come over during timeouts and tell me everything that was going on and how we could attack it. He's very smart and aggressive. He's not afraid to take chances and make suggestions. Louisiana Tech is a tough job, but Mike saw at Mississippi how we made it work. He will be a very successful head coach because he is very organized and knows what it takes to get it done. This is exactly what I told the search firm when they hired him.''
Kevin White said it was important to him that his son work for a quality athletic director. He was sold on Bruce Van De Velde.
"That was critical to me,'' the elder White said. "Michael always considers himself a Louisiana kid. This was a job in his backyard. He's our Southerner.''
At 34, White is also one of the youngest head coaches in the country.
"He grew into his role as our associate head coach,'' Kennedy said. "Mike possesses the drive and experience necessary to rejuvenate the Louisiana Tech program.''
Mike White is looking at this job like he did his playing career at Ole Miss. He was tossed in to being the point guard as a freshman, whether he was ready or not.
"I was the guy who started four years in the SEC and my career average was five points a game,'' White said. "I wasn't on the floor to score. The reason I was on the floor will be the reasons that will help me as a coach.''
White said he looks at the successful young coaches today (and he includes Brad Stevens of Butler in this group) as having been overachieving players, players who had the intangibles that have made them good coaches. There is a sense of confidence when White speaks -- not arrogance, but confidence.
"I love the game, I bring passion to the game and I feel fortunate to lead a program period,'' White said. "It starts with recruiting. The most important part is evaluating and you have to make great evaluations. We've got as strong a base as any. We just have to take the right guy and knock down one or two a year. People can complain all they want about the disadvantages of traveling out West [as a member of the WAC], but we have the same homecourt advantage as well.''
Louisiana Tech has always made more sense for the Sun Belt or even Conference USA. But the Bulldogs are in the WAC for the foreseeable future. And in the immediate future, Tech is picked to finish last in the league by the coaches and media.
That hasn't dampened White's enthusiasm for his new job, however.
"I think the young guys have the advantages that we weren't far removed from the game,'' White said. "We have the relationships with the kids. I can go back 12 years and I was sitting in that locker room. I look at the Miller brothers [Sean at Arizona and now Archie at Dayton], Brad Stevens, Shaka Smart [at VCU] and see these younger coaches emerging. They've been given opportunities and they've taken advantage of them.''
Now it's Mike White's turn to see if he can as well.